Akshay Kumar | Movies, Biography, Family, Struggle, Net Worth

Zeenat Sayyed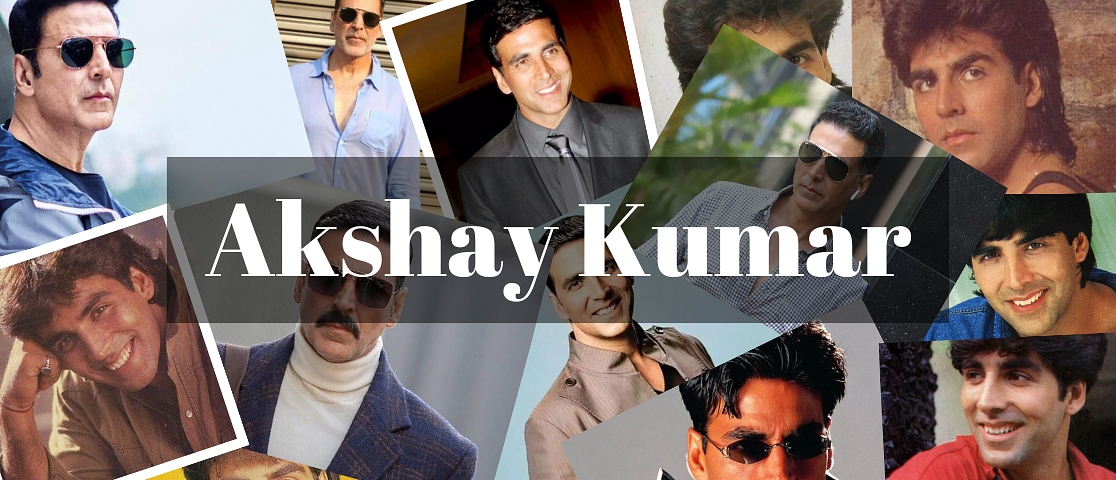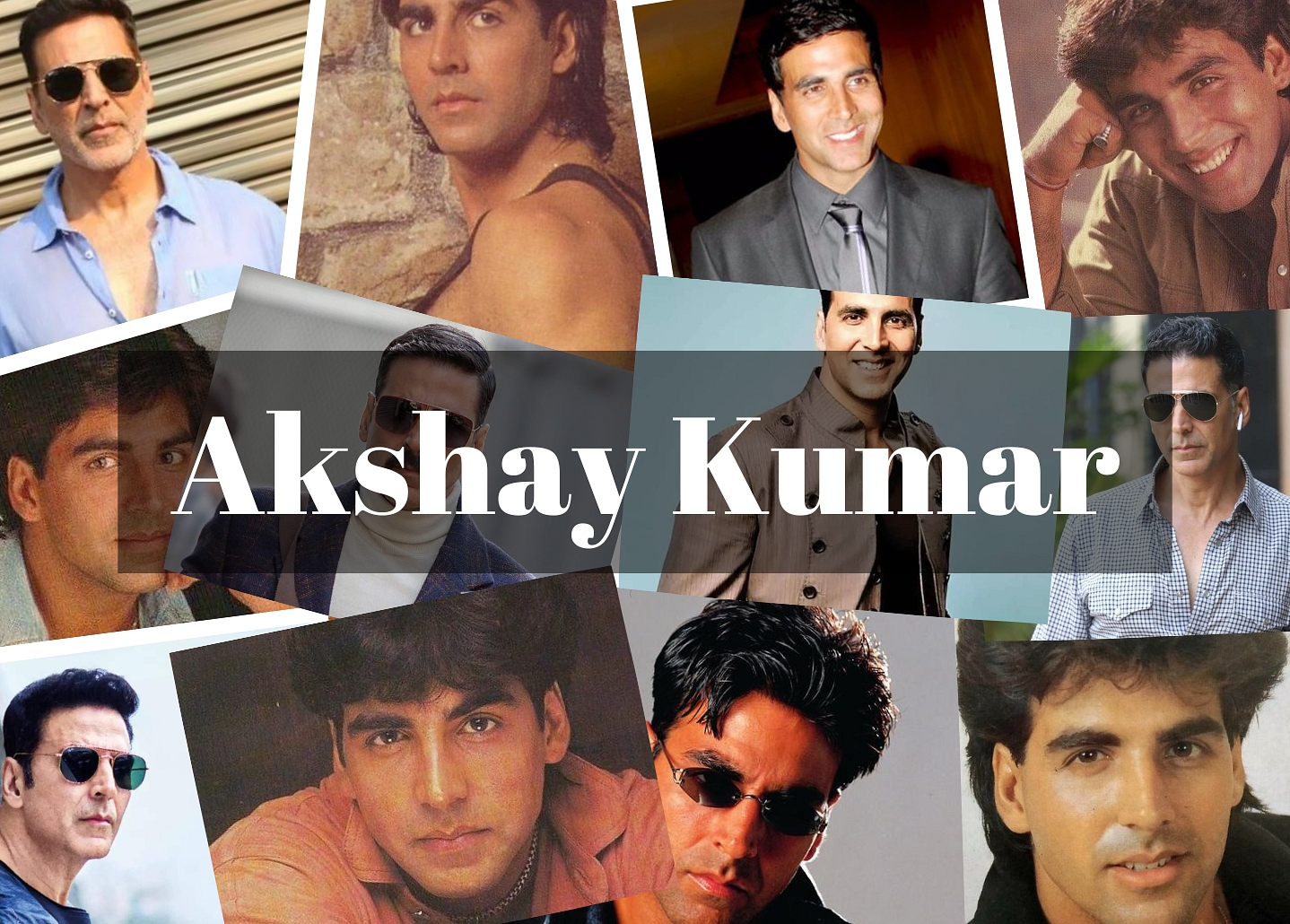 Akshay Kumar's Biography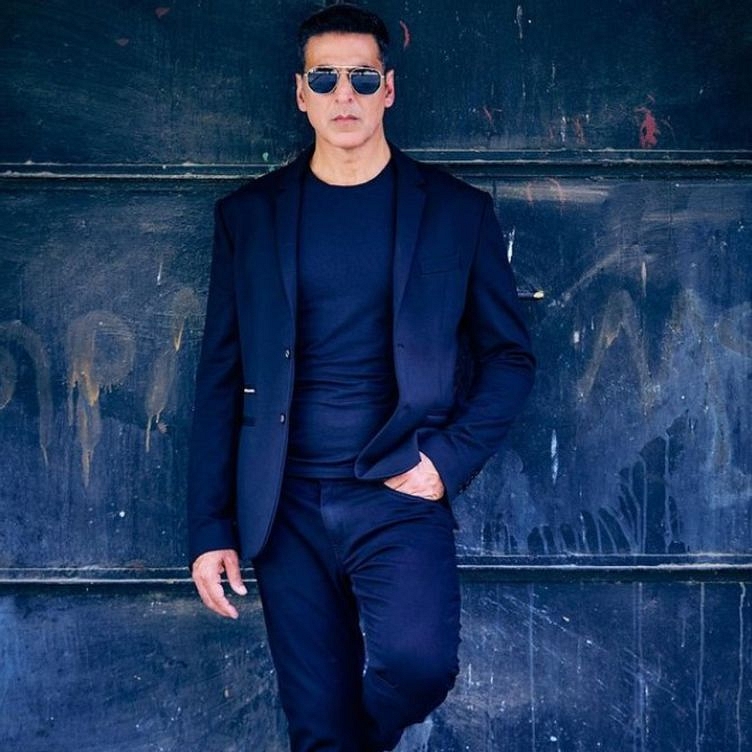 Akshay Kumar is a Hindi-language actor and film producer born as Rajiv Hari Om Bhatia and became a naturalized Canadian citizen. In his more than 30 years of acting, Kumar has starred in almost 100 movies and received numerous honors, including two Filmfare Awards and the National Film Award for Best Actor. Kumar is one of Hindi film's most productive actors. His movies have had around 50% box office success. Akshay Kumar's Birthday is on 9th September. Akshay Kumar's Zodiac Sign is Virgo. Akshay Kumar's Birthyear is in 1967.

With Saugandh, Kumar began his career in 1991. The action thriller Khiladi, released in 1992, was his first box office hit and the start of the Khiladi movie franchise. Kumar has experience performing stunts. Kumar debuted the television reality program Dare 2 Dance in 2014. He is the owner of the World Kabaddi League team Khalsa Warriors. Kumar was the only actor from Bollywood to appear on the Forbes list of the top-paid entertainers in the world in 2015 and 2019, ranking 52nd with earnings of $48.5 million. He is the first actor in a Hindi film whose domestic net lifetime earnings exceeded 20 billion rupees (US$341.31 million) in 2013 and 30 billion rupees (US$446.46 million) in 2016. Twinkle Khanna, who is an actor and writer by Profession is Akshay Kumar's Wife.

Forbes listed him as the most-paid Bollywood actor in 2020. In 2008, the University of Windsor awarded him an honorary doctorate and earned the fourth-highest Indian civic accolade, the Padma Shri (2009). Akshay Kumar was granted Canadian citizenship by the Conservative administration following the 2011 Canadian federal election by relying on a little-known rule that permitted getting around the standard residency requirement for immigrants to Canada. The citizenship was granted in exchange for Kumar's promise to utilize his star power to enhance Canada-Indian relations and Canada's trade relations, commercial contacts, in the movie sector, in the tourism sector, claims Tony Clement, a former minister with the Conservative Party.

In addition to working out, Kumar maintains in shape by combining kickboxing, basketball, swimming, and Parkour. He began doing Karate when he was in eighth grade. He wanted to start a martial arts school, and the Maharashtra state government gave him property in Bhayandar for that purpose. He received the Rajiv Gandhi Award in 2004 in recognition of his remarkable work in Bollywood. He presented the free television series Seven Deadly Arts with Akshay Kumar in the same year. The following year, Kumar received a sixth-degree black belt in Kuyukai Gj-try karate as well as the highest Japanese honor of Katana. At first, Kumar was a devout Shaiva Hindu who frequently visited temples and shrines around the nation, including the renowned Vaishno Devi Mandir.
Talk To Similar Celebrities
Akshay Kumar's Childhood and Akshay Kumar's Education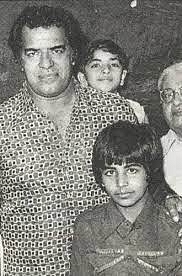 Akshay Kumar's Father Hari Om and Akshay Kumar's Mother Aruna Bhatia welcomed Kumar into the world in Amritsar, Punjab, India, i.e Akshay Kumar's Birthplace. The Real Name of Akshay Kumar was Rajiv Bhatia. His parents are of Punjabi descent. Akshay Kumar was an army officer. Kumar developed a strong interest in sports at a young age. His father also loved to wrestle. He was born and raised at Chandni Chowk in Delhi, and after his father left the Army to work as an accountant for UNICEF, he went to Bombay (today's Mumbai). His sister was soon born, and the family settled in Central Bombay's Punjabi-heavy Koliwada neighborhood.

While studying Karate at Don Bosco High School in Matunga, he earned his schooling there. He enrolled in Guru Nanak Khalsa College to pursue higher study but left early due to a lack of enthusiasm for the program. His father somehow managed to gather enough money to send him to Thailand when he told him he wanted to continue learning martial arts. Kumar spent five years in Thailand studying Thai Boxing after traveling to Bangkok to study martial arts. Alka Bhatia is Kumar's sister. When Kumar was an adolescent, his father questioned him about his career goals. Kumar acknowledged his interest in acting.

He studied martial arts in Bangkok, Thailand, where he learned Muay Thai and worked as a chef and waiter after earning a black belt in Taekwondo while living in India. Following his time in Thailand, Kumar worked as a travel agent in Calcutta (modern-day Kolkata), as a chef in a hotel in Dhaka, and as a Kundan jewelry salesman in Delhi. When he got back to Bombay, he started instructing in martial arts.
Akshay Kumar's Affairs and Relationships
Akshay Kumar, a Bollywood actor, is one of the most well-known figures in the Film Industry. The actor has contributed to a number of hugely successful movies. But outside of his work and career, the endearing actor has made news for some of his highly contentious relationships. The Bollywood Khiladi is clearly a crowd favorite, but in addition to his admirers, the actor has also captured the hearts of several well-known females in the industry.
Shilpa Shetty
Akshay Kumar and Shilpa Shetty, stars of Dhadkan, have been the most talked-about couple in Bollywood. Throughout the Main Khiladi Tu Anari filming, the two developed a scorching on-screen connection and began dating.

Everything was going well until Shilpa Shetty had a sneaking suspicion that the actor was seeing Twinkle Khanna twice. Soon after, she made the decision to end things with actor Akshay Kumar.
Raveena Tandon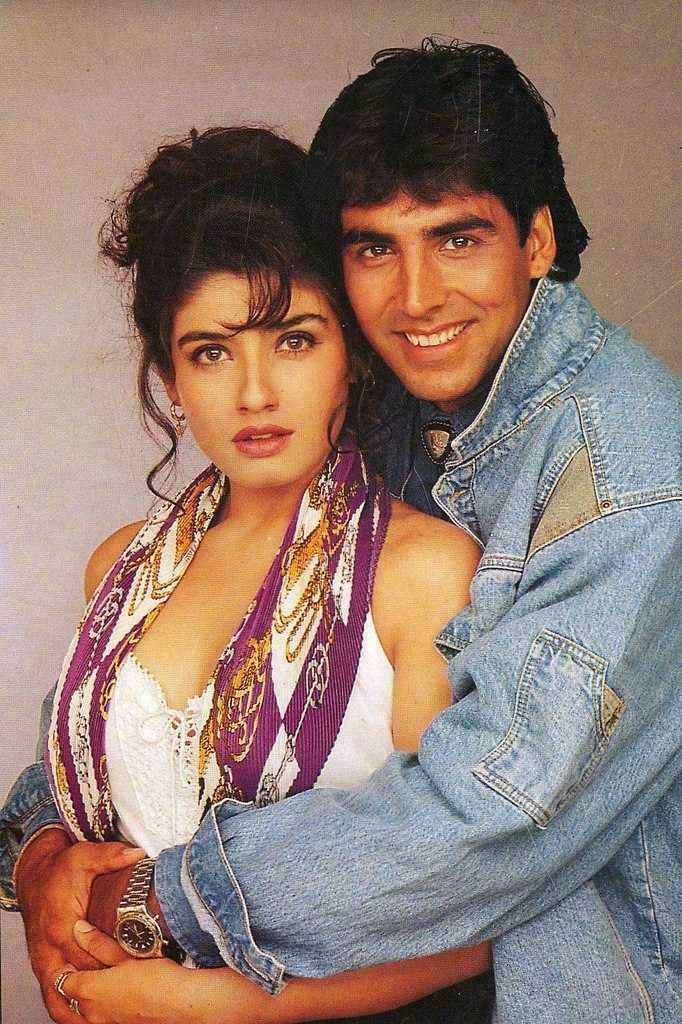 Another contentious pair on the list is Raveena Tandon and Akshay, who started dating in 1995 after appearing in the same successful movie, Mohra, in 1994. Raveena claimed in an interview that the couple got engaged in the late 1990s.
The two, however, grew apart in 1998 when Akshay was said to have dated several of his co-stars. Raveena stated in an interview regarding Akshay's loyalty, We began as friends. Only after we traveled to a few gigs in America and Canada together did we begin to know one another. In my opinion, loyalty was very important to me, but it was not as important to him.
Pooja Batra
Akshay's romance with actress Pooja Batra has also generated a lot of media attention. In his early days before breaking into the profession, Bollywood Khiladi Akshay Kumar reportedly dated actress and model Pooja Batra. It seems that before Akshay entered the Bollywood industry, he dated Pooja. Both entered into a romance throughout their modeling days and then joined filmmaking. On the other side of the achievement ladder from Akshay Kumar, Pooja struggled to keep up.
Priyanka Chopra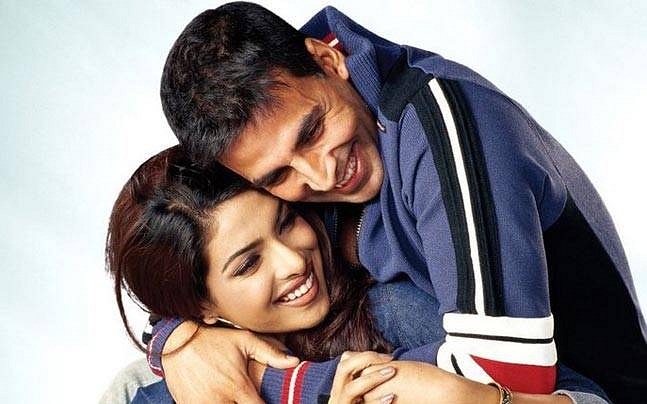 Surprisingly, Priyanka Chopra, a star in both Hollywood and Bollywood, is also in the charts. After his on-screen chemistry with Priyanka Chopra became a sensation, there were always linkups and romance speculations surrounding Akshay even after his marriage.
The two were allegedly in a relationship, and their close proximity fuelled whispers of a possible affair. The two never openly acknowledged their relationship, but it became very clear after Twinkle, Akshay's wife, forbade her husband from working with Priyanka. The two never collaborated again till this day.
Akshay Kumar's Marriage and Akshay Kumar's Family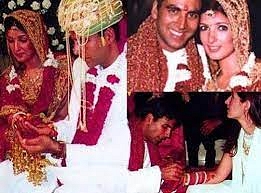 Twinkle Khanna and Akshay Kumar initially met in Mumbai while working on a photo shoot for Filmfare magazine. Akshay had a crush on Twinkle right away. The actor admitted as much in an interview with Filmfare. Although the 2000 release of Twinkle Khanna and Aamir Khan's Mela was a box office failure, it undoubtedly impacted the life of Bollywood's Khiladi, Akshay Kumar.

Twinkle was adamant about her next release, Mela, in 2000, according to Akshay, who made the revelation on an episode of the well-liked TV show Koffee With Karan. She informed him that she believed the movie would succeed and that if it didn't work out at the box office, she would marry him. Fortunately for them, the movie was a failure, and they were soon married.

The wedding of Akshay Kumar and Twinkle Khanna took place on January 17, 2001, and it was a small, low-key affair. Just 50 guests attended the wedding of the two, which took place at the home of the designer duo friends Abu Jani and Sandeep Khosla, and it took place in just two hours. Aamir Khan, a well-known Bollywood actor, Amar Singh, and Dharmesh Darshan, a well-known director, were among the guests at this wedding.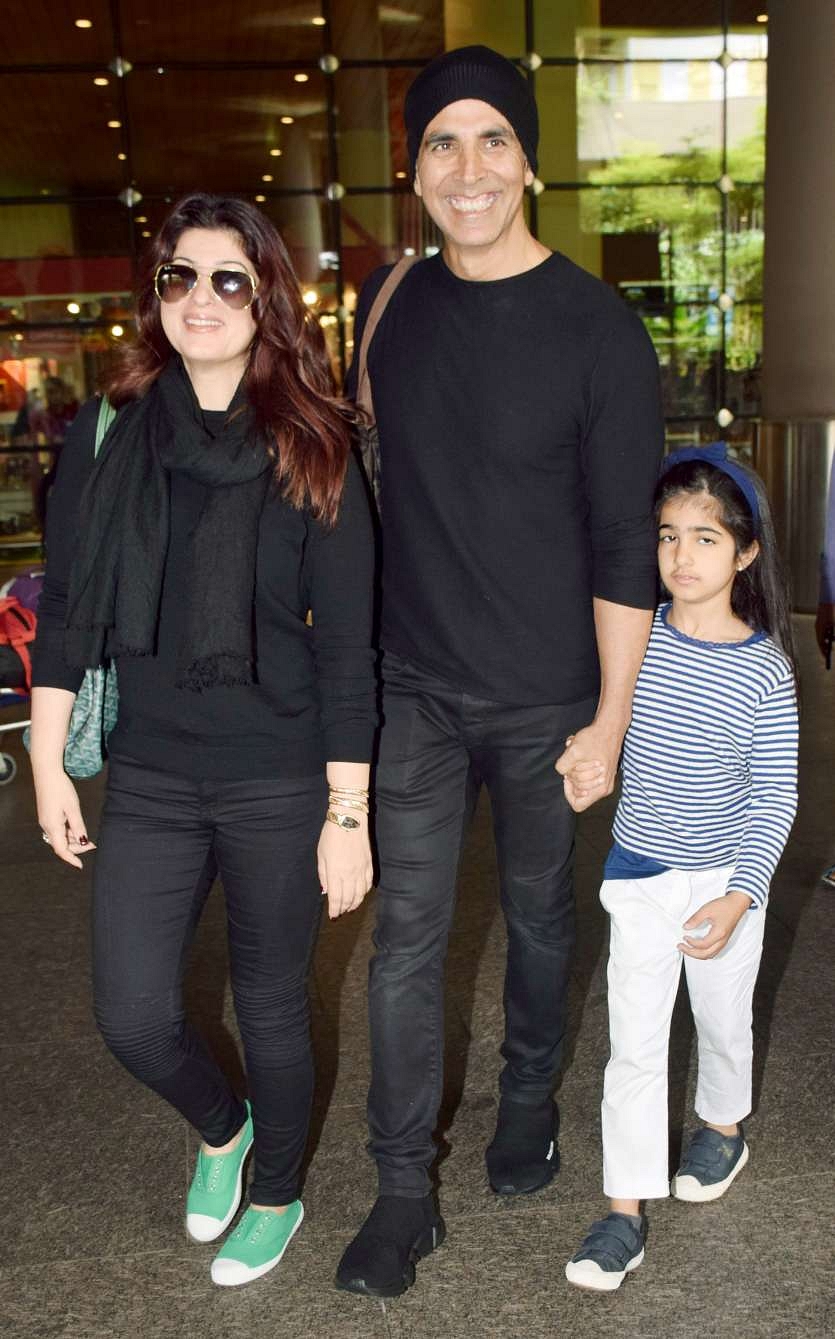 There aren't many images of Akshay and Twinkle's wedding because it was a small affair. Akshay Kumar and Twinkle are parents to two children and have been happily married for 20 years (in 2021). Aarav was born to Akshay and Twinkle in 2002, marking their first time becoming parents. They had a baby daughter in 2012, whom they have named Nitara.

One of the most attractive couples in our country today and an inspiration to many, Akshay Kumar and Twinkle Khanna. And, as Akshay claims, it was only Twinkle's steadfast encouragement that inspired him to become a Bollywood celebrity. In the world of glamour, they are one of the most sought-after couples.

In contrast, Akshay Kumar and Twinkle Khanna's love story is straight out of a Bollywood film, where the box office success of the movie ultimately determined their marriage. Despite having a six-year age gap, Twinkle Khanna and Akshay Kumar are very different people. She gave up her acting career to pursue writing, interior design, entrepreneurship, homemaking, being a loving and caring mother, and being a supportive wife.
Akshay Kumar's Struggle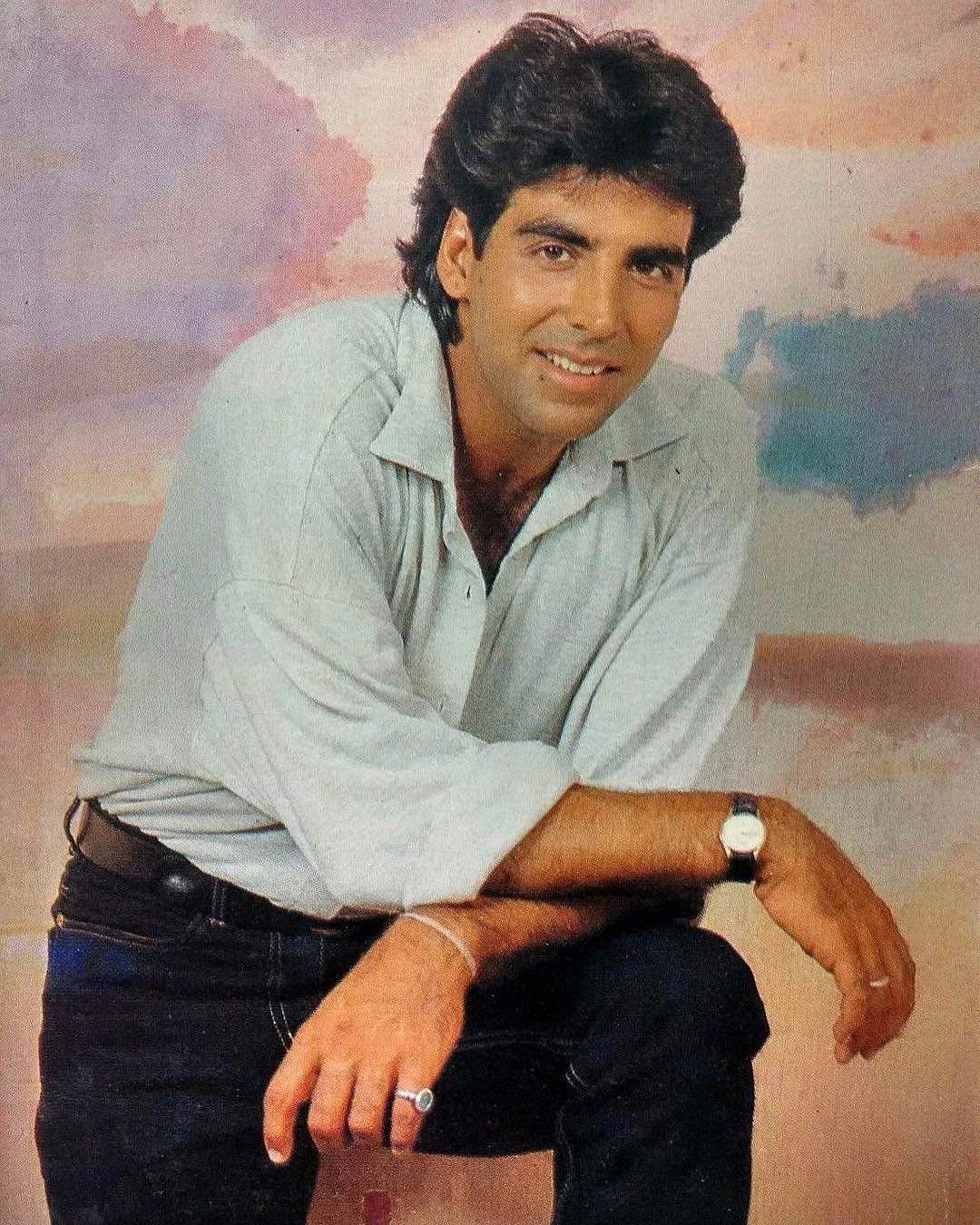 During this time, Kumar received modeling advice from the father of one of his students, who was also a model coordinator. This recommendation finally led to Kumar receiving a modeling job for a furniture dealership. Since Kumar earned more money during the first two days of filming than he did throughout the entire month of his income, he decided to pursue a career in modeling. Akshay Kumar is not the son of a wealthy actor and received no help from the business. He was a straightforward man from Chandni Chowk who moved to Bangkok and worked as a waiter. In addition, he performed unpaid work as a photographer's assistant.

Akshay agreed to work for free since he wanted to expand his portfolio. Akshay has had jobs as a salesman in Dhaka and a peon in Kolkatta. For around 18 months without receiving anything, he assisted photographer Jayesh Sheth in order to shoot his initial body of work. He also performed in other movies as a background dancer. He once missed his flight to Bangalore for an advertisement shoot. He took his portfolio to a film studio and felt disappointed in himself. Producer Pramod Chakravarthy cast Kumar that night in the starring position of the film Deedar.
Akshay Kumar's Career
Akshay, who holds a black belt in martial arts and once taught martial arts in Mumbai, stumbled into the modeling and acting worlds. Then, one of his students encouraged him to be a model. Compared to his monthly wage, he began to make more money from modeling. He missed his flight while working on his modeling assignment and was quite sad since he might have lost his position as a model. On the same day, he arrived at a film studio with his resume and was chosen for the lead role in the film Deedar.

In addition to acting, he is a producer who founded his production company in 2008 under the name Hari Om Entertainment Co. He founded Grazing Goat Pictures, another production firm, in the year 2012. He also owns the Khalsa Warriors franchise, a Kabaddi team in the World Kabaddi league. Akshay Kumar also referred to as the Mr. Banker of Bollywood movies, is thought to be the most successful actor in the business. Let's Revisit some Great Movies given By Akshay Kumar.
Akshay Kumar's First Movie: Suaghandh (1991)
Raj N. Sippy's 1991 Hindi-language romantic action movie Saugandh (also known as Pledge) is an Indian production. In his first acting role in a movie, Akshay Kumar co-stars with Shantipriya (in her Hindi debut). The plot revolves around Ganga's attempts to exact revenge on Sarang, a cruel landlord, with the help of her son Shiva. Chand, the daughter of Sarang, whom Shiva meets, initially despises him but eventually grows to adore him.
Dil Toh Pagal Hai (1997)
Shah Rukh Khan, Madhuri Dixit, and Karisma Kapoor costarred with Kumar in the Yash Chopra-directed romance Dil To Pagal Hai (1997), for which he garnered his first nomination for the Filmfare Best Supporting Actor Award. The movie centers on the romantic relationships of the members of a musical group, including two dancers (Madhuri Dixit and Karisma Kapoor) who, become involved in a love triangle with their choreographer (Shah Rukh Khan), and Dixit's boyhood friend (Akshay Kumar). In the film, Akshay Kumar has a lengthy cameo. The lyrics were written by Anand Bakshi, and Uttam Singh created the music. The movie was shown retrospectively as part of the celebration of dance in Indian cinema at the 2014 International Film Festival of India.
Dhadkan (2000)
Dharmesh Darshan and Ratan Jain produced the 2000 Hindi-language romantic drama film Dhadkan (literally, Heartbeat). Suniel Shetty, Shilpa Shetty, and Akshay Kumar are their main actors. It was based on the book Wuthering Heights and also has significant roles for Mahima Chaudhary, Parmeet Sethi, Kiran Kumar, Sushma Seth, and Manjeet Kullar. In 2001, Bangladesh produced an unauthorized remake of this film under the name Hridoyer Bandhan.

Anjali (Shilpa Shetty) and Dev (Sunil Shetty) are deeply in love, but Anjali's family does not approve of their relationship because Dev does not come from a suitable social or economic background. Anjali's family has instead planned for her to wed the wealthy Ram (Akshay Kumar). After initially rejecting Ram, Anjali starts to warm up to him, but when Dev reappears in her life after amassing a modest fortune, everything is flipped upside down.

Phir Hera Pheri (2006)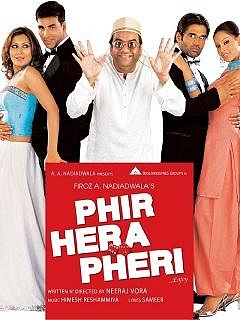 Phir The 2006 Indian comedy film Hera Pheri was written and directed by Neeraj Vora. It is the follow-up to Hera Pheri (2000) and features Bipasha Basu, Rimi Sen, Johnny Lever, and Rajpal Yadav alongside Akshay Kumar, Suniel Shetty, and Paresh Rawal in their original roles. Lock, Stock, and Two Smoking Barrels serve as an inspiration for the main narrative (1998). The movie enjoyed tremendous commercial success after premiering on June 9th, 2006.

The Story Centers Around Raju, Shyam, and Baburao's lives are unexpectedly changed when they fall victim to a fraudster. They now need to find a different means to pay back the loan they obtained from a feared criminal.
Housefull (2010)
In 2010, Sajid Khan and Sajid Nadiadwala released the comedy-drama film Housefull in India. The film is partially based on the 1998 Tamil play Kaathala Kaathala. Anvita Dutt penned the dialogues, Nadiadwala wrote the plot, and Rameshwar S. Bhagat was the editor. It turned became the opening chapter in the Housefull series.

Starring in the movie is Jiah Khan, Riteish Deshmukh, Deepika Padukone, Arjun Rampal, and Akshay Kumar. Boman Irani, Chunky Panday, Randhir Kapoor, Lillete Dubey, and Malaika Arora make up the supporting cast, and Jacqueline Fernandez appears in an item number. On a $30 crore (3.8 million US dollars) budget, it was filmed throughout London and Italy.

On April 30, 2010, the movie opened to mixed reviews on more than 750 screens in India. Nevertheless, it proved to be a commercial success. The movie was deemed a great smash after making over 124.50 crores (US$16 million) at the box office globally. Its net domestic receipts of 75 crores (US$9.4 million) made it the sixth highest-grossing Bollywood film of 2010 (after Dabangg, Golmaal 3, Raajneeti, and My Name is Khan). Three spiritual sequels to the movie—Housefull 2, Housefull 3, and Housefull 4—were later produced and were released in 2012, 2016, and 2019, respectively.
Airlift (2016)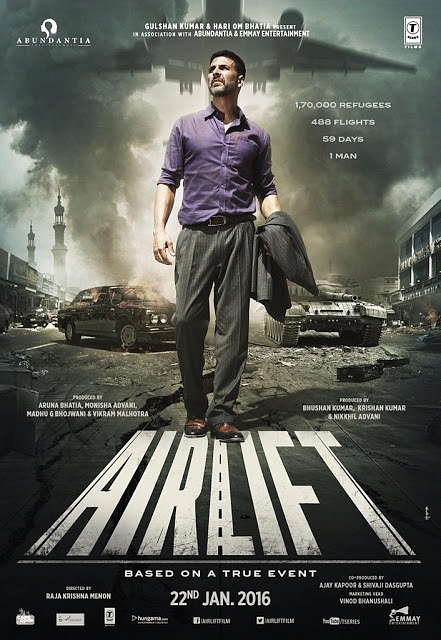 Akshay Kumar and Nimrat Kaur feature in Raja Krishna Menon's 2016 action-thriller movie Airlift, which follows Ranjit Katyal, a Kuwait-based businessman, as he organizes the evacuation of Indians based in Kuwait during Saddam Hussein's Iraq's invasion of Kuwait, which sparked the start of the Gulf War. On a 320 million dollar budget, the movie was jointly produced by Abundantia Entertainment, Cape of Good Films, Emmay Entertainment, Hari Om Entertainment, T-Series, and Viacom 18 Motion Pictures. The plot is based on the true account of a Malayali businessman who lives and works in Kuwait, Mathunny Mathews.

On January 22, 2016, Republic Day weekend, Airlift had its global theatrical debut. Its marketing was crucial in terms of promotion and working with the airline Air India, which made a significant contribution to the record-breaking evacuation of Indians during the war. Both domestically and internationally, the movie became a box office smash. With over 2.28 billion in worldwide sales, Airlift has won accolades for both the cast and background score, including one Zee Cine Award. The movie is included in the International Film Festival of India's 2016 Indian Panorama section.
Padman (2018)
Pad Man is a 2018 biographical comedy-drama film in the Hindi language that was written and directed by R. Balki. Sonam K. Ahuja makes a surprise appearance together with Akshay Kumar and Radhika Apte. The biography of Arunachalam Muruganantham, a social activist and businessman from Coimbatore, Tamil Nadu, is the inspiration for the movie. Twinkle Khanna fictionalized his life story in The Legend of Lakshmi Prasad. Initially, Pad Man was slated to debut in theatres on January 25, 2018, Republic Day.

The movie was eventually released in theatres on February 9 in both India and Russia, making it the first Hindi movie to have its Russian box office debut on that day. When it was first released, it received positive reviews and did well financially. It did particularly well in China and India, with a global gross of 207.73 crores (US$26 million). It was named the best movie about other social issues by the National Film Awards.
Atrangi Re (2021)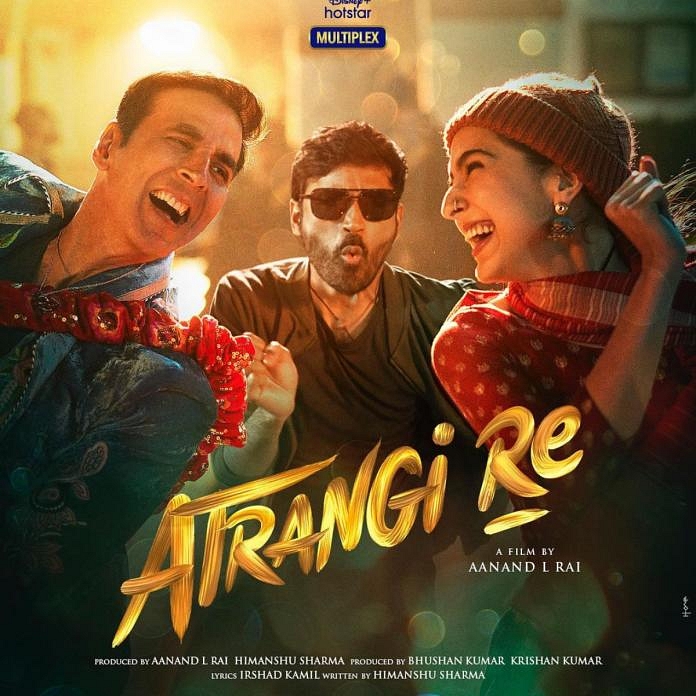 Aanand L. Rai and Himanshu Sharma are the directors and writers of the 2021 Indian Hindi-language romantic fantasy drama film Atrangi Re. Dhanush, Sara Ali Khan, and Akshay Kumar star in the T-Series Films, Colour Yellow Productions, and Cape of Good Films production. The movie follows Rinku (Khan), a serial eloper who falls in love with Sajjad, a magician (Kumar). She marries Dr. Vishu against her will (Dhanush). Vishu and Rinku quickly fall in love, but when Sajjad enters the picture, the love triangle turns bizarre.

Due to the nationwide lockdown brought on by the pandemic, the film's release dates were postponed numerous times. Instead of going into theatres, the creators decided to launch the movie on Disney+ Hotstar on December 24, 2021. It was also dubbed and released in Tamil under the title Galatta Kalyaanam. Critics gave the movie mixed to excellent reviews; they praised the unconventional premise, the lead actors' performances, the director, the soundtrack, and the score, but they also criticized the screenplay's incoherence and the way the overall plot was handled.
Samrat Prithviraj (2022)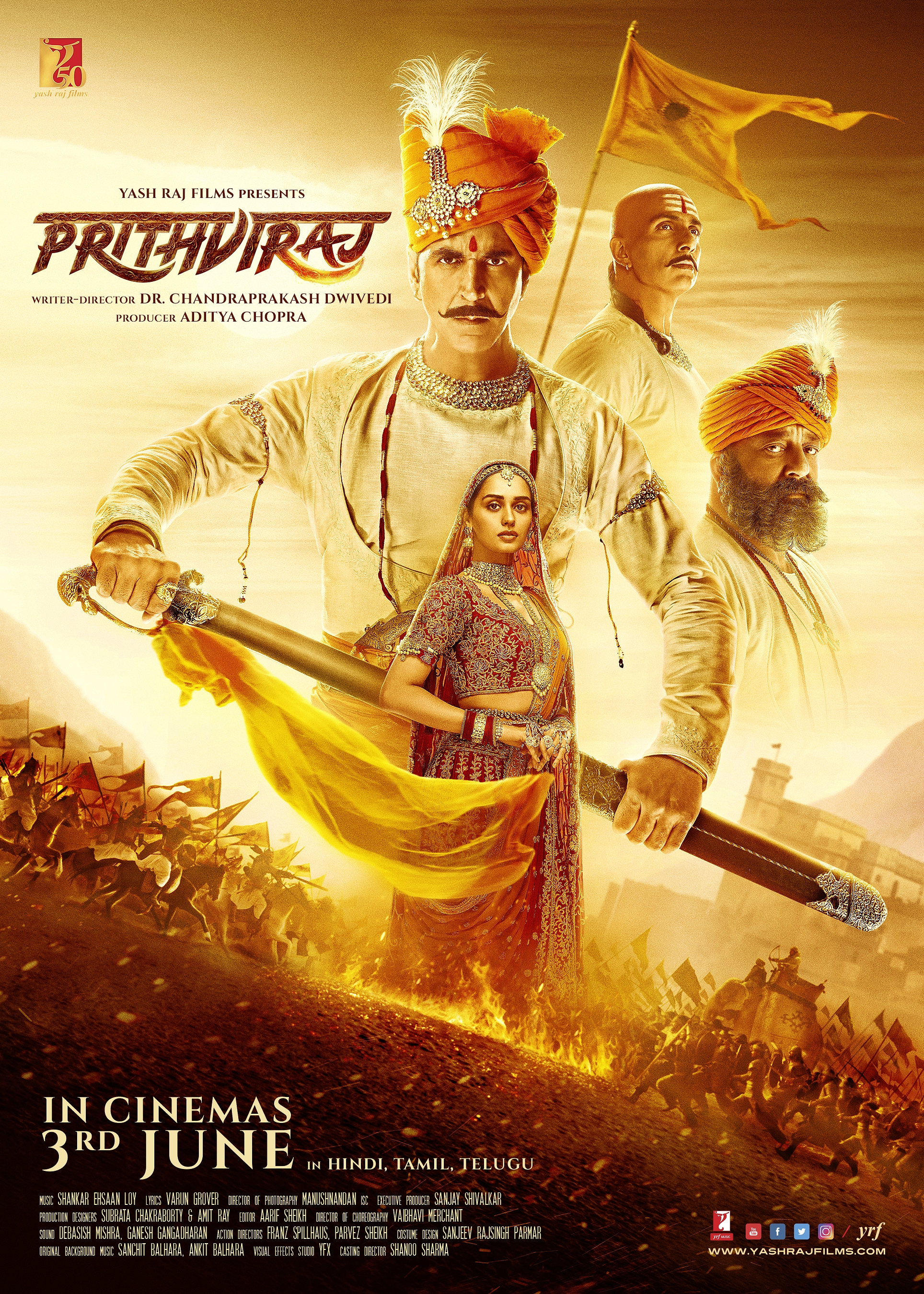 Samrat Prithviraj is a 2022 Hindi-language historical action drama film that was produced by Yash Raj Films and directed by Chandraprakash Dwivedi. The story of Prithviraj Chauhan, a ruler of the Chahamana dynasty, is told in Prithviraj Raso, an epic poem in Braj. While Manushi Chhillar makes her Hindi cinema debut as Sanyogita, it stars Akshay Kumar as Prithviraj Chauhan. Other important actors in the movie include Sanjay Dutt, Sonu Sood, Manav Vij, Ashutosh Rana, and Sakshi Tanwar.

The reviews for the movie were conflicting. It reportedly cost between 150 crores (US$19 million) and 300 crores (US$38 million) to produce, while it brought in 90.32 crore (US$11 million) as its global gross. The initial earnings fell short of what was anticipated. This resulted in a major box office catastrophe, which was followed by show cancellations due to low attendance.
Akshay Kumar's Upcoming Movies
OMG 2-Oh My God! 2
Amit Rai is the writer and director of the upcoming satirical comedy-drama movie OMG 2 in Hindi. The film, which also stars Akshay Kumar, Pankaj Tripathi, Yami Gautam, and Arun Govil, is a spiritual sequel to OMG - Oh My God! (2012). The theme of the movie is the Indian educational system.

Ram Setu
Ram Setu tells the tale of an archaeologist who set out to determine whether the Ram Setu bridge was actually built or just a legend. The Ram Setu, also known as Adam's Bridge, is a 48-km chain of limestone shoals that connects Mannar Island near Sri Lanka's northwest coast to Rameswaram on India's southeast coast. The building has significance in both Hindu and Muslim mythology. While Muslims believe Adam used the bridge to travel to Adam's Peak in Sri Lanka, where he stood on one foot for a thousand years in repentance, Hindus believe this is the bridge (setu) built by Lord Ram and his army to cross to Lanka and fight Ravan.

An upcoming action-adventure movie in the Hindi language, titled Ram Setu is being made by Abhishek Sharma. The movie, which also stars Akshay Kumar, Jacqueline Fernandez, Nushratt Bharuccha, and Satya Dev, centers on an archaeologist who is studying the origins of Ram Setu, also known as Adam's Bridge in the English language. The movie was announced in November 2020, and on March 30, 2021, principal photography started in Mumbai. Filming around Ooty, Daman, and Diu, and Mumbai began again in October 2021 and was completed in January 2022. The movie is slated for a 25th October 2022 theatrical release that falls on Diwali.

Selfiee
According to the Bollywood production house Dharma Productions, filming for the upcoming Akshay Kumar and Akshay Kumar flick Selfiee has started. Raj Mehta is adapting the 2019 Malayalam comedy-drama Driving Licence for the big screen. The Dharma Productions, led by Karan Johar, announced the start of filming the project on its social media pages.
Akshay Kumar's Career Timeline
Akshay Kumar's Controversies
Fashion Show Controversy
Akshay Kumar showcased the new launch of the denim brand during a Levis fashion show. He approached his wife Twinkle Khanna, who immediately zipped up his jeans. Akshay's brazen behavior of unhooking and unzipping his pants caused outrage. A number of moral police officers thought it disrespectful and filed a complaint against the couple, while some found it amusing and flirtatious.
Rustom Costume Controversy
Akshay Kumar chose to auction the military uniform he wore in the movie Rustom in order to raise money for animal welfare. Many found it disrespectful, saying he was passing off a costume as a legitimate uniform. Later, the actor defended himself by saying it was planned for a good cause.
Vimal Ad Controversy
Akshay Kumar received a lot of criticism for endorsing tobacco after appearing in the Vimal Pan masala advertisement. He appeared in the commercial alongside Shah Rukh Khan and Ajay Devgn. The Sooryavanshi actor chose to resign and leave the contract after receiving extensive harassment on social media. He expressed regret to his supporters and promised to stop further tobacco promotion.
Citizenship Controversy
The actor is still made fun of for having naturalised as a Canadian after being born in India. When he didn't cast a ballot in the 2019 Lok Sabha election, Akki called for an uproar. He wrote on Twitter, I honestly don't get the unjustified curiosity and hatred regarding my citizenship, in response to the same issue. I've never tried to hide or deny that I have a Canadian passport. He recently acknowledged the Citizenship controversy as a part of his life at the Koffee with Karan 7 episode. With the words Yeah Canada Kumar, Akshay accepted the moniker.
Akshay Kumar's Net Worth
Akshay Kumar has a $290 million net worth (Rs. 2304 Crore in) 2022: The famous Indian actor Akshay Kumar, whose actual name is Rajiv Hariom Bhatia, is also a director, producer, and martial arts expert. He is also known as Akki. Akshay, well-known as Khiladion Ke Khiladi, does most of the stunts by himself. Self-made actors are pretty uncommon in the world.

One such person is Mr. Akshay Kumar, also referred to by his followers as Khiladi Kumar or Khiladi. Akshay is a skilled martial artist and a guy of great courage. As a result of his taking on all the risky stunts in the movies by himself, he has become one of the most admired performers in the global film industry. He is one of the highest-paid performers in the world and is also referred to as the hit machine of Bollywood cinema.

According to estimates, Akshay Kumar has a net worth of nearly $290 million, or roughly Rs 2304 crores in Indian rupees. His brand endorsements, for which he charges a staggering 6 Crore each endorsement, account for the majority of his income. In addition to receiving payment for the picture, he also receives a sizable cut of the profits. Additionally, he is the busiest actor in the business, working on numerous projects at once and finishing almost 4 or even 5 films a year.

Akshay Kumar resides in a mansion on Mumbai's Prime Beach Juhu. Also, he has various Real-estate assets across the country and abroad. In total, Akshay Kumar has 11 high-end vehicles. Mercedes-Benz, Bentley, Honda Crv, and Porsche are among the automobile manufacturers. Additionally, he is a huge fan of bikes and owns a number of high-end models. Akshay Kumar Charges Rs. 45 Crores on an average basis for a movie and charges around 6-7 Crores for Brand Endorsement. He has a Personal Investment of around 300 Crores.

Any celebrity's income depends significantly on their fan base. Akshay Kumar is one of the most well-liked performers in India and other nations due to his versatility. In addition to acting, Akshay works as a producer for movies, a stage performer, and a reality TV show host. He has also made investments in a number of real estate ventures. Therefore, we can be certain that Akshay's net worth will increase over time.
Akshay Kumar's Social Work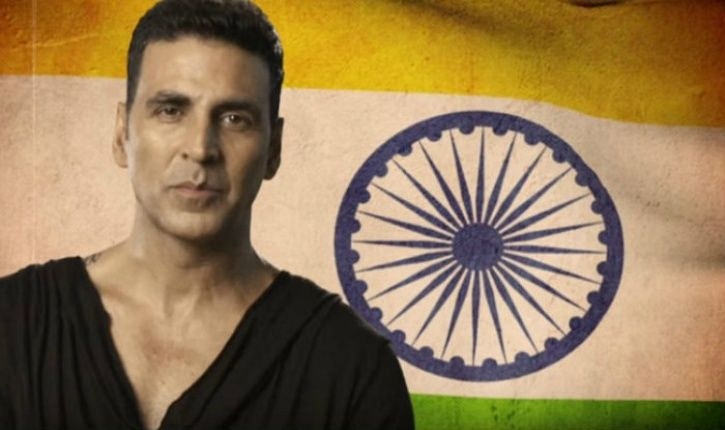 Half of the money was given to support his recent increase in charity work. In addition, he gave Salman Khan's Being Human Foundation 5 million (US$93,567.08). Kumar had been the highest advance taxpayer in the Hindi film industry for six years running as of 2013. In that year, he paid 190 million yen ($3.24 million) in advance taxes.

On August 9, 2014, Kumar took the stage for his 500th live performance. The performance took place at the World Kabaddi League's maiden event in London's O2 Arena. In 1991, Delhi hosted his very first live performance. Kumar helped Khanna with the editing of the early manuscripts of her debut book Mrs. Funnybones. He is the owner of the Bengal Warriors, a team in the Indian Kabbadi League. In 2015, Kumar also gave a donation of $9 million to farmers in Maharashtra who were suffering from a drought. He has also contributed 5 million rupees to the Maharashtra government's Jalyukt Shivar Abhiyan, which helps those afflicted by the drought. He launched a 30-bed policeman cancer shelter in Naigaon in March 2013.

On April 9, 2017, Kumar and Union Home Minister Rajnath Singh promoted the Bharat Ke Veer smartphone app, which enables users to make financial contributions to the families of those who gave their lives in defense of India. He once more took part in the initiative's Anthem's launch on January 20, 2018. He made a donation request at a Delhi event, and 129.3 million rupees ($1.89 million) were raised for the Bharat Ke Veer cause. In the year 2021, Kumar contributed one crore to help build a school in the Jammu & Kashmiri village of Neeru in the Bandipora district.
Akshay Kumar's Awards and Achievements
2002-Won Filmfare Awards-Best Villain-Ajnabee
2006-Won Filmfare Awards-Best Comedian-Garam Masala
2008 – Honorary Doctorate of Law by the University of Windsor in Ontario, Canada for his outstanding work in the film industry and contribution to social work
2009- Won Screen Awards-2009-Best Actor (Popular Choice)-Singh Is Kinng
2009 – Padma Shri, India's fourth highest civilian award from the Government of India.
2010-Won 'Hello! Hall Of Fame' AwardsStylish Couple Of The Year Award (along with Twinkle Khanna)
2011-Won Stardust Awards-Star of the Year - Male-Housefull and Tees Maar Khan
2011-Won Asian Awards-Outstanding Achievement in Cinema
2015-Won Apsara Film & Television Producers Guild Awards-Special Award-Completing 25 years in the industry
2017-Won National Film Award-Best Actor-Rustom
2019-Won National Film Award-Best Film on Other Social Issues-Pad Man
Akshay Kumar's Interesting Facts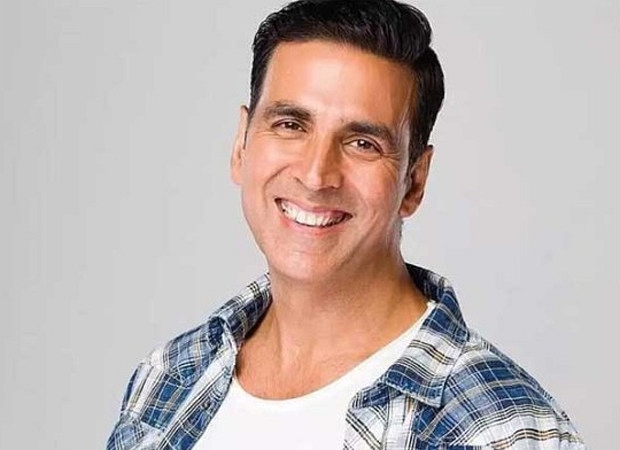 The real name of Akshay Kumar is Rajiv Hari Om Bhatia.
Akshay is a Taekwondo black belt. In Bangkok, Thailand, he received his martial arts instruction as well as instruction in combat sports.
While studying martial arts, he also held jobs in Bangkok as a chef and waiter.
Given that he performs all of his own stunts and hardly ever uses body doubles, Akshay Kumar is the true action hero of Bollywood.
The wordplay in Akshay Kumar's eight films is the reason he has been dubbed a Khiladi in Bollywood.
Akshay works extremely hard and strives to finish his movies in two to three months. He makes three to four films a year because of this.
He admitted in an interview that 16 straight box office failures were due to movies. The biggest hit of his career, Hera Pheri, was the result of his perseverance, and he never looked back after that.
Everyone is aware of Akshay's reputation for abstaining from booze and Bollywood parties. He attempts to stay away from night shifts by rising every day at 4.30 am and sleeping until 9 pm.
Akshay never smokes, drinks alcohol, or takes coffee. Additionally, he avoids drinking tea and coffee. He claims that if you smoke or consume alcohol, you won't have the energy to exercise.
Social Media
Frequently Asked Questions