Arjun Kapoor | Career, Age, Biography, Net worth, Girlfriend, Birthday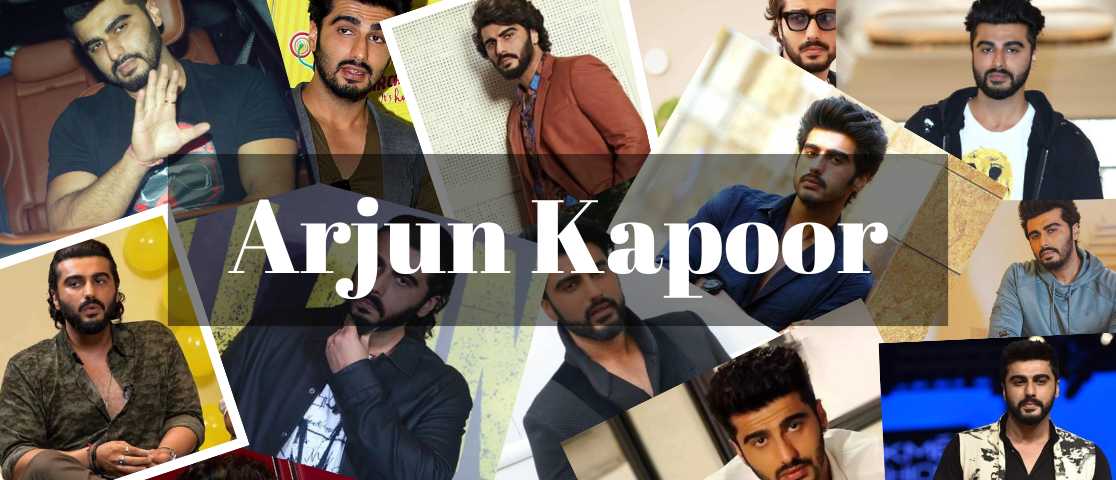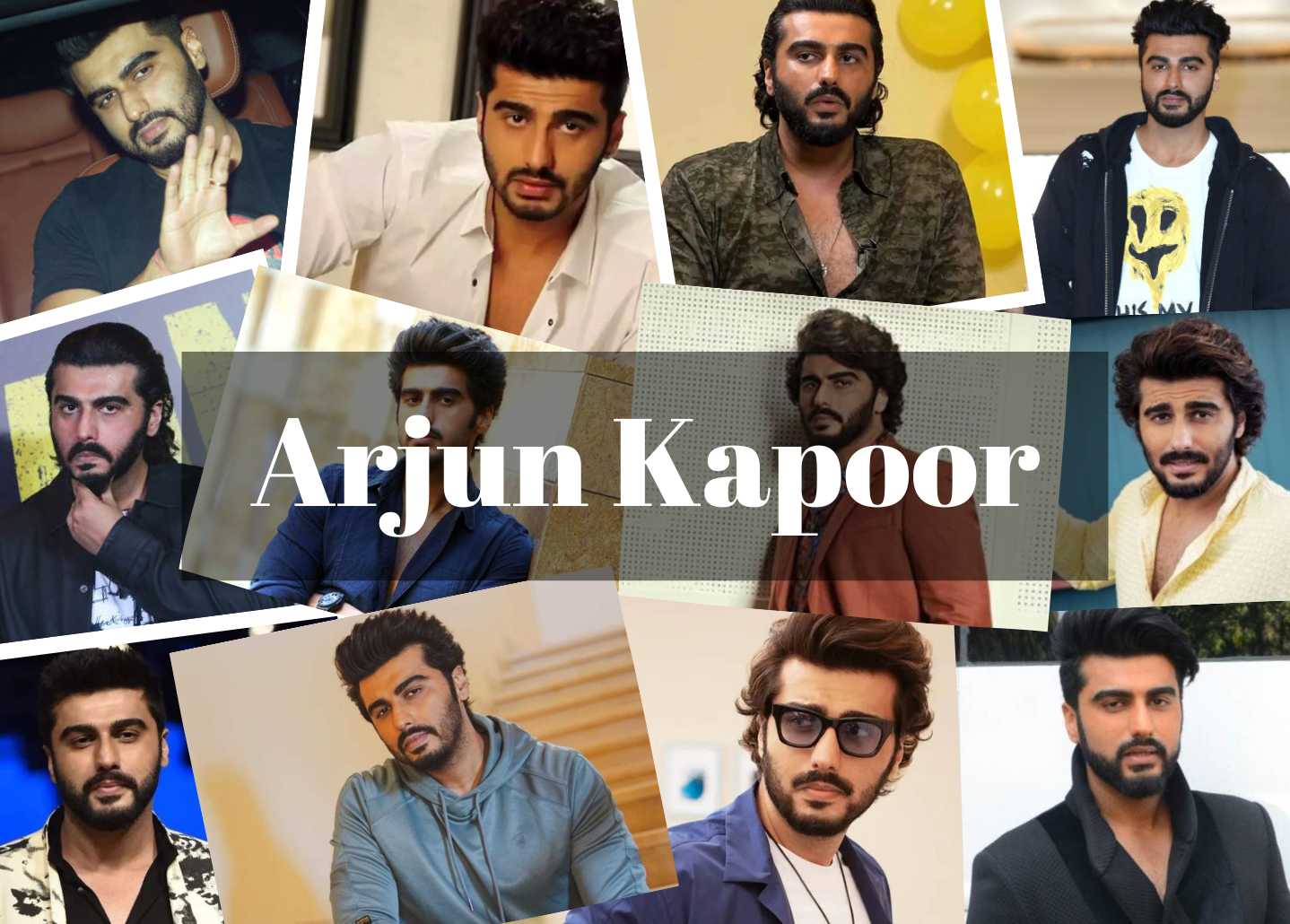 Biography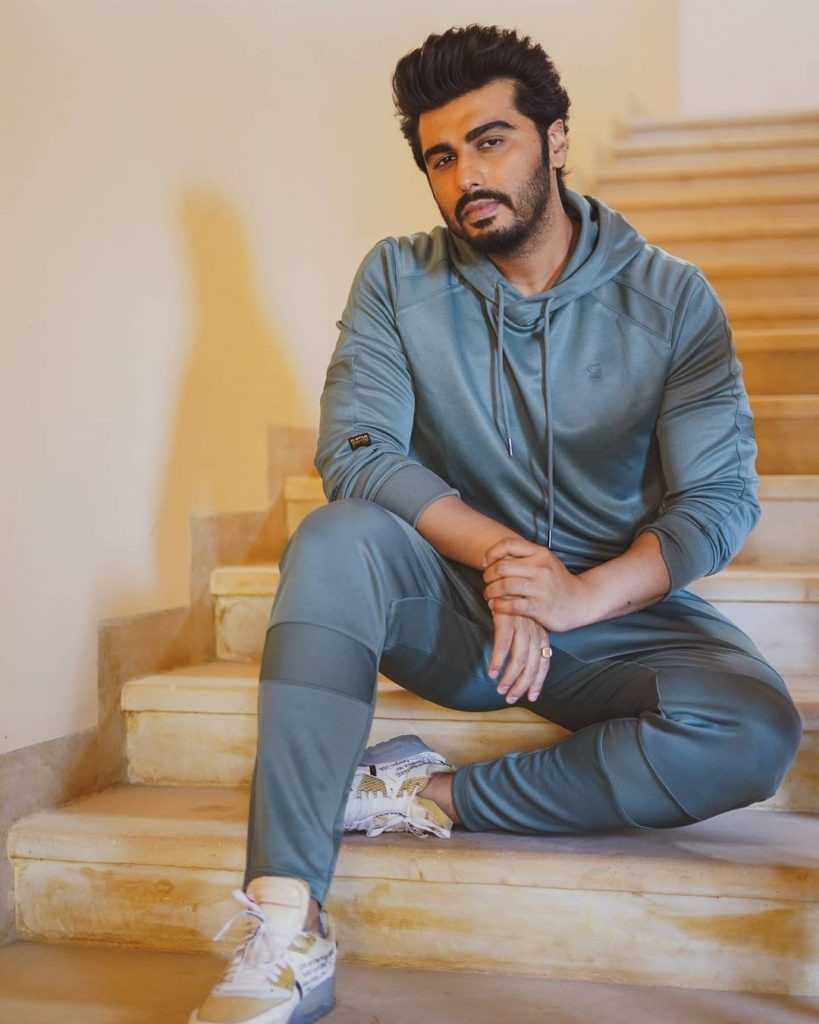 Arjun was birthdate is on June 26, 1985. Arjun Kapoor's birthplace is Mumbai, Maharashtra. When he was a teenager, Arjun Kapoor weighed about 140 kg and was fat. He spent roughly four years getting in shape. He enjoys playing football, and he also enjoys playing computer games and traveling. He goes by the moniker Fubbu Joon. Arjun Kapoor's Zodiac sign is Cancer. Arjun Kapoor's hobbies are playing football, video games, and traveling.

At the age of 14, Arjun wanted to be a director. He began his career as an assistant director before switching to acting, working on films like Kal Ho Naa Ho, No Entry, Wanted, Milenge Milenge, and many others. Film actor, model, performer, and philanthropist Arjun Kapoor is also a performer.

Arjun had over 18 Bollywood movie roles under his belt. Since the beginning of his acting career in 2012, Mr. Arjun Kapoor has become one of the most adored and admired performers in the entire film business. His 2012 film Ishaqzaade, which was released, is where he first gained notoriety. He has produced several blockbusters, including Ishaqzaade, Aurangzeb, 2 States, Gunday, and many others. Actress Malaika Arora and Arjun have been dating since 2016.
Family
Arjun was born in Punjabi Family.Arjun kapoor's mother, Mona Shourie, was also a producer in the business before she passed away on March 25, 2012. Arjun Kapoor's father is Mr. Boney Kapoor, a well-known director, and producer. Arjun Kapoor sister is Anshula Kapoor, and Arjun Kapoor half Siblings are Jhanvi Kapoor and Khushi Kapoor.

He is the first cousin of actress Sonam Kapoor, actors Mohit Marwah, and Harshvardhan Kapoor, and producer Rhea Kapoor. He is also the nephew of actors Anil Kapoor, Sanjay Kapoor, and Sandeep Marwah. Anshula Kapoor is his younger sister. Arjun Kapoor's stepmother was the actress Sridevi. When his father and mother divorced, he was 11 years old.

Arjun Kapoor maternal grandmother Sattee Shourie is a pillar of strength, was passed away in 2016. Arjun Kapoor received his education at the Mumbai Arya Vidya Mandir school, where he remained till the 11th grade. He stopped studying after his eleventh-grade exams were a failure.

Education
Arjun Kapoor attended the Asian Academy of Film and Technology in Noida and the Narsee Monjee College of Commerce and Economics in Mumbai. Kapoor developed obesity in his teens and early 20s when he weighed about 140 kg; he later claimed that this condition caused him to be sloppy, grouchy, and under-confident. In addition to serving as Chelsea F.C.'s brand ambassador for India, Kapoor is an enthusiastic supporter of the team and an avid football fan.
Girlfriend
Arpita Khan Sharma
According to reports, Arjun Kapoor and Arpita Khan, Salman Khan's younger sister, dated for more than two years. Arjun once remarked, My first and only meaningful relationship up to this point has been with Arpita Khan. I was 18 when we first started dating, and our relationship lasted for two years.
Although I was previously romantically involved with Salman Bhai, our relationship really took off while we were filming Maine Pyaar Kyun Kiya. I went and informed Salman Bhai and the entire family that I was afraid of him because I wanted them to hear it from me first.

Anushka Sharma
Regardless of whether the two were dating or not, Arjun's affection and love for Anushka were known to everyone in the business. Arjun has frequently professed his intention to wed Anushka while drinking coffee with Karan Johar on his couch. Even though they were often seen together in coffee shops and movie theatres, they never revealed their relationship.
Sonakshi Sinha
The worst-kept secret in Bollywood has been the relationship between Arjun Kapoor and Sonakshi Sinha. According to the rumours, the two not only dated for a while but also had a heated argument before parting up. Arjun revealed his broken romance with her in an interview with Mumbai Mirror. Some equations last, he said. Others stop at the filmmaking process since after it is finished, everyone goes their separate ways. She still holds a special place in my heart as a person.
Malaika Arora
For several years, Arjun and Malaika Arora have been dating. When Malaika posted a sweet birthday message to Arjun in 2019, they made their love on the Instagram official. We send Malaika Arora and Arjun Kapoor our best wishes for enduring love and joy.

Arjun Kapoor and Malaika Arora have never been shy about discussing their relationship in public. However, there was a time when they concealed their relationships. According to sources, the two became close when Arjun used to visit Malaika and Arjun Arora Khan's home when Arjun was dating Malaika's sister-in-law Arpita Khan.

However, relations between Malaika and Arbaaz quickly turned sour, and the couple decided to split. At the same moment, Arjun and Aprita made the decision to end their relationship. According to the claims, Arjun began travelling and having fun with Malaika's girl gang as he became closer to them over time.

The two of them quickly admitted their feelings for one another and began dating. However, they chose to remain secretive about their relationship due to their age difference and socialite taboos. But in Bollywood, you can't hide your connection for very long. When the two's relationship became public, the trolling began.

The most notable birthday for Arjun was his 34th since Malaika shared a cuddly photo to make their love "Insta-official." Additionally, the two confirmed their romance on social media by publicly displaying their love for one another in their posts. The two of them have been together ever since and living life to the fullest. They are now all prepared to advance their relationship.
Career
In 2003, he worked as an assistant director on Nikhil Advani's Kal Ho Naa Ho for the first time in his professional career. Along with serving as an assistant director on Advani's subsequent film Salaam-e-Ishq: A Tribute to Love (2007), he also served as an associate producer on his father's two movies No Entry (2005), and Wanted (2008). (2009). Then, Kapoor agreed to a three-film deal with Yash Raj Films, a prestigious Indian production firm.
First Movie: Ishaqzaade (2012)
Ishaqzaade is a romantic action movie that Habib Faisal wrote, directed, and Aditya Chopra produced under Yash Raj Films. Gauahar Khan, Natasha Rastogi, Anil Rastogi, and Shashank Khaitan play supporting parts alongside Arjun Kapoor and Parineeti Chopra in the key roles. The movie premiered on May 11, 2012.

Two political families, the Chauhans and the Qureshi, have a long history of competition and mutual animosity. Arjun Kapoor plays Parma, a mediocre local enforcer who is the grandson of patriarchal chauvinist Grandfather Chauhan. Grandfather Chauhan frequently makes fun of Parma for being the useless son of his widowed daughter-in-law. Parma tries to establish his merit in response to this. The lone daughter of a typical Muslim family with her parents and five brothers, Zoya (Parineeti Chopra) is a Muslim who does Namaz five times every day. Her family frequently makes fun of her desire to pursue a career in politics like her father.

Parma received a public slap from Zoya when political difficulties caused the local election. To get his vengeance on her, Parma deceived Zoya into believing that their wedding ceremony was a hoax and that they were not wed. He staged the fake wedding to seduce her and disgrace her family. Zoya is left sad and brokenhearted. Parma began to adore her, and Zoya also feels the same way. However, their parents do not want them to wed because they belong to different religions. Parma and Zoya made the decision to flee their families as a result, but their families are looking for them and intend to kill them.

However, they made the decision not to allow hatred to triumph by allowing themselves to be shot to death by their own family, so she asks Parma to shoot her so that their love can triumph and they can die in the victory of their love. The two voluntarily shoot each other in the abdomen and pass away while grinning in each other's arms. Ishaqzaade was a financially successful endeavor, grossing $670.0 million globally, and Kapoor's performance was lauded, garnering him the Zee Cine Award for Best Male Debut.
Gunday (2014)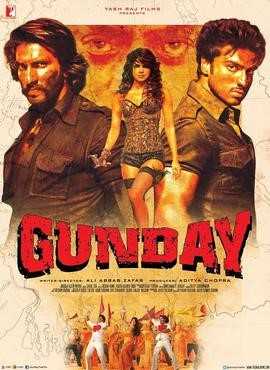 After the war in 1971, Bangladesh gained its independence, and here is how the story starts. Bikram Bose (Ranveer Singh) and Bala Bhattacharya are two orphans who were impacted by the division (Arjun Kapoor). A man named Lateef (Pankaj Tripathi) approaches them and offers them food in exchange for transporting guns. One of the boys is requested by an army officer who is one of Lateef's clients; if Lateef declines, his daughter will be abducted. Bikram maintains that he will travel instead of Bala, even though Lateef initially favours Bala. Bala won't let his best buddy down and comes back to protect him from the cop, whom they kill. As a result, they are accomplices in crime; as the army pursues them, Lateef is slain while attempting to shield the pair. Bala and Bikram escape to Calcutta, where they work in a restaurant. They discover that stealing coal is a simple way to generate money after being abused and ridiculed.

Bikram and Bala are invited by a businessman to the Calcutta inauguration of his new club. He introduces them to Himanshu, his assistant, played by Anant Sharma. They encounter cabaret dancer Nandita (Priyanka Chopra). They both fall in love with her, and they agree that she would marry whoever wins her heart. To tell them who she loves, Nandita invites them to a theatre. There, a man who insults Nandita and shoots him gets into a battle with Bala. Bala is instructed by Bikram to hide, with the promise that he won't see Nandita till he gets back. Bikram is forewarned by Sarkar that Bala would be murdered if he goes back to Calcutta. Nandita warns Bikram that although she loves him, she won't see him again if they don't participate in Durga Puja together. She will meet with Bikram, he says. Bala returns to Calcutta after learning about this from Himanshu. Bala accuses Bikram of breaching his word and opens fire on him after seeing him with Nandita. Instead, he strikes Nandita, who is taken to the hospital right away and recovers.
When Bala finds out that their companies are registered in Bikram's name, he demands a stake. Bikram concurs and even hands out the ration card that serves as evidence of their Indian ethnicity. Bikram is enraged when Bala recommends sharing Nandita and the two clash. Bala was saved by Bikram, who wins but spares him. He does, however, caution Bala that he will kill him if he bothers Nandita. Nandita refuses to accept Bikram's marriage proposal until he gives up his illicit activities, and Bikram complies. Bala kidnaps Nandita and blows up Bikram's coal mines in an act of retribution.

Sarkar requests that Bikram use the state's evidence against Bala as Bikram gets ready to kill Bala so that he and Nandita can wed. Nandita responds that she loves Bikram when Bala threatens to murder her if she stays with him. Bala apologizes profusely to Nandita and gives her back to Bikram. Nandita is a police agent working undercover to assist Sarkar in apprehending Bikram and Bala. Bikram meets the man Bala is alleged to have slain and discovers that he is a police officer as he gets ready to assist Sarkar in accusing Bala. Nandita makes an effort to persuade Bikram that the law will treat him leniently because he feels that it destroyed their upbringing. Bikram learns Nandita is who she claims to be, and he concludes that Sarkar used her as a ruse to keep him and Bala apart. He rejects her request to give himself up and re-joins Bala.
To meet Dutta, Himanshu brings Bala into the coal mine. He learns from Himanshu that he witnessed Dibakar's murder by Bikram and Bala and is Dibakar's brother. Himanshu discloses Nandita's identity and attempts to kill Bala, but Bikram saves him and Himanshu is impaled by Bala. They are subsequently surrounded by Sarkar and Nandita while trying to flee, with Nandita once more telling Bikram that she loves him and that he should submit, and Sarkar attempting to persuade Bala to do the same. Bala and Bikram rush in its direction as a train passes by. Sarkar and Nandita shot at Bikram and Bala as they are mere millimeters from boarding the train. Without the two making any indication that they were slain, the train simply disappears at the end of the film.
2 states (2014)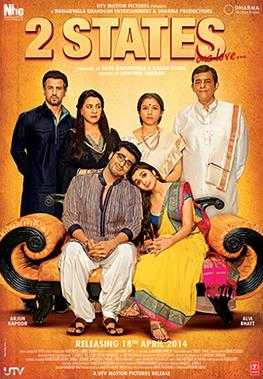 This film details how Chetan met his wife and the challenges they had as a result of their disparate cultural backgrounds.Krish Malhotra (Arjun Kapoor), a recent IIT Delhi graduate studying for his MBA at the IIM Ahmedabad in Gujarat, comes from an affluent, problematic family with Punjabi ancestry. He meets Ananya Swaminathan (Alia Bhatt), a classmate who excels in economics and comes from a traditional Tamil Brahmin household. Initially, at odds, Krish and Ananya gradually become friends and begin studying together. They soon start dating and spend the next 22 months together on the IIM campus. Krish confides in Ananya that he wants to make a career out of writing, which is his true passion. During their time at IIM, they both grew close to and fell in love with one other. Krish is chosen for the Yes Bank campus drives. In the middle of Ananya's interview, he runs to the adjacent room and proposes to her. She agrees, and Sunsilk then chooses her.

Krish and Ananya intend to be married when they graduate. At the convocation ceremony, they meet each other's parents. To their dismay, Ananya's reticent Tamilian parents Radha (Revathy) and Swaminathan do not get along with Krish's noisy Punjabi mother Kavita (Amrita Singh) (Shiv Kumar Subramaniam). After graduating, Ananya starts working in marketing in her birthplace of Chennai, while Krish returns to his hometown of Delhi, choosing his job. The obnoxious members of Krish's family try to dissuade him from pursuing his interest in writing and push him to remain in Delhi. They also condemn his relationship with Ananya and advise him to wed a Punjabi woman in an arranged marriage. Additionally, Vikram, Krish's wealthy and drunken father, is at odds with one another (Ronit Roy).

Krish departs from his troubled home and begins working as a banker in Chennai. He makes a lot of effort at this time to win Ananya's family over. He prepares her younger brother for the IIT admission tests, gives her mother the chance to perform at a company function, and assists her father in making his first PowerPoint presentation. After all his work, Ananya's family approves of Krish and Ananya's engagement. The next step is for Krish and Ananya to visit Krish's relatives in Delhi. Ananya is first disliked by Kavita and her family, but they later warm up to her after she prevents Krish's cousin's wedding from being called off owing to a dowry issue.

Before the wedding, Krish and Ananya choose to travel to Mumbai with their families. The trip does not proceed as planned when Kavita continuously disparages Tamilian culture. Additionally, Ananya and her parents overhear Krish telling his mother untruthfully that Ananya can be treated whatever she wants once they are married. Ananya breaks up with Krish and goes back to her village after having enough of the taunts.

Ananya and Krish struggle to function without one another. Later, he receives a call from Ananya, who informs him that Krish's father had travelled to Chennai to apologize to Ananya's parents for his wife's impolite behaviour. This makes it possible for Krish and Ananya to wed and live happily ever after. They had twin boys, and Krish leaves banking to write his book 2 States, which is based on his and Ananya's lives.
Half Girlfriend (2017)
Madhav Jha (Arjun Kapoor) doesn't speak proper English, he is complicated. In a small hamlet close to Patna, his widowed mother Seema Biswas is in charge of a school. Madhav wants to do a lot for the education of the kids in his town, so he applies to a prestigious English school in the city. He is admitted despite his poor English skills due to his athletic prowess. He meets Riya Somani (Shraddha Kapoor) in college, and he falls in love with her right away.Riya is proficient in English, but this is merely one of several key distinctions between Madhav and her. She is significantly wealthier than Madhav, who is not. However, their shared passion for athletics brings them together. Even Riya enjoys Madhav, primarily because of his simplicity.

Although Sailesh (Vikrant Massey), Madhav's roommate, cautions him about the social gaps between the two of them, Madhav's buddies at the college hostel continue to praise his luck for having such a wealthy girlfriend. For this reason, Riya has admitted to Madhav that she will act as more of a friend than a girlfriend for him. Madhav, however, is too enamored with her to see this as a deterrent. Later, Sailesh instructs Madhav to invite Riya to his room and make up his mind about whether or not this relationship should continue. Even though Riya is open-minded and doesn't see anything wrong with spending some time by herself in Madhav's dorm room alone and without anybody else around, she doesn't enjoy the approaches he makes to her there.

That effectively ends Madhav's romance with Riya, who leaves them in a forlorn mood. Despite Madhav's best efforts, Riya remains unwilling to accept his apology. Soon after, Riya leaves college since her marriage to Rohan, an equally wealthy NRI, is set in stone (Vikas Mandalay). Riya even extends an invitation to Madhav to her wedding to put the sad incident between them behind her. Riya marries and establishes herself in Paris. There are two years. Madhav is occupied with school while visiting his mother in his hometown.

After two years, Madhav unexpectedly runs into Riya in Patna, where he has traveled to request funding for his school from the Bill & Melinda Gates Foundation. As Madhav and Riya reestablish contact, their bond deepens. Her homecoming signifies the return of Madhav's love interest. However, Madhav's mother is troubled by the rekindling of their bond. It's fun and rather jovial in the first half. The pre-interval scene also contains a tinge of emotion as Madhav explains why he simply stroked Riya's mother's feet. Drama and melodrama are prevalent in the second half and are nearly as compelling and gripping. Overall, it's a movie that's worth seeing once. But don't get your hopes up. Based on its theme and the message it wants to get over, a commercial movie aims to appeal to the nation's youth.
Namastey England (2018)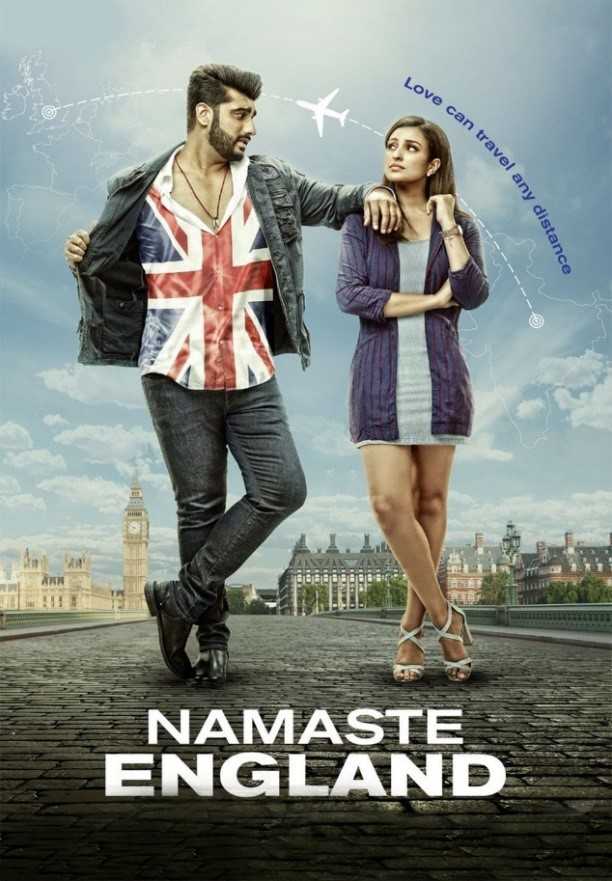 Vipul Amrutlal Shah is the director of the 2018 Bollywood romance-comedy Namastey England. Arjun Kapoor and Parineeti Chopra play the key characters in the film. The popular movie Namastey London from 2007 has a sequel called Namastey England.

Jasmeet and Param are the centre of the film. Jasmeet's one and only goal is to pursue success to the fullest extent possible. When Param (Arjun Kapoor) sees Jasmeet (Parineeti Chopra) dance during a Dussehra festival, he falls in love with her. After various tractor antics and the required dancing in Sarson ka khet, love develops and how.

Because Aurauton ka kaam Hai marddon ka pett barn, Jasmeet's father and brother discourage her from pursuing her goal of becoming a jewellery designer. On the condition that she will give up her job after marriage, they even consent to marry her to Param. She discusses her desire for an autonomous professional life in London after marriage. She even makes an effort to persuade Param to obtain British citizenship, even if that involves using unlawful methods. Our hero, however, rejects her views since he is a man of convictions. Unbeknownst to him, Jasmeet devises a dangerous method to achieve her goals.


Producing Namastey England under the names Pen India Limited, Namastey Production, Reliance Entertainment, and Blockbuster Movie Entertainers Pvt. Ltd. were Vipul Amrutlal Shah, Dhaval Jayantilal Gada, Akshay Jayantilal Gada, Reliance Entertainment, Aashin A. Shah, Reshma Kadakia, Kushal Kantilal Gada, Firuzi Khan, and Sameer Chopra. Reliance Entertainment Pvt. Ltd. will distribute the film to theatres. For Namastey England, Yiannis Manolopoulos has operated the camera. Rishi Rich, Badshah, and Mannan Shaah wrote the soundtrack for the film.
Ek villain returns (2022)
Under the auspices of T-Series and Balaji Motion Pictures, Ek Villain Returns is produced by Shobha Kapoor, Ekta Kapoor, Bhushan Kumar, and Krishan Kumar. The screenplay for the film was written by Mohit Suri and Aseem Arora. Ek Villain Returns was captured on camera by Vikas Sivaraman. Aditya Roy Kapur initially agreed to play the part played by Arjun Kapoor, but he later changed his mind.

The first scene of Ek Villain Returns is a slasher when a masked attacker breaks into Aarvi (Tara Sutaria), an aspiring singer, and her friends' house party through a window. Aarvi refers to her attacker as Gautam Mehra (Arjun Kapoor), a rich pampered brat, in a tape that was stolen from the crime scene. We discover the troubled past of Aarvi and Gautam through a series of flashbacks. From a popular video of Gautam making a disturbance at his ex-wedding, girlfriend Aarvi has written a parody song. In retribution, he befriends Aarvi by assisting her in a performance at a renowned music festival and ultimately learns a mystery about her life.

Bhairav (John Abraham), a cab driver and part-time zoo employee, develops feelings for Rasika (Disha Patani), a salesperson at a retail store, in a separate plot line. Eight years after Mumbai was terrorized by Rakesh Mahadkar, another serial killer has been born. More deadly and brutal, yet still using the Smiley Mask as a disguise. Two guys in a one-sided love are the subject of the novel Ek Villain Returns. Who is the Hero and who is the Villain depends on the pathways they take to complete their love stories.
Upcoming Movies
Kuttey
A van transporting crores of rupees. One rainy night on Mumbai's outskirts. Three stray gangs on the hunt cross paths unknowingly. Unfortunately, they all have the same plan. Bullets... Blood... Deception... Everyone is out for himself... All the dogs are after the same bone. Will these dogs bite the bone or succumb to greed?

Aasmaan Bhardwaj, the son of Vishal Bhardwaj, will make his directorial debut in 2023 with the black comedy thriller Kuttey. Vishal Bhardwaj Films, T-Series Films, and Luv Films are the producers. Arjun Kapoor, Tabu, Naseeruddin Shah, Radhika Madan, Konkona Sen Sharma, Kumud Mishra, and Shardul Bhardwaj are among the ensemble cast members of the movie. The movie will be released in theatres on January 13, 2023.



Career Timeline
Controversies
Arjun Kapoor and Boney Kapoor are no more welcomed at Salman Khan's house
Arjun Kapoor once performed to the tune of Mein to Superman, Salman ka fan, but according to reports, things have since turned sour. Arjun Kapoor formerly dated Arpita, the younger sister of Salman Khan. After breaking up with Arpita, he grew close to Malaika Arora, who later got divorced from Arbaaz Khan.
Fines not paid
There is no denying that celebrities have several advantages. A report said that Arjun Kapoor's automobiles had received numerous challans for breaking traffic laws. The fines are still outstanding, though. He is currently facing a fine of Rs 2000. Numerous public officials and politicians were also included on that list in addition to celebrities.
Netizens comparing Yes Bank's downfall with Arjun Kapoor's career
Here's an interesting tidbit regarding the Yes Bank scandal, which has horrified the entire country, and Bollywood actor Arjun Kapoor. On a lighter note, one movie comes to mind when we learn about Yes Bank. Yes, we are referring to Arjun Kapoor's film Two States, in which Alia Bhatt also starred. Arjun Kapoor's demise was contrasted with Yes Bank's demise. Internet users asserted that the bank saw a decline similar to Arjun Kapoor's career. Kamaal R Khan, the controversy king, also tweeted a video that contrasted the decline of Yes Bank with Arjun Kapoor's professional trajectory. Arjun Kapoor appeared as a Yes Bank employee in the film Two States, therefore just like his flicks, even Yes Bank was referenced by KRK.
Dating age gap
Due to the 11-year age difference between him and his fiancée, TV program host and fitness enthusiast Malaika Arora, Arjun Kapoor became the target of vicious online trolling. After divorcing Arbaaz Khan, Malaika quickly began dating Arjun Kapoor, for which she also received a lot of backlash from online users.
Net Worth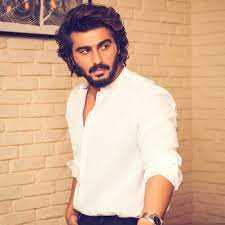 Arjun Kapoor has a $10 million net worth (Rs. 74 Crore). Arjun Kapoor has one of the largest and fastest-growing fan bases of any actors in the nation. In addition to being a talented actor, he is also a phenomenal dancer and performer.

Arjun is currently among the highest-paid performers in the world, with each of his films breaking a previous record for box office success. With a box office haul of over 171 crores, his film 2 States emerged as one of the highest-grossing films of 2016. Arjun Kapoor bills between 5 and 7 crores for each film. He demands about Rs. 1 crore to endorse products. His brands include Hero bikes, Flying Machine, Royal Stag, mobile Handsets, FMCG, and many others.

In Mumbai, Arjun resides in an opulent residence. The home is situated in Mumbai's most affluent neighborhood, Juhu. The cost of the house is about 30 crores. He has a sizable collection of vehicles, including the Mercedes ML350, Audi Q5, Honda CRV models, Land Rover Defender ($95.35 lakh), Volvo XC90 D5 ($87.90 lakh), and others.
Awards
Award for Best Actor in Two States from the Apsara Film Producers Guild in 2014 (Nominee).
Ishaqzaade (2012) won the Apsara Film Producers Guild Award for Best Debut Actor (Nominee).
Best Actor in a Leading Role in 2 States, an International Indian Film Academy Award (2014) (Nominee).
Best Actor 2 States at the BIG Life OK Now Awards (2014) (Nominee).
Indian BIG Star Entertainment Awards: Ki & Ka (2016), Most Entertaining Actor in a Romantic Film (Nominee).
Tevar (2015) won the BIG Star Entertainment Award for Most Entertaining Actor in an Action Film (Nominee).
Most Entertaining Actor in an Action Film, Gunday, BIG Star Entertainment Awards, India (2014)
Ishaqzaade won the BIG Star Entertainment Award for Most Entertaining Debut Actor in India (2012)
Worst Actor of the Year for the Half-Girlfriend movie (2017)
India's Stardust Awards: Gunday, Jodi of the Year (2014)
Male Super Stylish Mould-Breaker: Style Awards (2022)
The Ghanta Awards: Gunday and the Worst On-Screen Couple (2014)
Male Ishaqzaade won Best Debut at the Zee Cine Awards (2012)
Interesting Facts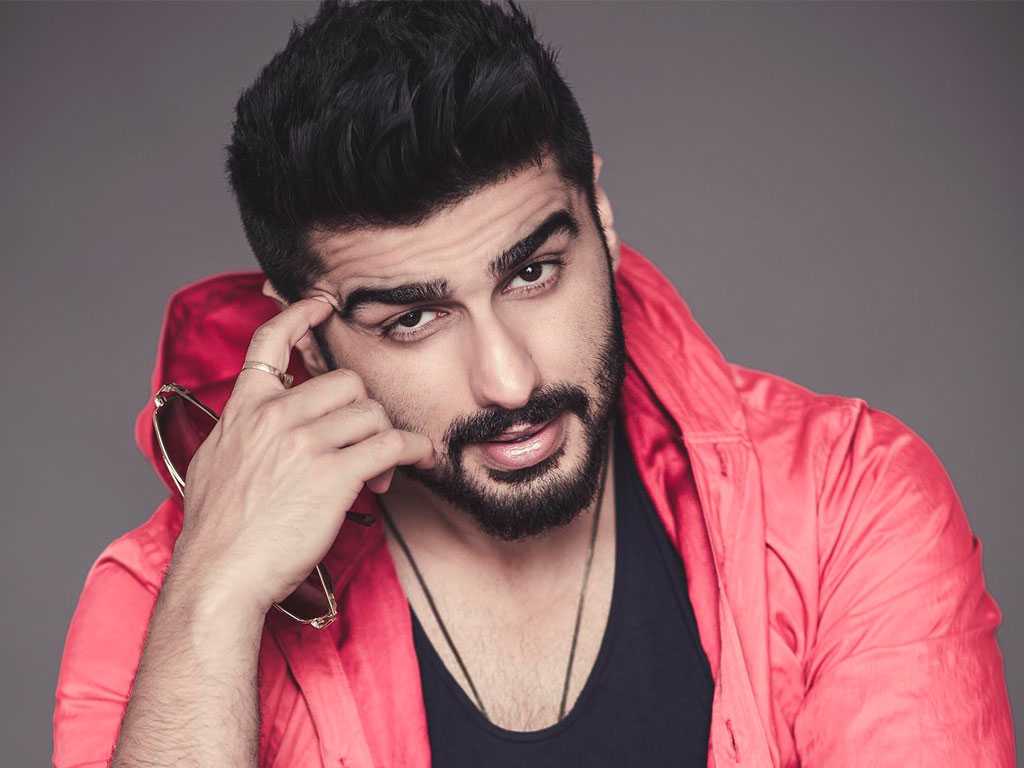 Arjun started by assisting Nikhil Advani in Kal Ho Naa Ho and received his first cheque at the age of 17 from Dharma productions.
Arjun lost almost 50 kgs to get into his role in Ishaqzaade.
He dated Salman's sister Arpita Khan for 2 years.
So scared was Arjun of Salman that he went and revealed to the Khan family that he was seeing Arpita.
After breaking up with Arpita, Arjun found solace in the arms of Salman whom he considers his friend, father figure, and older brother.
Arjun was extremely close to his mother Mona Kapoor and has a tattoo named 'Ma' on his right wrist in her memory.
The last call Arjun's mother Mona made from her hospital bed was to Salman Khan thanking him for supporting Arjun.
Arjun hates it when he is asked to compare the actresses that he has worked with. He feels it's not right to compare two actresses.
Arjun has never thought of dating a South Indian girl in real life.
Arjun Kapoor used to weigh around 140 kgs in his teenage days before hardcore gyming finally helped him knock all of it off.
Arjun Kapoor's Profile Summary
Social Media
Frequently Asked Questions