Ajay Devgn | Movies, Biography, Family, Net Worth, Age, Wife

Zeenat Sayyed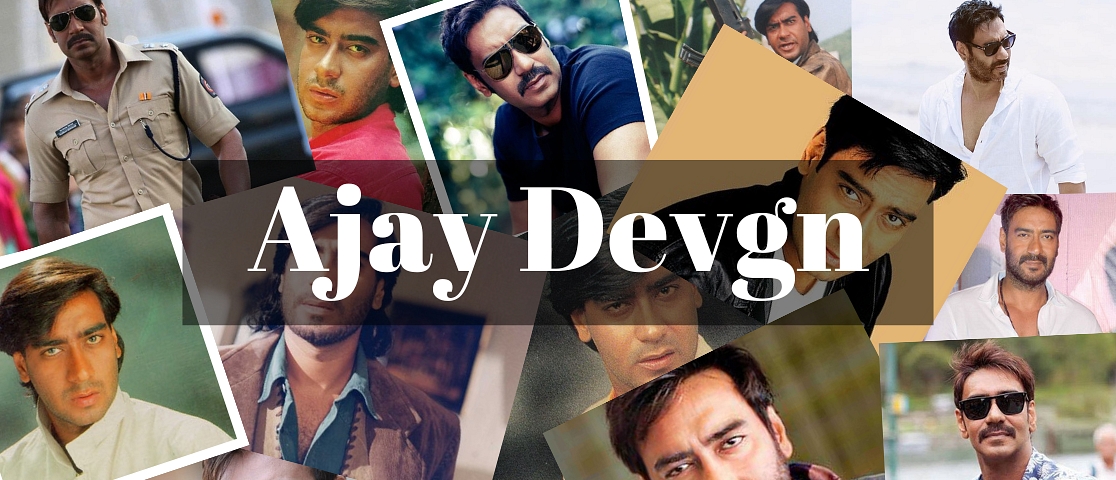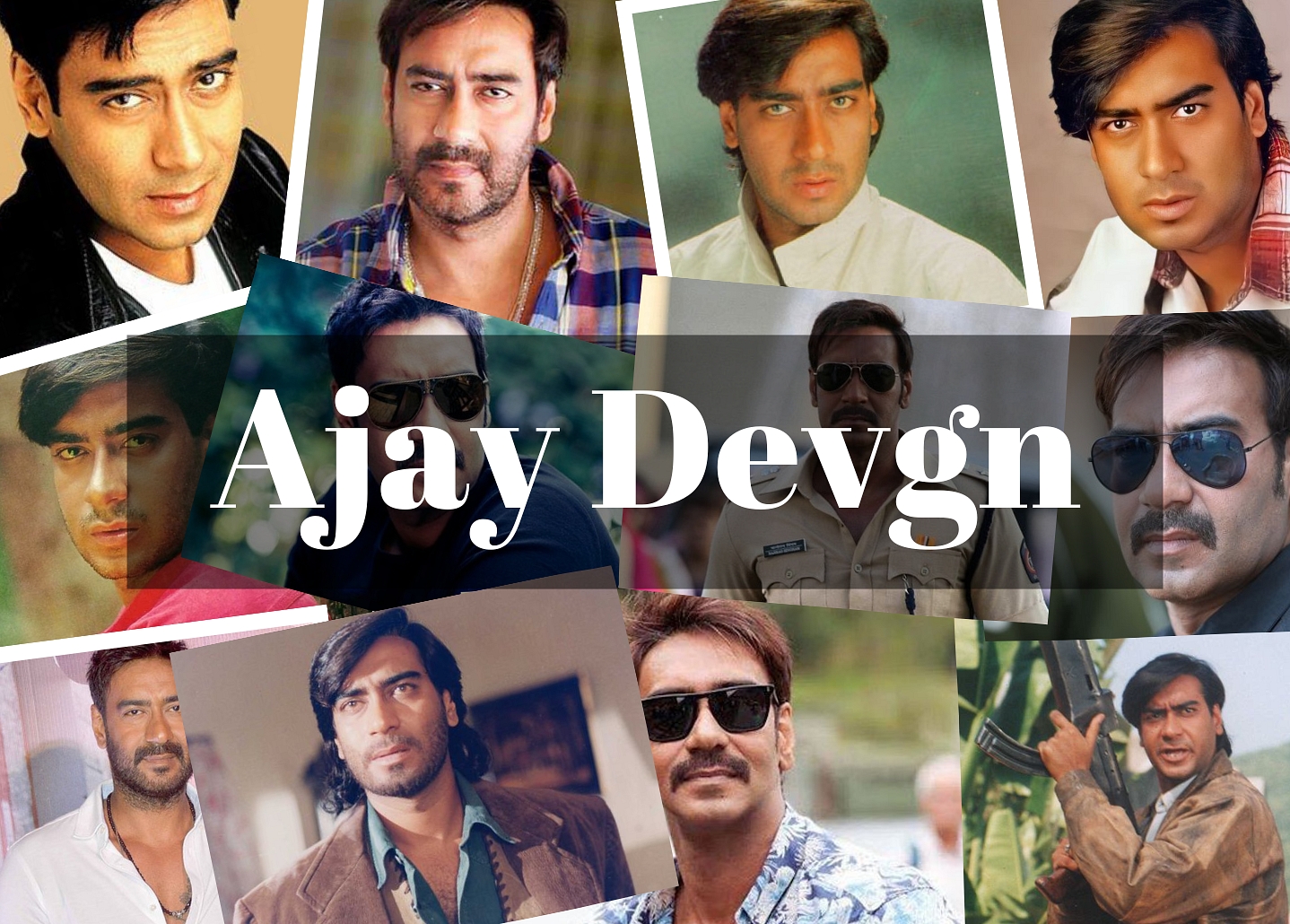 Ajay Devgn's Biography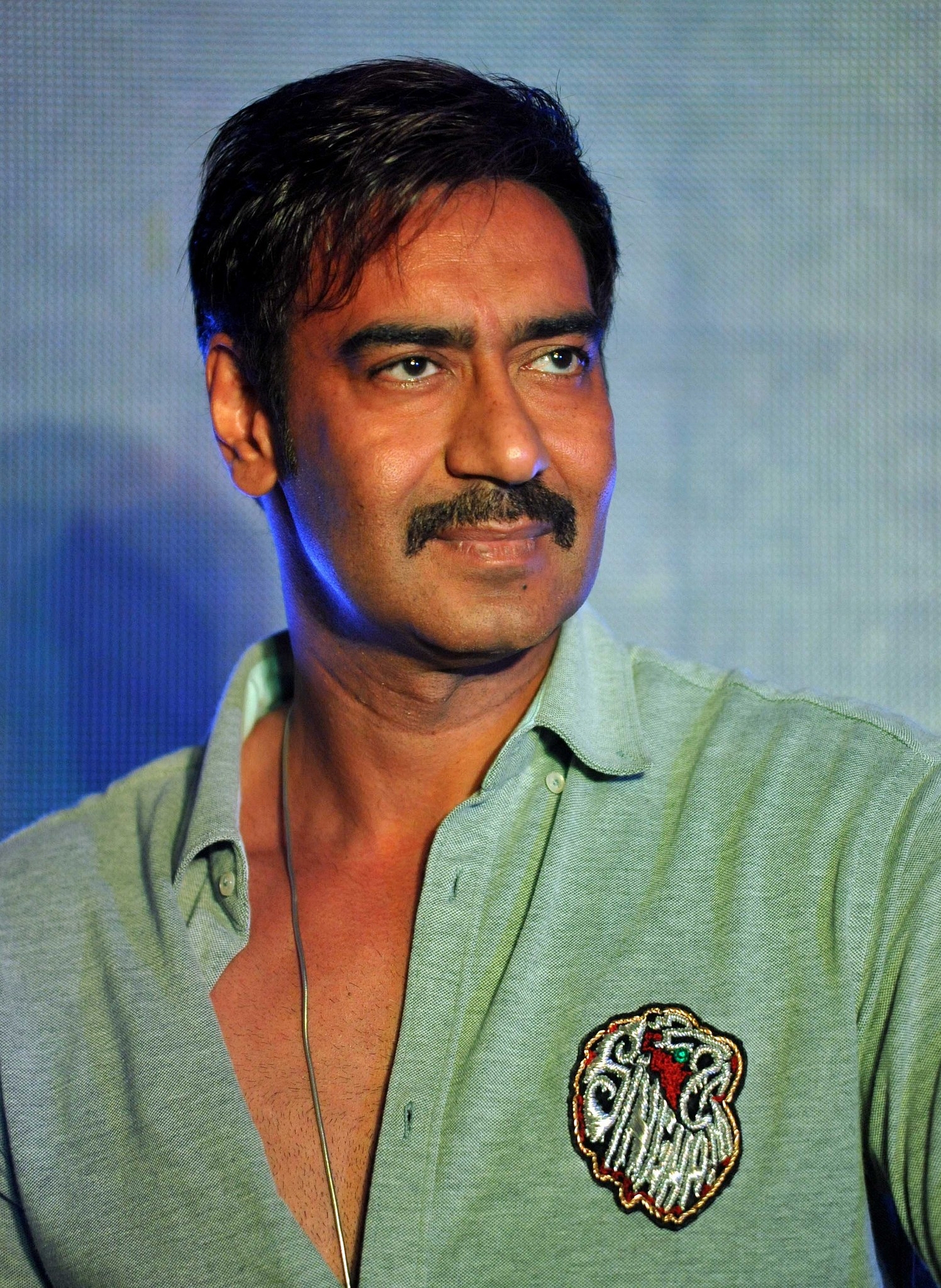 Ajay Devgn is the stage name of Vishal Veeru Devgan, an Indian actor, producer, and director best known for his work in Hindi cinema. Ajay Devgn's Birthday is on April 2. The Birthyear of Ajay Devgn is 1969. Devgn has been in more than one hundred movies and has received various honors, including four National Film Awards and four Filmfare Awards. He received the Padma Shri, the fourth-highest civilian honor bestowed by the Indian government, in 2016. With Phool Aur Kaante, Devgn launched his professional career in 1991.

Devgn is also the owner of the 2000-founded production business Ajay Devgn FFilms. With U Me Aur Hum, he made his directorial debut in 2008. In 1999, he was wed to movie star Kajol. Ajay Devgn's Zodiac Sign is Aries. Ajay Devgn has two sisters named Neelam Devgn and Kavita Devgn. Ajay Devgn's Birthplace is New Delhi. As of 2022, Ajay Devgn's age is 53 years.Ajay Devgn is the stage name of Vishal Veeru Devgan, an Indian actor, producer, and director best known for his work in Hindi cinema. Ajay Devgn's Birthday is on April 2. The Birthyear of Ajay Devgn is 1969. Devgn has been in more than one hundred movies and has received various honors, including four National Film Awards and four Filmfare Awards. He received the Padma Shri, the fourth-highest civilian honor bestowed by the Indian government, in 2016. With Phool Aur Kaante, Devgn launched his professional career in 1991.

Devgn is also the owner of the 2000-founded production business Ajay Devgn FFilms. With U Me Aur Hum, he made his directorial debut in 2008. In 1999, he was wed to movie star Kajol. Ajay Devgn's Zodiac Sign is Aries. Ajay Devgn has two sisters named Neelam Devgn and Kavita Devgn. Ajay Devgn's Birthplace is New Delhi. As of 2022, Ajay Devgn's age is 53 years.

Devgn founded NY VFXWAALA, a visual effects studio, in October 2015 and named it after his children. Prem Ratan Dhan Payo, Tamasha, Bajirao Mastani, Mersal, Dilwale, Force 2, and Simmba are just a few of the big movies it has worked on. At the 64th National Film Awards, the business earned the Best Special Effects prize for the movie Shivaay (2016).
Talk To Similar Celebrities
Ajay Devgn's Childhood and Ajay Devgn's Family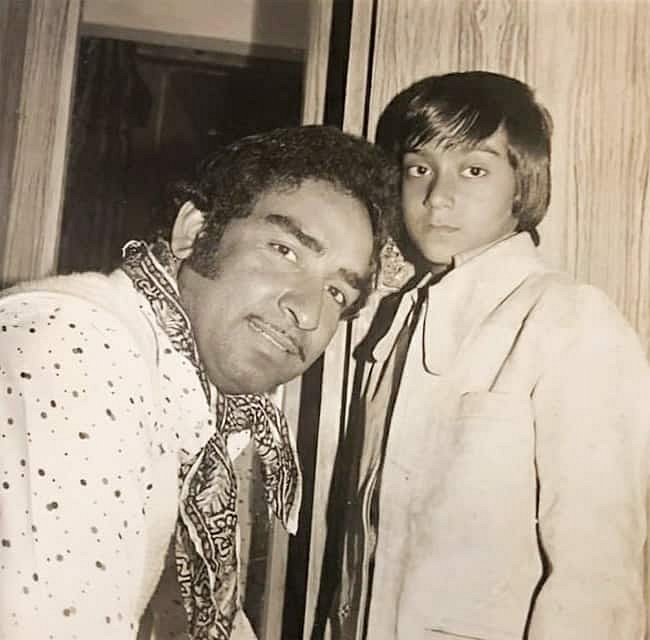 Devgan was born into the Hindu Punjabi Saraswath-Vishwakarma family, who had roots in Amritsar, Punjab. The family has ties to Mumbai's Hindi film business.

Veeru Devgan, Ajay Devgn's father, was a stunt coordinator and action movie director, and Veena Ajay Devgn's mother, is a producer. Anil Devgan, his cousin, is a screenwriter and director. Devgn attended Mithibai College after graduating from Silver Beach High School in Juhu.

Ajay takes us on a nostalgic journey through one of his favourite memories from school, saying, Back then, we didn't have all these gadgets. We enjoyed ourselves physically. He continues, As for our recreation, we used to play games. That's what I regret about today's kids, but I'm always pushing them to go outside and remain outside rather than playing on their PSs and all those gadgets. Any sport could be played, not simply football or cricket.
Ajay Devgn's Affair and Relationships
Tabu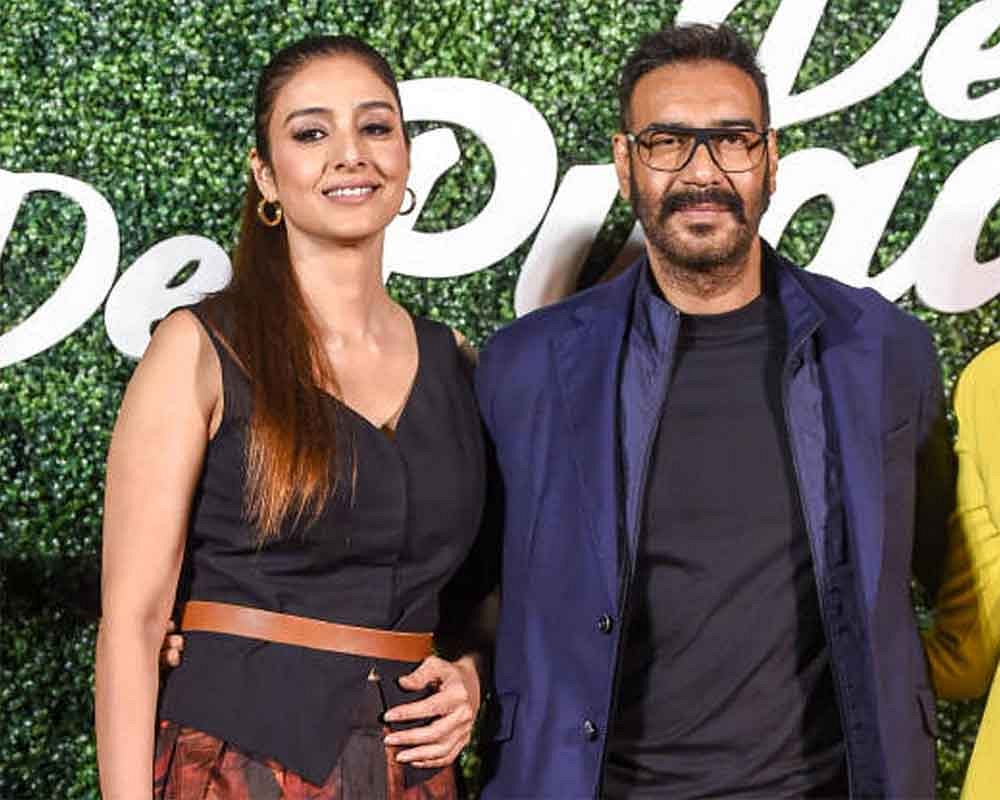 Ajay Devgan and Tabu, whose real names are Vishal Veeru Devgan and Tabassum Fatima Hashmi, have known one another for more than 25 years. Both grew up together and shared the same neighborhood during their formative years. When asked recently about her marriage, she playfully retorted that Ajay was the reason she was still single.

Sameer, the cousin of Ajay and Tabu, used to spy on her and harass everybody who interacted with her. She has even shared the screen with Ajay in a number of movies, including Drishyam, Golmaal Again, Vijaypath, Haqeeqat, De De Pyaar De, and Jawaani Jaaneman. According to some sources, Ajay had a serious crush on Tabu, and the two even dated for a while.
Raveena Tandon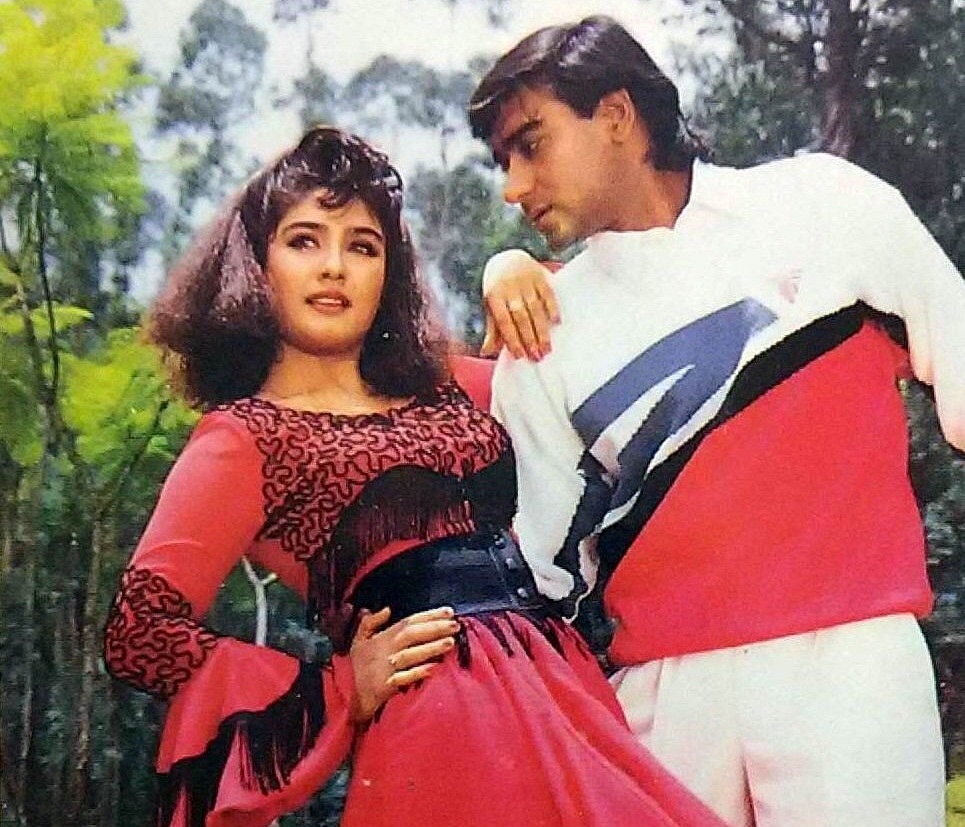 Raveena, the dream queen of B-town in the 1990s, developed feelings for this tall, attractive man. While filming Dilwale, the co-stars got together and started dating. Ajay fell in love with Karisma after they were dating for a while. The gossip around town was about how brutally they split up.

They engaged in a heated argument in public, and things got so bad that Raveena even made an attempt at suicide. After their painful separation, Ajay suggested that Raveena consult a psychotherapist. They exchanged a few love notes while dating, according to Raveena. She even suggested she would be able to present those letters as evidence. Let her bring the proofs, Ajay retorted, even though he wanted to see them.
Karisma Kapoor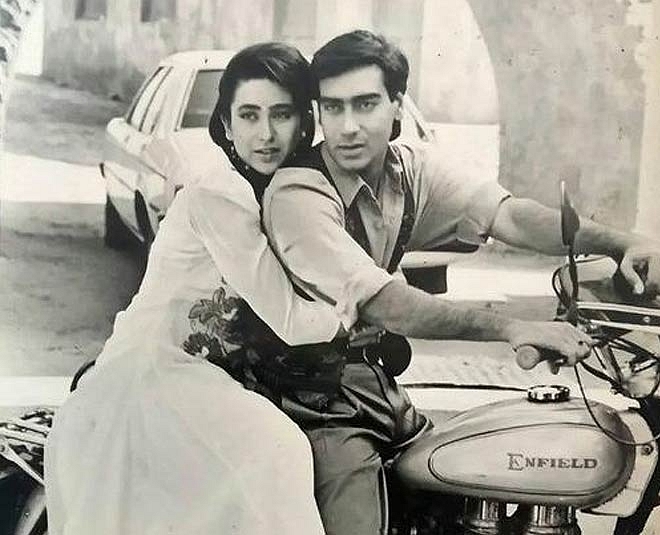 While filming Jigar, Ajay and Karisma fell in love with one another. Ajay Devgn allegedly even broke up with Raveena Tandon in order to date Karisma Kapoor. Together, they produced some of the most popular movies, including Sargam, Dhanban, and Suhag. They were able to spend some time together as a result of this.


As soon as Ajay and Kajol agreed to star in the film Hulchul, their love began to wane. Back then, Kajol was also involved in a problematic marriage. As Ajay and Kajol grew closer, they started garnering media attention. Soon, Karisma and Ajay's relationship came to a sudden halt, leaving their fans inconsolable. They never truly acknowledged their romance in front of others.
Kangana Ranaut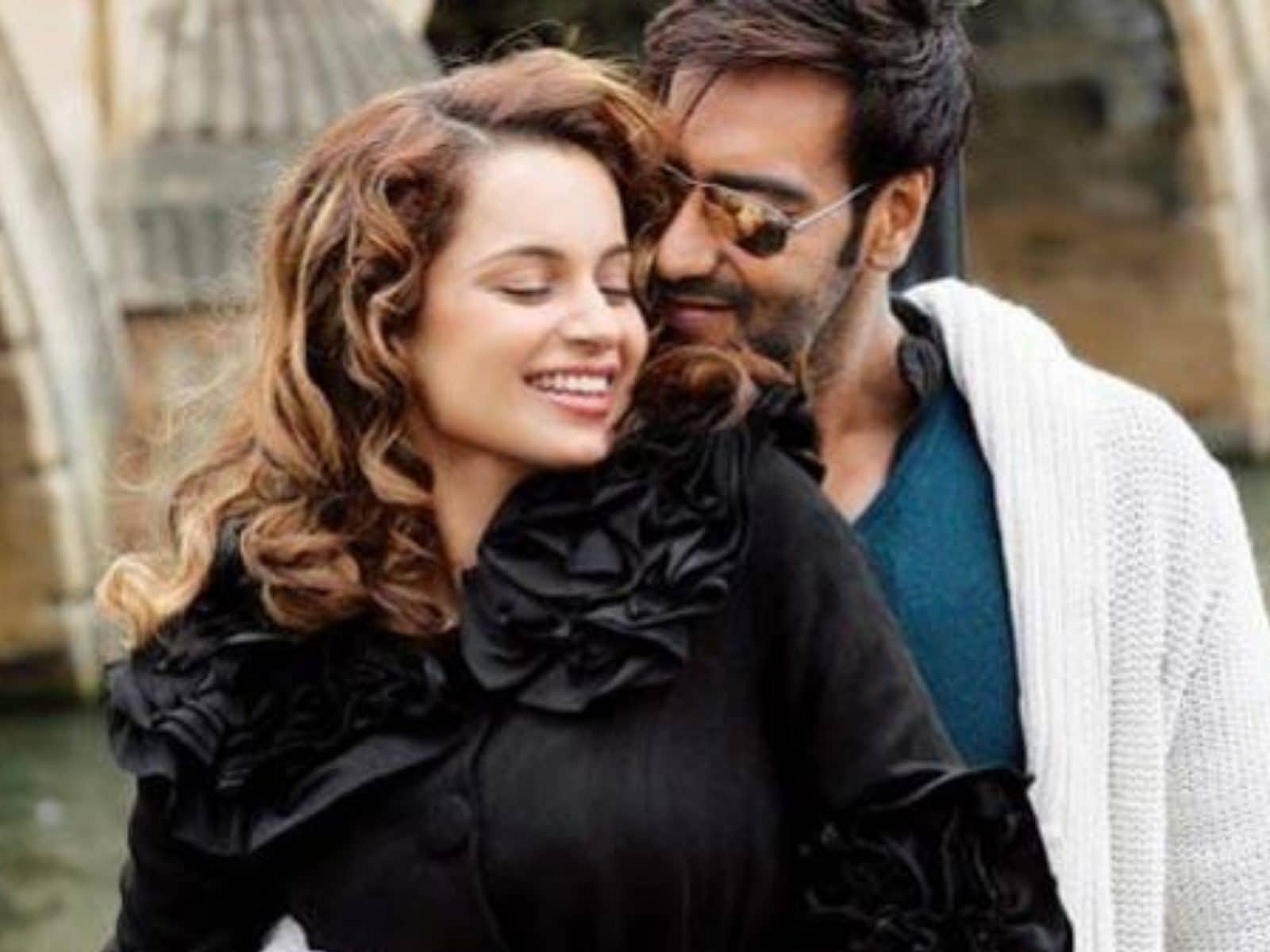 The two stars fell in love while filming Once Upon A Time In Mumbai. Even after Ajay's marriage to Kajol, the two continued to get along and started an unrestricted relationship. According to reports, Ajay was worried by Kangana's emotional involvement with him because he had no intention of leaving his wife.

Kajol treated this situation seriously, even threatening to have Ajay leave the house with their children. Ranaut even acknowledged in an interview that she had made a mistake by falling for a married man.
Manisha Koirala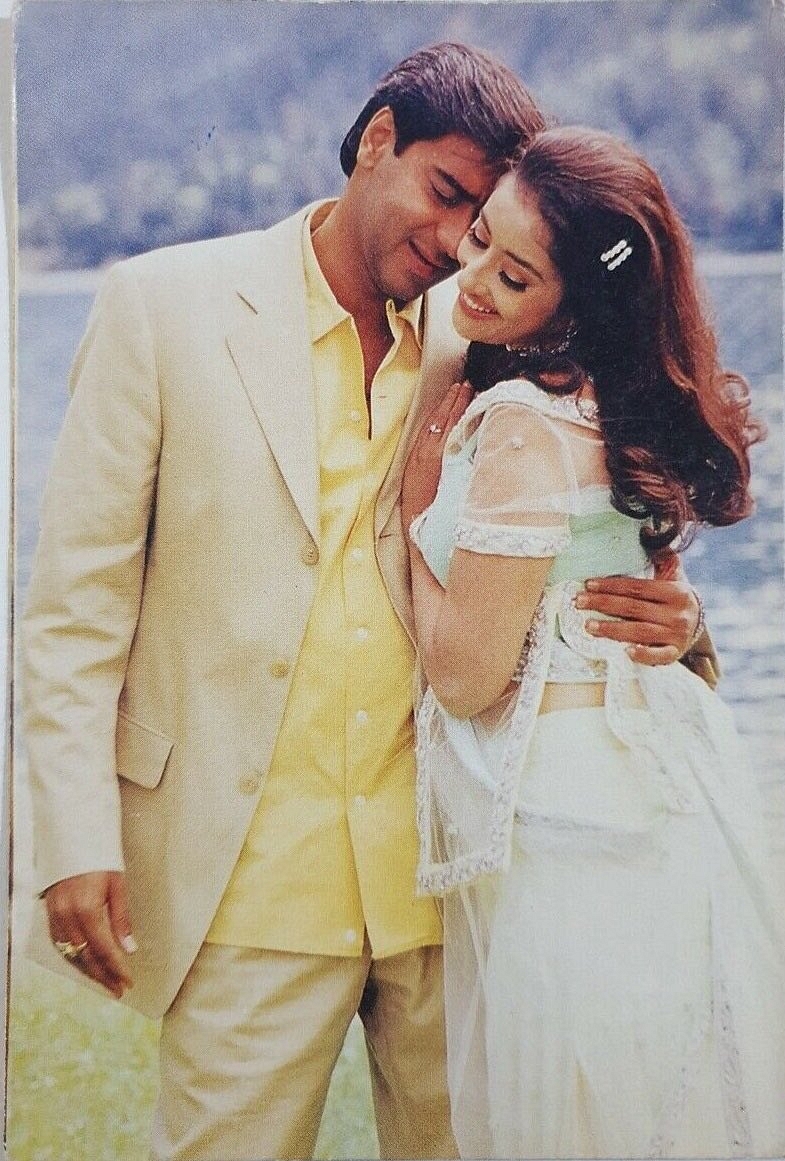 She appeared in a few movies when she first started her acting career, including Akele Hum Akele Tum and India Sweets and Spices. Manisha Koirala dated a variety of men during her life, including Vivek Mushran, Nana Patekar, Tariq Premji, Akshay Kumar, and many others, but Ajay Devgn is the one she cherishes the most. Their romance began with the movie Dhanwan, but things quickly deteriorated. The two started to advance in their individual lives. After their breakup, they were never able to reconnect. In 2010, Manisha and Samrat Dahal got married, but the marriage was short-lived.

In an interview, Ajay said, Excuse me, no heroine has complained about me besides Manisha and Raveena. All of my leading ladies, including Juhi Chawla, and I get along well. With a number of well-known heroines, I'm working on multiple movies, but not with these two females. I wouldn't collaborate with Manisha and Raveena if they were the only female heroes still living. They are both master liars and frustrated, and they have very similar temperaments. Genuine folks make me feel good; I don't like fake ones.
Ajay Devgn's Marriage Story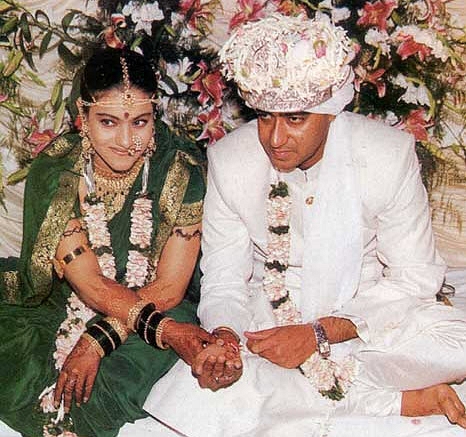 On the sets of the 1995 movie Hulchul, Kajol and Ajay Devgn first crossed paths, and it was fate. Following the death of the film's lead heroine, Divya Bharti, Kajol entered the picture at the very last minute. She then had her first encounter with Ajay Devgn when the movie was being filmed.

Kajol admitted that she didn't at first like Ajay in an old interview. Being a happy person, the actress admitted that it was quite difficult for her to get along with an intensely introverted person like Ajay Devgn. However, after spending some time together, the two developed a friendship and eventually began dating. The decision to keep their relationship secret during their four years of dating had a significant impact on the couple's relationship.

The unlikely pair of the movie business, Kajol and Ajay Devgn wed on February 24, 1999, in a traditional Maharashtrian Hindu Ceremony. Ajay Devgn, who is sometimes referred to as camera shy, has always desired a private wedding. The actor insisted that he would be the only one with a camera during the wedding, refusing to even employ professional photographers. The photos were therefore quite close-up and personal. After being married, Kajol and Ajay immediately embarked on a two-month honeymoon in Europe.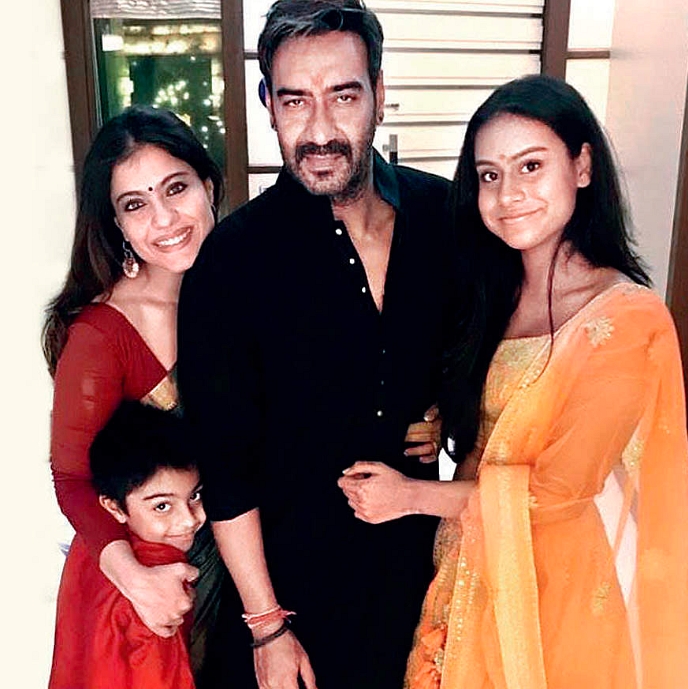 Two kids were born to the couple. Their son Yug was born in 2010, and their daughter Nysa was born in 2003. To serve as a source of stem cells in the event of a critical illness, To serve as a source of stem cells in the event of a critical condition, Devgn and Kajol kept their newborn son's umbilical cord blood and tissues. In August 2009, Devgn altered the spelling of his last name from Devgan to Devgn at the request of his family.

Kajol once discussed the personality contrasts between her and her husband Ajay Devgn in an interview with a reputable news source. The adoring wifey, who referred to herself as a nasty person, gushed about her husband and said that he is a better person than she is.

I'm pretty rude, critical, and cutting, she had said. I'm not quite as good a person as Ajay. Being the reasonable one all the time is difficult, but he's such a gentleman. He is an active Shaiva Hindu and visibly wears a Rudraksha, which appears in his films and other religious themes. Devgn was the first Bollywood star to have a private plane for use in getting to filming locations, attending events, and taking personal travels.
Ajay Devgn's Career
Indian director, actor, producer, and producer-director Ajay Devgan. In 1991, when his debut film was released, he received praise for his acting from audiences across the nation. Additionally, he performs all of the lethal feats without the aid of a body double. Ajay has since acted in a number of films that have elevated him to the status of a Bollywood movie superstar. He is currently among the best-paid actors in the nation. In the year 2000, he founded Ajay Devgan Films Productions, a production firm. Together with his wife Kajol, he directed his first film, U Me Aur Hum, in 2008. Two National Film Awards for Best Actor went to Ajay Devgan for the films Zakhm and The Legend of Bhagat Singh. Let's Revisit Some Vesritile Performances given by Ajay Devgn.
Ajay Devgn's First Movie: Phool Aur Kaante (1991)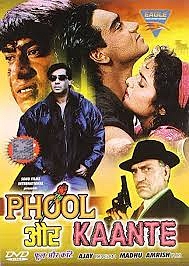 Due to the debut of numerous other actors with the name Vishal at the same time, including Manoj Kumar's son, Devgn changed his stage name from his birth name, Vishal, to Ajay when he entered the film industry in 1991. He started his professional career with Phool Aur Kaante and won a Filmfare Award for Best Male Debut. He appeared alongside Madhu. Devgn split when perched between two motorcycles in his initial scene.

Indian action-romance film Phool Aur Kaante, also known as Flowers and Thorns, was produced and directed by Kuku Kohli in 1991. Ajay Devgan, Madhoo, Aruna Irani, Jagdeep, and Amrish Puri are among the actors who appear in it. Devgan, the son of the late stunt and action choreographer Veeru Devgan, and Madhoo, the niece of Hema Malini, made their acting debuts in the movie. The movie was a smash hit, earning Devgan the 1991 Filmfare Award for Best Male Debut. The Telugu version of this movie is called Varasudu. The movie is mainly inspired by the Sibi Malayil-directed Malayalam film Parampara, in which Mammootty portrays both Johnny, the lead character, and Lawrence, his father.
Hum Dil De Chuke Sanam (1999)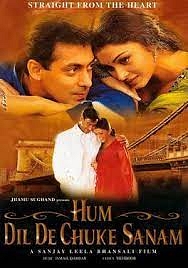 In the 1999 romance drama Hum Dil De Chuke Sanam, Devgn played Vanraj, a guy who tries to assist his wife (Aishwarya Rai) in getting back together with her boyfriend (Salman Khan). A crucial turning point in Devgan's career was Hum Dil De Chuke Sanam. Salman Khan and Aishwarya Rai co-starred in the movie, which was directed by Sanjay Leela Bhansali and was based on the Bengali novel Na Hanyate by Maitreyi Devi.
Devgn's performance received significant appreciation. He is looking for the boy there who is dating the girl he is secretly in love with. But he excels in intense sequences, and he does well here. He excels in the scene as he struggles to maintain his composure while growing frustrated with his wife's intransigence. As a result of the film's popularity, Devgan received a nomination for the Filmfare best actor prize.
The Legend of Bhagat Singh (2002)
In the biopic The Legend of Bhagat Singh directed by Rajkumar Santoshi, he portrayed Bhagat Singh. The reviews of his performance were favorable. The movie was released on June 7, 2002, and went on to win two National Film Honors, including the National Film Award for Best Feature Film in Hindi, and three Filmfare Awards, including the Filmfare Critics Award for Best Movie. Taran Adarsh stated of Ajay Devgn, To suggest that he has lived the part, would be an understatement. His performance is likely to garner adulation from cine-goers while fetching awards.

Rajkumar Santoshi is the director of the 2002 Hindi-language biographical period drama The Legend of Bhagat Singh. The movie is about Bhagat Singh, a freedom fighter who, along with other members of the Hindustan Socialist Republican Association, battled for the independence of India. The movie follows Singh's life from his early years, when he sees the Jallianwala Bagh slaughter, to the day of his execution on 23 March 1931—his hanging day.
Golmaal: Fun Unlimited (2006)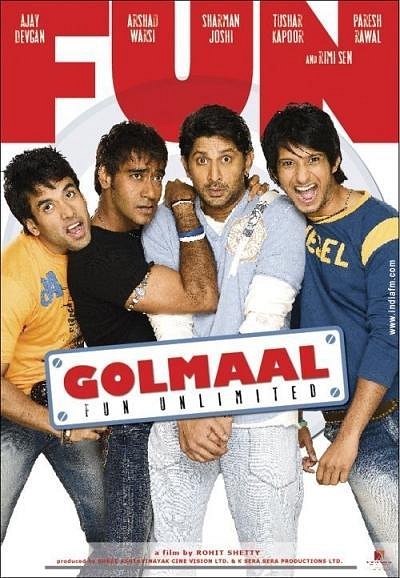 Golmaal: Fun Unlimited, sometimes known as Chaos: Fun Unlimited, is a 2006 Indian comedy film in the Hindi language that was produced by Dhilin Mehta and Parag Sanghvi under the banner of K Sera Sera Private Limited and directed by Rohit Shetty. Moser Baer served as the film's distributor. Ajay Devgn, Arshad Warsi, Sharman Joshi, Tusshar Kapoor, Rimi Sen, and Paresh Rawal all appear in the first film of the Golmaal franchise. The movie Golmaal came out on July 14, 2006.

The opening comic scenes were later used in the Kannada film Mast Maja Maadi. The movie is based on Mihir Bhuta's Gujarati play Aflatoon, which was based on Harsh Shivsharan's Marathi play Ghar Ghar, which had previously been turned into the 2001 Malayalam film Kakkakuyil (2008). Critics gave the movie mixed to excellent reviews after its debut, praising Joshi in particular. In spite of having a budget of only 150 million dollars, the movie made a worldwide total of 467.2 million dollars.
Once Upon A Time in Mumbai (2010)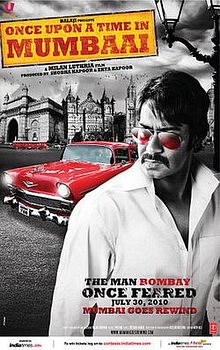 The 2010 Indian gangster movie Once Upon a Time in Mumbaai was produced by Milan Luthria and written by Rajat Arora. Ajay Devgn, Emraan Hashmi, Kangana Ranaut, Prachi Desai, and Randeep Hooda are among its cast members. Once Upon a Time in Mumbaai was a box office success and was produced by Ekta Kapoor under the Balaji Motion Pictures brand. It was released on July 30, 2010, to generally favorable reviews from reviewers. The lives of Mumbai underworld gangsters Haji Mastan and Dawood Ibrahim are loosely based on the movie. Once Upon a Time in Mumbai Dobaara, a sequel! , which came out in 2013.

The reviews for the movie and Devgn's performance were favorable. Ajay Devgn is wonderful as Sultan, stated Taran Adarsh. Although the actor played a character quite similar to this in Company, it must be acknowledged that his performance in Once Upon a Time in Mumbaai is very different. He gives the character a tonne of depth, demonstrating his breadth and adaptability. Without a doubt, this is Ajay's best effort to date. Ajay Devgn is outstanding in the character of Sultan Mirza, according to Komal Nahta. His portrayal is so genuine that it seems as though he was destined for this part. Everything about him is amazing, from his appearance to the way he acts and delivers lines of conversation. A truly honorable performance!
Singham Returns (2014)
Devgn appeared in the Singham Returns sequel directed by Rohit Shetty in 2014. Indian critics gave Singham Returns a mixed bag of reviews. Taran Adarsh of Bollywood Hungama gave it four stars and said: The film is a complete mass entertainer with power-packed drama, hi-intensity dialogue, and towering performances as its aces. The brand value attached to it coupled with a long weekend will help the film reap a harvest and rule the box office in days to come. It made over 32.09 crores (US$4.0 Singham Returns have a domestic net of 140.62 crores ($18 million).

As the second entry in his Cop Universe series, Rohit Shetty wrote and directed the 2014 Indian action movie Singham Returns in the Hindi language. It is jointly produced by Reliance Entertainment, Rohit Shetty Picturez, and Ajay Devgn FFilms and is based on the Malayalam film Ekalavyan (1993). Yunus Sajawal and Sajid-Farhad wrote the script, and Ajay Devgn reprises his role as DCP Bajirao Singham. Kareena Kapoor plays the female lead in place of Kajal Aggarwal.
Tanhaji: The Unsung Warrior (2020)
Devgn played the part of 17th-century military leader Tanaji Malusare in the early 2020 film Tanhaji: The Unsung Warrior, which was also directed by Om Raut. The movie was released on January 10, 2020, and it went on to win three National Film Awards, including Best Popular Film Providing Wholesome Entertainment and Best Actor. Tanhaji - The Unsung Warrior made Rs 3.67 billion ($49 million) globally. The Movie marks Ajay Devgn's 100th film as an actor.

Set in the 17th century, it centers on Tanaji's attempts to retake the Kondhana fortress after it is given to the Mughal emperor Aurangzeb, who gives control of it to his dependable guard Udaybhan Singh Rathore. The film was originally titled Tanaji: The Unsung Warrior but the name was later changed to Tanhaji. The movie was a huge success at the box office, earning 3.67 billion (US$46 million) globally, making it the highest-grossing Bollywood movie of 2020. At the 78th Golden Globe Awards, the movie was chosen as one of the Best Foreign Film nominees.
Ajay Devgn's Upcoming Movies
Thank God
The upcoming Indian comedy film Thank God, which is being produced by T-Series and Maruti International, was written and directed by Indra Kumar. Ajay Devgn, Sidharth Malhotra, and Rakul Preet Singh play the three main characters in the movie. The movie will be released on October 25, 2022, which also happens to be Diwali. It is an Indra Kumar remake of the Norwegian film Sorte Kugler.

Thank God's Teaser is Out Now. Watch the amazing Teaser of Thank God starrng Ajay Devgn, Siddharth Malhotra, Rakul Preet Singh and Kiku Sharda.

Drishyam 2
Abhishek Pathak is the director of the upcoming crime thriller movie Drishyam 2 in India. The movie, which also serves as the sequel to Drishyam, stars Ajay Devgn, Tabu, Shriya Saran, Akshaye Khanna, Ishita Dutta, Mrunal Jadhav, and Rajat Kapoor. It is a remake of the same-titled Malayalam film from 2021. (2015). The movie, which was primarily shot in Goa but also featured scenes in Mumbai and Hyderabad, is slated for a November 18 theatrical release.
Bholaa
A next Rohit Shetty comedy titled Cirkus will be released in Hindi and produced by Rohit Shetty Picturez, T-Series, and Reliance Entertainment. The movie is loosely based on the 1982 film Angoor, which was a remake of the 1968 film Do Dooni Chaar, which in turn was an adaptation of the 1963 Bengali film Bhranti Bilas, which was based on the 1869 play of the same name by Ishwar Chandra Vidyasagar, which was adapted from Shakespeare's play The Comedy of Errors. Ranveer Singh, Pooja Hegde, Jacqueline Fernandez Ajay Devgn, and Deepika Padukone both make cameo appearances.

The first day of principal photography in Mumbai was November 17, 2020. It has been called a historical comedy taking place in the 1960s. Due to production delays, the movie's first release date was set for December 31, 2021; however, its new date is December 23, 2022.
Maidaan
Future Hindi-language biographical sports film Maidaan, titled Field, will be directed by Amit Sharma and produced by Boney Kapoor and Zee Studios. Ajay Devgn plays football coach Syed Abdul Rahim, and the film also stars Priyamani, Rudranil Ghosh, and Gajraj Rao. It is based on the golden era of Indian football (1952–1962). Rahman R. Principal photography began on August 19, 2019, but was severely delayed by the COVID-19 epidemic, finally wrapping it in May 2022. Due to upcoming post-production work, the movie's June 2022 release date was postponed.
Ajay Devgn's Career Timeline
Ajay Devgn's Controversies
Hindi Language Remark Controversy
Sudeep and Ajay Devgn's argument over the national language of Hindi has sparked a nationwide debate, and politicians and media figures are enraged. The crisis started when Sudeep remarked, You mentioned a Kannada-language, all-India film. I want to correct something really minor. No longer a national language, Hindi. Currently, Bollywood is producing films that are all about India. Telugu and Tamil dubbing is being used in an attempt to succeed, but it's not working. Today, we produce films that are seen all over the world. He was discussing the popularity of the Kannada movie KGF 2 across the country.

Ajay Devgn quickly intervened to criticize the celebrity for his remarks, sparking a verbal altercation. Ajay rested his case after Sudeep quickly clarified the context in which he made the statement. But as more politicians and actors voiced their opinions, the situation worsened. And a nationwide discussion followed.
Affairs Controversy
Ajay and Raveena Tandon were the sexiest couples in Bollywood when he starred in Dilwale. Raveena soon accused him of betraying her for Karishma Kapoor in an interview. In response, Ajay referred to Raveena as the worst liar.Ajay and Karishma's off-screen romance had its beginnings in multiple films and was widely rumored. Although both actresses have insisted that they are only friends, rumors about Ajay ditching Karishma for Kajol quickly surfaced.

Ajay is said to have become associated with Kangana Ranaut while the Once Upon A Time In Mumbai filming was taking place. According to accounts, after hearing the claims, Kajol threatened to leave with her children. Later, Kangana said controversially in an interview with an entertainment publication that being associated with married men was a mistake.

Ajay claimed that Karan Johar paid Kamaal R Khan Rs 25 lakh to tweet unfavorable reviews of the movie Shivaay during the film's release. Kajol's comments about her best buddy Karan cause the situation to worsen.
Ajay Devgn's Net Worth
In 2022, Ajay Devgan's net worth will be $55 Million (Rs. 427 Crore). Ajay Devgan, an Indian actor, director, and producer, was given the name Vishal Veeru Devgan on April 2, 1969. Having appeared in more than a hundred Hindi films, he is recognized as one of the most well-liked performers in the Hindi film industry. Devgan has earned a number of honors, including four Filmfare Awards and several National Awards. In 2016, the Indian government awarded him the Padma Shri, the fourth-highest civilian honor in the nation.

The majority of Mr. Devgan's earnings come from movies and brand endorsements, and his overall net worth is believed to be $55 million, or roughly 427 crores INR in Indian currency. In addition to receiving acting fees, Ajay Devgan also receives a portion of the movie profits.

He accepts a sizable payment for brand endorsements. Ajay is constantly at the top of the list when it comes to giving, charity, and social activity because of his enormous profit and high profits. Mr. Devgan is one of the nation's biggest taxpayers and ranks first in income tax payments.

Ajay Devgan owns two homes, one a designer luxury home on Malgari Road in Mumbai and the other an apartment in Juhu. Both homes cost about 25 crore Indian rupees in total. Luxury automobiles are a significant passion of Ajay's. His fleet of vehicles includes a Ferrari, BMW, Maserati Quattroporte, and a Toyota Celica.

Any celebrity's income is significantly influenced by their fan base. One of the most well-known actors in both India and other countries is Ajay Devgan. Ajay is not only an actor but also a director, producer, and stage performer. Additionally, he has made significant investments in several real estate properties and his own personal ventures. We can therefore be absolutely certain that Ajay Devgn's net worth will increase over time.
Ajay Devgn's Awards and Achievements
1991-Won Filmfare Awards-Phool Aur Kaante-Best Male Debut
1998-Won National Film Awards-Zakhm-Best Actor
1998-Won Bengal Film Journalists' Association Awards-Zakhm-Best Actor
2002-Won National Film Awards-The Legend of Bhagat Singh-Best Actor
2003-Won Zee Cine Awards-Deewangee-Best Actor in a Negative Role2009-Won Stardust Awards-All the Best-Best Actor – Comedy / Romance
2010-Won Stardust Awards-Once Upon a Time in Mumbaai-Best Actor – Thriller/Action
2020-Won National Film Awards-Tanhaji-Best Actor
2020-Won National Film Awards-Best Popular Film Providing Wholesome Entertainment (Producer)
Devgn also received various honors, such as the Padma Shri awards, the Jasarat Award, the NDTV Actor of the Year, the Rajiv Gandhi Awards for Achievement in Bollywood, and the Most Lucrative Celebrity of 2010 at the ETC Bollywood Business Awards.
Ajay Devgn's Interesting Facts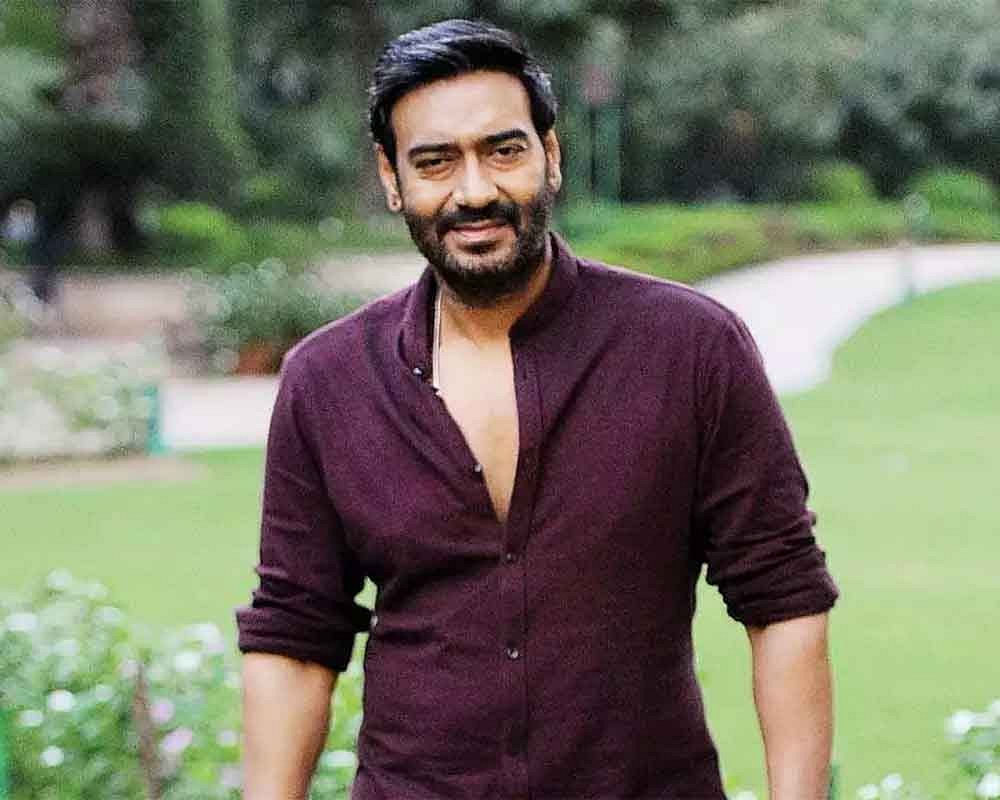 Ajay Devgan is the son of renowned Bollywood stunt director Veeru Devgan.
He truly acted in the scene where he rides two bikes and stretches his legs in his debut movie.
Kajol didn't like Ajay Devgan when they first met, and she wasn't even interested in working on the movie with him. But a month later, She started to fall for him.
After dating for a year, Kajol and Ajay decided to leave their respective relationships behind in order to be with each other.
As a father, Ajay Devgan is quite possessive and traditional.
Ajay Devgan disliked attending social events. He is both an introvert and uninterested in such things.
Actor Ajay Devgan has tried and succeeded in a wide range of movie genres.
Salman Khan, Tabu, and Ajay Devgan get along well. Salman Khan has frequently defended Ajay Devgan's movies when they ran up against other significant movies.
Rohit Shetty and Ajay Devgan frequently work together. Rohit Shetty is forever grateful to Ajay Devgan for improving his life. Veeru Devgan, the father of Ajay Devgan, had help from Rohit Shetty.
Ajay and Kajol have very dissimilar personalities—almost poles apart. However, they honor their relatives. Family comes first for them. They always support one another.
Ajay Devgn's Real Name is Vishal Veeru Devgn.
Social Media
Frequently Asked Questions