Kajal Aggarwal | Biography, Movies, Boyfriend, Net Worth, Age

Zeenat Sayyed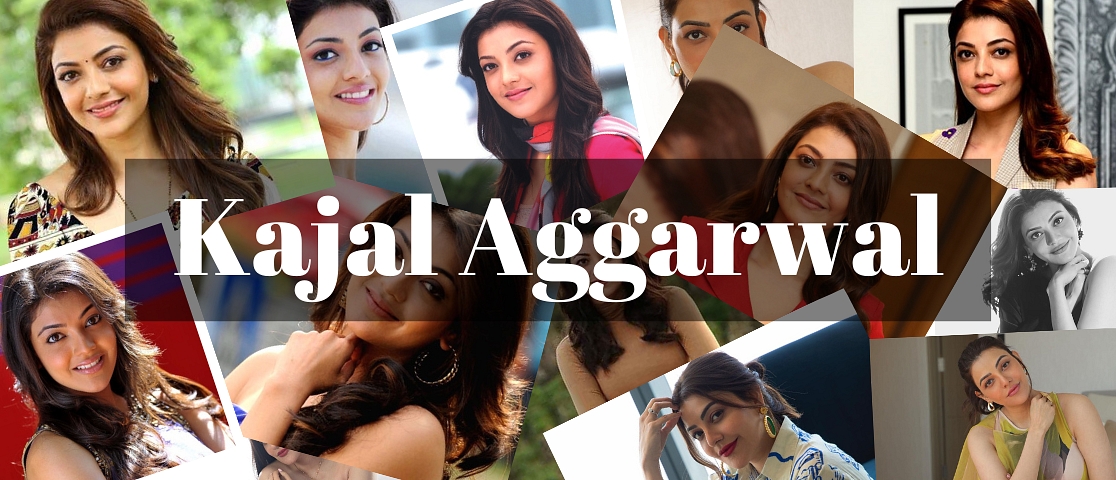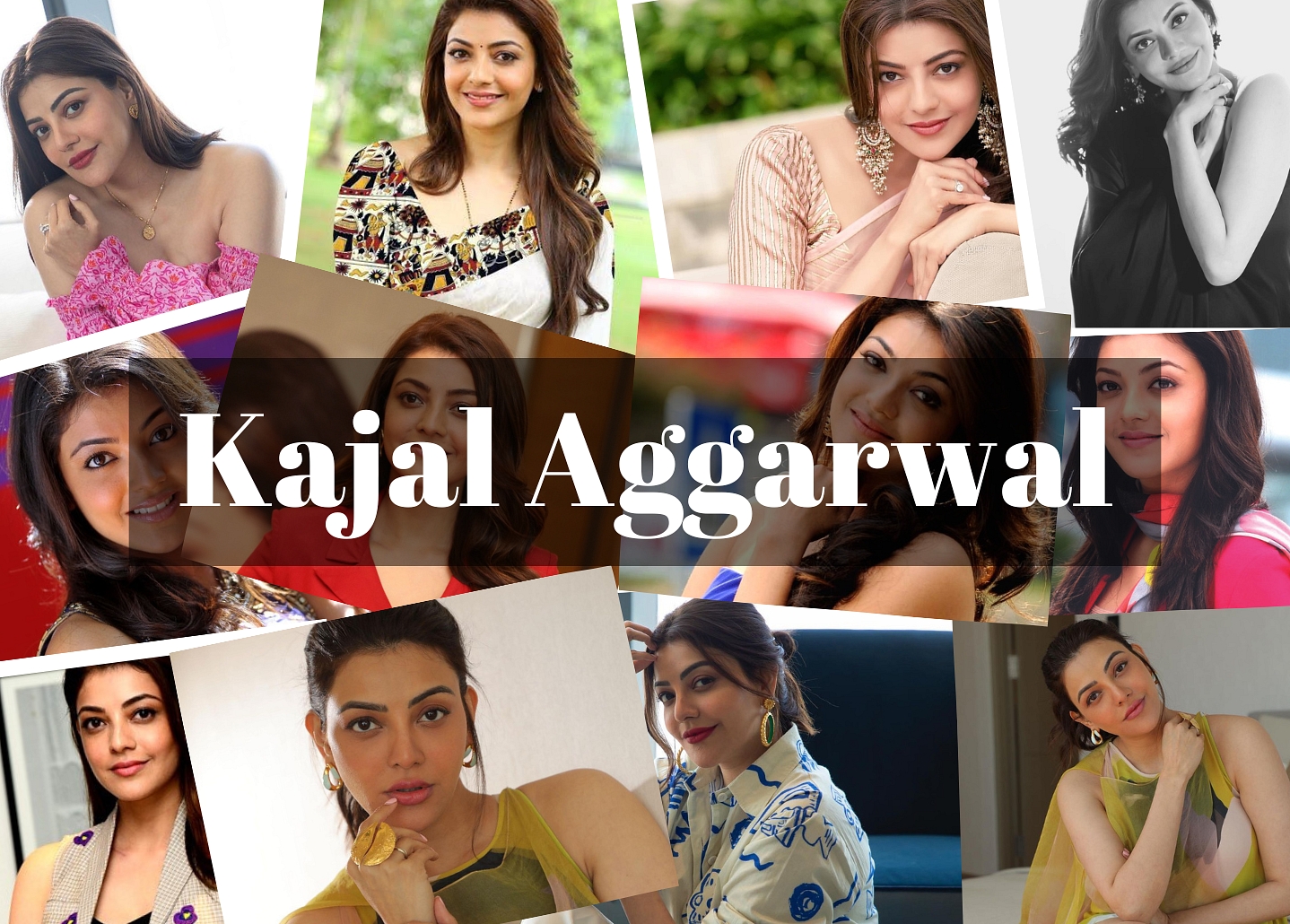 Kajal Aggarwal's Biography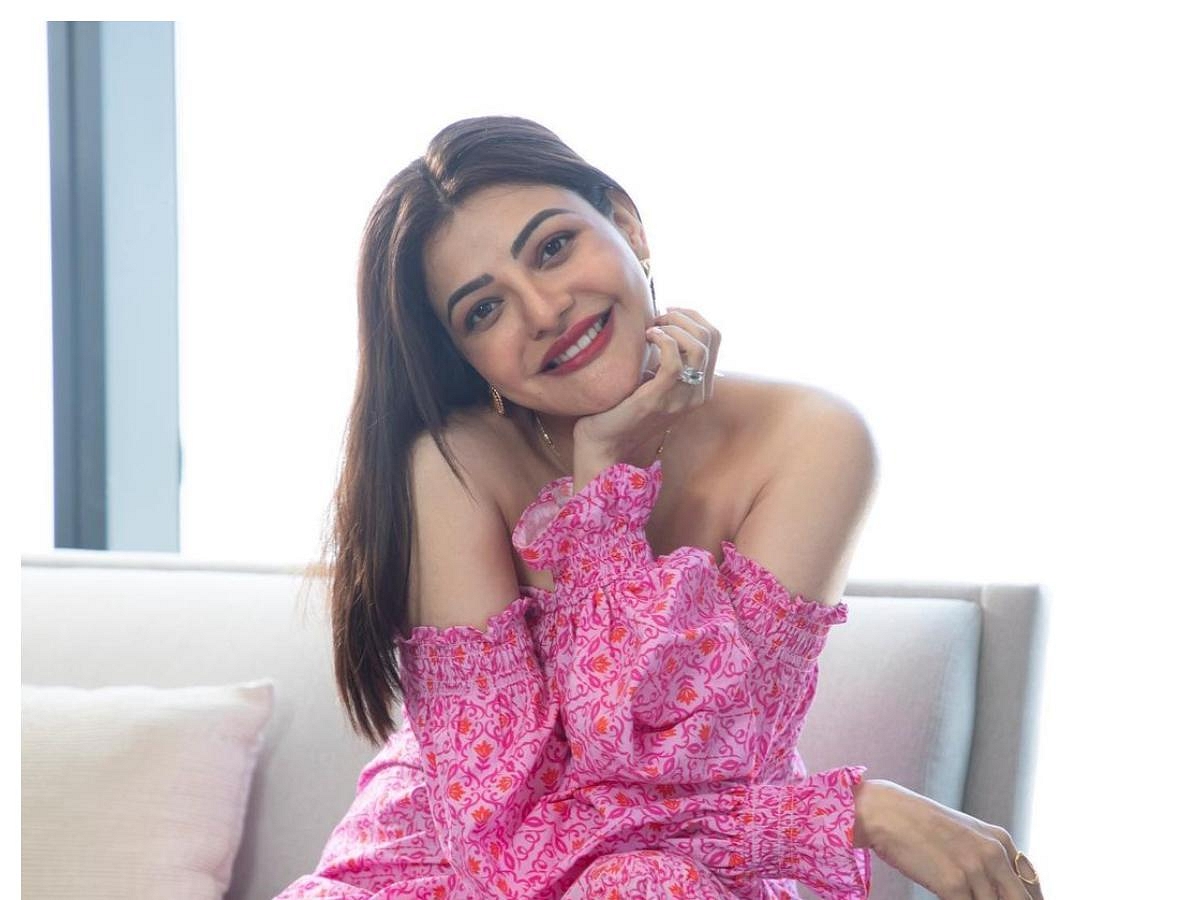 Kajal Aggarwal is an Indian actress and model who primarily works in Telugu and Tamil films with a few Hindi productions thrown in. Kajal Aggarwal's Birthday is on June 19. Kajal Aggarwal's Birthyear in 1985. In addition to appearing in more than 50 movies, Aggarwal has won two South Indian International Movie Awards. In 2020, Aggarwal became the first actress from South Indian film to have a wax figure shown at Madame Tussauds Singapore. Kajal Aggarwal's Birthplace is in Mumbai. Kajal Aggarwal is an avid supporter of numerous brands. She had previously worked as a model in commercials before beginning her film career. She serves as the brand ambassador for the Celebrity Cricket League.

In addition to a few Hindi films, Kajal Aggarwal is an Indian actress who predominantly works in Telugu and Tamil movies. In the Hindi film Kyun! Ho Gaya Na, where she had a small part, made her acting debut (2004). Aggarwal made her Telugu film debut with Lakshmi Kalyanam (2007), her first movie in a leading role, however, it wasn't a financial success. Chandamama, her other Telugu movie that year, was her first box office hit. The next year saw the release of Pazhani, her debut Tamil film. She had four releases the next year. She made a significant breakthrough with one of them, S. S. Rajamouli's Telugu film Magadheera, which also led to her being nominated for a Filmfare Award for Best Actress - Telugu. The romantic comedy Darling, Aggarwal's first release of 2010, was a box office hit and brought her another Filmfare nomination for Best Actress in Telugu.

Her other two films that year, the romantic comedy Brindavanam and the Tamil thriller Naan Mahaan Alla were also hits. The latter earned her the CineMAA Award for Best Actress. She acted in Mr. Perfect in 2011, and for that role, she was nominated for Best Actress in Telugu for a third time by Filmfare. She made her comeback to Hindi film that year with Singham, a Tamil film Singam adaptation. She was nominated for the Filmfare Award for Best Female Debut because of this. Aggarwal received a fourth Filmfare nomination for Best Telugu Actress for her work in Govindudu Andarivadele (2014) and AR Murugadoss' Thuppakki (2012), both of which won the CineMAA Award for Best Tamil Actress. Live Telecast, a web series in Tamil, served as her television debut (2021). The Zodiac Sign of Kajal Aggarwal is Gemini.
Talk To Similar Celebrities
Kajal Aggarwal's Childhood and Kajal Aggarwal's Education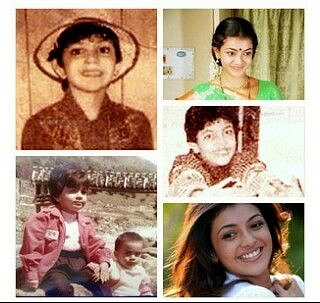 Kajal Aggarwal was raised in Bombay by a Punjabi family. Kajal Aggarwal's mother Suman Aggarwal works as Kajal's business manager and Kajal Aggarwal's father Vinay Aggarwal is an entrepreneur in the textile industry. Nisha Aggarwal, Kajal's younger sister, is a Telugu, Tamil, and Malayalam actress.

Kajal attended St. Anne's High School in the fort and Jai Hind College to complete her pre-university coursework. She attended Kishinchand Chellaram College to complete her degree in mass media with a marketing and advertising concentration. She has always dreamed of earning an MBA, and she plans to shortly complete her post-graduation education.
Kajal Aggarwal's Affairs and Relationships
Kajal Aggarwal is undoubtedly one of the most beautiful and in-demand actors in the Telugu cinema industry right now. A real diva, the Punjabi Kudi is regarded as the ruler of many hearts due to her alluring appearance, cheerful demeanour, and endearing character. Kajal, a well-known performer in her own right, has starred in a number of significant movies, which has significantly increased the evidence that she is a bankable star. The Pakka Local beauty spoke about her affairs and spoke up about her personal life a few years back.

She said, I have had two meaningful relationships in my life thus far, one before I was an actor and one after; both were with individuals outside the industry, Kajal had previously stated. The last relationship did not continue since it requires time and physical presence, both of which I was unable to provide because of my busy schedule. Kajal Aggarwal admitted that this was the first time she had ever sobbed and that she had done so because of a boyfriend issue. The only time I have ever sobbed in my life was because of issues with a guy, she had continued. In fact, I have to work extra hard when I need to do an emotional moment since I have no references in mind.In fact, I have to work extra hard to portray an emotional moment because I don't have any examples from my own life to draw upon, She added.
Kajal Aggarwal's Marriage and Kajal Aggarwal's Family
Although Gautam and Kajal had been friends for a while, it was the pandemic that inspired them to develop a deeper connection. Gautam Kitchlu and Kajal Aggarwal have been close friends for a long time. As was previously said, Gautam is the creator of Discern Living, a furniture and décor firm that specialises in interior design.

Ten years ago, they connected through mutual friends. I dated Gautam for around three years, after which we were friends for another seven. Every stage of our friendship has evolved, and we have become quite significant in one another's lives in an interview with Vogue, Kajal Aggarwal stated.
The epidemic was quite challenging for Kajal Aggarwal and Gautam Kitchlu because they are accustomed to seeing each other frequently. The two made the decision to wed at that time.

She continued, The other one would always show up, whether it was a social gathering or a crucial work project. We consequently realised that we want to be together throughout the lockdown when we went a few weeks without seeing one another—at best, we might catch a glimpse behind a mask at a grocery shop.

Kajal claims Gautam isn't a filmy man, and she is grateful about it. All it needed for Kajal to accept was a sincere proposal from Gautam. In terms of romanticism, Gautam is reserved. He's not the movie-type, which I appreciate because I have enough of that in my movies. Therefore, it wasn't a formal proposal with all the fanfare; rather, it was a really passionate and meaningful chat between us. I couldn't be more certain about spending the rest of my life with him because he was so open about his emotions and the way he communicated his want to remain with me in the future, she said.

In April 2020, Gautam got to know Kajal's parents, and in June 2020, the two exchanged vows in a cosy ceremony at their house. Also disclosed by Kajal was her desire for a destination wedding with a packed dance floor. However, the recent coronavirus pandemic foiled their efforts. The wedding, mehendi, haldi, and other events were meticulously organised by Kajal, Gautam, her sister Nisha, and the event management business they hired. Kajal used WhatsApp and Zoom calls to finalise all of her looks.

On October 29, a mehendi and haldi ceremony was the first step in Kajal's wedding. The chunni ceremony came next. On October 30, 2020, Kajal and Gautam were wed in accordance with Kashmiri and Punjabi traditions. A jeelakarra bellam ritual was also performed at Kajal's wedding because she spent so many years in Andhra Pradesh and Telangana. With an Instagram post, Kajal made her pregnancy official. Her husband soon followed suit. Neil, her son, was born on April 19, 2022.
Kajal Aggarwal's Career
Indian actress Kajal Aggarwal primarily performs in South Indian films. She has a successful cinema career in Tamil and Telugu, and she has received four Filmfare Award South nominations. In addition to acting, Kajal performs in stage productions and is a well-known brand and its ambassador. Let's Revisit some best works of Kajal Aggarwal in her Career.
Debut: Kyun! Ho Gaya Na (2004)
The 2004 Indian Hindi romantic drama Kyun! Ho Gaya Na..., which was dubbed into English as Look What's Happened Now, was directed by Samir Karnik and starred Vivek Oberoi and Aishwarya Rai. Kajal Aggarwal is making her acting debut in this Bollywood movie. When it was first released, it did merely ok at the box office. In this film, Kajal portrayed Aishwarya Rai Bachchan's friend in a modest supporting role.
Magadheera (2009)
Alongside Ram Charan Teja, Kajal Aggarwal starred in the high-budget Telugu historical epic Magadheera, where she made her debut in a dual role. The S. S. Rajamouli-directed movie was overwhelmingly well-received by critics, and Aggarwal in particular was acclaimed for her portrayal of a princess. For her work, Aggarwal received nominations for the South Scope Awards for Best Telugu Actress and the Filmfare Award for Best Telugu Actress. It achieved great commercial success, shattered numerous records, and became the highest-grossing Telugu movie ever. Aggarwal became one of the most sought-after actresses in Telugu cinema as a result of Magadheera's success. In 2011, it was re-released in Tamil as Maaveeran, and it was a commercial success.

The Heroic Man, also known as Magadheera, is a 2009 Indian Telugu-language fantasy action film that was written and co-directed by S. S. Rajamouli and V. Vijayendra Prasad. Geetha Arts' Allu Aravind produced it. Ram Charan, Srihari, Kajal Aggarwal, and Dev Gill are the movie's main actors. The heroic warrior in charge of a princess' safety, the princess who is in love with him, the army commander-in-chief who has a thing for the princess, and an emperor who wants to take over their realm are the four main characters in the reincarnation-themed story. The plot then shifts 400 years into the future, where the reincarnated warrior begins experiencing memories after a chance meeting with the reincarnated princess. They all pass away before their wishes are granted.

It was the most costly Telugu movie at the time, with a budget of between 35 and 44 crore rupees ($7 to $10 million). On July 31, 2009, Magadheera was launched with positive reviews and strong sales. At the time, it was the highest-grossing Telugu movie ever with a distributor's share of 73.6 crores. The lead performers became household names thanks to the movie's popularity. It was translated into Bengali in 2014 and released under the title Yoddha: The Warrior. The Bengali version of the movie received six Filmfare Awards, nine Nandi Awards, and ten CineMAA Awards in addition to the National Award for Best Choreography and Best Special Effects at the 57th National Film Awards.
Singham (2011)
Aggarwal made her Bollywood comeback seven years later in July of that year, costarring with Ajay Devgn in the police drama Singham, a remake of the 2010 Tamil film of the same name. It was met with mixed reviews from critics, as was her portrayal of Goan girl Kavya Bhosle; some felt that Aggarwal didn't contribute much to the hero-centered movie. According to Komal Nahta Kaajal Aggarwal performs with grace and ease. Her acting is nice, but Kajal definitely ought to have made a more substantial debut, according to Filmfare, who also noted that she looks gorgeous and did what she was supposed to. . Nevertheless, the movie was a success financially. For her performance, she was considered for two awards: the Filmfare Award and Zee Cine Awards for Best Female Debut.

Singham is a 2011 Indian Hindi-language action crime film that was written by Yunus Sajawal and Farhad-Sajid and was directed by Rohit Shetty and produced by Reliance Entertainment. The movie, a remake of the 2010 Tamil film Singam by Hari, stars Ajay Devgn as Bajirao Singham, a station house officer turned police inspector, along with Kajal Aggarwal and Prakash Raj, who plays the same part in the original.
Govindudu Andarivadele (2014)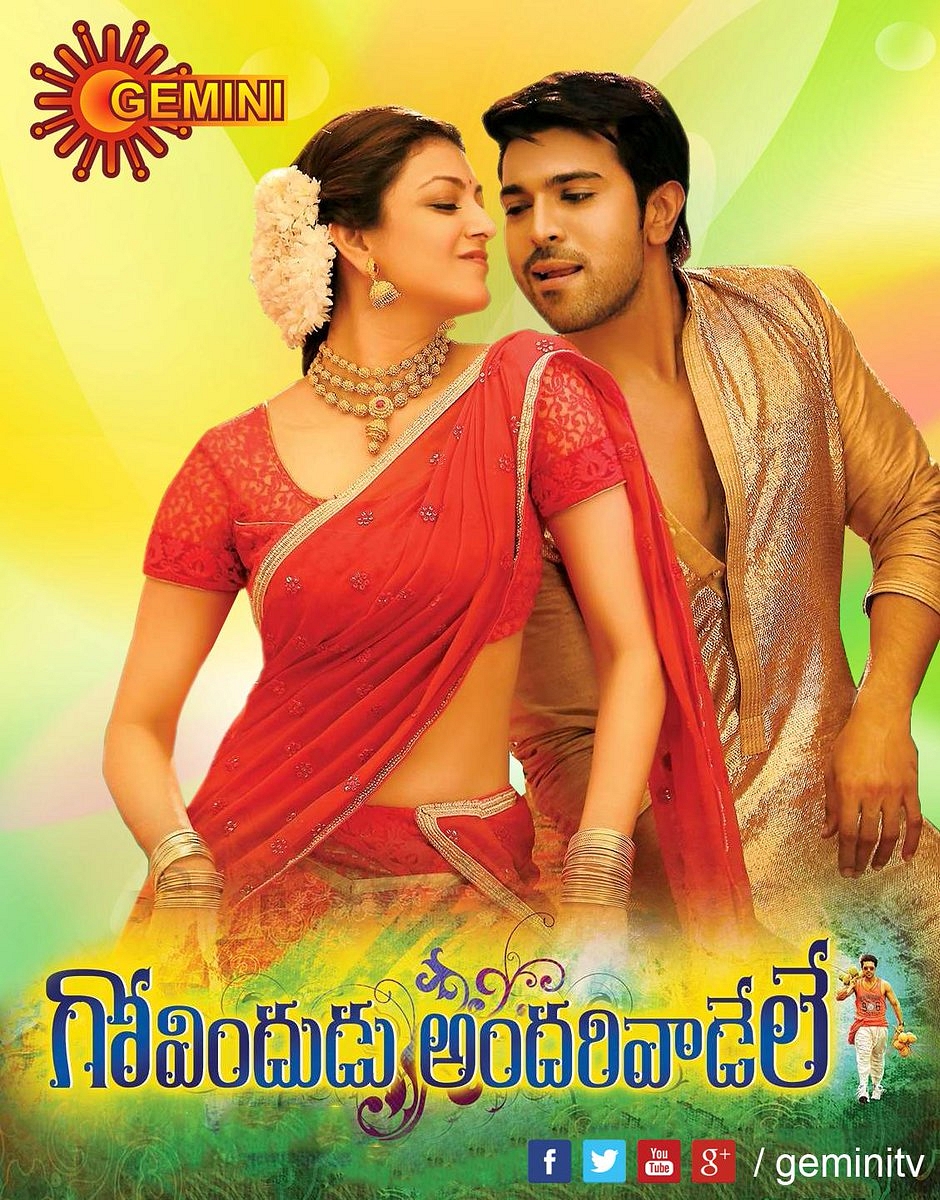 Krishna Vamsi's family drama Govindudu Andarivadele, which debuted in October to favorable reviews, was Kajal's following film to be released. One of the highest-grossing Telugu movies of 2014 with box office receipts of 417 million (US$5.2 million).

Krishna Vamsi wrote and directed the 2014 Telugu-language action drama movie Govindudu Andarivadele, popularly referred to as GAV. The 1991 Telugu film Seetharamayya Gari Manavaralu, which was directed by Kranthi Kumar, served as inspiration for a portion of this one. Abhiram, a non-resident Indian, is portrayed by Govindudu Andarivadele as a student of agriculture who pays a visit to his grandfather Balaraju's home. He genuinely arrived to settle the issues between Balaraju and his father, Chandrasekhar Rao. Chandrasekhar left for the UK, while Balaraju stayed behind to construct a humanitarian hospital for the community. Family members are won over by Abhiram, and Balaraju comes to grasp the real reason for Abhiram's actions.
Do Lafzo Ki Kahani (2020)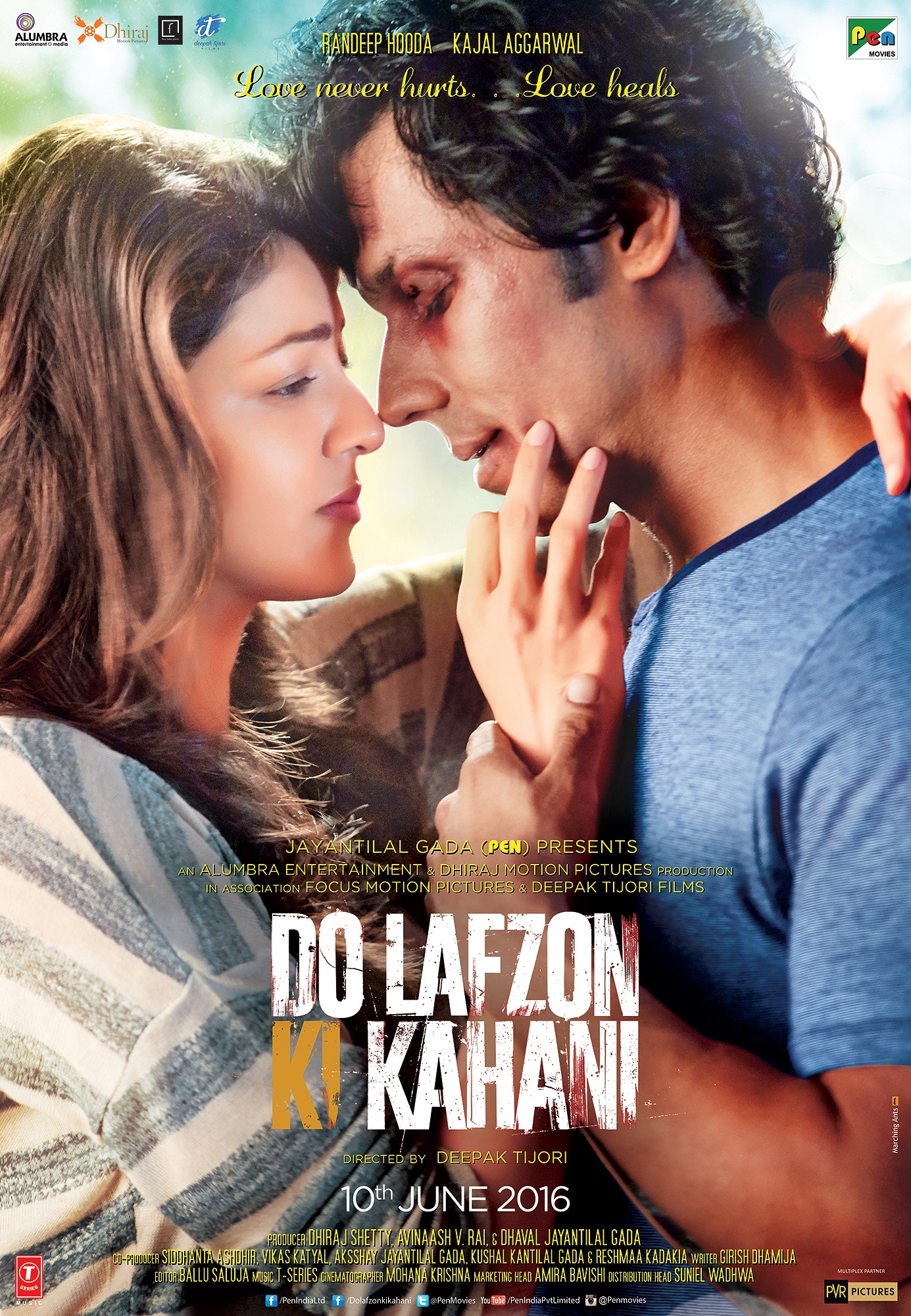 Do Lafzon Ki Kahani, is a 2016 Indian romantic drama film in the Hindi language that was written by Girish Dhamija and directed by Deepak Tijori. Mohana Krishna handled the film's cinematography. Randeep Hooda and Kajal Aggarwal are the stars of this Avinaash V Rai and Dhaval Jayantilal Gada production, which is released under his label Pen India Limited. It is a remake of the Korean film Always from 2011, which was also remade in Kannada as Boxer in 2015. Indian and Malaysian cities like Kuala Lumpur were used for filming. The movie premiered in every country on June 10, 2016.

The movie plot centers around a developing romance between a fighter with a terrible past and a blind sculptor. When their pasts are exposed through their blossoming romance, their fates become intertwined.
Comali (2019)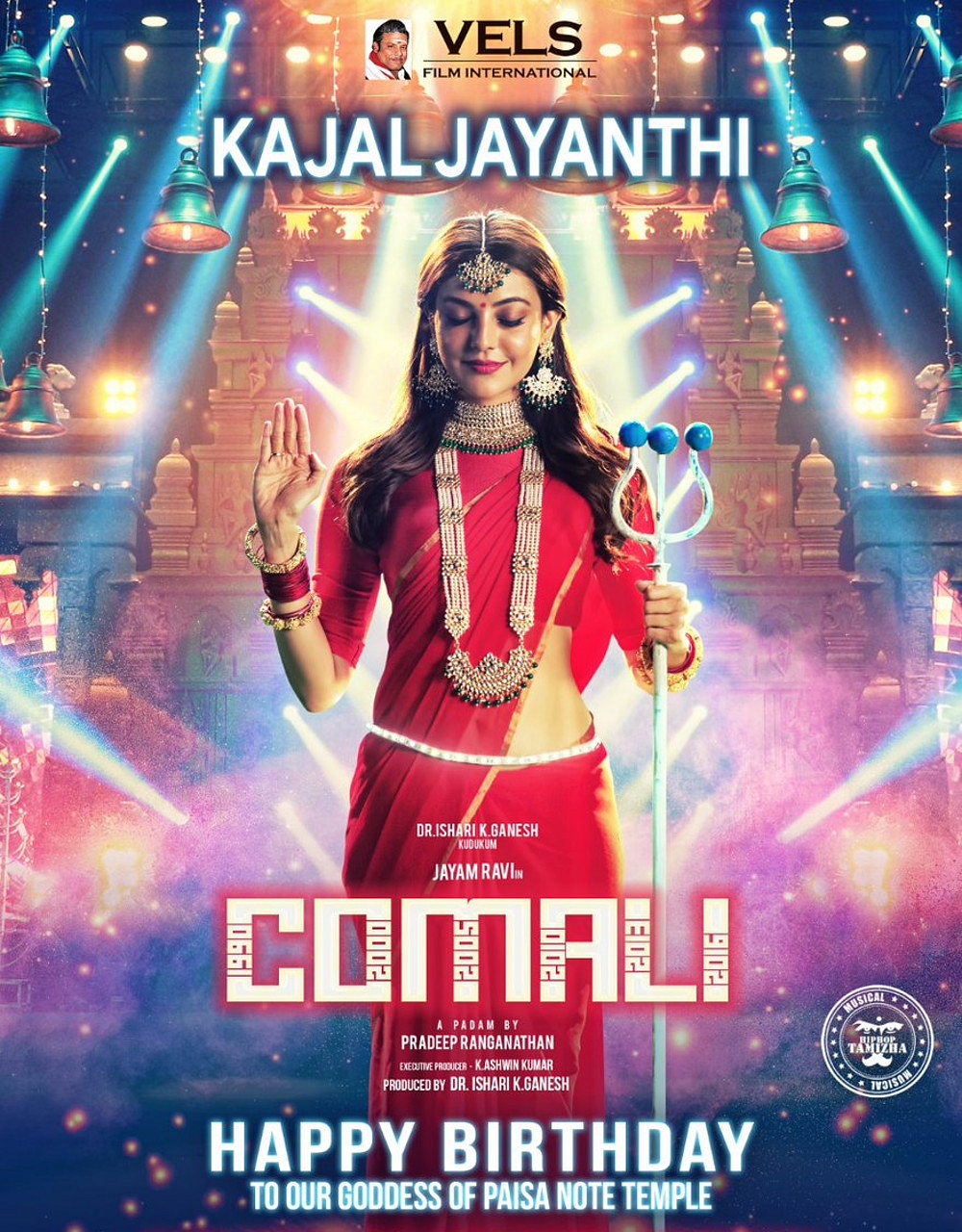 Aggarwal appeared in Comali in 2019. Comali, which translates to Clown, is a 2019 Indian Tamil comedy-drama film that was written and directed by Pradeep Ranganathan in his feature film debut. It was produced by Ishari K. Ganesh. Jayam Ravi, Kajal Aggarwal, Yogi Babu, Samyuktha Hegde, and K. S. Ravikumar are the movie's stars. After the 2015 movie Thani Oruvan, this is the first time that Ravi and Aggarwal have worked together, and it's Ravi's second time working with Hiphop Tamizha.


The movie premiered on August 15, 2019. The story of Comali centers on Ravi, a guy in a coma who has missed 16 years of his life and is attempting to acclimate to the modern world. After the huge smash Thani Oruvan, the movie premiered to a uniformly favorable critical reception and went on to become a blockbuster, earning over 80 crores. It is now Jayam Ravi's second-highest-grossing movie.
Hey Sinamika (2022)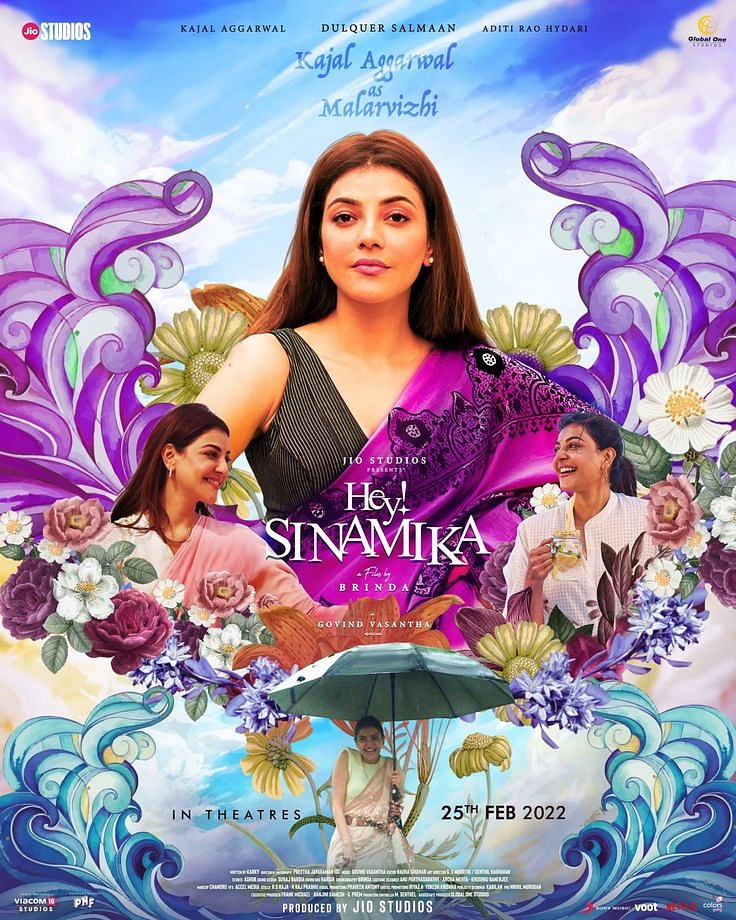 Hey Sinamika, a film she co-starred in with Dulquer Salmaan and Aditi Rao Hydari, was her first release in 2022. It was directed by Brinda. The movie premiered on March 3, 2022. The movie's name was inspired by a song in O Kadhal Kanmani. The project started filming in March 2021 and features music composed by Govind Vasantha and photography by Preetha Jayaraman. Remade from the Argentine film Un Novio Para Mi Mujer from 2008.

The movie received favorable reviews when it first debuted and eventually gained momentum after a week, however it fell short of expectations. This movie's Telugu dub did poorly at the box office, and most of the showings were canceled before the end of the first day. On March 31, 2022, the film was made available on JioCinema and Netflix. Mouna and Yaazhan fall in love and are married, but their happiness is fleeting, and Mouna soon wants to part ways. So she comes up with a scheme to make him fall in love with someone else.
Kajal Aggarwal's Upcoming Movies
Indian 2
Indian 2 is a forthcoming S. Shankar- and Lyca Productions-produced vigilante action thriller movie in the Indian Tamil language. Starring Kamal Haasan, Karthik, Rakul Preet Singh, Siddharth, Kajal Aggarwal, Priya Bhavani Shankar, Bobby Simha, Guru Somasundaram, and Samuthirakani, it is the follow-up to the 1996 film Indian. Anirudh Ravichander composed the soundtrack for the movie, which also has photography by Ravi Varman and Rathnavelu and editing by A. Sreekar Prasad. In September 2017, news of Indian 2 was released. In January 2019, principal photography began in Chennai, Rajahmundry, and Bhopal. Following an accident on the sets in February 2020 that resulted in the deaths of a few staff members, filming was stopped. Due to other commitments, the COVID-19 epidemic, financial overruns, and legal problems, production hasn't restarted since that time.
Kajal Aggarwal's Career Timeline
Kajal Aggarwal's Controversies
Condemned Tamil cinema Controversy
Kajal Aggarwal has experience in both Tamil and Telugu movies, and she claimed that Telugu cinema treats her with greater respect than Tamil cinema does. I don't give attention to this kind of treatment, she continued as she probed the issue further. This causes trolls in her favor.
Cat Fight with Ileana D'Cruz
Ileana D'Cruz replied by saying that Kajal Aggarwal isn't her rival after Kajal made a few unflattering remarks about her. Ileana's remark incensed Kajal, who then made derogatory remarks about Ileana and her boyfriend.
Attempted to fake out once more though Caught
Media coverage of Kajal and Randeep Hooda's liplock sequence in Do Lafzon Ki Kahani has been extensive. Kajal first continues by claiming that she was unaware of the movie's kissing scene before eventually admitting her ignorance.
Cleavage display Controversy
Kajal's outfit for the 61st Film Fare Awards was unique; she has never worn it before. When they first saw her costume—a pink robe with the front left exposed, she was drawing a lot of attention—many people expressed their shock.
Kajal Aggarwal's Net Worth
With her acting, fashion, and filmmaking talents, Kajal Aggarwal, an actress with a golden heart, is currently swaying many fans' hearts all over the world. One of the greatest, best, and most well-known actors in Bollywood and other film industries, Kajal Aggarwal is praised for her acting abilities. the $11 million net worth of Kajal Aggarwal (Rs. 83 Crore).

Her brand endorsements, for which she charges Rs. 1-2 Crore per endorsement, are where she makes the majority of her money. She is a television personality as well as a fashion model and icon. She has also made significant investments in real estate. Kajal Aggarwal is one of the top celebrities who pay the most income tax to the government thanks to her enormous earnings. In terms of charitable and social causes, Kajal Aggarwal consistently falls short in comparison to her earnings.

In India, Kajal Aggarwal resides in Mumbai. In 2016, Kajal Aggarwal purchased this opulent residence. This real estate property is estimated to be worth roughly Rs. 5 crores. Kajal Aggarwal's car sales are Quite Average. A handful of the finest luxury vehicles in the world are owned by Kajal Aggarwal. Kajal Aggarwal is the owner of the car brands Mini Cooper and Audi.
Aggarwal is an advocate for many different companies. Aggarwal was named the Panasonic brand ambassador in April 2012. Aggarwal was hired by Dabur in 2013 to serve as the brand ambassador for their Dabur Amla Nelli Hair Oil hair oil line. She also lends her support to the Indian salon brand Green Trends. She is also connected to the PETA and the Giving Back NGO. Along with Karthi, she has appeared in television commercials supporting Bru instant coffee. She has promoted mobile phone companies like Samsung and Poorvika, and she has appeared in commercials for The Chennai Shopping Mall in Secunderabad.

RS Brothers in Hyderabad, Chennai Silks, Sri Lakshmi Jewellery AVR in Salem in Pondicherry, Malabar Jewellery, and Khazana Jewellery are just a few of the retail and jewelry establishments she supports throughout south India. She represents Lux, Pond's, Himalayas Herbal Kajal, and Parachute Advanced Hair Oils as a brand ambassador. She collaborated with Cherio and Aroma Curd and Milk Products (juice). She also collaborated with the job-related search engine Indeed. She just was named the brand spokesperson for the Priya Gold Oils line of edible oils (2020).

Actors are considered successful if their films are financially successful and they perform well. Kajal Aggarwal has a long history in the film industry that is respected all over the world. Her continued involvement in films and foreign ventures demonstrates her high success record. She has also made significant investments in a number of real estate projects. Over the next three years, Kajal Aggarwal's net worth is probably going to increase at a 25% annual pace. Over the same time period, her yearly salary will increase by 15%.
Kajal Aggarwal's Awards and Achievements
2011 – Won CineMAA Awards- CineMAA Award for Best Actress – Telugu for Brindaavanam
2013 –Won CineMAA Awards- CineMAA Award for Best Actress -Tamil for Thuppakki
2013 – Won South Indian International Movie Awards-SIIMA Award for Best Actress (Critics) – Tamil for Thuppakki
2013 – Won South Indian International Movie Awards-Youth Icon of South Indian Cinema
2013-Won Cosmopolitan Awards- Cosmopolitan People Choice Award for Best Actress – Thuppakki
2013- Won Vijay Awards-Vijay Award for Favourite Heroine-For Thuppakki
2016- Won Edison Awards-The Gorgeous Belle of the year (2016)
2018 –Won South Indian International Movie Awards- Best Actress – Telugu for Nene Raju Nene Mantri
2018- Won Zee Telugu Apsara Awards 2018- Actress of the Decade
2018-Won Zee Telugu Apsara Awards 2018- Winner Best Actress in 2017
Kajal Aggarwal's Interesting Facts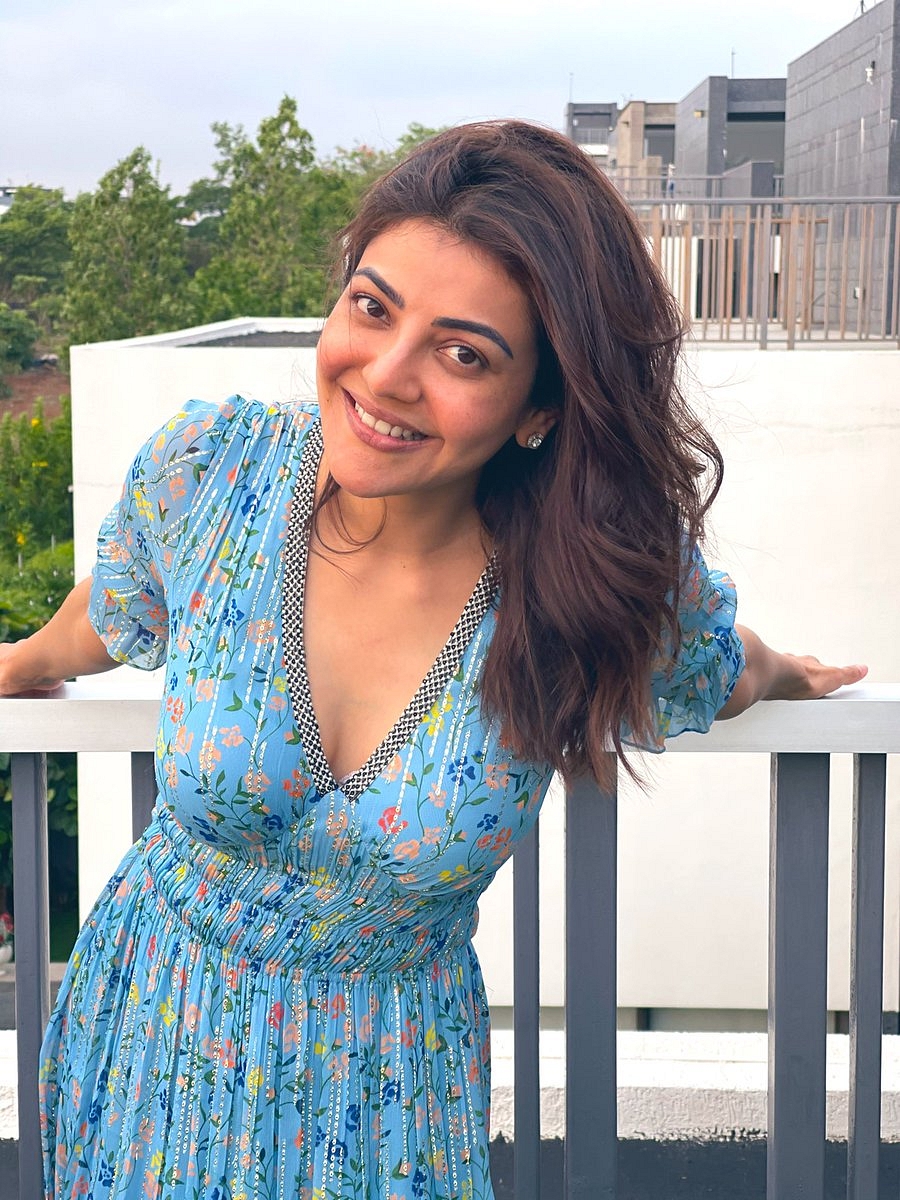 Kajal Aggarwal has no prior experience in the film industry. Her mother Suman Aggarwal is a confectioner, while her father Vinay Aggarwal is an entrepreneur.
Kajal Aggarwal's performance in the SS Rajamouli-directed historical drama Magadheera marked her biggest professional break. Tamannaah Bhatia has a very close friendship with the Magadheera actress. In fact, there have been times when posts of Kajal and Tamannaah on social media have gone viral. On the other hand, Samantha Akkineni and Kajal are close friends. The pair collaborated on the film Mersal from the previous year, which went on to become the highest-grossing Tamil movie of 2017.
She began modeling throughout her college years and made the decision at a young age to advance her modelling profession.
In the 2004 Bollywood film Kyun...! Ho Gaya Na, which featured Aishwarya Rai and Vivek Oberoi in the key roles, Kajal made her acting debut. In the movie, she portrayed Aishwarya's friend.
Early Kajal movies did little to advance her career. Her debut as the leading lady of the Tamil film industry was marked with the 2010 Karthi-starring film Naan Mahaan Alla.
Social Media
Frequently Asked Questions