Kajol | Biography, Movies, Career, Net Worth, Family, Age

Zeenat Sayyed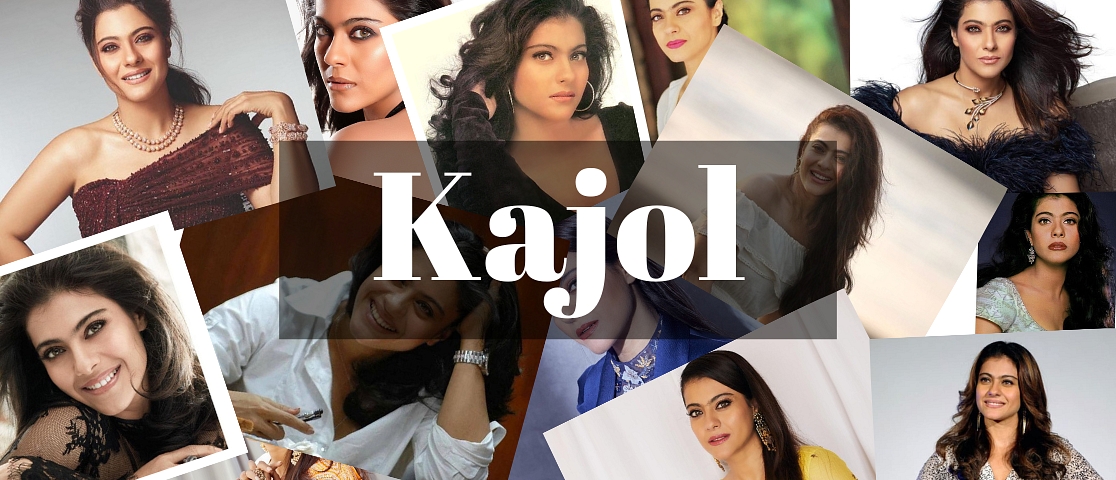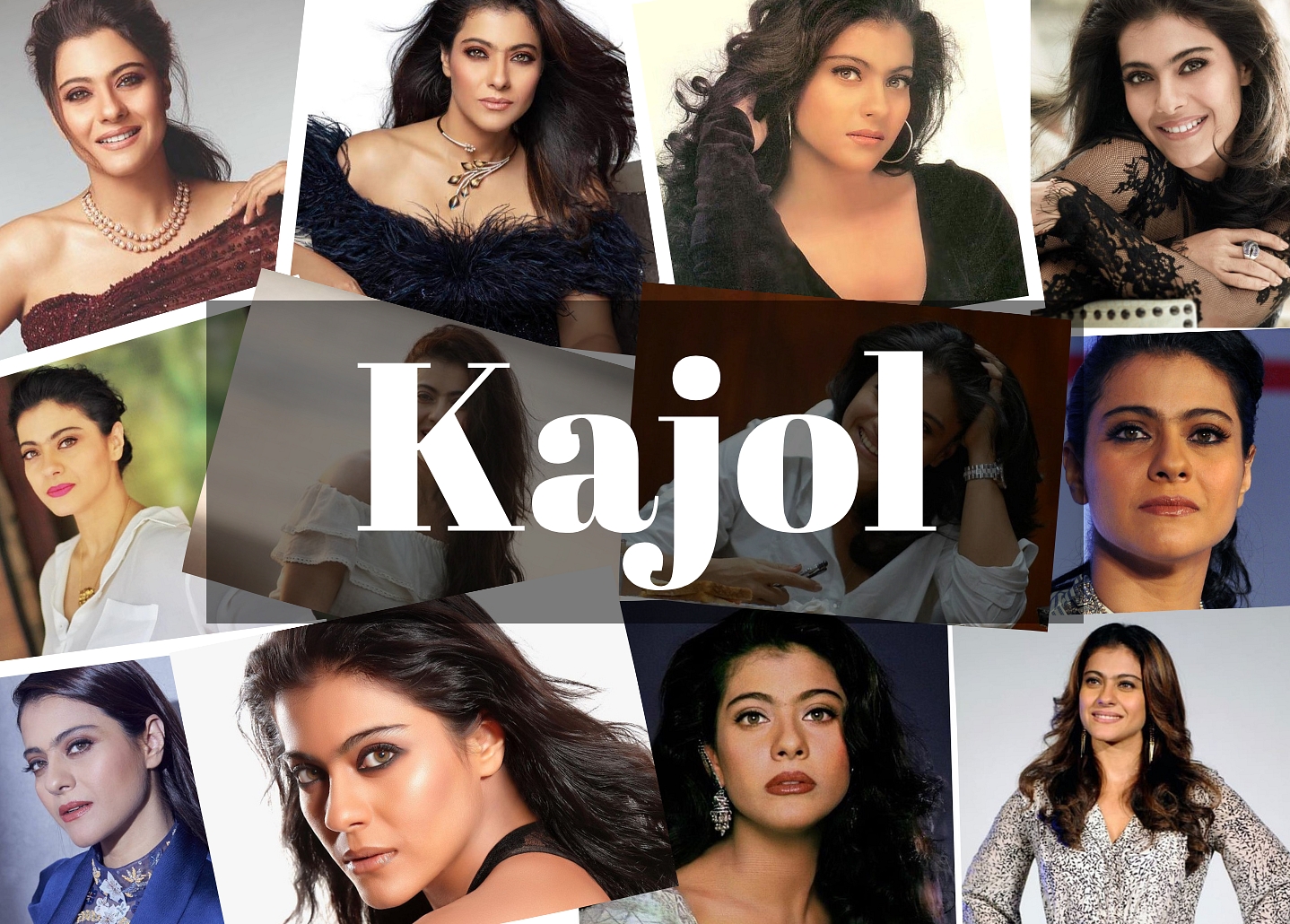 Kajol Devgn's Biography and Age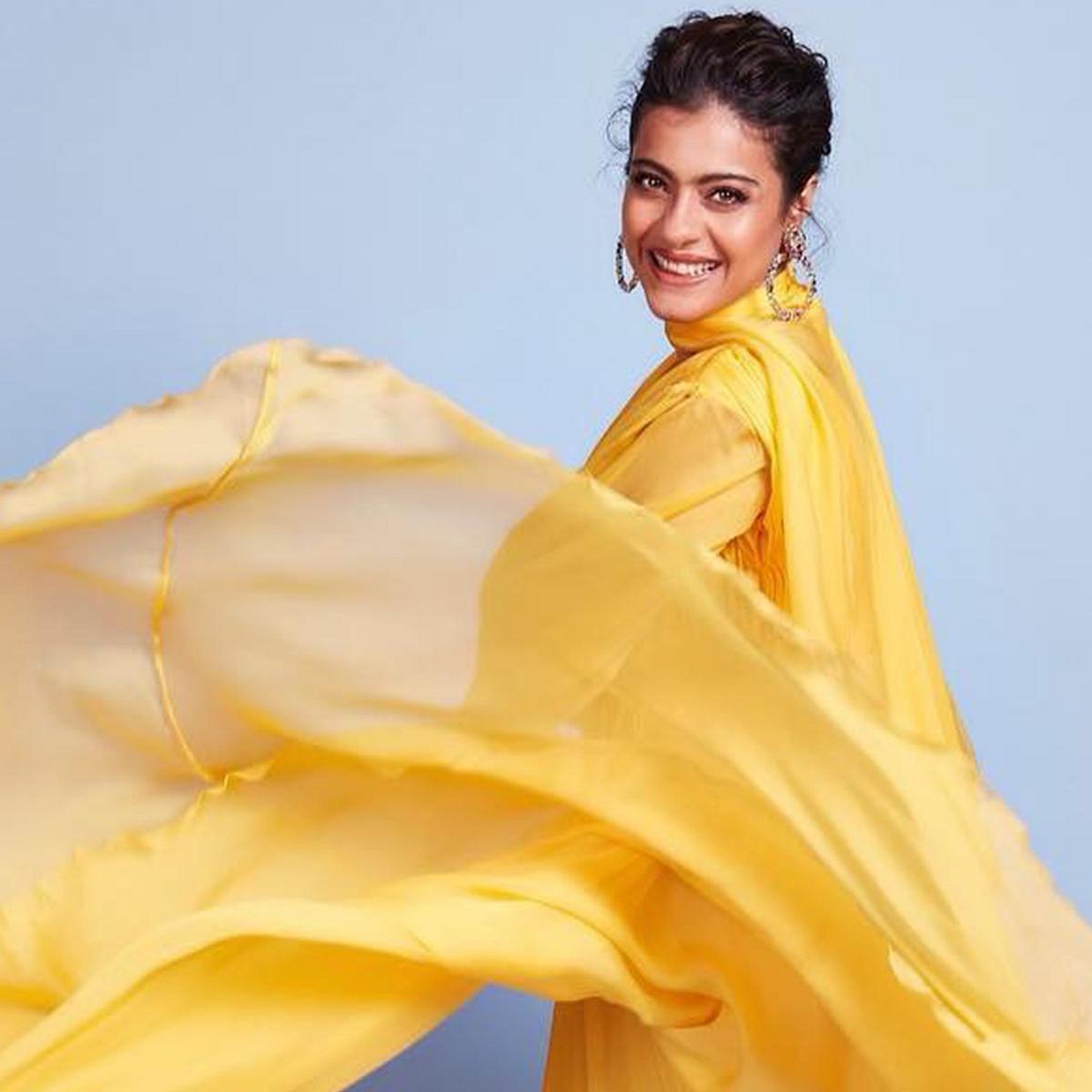 Actress Kajol Devgn (née Mukherjee) also known just by her first name, is a popular personality in Bollywood because of her remarkable Performances in Hindi Cinema. Kajol's Birthday is on the 5th of August. Kajol was born in the year 1974. Kajol's age is 48 years as of 2022. Kajol's place of birth is Mumbai. She has received various honors, including six Filmfare Awards, where she shares the record for the Best Actress victories with her late aunt Nutan. She has been referred to in the media as one of the most successful actresses in Hindi films. She received the Padma Shri award from the Indian government in 2011. Tanuja and Shomu Mukherjee's daughter, Kajol, made her acting debut in Bekhudi in 1992 while still a student. She then gave up her studies and achieved commercial success with the films Yeh Dillagi and Baazigar, which starred Shah Rukh Khan starring roles alongside Khan in the highest-grossing love stories. Kajol Devgan's Age is 48 years as of 2022. Kajol's Zodiac Sign is Leo.

From Kuch Kuch Hota Hai and Dilwale Dulhania Le Jayenge, She became a major star in the 1990s which also brought her two Filmfare Awards for Best Actress. She also received praise from critics for her performance as a psychotic killer in Gupt: The Hidden Truth. Her two highest-earning films were the comedy Dilwale and the historical drama Tanhaji.In 1998, Kajol joined Shah Rukh Khan, Juhi Chawla, and Akshay Kumar on the Awesome Foursome concert tour. Kajol refused to take part in any additional international tours after touring across the United Kingdom, Canada, and the United States because she couldn't manage the pressure. Kajol began working on creating a website in 1999 after the debut of Ajay Devgn's production firm, Devgan Films (now known as Devgn Entertainment and Software Ltd.).

In addition to her profession as an actor, Kajol is a well-known social activist who has worked with widows and kids. In 2008, she participated in the reality competition Rock-N-Roll Family as a talent judge. She also works as a manager at Devgn Entertainment and Software Ltd. Since 1999, Kajol has been wed to actor and director Ajay Devgn, with whom she shares two children. In 2012, 2013, and 2017, Kajol appeared on Forbes India's Celebrity 100, a ranking that takes into account the fame and wealth of Indian celebrities. In 2018, Kajol unveiled her wax replica at the Madame Tussauds museum in London.
Keep reading to know more about Kajol's biography, family, age, birthday, boyfriend, husband, height, new movies, upcoming movies, career timeline, school, college, Kajol's Net Worth, and education, and to see exclusive Kajol's photos.

Talk To Similar Celebrities
Kajol Devgn's Childhood and Kajol Devgn's Education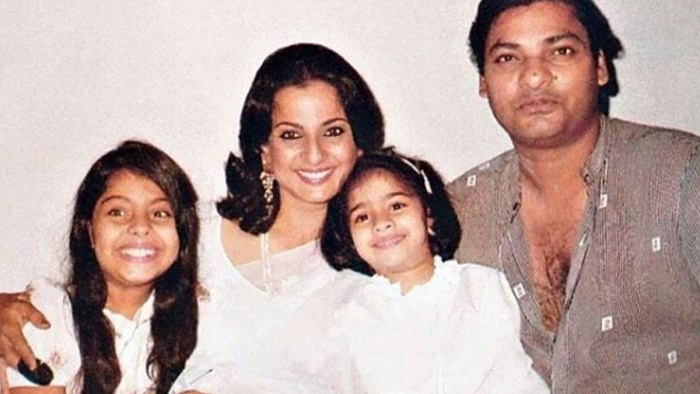 On August 5, 1974, Kajol was born in Bombay (today's Mumbai). Tanuja, Kajol's Mother, is an actress, and Shomu Mukherjee, Kajol's father, was a producer and director of motion pictures. Tanishaa, Kajol's younger sister, is also an actress. Her maternal aunt was the actress Nutan, and both her maternal great-grandmother Rattan Bai and grandmother Shobhna Samarth worked in Hindi films.Her paternal and maternal grandfathers, Sashadhar Mukherjee and Kumarsen Samarth, respectively, were filmmakers, as were her paternal uncles Joy Mukherjee and Deb Mukherjee. Ayan Mukerji is a director, while Kajol's relatives Rani Mukerji, Sharbani Mukherjee, and Mohnish Behl are also performers in Bollywood.

Kajol describes herself as being impetuous, obstinate, and mischievous as a child. When Kajol was young, her parents divorced, but she was unaffected because the subject was never broached at home. The maternal grandmother who raised Kajol never let me realize that my mother was away and working.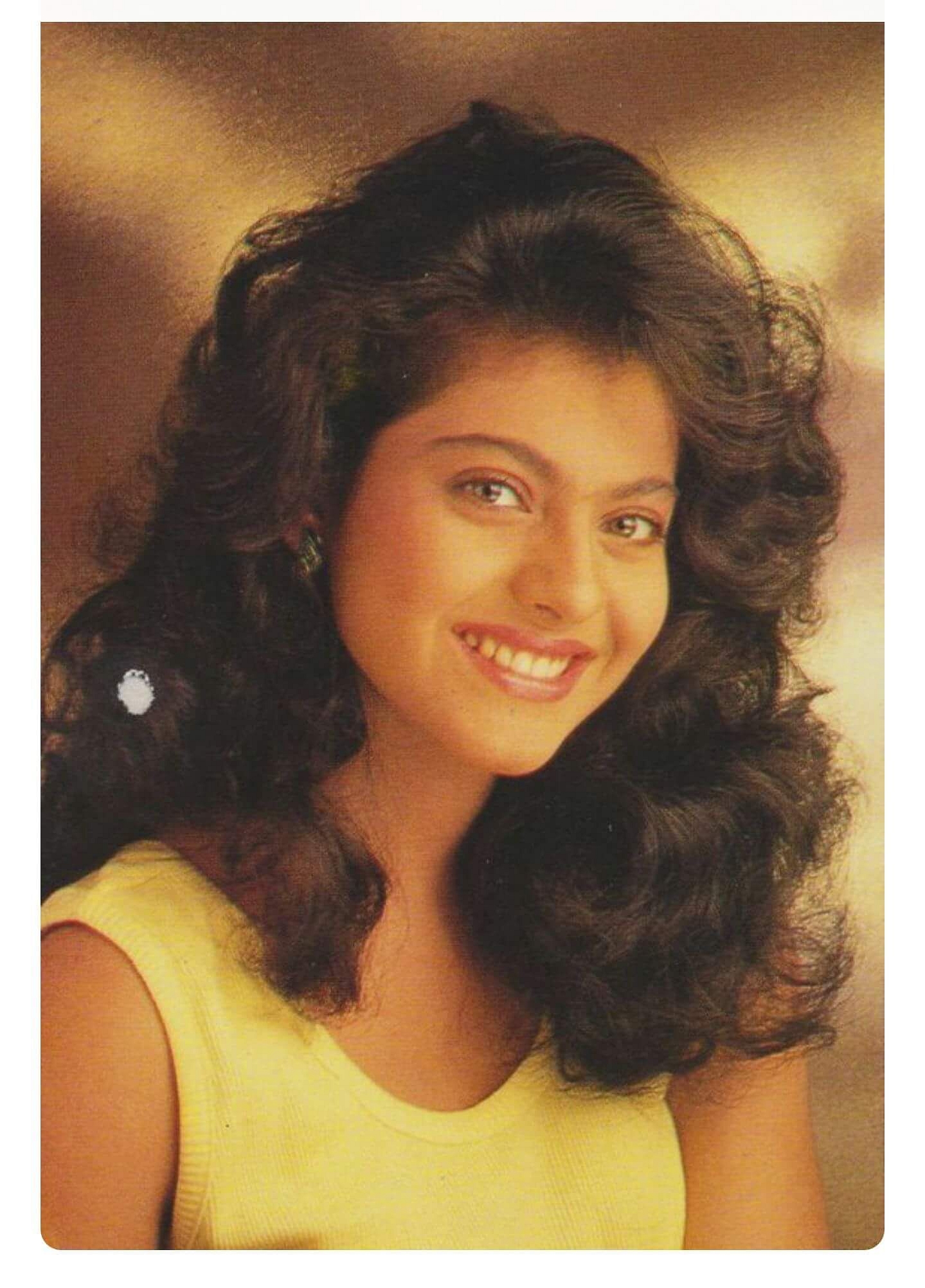 Kajol claims that her mother instilled a spirit of independence in her from an early age. She acquired her Bengali temperament from her father and her Maharashtrian practicality from her mother as a result of growing up in two different cultures. Kajol, a practicing Hindu, participates in the Mukherjee family's yearly Durga Puja celebration in the Santacruz suburb as part of a tradition.

Kajol attended St. Joseph's Convent School in Panchgani for her education. She engaged in extracurricular activities such as dancing in addition to her education. She first developed a serious interest in reading fiction while she was in school since it got her through the difficult moments of life. Tanuja attempted to helm a movie in the early 1990s that would help start her career as an actress, but it was abandoned after only a few days of production. When Kajol was sixteen, she started working on Bekhudi, which she later described as a tremendous dose of luck. He cast her when she visited the photography studio of Gautam Rajadhyaksha, who also authored the screenplay for the movie. After shooting throughout her two-month summer break, she had planned to return to school, but she eventually dropped out.

Kajol Devgn's Marriage and Kajol Devgn's Family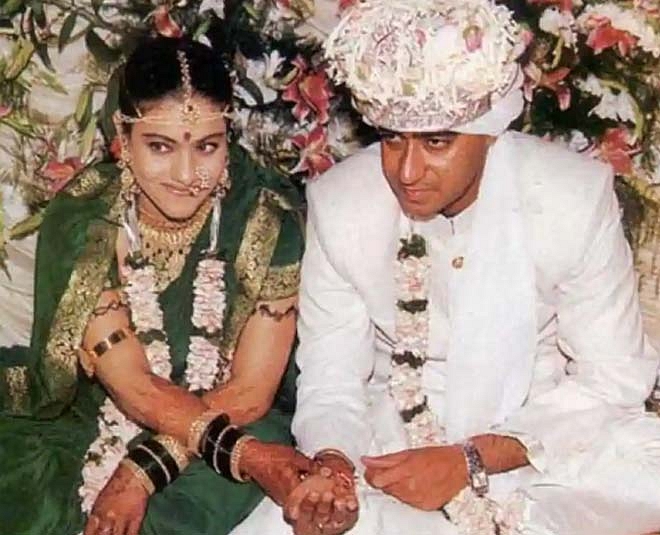 When she was filming Gundaraj in 1994, Kajol started dating actor Ajay Devgn. However, because of their dissimilar personalities, media professionals referred to them as an unlikely pair. Devgn described their partnership as follows: We never used the standard I love you speech. There was never a proposition. We developed together. Although it was never brought up, marriage was always on the horizon.

At Devgn's home, the pair wed on February 24, 1999, in a traditional Maharashtrian ceremony. Widespread media coverage of the wedding resulted from some media members criticizing Kajol's choice to get married at the height of her career. But Kajol Devgn insisted that she would cut back on her workload rather than stop acting in movies.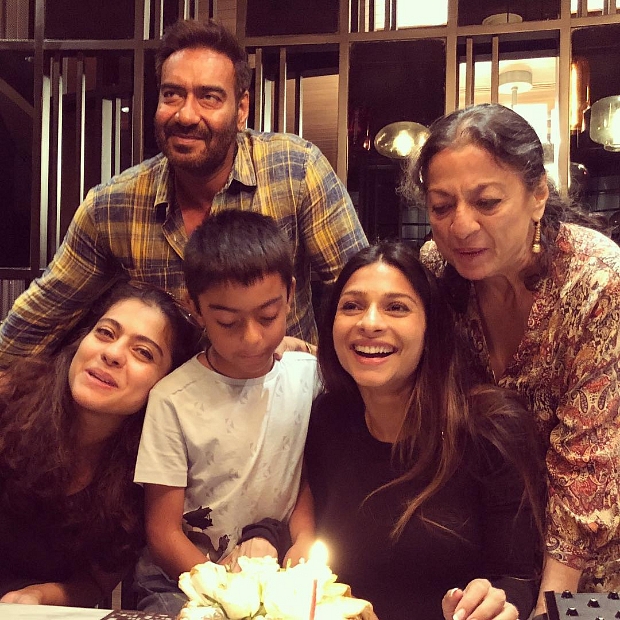 Kajol moved in with Devgn and his parents at the latter's ancestral home in Juhu after they were married. According to tabloids, Devgn and other Bollywood actresses have been romantically linked frequently, and divorce is reportedly approaching. Kajol claimed to not pay heed to such conversation, dismissing the rumors as idle chitchat. Kajol finds it preferable to keep her personal life private and finds interviews to be a waste of time.

On April 20, 2003, she gave birth to a daughter named Nysa. She gave birth to a boy named Yug on September 13, 2010, seven years later. She praised parenting and said that having children made her the best version of herself. Since 2015, Kajol has gone by the surname Devgn. She can understand Bengali and speaks English, Hindi, and Marathi.
Kajol Devgn's Career
Kajol Devgn has received accolades for her bright and enthusiastic on-screen persona. Kajol was cited by Rajiv Menon as exemplifying the decade's joie de vivre, and Khalid Mohammed called her a tremendous bundle of potential. According to Open, her initiative resulted in She gave a special energy to her films, according to Karan Johar, who added, I would yell 'action' on a shoot and anticipate a small nuclear explosion on location whenever Kajol was present because that was who she was. We were all kept alert by her. She does not act out her situations and deliver her lines; she inhabits her characters, according to The Hindu. She was the actress around whom a script may be created and a film made, according to academic Ashish Rajadhyaksha. Kajol and the actor are together. Shah Rukh Khan and Kajol Devgn have worked together on numerous hit movies, and critics have dubbed them one of the best on-screen duos in Hindi film history. Let's Revisit some of the best gems that Kajol gave to Hindi Cinema.
Kajol Devgn's First Movie: Bekhudi (1992)
At the age of seventeen, Kajol made her acting debut in the 1992 love drama Bekhudi opposite Kamal Sadanah, another newcomer, and her mother Tanuja. The character of Radhika, played by Kajol Devgn, falls in love with Sadanah over the displeasure of her parents. Despite the movie's failure at the box office, Kajol's performance received praise.
Dilwale Dulhaniya Le Jayenge (2015)
Kajol and Shah Rukh Khan played non-resident Indians from London who fall in love while traveling through Europe and then reconnect in India to convince her strict father to postpone her impending arranged marriage in Dilwale Dulhania Le Jayenge. Kajol Devgn discussed her commitment to the production and her deep emotional connection to her Simran character. It has been playing constantly in Mumbai and, after surpassing 1000 weeks of screening in 2014, it became the longest-running Indian film ever. It is one of the most popular movies of all time in India. The movie was equally well-liked by reviewers and won eleven Filmfare Awards, including Kajol's maiden win for Best Actress. The British Film Institute has ranked it as one of the greatest movies ever made. Kajol was a good choice for the role of Simran, according to Raja Sen of Rediff.com, who claimed that the real-life actress adds warmth and credulity to the initially prudish and reluctant Simran.

The 1995 Indian Hindi-language musical romance film Dilwale Dulhania Le Jayenge, popularly known as the initialism DDLJ and subtitled The Big-Hearted Will Take the Bride, was written and directed by Aditya Chopra in his feature film debut. It was also produced by his father, Yash Chopra. The movie, which debuted on October 20, 1995, stars Shah Rukh Khan and Kajol. Raj and Simran, two young Indians who are not residents, are the center of the story. They meet while traveling through Europe with their friends and fall in love. Raj tries to change Simran's family's mind so that the two can get married, but Simran's father has already given his daughter in marriage to the son of a friend of his. In addition to Switzerland, London, and India, the movie was filmed there from September 1994 to August 1995. Dilwale Dulhania Le Jayenge was the highest-grossing Indian movie of 1995 and one of the best-performing Indian movies ever, with an estimated total gross of 2 billion ($60 million) globally. Ten Filmfare Awards were won for this Movie.
Pyaar Kiya Toh Darna Kya (1998)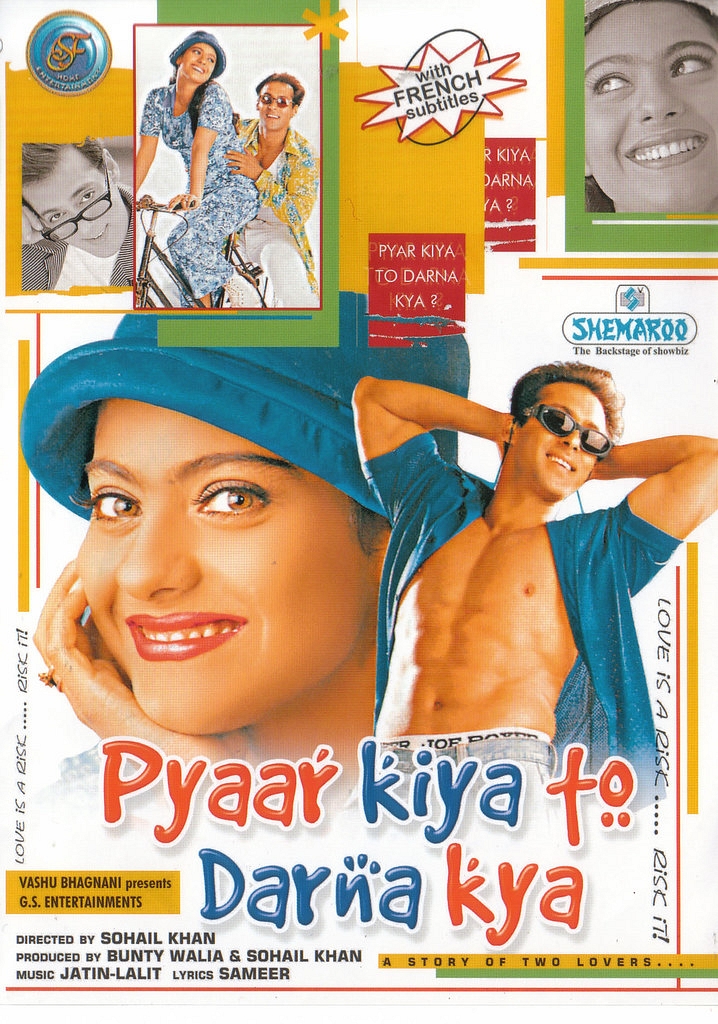 With Pyaar Kiya Toh Darna Kya, she portrayed a gullible rural girl, and received favorable reviews. She received the Screen Award for Best Actress for the movie. In both parts, Suparn Verma remarked that she was in superb form.

Pyaar Kiya Toh Darna Kya is the subtitle of the 1998 Hindi-language romance comedy Pyaar Kiya To Darna Kya. Salman Khan, Arbaaz Khan, Kajol, and Dharmendra all play significant roles in the Sohail Khan-written and -directed movie. The movie is filmed at Daly College in Indore. Salman Khan and Kajol worked together on the movie for the first and only time, and it was a Super Hit at the box office.
Kabhi Khushi Kabhie Gham…(2002)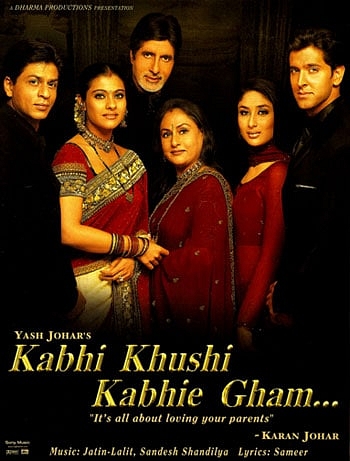 Kabhi Khushi Kabhie Gham, directed by Karan Johar, was the highest-grossing Indian production of all time in the international market. Kajol starred in a major part. She portrayed Anjali Sharma, a young Punjabi woman from the Chandni Chowk neighborhood who falls in love with a rich man (Shah Rukh Khan). She related to the character's loud personality and noticed similarities to Hema Malini's in Sholay (1975). Although she initially found it difficult to learn the language, Kajol eventually mastered the pronunciation and diction with the help of producer Yash Johar and some of the crew. The part required her to speak Punjabi, a language she was not fluent in.

She received critical acclaim for her comic-dramatic portrayal and Punjabi accent, which helped her win a third Filmfare Award for Best Actress. In a review for The Hindu, Ziya Us Salam stated: In fact, Kajol steals the show from people with very high profiles. She is a complete treat thanks to her impeccable timing and soft, lingering expression. Kajol took a break from full-time acting after Kabhi Khushi Kabhie Gham and turned down a number of film roles. She admitted that while she had not given up acting, she had started to be pickier about the roles she took on because she wished to devote more time to her spouse. At this point, the majority of moviegoers believed her career was ended.
Fanaa (2006)
Kajol made a comeback to the big screen with Kunal Kohli's romantic suspense flick Fanaa (2006). Zooni Ali Beg was a character she played. She is a blind Kashmiri woman who unknowingly falls in love with a terrorist (whose role was played by Aamir Khan) in this Movie. The movie was marketed as her comeback, a term she hated because she had not actually retired but had simply taken a sabbatical. In comparison to its $220 million (US$2.8 million) budget, the movie made $1 billion (US$13 million) in its first week of release. Both the movie and Kajol's performance got favorable reviews. Kajol is enough of a justification, according to Sudhish Kamath of The Hindu, while Deepa Gahlot thought Kajol's sincerity in the role made up for the film's shortcomings. Kajol won a second Zee Cine Award and a fourth Filmfare Award for best actress for Fanaa.

The romantic thriller movie Fanaa, also known as Annihilation, was released in 2006 in the Hindi language. It was directed by Kunal Kohli and produced by Aditya and Yash Chopra under the name of Yash Raj Films. Aamir Khan and Kajol are the movie's main actors, and Rishi Kapoor, Kirron Kher, Tabu, and Sharat Saxena play supporting roles.

While Kajol portrays Zooni Ali Beg, a blind Kashmiri woman, Khan plays Rehan Qadri, a tourist guide in New Delhi. Both fall in love, but a terrorist strike that purportedly results in Rehan's death keeps them apart. It is later discovered that the man who was thought to have been slain was actually a Kashmiri militant who had planned the attacks. Seven years later, his group, the IKF, assigns him to a mission in Kashmir where, in an odd turn of events, he once more encounters Zooni. Khan made his debut as an anti-hero in that movie. When it was first released, Fanaa was one of the most expensive Bollywood movies. The word Fanaa, which translates as destroyed in Arabic, Persian, Urdu, and Hindi, is a term used by Islamic Sufis.
My Name is Khan (2010)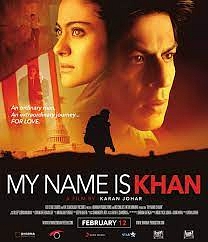 Kajol was next paired with Shah Rukh Khan in the 2010 film My Name Is Khan, which examines the prejudice experienced by American Muslims in the wake of the 9/11 terrorist attacks. It was the first Indian movie Fox Star Studios had ever distributed. It debuted with mixed to excellent reviews before becoming a global hit. The 60th Berlin International Film Festival, the Indian Film Festival of Los Angeles, and the Rome Film Festival all screened My Name Is Khan. Indian and foreign critics appreciated Kajol's portrayal of Mandira, a Hindu single mother who marries a Muslim guy with Asperger syndrome. Kajol's delicate performance received great reviews from Rajeev Masand and the Los Angeles Times, respectively. Kajol got her sixth Best Actress award for the movie.

Kajol Devgn shared the record for most Best Actress wins at Filmfare with her late aunt Nutan after taking up the awards for the movie. She was also put forward for three other awards: the Zee Cine Award for Best Actor - Female, the Stardust Award for Best Actress in a Drama, and the Screen Award for Best Actress.
Dilwale (2016)
After a five-year break, Kajol and Shah Rukh Khan collaborated once more in Rohit Shetty's action-romance film Dilwale (2015). She played Meera Dev Malik, a mafia don's daughter who develops feelings for a member of the rival family. The film received mixed reviews from critics; Mint called it the most tedious film of the year.

The 2015 Indian Hindi action romance comedy film Dilwale, also known as Braveheart, was made by Gauri Khan and directed by Rohit Shetty. It is marketed by Red Chillies Entertainment and features Shah Rukh Khan, Kajol, Varun Dhawan, and Kriti Sanon in the key roles. Vinod Khanna, who played Khan and Dhawan's father, also makes his final cinematic appearance; he passed away on April 27, 2017. In supporting, roles are Varun Sharma, Johnny Lever, Boman Irani, Pankaj Tripathi, Mukesh Tiwari, Chetna Pande, and Kabir Bedi.

The movie received mixed reviews after it was released in theatres worldwide on December 18, 2015, just before Christmas. While the humor, action sequences, cinematography, soundtrack, and performances of the actors received accolades, the narrative, length, and overall execution received criticism. The movie earned over 150 crore net domestically, which was regarded below expectations, but it went on to become the sixth-highest-grossing Indian movie internationally. The movie made more than 376.85 crores worldwide. At the 61st Filmfare Awards, the movie received nominations in six categories, including Best Actor for Khan and Best Actress for Kajol Devgn.
Tanhaji: The Unsung Warrior (2020)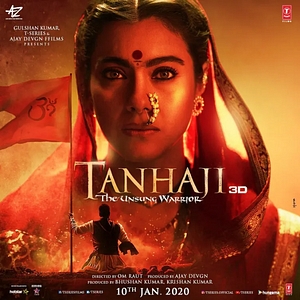 By 2020, dubbed by The Telegraph as Kajol's big year, she had chosen to focus on the value of character rather than its length. The historical drama Tanhaji, which also starred Ajay Devgn and Saif Ali Khan, was her first release of the year. It went on to become the highest-grossing movie of the year, earning 3.67 billion (US$46 million), and was based on the life of Tanaji Malusare. She portrayed Savitribai, Tanhaji's wife, who she described as a powerful character that she found reminiscent of herself.

Despite the short amount of screen time, the critics praised her performance. She appeared in Devi later that year, a suspenseful drama about nine women who stay together in a room apart from the outside world. Critics gave it favorable reviews, and they singled out Kajol for directing the diverse group. At the Filmfare Short Film Awards, Devi took home the Best Film (Popular Choice) trophy.
Kajol Devgn's Upcoming Movies
Indian actress Kajol is well-known for her work in Hindi movies. The 1992 movie Bekhudi was where she made her on-screen debut. After receiving praise for her work, she was cast opposite Shah Rukh Khan in the financially successful 1993 thriller Baazigar. She received praise from critics for her performance as the lead in the 1994 movie Udhaar Ki Zindagi. Following that, Saif Ali Khan and Akshay Kumar costarred in Yeh Dillagi. In 1995, Kajol appeared in five movies. Then made a brief appearance in the thriller Karan Arjun, and she played Simran, an NRI, in Aditya Chopra's romantic drama Dilwale Dulhania Le Jayenge, which was one of the highest-grossing Bollywood movies of the year. The latter's popularity launched her Bollywood career. . Dilwale Dulhania Le Jayenge is the longest-running Indian movie as of 2021. Her performance received a Best Actress nomination at the 2nd Filmfare OTT Awards. With Such a phenomenal persona she will be back on screen with the following Projects:
Salaam Vanky
In Revathi's family drama Salaam Venky, Kajol will next be seen. Revathi, who also directed the national award-winning film Mitr: My Friend, is the director of the upcoming Hindi-language movie Salaam Venky. Suraj Singh and Shraddha Agrawal, under the auspices of their respective companies Blive Productions and Take 23 Studios, are the producers of the movie. The film, which features Kajol Devgn in the title role, is based on a true account of a lady and the difficulties she encounters in life. Revathi and Kajol announced the movie on October 7, 2021. The first schedule was shot in Mumbai on February 11, 2022, when principal photography commenced. Let's revisit some of the gems which Kajol gives to Hindi Cinema.
Untitled Disney Plus Hotstar Web Series
Along with Salaam Vanky, Kajol is set to appear in a Disney+ Hotstar Web Series which is said to be Directed by Suparn Verma. Indian writer and filmmaker Suparn Verma works in the Hindi cinema field. He is popular to direct numerous movies, including Aatma, Acid Factory, and Ek Khiladi Ek Haseena.
Kajol Devgn's Career Timeline
Kajol Devgn's Controversies
Kajol Devgn and Rekha Photoshoot Controversy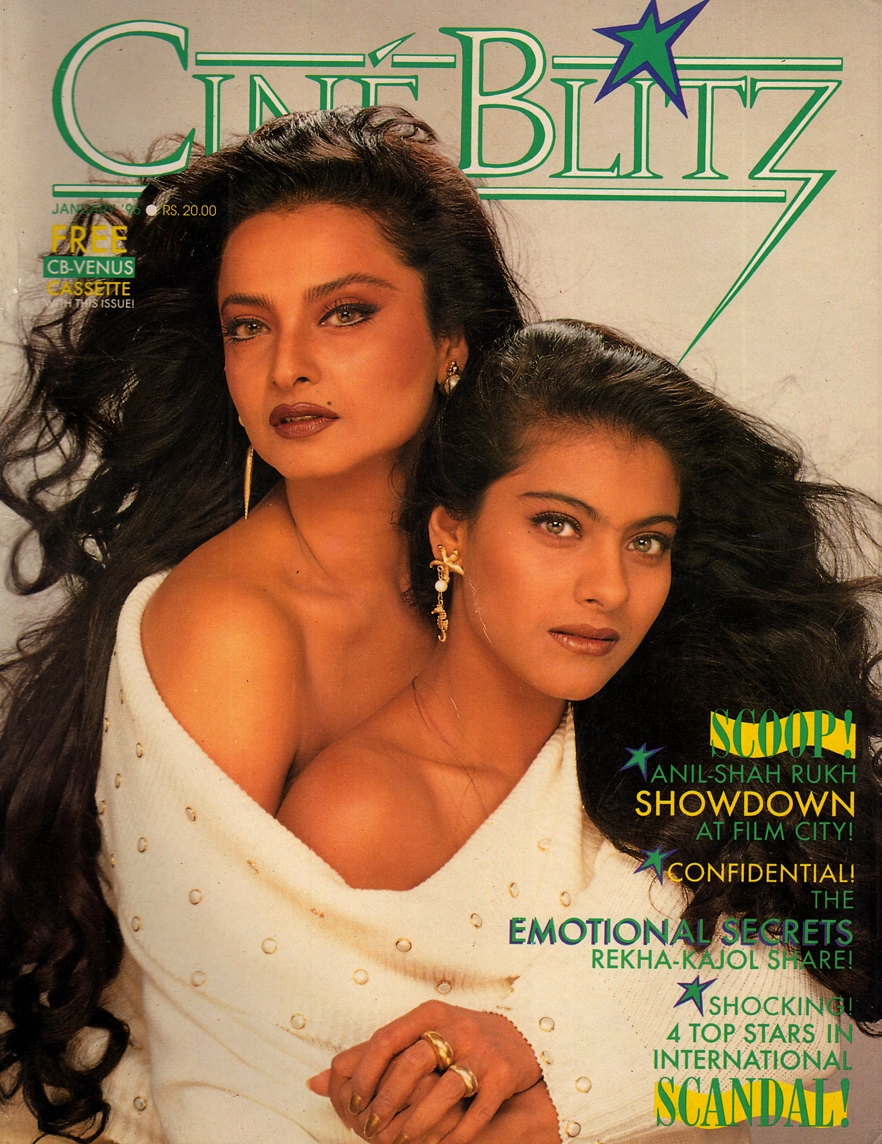 Rekha, a legendary beauty in Bollywood, has frequently made the news. The seasoned actress never fails to steal the show, whether it's through her controversies or her dazzling appearances at events. The photo session in those days was viewed as audacious by the uninitiated, raised eyebrows, and generated a lot of buzzes. Rekha and Kajol appeared on the cover of a prestigious magazine's January 1996 issue. The two were only wearing a white pullover as they posed. When the actresses put on the same sweater and posed in a white off-shoulder sweater, everyone's attention was drawn to them.

Such photo shootings were still a huge bomb for Indian audiences back then. Kajol, who had never been involved in a controversy, had. Even though there was nothing offensive about the image, many people did not find it to be acceptable. In response to the photo shoot, Rekha and Kajol received harsh criticism. In 1992, Kajol made her Bollywood debut. In 1996, she became involved in a dispute.
Clash With Karan Johar
While Karan and Kajol were childhood friends, SRK was a relative newcomer to the industry. Kuch Kuch Hota Hai, My Name is Khan, Dilwale Dulhania Le Jayenge, and Kabhi Khushi Kabhi Ghum are the blockbusters they work and produced together. However, Kajol and Karan's friendship reached new heights in 2016 with the release of the movie Ae Dil Hai Mushkil, which also starred Ranbir Kapoor, Anushka Sharma, and Shivaay (Ajay Devgn). At the box office, both movies competed.

The self-described critic Kamaal R Khan (KRK) asserted in a tweet that Karan had paid him Rs 25 lakh to promote Ae Dil Hai Mushkil and disparage Shivaay when their films clashed at the box office. The actor from Golmaal then reposted the tweet. Later, Karan alleged that Ajay had yelled at him over the phone. The fact that Kajol shared her husband's tweet while adding the word shocked stung him the most, though.

Speaking honestly about the situation and how Kajol's response to it left him feeling emotionally crushed and hurt, he remarked simply that the actress killed every feeling he had for her for 25 years. He continued by saying he had no sympathy for her because she had committed the most abhorrent act for someone who cherished her. However, Kajol and Karan were unable to hold their resentment for very long. The following February, Karan gave birth to twins, Yash and Roohi, and things gradually began to warm up between them. The first telltale indicator was Kajol's Instagram like Karan's family photo. Later, Ajay and Kajol made an appearance on Season 6 of Karan's Koffee With Karan as the celebrity guests.
Kajol Devgn's Net Worth
Kajol Devgn, is a fantastic actress, dancer, businesswoman, and fitness enthusiast. Kajol, one of Bollywood's highest-paid actresses, was born on August 5, 1974, in Mumbai, India. Due to her frequent travels around the world, she never attended formal school. She attended a homeschool. Kajol has a $24 million net worth (Rs. 180 Crores).

One of the greatest on-screen pairings in Hindi cinema, Shah Rukh Khan and Kajol have been together in a number of well-received movies. India Today claimed that they had made over 2 billion (US$25 million) from all of their movies, which included Baazigar (1993) to Kabhi Khushi Kabhie Gham... (2001), calling this a charm that successive jodis have found hard to reproduce.

Kajol Devgn has had a successful career after marriage and motherhood, unlike most of her peers, for which she was dubbed the typical New Age lady. She commented on shattering the stereotype, saying: Perceptions have shifted significantly in recent years. Actresses who are married don't always play characters in movies.

This is undoubtedly the ideal period for actresses like us because filmmakers are experimenting. Journalists predicted her career would come to an end after she got married. She continued to act in movies but has become pickier, attributing it to the dearth of respectable offers and her reluctance to see herself in totally worthless movies.

Kajol is a model, performer, actress, and philanthropist. She is one of the most adored and admired actors in the world of cinema. In addition, Kajol works with Relief Projects India, a nonprofit organization that saves abandoned baby girls and campaigns against female infanticide.

She trusts the money she has made from appearing on different game programs and has donated to numerous organizations. In surveys determining the most attractive celebrities, Kajol was frequently placed highly. The Times of India awarded her the Most Desirable Woman in 2010.

She earns the majority of her money via endorsing brands. One of the paid actresses in India is Kajol. Her primary sources of income are movies, commercial sponsorships, stage performances, and her own makeup line, Kay. According to trade analysts, she recently had a net worth of 180 crores rupees and an annual income of 3 to 4 crores.

Additionally, Kajol charges roughly Rs. 4 Crore each movie. She supports a variety of companies. Vasmol, Yakult, Joyalukkas, Huggies, Lifebuoy, etc. are mentioned. Kajol makes almost one crore per month.
Kajol Devgn's Social Work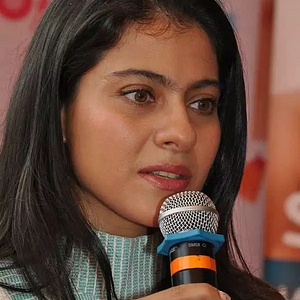 Kajol has taken a lead role in a number of charitable projects that support women and children. She has ties to Shiksha, a non-governmental organization that promotes children's education, and she started a campaign in 2009 to help the cause. In order to raise money for the Cancer Patients Aid Association, Kajol participated in a fashion show in 2011. She also served as the organization's international goodwill ambassador and the patron of The Loomba Trust (a charity organization devoted to supporting widows and their children around the world, particularly in India).

As the brand ambassador for the children's charity Pratham in 2012, Kajol collaborated with Mumbai's Hanuman Basti Primary School youngsters to create a short film about education and literacy. She produced a documentary about girl child protection as part of the Maharashtra government's Save the Girl Child campaign that same year. Kajol received the Karmaveer Puraskar for her contributions to humanitarian service.
Kajol Devgn's Awards and Achievements
1995- Won Bengal Film Journalists' Association Awards-Best Actress (Hindi)- Udhaar Ki Zindagi
1996- Won Filmfare Awards-Best Actress- Dilwale Dulhaniya Le Jayenge
1998- Won Filmfare Awards-Best Performance in a Negative Role- Gupt: The Hidden Truth
1999- Won Filmfare Awards-Best Actress- Kuch Kuch Hota Hai
1999- Won Bollywood Movie Awards- Best Actress- Kuch Kuch Hota Hai
2002- Won Filmfare Awards-Best Actress- Kabhi Khushi Kabhi Gham...
2002- Won Bollywood Movie Awards- Best Actress- Kabhi Khushi Kabhi Gham...
2007- Won Filmfare Awards-Best Actress- Fanaa
2007- Won Zee Cine Awards-Best Actress- Fanaa
2011- Won Filmfare Awards-Best Actress-My Name is Khan
2016- Won Screen Awards- Best Film (Marathi)-Vitti Dnadu
2016- Won Screen Awards- Jodi No. 1 (along with Shah Rukh Khan)-Dilwale
Kajol's Honors
2002- Won Rajiv Gandhi Award by Mumbai Pradesh Youth Congress
2007- Won Karamveer Puraskar by iCONGO
2011- Won Padma Shri by India
Kajol Devgn's Interesting Facts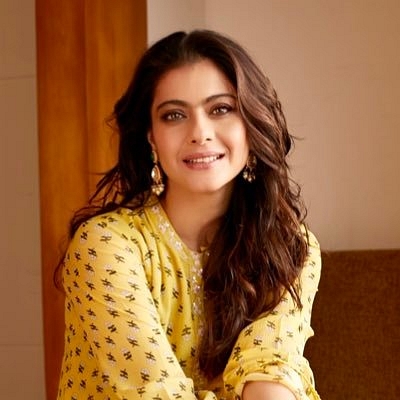 Kajol hails from the acting, producing, and filmmaking family. Kajol is the granddaughter of actor-director-producer Shobhna Samarth, the great-granddaughter of 1930s actor and singer Rattan Bai, and the daughter of filmmaker Shomu Mukherjee and veteran performer Tanuja. She is also Rani Mukerji's and Ayan Mukherjee's cousin.
The first female actor to receive a Filmfare award for a derogatory performance was Kajol.
In 2006, Kajol became one of only four Indians—along with Shah Rukh Khan, Hrithik Roshan, and Priyanka Chopra—to have miniature dolls created in London's famed Harrods department store.
Writing poetry and reading science fiction and horror books are among Kajol's interests. But she doesn't incorporate her love of reading into her scripts.
Kajol admitted that she adores Pilates and dance in a Vogue interview.
Along with her mother-in-law, Kajol is renowned for her love of seafood.
Kajol joined Shah Rukh Khan as the first Indian celebrity to ring the opening bell at the New York City-based American stock exchange. The promotion for the duo's 2010 movie, My Name is Khan, included this possibility.
Kajol has a strong commitment to philanthropy. Kajol is a devoted social worker who is passionate about educating kids. The celebrity has even been honored by the UN with the Karamveer Pushkar award for her work in social justice.
Social Media
Frequently Asked Questions