John Abraham | Movies, Age, Biography, Net Worth

Violeena Vargav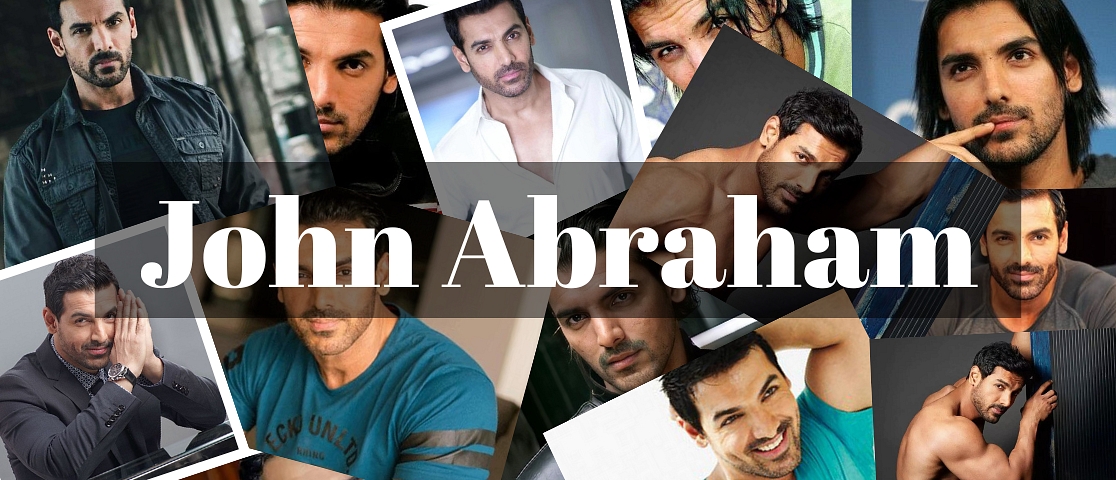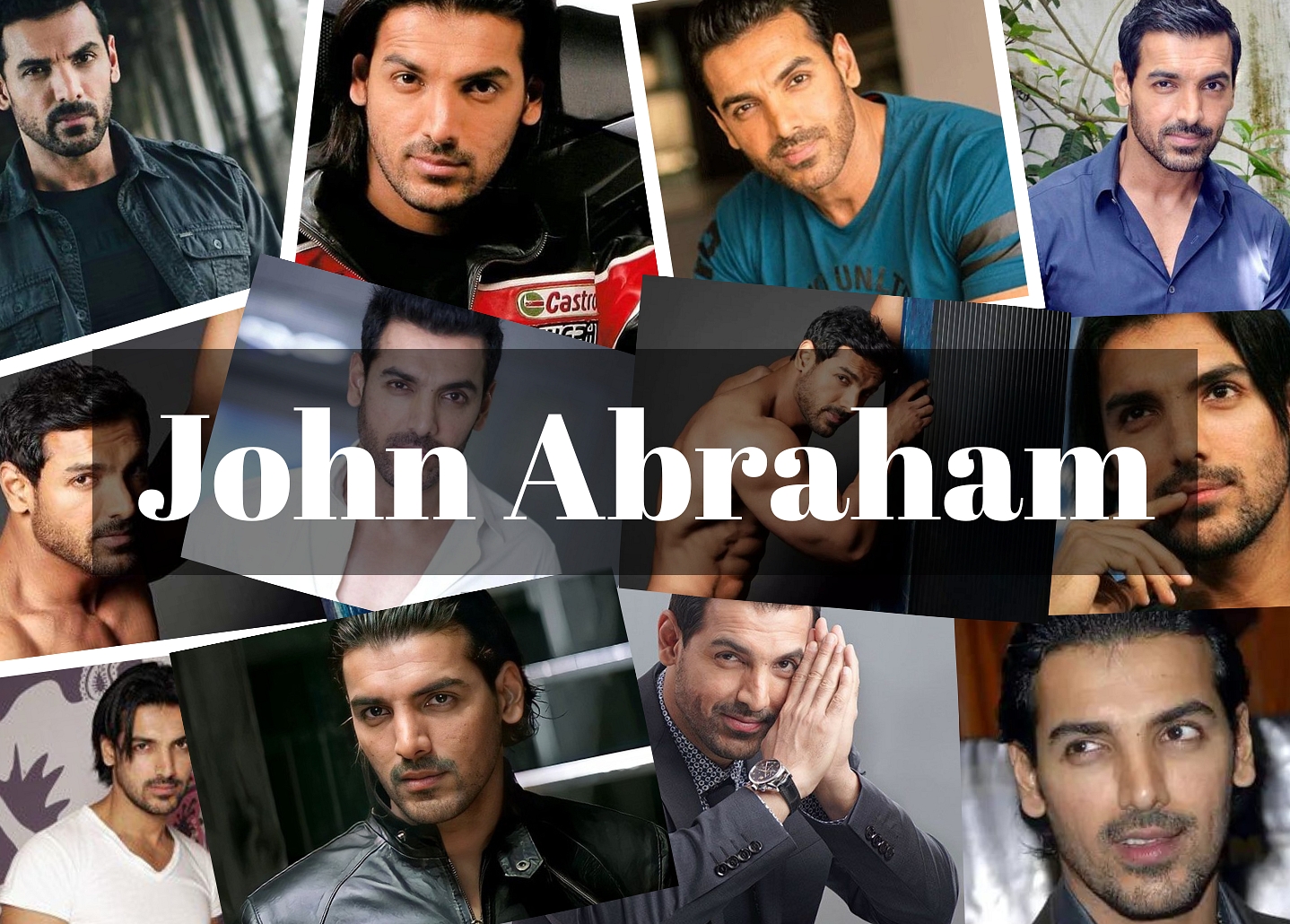 John Abraham's Biography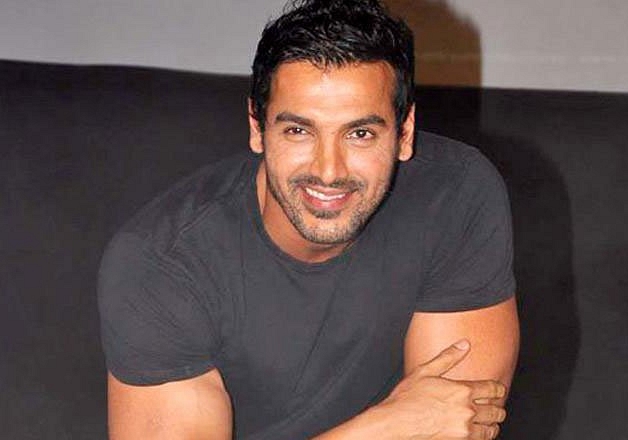 John Abraham is a famous Indian actor, producer and a former model. John Abraham is the perfect choice for fierce cops, roguish criminals, and fantasy lovers due to his chiselled build and smouldering attractive looks. After posing for commercials and brands, Abraham made his cinematic debut in 2003's romantic thriller Jism.

John Abraham made his debut as a villain in the highest-grossing action film, Dhoom (2004), and then received positive reviews for the films Water (2005), Zinda (2006), and Baabul (2006). Since then, he has been in a number of lucrative movies, including Garam Masala (2005), Dostana (2008), New York (2009), Housefull 2 (2012), Race 2 (2013), Welcome Back (2015), Dishoom (2016), Parmanu (2018), Satyameva Jayate (2018), and Batla House (2019).

John Abraham's birthday is 17 December 1972. John Abraham's birthplace is Mumbai, Maharashtra. John Abraham's age is 49 years, as of 2022. John Abraham's religion is Christianity. John Abraham's zodiac sign is Saggitarius. John Abraham's height is 1.83m or 6 ft.

John Abraham has received five Filmfare nominations in addition to a National Film Award. Vicky Donor (2012), which Abraham produced under the name J.A. Entertainment, earned him the National Film Award for Best Popular Film Providing Wholesome Entertainment. He co-owns the Indian Super League football franchise NorthEast United FC in addition to his acting career. He is a fervent supporter of animal welfare and a vegetarian.

Talk To Similar Celebrities
John Abraham's Family and John Abraham's Education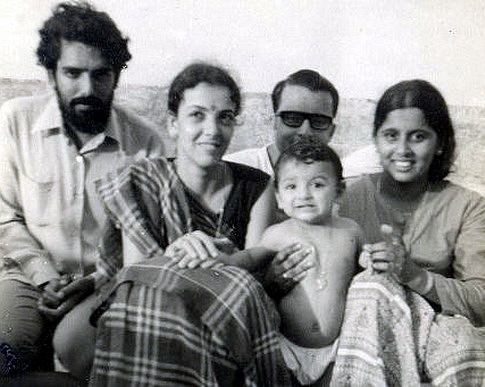 John Abraham's father's name is Abraham John and his mothers's name is Firoza Irani. His mother is an Irani Zoroastrian who has numerous relatives who live in Iran, while his father is a Malayali Syrian Christian from Kerala. His mother is a stay-at-home mom who volunteers for charities, and his father is an architect. John Abraham's younger brother's name is Alan Abraham.

John Abraham was baptised under the name John while having the Zoroastrian name Farhan. He doesn't adhere to any particular religion but sees himself as spiritual. Author Susy Mathew, who has penned books like In a Bubble of Time, is his cousin.

Abraham attended the Bombay Scottish School in Mumbai where he was raised and educated. He earned an economics honours degree from Jai Hind College and an MBA from Mumbai's Narsee Monjee Institute of Management Studies. Additionally, John was given an MMS by the Mumbai Educational Trust (MET).

At Jai Hind College, he led his football team as captain. Additionally, he ran track at Bombay Scottish School, where he won the 100 and 200 metre dash championships. John received Tae Kwon Do instruction from teacher Javed Khan. After graduating from college, he held media positions at Enterprise Nexus and Time & Space Media Entertainment Promotions Ltd.
John Abraham's Relationships and Marriage
Raveena Tandon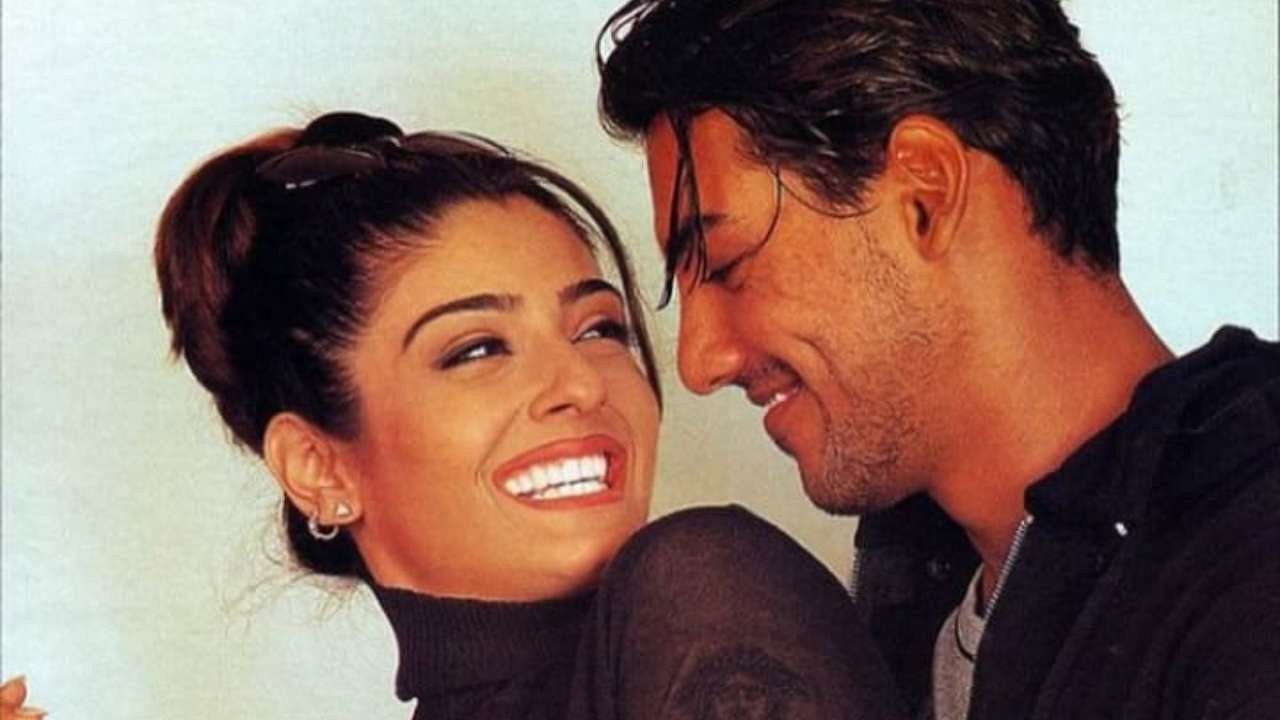 In the early 2000s, there were numerous rumours about John Abraham and Raveena Tandon dating each other. During that time, John Abraham allegedly accompanied Raveena Tandon on rides on his motorcycle as the two actors were frequently spotted together.

They allegedly got engaged in 2002, according to another rumour. Despite the fact that the engagement was called off for an unidentified reason. After then, Raveena Tandon and John Abraham remained close friends.
Bipasha Basu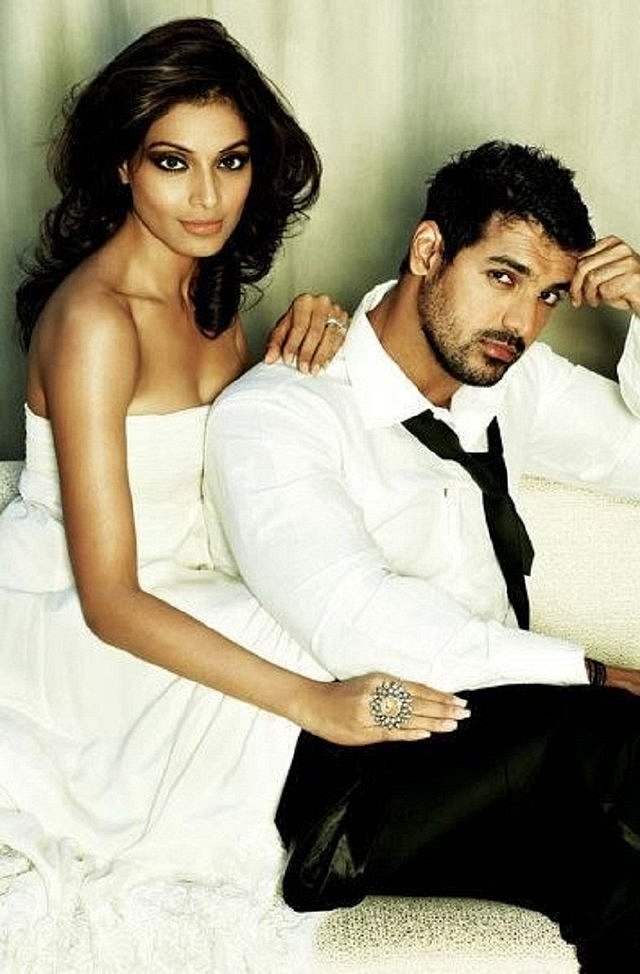 The romance between John Abraham and Bipasha Basu is legendary. On the Jism (2003) sets, love grew between the two, and from that point on, there was no turning back. Everyone had relationship goals thanks to their charming displays of affection, and millions eagerly anticipated their nuptials. Therefore, it was a complete shock when John and Bipasha announced their separation after over ten years of dating.
Numerous theories were put up as to why the couple broke up, ranging from infidelity to John's reluctance to commit. The couple broke up amicably, and they haven't kept in touch since. By the way, John and Bipasha have offered two quite different accounts of how they split up. While John said on a chat show that their split was very, very amicable and that there was nothing unpleasant about it, Bipasha claimed in an interview with The Times Of India that it was certainly not amicable.
Priya Runchal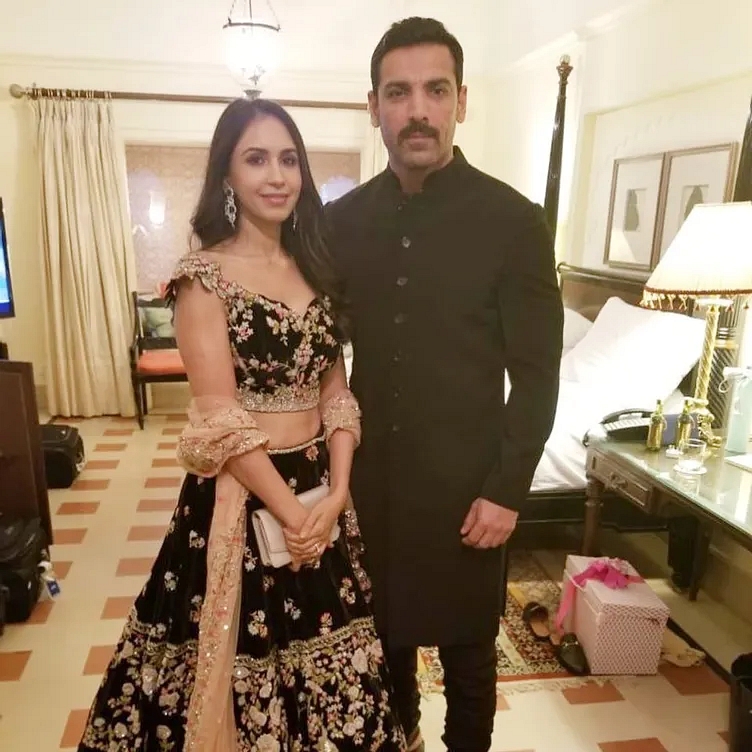 According to reports, John Abraham first spoke with Priya Runchal, an investment banker by trade, in 2010. Prior to receiving a scholarship to the London Business School, Priya held positions at the World Bank and Goldman Sachs. John Abraham and Priya Runchal got married in 2014. It was a private wedding ceremony. The couple have been married for 8 years as of 2022.

Only after the actor signed off as John and Priya Abraham and wished his followers a happy new year did the public learn about the marriage. John previously remarked about Priya that she dislikes the paparazzi circus. I like it just the way it is. She is a reserved individual. She attended business school in Los Angeles and completed her coursework there. I admire that she chooses to work quietly, he said to Mid-day.
John Abraham's Movies and Career:
Modelling Career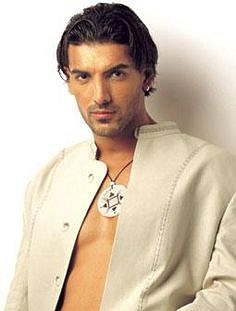 In the music video for the song Surma by Punjabi singer Jazzy B, Abraham made his modelling debut. After that, he joined Time & Space Media Entertainment Promotions Ltd., a media company that ultimately closed due to the financial crisis. Later, he served as a media planner for Enterprises-Nexus. He came in second place at the Manhunt International competition in the Philippines after winning the Gladrags Manhunt Contest in 1999.

Later, he worked as a model in Hong Kong, London, and New York City, where he also made appearances in a number of music videos and commercial advertising for artists including Pankaj Udhas, Hans Raj Hans, and Babul Supriyo. Abraham joined the Kishore Namit Kapoor Acting Institute to hone his acting abilities, taking acting classes while balancing modelling jobs.
Viruddh… Family Comes First (2005)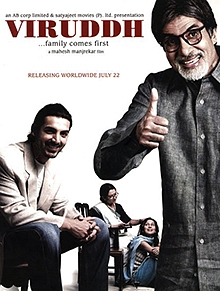 Mahesh Manjrekar's 2005 Hindi drama film Viruddh... Family Comes First, was produced in India. Amitabh Bachchan, Sharmila Tagore, John Abraham, Sanjay Dutt, and others star in the movie. The soundtrack for Viruddh is mostly employed as background music; it is not a musical. Similar events happen in the Marathi film Kokanastha, which was also written and directed by Mahesh Manjrekar.
With his wife Sumitra, Vidyadhar Patwardhan leads a middle-class lifestyle. The family relies on the income of their son Amar, who resides abroad in London, United Kingdom. Then, when Amar and his fiancée Jenny Mayer return home, everyone is happy to see them. Both had negative opinions on Amar's drinking behaviour. Amar kills himself in a quarrel while his parents are busy planning a surprise birthday celebration for him.

A distraught Vidyadhar and Sumitra arrange for his funeral and then follow up with the authorities to see if the killer, Harshvardhan Kadam, was found guilty. The police account, which differs significantly from Vidyadhar's, states that Amar and Jenny were involved in narcotics smuggling, a struggle broke out, and Amar was slain.

After confessing to killing Amar over a drug fight, two men are later slain in a police encounter. Jenny is then taken into custody for drug possession and kept in a cell. After that, she receives her release and goes back to London. Harshvardhan is found not guilty at both the trial's start and end, leading Vidyadhar and Sumitra to wonder if Amar & Jenny were actually involved in drug use or if it was all fabricated to seem that he was.
Garam Masala (2005)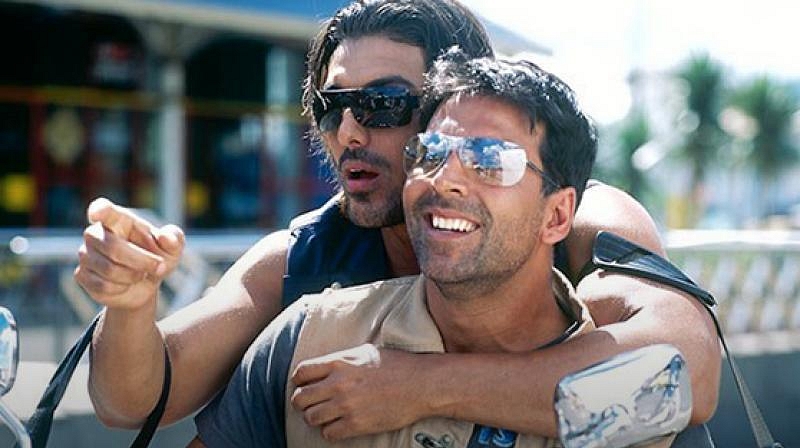 Akshay Kumar, John Abraham, Paresh Rawal, Rimi Sen, Neha Dhupia, and Rajpal Yadav appear in Priyadarshan's 2005 comedy Garam Masala, which is in the Hindi language. In 2005, it was released around Diwali. In recognition of his work at the Filmfare Awards, Kumar won the Best Actor in a Comic Role prize.

Photographers Shyam and Makarand are employed by a business advertising firm. Despite the fact that Makarand is engaged to Anjali, a doctor, they both enjoy making out with women. They compete in a picture shoot to see who can outsmart the other, and Sam wins and earns a vacation to the United States of America. Upon his return, he discovers Makarand leading an extremely luxurious lifestyle with three of the most attractive girls, all of whom are air hostesses. Sam meets them all, learns that the three are unfamiliar with one another, falls in love with Pooja, and starts making attempts to disrupt the Makarand way of life in an effort to maybe be promoted to Supervisor.

The movie has developed a cult following and is recognised as one of the best humorous movies in Hindi. It is a remake of Priyadarshan's own 1985 film Boeing Boeing, which was in turn a remake of the same-titled 1965 film, which was based on the same-titled 1960 French play. The dinner sequence with Kumar and Abraham and Dhupia was taken from Aram + Aram = Kinnaram, another of Priyadarshan's own Malayalam movies.
Taxi No 9 2 11 (2006)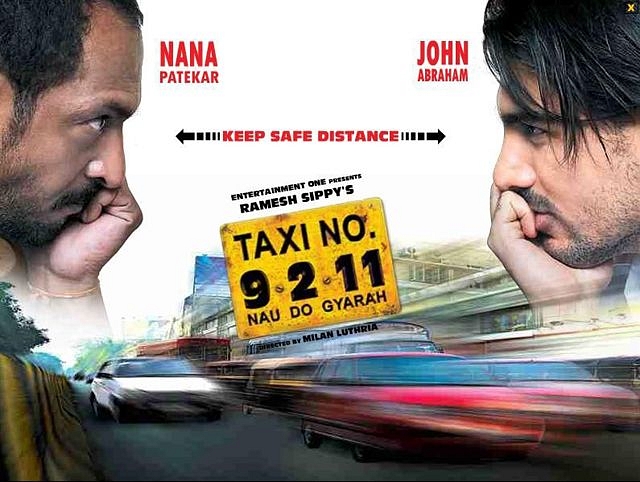 In 2006, Ramesh Sippy and Milan Luthria released the comedy-thriller Taxi No. 9 2 11. It was made in India and is in the Hindi language. John Abraham and Nana Patekar share the key roles in the movie. It was released on February 24, 2006, earned favourable reviews from reviewers, and had a mediocre box office performance. It is based somewhat on the Hollywood movie Changing Lanes from 2002.

After watching all the films with inspired stories, Taxi No. 9 2 11 is a breath of fresh air in Bollywood with a really original screenplay. This light entertainment only spans one day's worth of time. Nothing serious, nothing melodramatic, nothing dragged out—just pure pleasure. The lives of John Abraham, an utterly spoiled child, and Nana Patekar, a struggling, insecure cab driver, are significantly impacted by one another. They have one thing in common—their ego—despite being at the polar opposite ends of the social hierarchy. They get in a taxi and start travelling, unaware that their final destination is them. Taxi No. 9211 is a lighthearted entertainment that is full of amusing conversation.

The movie was remade in 2009 as TN-07 AL 4777 in Tamil, starring Pasupathy and Ajmal Ameer, and in 2019 as Nyit Toon in Burmese. Critics applauded John Abraham's performance in Taxi No. 9 2 11 and noted that he was becoming better with each subsequent movie.
Kabul Express (2006)
The adventure movie Kabul Express, which Aditya Chopra and Yash Raj Films produced in 2006 and was written and directed by documentary filmmaker Kabir Khan, was released on December 15th. In the movie, John Abraham, Arshad Warsi, Salman Shahid from Pakistan, Hanif Hum Ghum from Afghanistan, and Linda Arsenio from the United States star. Kabul Express is the first fictional film directed by Kabir Khan, who has previously worked in Afghanistan on a number of documentaries. Kabul Express, in his opinion, is loosely based on his own and his friend Rajan Kapoor's experiences in post-Taliban Afghanistan.
Suhel and Jai, two Indian TV journalists looking for the biggest story, meet the Taliban. Imran Khan Afridi is a Taliban soldier who is despised and hated, and he needs to flee to Pakistan to avoid Afghan retribution. An Afghan named Khyber is as ancient as the conflict in his nation. American photojournalist Jessica Beckham is willing to put her life in danger to get images of the Taliban.

Five individuals from diverse backgrounds are destined to meet in Afghanistan, a brutal nation ravaged by conflict. This gripping tale takes place over the course of 48 hours and follows five people who are connected by hate and terror but brought together by fate to realise they are related at last.

KABUL EXPRESS is a kidnapping drama that alternates between being hilarious and terrifying. It is set in the war-torn Afghanistan during the post-9/11 era. A unique reluctant friendship forms between two people who would normally be hostile to one another but are pushed to understand one another during the time they are forced to spend together. The story is told in a lighthearted manner.
No Smoking (2007)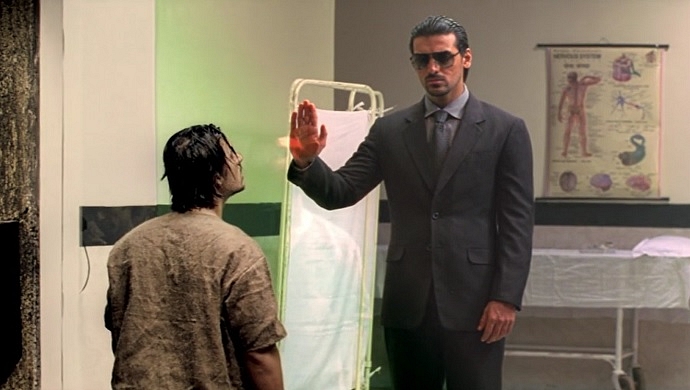 Anurag Kashyap wrote and directed the 2007 Indian thriller No Smoking, which Vishal Bhardwaj and Kumar Mangat also co-produced. In addition to Bipasha Basu's appearance in an item number, the movie stars John Abraham, Ayesha Takia, Ranvir Shorey, and Paresh Rawal in the key roles. The movie is partially based on Stephen King's 1978 short story Quitters, Inc., one of three pieces that were included in the Hollywood anthology film Cat's Eye (1985).

Along with his mother, who is now widowed, and brother, J, K leads an affluent life in India. His mother works at the German embassy as an interpreter. K and his pal Abbas Tyrewala developed the practice of chain smoking as kids. K continues to chain smoke despite being an adult, owning his own company, and married to Anjali, who also serves as his secretary, Annie. When Abbas leaves, he succeeds in persuading K to seek treatment at the Prayogshala next to Kalkatta Karpets, but K rejects him.

When Anjali moves out, he changes his mind and decides to get help. He visits Prayogshala, meets with Guruji, is compelled to enlist, is once more forced to sign a check for 21 lakh rupees for his treatment, and is then released with a threat that if he dares to smoke again, terrible things will happen to him and every member of his family. The movie focuses on what transpires after K decides to covertly relocate while keeping up her smoking.

On October 26, 2007, the movie was released in theatres all around the world. Indian critics had a mixed reaction to the movie, as did critics from other countries. The movie did poorly at the box office as well, ranking among the biggest blunders of the year. No Smoking received three Filmfare Award nominations in 2008, which were given in part for the film's technical achievements.

The film was invited to premiere at the Rome Film Festival before receiving a full theatrical release in India, where it received acclaim from both the public and critics. The movie received overwhelmingly positive reviews and ovation when it screened at a number of film festivals in India and China in 2011 as well as numerous accolades.
New York (2009)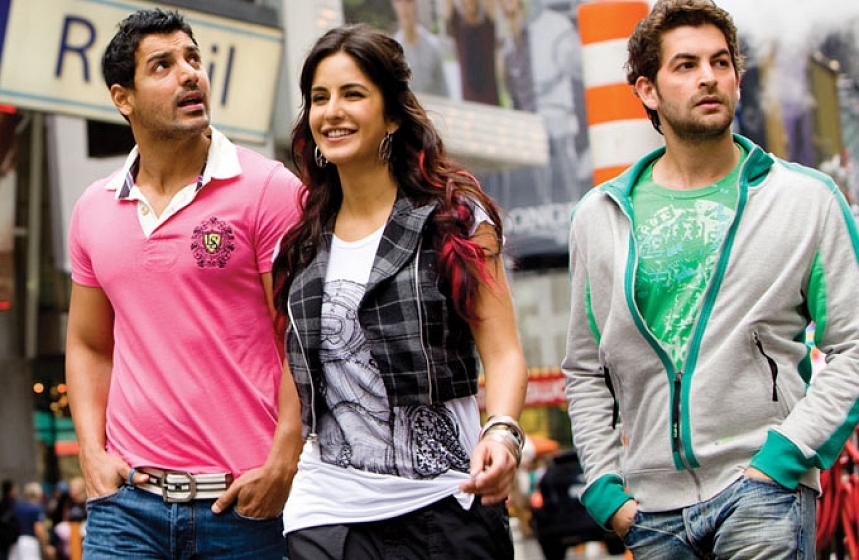 In 2009, Kabir Khan and Aditya Chopra released the spy thriller movie New York in the Hindi language. It was directed by Khan and produced by Chopra, with visual effects handled by Visual Computing Labs, Tata Elxsi Ltd. The movie, in which John Abraham, Katrina Kaif, Neil Nitin Mukesh, Irrfan Khan, and Nawazuddin Siddiqui appear, follows the tale of three friends who attend the fictional New York State University, and how the September 11 attacks and their aftermath affect their lives.

NEW YORK is a modern tale of friendship set against the opulent background of a place frequently referred to as the centre of the universe. Omar has been outside of his country for the first time in his life, and soon he starts to appreciate and love America through the eyes of his friends Sam and Maya, who are also Americans. It tells the tale of how these three buddies explore a new continent together. But one day, the world around them changed.

One such tale has three young friends from New York, whose lovely lives are upended by the greater 9/11 disaster beyond their control. At this juncture, an FBI undercover agent named Agent Roshan walks in and starts a chain of unfortunate events that would throw the lives of these buddies into a perilous and exhilarating roller coaster ride.

The movie, which was concurrently filmed in Hindi and English, garnered overwhelmingly good reviews. Kaif and Nitin Mukesh's performances led to their nominations for Best Actress and Best Supporting Actor at the 55th Filmfare Awards, respectively. The movie was hailed as a box office smash.
Madras Cafe (2013)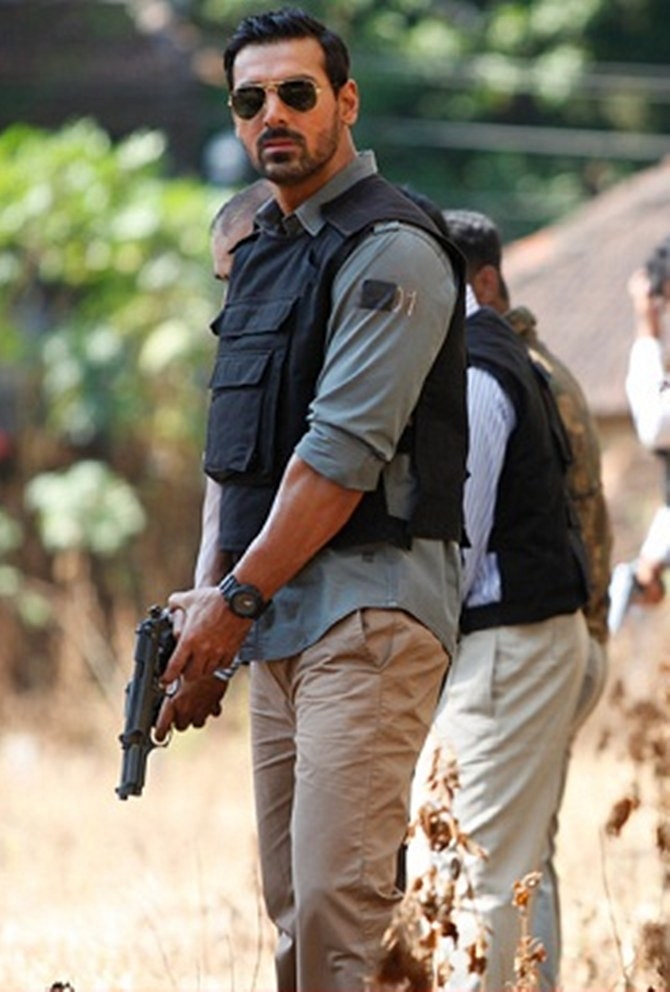 Madras Cafe is a 2013 Hindi-language political action thriller film stars John Abraham, Nargis Fakhri, and newcomer Raashi Khanna in the key roles. It was directed by Shoojit Sircar. The movie takes place in the late 1980s and early 1990s, at a time when Rajiv Gandhi, the Indian prime minister, was assassinated and India intervened in the civil war in Sri Lanka.
To dismantle a determined rebel cell, an Indian intelligence operative travels to a seaside island that has been ravaged by violence. In a situation where the opponent is faceless and the sole advice is Don't get caught, he skillfully manages his resources to achieve important accomplishments. He runs across a fascinating and driven journalist who is determined to reveal the real causes of the civil war at several intersections. The plot develops as their pursuit of the truth reveals a bigger scheme by an adversary without a face who has banded together to conquer India, their common foe.
Madras Cafe was made available on August 23, 2013. John Abraham also produced Madras Cafe, which received excellent reviews from critics and witnessed an increase in ticket sales as a result of the positive word-of-mouth. The movie did more than normal, according to Box Office India. At the 61st National Film Awards, the movie won the National Film Award for Best Audiography for Nihar Ranjan Samal (location sound recording) and Bishwadeep Chatterjee (sound design).
Rocky Handsome (2016)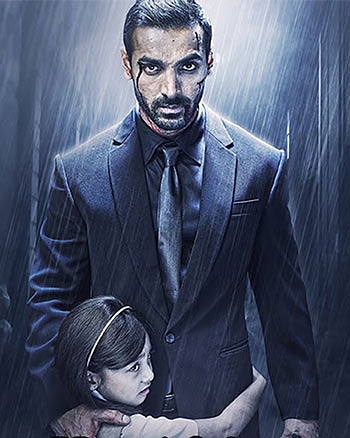 The 2016 Indian action-thriller movie Rocky Handsome was written by Ritesh Shah, directed by Nishikant Kamat, and produced by John Abraham under the banners of J. A. Entertainment and Azure Entertainment, respectively. Abraham and young actress Diya Chalwad play the key roles in this official version of the 2010 South Korean film The Man from Nowhere. Shruti Haasan, Nathalia Kaur, Kamat, Teddy Maurya, and Sharad Kelkar play significant supporting parts.

Kabir Ahlawat, a recluse who lives in the centre of Goa, is the subject of the story Rocky Handsome. A local drug lord, Kevin Pereira, and his psychotic brother Luke abduct his neighbour and her daughter Naomi. Given that Naomi's mother had pawned a bag containing the drugs, Kabir becomes entangled in this situation.

The Pereira brothers and the neighbourhood drug enforcement officials learn that Kabir is a difficult person to deal with and has a terrible background attached to him. Kabir, who is skilled at killing brutally, sets out to track down Naomi and exact revenge on the Pereira brothers. The movie's release date was set for March 25, 2016, and the theatrical trailer debuted on March 4.
Parmanu: The Story of Pokhran (2018)
Parmanu: The Story of Pokhran is a 2018 Hindi-language historical action drama film that was written by Saiwyn Quadras, Sanyuktha Chawla Sheikh, and Sharma. It was directed by Abhishek Sharma. Zee Studios, JA Entertainment, and KYTA Productions banners produced it. The movie is based on the Indian Army's 1998 nuclear bomb test explosions in Pokhran. Boman Irani, Diana Penty, and John Abraham play the leading parts.

Initially faced with opposition, Captain Ashwat Raina's efforts to make India a nuclear state subsequently received a government offer. He directs a group to carry out a second round of nuclear tests with the aid of Himanshu Shukla, the Prime Minister's main secretary. The American Lacrosse satellite, which caught the initial test preparations and further prompted America to warn India about future testing, is the only real danger. Ashwat and his crew face both mental and physical obstacles as they race against time to conduct the tests in a discreet manner amid the country's deteriorating political situation and the presence of spies from the US and Pakistan.

Parmanu's release date was originally set for December 8, 2017, but it was delayed to avoid competing with Padmavat (2018). Conflicts between the movie's producers, Abraham and KriArj Entertainment, caused it to be further delayed. On May 25, 2018, it was eventually made available.
Attack: Part 1 (2022)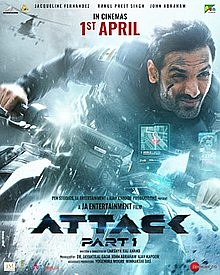 Attack: Part 1 is a science fiction action movie set in 2022 that is in the Hindi language and was written by Vishal Kapoor, Sumit Batheja, and John Abraham. John Abraham, Jacqueline Fernandez, and Rakul Preet Singh all star in the movie, and Prakash Raj and Ratna Pathak Shah play supporting parts.
An exciting ambush by a squad of soldiers under the command of Major Arjun Sheirgill in Rawalakot, Pakistan, results in the capture of a militant group's leader. A few years later, our hero runs across the attractive flight attendant Ayesha, and they instantly fall in love. After engaging in some mid-air romance, coffee dates, and pizza binges, Arjun chooses to propose to his girlfriend when tragedy befalls our lovebirds.

He is confined to the wheelchair and needs his mother even to perform his personal hygiene. Hamid Gul, a notorious terrorist, on the other hand, is plotting to destroy India. The Indian government and a young DRDO scientist named Saba shortlist Arjun as their contemporary weapon of warfare to repel his assault.

They turn him into a super-soldier with the use of experimental exoskeleton technology that employs artificial intelligence. How this unique prototype embarks on a journey for a greater purpose is the focus of the remaining plot.
Attack premiered in theatres on April 1, 2022. The movie garnered conflicting reviews from critics, some of whom appreciated the action scenes and others of whom criticised the narrative; as a result, the movie bombed at the box office.
John Abraham's Upcoming Movies
In a tweet about his upcoming Malayali remake movie, John Abraham claimed that Ayyappanum Koshiyum achieves the ideal harmony between action, adrenaline, and a narrative. Shahrukh Khan, John Abraham, and Deepika Padukone, a superstar three, will star in Pathaan by YRF. This will be a very successful movie under the Yash Raj banners.

John Abraham, a motorcycle enthusiast, is also working on a movie on motorcycle races. John Matthew Matthan and John Abraham hold hands before the sequel to the smash hit Sarfarosh (1999). Pathaan will force the release of a true story-based movie Tehran that John Abraham is working on to be pushed back from its original Republic Day Week 2023 release date.

Due to scheduling conflicts, Ajay Devgn will not be appearing in Anees Bazmee's Next; however, a new report claims that John Abraham will. The producers of Chor Nikal Ke Bhaaga are JA Ent, KriArj Ent, and Raj Kumar Gupta. The film was directed by Amar Kaushik and stars John Abraham and Tamannaah Bhatia. After their Madras Cafe collaboration, renowned filmmaker Shoojit Sircar and John Abraham work together once more.
John Abraham's Career Timeline
Movies
John Abraham Producer Timeline
John Abraham's Net Worth
John Abraham's net worth in 2022 is $34 million US or 251 Crore Indian Rupees. John Abraham promotes numerous products, and brand endorsements and personal investments account for a sizable portion of his income. Mr. Abraham is a wonderful donor to charity in addition to earning a lot of money and keeping a huge net worth. His money is largely devoted to numerous charitable initiatives and campaigns. He also pays among the highest taxes in the nation.

In addition to his work in acting and producing movies, John Abraham owns a number of other companies, including the Fat Abraham Burger restaurant in New Delhi, the Mumbai Angels of the Indian Super League, his own brand of vodka (Pure Wonder Abraham), a line of perfume, and a clothing collection called John Abraham Seduction.

John is the proud owner of a stunning duplex home in Mumbai's affluent Bandra neighbourhood. This home is constructed on two levels and occupies a 5,100 square foot area. His father, John, and brother, Alan, collaborated with Abraham to design this home. John Abraham has a strong interest in both vehicles and motorcycles.

Furthermore, John Abraham has a sizable car collection. The world's top luxury vehicles are among those that John Abraham owns. John Abraham has vehicles from the Lamborghini Gallardo, Audi Q3, and Yamaha R1 motorcycle brands, as well as the Yamaha VMAX and Suzuki Hayabusa. The price of the cars ranges from 1.5 to 2.5 crores rupees.
John Abraham's Controversies
Affairs
Like a lot of other actors, he was embroiled in scandalous affairs. There are numerous scandals surrounding his relationships with Riya Sen, Raveena Tandon, Bipasha Basu, and Priya Runchal, his wife today.
Sugandha Mishra Controversy
Immediately following Sugandha Mishra's performance in Sa Re Ga Ma Pa, John climbs the stage and gives her a kiss. Her relatives disapproved of her and expressed hatred. Later, John returned to the Sa Re Ga Ma Pa show and expressed regret for his actions.
Prerna Arora Controversy
When Permanu was released, producer Prernaa Arora of KriArj Entertainment and John engaged in a court dispute about untimely payments. John has been recommended by Akshay to work with Prernaa Arora. Because Akshay didn't assist John, people and fans began to criticise him. John, though, made it obvious that he didn't want to involve Akshay in the situation. He added that he will not collaborate with Prernaa Arora once more.
Movie Clash
John and Akshay are close friends. Mission Mangal and their film Batla House, however, were both released at the same time. But both stars agreed that it won't have an impact on their friendship.
John Abraham's Awards and Achievements
2003: People;s Choice Awards for Best Male Debut for Saaya
2004: Bollywood Awards for Best Debutant- Male for Jism
2005: Stardust Awards for Superstar of Tomorrow-Male for Paap
2005: International Indian Film Academy Award for Best Performance by an Actor in a Negative Role for Dhoom
2005: Zee Cine Award for Best Performance by an Actor in a Villainous Role for Dhoom
2006: Zoom Glam Award for Most Glam Actor
2009: Annual Central European Bollywood Awards for Best On-Screen Couples for Dostana
2009: Screen Awards for Jodi No 1 for Dostana
2012: Dainik Bhaskar Bollywood Web Awards for Hottie of the Year
2012: GQ Awards for Most Stylish Man of the Year
2013: National Film Award for Best Popular Film Providing Wholesome Entertainment for Vicky Donor
2013: South Africa India Film and Television Awards for Best Youth Icon.
Did You Know?
Farhan Irani is John's Parsi name; he was born to a Malayali Nasrani father and a Parsi mother.
When he was in school, John competed in 100- and 200-metre events as an athlete. He competed in district-level 100-metre races on behalf of his school.
His closest pals, who also attended Bombay Scottish School, include Hrithik Roshan, Uday Chopra, and Abhishek Bacchhan.
John's father battled cancer. He battled the terrible illness and won. He claims to have gained a lot of knowledge through his father's fortitude and mother's nurturing.
John, a true gadget nerd, engaged in creating the game velocity for mobile devices.
When John was 18, he spent $17500 for a Yamaha Re 350, his first bike.
In order to study the fundamentals of acting while starring in his minor modelling jobs, John enrolled in a course at the Kishore Namit Kapoor Acting Laboratory.
Social Media
Frequently Asked Questions