Radhika Madan | Movies, Biography, Net Worth, Boyfriend, Age

Violeena Vargav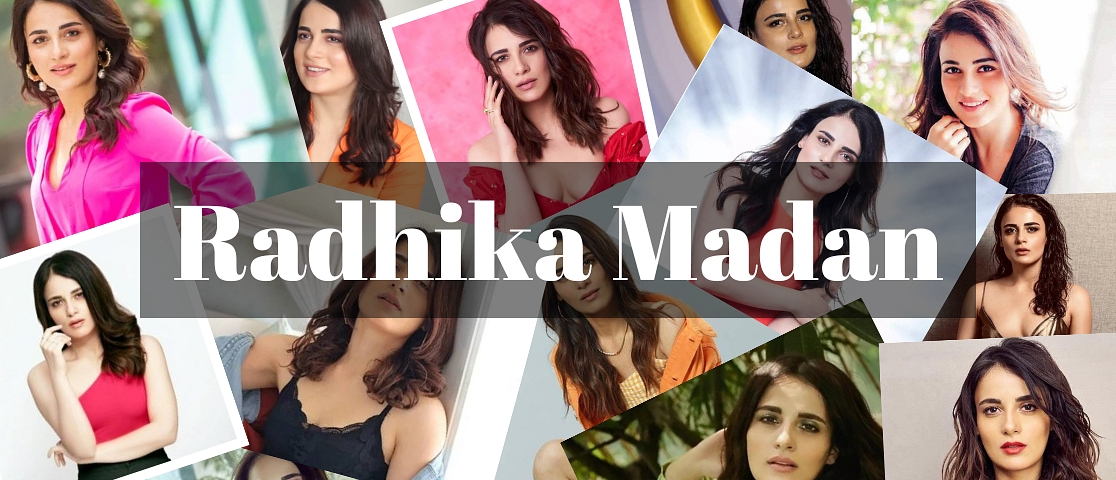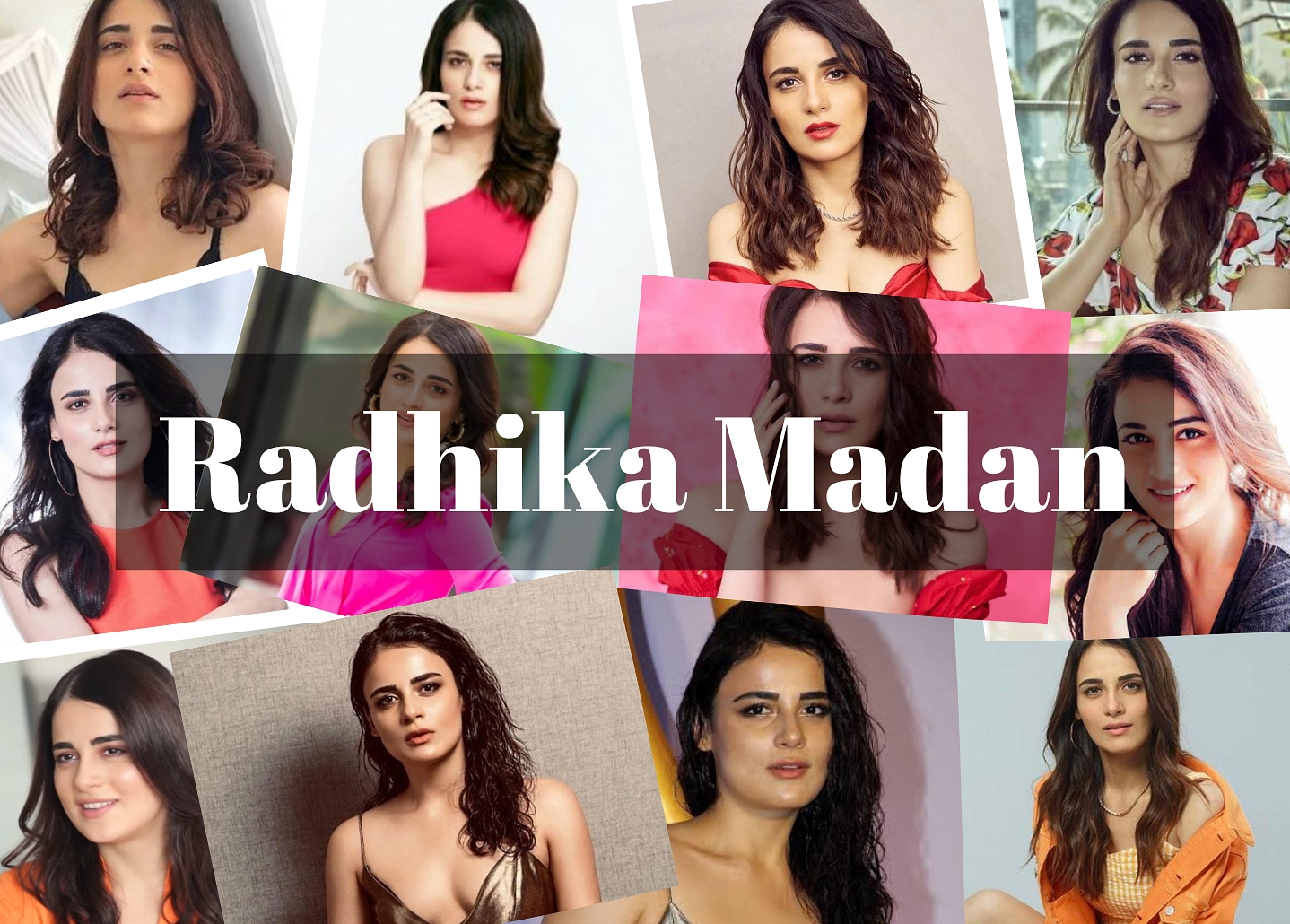 Radhika Madan's Biography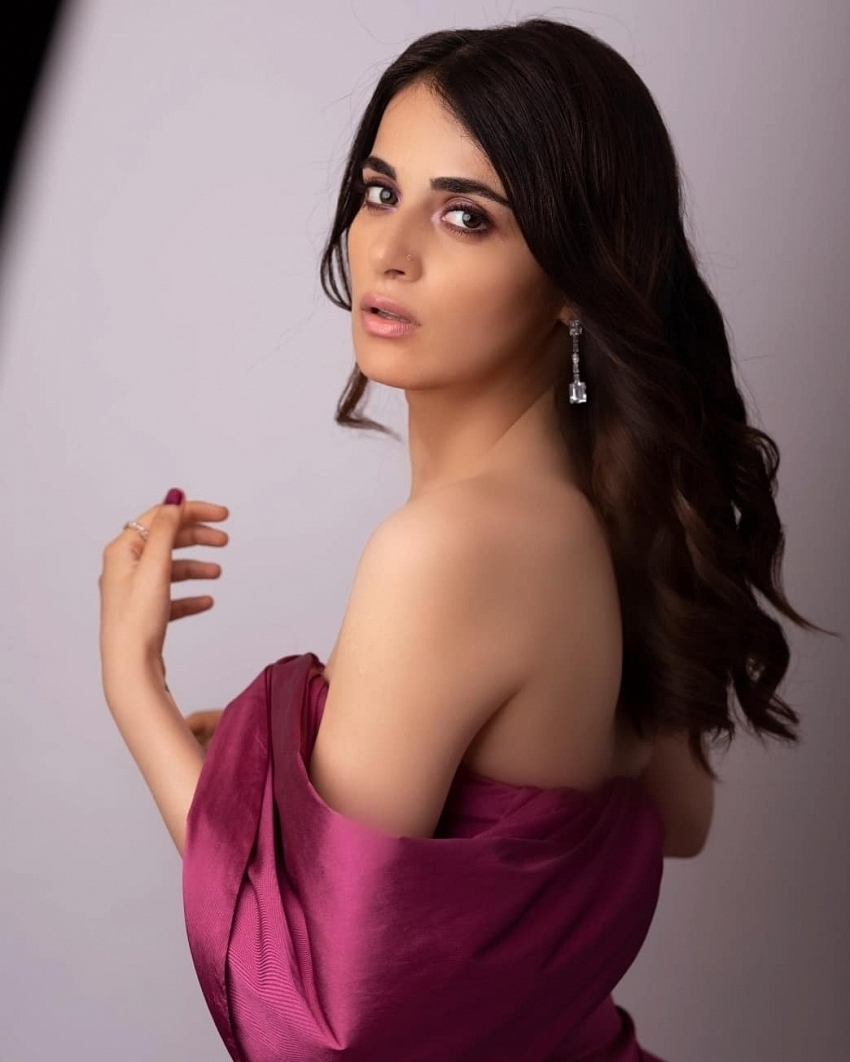 Radhika Madan is an Indian actress who has experience in both Indian television and Hindi films. After earning her Bachelor of Commerce degree from Jesus and Mary College, University of Delhi, she made her acting debut in the popular serial Meri Aashiqui Tum Se Hi on Colors TV. She achieved enormous recognition for her role as Ishaani Vaghela, the female lead in the movie alongside Shakti Arora. The show went on to become one of Colors TV's most well-known programmes. In addition to completing Meri Aashiqui Tum Se Hi's filming schedule, Madan took part in Jhalak Dikhhla Jaa 8 on Colors TV in 2015.

Radhika Madan's birthday is on 1 May 1995. Radhika Madan's age is 27 years as of 2022. Radhika Madan's birthplace is Delhi, India. Radhika Madan's zodiac sign is Taurus. Radhika Madan's height is 1.57m or 5'2 in inches. Radhika Madan's religion is Hinduism.

In order to star alongside Sanya Malhotra in Vishal Bhardwaj's 2018 drama Pataakha, Radhika Madan gave up her television job. Based on the Charan Singh Pathik short novel Do Behnen, which featured two perpetually at odds sisters living in Rajasthan. In order to research the dialect and subtleties of the characters, Madan and Malhotra met the genuine wives of Pathik's brothers. The novel was based on these women. Malhotra and Madan spent time in Ronsi village, close to Jaipur, where they learned the Rajasthani dialect and became accustomed to doing tasks like milking buffaloes, thatching roofs, putting dung on the walls, and walking long distances while carrying matkas full of water on their heads and one around their waists.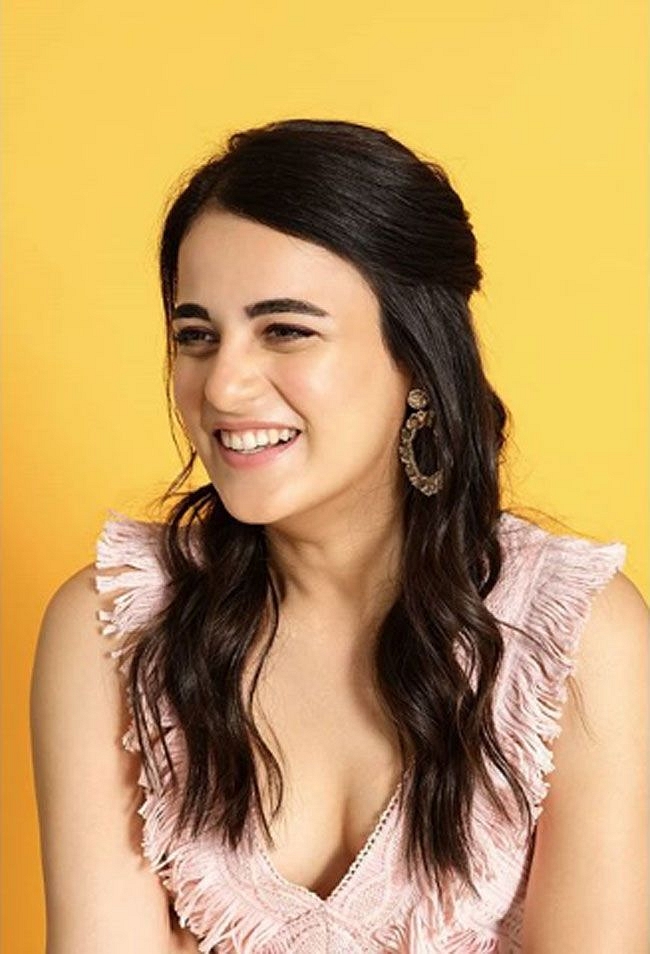 With newbie Abhimanyu Dassani, Radhika Madan was cast in Vasan Bala's action comedy Mard Ko Dard Nahi Hota in 2019. Midnight Madness, which had its world premiere as part of the 2018 Toronto International Film Festival, was the recipient of the People's Choice Award. The movie was additionally shown at the 2018 MAMI Film Festival. Madan stated that she was auditioning for Laila Majnu (2018) when she learned about Mard Ko Dard Nahi Hota and decided to go with the latter movie due to its "uniqueness." She did every stunt personally and spent days familiarising herself with the genre by watching several classic action movies. She had an injury while doing the exercise as well.

Radhika Madan starred alongside Irrfan Khan and Kareena Kapoor in Homi Adajania's comedy-drama Angrezi Medium in 2020. This was Khan's final film before passing away in April of that year. Madan completed a range of four projects in 2021. She debuted in online series with her critically acclaimed performances as Avani Rajvansh in Feels Like Ishq and Divya Didi in Ray. She also participated in the making of Jasleen Royal's single Ni Jaana's music video. Disney+ Hotstar hosted the release of her lone movie in 2021. It was Sunny Kaushal and Kunal Deshmukh's romantic drama Shiddat.
Talk To Similar Celebrities
Radhika Madan's Family and Radhika Madan's Childhood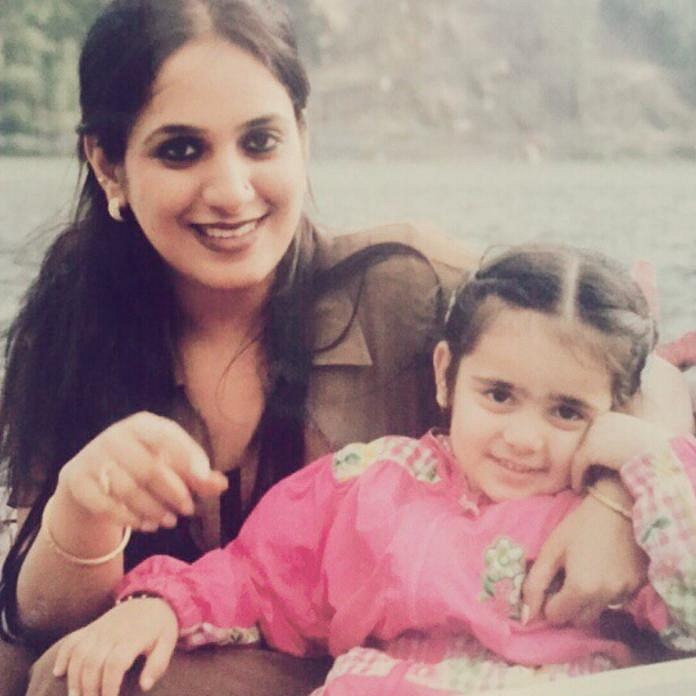 Radhika Madan's father's name is Sujit Madan and her mother's name is Neeru Madan. Sujit Madan is a businessman and Neeru Madan is a painter by profession. Radhika Madan also has a brother whose name is Arjun Madan. Radhika Madan lives in a middle-class household in Delhi, India.

Radhika Madan received her education from Delhi Public School on Mathura Road in New Delhi before graduating with a Bachelor of Commerce degree from Jesus and Mary College at the University of Delhi in the same city.
Radhika Madan's Relationships and Affairs
Ishan Arya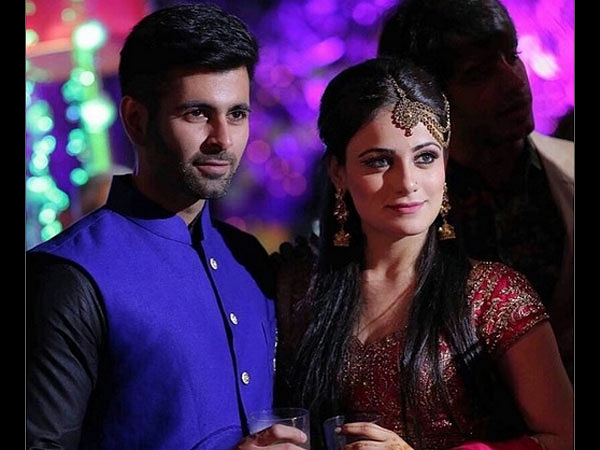 Being very discreet, Radhika Madan has kept her current romantic situation a secret. She is allegedly dating Ishan Arya, though. He is a producer and director from India. Both Radhika and Ishan are much in love with one another, and rumours of their impending nuptials circulated throughout 2016.

According to certain sources, Radhika Madan claimed during one of her interviews that she and Ishan Arya had been dating for a very long period. She continued by saying that they consider their pair to be highly compatible. There are therefore increased odds that this couple will be able to overcome the challenges of time and patience.
Radhika Madan's Career
Meri Aashiqui Tum Se Hi (2014-2016)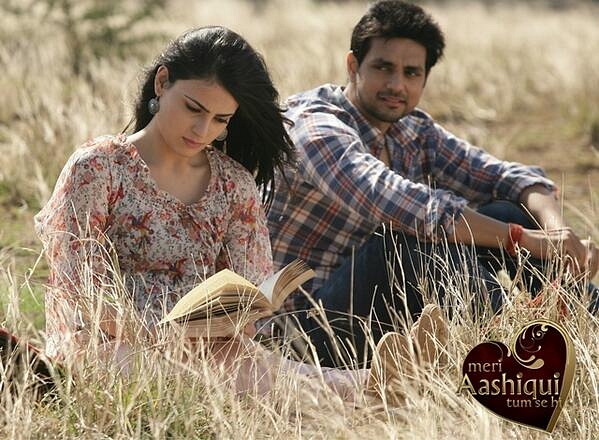 The British novel Wuthering Heights by Emily Bronte served as the inspiration for the Indian soap opera Meri Aashiqui Tum Se Hi, which was created by Ekta Kapoor for Balaji Telefilms. The series, which starred Radhika Madan and Shakti Arora, ran on Colors TV from 24 June 2014 until 19 February 2016.

Ishaani Joshi and Ranveer Vaghela have been childhood friends for 20 years because to the fact that Harshad Parekh, the stepfather of Ishaani, drives Kailash, the father of Ranveer. Because of the differences in their parents' backgrounds and the fact that they are both growing up together, Ranveer has always loved Ishaani but has been reluctant to admit it, remaining simply her best friend. Later, they have a disagreement, and miscommunication causes them to part ways.

After a 2 year gap, Ranveer is now a wealthy businessman engaged to Ritika Zaveri, a wealthy jeweler's daughter. Due to Harshad's passing, Ishaani's family is currently struggling financially and is poor. Ranveer, who still loves Ishaani, leaves Ritika and marries her in order to save the honour of her family. Later, he is wrongly charged with murdering Chirag. Ishaani, however, accepts responsibility instead, betraying Ranveer's confidence in the process. Ishaani is saved by Ranveer's buddy and attorney Shikhar Mehra after six months because he loves her. In Vaghela House, Ritika, posing as Ranveer's wife, resides. Ishaani is broken by the unexpected passing of her mother Falguni. Ranveer wants Ishaani back after learning the truth about the past, but she rejects him and chooses to wed Shikhar instead. After admitting to herself that she killed Falguni, Ritika stabs Ishaani. Shikhar rescues Ishaani as she begins to heal. Ritika is ultimately exposed and imprisoned. Ishaani and Ranveer reconcile, erasing all misunderstandings.

It is revealed that Ranveer had a twin brother named Milan, who Kailash gave up for adoption when they were in a financial emergency following Ranveer's catastrophic injury as a toddler. Milan despises Ranveer and swears to steal everything from him. Later, when he commits suicide, his true intentions are revealed. Ritika is granted bail and teams up with Nirbhay Singh Ahlawat, who holds Ranveer accountable for the death of his wife and the paralysis of his sister Naina. Ranveer, who provides Nirbhay with evidence that he didn't kill his wife Pooja, wins Naina's love. Nirbhay extends his regrets to Ranveer and Ishaani. Ritika gets away. Finally, Ishaani and Ranveer get along.
Pataakha (2018)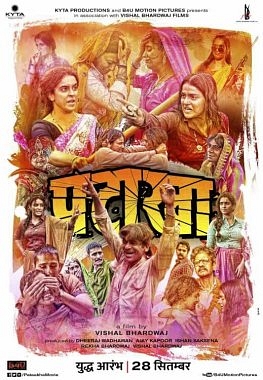 Vishal Bhardwaj is the producer, writer, and director of the 2018 Indian drama Pataakha. Sanya Malhotra and Radhika Madan, a rookie, are the stars. On Charan Singh Pathik's short story Do Behnein, the plot is based. The movie debuted in theatres around the world on September 28, 2018.

In a little town in Rajasthan, dwell Badki and Chhutki. They are sisters who fight over everything, even ruined clothing and stolen beedi. While their father, a single dad, constantly tries to mediate between the warring sisters, their nosy neighbour Dipper is constantly on the hunt for ways to cause the sisters to fight. An offer from a wealthy divorced man wishing to marry one of her daughters deceived a poor parent seeking a loan to start a business. They avoid the arranged marriage since they are not interested in it and instead choose to wed two brothers from the same family.

Do Behnein, a short story by Charan Singh Pathik that was published by Sahitya Kala Academy, caught Vishal Bhardwaj's attention, and he decided to buy the rights and make a movie out of it. In April 2018, television actress Radhika Madan was chosen to play Champa Kumari, the older sister, for which over 60 girls had auditioned. In March 2018, Sanya Malhotra was finalised for the role of Genda Kumari, the younger sister.
Mard Ko Dard Nahi Hota (2018)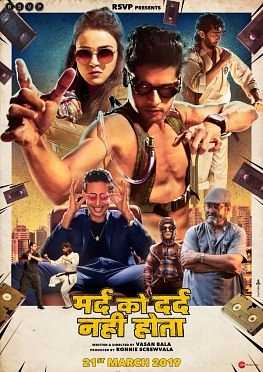 Mard Ko Dard Nahi Hota is a 2018 Indian Hindi-language action comedy film written and directed by Vasan Bala and produced by Ronnie Screwvala under his brand RSVP Movies. It was released overseas as The Man Who Feels No Pain. Abhimanyu Dassani, Bhagyashree's Son, making his feature debut, is joined by Radhika Madan, Gulshan Devaiah, Mahesh Manjrekar, and Jimit Trivedi.

Surya, a boy who cannot feel pain due to congenital insensitivity to pain, must continuously drink water in order to survive. He has spent the majority of his time watching Kung-Fu movies and looks up to Karate Mani, a real legend in his city, having been raised in captivity for 12 years by his dumb but domineering father and a cool liberal grandfather. Supri, another childhood buddy of his, fights alongside everyone else to save Surya but is powerless against her cruel father. Radhika Madan deserves praise for sashaying such a complex and challenging character with ease.

The movie had its world premiere in the Midnight Madness category of the 2018 Toronto International Film Festival, where it took up the Midnight Madness People's Choice Award. The movie was also shown at the 2018 MAMI Film Festival, where it was applauded. Abhimanyu Dassani, the son of Bhagyashree, made his acting debut in the movie. The movie premiered in theatres on March 21, 2018.
Angrezi Medium (2020)
Homi Adajania is the director of the 2020 Hindi-language comedy drama film Angrezi Medium, which was made by Maddock Films. The movie, which stars Irrfan Khan, Radhika Madan, Deepak Dobriyal, and Kareena Kapoor Khan, is a spiritual successor to the 2017 movie Hindi Medium. On April 5, 2019, filming in Udaipur began, and it was finished by July in London. Irrfan Khan released just one more movie before passing away on April 29, 2020.

Champak, who was born and reared in Udaipur (Rajasthan), spends most of his time arguing with his other Ghasitaram brother, Gopi, and taking care of Tarika, his only child, who is about to graduate from high school and start college. She aspires to see the world beyond her narrow environment, unlike her father, who wants to confine her dreams to the area where she was raised. Unaware of what lies ahead, Champak goes into his daughter's demands, but when it comes to paying the high cost, things start to get out of hand. As a loving father, Champak makes a commitment to do whatever it takes to send his daughter abroad to pursue her education, and he embarks on a journey that not only demonstrates his unwavering devotion to his 'betiya,' but also reshapes their bond.


The movie opened in theatres in India on March 13, 2020. Plans for a re-release were abandoned due to the COVID-19 pandemic's impact on theatre attendance, and less than a month after its first release, the movie was made digitally accessible on Disney+ Hotstar.
Ray (2021)
Sayantan Mukherjee's Ray is a Satyajit Ray-inspired anthology drama web series in the Hindi language available on Netflix. Vasan Bala, Abhishek Chaubey, and Srijit Mukherji are the series' directors. Ajit Andhare, Tipping point, and Viacom18 Studios are responsible for producing it. Manoj Bajpayee, Ali Fazal, Harshvardhan Kapoor, and Kay Kay Menon play the key characters in the show. Radhika Madan is included in one of the stories as well. On Netflix, the series debuted on June 25, 2021.

The anthology's four short stories are as follows: Based on the short story by Bipin Chowdhury, "Smritibhrom," by Ray, Forget Me Not was written by Srijit Mukherji. Ipsit Rama Nair, a prosperous businessman, and an occasion that alters how his life had previously been lived are the subjects of the story.

Based on Bahurupi from Ray's short story, Bahrupiya is a work by Srijit Mukherji. It is about Indrashish, an office worker who inherits from his grandmother a priceless book about the art of prosthetics.

Watch Hungama Hai Kyon Barpa Author: Abhishek Chaubey based on Barin Bhowmick-er Byaram, a short story by Ray. It is about two individuals—Musafir Ali, a well-known musician and singer, and Aslam Baig, a former wrestler turned sports journalist—who meet while travelling by train and have a past connection between them reignite.

Vasan Bala's Spotlight is based on the short story of the same name by Ray. Vikram "Vik" Arora, a well-known actor with a distinctive appearance, is the centre of the story. When he encounters Didi, a goddess-like figure, he experiences an existential crisis. It could be viewed as a parody of two of Satyajit Ray's most well-known movies, Mahapurush o Kapurush (Didi's role) and Nayak (Vik's character). Birinchibaba, a short story by Rajshekhar Basu, was the source material for Mahapurush.
Feels Like Ishq (2021)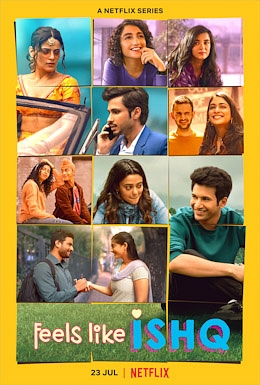 On July 23, 2021, Feels Like Ishq had its Netflix debut. Tahira Kashyap, Ruchir Arun, Danish Aslam, Sachin Kundalkar, Jaydeep Sarkar, and Anand Tiwari are among the directors of the six stand-alone episodes of the series. Numerous actors, including Radhika Madan, Amol Parashar, Rohit Saraf, Kajol Chugh, Tanya Maniktala, Mihir Ahuja, Simran Jehani, Sanjeeta Bhattacharya, Saba Azad, Skand Thakur, Zayn Marie Khan, and Neeraj Madhav, appear in the ensemble cast. The series' lighthearted episodes were created with the intention of telling a "sweet love story" to its target demographic of young adults in their twenties.

A typical anthology series called "Feels Like Ishq" contains six stories about couples that examine love and relationships.Rescuing the day This movie, which stars the great Radhika Madan and Amol Parashar, centres on a bridesmaid who meets a wedding planner by happenstance as chaos breaks out at the ceremony.

Quaranteen Crush is a drama about a naive adolescent who develops feelings for his new neighbour and bonds with him over their shared love of music. It stars relatively unknown actors Kajol Chugh and Mihir Ahuja. This ultimately turned out to be the best of the bunch—a lovely, joyful love tale that is heightened by the concept of corona and quarantine.Star Host: Starring Simraj Jehani and Rohit Saraf, this short is about an innkeeper who develops feelings for one of his guests.In the short film She Loves Me, She Loves Me Not, an advertising executive falls in love with her new employer.

In this sincere romantic short about two job applicants who fall in love during an interview for a position they both applied for, Zayne Marie Khan and Neeraj Madhav make us smile. Ishq Mastana is a sanctimonious, manufactured tale about a young person who recently experienced heartbreak and attempts to court an environmental activist.
Shiddat (2021)
The 2021 Indian romantic drama film Shiddat: Journey Beyond Love is directed by Kunal Deshmukh and produced by Bhushan Kumar and Dinesh Vijan under their respective labels, T-Series and Maddock Films. Principal photography for the movie, which stars Sunny Kaushal, Radhika Madan, Mohit Raina, and Diana Penty, started in November 2019. Shiddat finished filming in March 2020, with a planned September 2020 release date, but the COVID-19 pandemic caused the release to be postponed indefinitely. The movie debuted on Disney+ Hotstar on October 1, 2021.

Shiddat is a passionate love story about two couples that shows the contrast between a typical, responsible but egoistic husband and a special, upbeat, infatuated, overeager lad pursuing the love of his life.
Radhika Madan's Upcoming Projects
In the upcoming, nameless feature and on the Netflix production Monica, O My Darling, Radhika Madan is slated to rework under the supervision of Adajania and Bala. She has also been cast to play the lead role in Sudhanshu Saria's film Sanaa. She will also appear in Kuttey, directed by Bhardwaj's young son Aasmaan, in November 2022, together with Naseeruddin Shah, Tabu, Arjun Kapoor, Konkona Sen Sharma, and Kumud Mishra. Madan started filming in April 2022 for the remake of the Tamil film Soorarai Pottru in which she will appear alongside Paresh Rawal and Akshay Kumar.
Radhika Madan's Career Timeline
Radhika Madan's Net Worth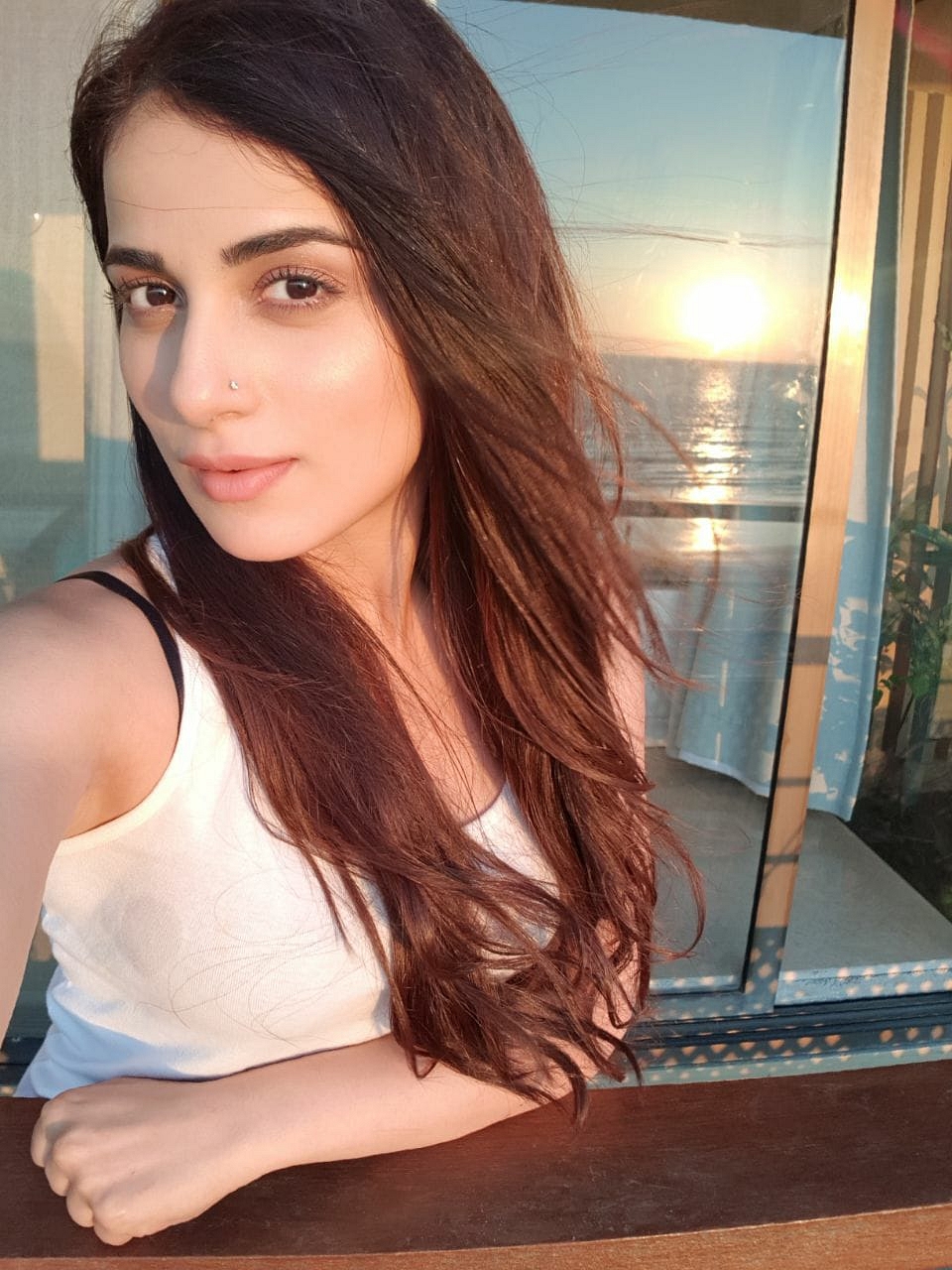 Radhika Madan's net worth is $8 million US or 61 crore rupees, as of 2022. For each film in which she stars, Radhika Madan receives fees ranging from Rs 50 Lakhs to Rs 1 Crore.

The majority of Radhika's income comes from appearing in Bollywood films, television serials, and reality programmes. She and her family reside in their own home in Mumbai, India.

Radhika uses the money she makes to maintain a lavish lifestyle. In addition, Radhika drives a white automobile for daily transportation.
Radhika Madan's Controversies
Risky Top
Radhika Madan was seen sporting a black top and checked pants as the actors began Shiddat's promotional campaign. Although Radhika looked beautiful during the advertising, she received harsh criticism for her clothing choices. On her images posted online by paparazzi, a number of users left comments such as "What is she even wearing?" and "She is so uncomfortable in the outfit saaf dekh rha h." Another Instagram user compared her style to Bigg Boss OTT participant Urfi Javed.
Nepotism Issue
When discussing the nepotism controversy, Radhika Madan admitted that she had lost films and described how she acquired the ones she did. She claims that the way she obtained the roles was by requesting auditions and pleading with producers to allow her to do so in an interview with Bollywood Life. She goes on to say that people need to stop whining and start improving themselves. She claims that the problem needed to be addressed and that it has been. She also urges people to start working out for themselves rather than giving it their full attention.
Radhika Madan's Achievements and Awards
2015: Zee Gold Award: Best Debut Actress for Meri Aashiqui Tum Se Hi
2015: Indian Television Academy Award: Best Newcomer (Female) for Meri Aashiqui Tum Se Hi
2015: Indian Telly Award: Fresh New Face (Female) for Meri Aashiqui Tum Se Hi
2015: Indian Telly Award: Best Jodi on TV for Meri Aashiqui Tum Se Hi (Nominee)
2018: Screen Award: Most Promising Newcomer (Female) for Pataakha
2019: Zee Cine Award: Best Female Debut for Pataakha (Nominee)
2019: Filmfare Award: Best Female Debut for Pataakha (Nominee)
2019: Filmfare Award: Best Actress (Critics) for Pataakh (Nominee)
2020: Filmfare Award: Best Actress (Critics) for Mard Ko Dard Nahi Hota (Nominee)
2021: Filmfare OTT Award: Best Supporting Actress in a Web Original Film for Ray
2022: IIFA Award: Best Supporting Actress for Angrezi Medium (Nominee)
Radhika Madan's Interesting Facts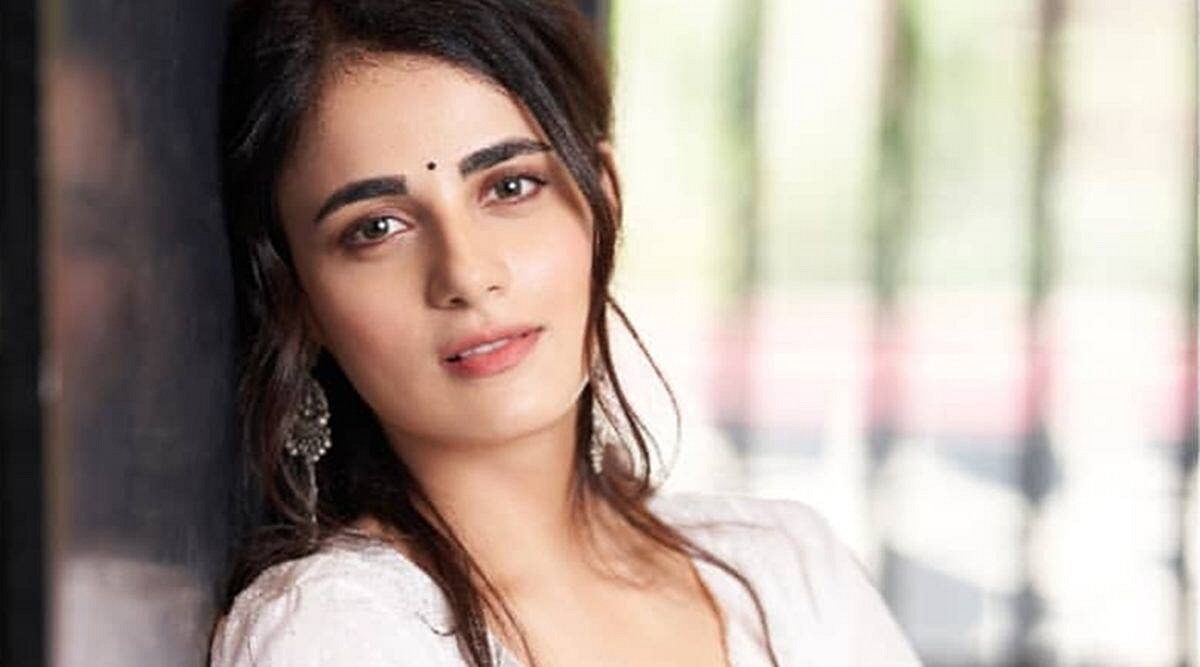 Before she started acting, Radhika Madan worked as a dance instructor and is a master of jazz, hip hop, and ballet.
Mouni Roy, who played Mouni in the film Gold, and Arjun Bijlani are close friends with Radhika Madan.
To perfect her action moves for the movie Mard Ko Dard Nahi Hota, Radhika had to go through extensive martial arts training.
Radhika Madan is a huge fan of Ranbir Kapoor and Kareena Kapoor.
Radhika Madan's favourite Bollywood films are Kuch Kuch Hota Hai, Andaz Apna Apna and Jab We Met.
According to Radhika Madan, who once claimed she loves her company beyond all else, she frequently chooses to go shopping by herself.
Radhika Madan once revealed that she is not a very big fan of make-uo and she hates doing her hair.
Radhika Madan loves Sufi music.
When Radhika Madan received her first paycheck, she bought a Louis Vuitton handbag.
Near and dear ones of Radhika Madan refer to her as Totta, Chote, Ishu, etc.
Social Media
Frequently Asked Questions