Taapsee Pannu | Movies, Age, Height, Biography, Net Worth, Relationships, Controversies

Violeena Vargav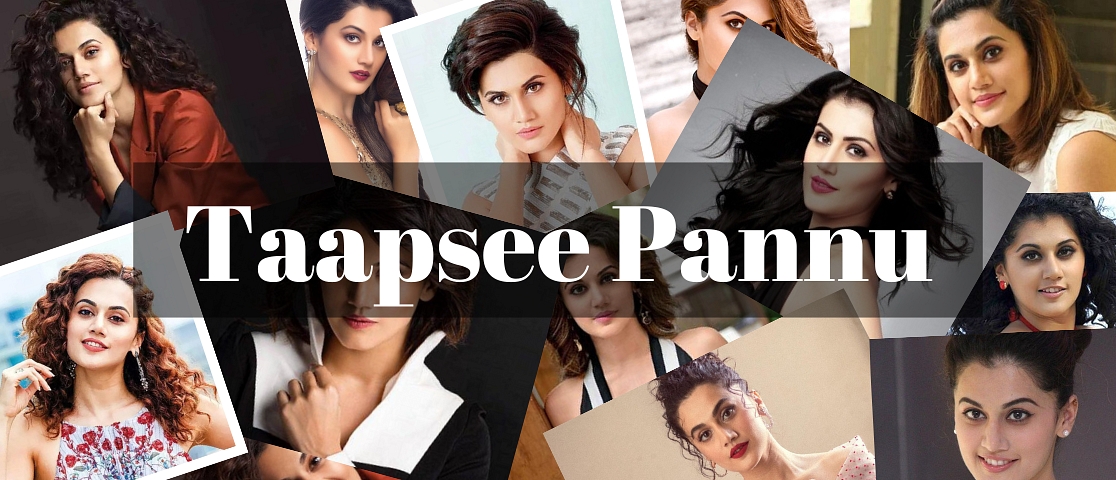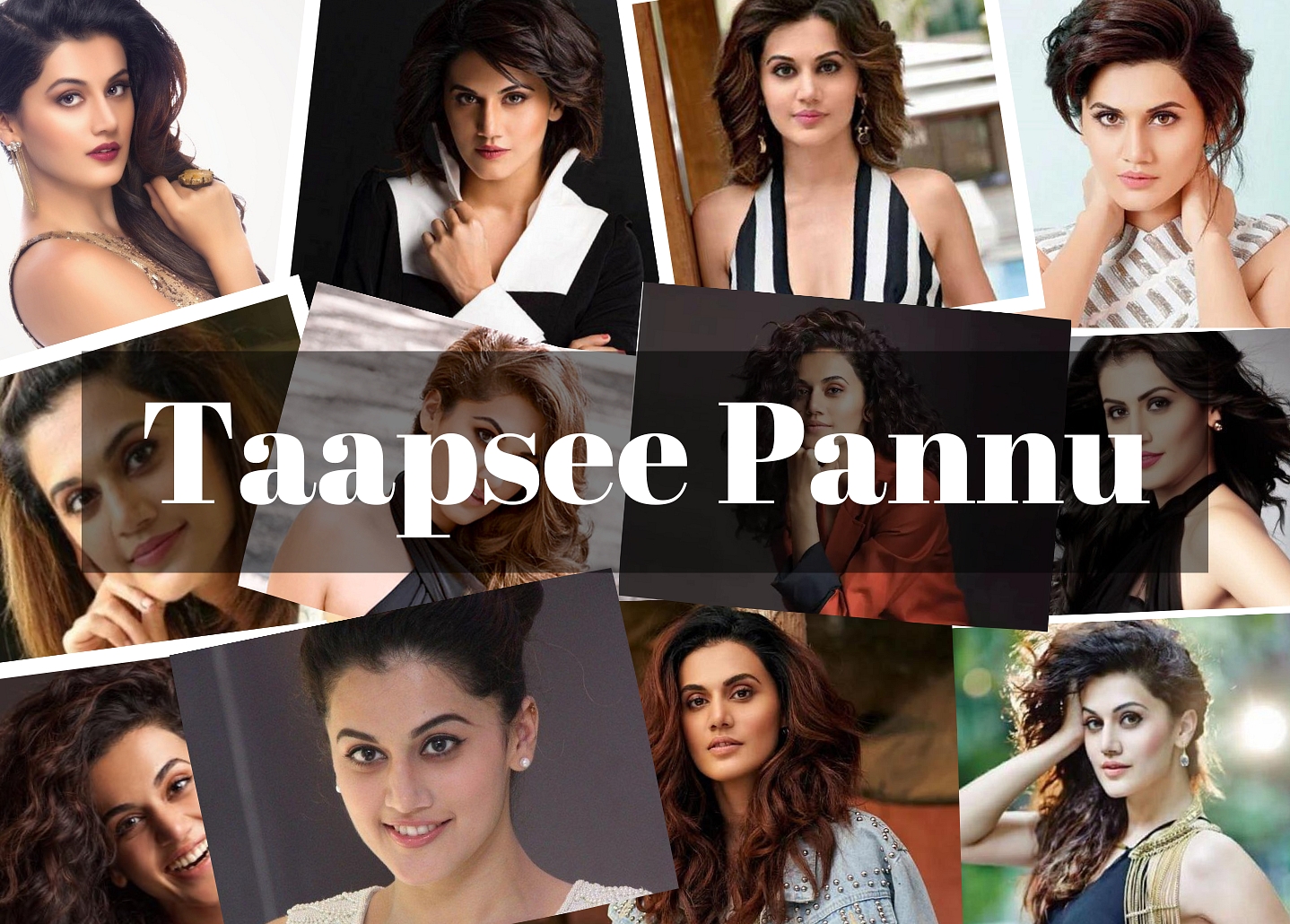 Taapsee Pannu's Biography
Taapsee Pannu is an Indian actress and model who is popular in the Tamil, Telugu and Hindi film industries. Taapsee Pannu is a known and loved face in the entertainment world. Taapsee Pannu has been able to make her mark in the show business in a very short span of time. Tapsee Pannu is among the young actresses of Bollywood who is known for her brilliant acting and diverse character choices.

Raised in a Punjabi household, Taapsee Pannu is a Jat Sikh from Delhi. Taapsee Pannu's birthday is on 1 August 1987 and she grew up in a middle-class family. Taapsee Pannu's age is 35 years, as of 2022. Taapsee Pannu's zodiac sign is Leo as she was born in August. Taapsee Pannu's height is 1.65m or 5 '4 `` in inches. She is a beautiful and charming lady with a fair complexion and curly black hair.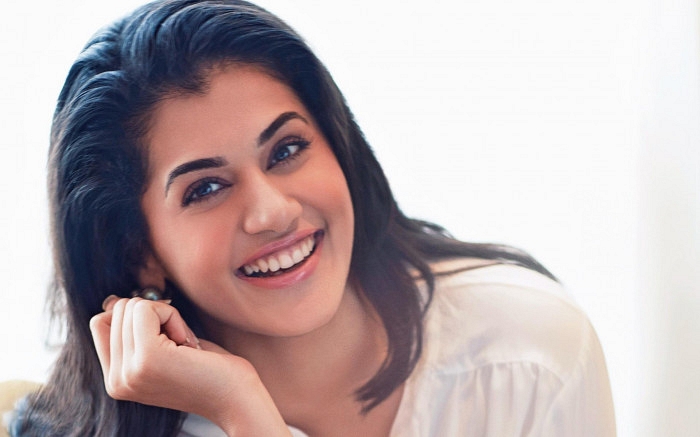 Before entering the entertainment industry, Taapsee was a software engineer and worked as a techie for some time. However, she left the job to pursue a career in modelling. Taapsee Pannu said in an interview once, "I didn't want a 9-5 job", and even refused a job offer from Infosys. In 2008, Taapsee Pannu participated in the Miss India pageant and won the titles, "Pantaloons Femina Miss Fresh Face" and "Pantaloons Femina Miss Fresh Face titles". She became a full-time model post the pageant. Taapsee Pannu worked as a model until 2010, when she was offered the leading role in the Telugu movie "Jhummandi Naadam". This movie brought her to the public attention and she went on to star in films like "Vastadu Naa Raju," "Mr. Perfect," "Mogudu," and many more. She also worked in several television commercials and print ads.

After working in the Telugu and Tamil film industry for three years, Taapsee Pannu made her Bollywood debut in 2013 with David Dhawan's slapstick comedy film "Chashme Baddoor". The film was met with negative reviews and Taapsee went back to do another Tamil movie called "Arrambam". In 2015, Taapsee was cast as Shabana in Neeraj Pandey's spy thriller film "Baby" starring Akshay Kumar. Taapsee Pannu received great praise for her work in the film which paved the way for movies like "Pink", "Manmarziyan'' and "Thappad" among others.


Taapsee Pannu has a very charming and alluring personality. Taapsee Pannu has made a huge fanbase with her movies and extraordinary performances over the years. She is the recipient of a great many awards, including a Filmfare Best Actress Award and a Filmfare Critics Best Actress Award. Taapsee Pannu was also featured in Forbes India's list of Celebrity 100 in 2018 and 2019. Taapsee Pannu's net worth in 2022 stands at approximately $6 million US or 44 crores in Indian rupees. Taapsee Pannu lives in an apartment in Andheri with her sister, Shagun.

Taapsee Pannu's Family and Education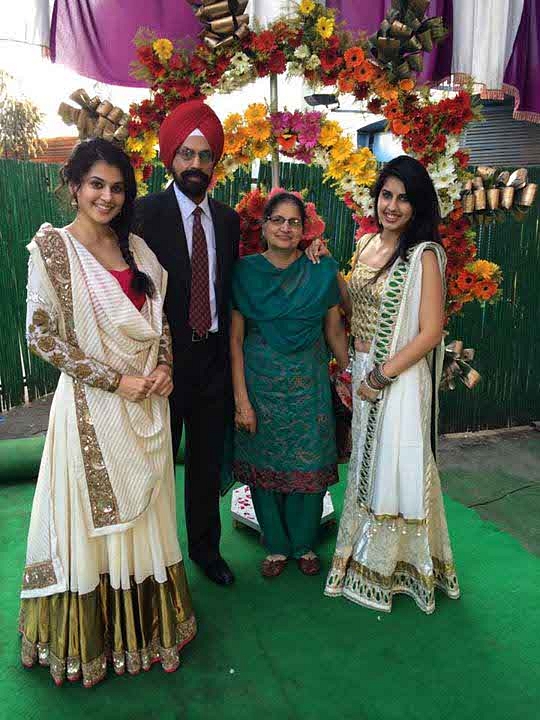 Taapsee Pannu was born in a Sikh family. Taapsee Pannu's father is Dilmohan Singh Pannu and Taapsee Pannu's mother is Nirmaljeet Pannu. Dilmohan Singh Pannu is a retired real estate agent, while Nirmaljeet Pannu is a homemaker. Taaspsee Pannu's childhood was very simple as she grew up in an ordinary household in an ordinary environment.

Taapsee Pannu also has a younger sister. Taapsee Pannu's sister's name is Shangun Pannu. Shagun is four years younger than Taapsee Pannu and a wedding planner by profession. Taapsee and Shagun often go on holidays together and are seen sharing photos and stories on Instagram about their trips abroad.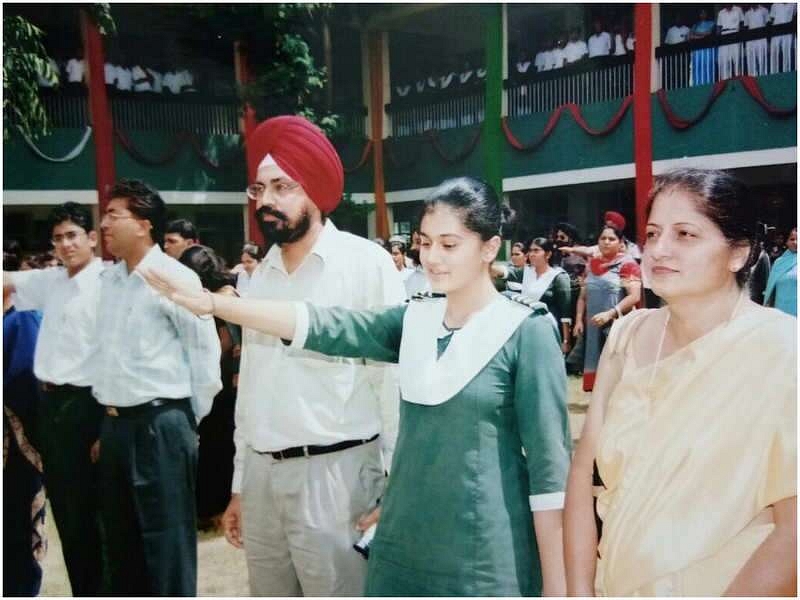 Taapsee Pannu's school is Mata Jai Kaur Public School situated in Ashok Vihar. She then pursued B. Tech from Guru Tegh Bahadur Institute of Technology. Taapsee Pannu always excelled in her studies and also took part in various co-curricular activities. "I got into engineering because I loved maths."

Taapsee wanted to pursue MBA but did not qualify enough to get an admission into the college of her choice. "I scored only 88 percent. So I took a year's break to prepare well for my next attempt." But it never happened as she got into films.

Talk To Similar Celebrities
Taapsee Pannu's Affairs and Relationships
Mahat Raghavendra
Taapsee Pannu's love life has always been under the covers and the actress had never shared about it in the past. Although there were a couple of link-up rumours floating around the actress. Once such link-up rumour had surfaced with Tollywood star Mahat Raghavendra. In fact, Mahat Raghavendra once admitted to have dated Taapsee, while giving an interview to a leading daily. Taapsee never acknowledged or denied anything.
Saqib Saleem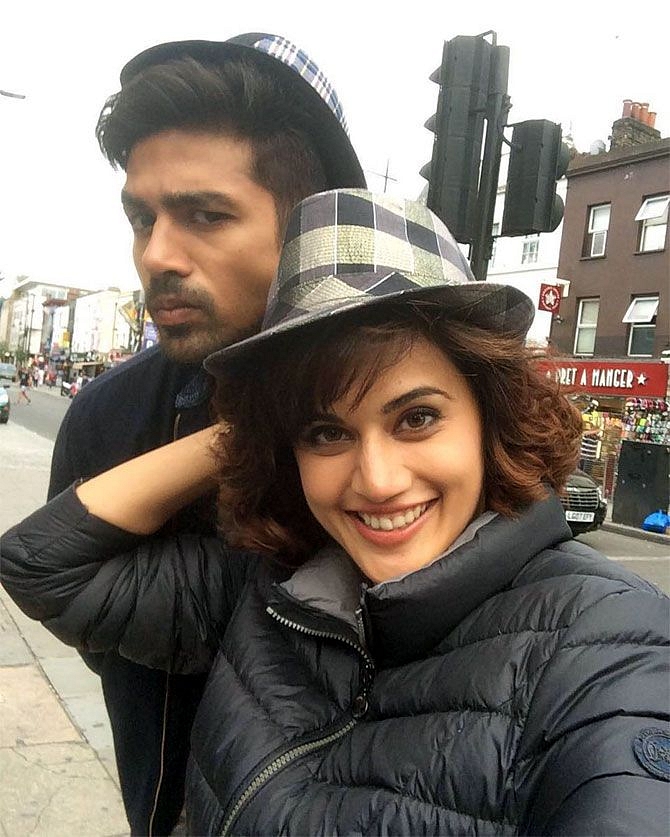 Taapsee Pannu and Saqib Saleem had become the talk of the town in 2017, after the duo posted some cute pictures of themselves hanging out together. Saqib Saleem is an actor as well, and actress Huma Qureshi's brother. The pictures had created quite a buzz around the town but Saqib Saleem later clarified in an interview with Pinkvilla that he and Tapsee Pannu were not dating.

"I keep telling her that she should behave like an actor. But she tells me she doesn't have that vibe, and she can't behave that way. That's why I say that she is a very easy and comfortable person to be with. But, we are not dating each other, except on-screen for our next film."
Mathias Boe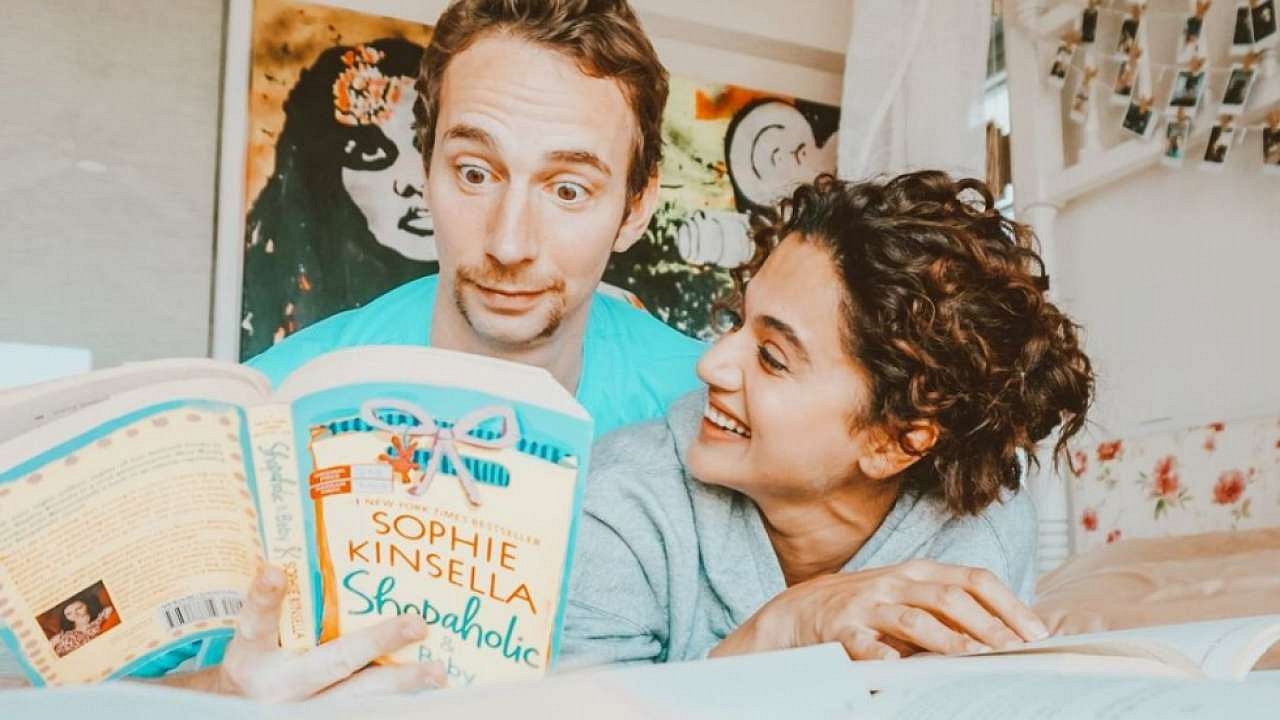 At present, Taapsee Pannu's boyfriend is Mathias Boe. Mathias Boe is a professional badminton player and is an Olympic silver medalist. Taapsee and Mathaias have been dating each other for quite some time now. Taapsee Pannu is very private about her romantic relations but Mathia Boe often takes to his social media to post pictures of them together. Taapsee Panne has been questioned by the media many times but opts to keep her private matters private.

In an interview with India Today, Taapsee said, "I'm in an extremely good state in my personal life. Now, why I don't talk about it in the media is not because I'm ashamed to accept it, but because if I do, then everything will be centered around that and people will start talking about that more than the work I do, which I don't want. That is the only reason I don't want to talk about it. Otherwise, I'm extremely proud of my relationship status and the person that I'm with."
Taapsee Pannu's Movies and Career
Aadukalam (2011)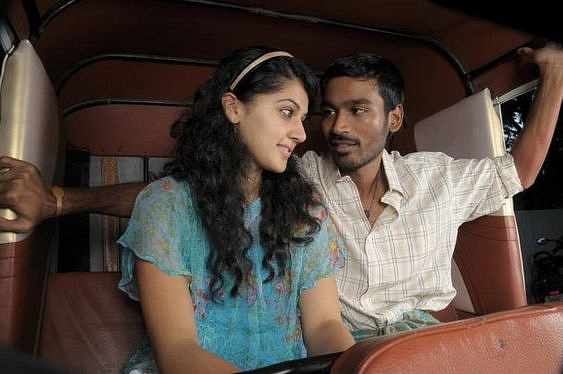 Aadukalam is a movie from the earliest years of Taapsee Pannu's career. Aadukalam is a Tamil film released in the year 2011. Vetrimaran, who also co-wrote the language and the screenplay with Vikram Sugumaran, directed the film. The movie, starring Dhanush and Taapsee Pannu is a drama film.

At the 58th National Film Awards, the movie took up six accolades, including Best Actor, Best Director, and Best Screenplay. Five accolades from the 59th Filmfare Awards South were given to the movie, including Best Film, Best Director, Best Actor, Best Music Director, and Best Cinematography.

The focus of Aadukalam is a group of craftspeople, including both older and younger generations, and their distinctive lifestyles. The rooster battle sports are the focus of the village-based AaduKalam film, which is based on Dhanush's hometown of Madurai. Tapasee plays the part of an Anglo-Indian lover. The movie rates 8.1 in IMDB.

Mr. Perfect (2011)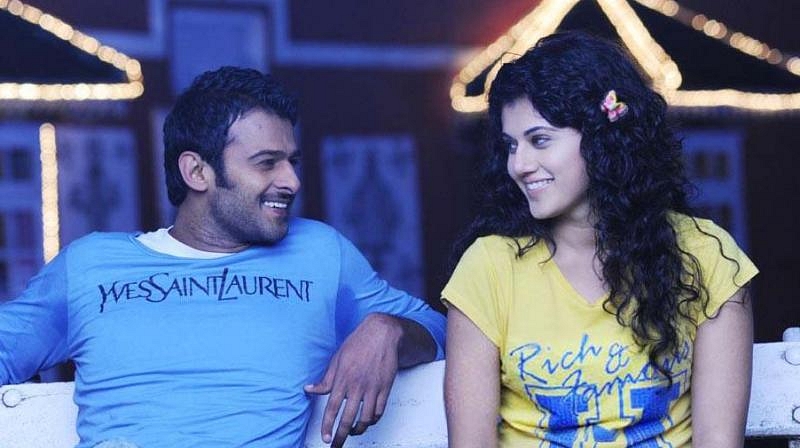 In 2011, Dasaradh and Dil Raju released the romantic comedy Mr. Perfect in the Indian Telugu language. Prabhas, Kajal Agarwal, and Taapsee Pannu appear in the movie.

Positive reviews greeted the film's release on April 22, 2011. The movie was named 2011's "Best Telugu Family" entertainer, winning the newly established Nagi Reddy Memorial Award.

The movie moves around a dramatic plot. After discovering that Priya, a childhood friend, is making numerous concessions for his benefit, Vicky calls off their engagement. He eventually realises that concessions are necessary in life, though. Taapsee Pannu's performance was praised in the movie.

Pink (2016)
Aniruddha Roy Chowdhury is the director of the 2016 Indian legal thriller Pink, which was written by Shoojit Sircar, Ritesh Shah, and Chowdhury as well. The cast of Pink includes Taapsee Pannu, Kirti Kulhari, Andrea Tariang, Amitabh Bachchan, Tushar Pandey, Piyush Mishra, and Dhritiman Chatterjee. Pink debuted in theatres throughout the world on September 16, 2016. The actors, execution, gripping tale, directing, and plot of the movie won high praise from critics. Unexpectedly, Pink became a commercial success.

The movie finished a 50-day theatrical run. Pink took home the award for Best Film on Other Social Issues at the 64th National Film Awards. The movie is remade in Telugu as Vakeel Saab and in Tamil as Nerkonda Paarvai. Attorney Deepak has bipolar disorder and frequently encounters emotional changes. One night, Rajveer and his buddies become wasted and attempt to molest Miss Arora and her two housemates, which results in an accident. The main focus of the movie is Deepak's defence of the girls in court against these powerful boys.

The courtroom drama "Pink,"is regarded as Taapsee's best work to date. Taapsee Pannu's natural portrayal of an urban girl was outstanding. She co-starred with the renowned Amitabh Bachchan in this courtroom drama, and she was able to hold her own and shine through with a performance that reverberated a crucial message for our time: no means no.
Naam Shabana (2017)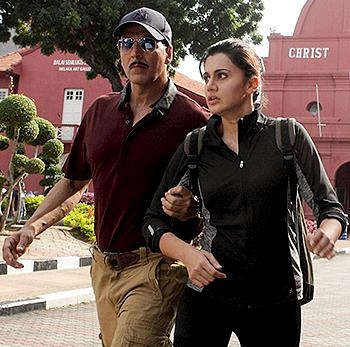 The 2017 Indian action-thriller movie Naam Shabana was written by Neeraj Pandey and co-produced by Pandey and Aruna Bhatia. It was directed by Shivam Nair. Taapsee Pannu, Akshay Kumar, Manoj Bajpayee, and Anupam Kher are among the actors who appear in the movie. Taapsee Pannu reprises her role as Shabana in the prequel to the 2015 movie Baby. The movie didn't do well at the box office. The movie was outlawed in Pakistan a day after it opened there.

Shabana, a college student and Kudo warrior, was committed to a children's remand home after killing her father when she was a young girl in an effort to protect her mother from his regular abuse. She now lives with her mother in Mumbai. Jai, the man Shabana is in love with, is murdered by some spoiled brats as he tries to protect Shabana from their mistreatment. The police had not made any arrests three months after Jai's death because they were attempting to apprehend the offenders. Then, Shabana receives an unidentified call from Ranvir Singh demanding that she join their clandestine National Defense Force in exchange for information about Jai's killers.

The creators of the spy thriller Naam Shabana were inspired by Taapsee Pannu's performance in Baby and created a spin-off based on her character. Taapsee Pannu's performance completely uplifts the producers. She engaged in mixed martial arts training, including Kd and Krav Maga, in preparation for the part.

Mulk (2018)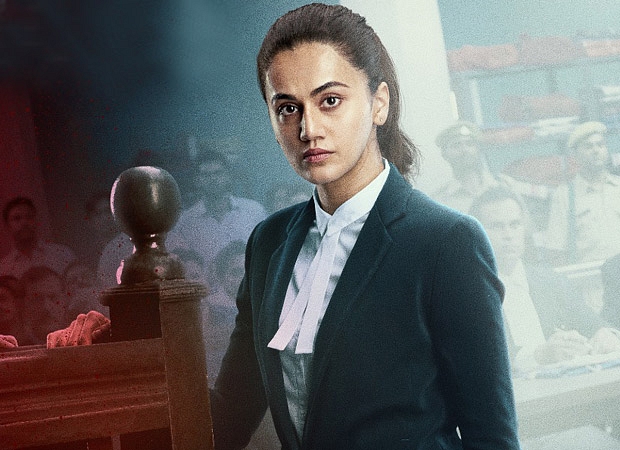 Anubhav Sinha is the author, producer, and director of the 2018 Indian Hindi-language courtroom drama propaganda film Mulk. The film Mulk debuted in theatres on August 3, 2018. Rishi Kapoor and Taapsee Pannu play the key characters in Mulk. Rajat Kapoor, Manoj Pahwa, Prateik Babbar, Ashutosh Rana, Neena Gupta, Prachee Shah Paandya, and Indraneil Sengupta make up the supporting characters of the movie. Mulk received overwhelming acclaim for its story, writing, execution, and cast representations while failing commercially to cover its production costs. It also won numerous honours, including Best Story and Best Film at the Filmfare Awards.

A Muslim household serves as the backdrop for the movie. When Mohammed's son joins a terrorist organisation, Murad Ali Mohammed and his daughter-in-law are suspected of having ties to extremist organisations. They work to prove their innocence.

Then, in Mulk, Taapsee Pannu played a lawyer. According to Taapsee Pannu, the movie shows genuine nationalism and patriotism without taking sides. The reviews for Taapsee Pannu's performance were positive. She was nominated for a Filmfare Award for Best Actress (Critics) because of the movie. Taapsee Pannu produced a performance that was the best of her career as a tough and tenacious lawyer and as a Hindu daughter who supports her Muslim father-in-law.

Manmarziyaan (2018)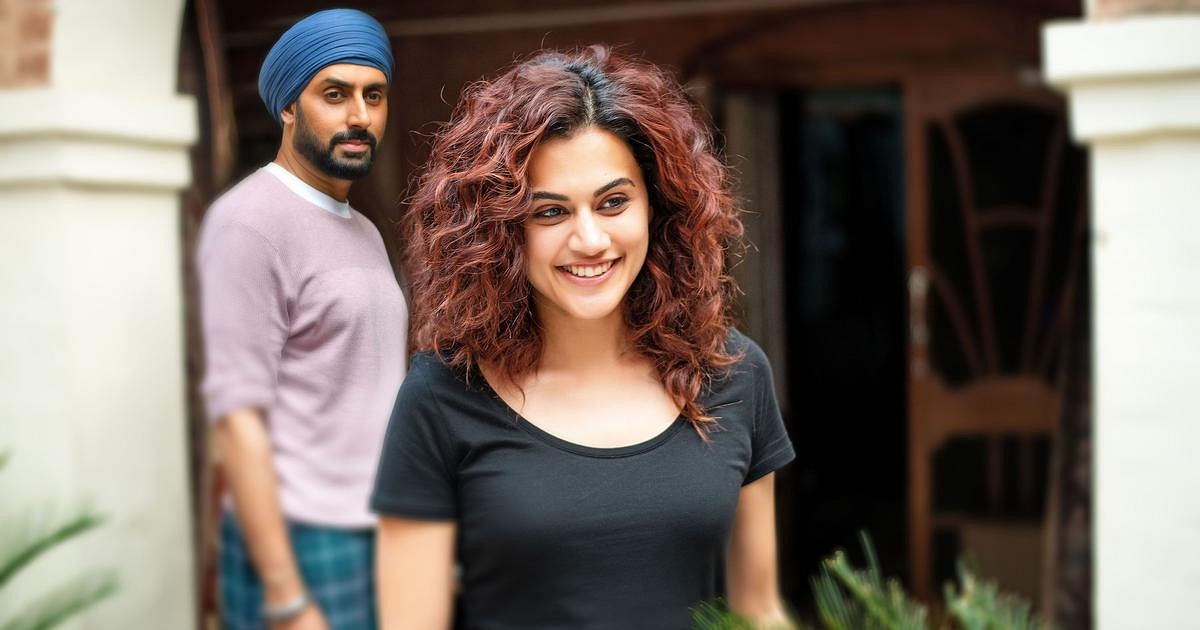 Anurag Kashyap and Kanika Dhillon collaborated on the 2018 Hindi-language romantic comedy drama film Manmarziyaan. Vicky Kaushal, Taapsee Pannu, and Abhishek Bachchan play the main characters. Phantom Films and Aanand L. Rai's Colour Yellow Productions collaborate to produce the movie. On September 14, 2018, Manmarziyaan was launched in India to favourable reviews from reviewers. Manmarziyaan was made available in other countries as Husband Material.

Rumi's family learns that Vicky and Rumi are in a relationship and pressures them to be married. Robbie is introduced as a potential suitor by a marriage broker when Vicky declines to make a commitment. Manmarziyaan departs in a distinctly different manner. The film aims to convey the turbulent nature of contemporary romance. The film shows the main characters' arduous effort to maintain their love and connection.

Tapsee portraying Rumi is authentic, she has a commanding presence on screen, and she is every bit the lively, brutally honest Rumi. The movie received favourable reviews at its world premiere at the 2018 Toronto International Film Festival, particularly for Pannu's performance. "Manmarziyaan" is an unconventional love story all around, and the performances are what keep you captivated to the screen.
Badla (2019)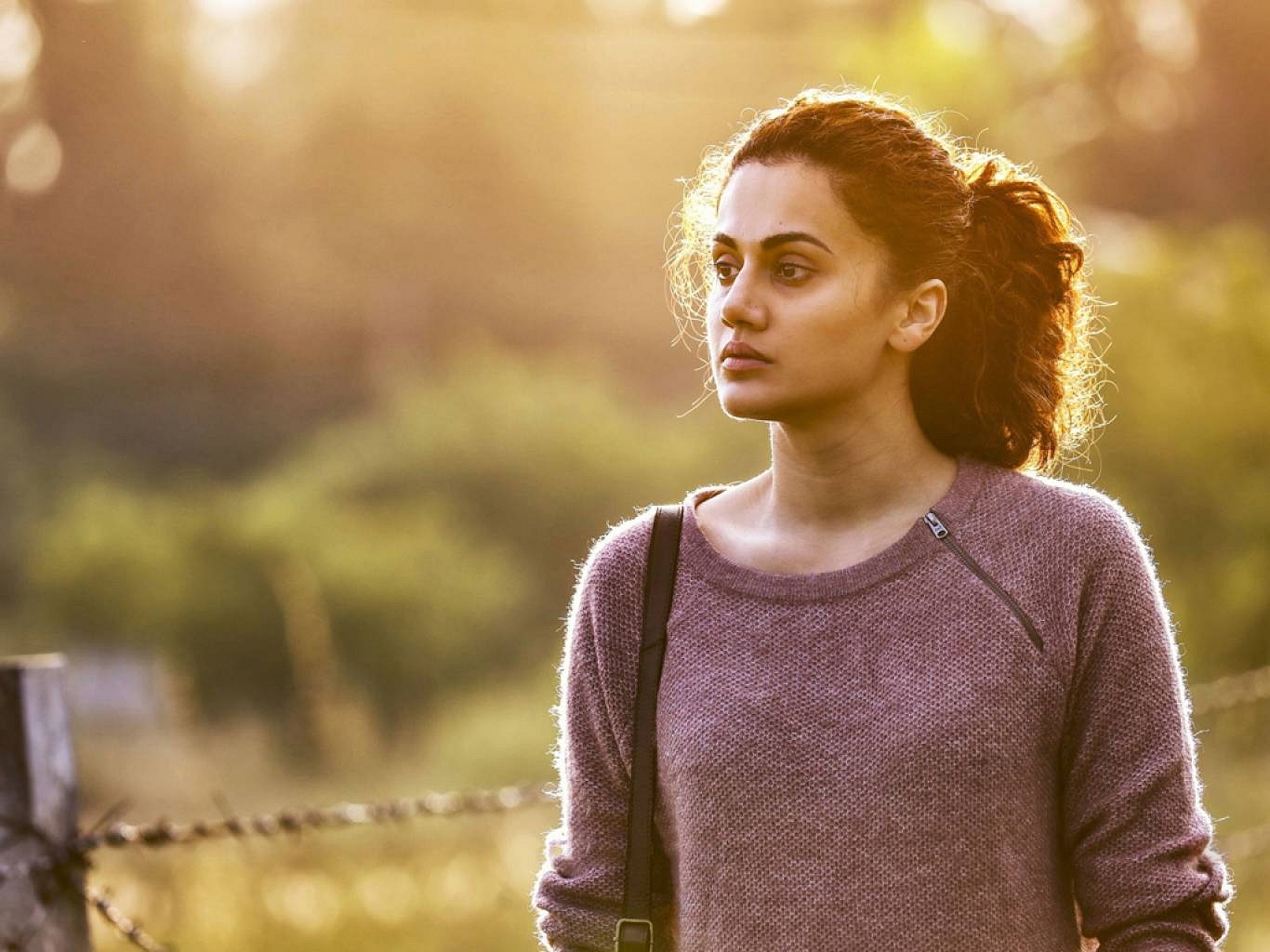 Amitabh Bachchan, Taapsee Pannu, Tony Luke, and Amrita Singh star in the 2019 mystery-thriller film Badla, which was written and directed by Sujoy Ghosh. The movie premiered on March 8, 2019. The movie is a remake of the 2016 Spanish film The Invisible Guest and is made by Red Chillies Entertainment and Azure Entertainment. The film originally featured a male lead, and Taapsee Pannu was only granted a supporting part. The producer consented after Pannu persuaded him that a woman should play the lead part, and he extended an offer to the actress.

Slim businesswoman Naina Sethi is suspected of killing Tony Luke's character, Arjun, with whom she was supposedly having an adulterous affair. She asks her lawyer Jimmy to recruit senior lawyer Badal Gupta (Amitabh Bachchan) to represent her as she grows increasingly afraid that her flourishing business empire and family life may collapse. Soon after, Badal arrives at Naina's house to question her. With only three hours left until an "unidentified" witness testifies against Naina, the two race against time as Naina recounts the circumstances leading up to the crime while Badal looks beyond the evidence to develop a theory that would demonstrate her innocence.


Positive remarks were given to Badla and Pannu's portrayal of Naina Sethi. Taapsee did a fantastic job in the role. In her different small moments of rage, agitation, and pacing around the room in an attempt to prove her innocence, the actor was a treat to see on television.

Saand Ki Aankh (2019)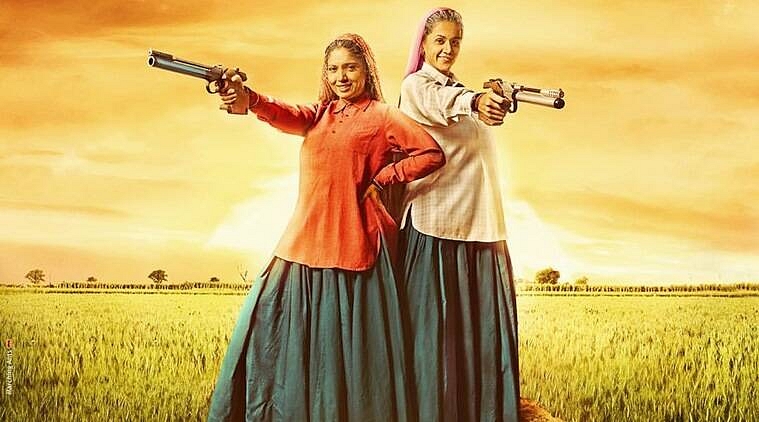 Anurag Kashyap, Nidhi Parmar, and Reliance Entertainment are the producers of the 2019 Indian biographical drama film Saand Ki Aankh, which was directed by Tushar Hiranandani. On October 25, 2019, the day before Diwali, it was made available. In addition to the three principal actors Taapsee Pannu, Bhumi Pednekar, and Prakash Jha, the movie also stars Pawan Chopra, Vineet Kumar Singh, and Shaad Randhawa in supporting parts. Sharpshooters Chandro and Prakashi Tomar are the subjects of the story.


Saand Ki Aankh is based on the unbelievable true story of Chandro and Prakashi Tomar, two Jat ladies in their sixties who emerged from seclusion to become celebrated sharpshooters. With the ideal clothing, which includes heavy accents, shapeless collared shirts and skirts, and veiled faces, Taapsee Pannu and Bhumi Pednekar give their parts their all.

Their courageous, tardy, but eventually resolute rejection of patriarchy is commendable and serves as the movie's driving force. Both Taapsee and Bhumi vividly portrayed Chando and Prakashi Tomar in this drama. Needless to say, we adored their off-screen chemistry and their sweet friendship.

Game Over (2019)
In 2019, Ashwin Saravanan's psychological thriller movie Game Over came out in India. In the movie, Taapsee Pannu plays a PTSD sufferer who defends her home from unidentified invaders. It was produced by YNOT Studios and Reliance Entertainment. On June 14, 2019, the movie was released, and the reviews were largely favourable. Tamil and Telugu versions of the movie were simultaneously filmed. The film's hero is the screenplay, which Ashwin and Kavya wrote. It makes the most of the "video game" theme. One can easily relate to the movie because of things like numerous lives and power-ups.

In the movie Game Over, a game designer with PTSD and nyctophobia, or a dread of the dark or the night, is portrayed. She shares a home with her maid but lives alone after a serial murderer breaks in and forces her to play a cruel game in order to survive. In this suspenseful psychological thriller that challenges Taapsee to confront her own problems, she absolutely owns every scene.

Taapsee Pannu makes a seamless transition into the melancholy Swapna character. Taapsee Pannu had to spend each day of the 25-day shoot in a wheelchair for 12 hours. Her reactions are perfect as she goes from expressing her trauma to realising her bravery. Game Over, a concept-focused movie starring Taapsee Pannu, is a multi-layered movie with a good heart.

Thappad (2020)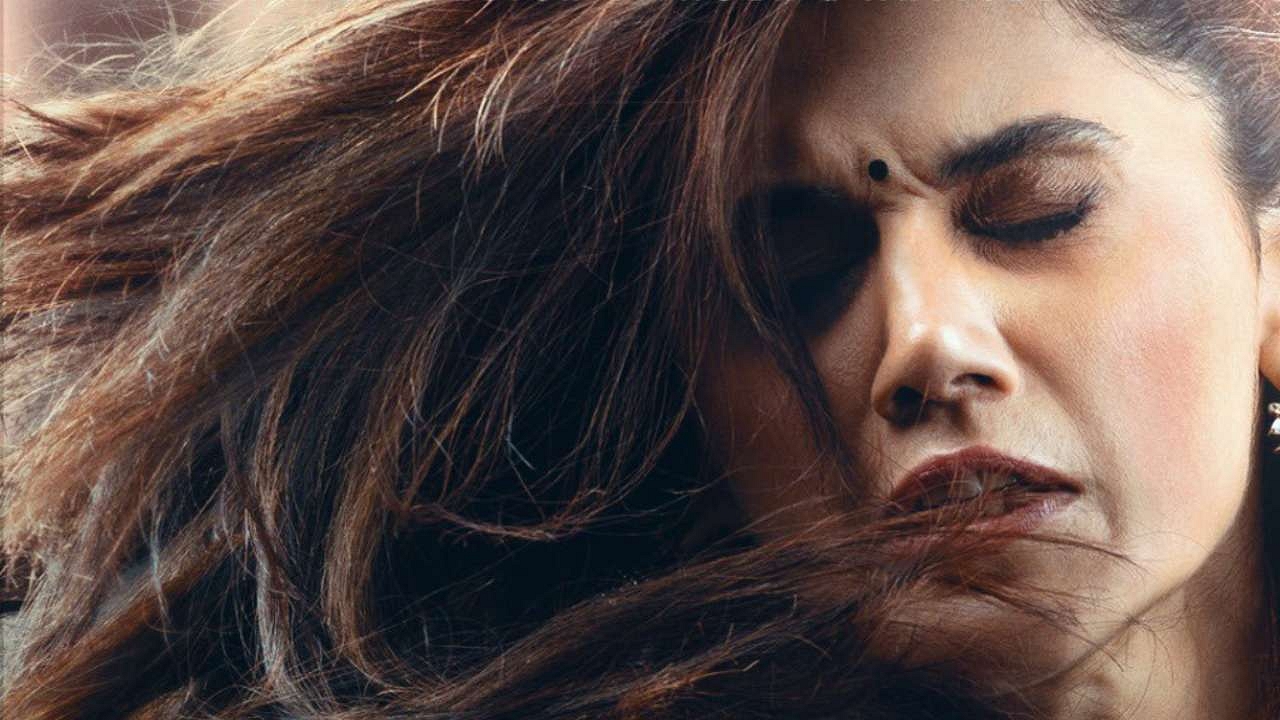 Anubhav Sinha and Bhushan Kumar are the producers of the 2020 drama film Thappad. Released in theatres on February 28, 2020, the movie starred Taapsee Pannu. In the movie, Taapsee Pannu portrays a devoted, unassuming wife who is shocked when her husband slaps her out of the blue one night. This causes her to reevaluate all that she and many other women are forced to accept as normal on a daily basis.

The writers cleverly illustrate how, no matter how privileged you may be, just the fact of being a woman and facing the associated discrimination is a type of equaliser. They do this by showing women of varying levels of privilege and with different mindsets. In Thappad, Vikram and Amrita are a married couple who reside in affluent Delhi with Vikram's mother. Amrita is a capable homemaker who adores her ambitious, devoted husband and is content with her life. Everything is fine up until the point when Vikram hits Amrita out of anger.

Tapsee Pannu does an excellent job of highlighting Amrita's inner anguish through stillness and very little spoken interaction. Although she is in shock, she is committed to pursuing justice for this serious wrong. Taapsee Pannu was nominated for a Filmfare Award for Best Actress and won the award for Best Actress. The movie and Pannu's performance garnered high praise from critics.
Taapsee Pannu Upcoming Movies
Taapsee Pannu is working on a few projects for the present and forthcoming years. On August 20, 2022, Taapsee Pannu will appear in another movie with a strong female lead called Dobaara. Anurag Kashyap, who directed Tapsee in Manmarziyaan, has joined up with her. In addition, Taapsee Pannu will romance King SRK for the first time, in Raju Hirani's film Dunki.

The romantic comedy-drama Woh Ladki Hai Kahaan, which is being directed by Arshad Syed, will star Prateek Gandhi and Taapsee Pannu. Critically praised movies starring Taapsee Pannu and Anubhav Sinha include Mulk and Thappad. They will work together on a new movie for the third time. Ajay Bahl's horror-thriller Blurr stars Taapsee Pannu and Gulshan Devaiah in the major roles.

The multilingual sci-fi film Alien from PAN India Films, which is being directed by Barath Neelakantan, will also star Taapsee Pannu. Prakash Raj is the director of the romantic comedy Tadka, which was made by Sameer Dixit, Jatish Varma, and Zee Studios. Taapsee Pannu, Nana Patekar, Shriya Saran, and Ali Fazal feature in the Malayalam blockbuster Salt N' Pepper remake Tadka, which was released in Hindi.
Taapsee Pannu's Career Timeline
Taapsee Pannu's Net Worth
Taapsee Pannu's net worth is approximately $6 million US or 44 crores in Indian rupees, as of 2022. Taapsee Pannu, hailed as one of the most versatile actresses in today's generation of cinema stars, has throughout the years gained widespread recognition. Pannu has aggressively climbed her graph and frequently appears in roles that focus on women. Having been around in the Indian film industry for more than a decade, the actress leads an affluent lifestyle.

Tapsee Pannu established her own production company and has been engaged in the creation of several intriguing projects. The actress and her sister live together in the apartment, which is situated in Mumbai's well-known Andheri district. The luxurious 3-BHK set her back an astounding Rs 10 crore. Taapsee Pannu owns a variety of high-end vehicles, and the paparazzi frequently capture her driving one of them. The actress has a Mercedes GLE 250D for Rs 67.15 lakh, a Jeep Compass, a BMW 3-Series GT, a BMW X1, and an Audi A8L worth Rs 1.58 crore


In addition to her acting profession and production company, Taapsee Pannu earns money in other ways as well. The actress charges between 35 and 40 lakh rupees for each business endorsement and has worked with more than 10 different companies. In terms of Pannu's compensation per film, the actress earned Rs 5 crore for her part in the suspenseful Looop Lapeta. A successful businesswoman in addition to everything else described above, Taapsee Pannu owns the Pune Seven Aces team in the Premier Badminton League. The squad had been owned by the actress in 2018.

Taapsee Pannu's Controversies
Called as Kangana Ranaut's Cheap Copy
Taapsee was recently referred to as Kangana Ranaut's "sasti clone" by Kangana Ranaut and her sister Rangoli Chandel. Yes, Taapsee engaged in conflict with Kangana. Rangoli, Kangana's sister, was by her side this time, so she wasn't alone. This also began after Taapsee just retweeted Ekta Kapoor's tweet regarding Kangana Ranaut's movie. This seemed to be the end of the word war as it waged.
Taapsee kept making fun of herself as the sisters began tagging her. She commented that even her "chheenk" matters when asked how she manages to make news about anything under the sun, including something as unimportant as sneezing.
Kabir Singh Controversy
Taapsee Pannu became involved in the Kabir Singh, starring Shahid Kapoor, scandal. A lot of people criticised the 2019 film for being extremely poisonous and misogynistic. Her poorly timed tweet gave the impression that Shahid Kapoor was the target. She did provide the proper defence for her tweet in one of the interviews, though. She declared that she has no issue with the character. The issue, she claimed, is when a character's flaws are glorified rather than being shown. Regarding her opinions of the Kabir Singh film, she was frank and concise.
Kanika Controversy
Many Bollywood actors and actresses shared their thoughts after Kanika Kapoor's Covid-19 good story circulated on social media. Taapsee Pannu was one among them. She also expressed her ideas and viewpoints on this matter. She defended Kanika by stating that each side has valid reasons. She implied that Kanika attended one of the many parties that were going on and that she had called for a checkup but no one had shown up. As Taapsee endorsed Kanika, this sparked a significant uproar.
Saand Ki Aankh Controversy
Taapsee Pannu received harsh criticism for portraying a woman in her 60s in Saand ki Aankh. This incensed her, and in response to her rage, she declared, "I would do one thing, and that is to stop performing." I should just choose parts that fit my age and that of a Delhi girl since they best represent who I am. She said, however, that performers occasionally portray characters who are of a different age because we are all actors.
Taapsee Pannu's Achievements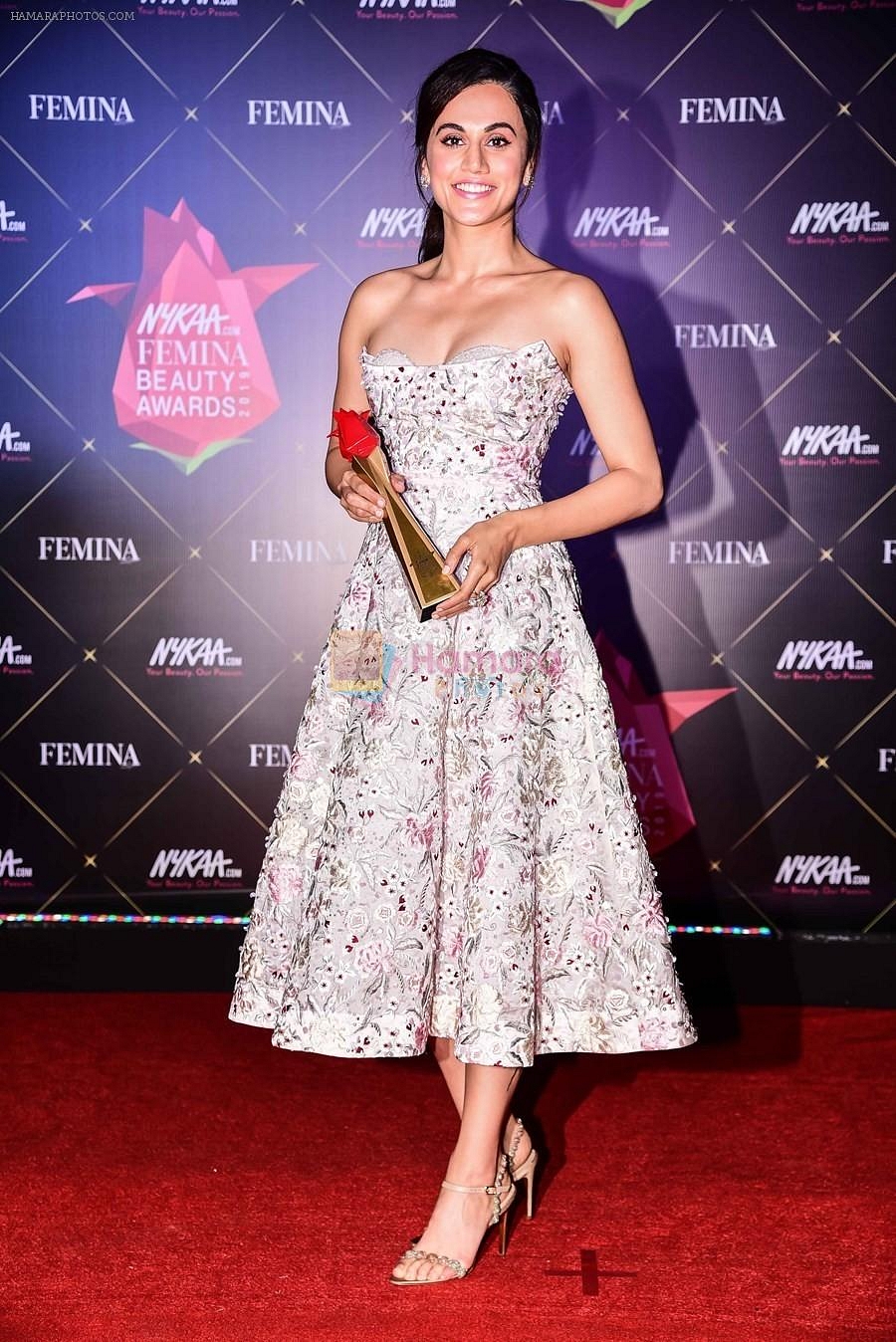 Santosham Film Awards - Best Actress (Jury) for Gundello Godari, 2013
South African film and Television Awards - Debut Actor of the Year – Female for Gundello Godari, 2013
TSR - TV9 National Film Awards - Best Actress for Mogudu, 2013
Edison Awards - Most Enthusiastic Performer – Female Award for Arrambam, 2014
Filmfare Awards South - Best Supporting Actress - Tamil for Arrambam (Nominee), 2014
South Indian International Movie Awards - Best Actress in a Supporting Role – Tamil for Arrambam (Nominee), 2014
Stardust Awards - Best Actor - Female for Pink (Nominee), 2017
BIG Zee Entertainments Awards - Most Entertaining Actor in a Social Film – Female for Pink (Nominee), 2017
Jagran Film Festival - Best Actor (Female) – Jury Special Award for Pink, 2017
Zee Cine Awards - Best Actress for Pink (Nominee), 2017
International Indian Film Academy Awards - Best Actress for Pink (Nominee), 2017
International Indian Film Academy Awards - Woman Of The Year for Pink, 2017
Zee Cine Awards - Best Actress (Jury Choice) for Naam Shabana (Nominee), 2018
Zee Cine Awards - Extraordinary Impact Award – Female for Naam Shabana, 2018
Screen Awards - Best Actress for Manmarziyaan (Nominee), 2019
Screen Awards - Best Actress (Critics) for Mulk (Nominee), 2019
Zee Cine Awards - Best Actor – Female (Viewers' Choice) for Mulk (Nominee), 2019
Filmfare Awards - Best Actress (Critics) for Mulk (Nominee), 2019
GQ Style and Culture Awards 2019 - Excellence in Acting for Manmarziyaan, 2019
Nickelodeon Kids' Choice Awards 2019 - Jodi Kamaal Ki Award for Saand Ki Aankh, 2019
Filmfare Awards - Best Actress (Critics) for Saand Ki Aankh, 2020
Screen Awards - Best Actress (Critics) for Saand Ki Aankh, 2020
Screen Awards - Best Actress for Badla (Nominee), 2020
Zee Cine Awards - Best Actress (Critics) for Badla, 2020
IIFA Awards - Best Actress for Badla (Nominee), 2020
Ananda Vikatan Cinema Awards - Best Actress for Game Over, 2020
Filmfare Awards - Best Actress for Thappad, 2021
Filmfare Awards - Best Actress (Critics) for Thappad (Nominee), 2021
IIFA Awards - Best Actress for Thappad (Nominee), 2022
Did You Know?
Taapsee Pannu was nicknamed as Maggie and Glam-doll.

Since the fourth grade, Taapsee has been studying Kathak and Bharatnatyam. She took inter-college dancing competitions seriously and came out on top multiple times.
Taapsee has always been a talented student. with an outstanding 90% in the 12th grade. Taapsee attended GTBIT College to study engineering. She passed the entrance exam with a CAT score of 88 percent and had future ambitions to get an MBA.

Taapsee Pannu participated in the Channel V Get Gorgeous pageant to make her professional debut. She claimed to have casually filled out the form and sent a handful of her unposed photos.

Taapsee worked as a model in certain advertisements while still in college. She then provided endorsements for a number of companies, including Reliance, PVR, Pantaloons, and others.

Taapsee competed in Miss India 2008 and took home the Pantaloons Femina title. Additionally, Safi Femina Miss Beautiful Skin and Miss Fresh Face.

Because she collaborated with a number of unsuccessful south Indian actors during their difficult days in the spotlight, Taapsee is frequently referred to as the Goddess of Flop Heroes.

Taapsee is really interested in event planning. She has an event planning business called "The Wedding Factory" to further her passion for planning weddings and events. She co-owns the business with her sister Shagun Pannu and her two other partners Farah Parvaresh.

Social Media
Frequently Asked Questions