R Madhavan Movies, Age, Biography, Family, Net Worth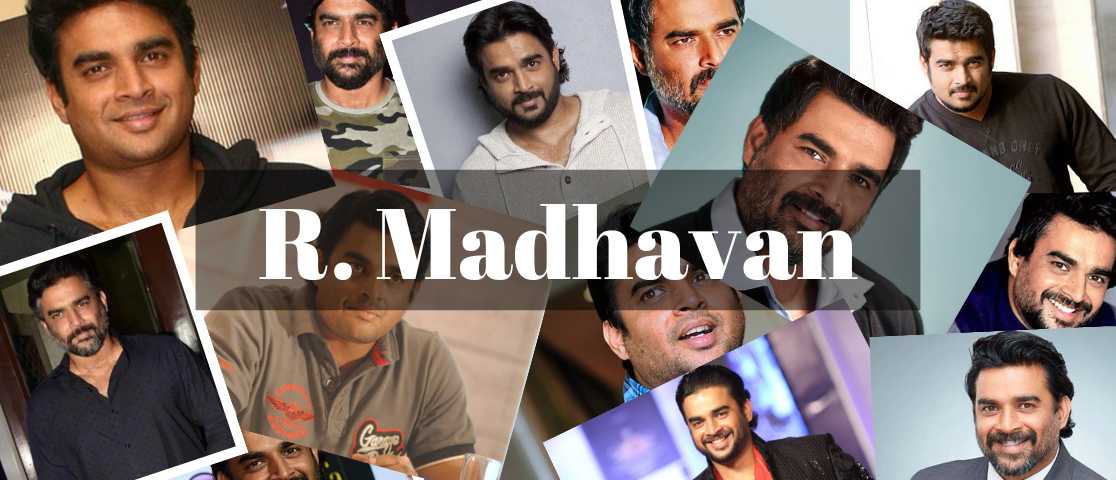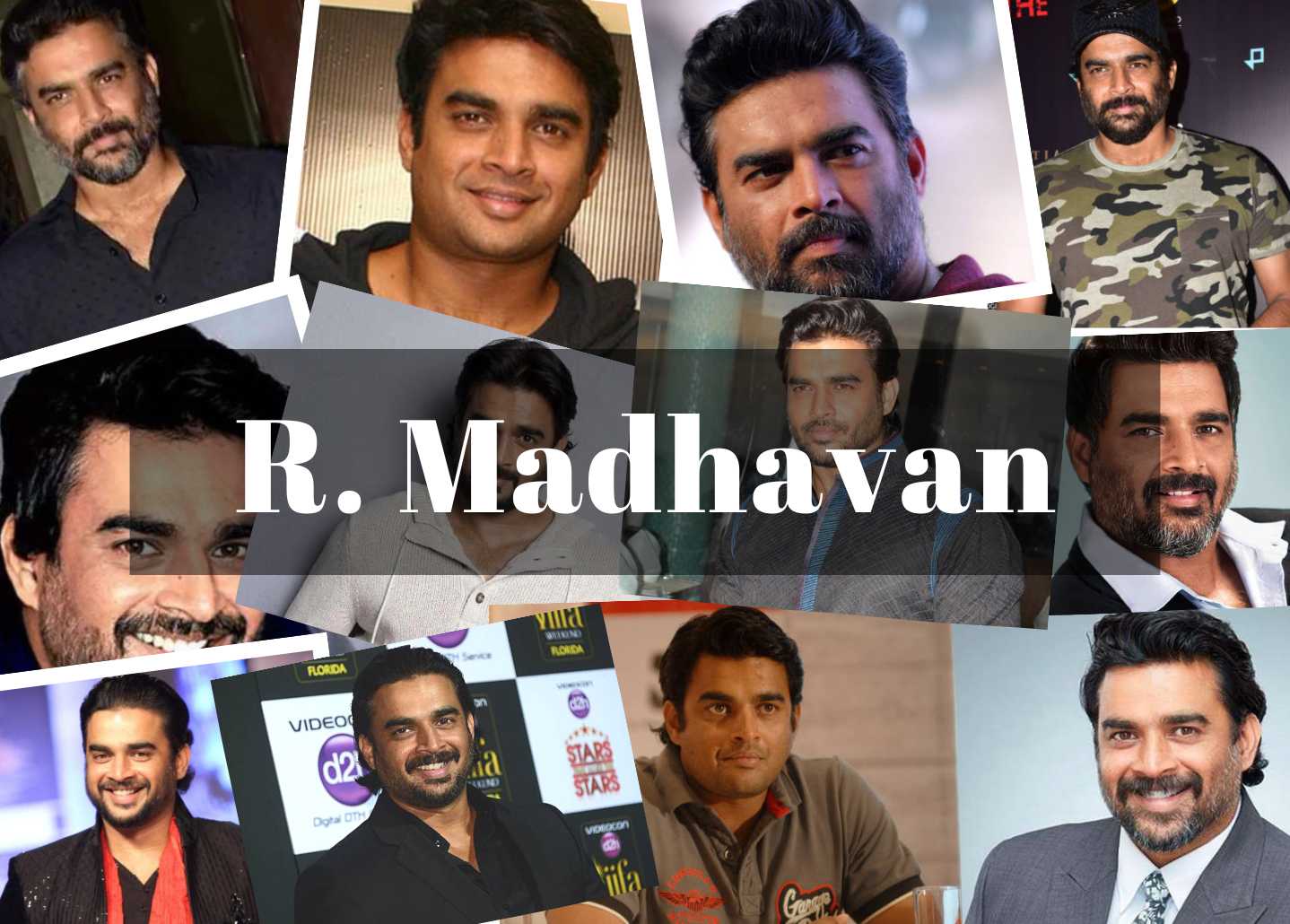 Biography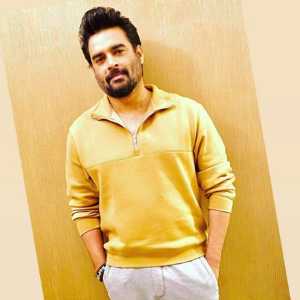 Ranganathan Madhavan is often popular as R. Madhavan, an Indian actor, writer, director, and producer who primarily works in Tamil and Hindi films. R. Madhavan's birthday is on the 1st of June. R. Madhavan was born in the year 1970. R Madhavan's age is 52 years as of 2022. R Madhavan Zodiac Sign is Gemini. The Birthplace of R Madhavan is Jamshedpur Bihar which is now in Jarkhand. R Madhavan was born into Tamil Family. Madhavan completed his schooling at D.B.M.S English School Jamshedpur.

Madhavan spent a year in Stettler, Alberta, Canada as part of a Rotary International exchange program in 1988 after receiving a scholarship to represent India as a cultural ambassador. He went back to Kolhapur to finish his studies, earning a BSc in electronics in the process. Madhavan became well-known in Tamil cinema as a result of Mani Ratnam's popular love story Alaipayuthey (2000). With prominent roles in two of the highest-grossing Tamil films of 2001—Minnale, the directorial debut of Gautham Vasudev Menon, and Dumm Dumm Dumm, from Madras Talkies—he quickly established himself as a romantic hero.

He won Best Actor honors at the Filmfare, IIFA, and SIIMA award ceremonies for his portrayal of a pretentious boxing coach in Irudhi Suttru. In addition to his acting career, Madhavan has written for his films, hosted television shows, and served as a well-known celebrity brand ambassador.

Madhavan is famous for his charitable activities and champions a number of causes, including the environment, health, and education. He has been recognized as PETA's Person of the Year in 2011 for his advocacy of animal preservation. For his contributions to the arts and movies, the D. Y. Patil Education Society, Kolhapur, awarded him an honorary doctorate in letters in 2021.
Childhood and Education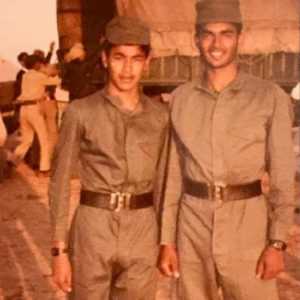 R. Madhavan was born on June 1, 1970, into a Tamil-speaking family in Jamshedpur Bihar which is now in Jharkhand. His mother Saroja was a manager at the Bank of India, and his father Ranganathan Iyengar worked as a management executive for Tata Steel. Devika, his younger sibling, works as a software engineer. Madhavan attended D.B.M.S. English School in Jamshedpur for his education. Madhavan spent a year in Stettler, Alberta, Canada as part of a Rotary International exchange programme in 1988 after being awarded a scholarship to represent India as a cultural ambassador. He went back to Kolhapur to finish his studies, earning a BSc in electronics in the process.

Madhavan enthusiastically participated in extracurricular military training during his undergraduate years, and at the age of 22, he was recognized as one of Maharashtra's top NCC cadets, allowing him to travel to England with seven other NCC cadets. This change allowed him to train with the British Army, Royal Navy, and Royal Air Force, which he had once thought about joining. He was six months under the required age, though, and was therefore unable to enroll in the program.

Madhavan also won the Indian Public Speaking Championship at this time, and in 1992 he represented India at the Young Businessmen Conference in Tokyo, Japan. He made the decision to put together a portfolio during his time in Mumbai and submit it to a modeling agency in order to increase his income and open an office.
Family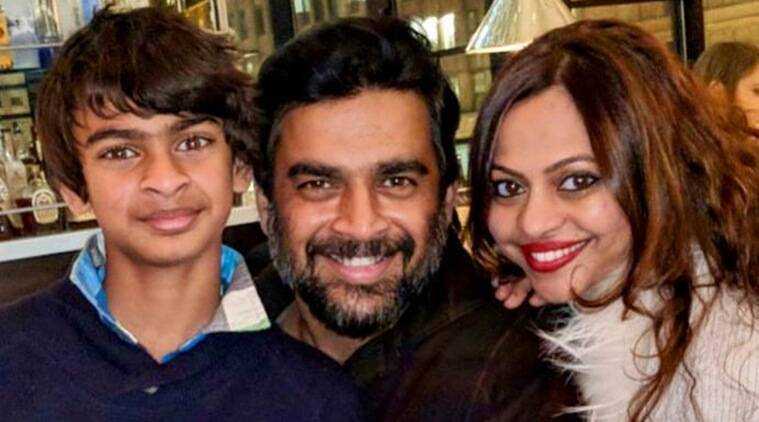 When it comes to R. Madhavan's personal life, his love story with his wife, Sarita Madhavan, is worthy of a Bollywood film. Madhavan began teaching communication and public speaking classes all throughout India after receiving a degree in electronics. He had met Sarita Birje during one of his workshops in Kohlapur, and the rest, as they say, is history. Here is the romance between R. Madhavan, a teacher, and Sarita Birje, a student. He Married Sarita Birje in the year 1999.

The family finally moved from Kilpauk, where Madhavan's parents and his in-laws resided, to the boat-club neighborhood in Chennai after the birth of their son, Vedaant, on August 21, 2005. Madhavan moved to Kandivali, Mumbai, with his wife and son in 2009 in order to focus on his Hindi film career rather than the South Indian film industry.

Vedaant, the professional swimmer who competed for India in the Danish Open Swimming Meet and won a silver medal, is the son of Madhavan. In addition to developing his interest in aero-modeling, his time flying Cessnas with the National Cadet Corps "confirmed his decision" to seek a degree in electronics, according to the actor.
Struggle
R. Madhavan began his spectacular acting career in Hindi television programs in the late 1990s. The industry at the time tried to categorize him, but Madhavan broke free and produced his first great hit in Tamil films before enjoying success in Hindi cinema as well.

He stated in an Interview, that Mani Ratnam cast me in Alai Payuthey and it became a tremendous hit and so I became, a Tamil actor, after which Bombay residents told him, "That's all you are—a Tamil actor." Hindi movies won't be available. They remarked, "Okay, he is a pan-Indian actor but you know, you are limited when I later started receiving Hindi films. I believe everyone attempts to categorize you as.
In his Struggling days, Santosh Sivan, who directed an advertisement for sandalwood talc at the beginning of 1996, later suggested Madhavan to Mani Ratnam so that he could participate in a screen test for a part in Iruvar (1997). Despite competing with other more seasoned actors for the lead role of Tamizhselvan.

Madhavan was ultimately cut from the movie by Mani Ratnam because he felt his eyes appeared too youthful for a senior character. A television executive observed Madhavan as he was out and about in Lokhandwala in Mumbai prior to his film audition, and he was hired to star in Hindi television series. In his debut project, Yule Love Stories, he played a criminal.
Movies and Career
R. Madhavan Work in the TV Industry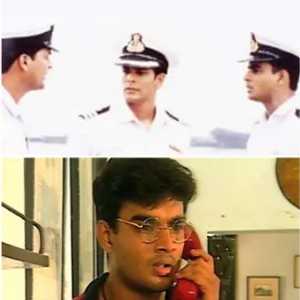 Madhavan began his television career in the 1990s as a host on Tol Mol Ke Bol. In addition to hosting television shows on Hindi channels, Madhavan has also served as the host of cinema award ceremonies.

In October 2005, he was introduced as the host of Deal Ya No Deal, the Indian adaptation of the American game show Deal Or No Deal, which airs on Sony Entertainment Television. However, Madhavan left his position as the show's lead anchor in January 2006, stating his dissatisfaction with the way the production company managed the filming dates.

Madhavan returned to the game show format in June 2010, accepting a deal with Imagine TV's Big Money show, coming on to host for a single season, and then hosting an episode of the crime show Savdhaan India in January 2016. Madhavan has hosted live occasions, most notably the 2013 National Film Awards alongside Huma Qureshi.

Additionally, he hosted the Vijay Awards in 2013 and the 55th Filmfare Awards South in Chennai in 2008. Additionally, he served as a guest judge on the Fame Gurukul television program in India.
Work in Tamil Film Industry( Kollywood)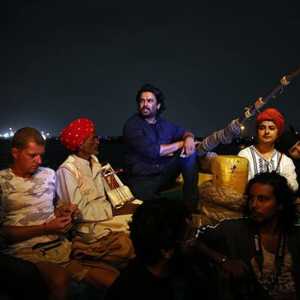 Madhavan's breakthrough as an actor came in 1999 when prominent Indian filmmaker Mani Ratnam chose him for the main part in his Tamil romance drama Alaipayuthey (2000). The movie's following critical and financial success gave Madhavan his big break. In positioned to focus on Madhavan's newfound fame, the makers of his earlier Kannada film, Shanti Shanti Shanti, dubbed the film into Tamil and released it as Relax. Although Madhavan's depiction was acclaimed as the mainstay of the movie, Ennavale (2000) received mixed reviews.

The directorial debut of Gautham Vasudev Menon, Minnale, Madhavan's first film of 2001, debuted to critical and commercial success. Minnale, which was promoted as Valentine's Day release and included a well-known piece of music by Harris Jayaraj, boosted Madhavan's reputation as a romantic hero and was later described as a great romantic picture in the Tamil cinema industry. He later worked with Mani Ratnam again by costarring with Jyothika in the romantic comedy Dumm Dumm Dumm (2001), which was produced by the director. The movie was a commercial success and garnered favorable reviews. Madhavan played a dissatisfied groom attempting to call off his wedding. Madhavan established himself as a bankable actor in South India.

In the 2005 film Priyasakhi, which also starred Sadha, Madhavan played a husband and wife who are separated from one another. The major actors in the movie got an appreciation for their work, with Madhavan being called top class, and it made history by becoming the first Tamil movie to be dubbed into Zulu. The movie Kannathil Muthamittal earned a lot of positive reviews and went on to win over 10 awards at different international film festivals in addition to six National Awards. His prior films' commercial success assisted him in winning the 2002 Tamil Nadu State Film Award for Best Actor, which he shared with the film for which he was recognized.

Madhavan became well-known in Tamil cinema as a result of Mani Ratnam's popular love story Alaipayuthey (2000). With prominent roles in two of the highest-grossing Tamil films of 2001—Minnale, the directorial debut of Gautham Vasudev Menon, and Dumm Dumm Dumm, from Madras Talkies—he quickly established himself as a romantic hero. In the movies Kannathil Muthamittal (2002), Run (2002), Anbe Sivam (2003), Aayutha Ezhuthu (2004), Evano Oruvan (2007), and Yavarum Nalam (2008), he enjoyed additional critical acclaim and financial success (2009).
Work in the Hindi Film Industry (Bollywood)
Rehna Hai Tere Dil Mein (2001), a remake of his Minnale, which had Madhavan in the lead role, failed to do well at the box office and received negative critical reception. However, the movie only recently became well-known because of television screenings, which led to the creation of a huge fan base among youthful audiences.

Ramji Londonwaley, a comedy from 2005, is a remake of his first movie, Nala Damayanthi. Despite the film's mediocre box office performance, critics hailed his performance as a masterstroke. His performance in Rakeysh Omprakash Mehra's Rang De Basanti brought him his first box office triumph in Hindi movies (2006). Then, Madhavan and Mani Ratnam worked together once more on the biopic Guru (2007), which also starred Abhishek Bachchan, Aishwarya Rai, and Vidya Balan. The movie was a success and got positive reviews. One called Madhavan really a poster boy for India and said he played a weak role with élan. Another said he acted with extreme, convincing earnestness.

He took a supporting role as an army officer in the 2009 action movie Sikandar, which received mixed reviews. Later, Madhavan co-starred with Aamir Khan and Sharman Joshi in the comedy 3 Idiots (2009) directed by Rajkumar Hirani. The movie opened to favorable reviews and quickly rose to the position of highest-grossing Indian movie of all time before being surpassed. R. Madhavan blew the minds of the audience with his acting skills.

He worked in Tanu Weds Manu and its sequel with the same name. At the end of its theatrical run, Tanu Weds Manu Returns had raked in 2.43 billion (US$32 million), making it one of the highest-grossing Bollywood movies of 2015. Additionally, he has produced movies, first working on Evano Oruvan with Leukos Films before founding Tricolor Films to work on Saala Khadoos (2016).
Filmography
R. Madhavan is known to be one of the most popular Bollywood actors who is loved by his fans all around the world. Madhavan impresses in his role despite it being a restrained one, which was in keeping with the demands of his character. He is really charming and never attempts to outshine anyone and emerges a winner. R. Madhavan has starred in around 48 movies. Here are some of his remarkable movies that we'll never forget:
Rehna Hai Tere Dil Mein (2001)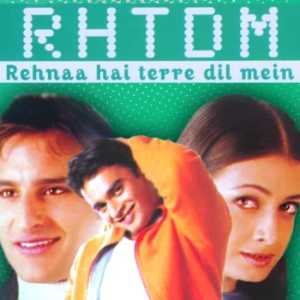 Rehnaa Hai Tere Dil Mein primary actors of Gautham Vasudev Menon's 2001 Indian Hindi-language romantic drama film RHTDM are R. Madhavan, Dia Mirza, and Saif Ali Khan. The movie is a remake of the director's original (same-year release) Tamil film Minnale, in which Madhavan appeared in a cameo. After making an uncredited appearance in a song sequel in the middle of the 1990s, Madhavan, a Tamil actor, makes his formal Bollywood debut with this movie. Dia Mirza is also making her feature film debut.

The movie had gained cult status over the years despite not being a financial success when it was first released. The movie plot centers on Maddy winning Reena over, Maddy pretends to be Rajeev, the man Reena is set to marry. He is not, however, ready for the time when the truth will come out.
Kannathi Muthmittal (2002)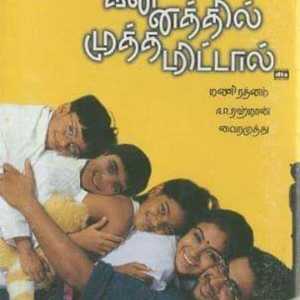 Mani Ratnam produced and directed Kannathil Muthamittal, an Indian Tamil-language musical war movie, which was also distributed overseas under the translated title A Peck on the Cheek. It was based on Sujatha's short story Amuthavum Avanum. Simran, Madhavan, and Baby Keerthana are the movie's main actors, and Nandita Das, J. D. Chakravarthy, Prakash Raj, and Pasupathy play additional crucial roles. A. R. Rahman wrote the film's score and soundtrack, and Ravi K. Chandran was in charge of the photography.

In the middle of the Sri Lankan Civil War, Mani Ratnam tells the tale of a youngster with Sri Lankan Tamil ancestry who was adopted by Indian parents and longs to find her biological mother. It became available on February 14th, 2002.

The movie had its world premiere at the 2002 Toronto International Film Festival, and it also played to enthusiastic reviews at the 2003 San Francisco International Film Festival. After receiving positive reviews upon release, the movie went on to win Best Film honors at six different international film festivals, three Filmfare Awards South, six Cinema Express Awards, and seven Tamil Nadu State Film Awards. It also earned high praise from critics.

Kannathi Muthamittal is a Tamil language movie. The story revolves around A little girl's parents informing her that she is adopted. She wants to be brought to Sri Lanka, where her mother works with a militant group of activists since she is determined to discover her true mother there.
Guru (2007)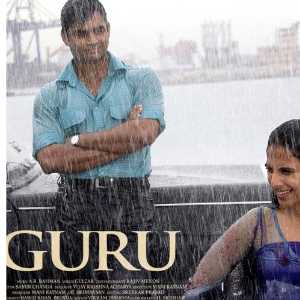 Mani Ratnam co-wrote and directed the 2007 drama film Guru, which was made in Hindi. It features Mallika Sherawat as a special guest along with Mithun Chakraborty, Abhishek Bachchan, Aishwarya Rai, R. Madhavan, Vidya Balan, and Roshan Seth. A. R. Rahman wrote the soundtrack, and the film's score.

The movie was rumored to be a biography of business magnate Dhirubhai Ambani, but Ratnam denied the accusations and made it clear the movie was fiction. It was the first Indian movie to get a major worldwide premiere in Canada when Roger Nair presented it on Thursday, January 11, 2007, at Toronto's Elgin Theatre.

The movie was then released on January 12, 2007. The majority of the cast and crew were flown to Toronto, Canada, for the premiere, which Roger Nair productions hosted after acquiring the rights for Canada. The movie had its world premiere at the 2007 Cannes Film Festival's Tous Les Cinemas du Monde (World Cinema) section.

The plot of the story focuses on Gurukant Desai, a villager who immigrated to Bombay in 1958 and rose from the city's streets to become the Guru, the largest tycoon in Indian history.

3 Idiots(2009)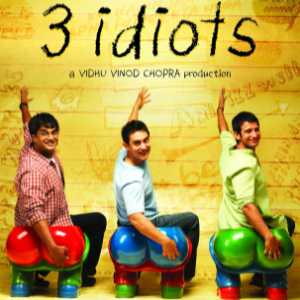 The coming-of-age comedy-drama 3 Idiots, which was released in 2009 in the Hindi language, was written, edited, and directed by Rajkumar Hirani. Producer Vidhu Vinod Chopra also contributed to the screenplay. The movie, which is partially based on Chetan Bhagat's novel Five Point Someone, stars Omi Vaidya, Kareena Kapoor, and Boman Irani in crucial parts, as well as Aamir Khan, R. Madhavan, and Sharman Joshi in the title characters, marking their return three years after the 2006 film Rang De Basanti.

The film finally achieved a worldwide gross of 392 crores ($90 million), making it one of the few Indian movies at the time to succeed in East Asian markets like China and Japan. The highest-grossing Indian movie of the 2000s, it was also the highest-grossing Indian movie ever at the time. The movie also affected how people in India and other Asian nations, including China, felt about education.

Three National Film Awards, including Best Popular Film, and six Filmfare Awards, including Best Film, went to 3 Idiots. It received nominations for Best Outstanding Foreign Language Film at the Japan Academy Awards and Best Foreign Film at China's Beijing International Film Festival while winning the Grand Prize at the Videoyasan Awards in Japan. The movie was then recreated in Tamil as Nanban (2012), which was likewise well-received by critics and popular with audiences. In 2017, the Mexican adaptation 3 Idiotas was also made available.

The film story centers on Two friends who are looking for a long-lost friend. They reflect back to their time in college and remember their friend, who encouraged them to think outside the box even though the rest of the world thought they were idiots.
Tanu Weds Manu (2011)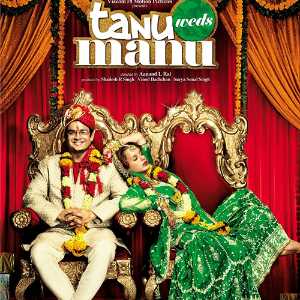 Himanshu Sharma wrote the movie's script, Krsna Solo oversaw the music, and Rajshekhar wrote the lyrics of Tanu Weds Manu. The movie premiered on February 25, 2011. The movie was a financial hit when it came out, especially in Delhi, Uttar Pradesh, and Punjab. Tanu Und Manu Trauen Sich was the title given to the German dub of the film. In Telugu, the movie was recreated as Mr. Pellikoduku. On May 22, 2015, Tanu Weds Manu: Returns, the sequel, was released.

Tanu's character in the movie had first been cast as Konkana Sen Sharma. However, the movie was re-announced with Kangana Ranaut playing the role after a period of stalling. The Telugu version of Tanu Weds Manu stars South Indian actor Sunil and actress Isha Chawla as Mr. Pellikoduku.

Starring Kangana Ranaut and R. Madhavan. It describes the story of Tanu who is not interested in getting married, despite the fact that Manu is looking for a bride in India and falls in love with her right away.

Tanu Weds Manu Returns (2015)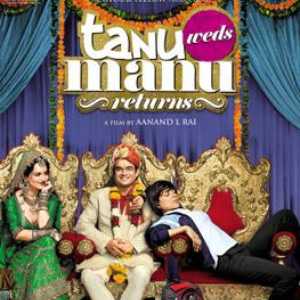 The movie's main photography started in October 2014, and it was released on May 22, 2015. The movie continues the narrative by showcasing the couple's future. For a female-driven film in India, Tanu Weds Manu Returns has the biggest first-week box office earnings ever. Additionally, the movie held the previous records for the highest opening weekend earnings for a women-focused movie in India and the most single-day earnings for a female-driven movie in India.

Critics gave the movie favorable reviews, praising Ranbir Ranaut's performance in particular. It was a huge success at the box office, earning 252 crores (US$32 million) globally. It is the sequel of Tanu Weds Manu. It describes the further story of Tanu and Manu after their collapsing marriage.

Saala Khadoos (2016)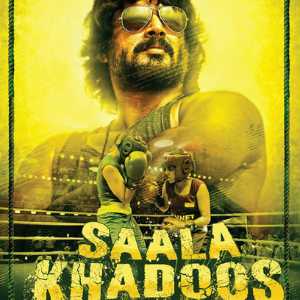 Boxing culture in North Chennai and the Indian women's boxing revolution served as inspiration. It depicts the tale of former boxer Prabhu (R. Madhavan), who was prevented from achieving his goals by the national selection panel's corruption. Now that he has been given the responsibility of coaching a boxing association in Chennai, he meets Madhi (Ritika Singh), a teenage boxing fanatic, and chooses to support her every step of the way.

His previous rivalry gets in their way once more when it's time to take her to the national capital selection panel. Saala Khadoos is the narrative of a former boxer who, after a dispute with the authorities over the underlying politics, gave up boxing but later trained a fisherwoman to help him realize his ambition.

On January 29, 2016, Saala Khadoos premiered. The Tamil version debuted to critical acclaim, complimenting the performances of Madhavan and Singh as well as the script, directing, and other technical features. This contrasts with the Hindi version, which garnered conflicting reviews.

Upcoming Movies
For his mastery of dialogue and remarkable acting skills, R. Madhavan is well-known. In addition, the directors with whom he has worked remark that R. Madhavan is a superb actor with the capacity to engage an audience through expression. In 2022 and in the upcoming following years, Madhavan is working on these projects, Krrish 4 (announced), Gramophone (filming), The Railway Men (TV Series), and Amriki Pandit (filming). Pura. Dhokha (post-production), Alibaug Shooting is completed, My Dear Munna Bhai.

Dhokha: Round D Corner
When a delusional housewife with a personality problem is held captive by a terrorist on the loose and a husband is accused of cheating on his wife. There are hard truths and lies in the story of Dhoka Round D Corner.

The next Hindi-language crime thriller movie Dhokha: Round D Corner is directed by Kookie Gulati and made by T-Series. Starring in it are R. Madhavan, Khushalii Kumar, Aparshakti Khurana, and Darshan Kumar. This is Khushalii Kumar's first movie.

The movie is slated to hit theaters on September 23, 2022.


Movie List and Career Timeline
Controversies
Chetan Bhagat Controversy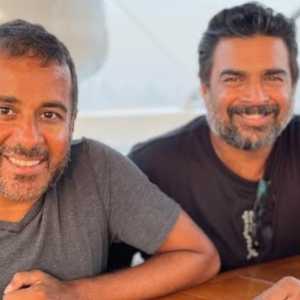 After provoking Chetan Bhagat into a dispute over movies versus books by asserting that movies are superior to books, Madhavan praised 3 Idiots as being superior to Bhagat's book, Five Point Someone: What not to do at IIT, on which the movie was based.

Naturally, Bhagat had a sarcastic reply and told Madhavan to not preach to the choir and told the actor to read his books. Bhagat responded, Well, I want to be recognized as Chetan Bhagat over being known as Farhan from that one movie, afteR. Madhavan made it clear that he would choose the Rs 300 crore club over a bestseller.

Madhavan Tweeted, I'm not simply known as Farhan, Madhavan skillfully countered Bhagat's jab. My favorite nickname is Maddy kyunki mein rehta hoon sab ke dil mein. I'm also known as Manu from Tanu Weds Manu, Kartikh from Alaipayuthey, and other characters. If this were a writing test, Madhavan would have passed with his response, according to Bhagat, who looked impressed by his response. And that tweet battle gets more fame on Social media.
Net Worth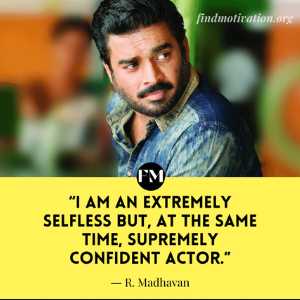 R. Madhavan is renowned for his command of dialogue and his exceptional acting abilities. Additionally, the directors with whom he has collaborated claim that R. Madhavan is an exceptional actor who has the ability to communicate with the audience through his or her expressions. R. Madhavan has a net worth of 105 Crore INR. He Monthly Earns above 1 crore. He earns yearly above 12 crores.

His film work and brand endorsements account for the majority of his income. In addition to receiving acting pay, R. Madhavan also receives a portion of the movie's profits. For brand endorsements, such as Pepsi, Airtel, Bajaj, TVS, and Maruti Suzuki, he accepts a significant quantity of money. From Brand Endorsements, he earned around 2-3 Crores and had 64 Personal Investment. Madhavan gets Remuneration from movies around 6-7crores.

With such significant incomes and profits, R. Madhavan consistently ranks first when it comes to giving, volunteering, and social service. Mr. Madhavan is one of the biggest taxpayers in the nation and comes anyway when it comes to income tax payments. He pays around 1-2 Income Tax.
Awards and Achievements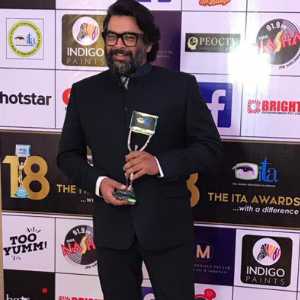 Filmfare Award Tamil- Best Supporting Actor for Ayitha Ezuthu(2005)
Filmfare Award Tamil-Best Actor For Irudi Sutturu (2017)
Filmfare Award Tamil- Best Male Debut in South Industry(2001)
Indian Television Academy Award- Best Actor for Breath(Web Series)
Filmfare Award- Best Male Debut for South for Alaipayuthey(2000)
Filmfare Award- Best Supporting Actor for Tamil for Aaytha Ezhuthu(2004)
SIIMA Award for Best Actor (Critics) for Tamil for Irudhi Suttru(2016)
IIFA Utsavam Award for Best Actor for Tamil for Irudhi Suttru(2016)
Filmfare Award -Best Actor (Critics) for South for Vikram Vedha(2017)
3 Interesting Facts
Madhavan, an openly vegetarian man, was selected by PETA as the year's Hottest Vegetarian in 2010! Considering how much he enjoys animals, this is hardly surprising.
Madhavan had taken a strong interest in extracurricular military training during his time in college. He traveled to England for additional training after leading NCC cadets in Maharashtra. He did, however, miss the age cut-off by six months and was unable to enroll in the program as a result.
Movies by Madhavan have been produced in seven different languages, including Tamil, Telugu, English, Hindi
Profile Summary
How to book a personalised celebrity video wish from a celebrity similar to R. Madhavan?
Knowing about R. Madhavan is so much fun. How about getting a message from a celebrity similar to R. Madhavan? Tring makes it possible!

Now you can get a personalised celebrity video message from over 12000+ celebrities!

What's better than your favourite celebrity making a video for your loved ones? This is your chance to get a personalised celebrity message from celebs like Daisy Shah, Shankar Mahadevan, Shaan, Salim Merchant, Shraddha Arya and many more!

All the best experiences, moments and special wishes in one FREE Celebrity Video!

It takes just 4 steps to share the best anniversary wishes with your wife. Surprise your loved ones now!


Click here to fill out the form above.
Fill in the required details
Click on "Claim Your Rewards"
Select your favourite celebrity.
Your Personalised Celebrity Shoutout Video/Message will be delivered to your mail/Whatsapp, which takes care of your pocket as well!
Ready to make memories? Book your wish now!
Social Media
Frequently Asked Questions