Ektaa Kapoor | Biography Birthday Family Struggles Net Worth Age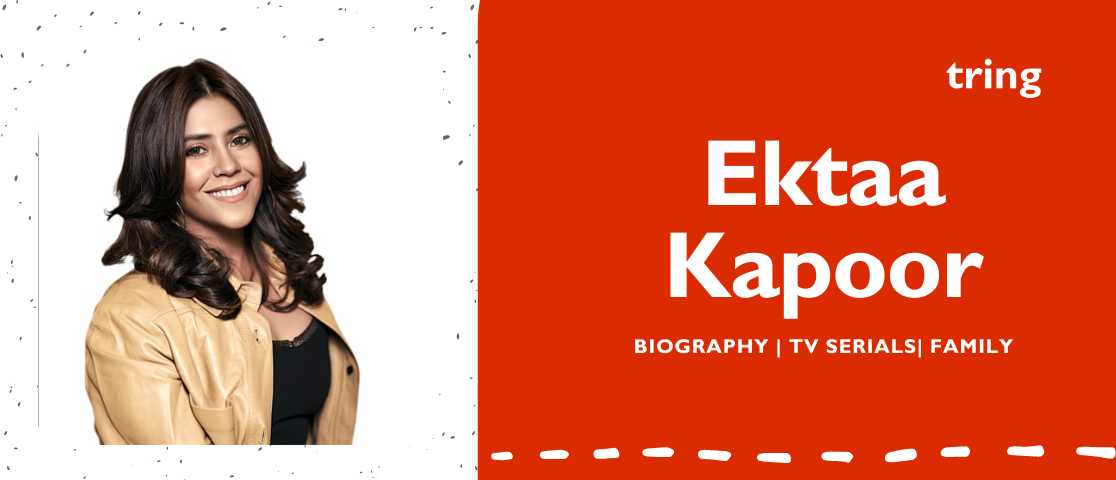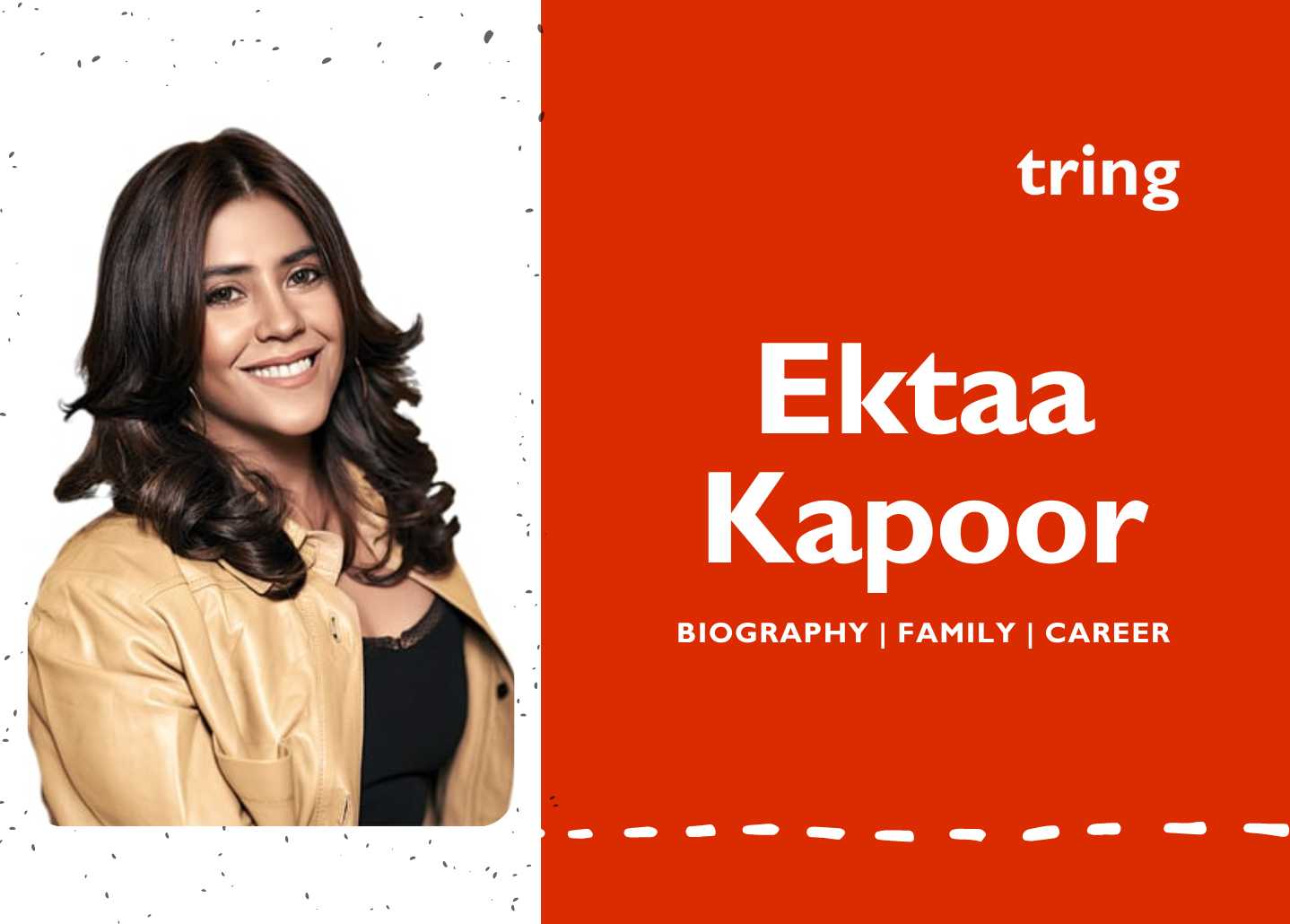 Ektaa Kapoor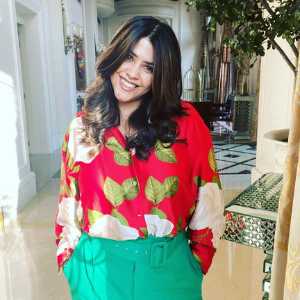 Ektaa Kapoor is an Indian television producer, film producer, and director who specializes in Hindi soap operas. She serves as the Balaji Telefilms Limited company's co-managing director and creative director which was established in 1994. Ektaa Kapoor is a mother to Raviee Kapoor, born on 27 January 2019 through Surrogacy.

As a division of the film production and distribution corporation Balaji Telefilms Limited, Balaji Motion Pictures was established in 2001. In April 2017, she started ALT Balaji.

The biography of, Kingdom of the Soap Queen: The Story of Balaji Telefilms, was also released in 2017. In 2020, received the Padma Shri award for her contributions to the arts.

Book a Personalised message from your favorite celebrity. Click here to know more.

Ektaa Kapoor's Age
Ektaa Kapoor was born on 7 June 1975 in Mumbai. Ektaa Kapoor's Age is 48 years. Her Zodiac Sign is Gemini.
Ektaa Kapoor's Childhood
There is no information about Ektaa Kapoor's Childhood.

Ektaa Kapoor's Education
Ektaa Kapoor completed her schooling at Bombay Scottish School, located in Mahim. Ektaa Kapoor pursued her degree education at Mithibai College located in Andheri.
Ektaa Kapoor's Family
Ektaa Kapoor's father's name is the legendary actor Jitendra Kapoor. Ektaa Kapoor's mother's name is Shobha Kapoor she is a producer by profession. Ektaa Kapoor's younger brother's name is Tusshar Kapoor, he is also an actor by profession.

Ektaa Kapoor's Relationships
Tanveer Bookwala (2019-Present)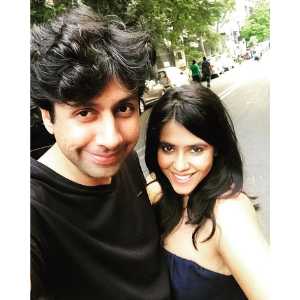 Tanveer Bookwala founded and serves as the creative director of an entertainment business. He has also worked on projects for Ektaa Kapoor's production firm in the past. He worked with Ektaa Kapoor on the Fittrat online series, which also starred Krystle D'Souza, Anushka Ranjan, and Aditya Seal.

Tanveer has shared several pictures with Ektaa Kapoor, and the captions on his profile tell a thousand words, I noticed when looking at it. In 2020, producer Ektaa Kapoor's social media posts are garnering attention. She recently revealed some significant news with her friends and fans, and everyone in the comment area assumes she is getting married shortly.

Tanveer Bookwala and Ektaa Kapoor shared a sentimental selfie together on social media with the caption, N we are there! Will share everything soon! As we dug deeper, we discovered Tanveer had commented on the image with the words The phrase Yeh Dosti ko rishtedaari mein badal ne ka waqt aa chuka hain. Rumors state that there could be a major announcement soon.

Ektaa Kapoor's Struggles
There is no information about Ektaa Kapoor's Struggles.
Ektaa Kapoor's Career
Ektaa Kapoor's Debut Career
At the age of 17, Ektaa Kapoor began her career as an intern for commercial and feature filmmaker Kailash Surendranath. Six of her pilot episodes were turned down, which resulted in a total loss of 50 lakhs on her first ventures. The year 1995 saw the selection of Mano Ya Na Mano by Zee TV and Doordarshan of her music-based program Dhun Dhamaka. Hum Paanch, a sitcom she created in 1995, was her debut hit.

Ektaa Kapoor's TV Serials Career
Kyunki Saas Bhi Kabhi Bahu Thi, which smashed all records to become the series to draw the highest TRPs in 2000, was one of the several programs she debuted with the first word of every title beginning with the letter K in the 2000s. Kahaani Ghar Ghar Ki, Kabhii Sautan Kabhii Sahelii, Kohi Apna Sa, Kaahin Kissii Roz, Kalash, Kasautii Zindagii Kay, Kahiin To Hoga, and Kasamh Se are some of the other television programs that start with the letter K.

Ektaa Kapoor was creating more than 30 hours of television programming each week by July 2001. Twenty of her 34 serials were among the most watched on all major TV networks, including Zee TV, Sony, Star Plus, and Metro. Her anticipated revenue for the years 2000–2001 was estimated as 35 crores.

Ektaa Kapoor's Regional TV Career
Ektaa Kapoor began branching out into other regional languages after making a name for herself in Hindi TV serials, starting with the Tamil series Kudumbum. The series quickly gained popularity, so she had it remade into Telugu and released as Ghar Ek Mandir in Hindi. She then experimented with Bengali, Marathi, Gujarati, and Punjabi. Despite having writers working for her as of 2001, wrote all of her scripts herself.

Even though she had writers working for her as of 2001, continued to create her own scripts and actively participated in every aspect of production, with her mother Shobha handling the finances.

With this in mind, has written and/or produced more than 130 Indian soap operas. She is referred to as the Czarina of television and the Queen of Indian Television due to the success of several other shows she produced, such as Pavitra Rishta, Bade Acche Lagte Hain, Yeh Hai Mohabbatein, Jodha Akbar, Naagin, Kumkum Bhagya, Kasam Tere Pyaar Ki, Kundali Bhagya, and Yeh Hai Chahatein.

Ektaa Kapoor's Movie Debut as Director
Beginning with the Sushmita Sen and Govinda-starring Bollywood film Kyo Kii... Main Jhuth Nahin Bolta 2001, made her debut in the industry.

Based on supernatural themes, Kucch To Hai and Krishna Cottage came out in 2003 and 2004, respectively. Her brother Tusshar was featured in the 2005 film Kyaa Kool Hai Hum. She later collaborated with Sanjay Gupta to produce Shootout at Lokhandwala. Mission Istanbul and EMI's Liya Hai Toh Chukana Padhega, produced in association with Sunil Shetty, came next. These movies were all failures, both critically and commercially.

Ektaa Kapoor's Career Downfall
She produced a lot of unsuccessful movies between 2010 and 2014, including Love Sex aur Dhokha, Once Upon a Time in Mumbaai, and Shor in the City.

Ektaa Kapoor's OTT Career
Ektaa Kapoor has made a lot of TV shows available online. Through her unsuccessful digital platform, ALTBalaji has also released a lot of TV shows online.

Ektaa Kapoor as an Entrepreneur
Through her production company Balaji Telefilms, Ektaa Kapoor launched the Institute of Creative Excellence in 2012, a school for media training. She received the Best Entrepreneur of the Year award in 2001.

Ektaa Kapoor's and Balaji Films
After receiving funding from her father, she made the decision to launch Balaji Telefilms as a production company.

Ektaa Kapoor's Top 5 Movies
Ektaa Kapoor's Movie Debut as Director- Kyo Kii... Main Jhuth Nahin Bolta (2001)
The fantasy comedy Kyo Kii... Main Jhuth Nahin Bolta, which was released in 2001 and was directed by David Dhawan and starring Govinda, Sushmita Sen, Rambha, Anupam Kher, Satish Kaushik, Mohnish Bahl, and Ashish Vidyarthi, is in Hindi. It takes its cues from the American movie Liar.

Anand Raj Anand is the composer of the music. Planet Bollywood's Akhlaq Hussain gave the album a 7 out of 10 rating.

The Dirty Picture (2011)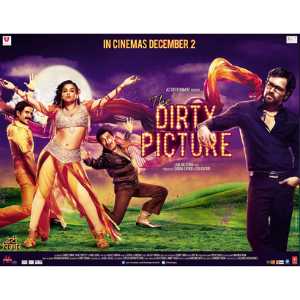 The life of Silk Smitha, an Indian actress known for her sensual portrayals, served as the inspiration for the 2011 Hindi-language biographical musical drama film The Dirty Picture. The plot is not formally or literally based on Smitha alone, the directors have stated; rather, it is based on many of her contemporaries, like Disco Shanti. It also parallels the private lives of other famous women, such as Marilyn Monroe, an icon of sex.

Ektaa Kapoor came up with the idea for the movie and requested that screenwriter Rajat Aroraa compose a script based on it. Milan Luthria then directed the movie, which Shobha and Ektaa Kapoor also co-produced.

With a US$2.3 million ($18 crore) production budget, On December 2, 2011, The Dirty Picture was made available everywhere. The Dirty Picture, which was made on a budget of 18 crores (US$2.3 million), was released in Hindi, Telugu, and Tamil languages on December 2, 2011—the anniversary of Smitha's birth.

Lead actors include Tusshar, Naseeruddin Shah, Emraan Hashmi, and Vidya Balan. Upon its debut, it was a critical and financial triumph, with Balan's performance earning her the title of the film's hero and receiving a wide range of praise. The movie has also drawn appreciation for showing women as strong contributors to a culture that is generally dominated by men. The song Ooh La La, written by Rajat Aroraa with lyrics by Vishal-Shekhar, became one of the year's top chartbusters. The soundtrack for the movie was also a commercial success.

The Dirty Picture earned 117 crore rupees ($15 million) at the box office, and after its fourth week, Box Office India deemed it a hit.

Shootout at Wadala (2013)
Sanjay Gupta wrote and directed the 2013 Indian Hindi-language biographical gangster-crime film, titled Shootout at Wadala. John Abraham, Anil Kapoor, Kangana Ranaut, Tusshar Kapoor, Manoj Bajpayee, and Sonu Sood all appear in the movie. It serves as a precursor to the movie Shootout at Lokhandwala from 2007.

Based on Hussain Zaidi's book Dongri to Dubai: Six Decades of the Mumbai Mafia, the movie dramatizes the police incident in which mobster Manya Surve was fatally shot. On January 11, 1982, it happened at the intersection next to Dr. Ambedkar College in Wadala, Bombay. Released on May 1, 2013, Shootout at Wadala quickly became a box office hit, grossing 820 million (US$10 million) globally.

Main Tera Hero (2014)
Main Tera Hero, is a 2014 Hindi-language romantic action comedy film that was produced by Shobha and Ektaa Kapoor under the Balaji Motion Pictures banner and directed by David Dhawan. It is a remake of the Telugu movie Kandireega from 2011. Ileana D'Cruz, Varun Dhawan, and Nargis Fakhri all appear in the movie.

The movie's principal photography began on May 30, 2013, and it was finished by October 15 of the same year. Despite receiving conflicting reviews from reviewers upon its 4 April 2014 release, the movie was a financial success.

Udta Punjab (2016)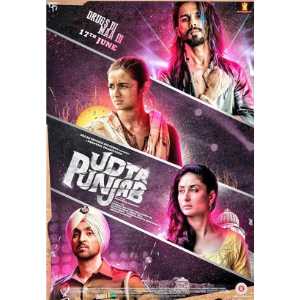 In 2016, Abhishek Chaubey wrote and directed the crime drama film Udta Punjab, which he also co-wrote with Sudip Sharma. The film was produced by Shobha, Ektaa Kapoor, Sameer Nair, and Aman Gill under the banner of Balaji Motion Pictures, in collaboration with Anurag Kashyap, Vikas Bahl, and Vikramaditya Motwane under the banner of Phantom Films. Starring Shahid Kapoor, Alia Bhatt, Kareena Kapoor Khan, and Diljit Dosanjh, the movie is loosely based on and revolves around drug misuse by the youth population in the Indian state of Punjab and the different theories surrounding it.

The Central Board of Film Certification, India, requested a delay on the film's release on June 4, 2016, claiming that the issues it dealt with were inappropriate for a public audience. As a result, the producers were instructed to reduce the movie 89 times in total.

On June 13, 2016, the Bombay High Court overturned the injunction and authorized the nationwide release of the movie, albeit with one screenplay revision. The movie's global debut took place on June 17, 2016. Udta Punjab, which cost 340 million rupees (US$4.3 million), was a commercial success and made about 960 million rupees (US$12 million) globally. It earned favorable reviews from critics, who praised the actor's performances as well as the directing, script, and premise.

Ektaa Kapoor's Top 5 Serials
Ektaa Kapoor's TV Debut- Hum Paanch (1995-1999)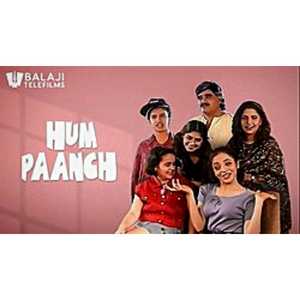 Indian sitcom Hum Paanch ran from 1995 to 1999. From 2005 through 2006, the show returned for a second season. Ashok Saraf, Vidya Balan, Rakhee Tandon, Bhairavi Raichura, and Vandana Pathak all acted in the program. Balaji Telefilms produced the first series while the company's headquarters were a garage.

Ektaa Kapoor, then 16 years old, made her producing debut with the show. She directly oversaw the actors' rehearsing and improvisational sessions. Imtiaz Patel wrote the first season's script. Ashok Saraf, who portrayed Anand Mathur, the series' protagonist, said of the author: He has developed the characters so brilliantly, people became fascinated with each of them. The art of improvisation was at its pinnacle in Imtiaz's work. Imtiaz Patel was so gifted that he could condense a line from a newspaper article into a whole episode.

The majority of the show was filmed in Mumbai, where large audiences would gather while street scenes were being filmed. It became popular as a family-friendly television series because it was broadcast on Zee TV every Tuesday at 8 p.m. From 1995 to 1999, the first season aired; from 2005 to 2006, the second.

Kyuki Sass Bhi Kabhi Bahu Thi (2000-2008)
An Indian soap opera in Hindi called Kyunki Saas Bhi Kabhi Bahu Thi ran on Star Plus from July 4, 2000, to November 7, 2008. Under the auspices of their company Balaji Telefilms, Shobha and Ektaa Kapoor jointly produced the program.

The protagonist of the play was a perfect in-law, the grandson of wealthy business tycoon Govardhan Virani married to the daughter of a pandit. Smriti Irani performed the part of Tulsi Virani.

Kasautii Zindagii Kay (2001-2008)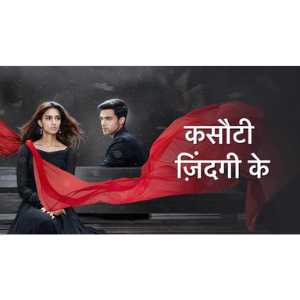 Kasautii Zindagii Kay is a Hindi-language television program from India that airs on Star Plus and is produced by Ektaa Kapoor's Balaji Telefilms. The actors portraying Prerna Sharma, Anurag Basu, Rishabh Bajaj, and Komolika Majumdar on the show were Shweta Tiwari, Cezzane Khan (who was later replaced by Hiten Tejwani), Ronit Roy, and Urvashi Dholakia.

From 29 October 2001 to 28 February 2008, the program aired. Digital copies of the entire series are accessible on Disney+ Hotstar. One of Star Plus's longest-running television programs was the one in question.

The story of star-crossed lovers Anurag and Prerna was explored in the program. Their relationship and life are at different phases, as well as the lives of their kids and grandchildren.

Kahaani Ghar Ghar Kii (2000-2008)
An Indian soap opera in Hindi called Kahaani Ghar Ghar Kii aired on Star Plus from October 16, 2000, until October 9, 2008. The soap opera, which starred Sakshi Tanwar and Kiran Karmarkar, was conceived by Ektaa Kapoor and produced by her production firm Balaji Telefilms.

In a Marwadi joint household where Parvati is the ideal daughter-in-law and Om the ideal son, the show chronicled the lives of Parvati and Om Agarwal. The show tells the tale of Vishwanath Agarwal's sons and their offspring. Anup Soni played the part of Suyash Mehra, Ali Asgar played the part of Kamal Agarwal, and Shweta Kawatra/Achint Kaur played the part.

Bade Achhe Lagte Hain (2011-2014)
A Hindi Indian soap opera called Bade Achhe Lagte Hain ran on Sony Entertainment Television from May 30, 2011, to July 10, 2014. The soap opera was created and produced by Ektaa Kapoor under the auspices of Balaji Telefilms and is based on the Gujarati drama Patrani by Imtiaz Patel. A song by R.D. Burman from the soundtrack of the 1976 Bollywood movie Balika Badhu served as the inspiration for the show's title and the title track. About six years before the debut of the soap opera, Ektaa Kapoor registered the name Bade Achhe Lagte Hain.

The drama delves into the lives of Priya Sharma (Sakshi Tanwar) and Ram (Ram ), who after being married, unintentionally fall in love.

Several new performers and characters, notably Samir Kochhar and Amrita Mukherjee, who played Rajat Kapur and Peehu, respectively, were introduced as the plot advanced five years in June 2012.

The sixth most-watched television program in India in 2011 is Bade Achhe Lagte Hain, according to The Times of India. In 2012, the soap opera received both the People's Choice Award for Favorite TV Drama and the Kalakar Award for Best Serial. With 43.68% of the vote, the soap opera won the 2013 award for Most Inspiring Soap. It has been repeated in Telugu, Tamil, and English with subtitles.

Ektaa Kapoor's Upcoming Projects
Dream Girl 2 (June 2023)
Coming soon is Raaj Shaandilyaa's comedy-drama Dream Girl 2 in the Hindi language. Ayushmann Khurrana and Ananya Pandey play key roles in this film. The date 23 June 2023 has been set aside for its debut. The 2019 release of Dream Girl's spiritual successor is this.

The Crew (2023)
After supporting the 2018 film Veere Di Wedding, which starred Kareena Khan, Sonam Kapoor, Swara Bhasker, and Shikha Talsania, producers Rhea Kapoor and Ektaa Kapoor have pulled off another casting coup with Tabu, Kareena, and Kriti Sanon leading their upcoming project, The Crew. In fact, Rhea and Ektaa Kapoor had worked together on this significant undertaking. The producers now discuss getting this production together in an exclusive interview.

Ektaa Kapoor's Career Timeline
Ektaa Kapoor's TV Debut Career
Ektaa Kapoor's Movie Career
Ektaa Kapoor's OTT Career
Ektaa Kapoor's Controversies
Kyuki Saas Bhi Kabhi Bahu Thi
Smriti Irani left Ektaa Kapoor's Kyunki Saas Bhi Kabhi Bahu Thi in 2007 after an argument with Ektaa Kapoor. She was later reinstated in the serial, though, in 2008, as a result of a decline in viewership.

Payment troubles with Ektaa Kapoor plagued actor Pulkit Samrat, who left the television series Kyunki Saas Bhi Kabhi Bahu Thi. He filed a lawsuit against Balaji Telefilms for failing to pay him in full and for preventing him from working on some other projects.

Clothing Backlash
Ektaa Kapoor frequently wears outfits that are either uncomfortable or unappreciated by the public and received criticism for her sense of style.

Nudity clause
Ektaa Kapoor's contract's nudity clause has also drawn criticism. She incorporated the provision in order to prevent actors from declining to perform any intimate scenes or provoking conversation in the script.

XXX OTT Content
The Supreme Court of India criticized her for the objectionable content in her online series XXX on October 14, 2022; the court stated that she was spoiling the minds of the next generation. HC stated that The youthful generation in the country have having their minds contaminated because of such OTT Shows.

Ektaa Kapoor's Networth
Ektaa Kapoor's estimated net worth is $10 million ( 81 Crores INR) as of 2022. BMW Mercedes Ford Jaguar are a few of the luxury cars that she owns. She owns A luxury flat in Mumbai worth Rs. 7 crores along with the Balaji Telefilms office in Andheri West, Mumbai. And has other Personal investments of Rs. 43 crores.
Ektaa Kapoor's Social Work
Following a 21-day lockdown and the suspension of TV and movie productions, TV producer Ektaa Kapoor donated Rs 2.5 crore to the welfare of the staff at her production company (2019-2020).

Ektaa Kapoor's Awards
In 2010, the Indo-American Society Awards Most Outstanding Woman Entrepreneur
In 2012, the National Media Award For the Asian Academy Of Film And Television Most Successful Film and Television Producer
IMC Women Achiever Awards Women Achiever of the Year
In 2014, the Most Powerful Women in India Awards Corporate Excellence in Entertainment Business
In 2014, Bharat Gaurav Achievement Awards Bharat Gaurav Achievement Award
In 2016, IMPACT's 50 Most Influential Women in Media, Marketing, and Advertising
In 2017, the Indian Television Academy Awards Sterling Icon of Entertainment
In 2018, the IWM Digital Awards Web Person of the Year
In 2018, Business Today Most Powerful Woman in Indian Business
In 2018, the FICCI Ladies Organisation Icon of the Year
In 2018, ABP News Celebrations Awards Grand Achiever of the Year
In 2018, Indian Television Academy Awards Highest rated the Show on TV – Naagin (season 3)
In 2018, the Indian Television Academy Awards premiered Web Channel of the Year – ALTBalaji
In 2018, the Jagran Cinema Summit Awards Icon of Entertainment
In 2018, Forbes Tycoon of Tomorrow Icon of Excellence
Outlook India Speakout Awards Woman Achiever of the Year
In 2019, Hindustan Times Business Awards Business Icon of Continent
In 2019, ET Business Awards Content Creator of the Year
In 2019, Business Today Most Powerful Woman in Indian Business
In 2019, Talent Track Awards Digital Content Creator
In 2019, Businessworld BW Most Influential Woman of India
In 2019, Maharashtra Achiever's Awards Content Power House of the Year
In 2019, the International Quality Awards Content Creator of the Year
In 2019, Hindustan Times HT Most Stylish Film Maker of the Year
In 2019, Fortune India Awards Most Powerful Business Women of the Year
In 2019, IWMBUZZ Digital Awards Digital Disruptor of the Year
In 2020, Padma Shri India's fourth highest civilian honor in the field of Arts, from the Government of India
In 2020, ET Now Business Leader of the Year Awards Business Woman of the year & Digital Company of the year for Alt Balaji
In 2020, Featured in Variety's 500 Most Important People in Global Media list
In 2020, White Page International Woman Achiever of the Year
Ektaa Kapoor's Acheivements
There is no information about Ektaa Kapoor's Achievements.

17 Unknown Facts about Ektaa Kapoor
Ektaa Kapoor was born to actor and producer Jeetendra and Sobha in Mumbai.
At the age of 15, she started working as an intern for commercial and feature film director Kailash Surendranath.
At the age of 19, Ektaa Kapoor began making TV series at her father's advice.
She finds it lucky for her, thus the majority of her TV serials start with the letter K.
She has produced 25 or so popular TV series as the MD of Balaji Telefilms, earning roughly 500 crores (INR) from them as of 2015.
The movies Love Sex Aur Dhokha, Once Upon a Time in Mumbaai, Shor in the City, and Half Girlfriend were all introduced.
Her extensive body of work includes more than 130 serials, such as Hum Paanch, Kahaani Ghar Ghar Ki, Kyunki Saar Bhi Kabhi Bahu Thi, Kaahin Kissii Roz, Kahiin To Hoga, Kasauti Zindagii Kay, Kaahin Kissii Roz, Kahiin To Hoga, Bade Acche Lagte
Stars like Ram Kapoor, Prachi Desai, Sushant Singh Rajput, Rajeev Khandelwal, and Ronit Roy were all launched by her.
Additionally, Ektaa Kapoor has debuted her clothing line, EK, which is sold on Snapdeal.
According to an astrologer's advice, she always wears black platform heels to gatherings or formal occasions.
She is terrified of helicopters, the dark, and heights.
On the advice of the actress Anita Hassanandani, she initially went by Natassha in the movies. Although she is rarely seen at public gatherings, she is regarded as a party girl.
She finds the numbers 3, 6, and 9 to be lucky since she is spiritual and has a strong belief in astrology and numerology.
Ektaa Kapoor loves animals and although she has a pet dog named Lafro, she frequently adopts stray animals and now has a large number of them. She participates actively in a charity for elderly women.
She enjoys listening to classical music and ghazals, and she adores Kishore Kumar.
Ektaa Kapoor is known as the Queen of Indian Television and the Czarina of television.
Ektaa Kapoor is Vikas Gupta's rakhi sister.
Ektaa Kapoor's Profile Summary
Social Media
Frequently Asked Questions