Govinda | Movies, Biography, Family, Net Worth, Age, Wife

Zeenat Sayyed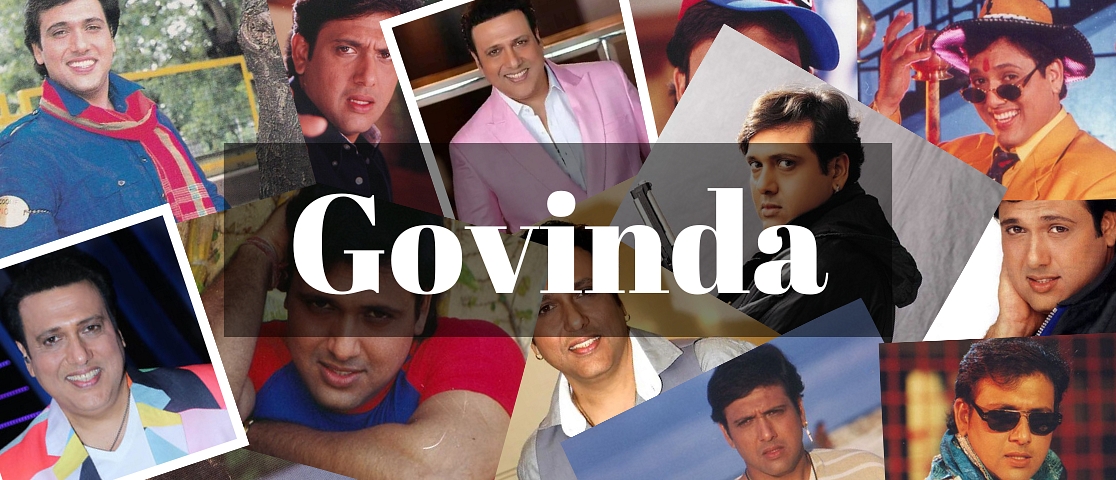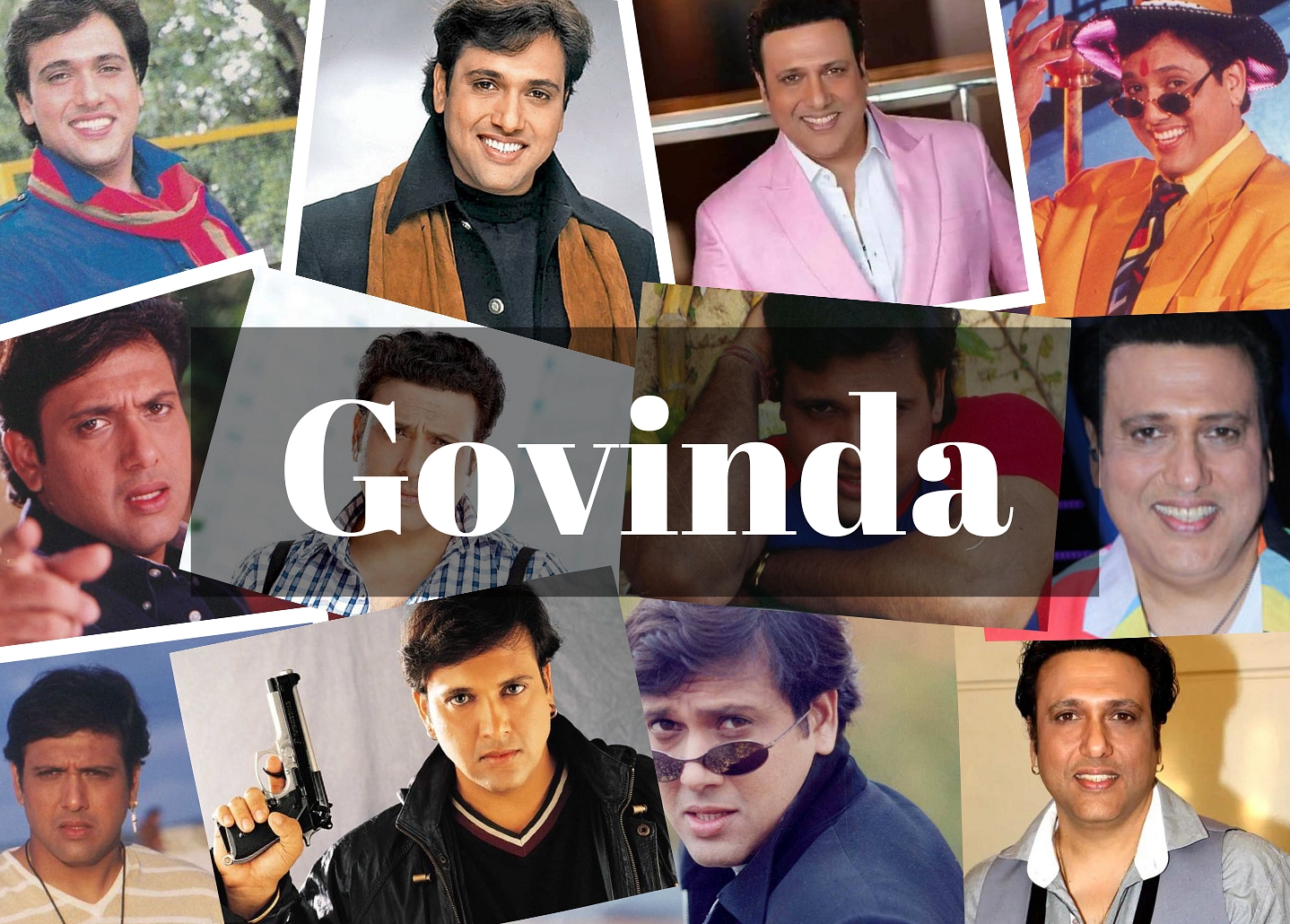 Govinda's Biography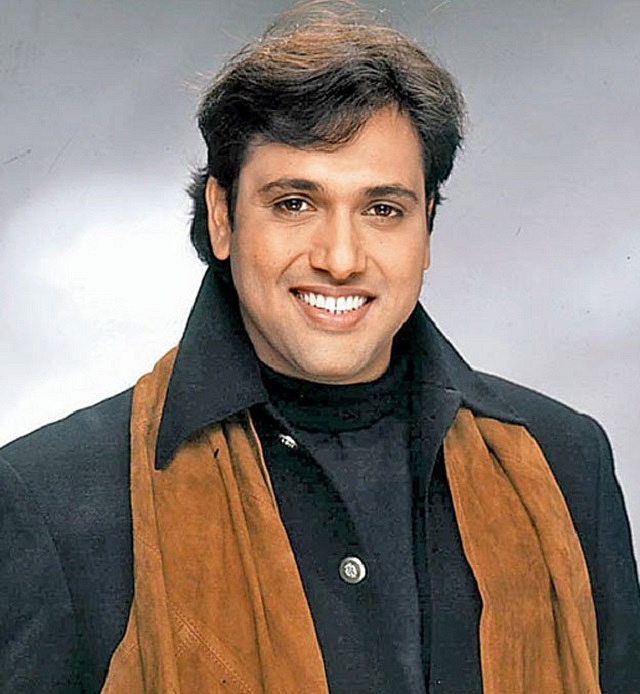 Govind Arun Ahuja, well-known by his stage name Govinda is an actor, comedian, dancer, and former politician best known for his roles in Hindi-language movies. Govinda's Birthday is on the 21st of December. Govinda's Birthplace is Mumbai. Govinda's Birthyear is 1963. Govinda is renowned for his dance prowess and humorous acts. Govinda has won two Filmfare Special Awards, two Filmfare Awards for Best Comedian, and has been nominated for 12 Filmfare Awards. Since his debut in 1986's Ilzaam, he has starred in more than 165 Hindi movies. A BBC News Online poll ranked him as the tenth greatest stage or film star of the last 2,000 years in June 1999. Govinda's Zodiac is Sagittarius.

His earlier box office successes include Ilzaam (1986), Love 86 (1986), Hatya (1988), Jeete Hain Shaan Se (1988), Do Qaidi (1989), and Hum (1989). He began his career as an action and dance star in the 1980s (1991). After playing a cheeky young NCC cadet in the 1992 romance Shola Aur Shabnam, Govinda would later redefine himself as a comic icon in the 1990s. He played six characters in the 2000 movie Hadh Kar Di Aapne: Raju, his mother, father, sister, grandmother, and grandfather.

Govinda served as a member of the Indian Parliament from 2004 until 2009 before joining Zee TV's Dance India Dance Super Moms as a judge in 2015. The show's premiere episode had the highest TRP of any reality show. In the 14th Lok Sabha elections in 2004, he defeated Ram Naik of the Bharatiya Janata Party to become the 7th member of parliament for the Mumbai North constituency of Maharashtra, India. He is currently working as a Judge on the well-known and well-liked Bengali program Zee Bangla Dance 2021, Season 11, which premiered on May 22, 2021.
Talk To Similar Celebrities
Govinda's Childhood and Govinda's Education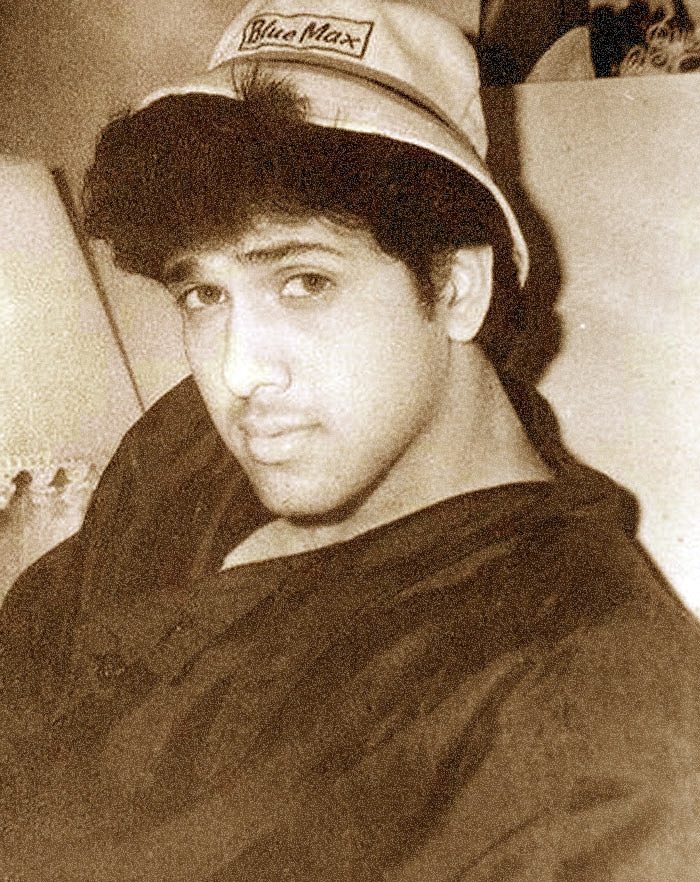 On December 21, 1963, Govinda's Father Aroon (real name Arun Kumar Ahuja), and singer-actress Govinda's Mother Nirmala Devi welcomed Govinda into the world. Govinda's Mother was from Varanasi, Uttar Pradesh. In the late 1930s, Aroon moved to Mumbai from Gujranwala, Punjab, which is today in Punjab, Pakistan, in order to pursue his acting career. His most well-known role was in Mehboob Khan's Aurat (1940). From 1939 to 1954, Aroon worked as an actor in a professional capacity. He appeared as a hero in 30 movies during this time. He made one unsuccessful movie that cost him money.

The family left their mansion on Carter Road in Mumbai and relocated to the northern Mumbai district of Virar, where Govinda was born. Being the youngest of six children, he was given the pet name Chi Chi, which is Punjabi for the little fingers. Kirti Kumar, his brother, is a singer, actor, producer, and director. Writer, music director, and vocalist Kaamini Khanna is Govinda's sister. He was introduced in Tan-Badan by Govinda's uncle Anand Singh, Hrishikesh Mukherjee's assistant. Govinda's father proposed a career in movies after Govinda graduated with a Bachelor of Commerce from Vartak College in Vasai.
Govinda's Affairs and Relationships
Neelam Kothari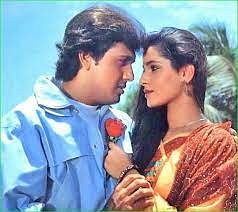 Govinda formerly had a passionate love affair with Neelam Kothari, his co-star in the movie Ilzaam. With this movie, Govinda and Neelam made their Bollywood debut, and they after enjoyed a dazzling career. Govinda fell in love with the actress as soon as he laid eyes on her.

During the 1986 Ilzaam filming, Govinda had his first encounter with Neelam. Soon, admiration for Neelam and Govinda's on-screen chemistry poured in from viewers. Together, the pair collaborated on 14 successful movies. While admirers flocked to this on-screen romance, there were widespread rumors that Govinda and Neelam were head over heels in love.

Since Govinda and Neelam were so much in love, he even decided to call off his engagement to Sunita. Govinda talked about the day he broke up his engagement with Sunita because she had made a remark about Neelam during one of their arguments. Govinda also talked about how he fell in love with Neelam's attractiveness. Sunita Ahuja, his then-girlfriend and now-wife, was repeatedly asked to adopt Neelam's persona by her former boyfriend, which always infuriated Sunita.

Govinda had admitted to betraying Neelam by keeping his marriage to Sunita a secret from her for a whole year: In the interim, my mother wanted me to officially marry Sunita, so we'd conducted one ceremony in the mandir. In any case, we were a married couple. But since I thought it would harm my career, I had kept my marriage to Sunita a secret from the public. Neelam was also unaware of it. After a year, she only learned. Since I didn't want to end our successful screen pair, I probably didn't tell her. And to be really honest, I did use my relationship with Neelam for work purposes to a certain extent. I had sleazy fun with her. I ought to have informed her that I was Married, Govinda Added.

Govinda had said: But there was always such a conflict going on in my thoughts, which is why I did what I did. Any man is inevitably going to become unbalanced after meeting a woman like Neelam. My was completely lost. I was totally baffled. I was very fond of her. I had a crush on her. I want to wed her. But I was unable.
Rani Mukherjee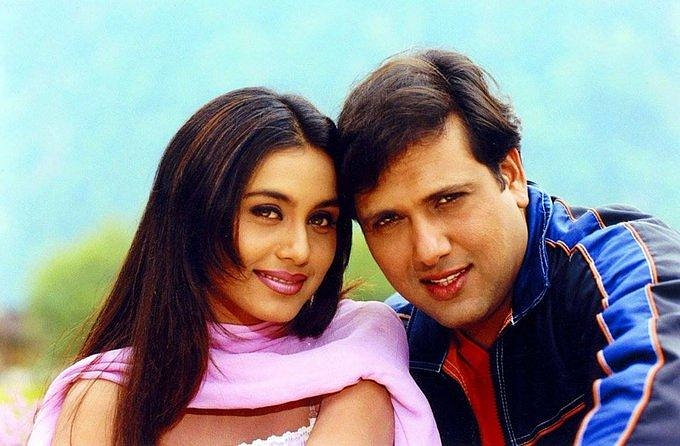 When he first encountered young Rani Mukerji on the sets of their first movie, Hadh Kar Di Aapne, Bollywood superstar Govinda was at the height of his fame and the leading man of the business in the late 1990s. After the success of movies like Kuch Kuch Hota Hai, Hello Brother, and Badal, Rani was very pleased to work with Govinda on her tenth film. The two had formed a strong friendship while filming the movie in foreign countries including Switzerland and the US.

The two had reportedly become pretty close and had begun communicating after the wrap. Soon, rumours that Govinda was having an extramarital affair with Rani were making headlines. But when a renowned journalist supposedly saw Govinda and Rani in a hotel room, things turned into a scandal. Sunita Ahuja, the actor's wife, was heartbroken by the news that made national headlines.

Sunita Ahuja then made the decision to leave Govinda's home and go back to her parent's house. As time went on, the bond between Govinda and Sunita grew stronger than ever. Since that time, the couple has had a lovely marriage and heaped compliments on one another for their unwavering determination and perseverance to keep their union together.
Govinda's Family
Govinda and Sunita's love story began with arguments, just like every great love tale. Govinda's maternal uncle's wife's sister was named Sunita. Additionally, Sunita frequently paid them visits when he was struggling and lived at his uncle's house. However, their dissimilar personalities prevented them from settling down in the same space. Sunita claims that Govinda has a strong emotional side, which greatly aided her in their transformation from rivals to lovers. Sunita's brother was appointed postmaster as the love letters soon began to fly away.

They soon began writing each other love notes. When Sunita's mother discovered their love letter, she spoke with Govinda's mother. Sunita was already a favorite of Chichi's mother, who strongly desired her son to marry her. Govinda trusted their judgment and for a very long time hid his marriage. The union of Govinda and Sunita was organized but also motivated by love. On March 11, 1987, Govinda and Sunita were united in marriage. Govinda was only 24 years old when he married Sunita, who was only 18.

Daughter Tina Ahuja and son Yashvardhan are their two children. In the 2015 film Second Hand Husband, Tina made her Bollywood debut. Actors Vinay Anand, Krishna Abhishek, Aryan, Arjun Singh, Ragini Khanna, Amit Khanna, Aarti Singh, and director Janmendra Kumar Ahuja are among Govinda's six nephews and two nieces who work in the entertainment industry (alias Dumpy). Devendra Sharma, Govinda's brother-in-law, has starred in a number of Hindi movies.
Govinda's Movies and Career
Govinda made his Bollywood debut in the 1986 film Ilzaam, and since then he has acted in over 140 Hindi movies. Govinda was ranked as the tenth best stage or film star of the last millennium by BBC News Online subscribers in June 1999. Over the course of a career spanning almost three decades, he has won numerous honors for his work as an actor in Bollywood films. Let's Revist to the Most Prominent Movies of Govinda.
Govinda's First Movie: Ilzaam (1986)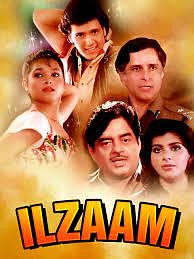 In the 1986 Bollywood drama Ilzaam, which is also known as Accusation, Govinda made his acting debut alongside Neelam, Shatrughan Sinha, Anita Raj, Shashi Kapoor, and Prem Chopra. The film was directed by Shibu Mitra and produced by Pahlaj Nihalani. At the box office, the movie has been deemed a success.

The Story centers around Aarti (Neelam), an affluent woman, who meets orphaned and impoverished Ajay (Govinda), and the two fall in love. Their plans to wed are thwarted when Aarti's father, Dhanraj (Prem Chopra), forbids their union until he becomes affluent. Aarti is distraught when Ajay leaves her life, yet she cannot stop thinking about him. A few months later, she meets a young man who resembles Ajay but says he is Vijay. She learns that he lives with his mother, his sister Laxmi, and an older brother named Inspector Suraj Prasad (Shatrughan Sinha). Suraj Prasad learns that Vijay is a career criminal who sings and dances on the streets to distract bystanders while his comrades plunder individuals inside their homes.
Coolie No. 1 (1995)
David Dhawan directed the 1995 comedy-masala Coolie No. 1, which was written by Rumi Jaffery and Kader Khan. With music by Anand-Milind, the movie features Govinda, Karisma Kapoor, Kader Khan, Shakti Kapoor, Harish Kumar, Sadashiv Amrapurkar, and Mahesh Anand.

One of Kapoor's earliest box office hits, this film earned Govinda the Star Screen Award Special Jury Award for the performance of the decade for his work in it. The film is now regarded as a cult favorite and a classic in the annals of Hindi cinema. The movie is a remake of the Tamil movie Chinna Mapillai from 1993. Dhawan and his son Varun Dhawan and Sara Ali Khan remade the same-named movie in 2020.
Hadh Kar Di Aapne (2000)
Manoj Agrawal's Hadh Kar Di Aapne is a 2000 Hindi comedy movie from India. Rani Mukerji and Govinda are the two main actors. To help his friend Sanjay establish that his wife is having an extramarital affair so that he can divorce her, Sanjay hires Raj, also known as Raju, a detective. Ritu Shivpuri plays Sanjay's wife Anjali, who also believes her husband is cheating. She asks her friend Anjali to look for evidence of an illicit connection in order to speed up the divorce process. The pair have been apart for a while; each party is aware that the other's partner has moved to Europe with their boyfriend or girlfriend.

Detective Raju meets the other Anjali in Europe and the two fall in love. However, they subsequently argue since Raj believes Anjali is already married to his friend Sanjay, despite Anjali's efforts to convince him otherwise. Later, Sanjay and Anjali meet paths, learn from each other's errors, and begin to consider Raj and Anjali. In contrast, Raj and Anjali, who had just returned from a tour of Europe, made the decision to go their separate ways because they still believed they were married. Unlike Anjali, who went back to her home, Raj went back to his. Anjali's parents, Mr. and Mrs. Khanna, made the decision to marry off their daughter. As a caterer and tent decorator, Prakash Chaudhary and Bhaidas Bhai arrived. They find out that Anjali is engaged to Raj but plans to wed someone else. They, therefore, called Raj and requested that he visit Anjali's home. Anjali and Raj finally got married at the wedding location after a number of amusing turns.
Bhagam Bhaag (2006)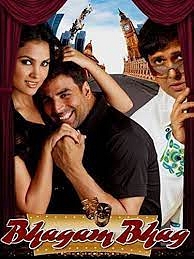 Late in 2006, Govinda made a comeback in the movies with the Priyadarshan-directed comedy Bhagam Bhag, in which he costarred alongside Akshay Kumar and Lara Dutta. The movie marked Govinda and Akshay Kumar's debut collaboration.

Bhagam Bhaag is a 2006 Indian comedy-thriller film directed by Priyadarshan in the Hindi language. Along with Lara Dutta, Rajpal Yadav, Jackie Shroff, Arbaaz Khan, Shakti Kapoor, Manoj Joshi, Razak Khan, Sharat Saxena, and Asrani, Akshay Kumar, Govinda, and Paresh Rawal play the key roles in the movie. The movie had its theatrical debut on December 22, 2006, right before Christmas. This film is a remake of Mannar Mathai Speaking, a 1995 Malayalam film. It was a commercial hit when it first came out.
Partner (2007)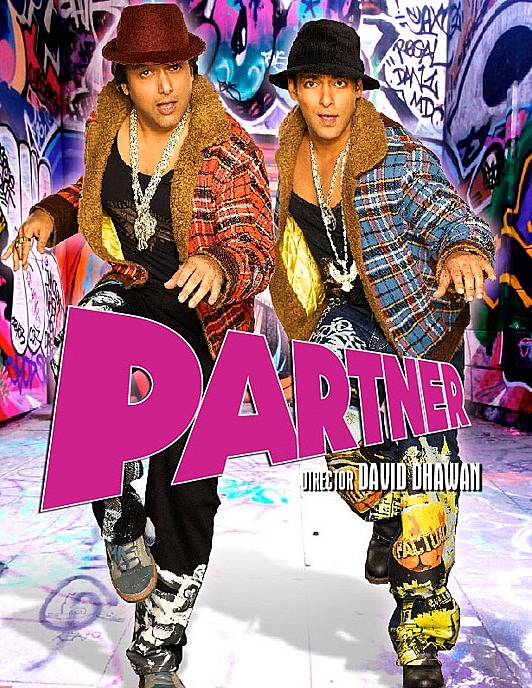 Partner, is a comedy starring Salman Khan, Katrina Kaif, and Lara Dutta and directed by David Dhawan. The movie made $300,000,000 in India during its first week of release, which at the time was the second-highest domestic opening-week gross for an Indian movie. The IIFA Award for Best Comedian and the Zee Cine Award for Best Actor in a Supporting Role - Male were among the accolades Govinda received for his performance in Partner.

The plot centers around Prem Kulkarni, portrayed by Salman Khan, offering suggestions and ideas to his client, Bhaskar Divakar Chaudhary, played by Govinda, in an effort to win over his attractive boss, Priya Jaisingh, played by Katrina Kaif. The concept was inspired by the 2005 American film Hitch. Dhawan has stated interest in making a sequel to the movie, but as of 2022, no script had been finalized and news outlets have reported that the movie has been completely shelved. During this process, Prem ends up falling in love with a widowed mother, Naina Sahani, who is played by Lara Dutta. Dhawan has expressed interest in creating a sequel to the movie.
Kil Dil (2014)
Govinda co-starred with Ali Zafar, Ranveer Singh, and Parineeti Chopra in the Yash Raj Films film Kill Dil, which was directed by Shaad Ali. The last time Govinda played a villain was in Shikari in 2000. He appeared on the movie posters holding a gun. Release day for the trailer was September 18, 2014. Amitabh Bachchan was impressed by the trailer. Kill Dil was released on November 14, 2014, and while it was not a commercial success, reviewers complimented Govinda's performance.

Kill Dil is a 2014 Hindi-language romantic action comedy film that was produced by Aditya Chopra and directed by Shaad Ali under the Yash Raj Films label. In addition to Govinda as the villain, the movie's leading actors include Ranveer Singh, Ali Zafar, and Parineeti Chopra. The movie premiered on November 13, 2014. The film got mixed reviews, with some praising the music, humor, and Govinda's performance and others criticizing the directing and writing.
Aa Gaya Hero (2017)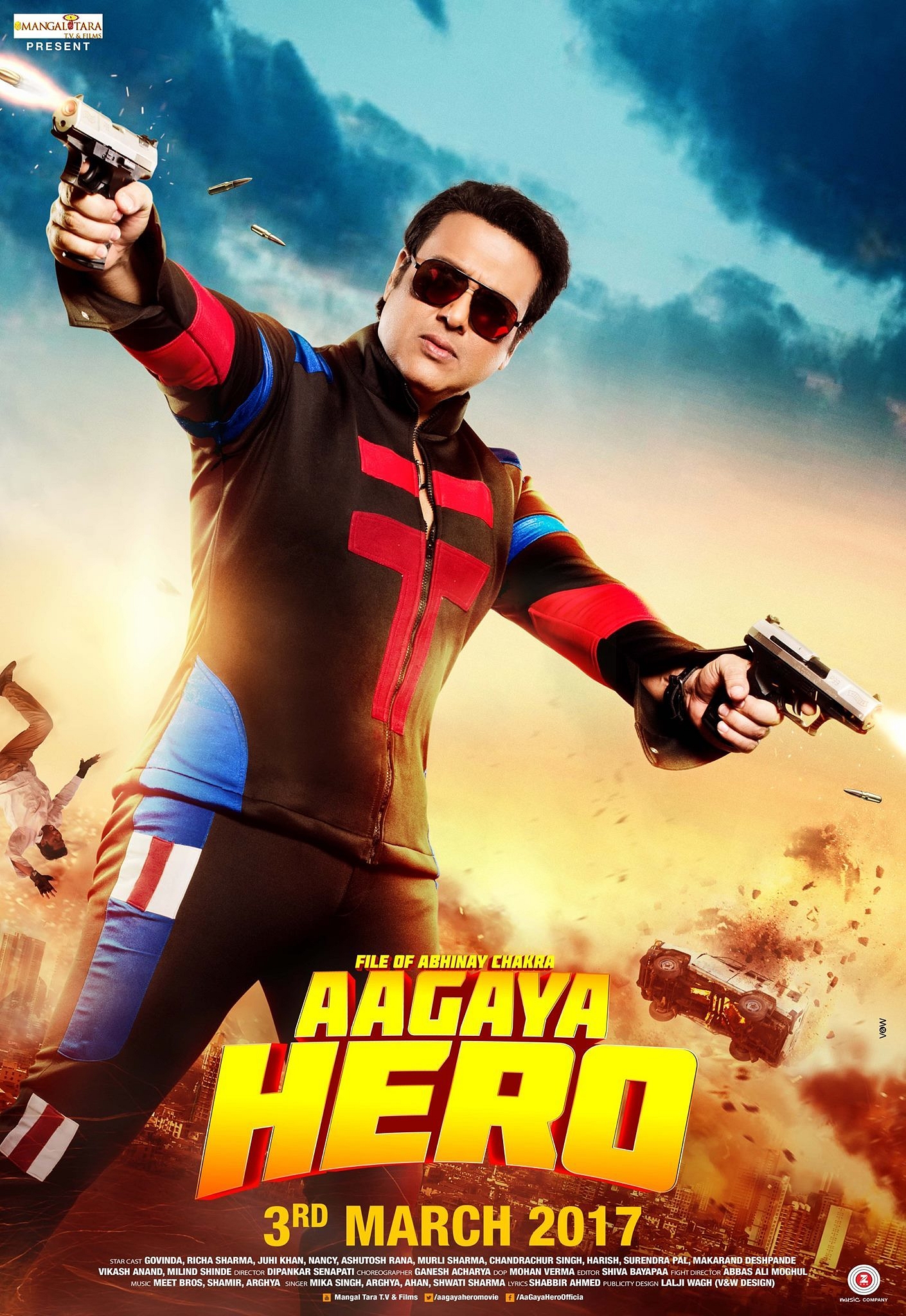 Govinda appeared as a police officer in his own Deepankar Senapati-directed film Aa Gaya Hero from 2017. Richa Sharma, a former Miss World, Ashutosh Rana, Murali Sharma, Makarand Deshpande, and Harish Kumar also appear in the movie. Following Hatya and Ssukh, Aa Gaya Hero is Govinda's third home production. It was released on March 17, 2017. The movie did poorly at the box office.

ACP Ravindra Varma (Govinda), a courageous and dedicated policeman, has been requested to apprehend a feared terrorist (Milind Shinde). Ravindra Varma learns that Surendra Pal and Makrand Deshpande, two ministers, collaborate closely with the aforementioned terrorist when he is trying to apprehend him. In addition to them, the two corrupt ministers' right hands are made up of two brothers named Murali Sharma and Ashutosh Rana. The rest of the movie revolves around whether the heroic ACP Ravindra Varma succeeds in bringing the criminals to justice or fails.
Govinda's Career Timeline
Govinda's Controversies
Slap Controversy
Santosh Rai, a struggling actor, was slapped by Govinda in January 2008 while they were filming Money Hai Toh Honey Hai at Mumbai's Filmistan Studio. Rai filed a complaint against Govinda in the Borivali Magistrate Court on February 5, 2009, accusing him of criminal activity and assault. The court dismissed Rai's complaint in 2013. In 2014, Rai appealed the decision to the Supreme Court, claiming that he had moved to Mumbai to pursue his dream of becoming an actor and felt extremely embarrassed when Govinda smacked him.

Rai said that he had fought the lawsuit for six years and spent between 500,000 and 600,000 on legal bills. He was more eager to pursue the actor in court because the actor did not offer an apology. The Supreme Court ordered Govinda to apologize to Rai for slapping him and resolve the situation outside of court within two weeks in December 2015. The actor stated that he respects the court ruling and will make a decision after receiving a written copy.
Dispute With Krushna Abhishek
Kashmera Shah's tweet served as the catalyst for the argument between Krushna and Govinda. Govinda had earlier declined to participate in a show that Krushna was doing. But after Krushna convinced him, the actor agreed. In the meantime, Kashmera, the comedian's wife, tweeted that some people dance for money. The two families' conflict began when Govinda's wife Sunita believed Kashmira's tweet was intended for their family. Sunita and Kashmera made numerous accusations against one another. Krushna made a moving remembrance of his maternal uncle in a podcast hosted by Maniesh Paul. Media consistently twists my remarks, claims Krushna. I think a lot of the problems in his life are due to me. But I continue to mourn him dearly.

On Maniesh Paul's show, Krushna openly shared his emotions and stated that he wanted to strengthen his bond with Govinda. However, it appeared that Krushna's apologies to Govinda were all polite talk. In response to Krushna's assertion, Govinda said, If so, Krushna allowed this affection manifest off-camera as well. It is also obvious that you are a boy with a wonderful upbringing. But you must be aware of this. Writers are making use of you. You must be aware of how much use you should tolerate. Now the issue between the two of them has been resolved.
Govinda's Net Worth
Govinda has an $18 million net worth (Rs. 133 Crore). Few national performers enjoy the same level of popularity as Govinda. The megastar of Hindi film, Govind Ahuja, enjoys his fame by giving his audience what they want to watch. Actor-producer Govinda works in the Bollywood film industry. Govinda makes more than one crore per month. He earned between 10 and 12 crores annually.

According to estimates, Govinda has a total net worth of 18 million dollars, or roughly 133 billion rupees in Indian currency (i.e. approx. One Hundred and Thirty-Three Crores INR). His primary sources of income are movies and brand endorsements. Govinda runs into performers whose names don't come up in debates. In particular, he makes an effort to spend time with his kid and be a part of his childhood. Govinda is the most well-known actor outside of India, thus with the success of his films, his net worth might rise by 40% over the next three years. Mr. Govinda has received numerous film-Fare awards for best actor for his roles in his films.

Govinda resides in an opulent mansion in Mumbai. Govinda also owns two more homes in Mumbai, a bungalow in Ruia Park, Juhu, and another one at Madh Island, both of which are reported to be worth 16 crore Indian rupees. He also has several real estate holdings across the nation. Govinda is the owner of several high-end vehicles, including the Mitsubishi Lancer, Ford Endeavor, Maruti Zen. etc. Govinda costs between 5 and 6 crores for each film, plus a cut of the take. He demands 2 crore rupees to endorse a product.

The amount of money a celebrity makes depends greatly on their fan base. One of the most well-liked actors in both India and other countries is Govinda. In addition to acting, Govinda also works as a producer for movies, a stage performer, and a reality TV show host. He has also made investments in several real estate ventures. We can therefore be certain that Govinda Sir's net worth will continue to increase over time.
Govinda's Awards and Achievements
1997-Won Filmfare Award-Special Award-Saajan Chale Sasural
1998-Won Zee Cine Awards-Best Actor in a Comic Role-Dulhe Raja
1999-Won Zee Cine Awards-Best Actor in a Comic Role-Bade Miyan Chote Miyan
2000-Won Zee Cine Awards-Best Actor in a Comic Role-Haseena Maan Jaayegi
2000-Won Filmfare Award-Best Comedian-Haseena Maan Jaayegi
2002-Won IIFA Awards-Best Comedian-Jodi No.1
2007- Won Star Gold Awards-Excellent Comic Actor Award-Partner
2008-Won IIFA Awards-Best Comedian-Partner
2008-Won Zee Cine Awards-Best Actor in a Supporting Role (Male)-Partner
2015- Won Stardust Awards Best Supporting Actor-Happy Ending & Kill Dil
2018- Won Hiru Golden Film Awards-Contribution to Asian Cinema
2020-Won Filmfare Award-Special Award for Excellence in Indian Cinema Award
Govinda's Interesting Facts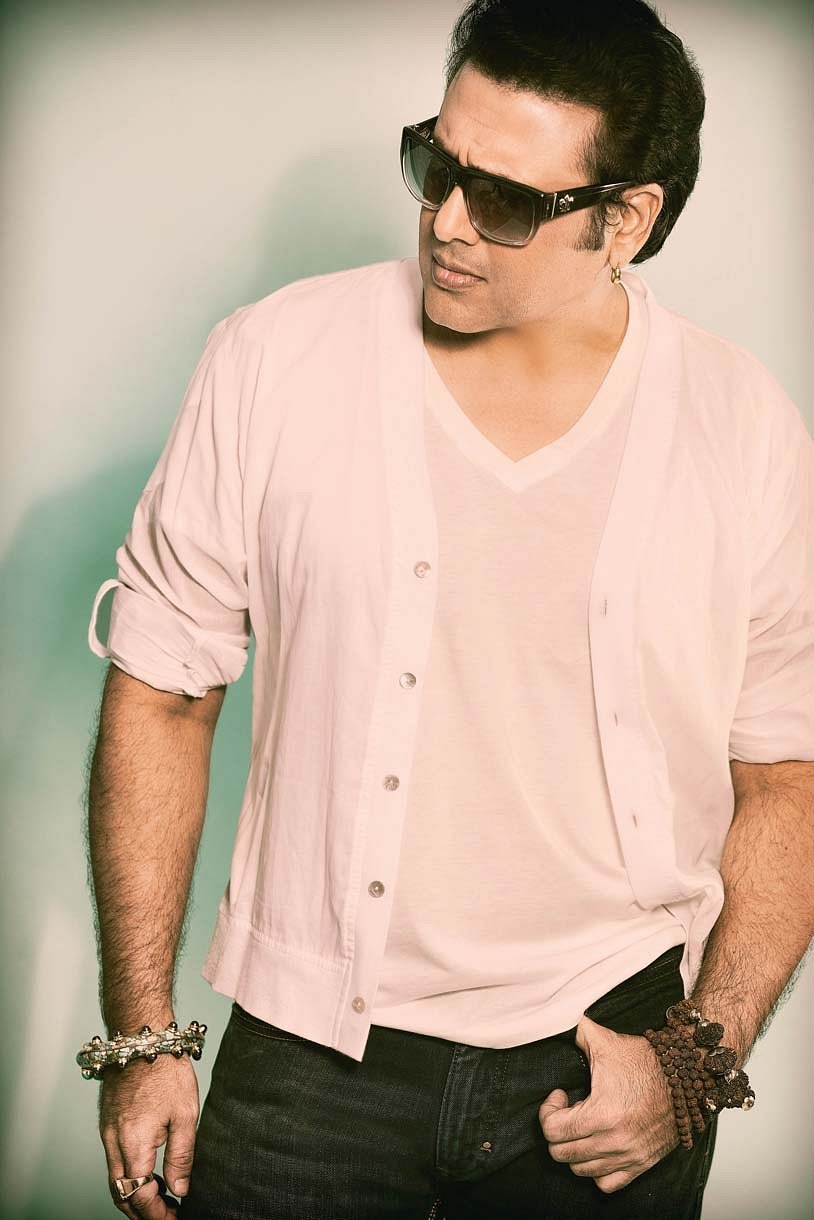 At the age of 15, the actor was rejected by Rajshri Studios despite undergoing multiple trials. They believed he was too young.
Few know that Govinda, who is frequently praised for his filthy pelvic moves, is actually a trained Indian classical dancer.
In 1999, a BBC online survey ranked him as the eighth greatest stage or movie star in the world.
The India Leadership Conclave honored Govinda in 2016 as the Actor of the Decade.
He is not only a talented actor but a fantastic vocalist as well. In movies like Aankhen, Haseena Maan Jayegi, and Shola Aur Shabnam, he is well known for lending his voice.
Nearly every superstar of his day, including Amitabh Bachchan, Rajesh Khanna, Dilip Kumar, and even Rajinikanth, have collaborated with Govinda!
Although the actor and his wife Sunita were married in 1987, they kept their marriage a secret for almost four years.
As unbelievable as it may sound, the Hero No. 1 star once turned down a number of movies that later went on to become box office successes. Ek Prem Katha, Taal, and Devdas were a few of these that were Gadar.
When he was traveling to the set of his 1994 film Khuddar, in which Karisma Kapoor also starred, the well-known 90s actor had a narrow escape with death. He suffered head wounds as a result of his car being in an accident.
Govinda's Nickname is Chi Chi.
Social Media
Frequently Asked Questions