Virat Kohli Wife, Biography, Age, Birthday, Matches, Family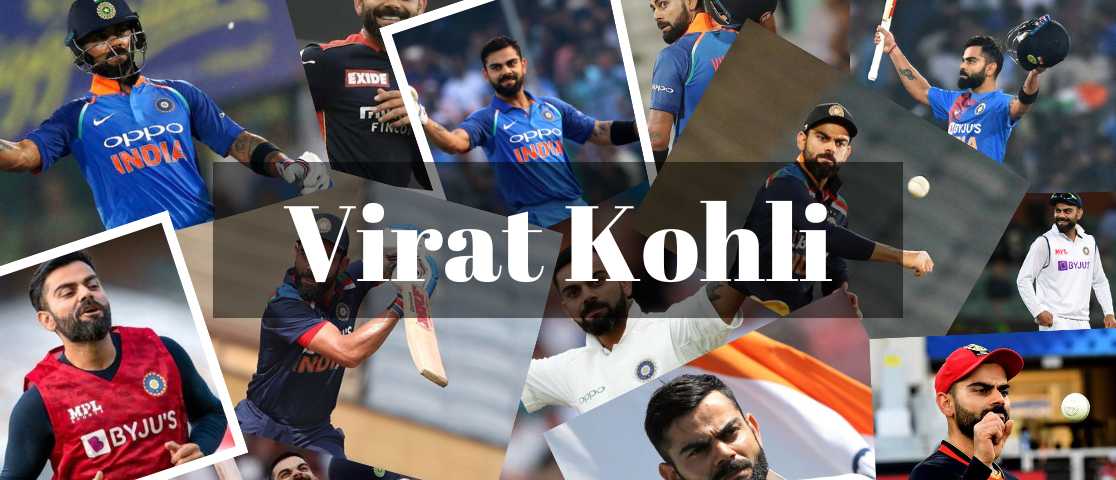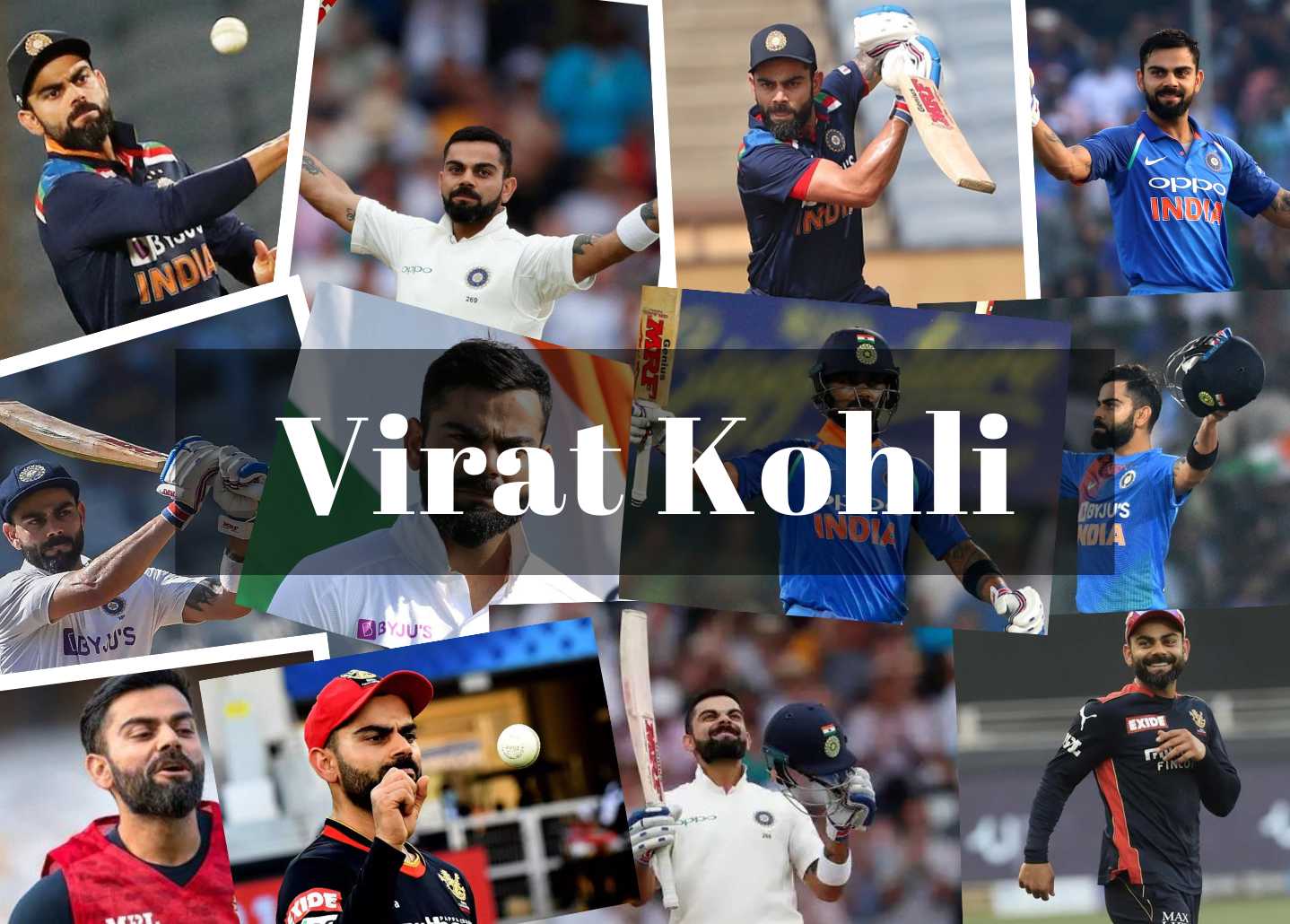 Biography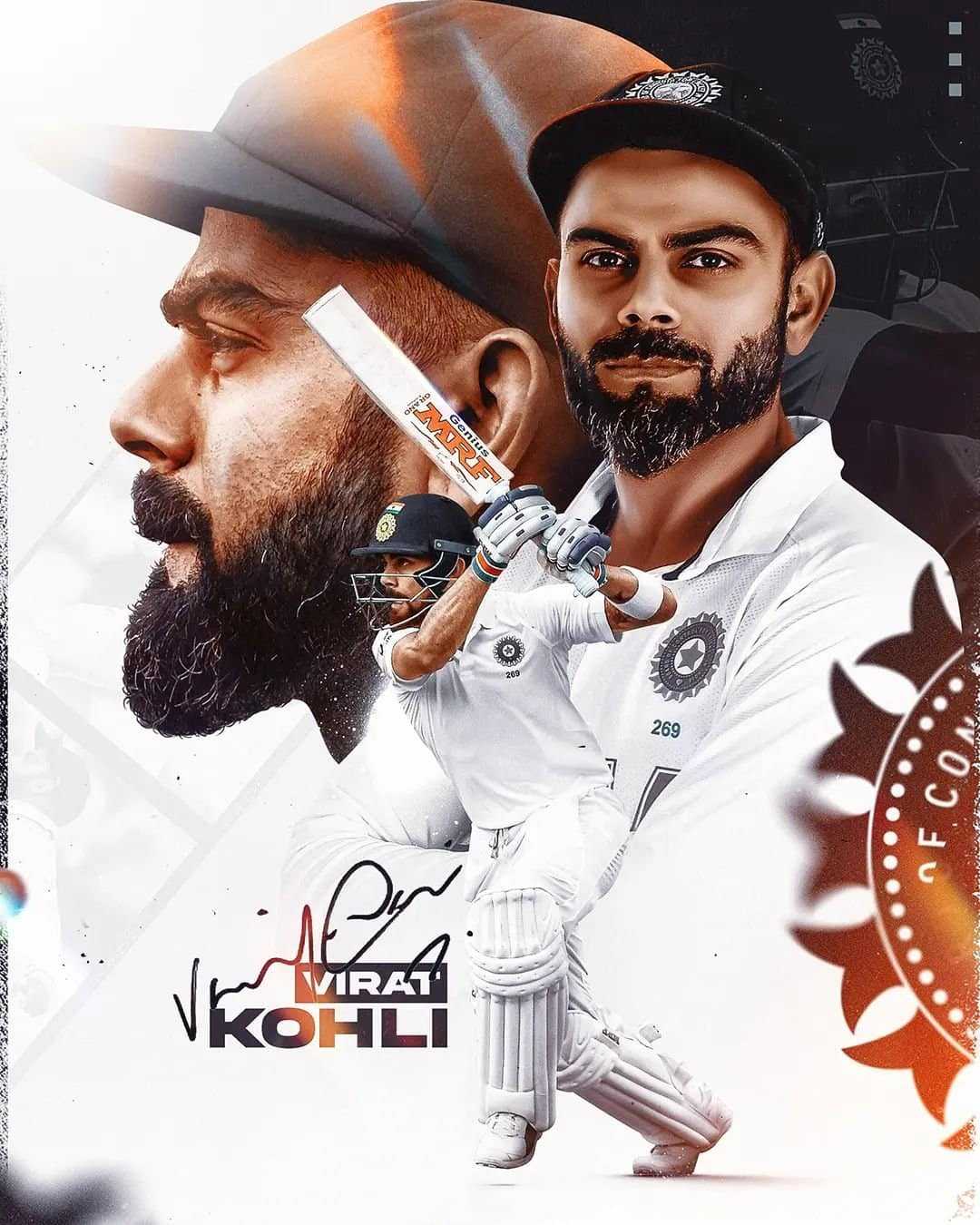 Virat Kohli is the most famous cricketer in India. Virat Kohli is known for his amazing skills and runs. Virat Kohli is also the most followed celebrity cricketer in India with 100+ million followers on Instagram. Virat Kohli's birth date is 5th of November. Virat Kohli was born in the year 1988. Virat Kohli's place of birth is New Delhi. Virat Kohli's age as of 2022 is 33 years. Virat Kohli's zodiac sign is Scorpio.

Virat Kohli got married to Anushka Sharma who is the popular actress in bollywood in the year 2017. Former captain of the Indian cricket team and international cricketer Virat Kohli hail from India. Virat Kohli is a right-handed batsman who competes for Delhi in domestic cricket and Royal Challengers Bangalore in the Indian Premier League. Virat Kohli is frequently considered as one of the best batters of his time, and some experts rank him among the top limited-overs players ever.

Virat Kohli led the Indian cricket team in 213 games across all three forms between 2013 and 2022. Virat Kohli is one of the most successful Test captains in Indian history with 40 victories from 68 games. In 2011, Virat Kohli played his first Test. In 2013, Virat Kohli became the first batsman to hold the top spot in the ICC rankings for ODI players. At the ICC World Twenty20, Virat Kohli has twice been named Man of the Tournament (in 2014 and 2016). Virat Kohli is also the fastest person to complete 23,000 international runs, according to the world record.

Education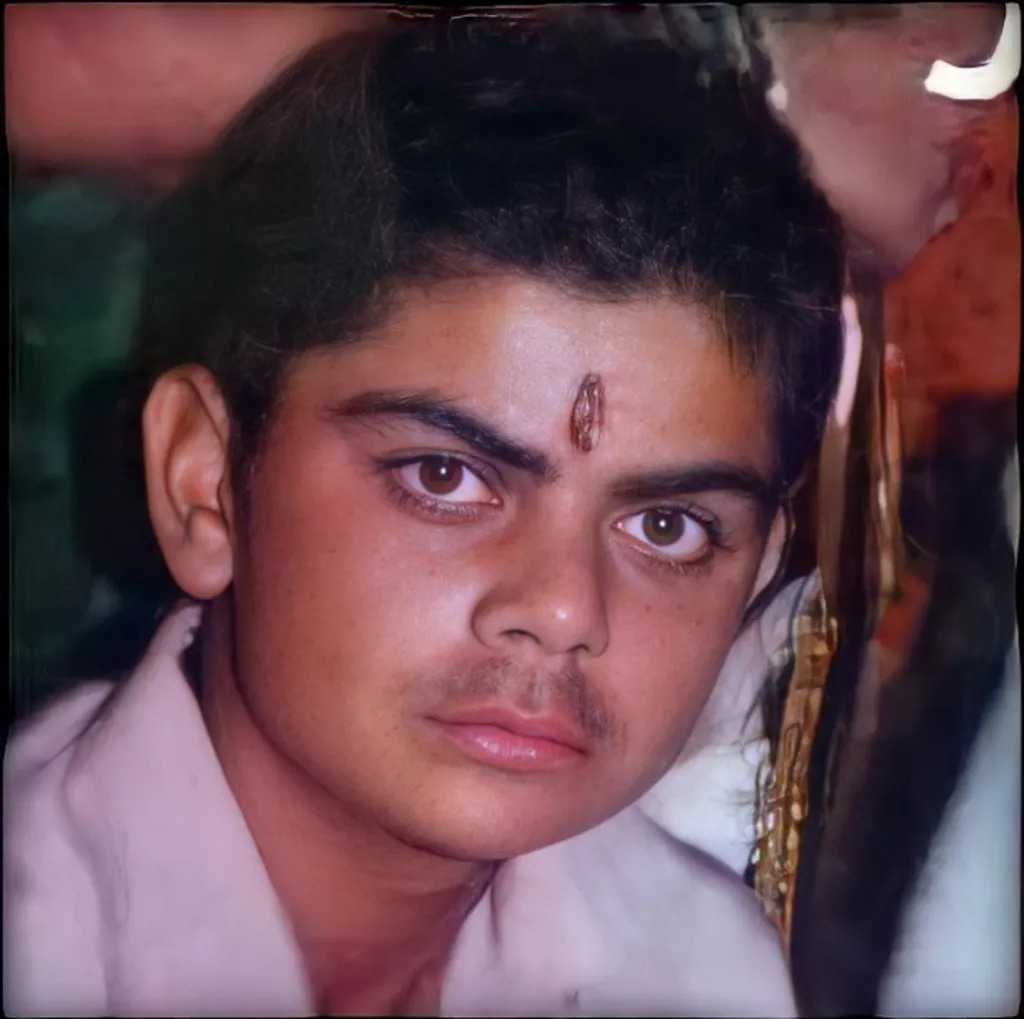 Virat Kohli was raised in Uttam Nagar and attended Vishal Bharti Public School. The West Delhi Cricket Academy was founded in 1998, and Kohli, then nine years old, was among its first students. After their neighbours suggested that "Virat shouldn't waste his time in gully cricket and instead join a professional club," Kohli's father took him to the academy. Kohli trained at the academy under Rajkumar Sharma while also competing at the Sumeet Dogra Academy in Vasundhara Enclave. "He oozed talent; it was so difficult to keep him quiet," Sharma says of Kohli's early days at his academy.

He was a natural at whatever he did, and his demeanor impressed me. He was ready to bat anywhere, and I literally had to push him home after the practice sessions. He simply refused to leave." He moved to Saviour Convent in Paschim Vihar in ninth grade to help with his cricket practice. Kohli excelled in academics as well as sports, and his teachers remember him as "a bright and alert child." Kohli and his family resided in Meera Bagh until 2015 when they relocated to Gurgaon.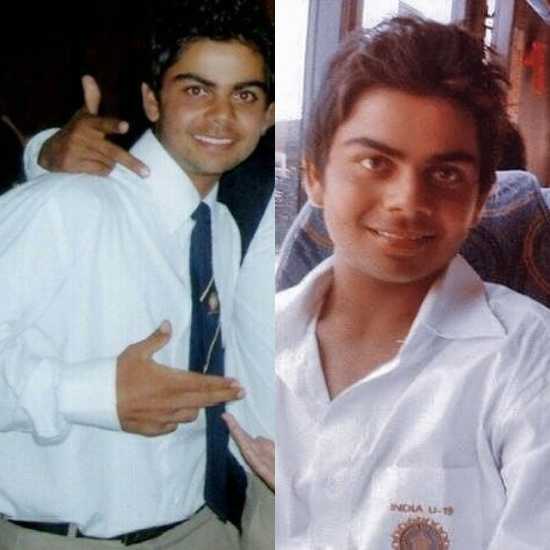 In India, there is no shortage of cricket fans. Whether it's a street cricket match, a national level cricket match, or an international level cricket match, Indian cricket fans are always upbeat. They are eager to learn everything they can about their favourite cricketer. Virat Kohli, the captain of the Indian cricket team, is known for his aggressive style of play. Virat Kohli has millions of followers on social media. People want to know everything there is to know about him. Discover how well-educated your favourite player, Virat Kohli, is today.

Famous cricketer Virat Kohli continues to hit fours and sixes on the field, but he was falling behind in school. Virat Kohli has a Class 12 diploma. He attended Vishal Bharti Public School until the ninth grade. After that, he attended Savior Convent School in Paschim Vihar until the 12th grade. His desire to play cricket for his country diverted him from his studies. In numerous interviews, Virat Kohli has stated that history is his favourite subject. He was eager to learn about the past and from it. At the same time, Virat, like many other students, struggled with mathematics and found it difficult to achieve good grades in the subject.

Family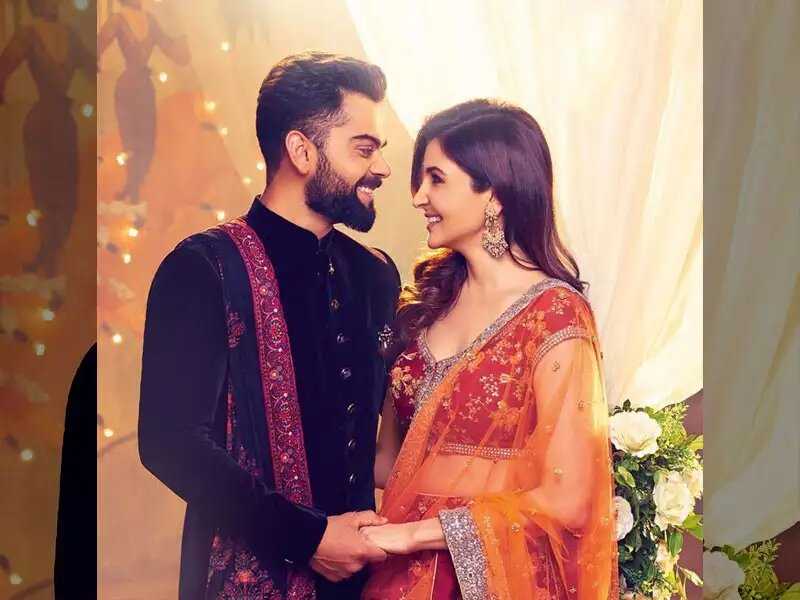 In a Punjabi Hindu household, Virat Kohli was born on November 5th, 1988 in New Delhi. Virat Kohli's mother, Saroj Kohli, is a stay-at-home mom, while Virat Kohli's father, Prem Kohli, worked as a criminal defense attorney. Vikash, an older brother, and Bhavna, an older sister, are his siblings. After beginning Virat Kohli's education at Vishal Bharti Public School, Virat Kohli was reared in Uttam Nagar.

A nine-year-old Virat Kohli was a member of the West Delhi Cricket Academy's inaugural class when it was founded in 1998. At the same time that Virat Kohli was playing games at the Sumeet Dogra Academy in Vasundhara Enclave, Virat Kohli was receiving instruction from Rajkumar Sharma at the academy. Virat Kohli moved to Saviour Convent in Paschim Vihar in the ninth grade to help with his cricket practise. Up until 2015, when they relocated to Gurgaon, Virat Kohli's family lived in Meera Bagh.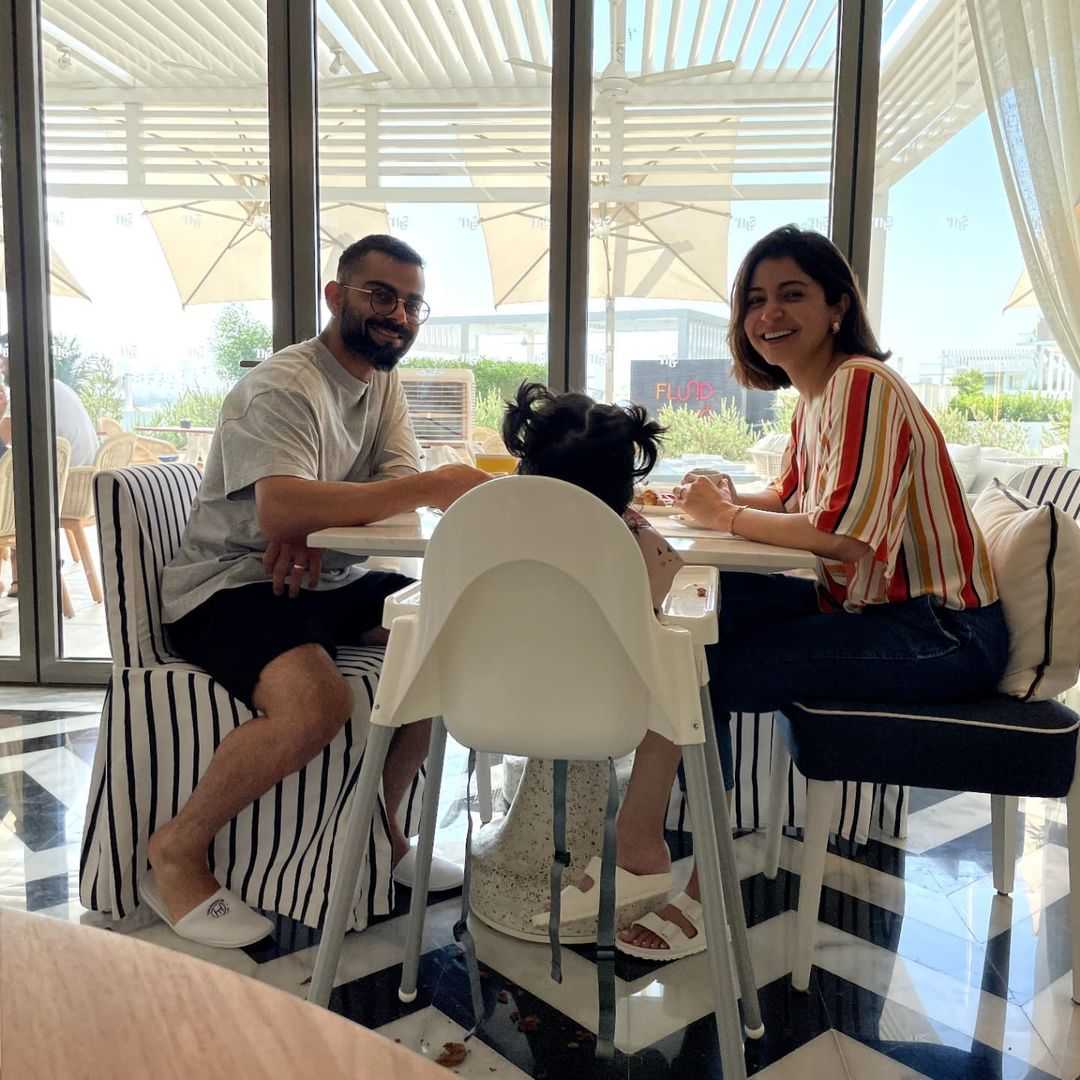 Virat Kohli's father is Prem Kohli. On December 18, 2006, Virat Kohli's father passed away from a stroke after spending a month in bed. In 2013, Virat Kohli and Bollywood actress Anushka Sharma began dating, and the two quickly acquired the nickname 'Virushka' among celebrities. Since neither of them openly discussed their connection, it drew a lot of media attention and was the subject of repeated rumors and conjecture. In Florence, Italy, on December 11, 2017, Virat Kohli and Anushka Sharma exchanged vows in a private ceremony. Vamika, a baby girl, was born to Virat Kohli and Anushka Sharma on January 11, 2021.

Girlfriends
Sakshi Agarwal
According to reports, Virat Kohli's first girlfriend was an Indian actress who primarily works in the Tamil film industry. Sakshi has also contributed to Kannada films. They did not, however, continue to click as a couple. In Virat Kohli's early years of playing cricket, the romance first surfaced and then fizzled out.

Sarah Jane Dias
According to rumors, Virat Kohli had a second girlfriend, Sarah Jane Dias. She won the Femina Miss India 2007 competition. She is an actor and model from the B-town in India. They both attracted each other's attention at the same gathering, which is how their romance began. Sarah Jane Dias was even invited by Virat Kohli to support him in the World Cup 2011 final at the Wankhede Stadium (April 1), but she was unable to do so due to prior obligations in her professional life. She made it a point to see the cricketer later because she was too busy promoting her movie at the time. When Virat Kohli traveled to the West Indies with the team in July 2011, the relationship between the two came to an end.
Sanjana Galrani
Sanjjanaa Galrani, another well-known South Indian actress, probably had a brief relationship with Virat Kohli. Tennis matches and long road trips with Kannada actresses were two of Kohli's favorite pastimes. The two were frequently spotted together, which prompted rumors of a connection. Sanjana Galrani, on the other hand, made a clear declaration that they were simply friends and nothing more.
Tamannaah Bhatia
Tamannaah Bhatia, who made her Bollywood debut at the tender age of 15, is one of the multifaceted actresses in Indian cinema. After Kohli and Tamannaah collaborated on a commercial (Celkon Advertisements), the romance angle is said to have developed. In 2012, the couple dated for a whole year without ever making their relationship public. It was short-lived, though, as Virat Kohli later met Izabelle Leite, who served as the catalyst for their split.

Izabelle Leite
The Brazilian model-actor traveled to India because she loved Bollywood. She did appear in a couple of Hindi and Telugu films, and she started dating Virat Kohli around the same time. Both clicked with each other immediately after meeting at a party. According to previous rumours, the couple was also spotted courting in Singapore, which undoubtedly spiced up their relationship. Prior to 2013, the two had been the subject of suspicion for almost two years. But very quickly, both parties broke off their connection.

Virat Kolhi's Marriage With Anushka Sharma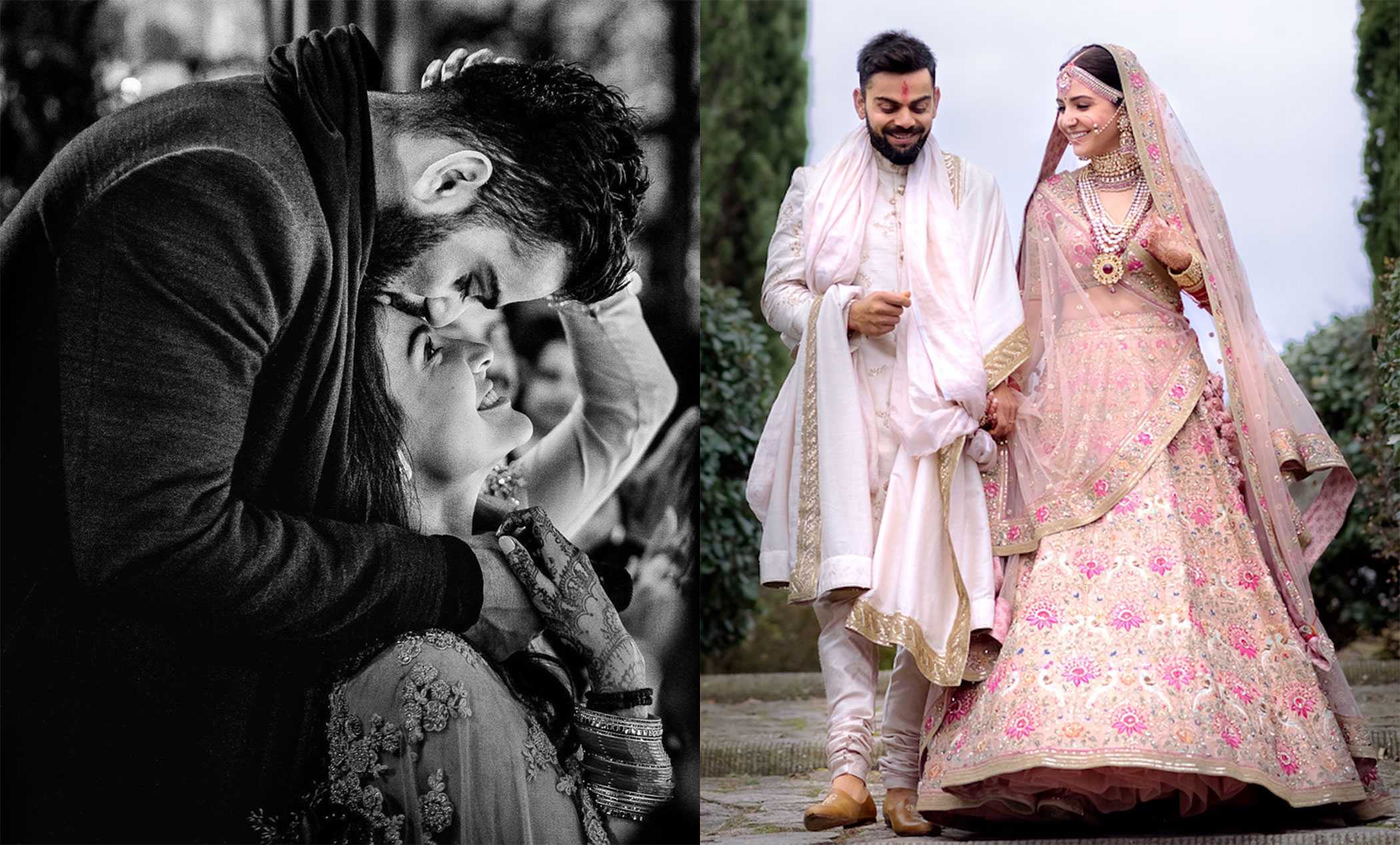 Virat Kohli and Anushka Sharma have come a long way from the first meeting in a Head & Shoulders commercial in 2013 to exchanging vows in 2017 at the poshest heritage house in Tuscany (Italy). With the well-known Bollywood actress, Virat Kohli's romantic relationship grew, and he subsequently married her and made her his life companion.

Anushka, her girlfriend turned wife, was frequently spotted at stadiums, posting their love-tagged images and sharing memories of their international travels during their four-year relationship. The couple was quite open about their romance.

In December 2017, Sharma and Kohli wed in Lake Como, Italy. Their covert wedding established a standard for subsequent celebrity weddings. The couple welcomed their daughter Vamika into the world in January of this year.

Career
Domestic Career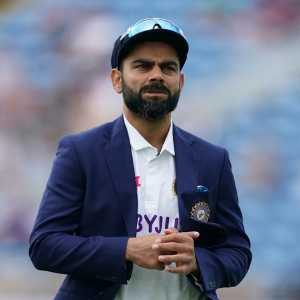 In the Polly Umrigar Trophy for the 2002–03 season in October 2002, Virat Kohli made his debut for the Delhi Under-15 team. Virat Kohli was named team captain for the Polly Umrigar Trophy season of 2003–04. Virat Kohli was chosen for the Delhi Under-17 team to compete in the 2003–2004 Vijay Merchant Trophy in late 2004. The Delhi Under-17s won the 2004–2005 Vijay Merchant Trophy, and Virat Kohli finished with 757 runs from 7 matches and two hundreds as the tournament's leading run-scorer. Virat Kohli made his List A debut for Delhi against Services in February 2006, although Virat Kohli was not given the opportunity to bat. Against Tamil Nadu, Virat Kohli made his first-class debut for Delhi. At the age of 18, he scored 10 runs in his first innings in November 2006. Virat Kohli gained notoriety in December when, the day after his father passed away, Virat Kohli chose to play for his side against Karnataka and finished with 90 points. When Virat Kohli won the match, he immediately went to the burial. In that season, Virat Kohli scored 257 runs overall from 6 games, averaging 36.71 runs per game.
India Under-19 Career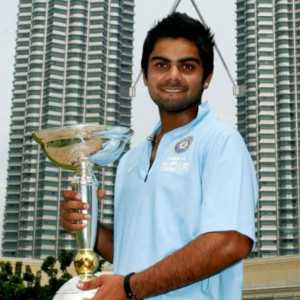 Virat Kohli was chosen for the India Under-19 team's trip to England in July 2006. In the three-match ODI series against the England Under-19s and the three-match Test series, Virat Kohli's averaged 105 and 49, respectively. Both series were ultimately won by India Under-19. The India Under-19 team visited Pakistan in September. Against Pakistan Under-19s, Virat Kohli's averaged 58 in the Test series and 41.66 in the ODI series.

Virat Kohli played his first Twenty20 match in April 2007, scoring 179 runs at an average of 35.80 for his team to win the Inter-State T20 Championship. Sri Lanka was visited by the Indian Under-19 team in July and August 2007. With 146 runs at an average of 29 from 5 matches in the triangular series against Sri Lanka Under-19s and Bangladesh Under-19s, Virat Kohli was the second-highest run-scorer. Virat Kohli scored 244 runs at an average of 122 in the two-match Test series that came after, including a century and a fifty.

In Malaysia during the months of February and March 2008, Virat Kohli served as captain of the Indian side that won the 2008 Under-19 Cricket World Cup. Virat Kohli finished the tournament as the third-highest run-scorer and one of the three batsmen to score a hundred runs while batting at position three. Virat Kohli scored 235 runs in six matches while doing so, averaging 47 runs per game. Virat Kohli was named the player of the match after assisting India in a three-wicket semi-final victory over New Zealand Under-19s by taking 2 wickets and scoring 43 runs during the run-chase.

The Border-Gavaskar scholarship was given to Virat Kohli, Tanmay Srivastava, and their other Under-19 teammates in June 2008. The three athletes were able to practice at Cricket Australia's Center of Excellence in Brisbane for six weeks thanks to the scholarship. In the four-team Emerging Players Tournament, Virat Kohli was also selected for the India Emerging Players squad, where Virat Kohli scored 206 runs at an average of 41.20 in six matches.

International Career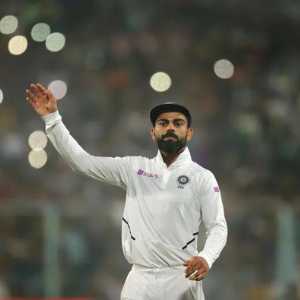 For Virat Kohli, 2008 was a transformative year. Virat Kohli first led the side that won the Under-19 Cricket World Cup. Second, RCB paid $30,000 to acquire Virat Kohli on a youth contract for the IPL. Third, Virat Kohli made his international debut.

Yuvraj Singh was recovering from an injury when Yuvraj Singh replaced Gambhir for the tri-series in Sri Lanka and batted at No. 4 in the 2009 ICC Champions Trophy.
Sachin Tendulkar took a break during the 2010 tri-nation ODI competition in Bangladesh, allowing Virat Kohli to participate in every game. Virat Kohli's outstanding performance in Bangladesh earned him acclaim from the team's then-captain, MS Dhoni. As a member of the 2011 World Cup-winning squad, Virat Kohli made history by being the first Indian batsman to record a century on his World Cup debut.
At Kingston, Virat Kohli played his first Test match against the West Indies. Virat Kohli struggled throughout the series, scoring just 76 runs in five innings. Virat Kohli made history in 2015 when he became the first Indian batsman to make a century in a World Cup match against Pakistan.

Virat Kohli set a record for the quickest batsman to 1,000 runs in T20I cricket during South Africa's tour of India, accomplishing the achievement in just his 27th innings. Virat Kohli became the world's fastest batsman to reach 7000 runs in ODIs and to hit 25 centuries during the ODI tour of Australia.

Virat Kohli became the first batter to record six double hundreds while serving as skipper during the three-match Test series at home against Sri Lanka in 2017. Virat Kohli amassed 2818 international runs in total that year, the third most for an Indian in a calendar year and the most for an Indian player ever.

Virat Kohli was ranked first in the ICC Test rankings in August 2018. Virat Kohli was the seventh Indian batsman to accomplish this feat as a result. In October 2018, Virat Kohli became the tenth player overall, the first Indian captain, and the first to smash three straight ODI hundreds.
Captaincy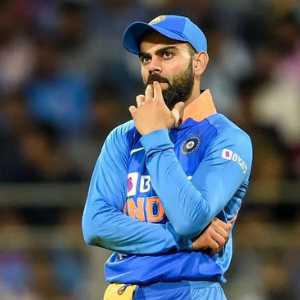 Suresh Raina was selected as captain and Virat Kohli as vice-captain for the 2010 tri-series in Zimbabwe. Virat Kohli became the Indian batsman to reach 1,000 ODI runs the quickest during this time. Due to Virat Kohli's outstanding performance in Australia, Virat Kohli was chosen to serve as vice-captain at the 2012 Asia Cup.

As Dhoni was injured during the game, Virat Kohli led the West Indies squad to victory in the 2013 tri-series. Additionally, Virat Kohli led India's five-match ODI trip to Zimbabwe, which they won 5-0, marking their first victory in an away ODI series.
Virat Kohli was chosen as vice-captain for the 2014 ICC World T20 Competition, in which India finished as runners-up and Virat Kohli was named Player of the Tournament after scoring 319 runs overall.

In the five-match ODI series against Sri Lanka, which India won 5-0, Virat Kohli captained India. It was India's fourth ODI whitewash overall and the second under his leadership.

Being the fourth Indian to make a hundred on Virat Kohli's Test captaincy debut, Virat Kohli led India in the opening Test of the Australian tour and amassed 115 runs in the first innings. At the conclusion of the third match between India and Australia, Dhoni announced his retirement from Test cricket, and Virat Kohli was named the permanent Test captain before the fourth test series at Sydney.

At Sydney, Virat Kohli became the first player in the history of Test cricket to score 300 points in his first three innings as captain after scoring 147 in the first innings. For the 2016 World Twenty20, the ICC named Virat Kohli captain of the "Team of the Tournament."

During the 2017 ICC Champions Trophy, Virat Kohli led India as captain. India reached the championship game but fell to Pakistan. In addition, Virat Kohli led India during the 2019 Cricket World Cup however, they were unable to advance past the semifinal round after falling to New Zealand. India's 2020 trip to New Zealand became the country's first defeat under Virat Kohli's leadership.

New Zealand defeated India in the 2021 ICC World Test Championship Final, Virat Kohli's third loss as captain in ICC event semifinals and championship games. Under Virat Kohli's captaincy, India fell short of the ICC Men's T20 World Cup 2021 semifinals.
Virat Kohli also headed Royal Challengers Bangalore for 8 IPL seasons, although Virat Kohli was unsuccessful in winning a trophy but wins the heart and love of RCB fans.
Virat Kohli's Retirement from Captaincy across all format
After the 2021 ICC Men's T20 World Cup, Kohli declared in September 2021 that he would retire as India's T20I captain. Rohit Sharma succeeded Virat Kohli as India's ODI captain in December 2021.

The decision to remove Virat Kohli as the ODI captain was later justified by BCCI President Sourav Ganguly, who said that the selectors felt it was improper to have two captains of the white ball.

Later, Ganguly said that Virat Kohli had been instructed by the BCCI not to resign as T20I captain. In a press conference, Virat Kohli dissented from the BCCI President and claimed that the BCCI authorities had accepted warmly and described his choice to step down as captain as progressive.

Additionally, Virat Kohli asserted that Chetan Sharma, India's head selector, had notified him of his ouster as ODI captain 90 minutes before the announcement of the Test squad for India's tour of South Africa.

More than a week later, when the team for the ODI series against South Africa was revealed, Chetan Sharma contradicted Virat Kohli by claiming that administrators had urged Virat Kohli to rethink his decision to resign as T20I captain.

Following India's 2-1 test series loss to South Africa during their tour of South Africa, Virat Kohli announced his resignation as India's Test captain on January 15, 2022.
T20 World Cup 2022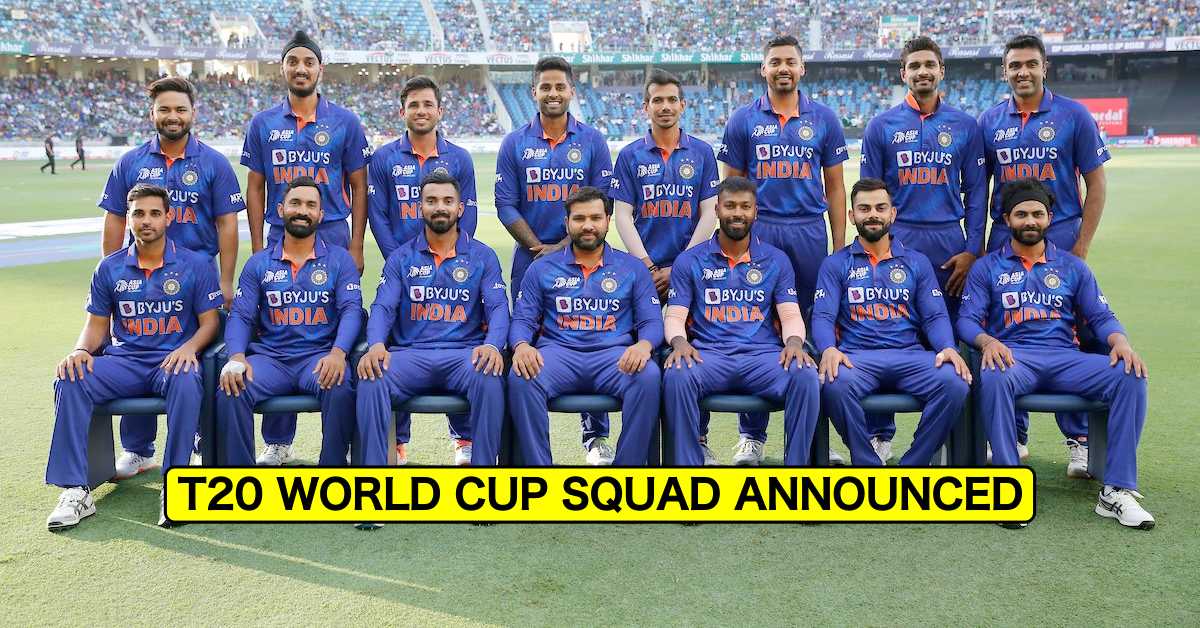 In September 2022 T20 World Cup squad was announced.

Virat Kohli is a part of the team along with Rohit Sharma (c), KL Rahul, Suryakumar Yadav, Deepak Hooda, Rishabh Pant (wk), Dinesh Karthik (wk), Hardik Pandya, R Ashwin, Yuzvendra Chahal, Axar Patel, Jasprit Bumrah, Bhuvneshwar Kumar, Harshal Patel, Arshdeep Singh.
Standby players are Mohammad Shami, Shreyas Iyer, Ravi Bishnoi, Deepak Chahar
Controversies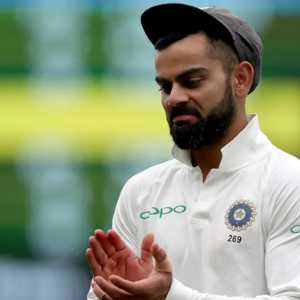 The middle finger controversy surrounding Virat Kohli is still talked about now. An incensed Virat Kohli flashed his middle finger at the hecklers in the Sydney crowd during the 2012 India vs. Australia game. On Twitter, Kohli later justified his behavior. He was however fined 50% of his match for his actions.

Love can undeniably drive you insane, as Virat Kohli demonstrated. For violating a BCCI rule, Virat Kohli previously got into problems. Anushka Sharma, star of the film Sui Dhaaga, was seen conversing with Kohli inside the pavilion during the game, despite the fact that it was made very clear that only BCCI officials and players were permitted inside.

Virat Kohli insulted a reporter over an article on Anushka Sharma back in 2015. Later on, it was discovered that Kohli had unintentionally chosen the incorrect journalist. Then he expressed regret for his conduct.

Every cricket fan still remembers Virat Kohli and Gautam Gambhir's on-field altercation. During the game between RCB and KKR, Kohli and Gambhir engaged in verbal combat. To maintain order, the umpires and players had to intervene.

What specifically transpired between Virat Kohli and Anil Kumble is unknown. According to certain accounts, Karun Nair and Kuldeep Yadav's choices during the India-Australia Test series caused a rift between Kohli and Anil, the former head coach of the Indian cricket team.
Net Worth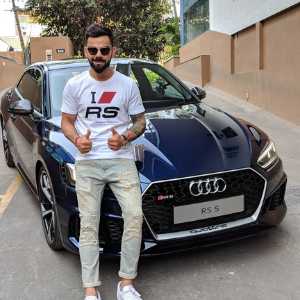 Virat Kohli has a $115 million net worth (Rs 892 Crore in 2022). On the list of Indian cricketers with the highest salaries, Virat Kohli comes in the number 1 position. Virat Kohli currently serves as the foundation of the Indian national team and is the top candidate to surpass Sachin Tendulkar's records. In cricket history, Virat Kohli was also a rising star, and in the years to come, his net worth is predicted to soar to incredible heights. Additionally, Virat Kohli shares ownership of FC Goa in the Indian Super League (ISL).

According to the central contracts of the BCCI, Grade A player Virat Kohli makes large sums just as a player. As a grade-A player, Virat Kohli receives a yearly retainer price of $190,000 (1.25 crore) and payments of Rs. 5 lakh, Rs. 3 lakh, and Rs. 1.50 lakh for participating in Test matches, ODI matches, and T20 matches, respectively.

More than INR 17 crore in income from endorsements is reportedly generated by Virat Kohli. Virat Kohli reportedly charges 1.5 crores against Dhoni's 2 crores each day. The equivalent of Sachin Tendulkar's daily fee of Rs 2 crore, Virat Kohli inks contracts for roughly three days. These three days are used by brands for photo shoots, press conferences, and other appearances. At the present, Virat Kohli has agreements with numerous well-known businesses, including Manyavar, Pepsi, Cinthol Deo, Boost, Fastrack, Reebok, Godrej, Head & Shoulders, and Nestle India.

Virat Kohli is rumored to live in a stunning bungalow that he bought in both the nation's capital and his hometown. This has been Virat Kohli's ideal home because he customized the interior and exterior to reflect his personal style, giving it a sophisticated and dashing appearance similar to Virat Kohli himself. Virat Kohli owns a number of real estate properties. Virat Kohli does, however, reside in two homes. One each in Mumbai and Delhi.

Bandra is where Virat Kohli's apartment is located. In 2012, Virat Kohli paid a staggering Rs. 9 crores for it. A well-known interior designer has been employed by Virat Kohli to make adjustments to the recently purchased home. The interior design has added another Rs. 1.5 crores to the expense. Virat Kohli owns vehicles from a number of automakers, including Mercedes, Audi, BMW, and Volkswagen. Virat Kohli didn't directly buy many cars, and several were given to him as gifts by sponsors. Additionally, Renault Duster, Audi 8, Toyota Fortuner, and Toyota Liva are all owned by Virat Kohli.
Achievements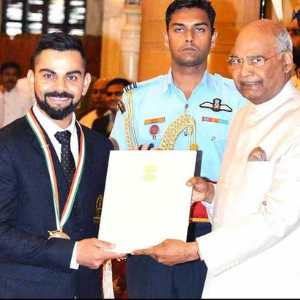 Rajiv Gandhi Khel Ratna Award in 2018, the Arjuna Award in 2013, and the Padma Shri in 2017.
The ICC Men's Cricketer of the Decade Sir Garfield Sobers Trophy from 2011 to 2020.
The 2017 Sir Garfield Sobers Trophy, awarded to the ICC Cricketer of the Year.
2012 ICC ODI Player of the Year.
The 2018 ICC Test Player of the Year.
2012, 2014, 2016 (captain), 2017 (captain), 2018 (captain), and 2019 ICC ODI Team of the Year (captain).
International Cricketer of the Year, Polly Umrigar Award, 2011–12, 2014–15, 2015–16, 2016–17, 2017–18.
Wisden's top cricketer worldwide in 2016, 2017, and 2018 was number 13.
The 2011–12, 2013–14, and 2018–19 CEAT International Cricketer of the Year.
At Delhi's Arun Jaitley Stadium, the DDCA renamed a stand in his honour.
Barmy Army, 2017 and 2018 international player of the year.
2012 India's People's Choice Awards For Favorite Sportsperson Indian of the Year on CNN-News18 for 2017.
13 Unknown Facts about Virat Kohli
Virat Kohli is the only Indian to reach 100 runs on his World Cup debut. Additionally, Virat Kohli has won the T20 World Cup's Man of the Tournament award thrice, which is the most of any cricketer.
Virat Kohli is the only batsman in history to average 50 or more in each of the three forms simultaneously.
Virat Kohli is the first and only cricketer to win the ICC, Test, and ODI cricketer of the year awards in the same calendar year. Virat Kohli received the ICC Player of the Decade award as well (2010-19). Virat Kohli was only 23 years old when he received the 2012 ICC Cricketer of the Year title! In addition, Virat Kohli has received the Rajiv Gandhi Khel Ratna Award, Padma Shri, and Arjuna Award.
Virat Kohli is the first and only cricketer to win the ICC, Test, and ODI cricketer of the year awards in the same calendar year. Virat Kohli received the ICC Player of the Decade award as well (2010-19).
Virat Kohli was only 23 years old when he received the 2012 ICC Cricketer of the Year title! In addition, Virat Kohli has received the Rajiv Gandhi Khel Ratna Award, Padma Shri, and Arjuna Award.
The record for the greatest individual score against Pakistan belongs to Virat Kohli. Virat Kohli scored 183 runs in the Asia Cup in 2012 off just 148 balls.
According to Sir Viv Richards, who is regarded as one of the greatest and most destructive cricketers of all time, Virat Kohli reminds him of himself. It was once said by Aaron Finch as well that Virat Kohli was perhaps the greatest ODI player ever.
On Netflix, a documentary called Game Changers featured a number of athletes from around the globe. At reaction to the documentary, Virat Kohli stated that he had to adjust his diet after suffering a cervical spine injury during a tour of South Africa in the beginning of 2018. Additionally, Virat Kohli said that this ailment was weakening his bones and that he felt much better after going vegetarian.
Virat Kohli has the most rating points in Tests (937 Points), ODIS (911 Points), and T20IS of any Indian batsman (897 Points).
The only player in IPL history who has never been auctioned off is Virat Kohli. Virat Kohli was retained by RCB as a draught player in 2008, and ever since then, he has never been put up for auction.
Virat Kohli reached 24,078 runs in his International career and Became 2nd Highest Run Scorer, by Overtaking Rahul Dravid.

Best Matches of Virat Kohli
Virat Kohli has been one of the best batsmen in International Cricket. Any person who follows Cricket Knows Virat Kohli. There have been so many finest performances of Virat Kohli that it was difficult to select a few. But we tried to mention some that we thought was the best performance of King Kohli, a nick name his fans gave him.
Scored 82 in 53 balls againt Pakistan in T20 World Cup 2022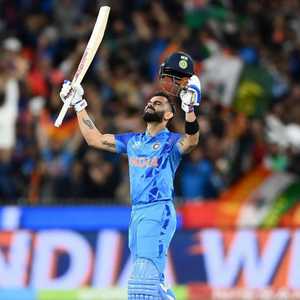 After being reduced to 31/4 while attempting to outscore 160, India appeared to be in no position to win the game. However, Kohli's magnificent 113-run stand with Hardik Pandya, who also scored a crucial knock of 40 off 37 deliveries, helped them get back into the game. Even toward the end of the game, when India required 48 runs to win from three overs, a victory appeared implausible. However, Kohli kept his foot on the gas and produced some incredible smashes that smashed the Pakistani bowlers all over the pitch. India won the game off the penultimate delivery of the innings, with Ravichandran Ashwin delivering a lofted shot over mid-off to score the winning runs, while Kohli finished the innings undefeated on 82 off 53 deliveries. It was a high-pressure match and team India was not in a good position but the magnificent knocks from King Kohli saved the day. Once again he proved why he is considered one of the top batsmen of the world. After the game, Kohli was spotted becoming emotional as his teammates supported and hoisted him as he left the field. I'm at a loss for words and have no idea how that occurred in such a bizarre setting. I honestly don't know what to say During the post-game interview, Kohli said.
Profile Summary
Social Media
Frequently Asked Questions