Bhuvneshwar Kumar | Cricket, Biography, Height, Net Worth

Violeena Vargav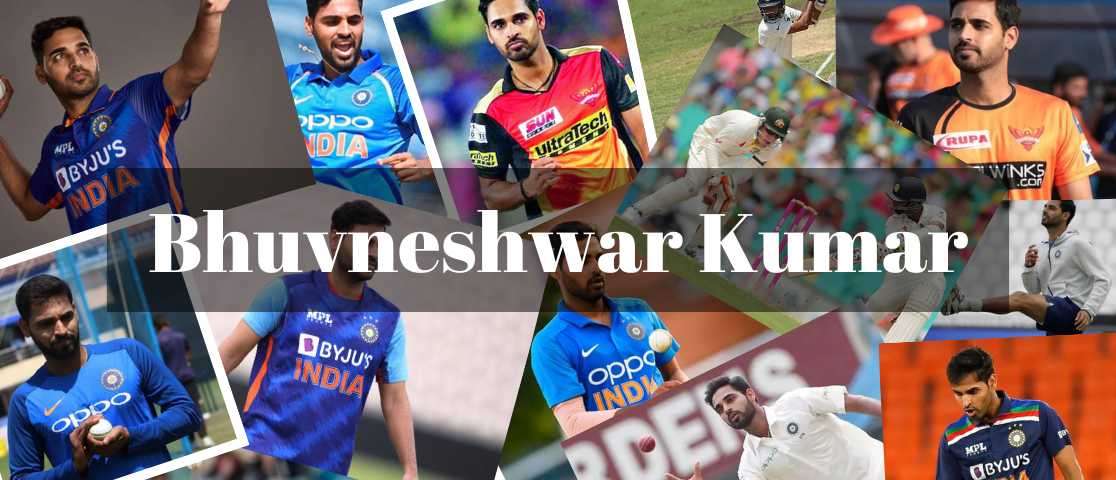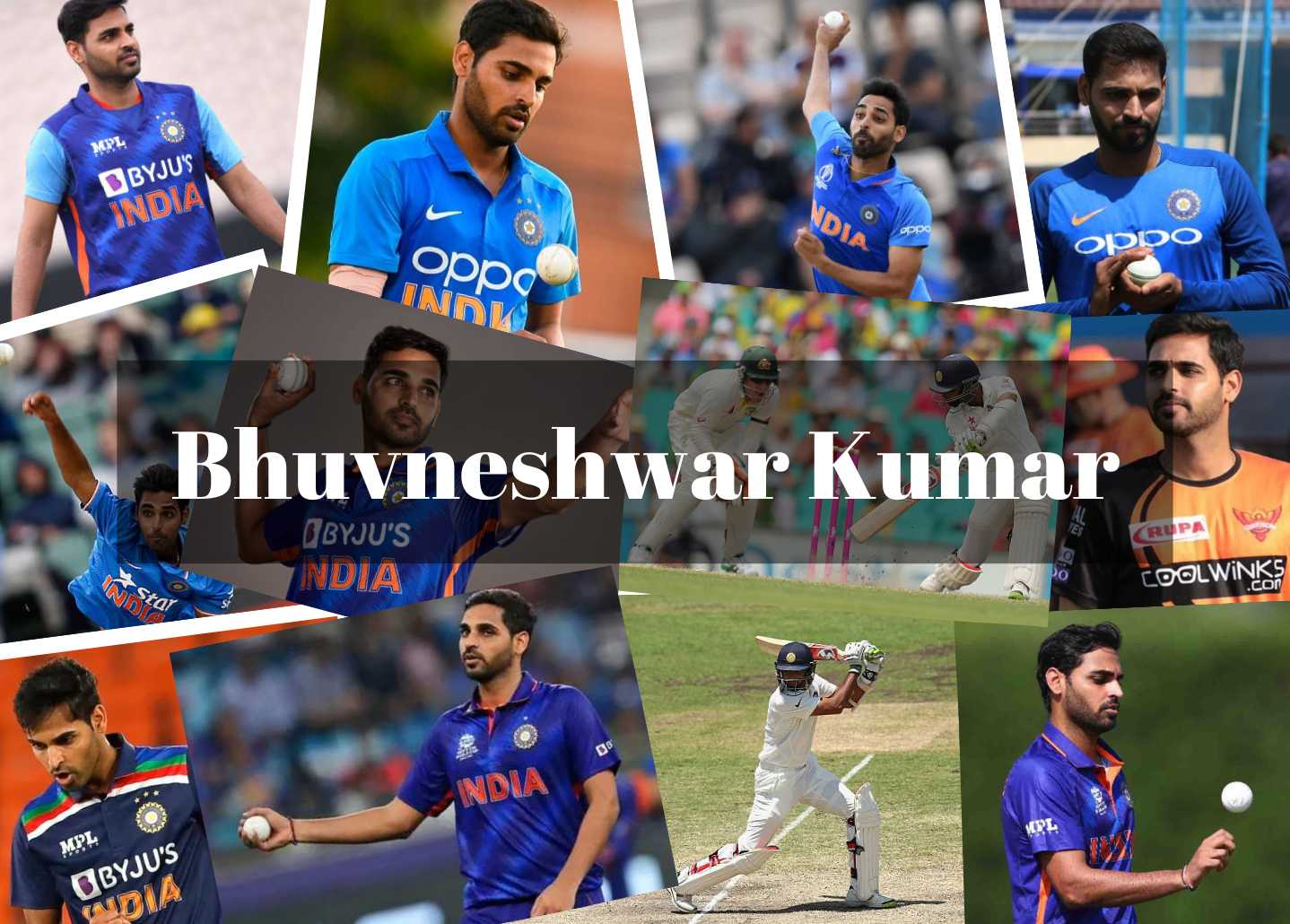 Bhuvneshwar Kumar's Biography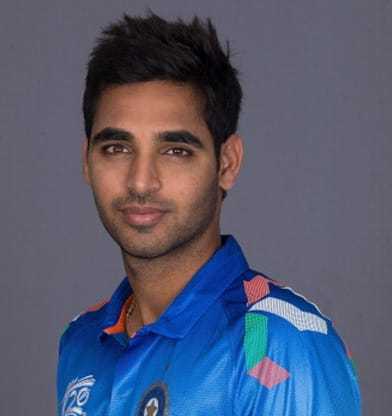 Bhuvneshwar Kumar is a famous Indian cricketer. Bhuvneshwar Kumar is also a former limited-overs vice-captain who currently plays for Sunrisers Hyderabad in the Indian Premier League and for Uttar Pradesh in domestic first-class cricket. One of the best swing bowlers in the world, according to many. With his inswingers being more effective than his outswingers, Kumar swings the ball effectively in both directions.

Bhuvneshwar Kumar's full Name is Bhuvneshwar Kumar Singh Bhuvneshwar Kumar's birthday is on 5 February 1990. Bhuvneshwar Kumar's age is 32 years as of 2022. Bhuvneshwar Kumar's birthplace is Meerut, Uttar Pradesh, India. Bhuvneshwar Kumar's zodiac sign is Aquarius. Bhuvneshwar Kumar's height is 1.75m or 5'9 ft. Bhuvneshwar Kumar's religion is Hinduism. Bhuvneshwar Kumar does right-handed batting. Bhuvneshwar Kumar is a right-arm fast-medium bowler.


In a Twenty20 International against Pakistan in December 2012, Bhuvneshwar Kumar made his debut on the international stage by getting three wickets. In the series that followed, he went on to make his One Day International (ODI) debut. He is the first Indian bowler to get five wickets in an ODI, T20I, and Test match.

It makes sense that once the new SG ball is delivered, Bhuvneshwar can make it hoop around corners, usually back into the right-hand batsman, but he also consistently gets it to stay in its line to pose a real threat. Although Bhuvneshwar runs at a moderate pace of early 130s, like the other Kumar, India was not spoilt with options to deny him his international debut season at the age of 22, in late 2012.
Claim Your FREE Celebrity Shoutout
✕
Claim Now!
Bhuvneshwar Kumar's Family and Bhuvneshwar Kumar's Education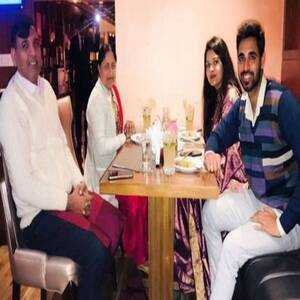 Bhuvneshwar Kumar's father's name is Kiran Pal Singh and his mother's name is Indresh. Kiran Pal Singh Mavi was an ASP with Uttar Pradesh Police, while Indresh Mavi is a homemaker. Kiran Pal Singh passed away in 2021 after suffering from liver infection. Bhuvneshwar Kumar also has an elder sister whose name is Rekha Adhana. Rekha is seven years older than Bhuvneshwar Kumar. The family of Bhuvneshwar Kumar has ties to the Bulandshahr village of Luharli.

When Bhuvneshwar Kumar was 13 years old, his sister drove him to a cricket training facility 7-8 kilometres from their home and accompanied him there every time until he could go alone. At the Meerut Victoria Club, which is run by former UP wicketkeeper Vipin Vats, he worked out. Sanjay Rastogi, the bowling coach, instructed him on the finer points of using the new ball.
Talk To Similar Celebrities
Bhuvneshwar Kumar's Marriage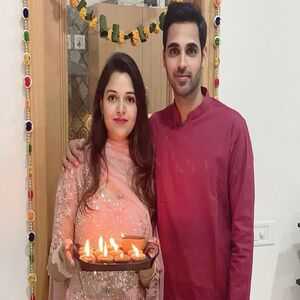 Bhuvneshwar Kumar's wife's name is Nupur. Nupur has a long history with the Indian fast bowler. When she was just 11 years old and he was 13 years old, they first met. In an interview, Kumar said that despite how young they were, he did start to develop feelings for her. They were together the majority of the time, playing or seeing each other frequently. As teenagers, they fell in love with one another. According to Nupur Nagar, Bhuvneshwar Kumar was the one who initially asked her to date him. She added that Bhuvi had three times made a proposal to her. The first time was via text, the second via call, and the third via face-to-face.

Bhuvneshwar Kumar was a struggling player who wasn't even a member of the Ranji cricket squad when their love story began. When Bhuvi was playing for Uttar Pradesh's Ranji cricket team and traveling across the nation to play his first-class cricket, Bhuvneshwar and Nupur had a long-distance relationship that lasted for many years. Despite having an affair for so many years, both Bhuvi and Nupur were able to successfully maintain their privacy regarding their relationship. When they were dating, they genuinely steered out of the spotlight. When they both made the decision to be married, the media also learned about their connection.

The family of Bhuvneshwar Kumar approved of their love story, but they had serious responsibilities to Nupur's family. Her family expressed some concerns about their future, but Bhuvi and Nupur handled all the difficult situations gracefully. Their marriage was finally approved by her family, and it took place on 23rd November 2017, in Uttar Pradesh. Nupur Nagar gave birth to a daughter on 24 November 2021.
Bhuvneshwar Kumar's Career
Domestic Career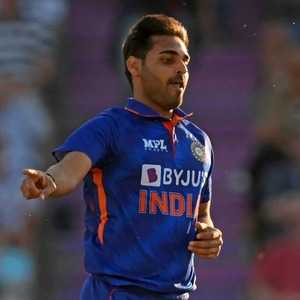 Bhuvneshwar Kumar made his first-class debut at the age of 17 against Bengal and then started playing for the Uttar Pradesh Ranji team in 2007. In the 2008–09 Ranji Trophy final, he unexpectedly shot to fame when he became the first bowler to dismiss cricket legend Sachin Tendulkar for a duck in first-class cricket. There was a rumour that a 19-year-old had bowled Sachin Tendulkar out for his first-ever duck in domestic first-class cricket after working him out on the domestic circuit. He concluded the season with 35 wickets.

When Bhuvneshwar Kumar made his debut on Christmas Day in 2012 at the Chinnaswamy Stadium in Bengaluru, he immediately gained attention. He was born in Meerut, the city that produces the SG ball. This young talent was introduced to the world in a fine way with a display of nagging swing bowling in the shortest format of the game in batting-friendly circumstances. In the second semi-final against North Zone while representing Central Zone in the Duleep Trophy in 2012, Bhuvneshwar Kumar scored his first first-class hundred to advance his team to the final and prevent a loss. His Man of the Match-winning innings, which he played at No. 8 while the team was behind by 232 runs, was made up of three outstanding partnerships with Praveen Kumar, Murali Kartik, and Rituraj Singh.
International Career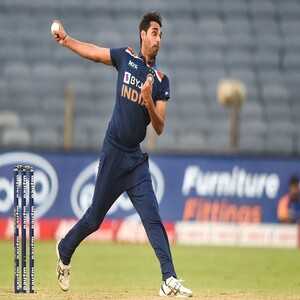 Bhuvneshwar Kumar received the nod from the selection for the Chennai Test against Australia in 2013 after making the typically unresponsive white Kookaburra talk in a high-pressure game against Pakistan and a lack of quality fast-bowling in the nation. Bhuvneshwar was chosen for the 2013 Champions Trophy ODI team. On December 25, 2012, Bhuvneshwar Kumar was chosen to participate in the opening T20I game against Pakistan in Bengaluru. He took three early wickets of Nasir Jamshed, Ahmed Shehzad, and Umar Akmal while defending a low total, but India was unable to win the game.

In his Test debut against Australia on February 22 in the inaugural Border-Gavaskar Trophy match, Bhuvneshwar Kumar failed to collect wickets on a field that was conducive to spin. He nevertheless demonstrated his batting prowess by partnering with M. S. Dhoni for a record-breaking 140 runs on the ninth wicket. He recorded the highest debut score at No.10 in the first Test with a score of 38.

Bhuvneshwar Kumar claimed three significant wickets in the first innings of the second Test against Australia, including David Warner, Ed Cowan, and Shane Watson, but was unsuccessful in his brief second innings appearance. He failed to put the batsmen under pressure in the first innings of the subsequent Test but made up for it by getting rid of Shane Watson, David Warner, and Steve Smith in the second. The Champions Trophy competition took place in England and Wales between June 6 and June 23, 2013, and he was afterward a member of the squad.
In the June–July 2013 Tri-Nation Series against Sri Lanka and the West Indies, Bhuvneshwar Kumar participated. On July 9, he recorded his career-best stats of 4-for-8 against Sri Lanka. With 10 wickets in four games, he finished the series as the series' top wicket-taker and was named Man of the Series.

Bhuvneshwar Kumar remained an integral part of the team for the limited-overs format and made unsuccessful trips to South Africa and New Zealand as he began to lose his craft in his search for pace. The higher seam of the Dukes let him produce incredible movement in the air against the renowned English batting line-up, and he played brilliantly in the Test series in England in 2014, ending the series as the highest wicket-taker and getting his name up on the Lord's honours board. In the series, he registered three fifties with the bat, adding quite unusual contributions. During India's tour of England in 2014, he continued to set all-round records and won the Man of the Series award once more, this time in a Test series, despite India's 1-3 loss. In the first two games of the series, he picked up his first and second five-wicket hauls. The 2014 selectors rested him for the Sri Lanka series following the end of the home series against the West Indies. He rejoined the national team for India's tour of Australia, however an ankle injury prevented him from playing in the first three Test matches.

At the 2015 World Cup, Bhuvneshwar Kumar was anticipated to do well. However, his lack of fitness prevented him from making the starting eleven. He took part in just one game against UAE.

Only four Tests were played throughout his 2016 season. Bhuvneshwar Kumar made a name for himself by claiming two five-wicket hauls—one against the West Indies and one against New Zealand.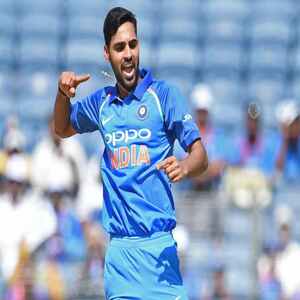 However, after improving his fitness and learning to swing the white Kookaburra quickly, Bhuvneshwar Kumar's career began to take off. By the 2017 Champions' Trophy, he and Jasprit Bumrah were dominating the Indian ODI pace attack with a new tool in their arsenal: the yorker. He was no longer the new-ball specialist who would be knocked out in the first 20 overs because he had started to bowl well with the old ball and was accurate with his yorkers. He increased his velocity and began to reverse-swing the ball, which caused him to become a problem for batsmen all over the world.

Despite being chosen for more advantageous circumstances, Bhuvneshwar Kumar was still the captain's experimentation or injury replacement choice in the Test fold. He had broadened his repertoire enough to become a vital part of the Indian Test team, though, after mastering a scrambling seam delivery in the home series against Australia and getting the ball to scrape off the seam as well as move in the air. The sky is the limit for Bhuvneshwar after tormenting the visiting Sri Lankan team and even having South Africa's renowned top-order at sea in their own backyard. A major setback for an Indian team that was depending on his skilled and dependable swing bowling as well as his newly developed scrambled-seam variation that might have turned out to be pivotal given the English conditions was that he got hurt at a crucial time before the tour of England in mid-2018. However, this twinkle-eyed genius from Meerut has age on his side and an ideal balance of brains and muscle, so the best is yet to come.
IPL Career
The primary bowler for SRH at both ends of an inning. Bhuvneshwar Kumar has excelled in every aspect of the IPL, whether it is taking early wickets or suffocating the opposition in the last overs. It wasn't quite as easy for him to make the transition into the cash-rich league. Before the 2009 season, Bhuvi was selected as a rookie fast bowler, but in his first two seasons with the Franchise, he received no opportunities. Bhuvi did play one game in the 2009 Champions League against the Delhi Daredevils, but he was passed over for the shortest format since he couldn't check the wickets box.

Bhuvneshwar Kumar was signed by the Pune Warriors in 2011 to join a team that was relatively young and featured players like James Faulkner, Mitchell Marsh, and Clauum Ferguson. Bhuvi later established himself as a mainstay in the Pune Warriors team and was one of the franchise's few bright spots, which helped to make it one of the least successful teams in IPL history. Bhuvi was signed by SRH in 2014 after the collapse of Pune Warriors, and as the lanky swing bowler continued to develop various variations to his style, his development in both international and IPL cricket became practically concurrent.
Bhuvneshwar Kumar's Records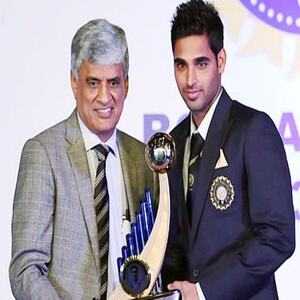 8th Most Outstanding Bowling Analyses in an Innings in Test Match (4/8)
5th Most Runs Conceded in an Innings (106)
7th Most player of the Series Awards (3)
3rd Most Outstanding Bowling Analyses in an Innings in Twenty20 Internationals (5/4)
4th Most four-wickets-in-an-innings in a Career (5)
8th Most Balls Bowled in a Career (1595)
2nd Most Maidens in an Innings (2)
He is the only Indian No. 9 batter to score 3 Test fifties in England.
He is the first Indian bowler to take a 5-wicket haul in each of the three formats.
Bhuvneshwar Kumar Awards
2013: Polly Umrigar Award
2014: ICC People's Choice Award
Bhuvneshwar Kumar's Controversies
Dead Ball Controversy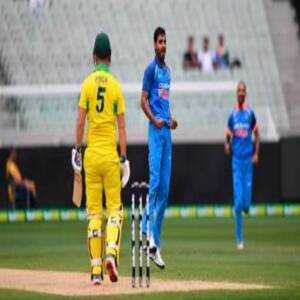 After successfully removing Australian captain and opener Aaron Finch for the third time during the current ODI series at the MCG, Bhuvneshwar Kumar got the last laugh. There was some uncertainty in the middle when the field umpire ruled a delivery by Kumar as a dead ball just before trapping Finch before the wicket. Kumar decided to bowl the final ball of the ninth over in line with the umpire after observing that Finch was positioned much ahead of his crease. As a result, his back foot landed behind the official and his front foot was more than a yard away from the landing crease.

Finch decided to withdraw from the delivery after being visibly perplexed by Kumar's novel strategy, and as a result, the umpire declared it a dead ball. Finch returned to his mark and made the most of the extra delivery that the captain gave him by trapping him in front of the wicket on the very next ball, despite being dissatisfied with the umpire's decision. Although Finch's dismissal was highly applauded, many people on social media were perplexed by the umpire's controversial judgment that Bhuvneshwar's ball was dead.
Bhuvneshwar Kumar's Net Worth
Bhuvneshwar Kumar's net worth is $9 million US or 65 crore rupees, as of 2022. Cricket is his primary source of income and wealth. Additionally, Mr. Bhuvneshwar Kumar has a very high brand value and is the most well-liked competitor worldwide. Moreover, he receives a sizable income from the Indian Premier League and several international and national cricket matches. He also charges a considerable sum of money to endorse numerous brands. Bhuvneshwar Kumar makes Rs 6 Lac in every ODI, Rs 3 Lac in every T20I, Rs 15 Lac in every Test Match, and Rs 8.5 Cr in the entire IPL season. Therefore, Bhuvneshwar Kumar earns about Rs. 17.26 Cr. per year.


In Meerut, Bhuvneshwar Kumar is the owner of a lavish designer home. Additionally, he owns other real estate properties across the nation. Some of the finest luxury vehicles in the world are owned by Bhuvneshwar Kumar. Among the car brands Bhuvneshwar Kumar owns are the BMW 530d M-Sport, Audi Q3, and CBR motorcycle.
Bhuvneshwar Kumar's Interesting Facts
Bhuvneshwar Kuma's nickname is Bhuvi.
Bhvneshwar Kumar's father is an ASP in the Uttar Pradesh Police.
Bhuvneshwar Kumar's full name is Bhuvneshwar Kumar Singh.
Bhuvneshwar Kumar's childhood dream was to be an army officer.
Bhvneshwar Kumar has a very calm and shy personality.
Bhuvneshwar Kumar is an ardent fan of gaming.
Social Media
Frequently Asked Questions