Sachin Tendulkar | Cricketer, Age, Biography, Struggles, Family, Facts, Best Matches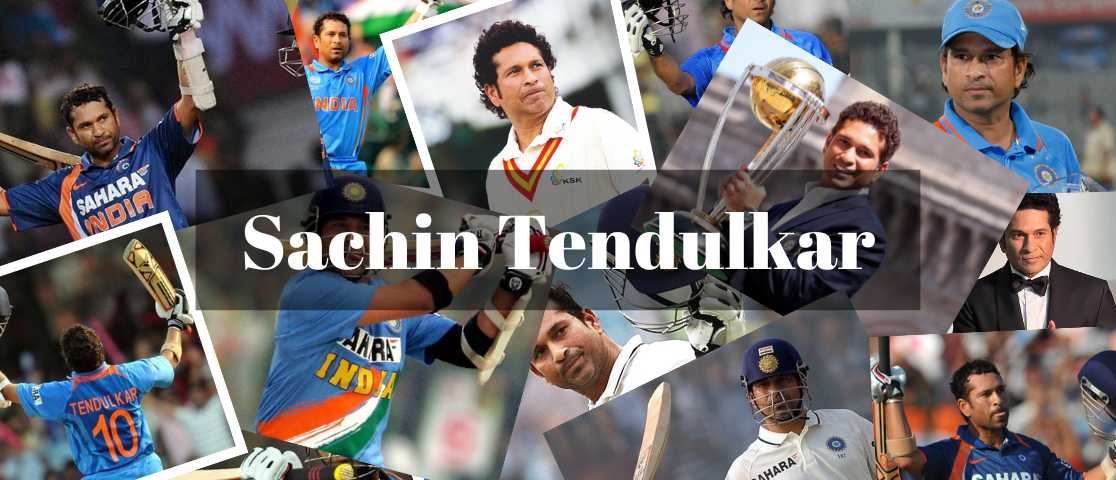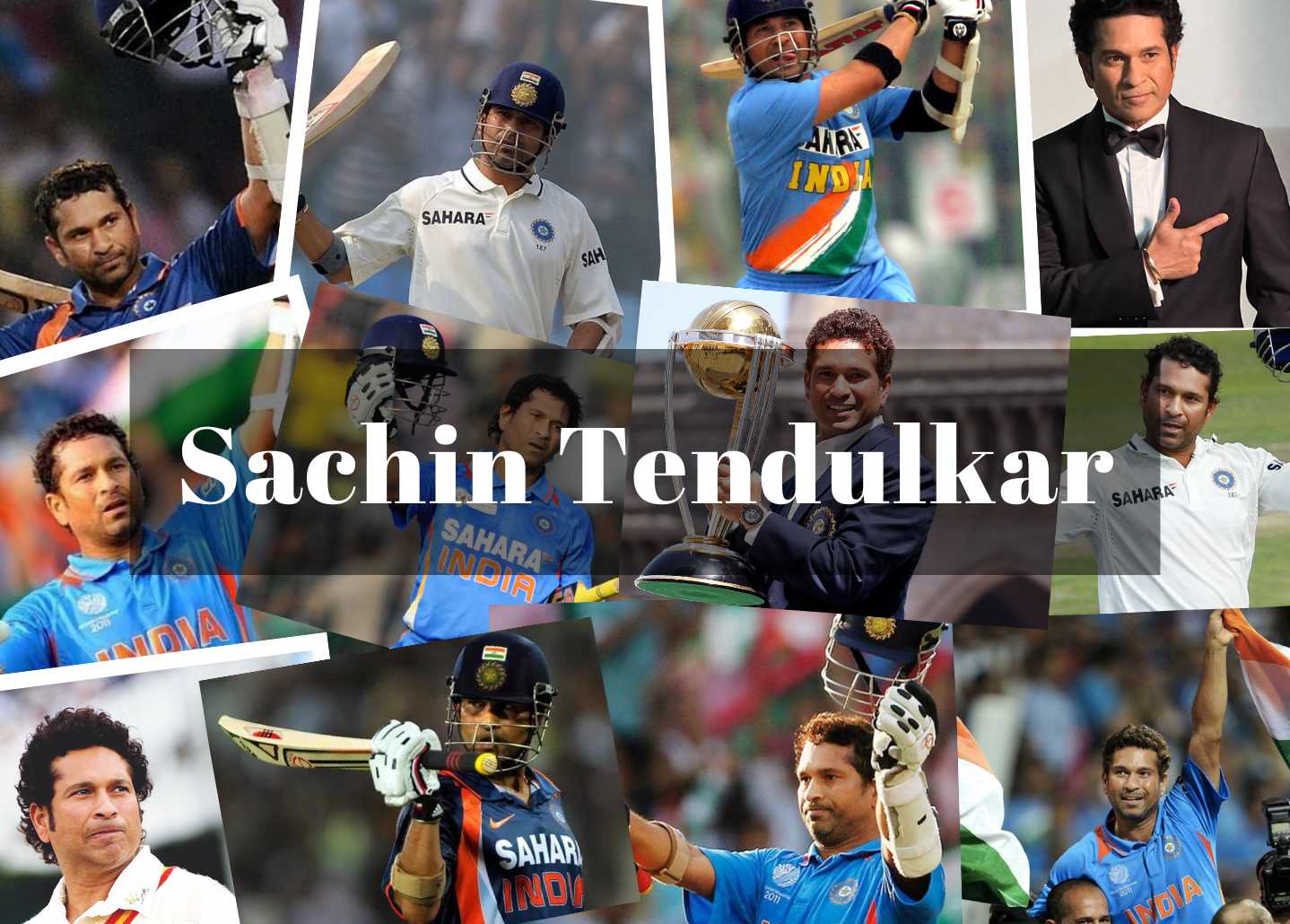 Sachin Tendulkar's Biography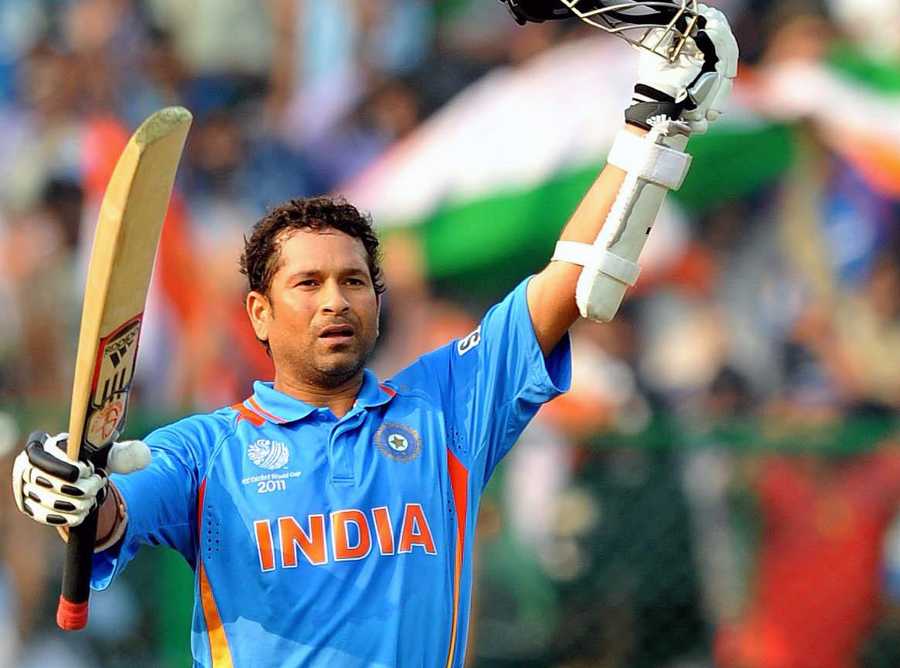 Sachin Ramesh Tendulkar is a former Indian cricketer. Sachin Tendulkar was the captain of the Indian cricket team. Sachin Tendulkar is known to be one of the greatest batsmen in the history of cricket.

Sachin Tendulkar began playing cricket when he was eleven years old, made his Test match debut against Pakistan in Karachi on November 15, 1989, at the age of sixteen, and went on to represent Mumbai domestically and India internationally for nearly 24 years. Halfway through his career, in 2002, Wisden ranked him second only to Don Bradman among all-time Test batsmen and second only to Viv Richards among all-time ODI batsmen. Later in his career, Sachin Tendulkar played for India, who won the 2011 Cricket World Cup, marking India's first victory in six appearances in the World Cup. In the 2003 competition, Sachin Tendulkar had already won "Player of the Tournament" honours.

Sachin Tendulkar won the Arjuna Award in 1994 for his extraordinary athletic accomplishments, the Khel Ratna Award in 1997, India's top sporting honour, and the Padma Shri and Padma Vibhushan awards, two of India's highest civilian honours, in 1999 and 2008, respectively. In November 2013, a few hours after his final game ended, the Prime Minister's Office made the decision to bestow him with the Bharat Ratna, India's highest civilian honour. Sachin Tendulkar, the first athlete to receive the award, is currently the youngest recipient as of 2021. Tendulkar was selected in 2012 to serve in the Rajya Sabha, the upper house of the Indian Parliament. Tendulkar was listed as one of the "Time 100" in Time magazine's annual list of the most influential people in the world.

At the 2010 ICC Awards, Sachin Tendulkar received the Sir Garfield Sobers Trophy for cricketer of the year. After retiring from ODI cricket in 2012 and his 200th Test match in November 2013, Sachin Tendulkar ended his career in all forms of cricket. In total, Sahin Tendulkar participated in 664 international cricket games and amassed 34,357 runs. In 2013, an all-time Test World XI was assembled to commemorate the 150th anniversary of Wisden Cricketers' Almanack, and Sachin Tendulkar and Viv Richards were the only batsmen from the post-World War II era to be included. Sachin Tendulkar was introduced to the ICC Cricket Hall of Fame in 2019.
Age
Sachin Tendulkar's birthday is on 24th April. Sachin Tendulkar was born in 1973. Sachin Tendulkar's age is 49 years old as of 2022. Sachin Tendulkar's birthplace is Dadar, Mumbai. Sachin Tendulkar's zodiac sign is Taurus.
Childhood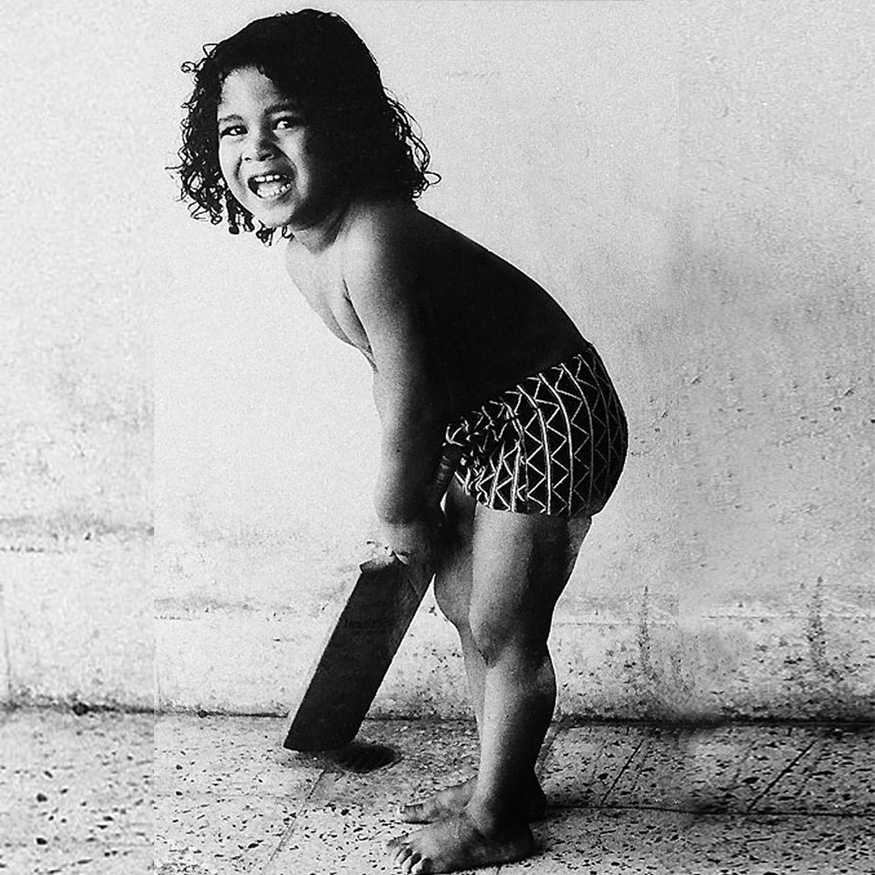 Sachin Tendulkar was born in a Rajapur Saraswat Brahmin Maharasrian family on 24th April 1973 at Nirmal Nursing Home in Dadar, Mumbai. The well-known Marathi novelist and poet Ramesh Tendulkar was Sachin Tendulkar's father, and his mother Rajni Tendulkar was employed in the insurance business. After his preferred music producer, Sachin Dev Burman, Ramesh gave Sachin Tendulkar that name.
Family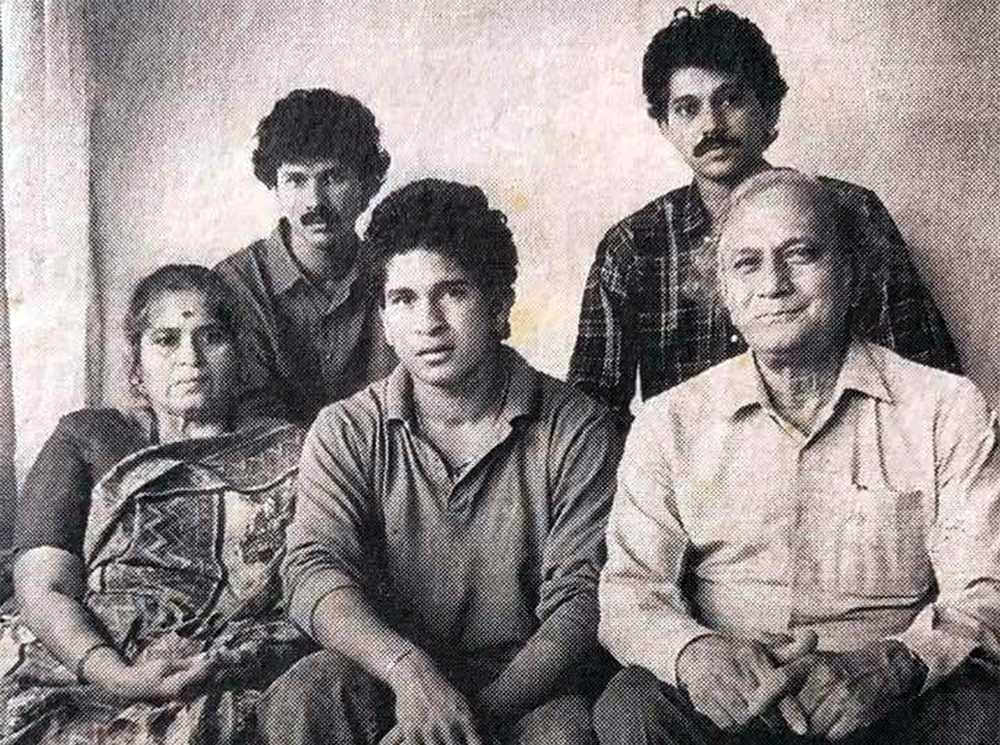 Two half-brothers, Nitin and Ajit, and a half-sister, Savita, are Sachin Tendulkar's three older siblings. They were the offspring of Ramesh's first marriage, which ended in death soon after the delivery of her third kid. Sahitya Sahawas Cooperative Housing Society in Bandra served as the location of Sachin Tendulkar's formative years (East). Sachin Tendulkar was bullied as a young child and was known for picking fights with new students.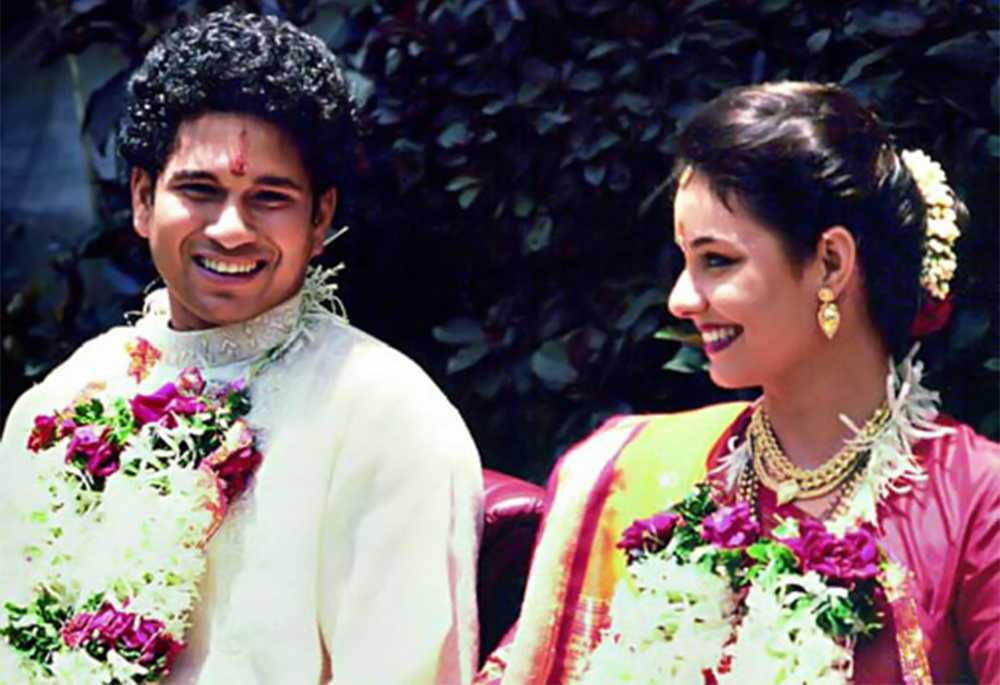 Sachin Tendulkar got married to Anjali Tendulkar on 24th May 1995. Sachin Tendulkar and Anjali were dating for five complete years and then molded themselves in the bond of marriage and togetherness. Anjali and Sachin Tendulkar fell in love at first sight. At the Mumbai International Airport, they had first encountered one another. Anjali was waiting to pick up her mother at the airport in 1990 as Sachin Tendulkar was departing for his maiden international cricket tour. Later, the two came to know one another more after meeting at the home of a mutual acquaintance. Anjali Tendulkar revealed in a PTI interview that she didn't know who Sachin was when she initially met him at the airport.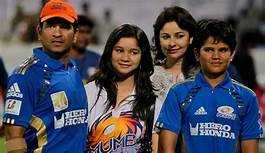 Sachin Tendulkar has two beautiful children. Sachin Tendulkar's son's name is Arjun Tendulkar. Sachin Tendulkar's daughter's name is Sara Tendulkar. In an interview Anjali Tendulkar revealed that she had given up her successful career as a pediatrician to live a happy married life with her spouse. She had admitted that juggling her job, her children, and her husband's cricket trips all at once would have been challenging. She also claims that she has absolutely no regrets about quitting her job because caring for her husband and children brings her the most delight.
Matches and Career
Early Years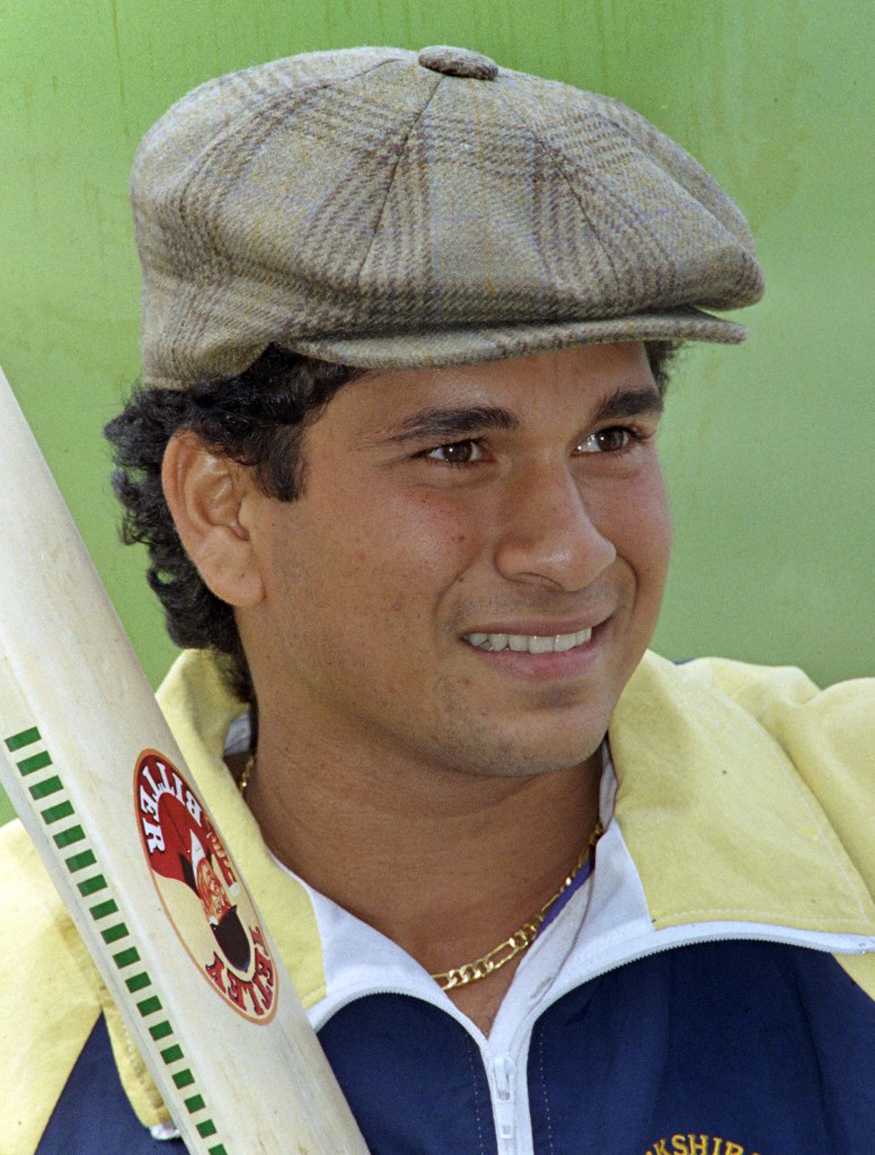 Sachin Tendulkar, who admired John McEnroe, also demonstrated an interest in tennis. He was a fan of John McEnroe when he was 7 to 8 years old, and he equally loved cricket and tennis. According to him, the time had come for me to choose between playing tennis and cricket. At that time, he had long hair like McEnroe, wore wristbands and headbands like his tennis idol, and carried a tennis racket everywhere he went. Ajit Tendulkar, his older brother, introduced Sachin to cricket in 1984 in an effort to help him control his bullying and mischievous habits. At Shivaji Park in Dadar, he introduced him to Ramakant Achrekar, a well-known cricket coach and accomplished club cricketer. In the initial meeting, Sachin was unable to play his best game.

Ajit Tendulkar explained to Ramakant Achrekar that he was not playing his natural game because he felt self-conscious about the instructor watching him. Ajit asked the coach to give him another opportunity to play, but he watched from behind a tree. This time, Sachin Tendulkar performed far better and was admitted to Achrekar's academy while seemingly going unnoticed. In the Kanga Cricket League in Bombay, Ajit Tendulkar also played cricket. Ramakant Achrekar was impressed by Sachin Tendulkar's potential and suggested that he transfer to Sharadashram Vidyamandir (English) High School, a Dadar institution with a successful cricket team and a long history of producing outstanding cricketers. Sachin Tendulkar had previously attended the New English School in Bandra run by the Indian Education Society (East). At Shivaji Park in the mornings and evenings, Achrekar also oversaw Sachin Tendulkar's training.


Sachin Tendulkar would drill in the nets for hours on end. Achrekar would place a one rupee coin on top of the stumps if Tendulkar lost his energy, and the bowler who got rid of Tendulkar would get the coin. The instructor would hand Sachin Tendulkar the coin if he made it through the entire practise without being asked to leave. The 13 coins Sachin Tendulkar earned back then are now among his most valued belongings, according to Tendulkar. Due to his busy schedule at the time, Sachin Tendulkar moved in with his aunt and uncle who lived close to Shivaji Park. Sachin Tendulkar, meanwhile, became known as a kid genius at school. In the local cricketing community, where there were rumours that he might soon join the greats, he had become a popular topic of discussion. The school squad in the Matunga Gujarati Seva Mandal (MGSM) Shield frequently included Sachin Tendulkar. Sachin Tendulkar played club cricket in addition to school cricket, first with the John Bright Cricket Club in the Kanga Cricket League, Bombay's best club cricket competition, and then representing the Cricket Club of India (CCI).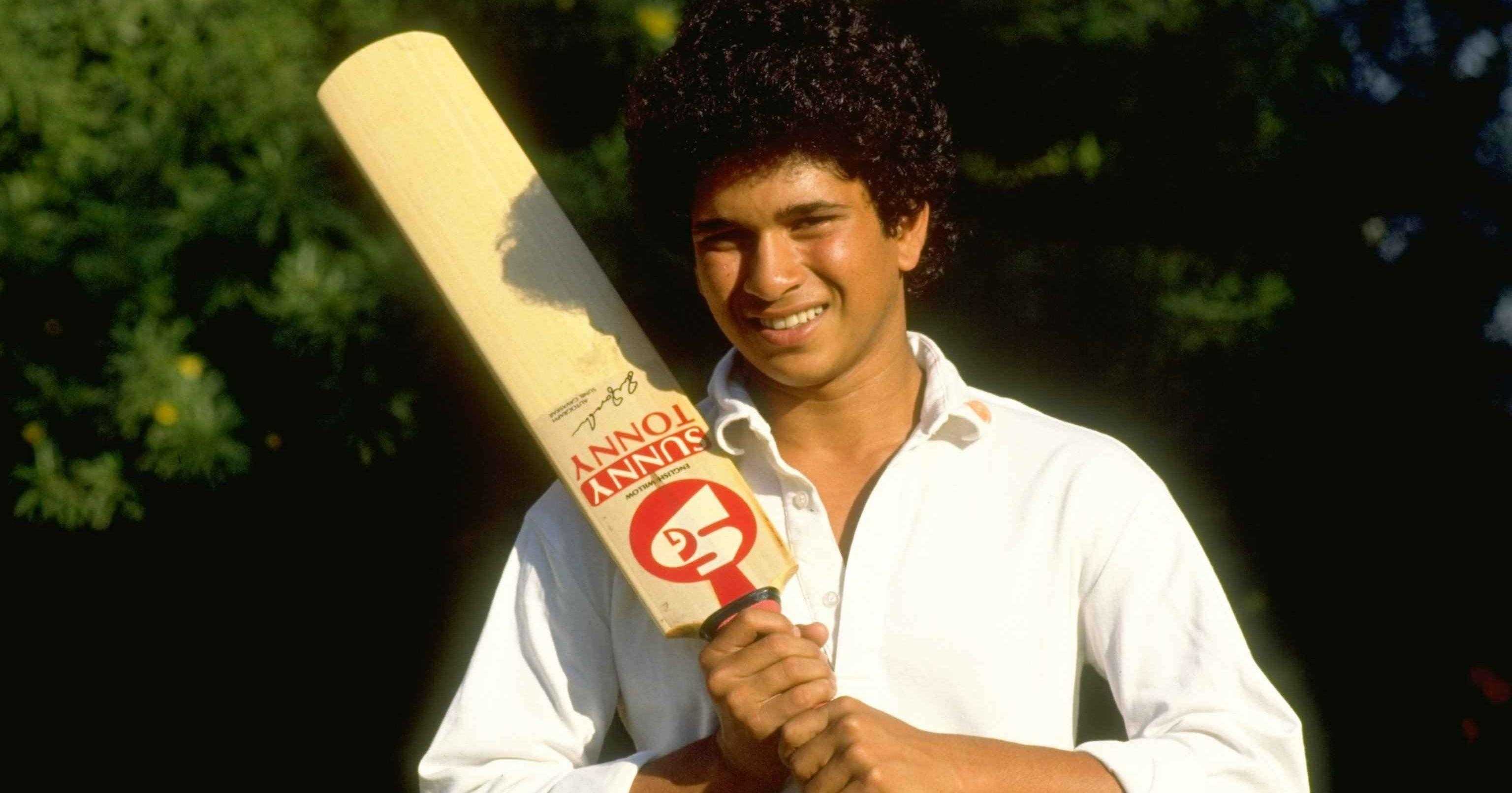 When Sachin Tendulkar was 14 years old, he went to the MRF Pace Foundation in Madras (currently Chennai) to train as a fast bowler. However, Dennis Lillee, an Australian fast bowler who amassed a world record 355 Test wickets, was unimpressed and advised Tendulkar to concentrate on his batting instead. He also made an appearance as a substitute for Imran Khan's team in an exhibition game to celebrate the Cricket Club of India's golden jubilee on January 20, 1987, at Bombay's Brabourne Stadium.
Sunil Gavaskar, a former Indian batsman, handed him a set of his own ultra-light pads a few months later and encouraged him not to be discouraged about not winning the Bombay Cricket Association's "Best Junior Cricketer Award" (he was 14 at the time).

When India faced England in the semifinal of the 1987 Cricket World Cup in Bombay, Sachin Tendulkar worked as a ball boy. Sachin Tendulkar achieved a century in each of his innings throughout this 1988 season. In a Lord Harris Shield inter-school match against St. Xavier's High School in 1988, Sachin Tendulkar and his friend and teammate Vinod Kambli, who later represented India, shared an uninterrupted 664-run partnership. In this innings, Sachin Tendulkar scored 326 runs (not out), giving him over a thousand runs overall for the competition. Until two under-13 batsmen broke it in a game played in Hyderabad, India, in 2006, this was the highest-ever partnership in any level of cricket.
Early Domestic Career
The 14-year-old Tendulkar was chosen to play for Bombay in the premier domestic First-class cricket competition in India, the Ranji Trophy, for the 1987–88 season on November 14, 1987. Sachin Tendulkar was frequently used as a replacement fielder, but he was never chosen for the starting eleven in any of the games. Sunil Gavaskar, Sachin Tendulkar's hero, had stopped playing all forms of cricket following the 1987 Cricket World Cup and was therefore not able to play with him.

Sachin Tendulkar made his debut for Bombay against Gujarat at Wankhede Stadium a year later, on December 11, 1988, when he was 15 years and 232 days old. He scored 100 not out in that game, making him the youngest Indian to do so in first-class cricket. When the Indian team arrived at the Wankhede Stadium to play the visiting New Zealand side, Sachin Tendulkar comfortably defeated Kapil Dev, India's finest fast bowler at the time, in the cricket practice nets there. This led the then-Bombay captain Dilip Vengsarkar to choose him to play for the team. Then, on his debut at the Deodhar and Duleep Trophies, two domestic Indian competitions, Sachin Tendulkar scored a century.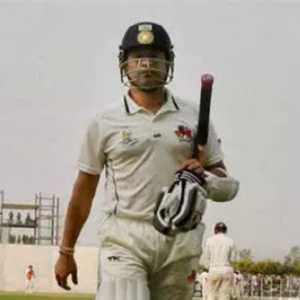 At the end of the 1988–1989 Ranji Trophy season, Sachin Tendulkar had scored the most runs for Bombay. He was the eighth-highest run scorer overall with 583 runs scored at an average of 67.77 runs per game. He led Mumbai in the 1995–96 Irani Trophy match against the Rest of India team. When playing for the Rest of India in the Irani Trophy match against Delhi at the beginning of the 1989–1990 season, Sachin Tendulkar also made an undefeated century. In 1988 and 1989, Sachin Tendulkar was chosen to play for a youthful Indian side that twice toured England under the Star Cricket Club name. Tendulkar's 96 from 75 balls was crucial in the illustrious 1990–91 Ranji Trophy final, which Haryana won by two runs after leading Bombay in the first innings as it attempted to chase 355 from only 70 overs on the final day.

Sachin Tendulkar scored 140 and 139 against Punjab at Wankhede in the 1995 Ranji Trophy final while serving as captain. His innings for Mumbai in the Ranji Trophy final at Wankhede Stadium included 53 against Hyderabad, 128 in 2000, and 105, 43 against Bengal in 2007. At the Brabourne Stadium in 1998, Sachin Tendulkar scored his first double century (204*) for Mumbai while taking on a visiting Australian squad. The only player to record a century on his debut in each of his three domestic first-class matches is Sachin Tendulkar (the Ranji, Irani, and Duleep Trophies). Sachin Tendulkar also scored a double century in an innings of 233* against Tamil Nadu in the 2000 Ranji Trophy semifinals, which he considers to be among his finest ever. Tendulkar played in five Ranji Trophy finals, of which Mumbai took home four.

At the age of 19, Sachin Tendulkar made history by becoming the first player from outside of Yorkshire to play for Yorkshire in 1992. Before Tendulkar joined the club, Yorkshire had never even chosen players from outside of Yorkshire. Tendulkar played 16 first-class matches for Yorkshire as a replacement for the injured Australian fast bowler Craig McDermott, scoring 1070 runs at an average of 46.52.
International Career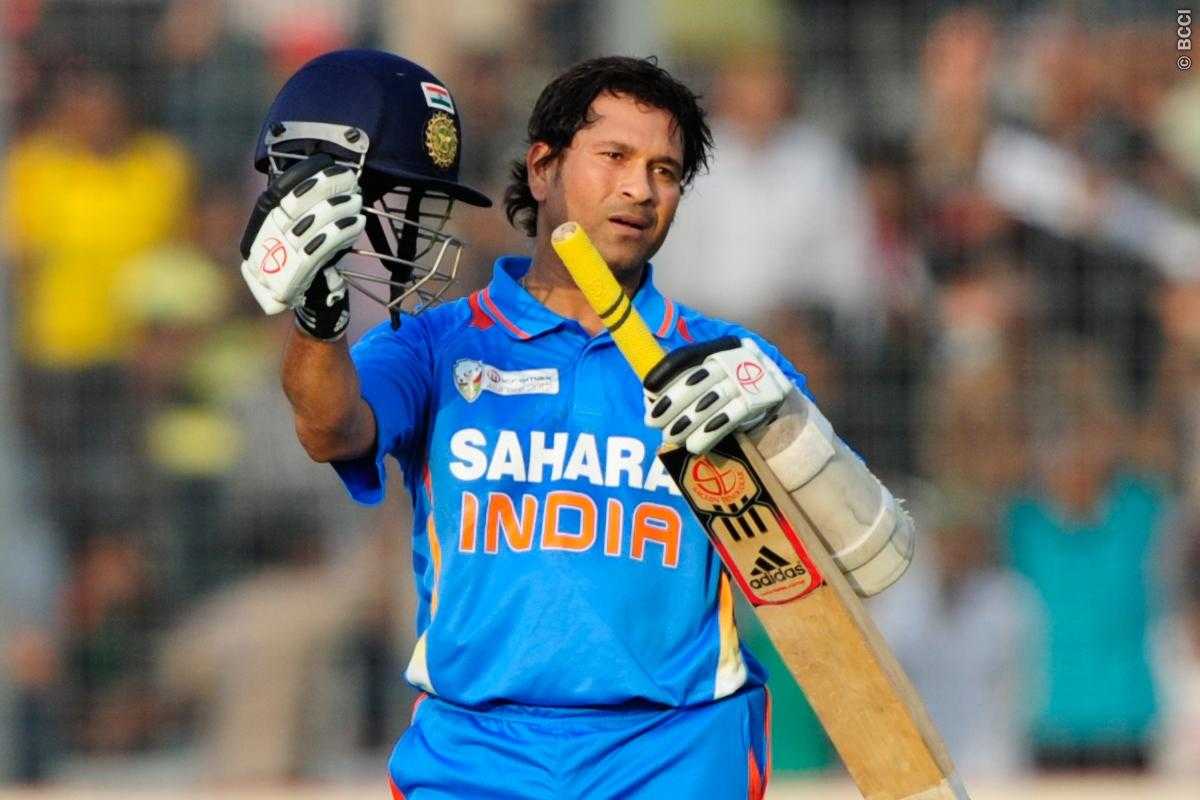 The years 1994 through 1999 saw Sachin Tendulkar at the height of his abilities physically, in his early twenties. In 1994, he batted first against New Zealand in Auckland and scored 82 runs off 49 balls. The first ODI century by Sachin Tendulkar came against Australia on September 9, 1994, in Colombo, Sri Lanka. He needed 78 ODIs before recording his first century. Tendulkar's ascent continued in 1996 when he scored two hundreds and finished as the tournament's top run scorer. The only Indian batsman to do well in the semifinal match against Sri Lanka was Sachin Tendulkar. After the crowd started rioting and throwing trash onto the field, the match referee, Clive Lloyd, awarded Sri Lanka the victory after Tendulkar fell after a batting slump.

After the World Cup, Indian captain Mohammed Azharuddin faced Pakistan in Sharjah while going through a hard time. A then-record partnership for the second wicket was established by Sachin Tendulkar and Navjot Singh Sidhu, who both scored hundreds. Tendulkar discovered Azharuddin unsure on whether to bat after getting out. Azharuddin was persuaded to bat by Sachin Tendulkar, and he then scored 24 runs off of one over. Later, India prevailed in that game. For the first time in an ODI, India was able to achieve a score of more than 300 runs thanks to it.

In the Coca-Cola Cup match in Sharjah against the formidable Australian squad, Sachin Tendulkar hit 143 (131) runs, smashing five sixes while up against Shane Warne, Damien Fleming, and Michael Kasprowicz. This is his best one-day inning, according to the ICC survey. Due to the desert storm that ended this match, Tendulkar's inning is known as Desert Storm.

Sachin Tendulkar struck 136 in the fourth innings of the first of a two-Test series against Pakistan in 1999 at Chepauk, with India needing to score 271 to win. Sachin Tendulkar was dismissed, though, when India still needed 17 runs to win, which led to a batting collapse and a 12-run loss for India. The worst was still to come when Sachin's father, Professor Ramesh Tendulkar, passed away during the 1999 Cricket World Cup. Sachin Tendulkar missed the game against Zimbabwe because he had to fly back to India to participate in his father's funeral rites. Tendulkar did, however, make a comeback to the World Cup, defeating Kenya in Bristol and hitting a century (140 runs off 101 balls). He made his father the recipient of this century.
Captain of the Indian Cricket Team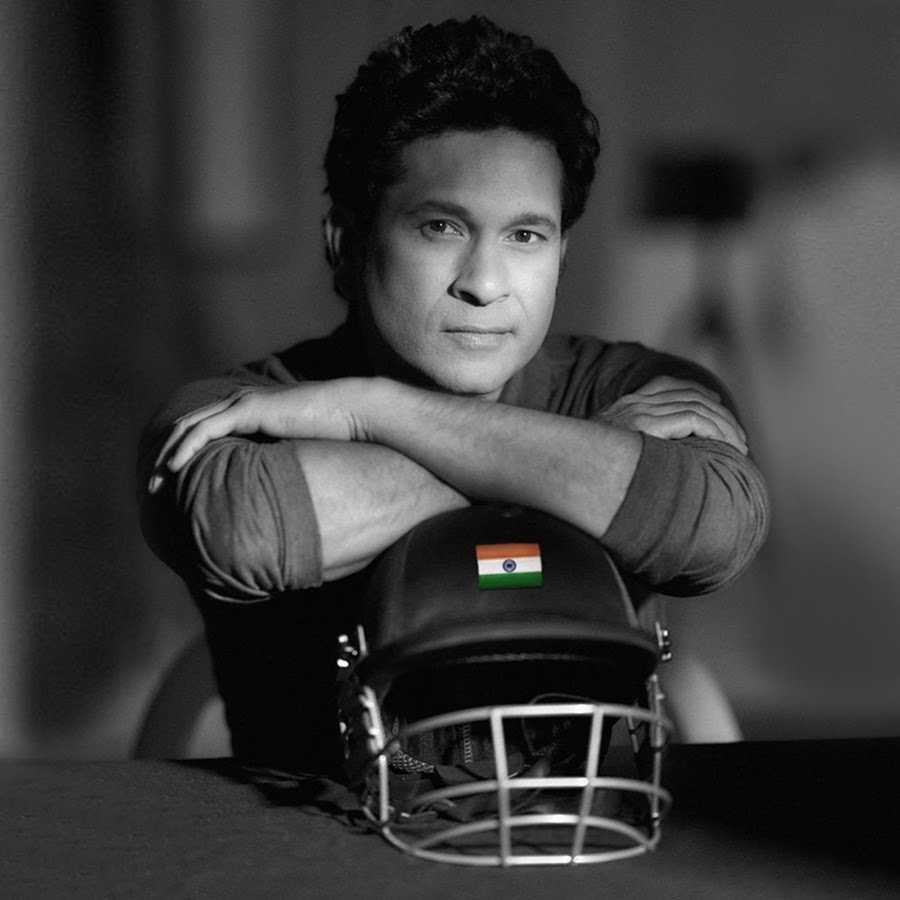 The two years that Sachin Tendulkar led the Indian cricket team were not very productive. There were a lot of hopes and aspirations when Tendulkar took over as captain in 1996. However, the team's performance declined by 1997. The quotation attributed to Azharuddin "Definitely not! The phrase "He won't win!" is translated as "Chote ki naseeb main jeet nahin hai!" The little one's fate does not call for it!." India's tour of Australia was led by Sachin Tendulkar, who succeeded Azharuddin as captain for a second time.

The visitors were defeated 3-0 by the freshly crowned world champions. However, Tendulkar was recognized as a player of the series and player of the game in one of the contests. Tendulkar quit in 2000 following yet another Test series loss, this time by a score of 0-2 at home against South Africa, and Sourav Ganguly was appointed captain.

Rahul Dravid expressed a willingness to step down as captain during the Indian team's 2007 tour of England. Sharad Pawar, the president of the Board of Control for Cricket in India (BCCI), then suggested Mahendra Singh Dhoni for the captaincy, but Sachin Tendulkar declined. Later, Pawar disclosed this conversation, attributing Tendulkar's first sending of the name of Dhoni—who has since enjoyed great success as captain—to Tendulkar.
2011 World Cup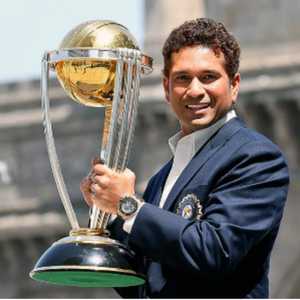 The 2011 World Cup was held in Bangladesh, India, and Sri Lanka from February to April. Only Tillakaratne Dilshan of Sri Lanka scored more runs in the 2011 tournament and was chosen to the ICC "Team of the Tournament" with 482 runs at an average of 53.55, including two hundreds from Tendulkar. In the championship, India defeated Sri Lanka. "Winning the World Cup is the proudest moment of my life," Tendulkar said shortly after the triumph. "I couldn't contain my tears of joy."

In June, India was scheduled to tour the West Indies, but Tendulkar declined to go. For India's tour to England in July, he rejoined the team. Media speculation on Tendulkar scoring his 100th century in international cricket persisted throughout the tour (Test and ODIs combined). Tendulkar's greatest Test score was 91, though, and he averaged 34.12 in the series, which England won 4-0 to unseat India as the top-ranked Test team.

Tendulkar missed the subsequent ODI series because the ailment he sustained to his right foot in 2001 resurfaced. On November 8, 2011, during the first Test match against the West Indies at the Feroz Shah Kotla Stadium in New Delhi, Sachin Tendulkar set a new record for the most runs ever scored in Test cricket. He was included in the ICC World Test XI for his 2011 achievements.
100th International Century
On March 16, 2012, during the Asia Cup match between Bangladesh and Mirpur, Sachin Tendulkar earned his 100th career international century. In addition to scoring his first ODI hundred against Bangladesh, Tendulkar became the first person in history to accomplish this accomplishment. quoting Sachin Tendulkar "It's been a challenging time for me.

I wasn't considering the milestone because it was all launched by the media and everyone was talking about it everywhere I went at restaurants and during room service. No one mentioned my 99 hundreds. I found it to be mentally challenging because no one mentioned my 99 hundreds." Tendulkar scored a century, but India still fell short against Bangladesh, losing by five wickets.
Return to Ranji Trophy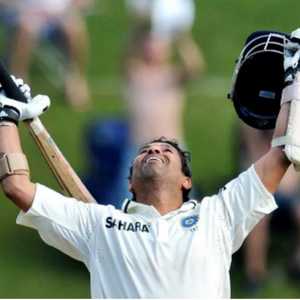 Tendulkar returned to the Ranji Trophy on November 2, 2012, in a match for Mumbai against Railways, to regain his form after being bowled out three times in a row against New Zealand and before the England Series at home. His first Ranji Trophy game since 2009 was this one. With 137 runs off 136 balls including 21 fours and three sixes, Sachin Tendulkar led his team to a first-day total of 344 for 4. However, due to his poor performance in the first two Tests of the series against England and India's humiliating loss by 10 wickets in the second game of that series on November 26, 2012, some have begun to question his position in the Indian team.

According to a report by The Hindustan Times, Tendulkar had a conversation with national chief selector Sandeep Patil during which he claimed he would defer to the selectors' judgment over his future because he was receiving no runs. Later, however, it was determined that this rumor was untrue. Then he made the decision to compete in the 2012–13 Ranji Trophy knockout round. In the quarterfinal match against Baroda at Wankhede Stadium, Sachin and opener Wasim Jaffer (150) shared a 234-run partnership for the third wicket. He made 108 before being bowled by Murtuja Vahora. Mumbai ultimately amassed 645/9 and triumphed on a lead from the first innings.

Sachin scored 56 from 75 balls and had an 81-run fourth-wicket partnership with Abhishek Nayar (70) in the semi-final match against Services at Palam A Ground when Mumbai was reeling at 23/3. As a result, Mumbai eventually won on a first-innings lead after the game went into its sixth day due to rain delays. Sachin Tendulkar was run out for 22 against Saurashtra in the championship game after an argument with Wasim Jaffer. Mumbai ultimately took home the 2012–13 Ranji Trophy. Tendulkar also participated for Mumbai in the Irani Trophy, scoring 140* against the Rest of India and assisting Mumbai in responding with 409 runs to the Rest of India's 526. In addition, he matched Sunil Gavaskar's Indian record for the most first-class hundreds with his 81st hundred in first-class cricket.
Retirement
On December 23, 2012, Sachin Tendulkar declared his retirement from One Day Internationals while stating that he will still be available for Test cricket. Anil Kumble said it would be "tough to see an Indian (ODI) team list without Tendulkar's name in it," and Javagal Srinath said that Tendulkar'' changed the way ODIs were played right from the time he opened in New Zealand in 1994." In response to the news, former India captain Sourav Ganguly noted that Tendulkar could have played the upcoming series against Pakistan.

Sachin Tendulkar declared he will never play another Twenty20 International after taking the field in one against South Africa in 2006. After Mumbai Indians defeated Chennai Super Kings by 23 runs at the Eden Gardens in Kolkata on May 26 to win the Indian Premier League 2013, Sachin Tendulkar announced his retirement from the IPL. After competing for the Mumbai Indians in the 2013 Champions League Twenty20 in India from September through October 2013, Tendulkar announced his retirement from Twenty20 and limited-overs cricket.

Tendulkar stated on 10 October 2013 that he would stop playing all forms of cricket following the two-Test series against the West Indies in November. The BCCI granted his request to have the two games played in Kolkata and Mumbai, respectively, so that the farewell could take place there. The next batter to bat after Sachin Tendulkar, future skipper Virat Kohli, hit 74 runs in his final Test innings against the West Indies, falling 79 runs short of reaching 16,000 Test runs. Events were held to commemorate his departure from the sport by the Mumbai Cricket Association and the Cricket Association of Bengal. In a day-long Salaam Sachin Conclave hosted by India Today, numerous national and international personalities from the realms of cricket, politics, Bollywood, and other topics spoke about him.
Net Worth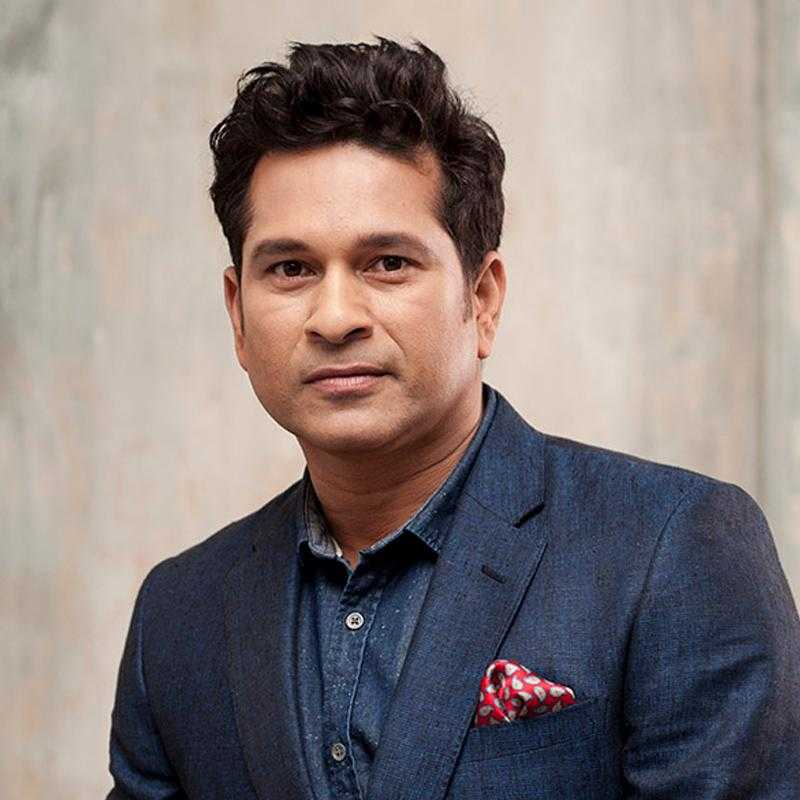 Sachin Tendulkar is one of the most popular Indian cricketers. Sachin Tendulkar is also known to be the most successful one as well. In addition to his various sources of income, including endorsement deals, brand ambassadorships, and ads, Sachin Tendulkar began his career as a professional cricketer. Sachin Tendulkar agreed to a 30-crore contract with WorldTel in 1995. Additionally, he owns the Bangalore Blasters in the Premier Badminton League and the Kochi ISL franchise in the Indian Super League of football. There are two restaurants owned by Sachin Tendulkar, one in Bangalore and one in Mumbai.

The net worth of Sachin Tendulkar exceeds $200 million which is around 1090 crore in Indian currency. Thus, he surpasses Virat Kohli and Ms. Dhoni to hold the title of richest cricketer. The assets that make up Sachin Tendulkar's net worth are automobiles, money, investments, and other assets. Sachin Tendulkar enjoys driving, therefore whenever a new model is released, he purchases a new vehicle. Additionally, he makes a good living as a brand ambassador for numerous automakers. The "Lord of Cricket" and rising star Sachin Tendulkar is a brand endorser for several major companies, and his popularity is growing daily. in order to increase sales. People are drawing inspiration from and imitating Sachin Tendulkar because he has imprinted an unquestionable image of himself on the minds of Indians.
Controversies
Match Fixing in 2000
A significant match-fixing controversy in Indian cricket occurred in the year 2000. Following the event, Sachin Tendulkar and the other three senior cricketers significantly contributed to ensuring that the players who had been suspended by the BCCI and whose performance was questionable were never again selected for the Indian squad. Sachin Tendulkar carried out this task in silence, making no public pronouncements. Numerous articles have been written about Sachin Tendulkar's shortcomings as captain, including the repeated calls for him to be appointed, the offer of the position in 2007 and his rejection of it.
Incident with Mike Denness
Referee Mike Denness penalised four Indian players for excessive appealing during India's 2001 tour of South Africa during the second test match between India and South Africa at St George's Park in Port Elizabeth. He also fined Indian captain Sourav Ganguly for losing control of his team. In view of the alleged tampering with the ball, Denness handed Tendulkar a one-game suspended suspension. Images captured by television cameras appeared to show Tendulkar possibly helping to polish the seam of the cricket ball.

In some cases, this can be compared to changing the ball's state. After Sachin Tendulkar was found guilty of ball tampering charges by Denness, he was suspended for one Test match. As a result of the incident's escalation, which included sports journalists accusing Denness of racism, Denness was denied access to the third Test match's location. Due to the teams' rejection of the chosen referee, the ICC cancelled the match's classification as a Test. A significant outcry from the Indian people was brought on by the allegations against Tendulkar and Sehwag suspension for excessive appeals.
Achievements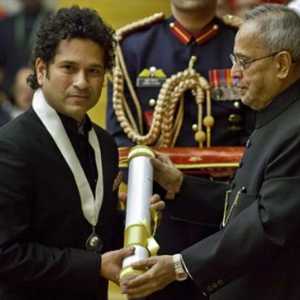 In each of his three domestic first-class competitions, Sachin Tendulkar scored a century on his debut.
In tests and ODIS, Sachin Tendulkar remains to be the youngest player to make a debut for India.
Sachin Tendulkar is the third-youngest player in test cricket history to score a century.
In test cricket, Sachin Tendulkar is the only cricketer who has scored the most runs.
Sachin Tendulkar is the leading run-scorer in ODI cricket as well.
The record for the most runs in a single World Cup belongs to Sachin Tendulkar.
The first male player to score a double-digit total in ODIS was Sachin Tendulkar.
Sachin Tendulkar has received the Bharat Ratna Award in 2013.
Sachin Tendulkar received the Arjuna Award for his outstanding achievement in sports in 1994.
In 1997, Tendulkar was awarded the Rajiv Gandhi Khel Ratna Award which is known as India's highest sporting honor.
Sachin Tendulkar then received the Padma Shri and the Padma Vibhushan Awards in the year 1999 and 2008 which are India's fourth and second highest civilian awards respectively.
In 2010, Time magazine included Sachin Tendulkar in their yearly Time 100 list as one of the Most Influential People in The World.
10 Amazing Facts
First active cricketer from India to be nominated for the Rajya Sabha was Sachin Tendulkar.
Dennis Lillee's MRF Pace Foundation turned down young Sachin Tendulkar in 1987 when he applied as a fast bowler.
Sachin served as the ball boy for the India vs. Zimbabwe game at the Wankhede Stadium during the 1987 World Cup. He was 14 at the time.
In 1988, during a one-day exhibition match between Pakistan and India at the Brabourne Stadium, Sachin Tendulkar played for Pakistan as a replacement.
When Tendulkar was younger, his instructor Ramakant Achrekar would give him a penny if he could bat through a complete session of nets without getting dismissed. Tendulkar possesses 13 such coins.
In October 1995, Sachin signed a five-year, Rs 31.5 crore contract with World Tel, making him the sport's richest cricketer.
When he was young, Sachin Tendulkar slept with his cricket equipment.
Sachin Tendulkar enjoys accumulating fragrances and timepieces.
Maruti-800 was Tendulkar's first automobile.
The first international batter to be dismissed by a third umpire was Sachin Tendulkar.
Profile Summary
How to book a personalised celebrity video wish from a celebrity similar to Sachin Tendulkar?
Knowing about Sachin Tendulkar is so much fun. How about getting a message from a celebrity similar to Sachin Tendulkar? Tring makes it possible!

Now you can get a personalised celebrity video message from over 12000+ celebrities!

What's better than your favourite celebrity making a video for your loved ones? This is your chance to get a personalised celebrity message from celebs like Daisy Shah, Shankar Mahadevan, Shaan, Salim Merchant, Shraddha Arya and many more!

All the best experiences, moments and special wishes in one FREE Celebrity Video!

It takes just 4 steps to share the best anniversary wishes with your wife. Surprise your loved ones now!


Click here to fill out the form above.
Fill in the required details
Click on "Claim Your Rewards"
Select your favourite celebrity.
Your Personalised Celebrity Shoutout Video/Message will be delivered to your mail/Whatsapp, which takes care of your pocket as well!
Ready to make memories? Book your wish now!
Social Media
Frequently Asked Questions