Rohit Sharma | Cricket, Age, Biography, Struggle, Family

Hitesh Mandot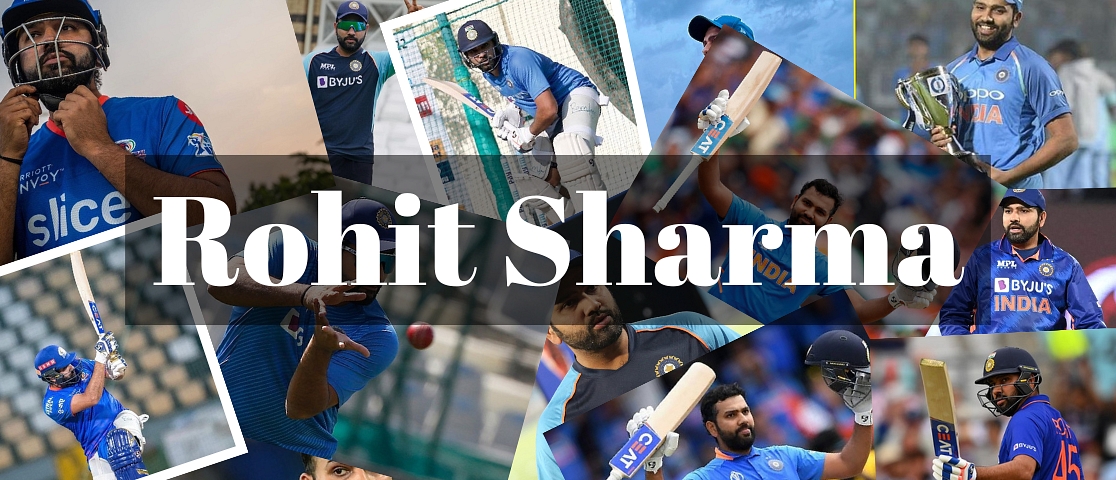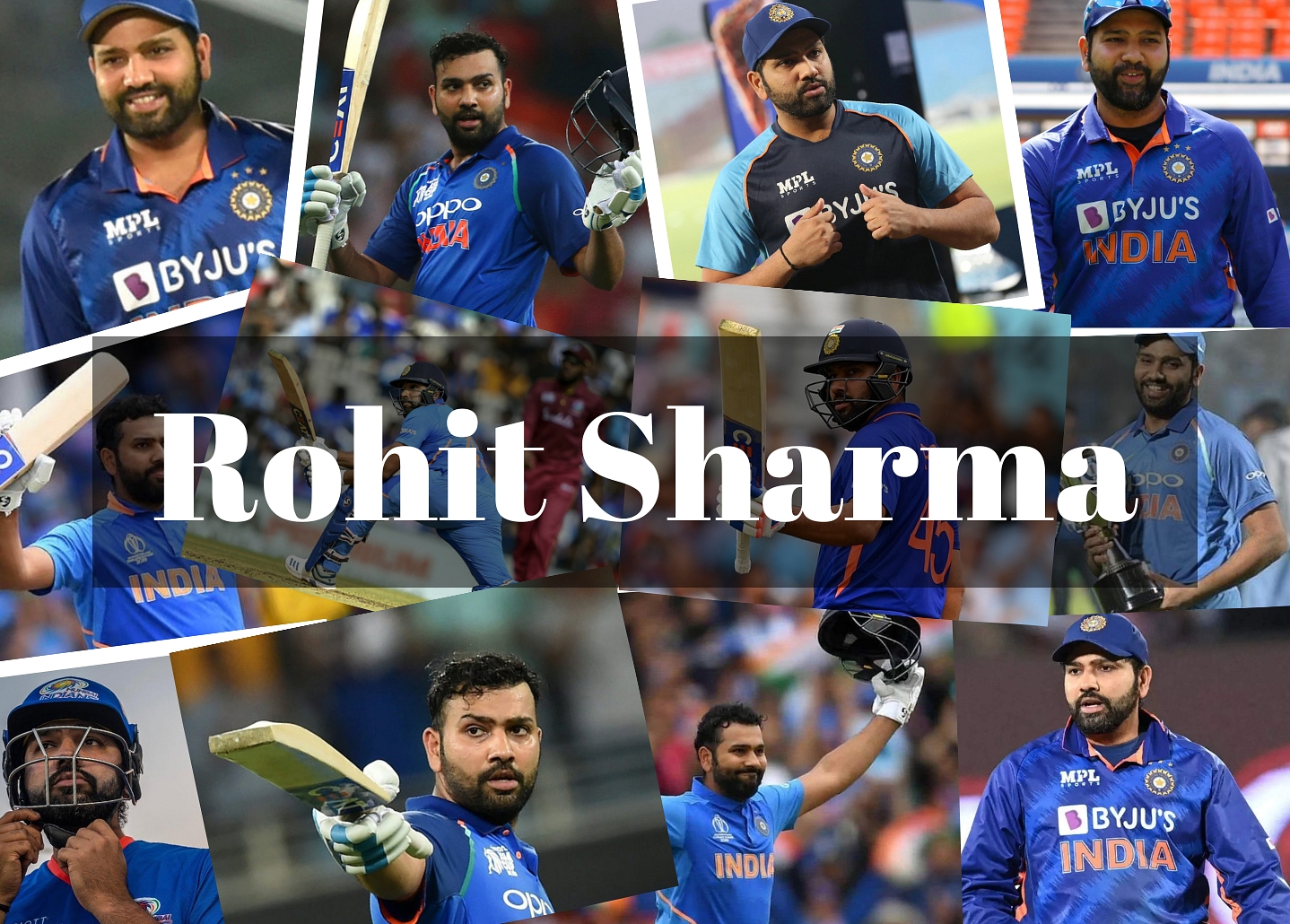 Rohit (Hitman) Sharma name given by commentators of Cricket. is a batsman for the Indian Cricket Team. Rohit Sharma is given the nickname Hitman. Rohit Sharma plays with beauty and elegance despite being an aggressive batsman. Although he typically bats first in limited-overs matches, he has spent the majority of his Test matches in the middle of the order. Rohit Sharma is regarded as one of the best batsmen in the game of limited overs cricket.
Rohit Sharma's Age and Rohit Sharma's Biography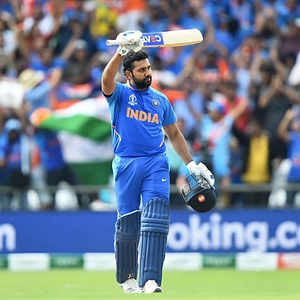 Indian cricketer Rohit Gurunath Sharma was born on April 30, 1987. Rohit Sharma currently serves as the team's captain. He bats with his right hand first and occasionally bowls with his right arm off break. Rohit Sharma participates in IPL cricket for Mumbai. He leads the Mumbai Indians, who have won the Indian Premier League a record five times while he is their captain. As of 2022, Rohit Sharma's age is 35 Years.

Rohit Sharma is the only player to have scored three double centuries in one-day internationals and currently holds the record for the highest individual score (264) in a one-day international match. After scoring five centuries during the 2019 World Cup, he was named the ICC Men's ODI Cricketer of the Year. Rohit Sharma has won two prominent national awards: the Major Dhyan Chand Khel Ratna in 2020 and the Arjuna Award in 2015.

Rohit Sharma is a promoter of animal welfare causes outside of cricket. He is a member of People for the Ethical Treatment of Animals and serves as the designated Rhino Ambassador for WWF-India (PETA). He has assisted PETA in its effort to bring attention to the issue of India's stray cats and dogs.

Rohit Sharma's Family and Rohit Sharma's Education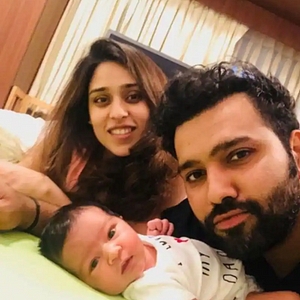 On April 30, 1987, Rohit Sharma was born in Bansod, Nagpur, Maharashtra. Rohit Sharma's mother, Purnima Sharma, is from the Andhra Pradesh city of Visakhapatnam. Gurunath Sharma, Rohit Sharma's father, was a warehouse keeper for a transportation company. Due to his father's meager salary, Sharma was raised by his grandparents and uncles in Borivali. Only on weekends did he travel to his parents' one-room Dombivli home to see them. Vishal Sharma is his younger brother. Rohit Sharma's wife is Ritika Sajdeh. Rohit Sharma's daughter's name is Samaira.

In 1999, Rohit Sharma utilized his uncle's funds to enroll in a cricket camp. His camp coach, Dinesh Lad, suggested that he switch to Swami Vivekanand International School because it had better cricket facilities than his previous school and Lad was the head coach there. In his own words, Rohit Sharma recalls, I told him I couldn't afford it, but he got me a scholarship. So for four years, I didn't pay a penny, and I did well in my cricket. Rohit Sharma began as an off-spinner who could bat a little before Lad recognized his batting prowess and moved him up to the number eight position to start the innings. He performed admirably in the Harris and Giles Shield school cricket competitions, opening the innings and getting a century.

Talk To Similar Celebrities
Rohit Sharma's Relationship and Affairs
Rohit Sharma and Sophia Hayat Affair
Reports of a relationship between Rohit Sharma and Sophia Hayat first surfaced in the year 2012. Numerous newspapers ran stories about Sofia Hayat and Rohit Sharma's relationship. However, as soon as their affair became public knowledge, news of Rohit and Sophia's split spread almost as quickly.

Through a tweet, the actress made it clear that their relationship had ended. But everyone was surprised by what she disclosed. Virat Kohli, a fellow famous batsman, is alleged to be to blame for Rohit's separation. According to rumors, one of the reasons Kohli and Sofia's relationship ended was because of their friendship. I turned Rohit down because Virat is a better player on and off the field, the actress stated in a tweet.

Rohit Sharma and Ritika Sajdeh Affair
Ritika, a sports event manager, is Yuvraj Singh's rakhi sister and also a cricket player. Yuvraj had cautioned Rohit Sharma to keep a safe distance from Ritika Sajdeh before they had met for an advertisement shoot.

Ritika was initially disliked by Rohit, but as the two got to know one another more, they eventually began dating. They had been dating each other for a solid six years before getting married. Ritika and Rohit were coworkers when they first met. As Rohit's manager, Ritika, a sports event manager, used to handle all of his cricket commitments.

On June 3, 2015, Rohit Sharma and Ritika Sajdeh announced their engagement. Later, after declaring their engagement, Rohit arranged an engagement party where he and his then-girlfriend, Ritika Sajdeh, formally exchanged engagement rings. According to reports, the couple exchanged rings at the Borivali Sports Complex in Mumbai, and Bollywood actor Sohail Khan was present because his wife Seema Khan is Ritika's first cousin.

Rohit and his ladylove had been together for six years when he made the decision to propose in style. Ritika had been the subject of a proposal by Rohit at a significant location in his life. At the Borivali Sports Club in Mumbai, he got down on one knee and proposed to her while holding a solitaire ring in his hand. He began his career on the same grounds when he was just 11 years old. Ritika accepted the offer and answered yes after being taken aback by this gesture. He had tweeted the following along with a photo of the two: It couldn't get any better: soulmates and best pals.

The date of Rohit Sharma and Ritika Sajdeh's marriage was set on December 13, 2015. In Mumbai's Taj Lands Hotel, there had been a celebrity-studded wedding. A who's who of Bollywood, business, and cricket worlds attended their lavish wedding. On December 30, 2018, Rohit Sharma and Ritika Sajdeh welcomed their adorable daughter into the world after three years of blissful marriage.

Rohit Sharma's Struggles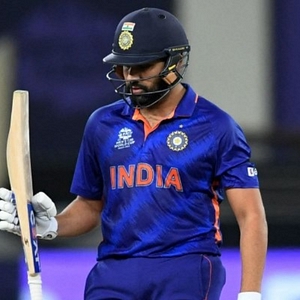 Due to his family's financial situation and his love of athletics, he was previously denied the opportunity to be raised by his parents. Rohit Sharma didn't have enough money to cover his education expenses, but he had dreams since he was a little child.All of his uncles had participated in collegiate and high school cricket. Rohit's aunts and friends contributed some funds in 1999 to enable him to enroll in a local cricket academy after realizing his capabilities and love for the sport.

Rohit began as an off-spinner before coach Dinesh Lad urged him to transfer and attend Swami Vivekananda International School, bearing in mind the better coaching and training facilities there. Now he is noted for his seemingly easy stroke play. Rohit was initially apprehensive to enrol in the new school since he knew it would be expensive and that his family wouldn't be able to pay the tuition.

However, if one has it in them, life does give them a chance or two. Coach Dinesh Lad managed to secure Rohit a scholarship, which spared him from paying tuition for the following four years. Lad quickly recognized Rohit's batting potential and advised him to concentrate on his batting also.

Rohit was asked to begin the batting since he would bat at positions 8 and 9, and he lived up to Coach Lad's faith by scoring an unbroken 120 runs in his maiden Inter-School game as an opener. Rohit spent his four years at this institution working on his batting technique, and it showed every time he took the bat in his hand.

Rohit Sharma's Matches and Career
Rohit Sharma had to play his first domestic cricket match for West Zone versus Central Zone in the 2005 Deodhar Trophy. But nobody paid much attention to him till he brilliantly hit 142 off 123 balls against North Zone in Udaipur. When he played for India A in First Class, he maintained his solid form. In 2006–2007, he finally made his Ranji Trophy debut. His double century against Gujrat was one of the season's high points despite his lackluster performance in the Ranji Trophy. Rohit Sharma, 20, was chosen for the limited overs team for India's tour to Ireland because selectors could see his potential, and it was there that he made his international debut in a game in which he was not given the opportunity to bat. Sharma made his Test debut against West Indies at Eden Gardens in Kolkata in November 2013, as part of Sachin Tendulkar's farewell series, and hit 177, the second-highest total by an Indian in their Test debut.

Rohit Sharma ODI Career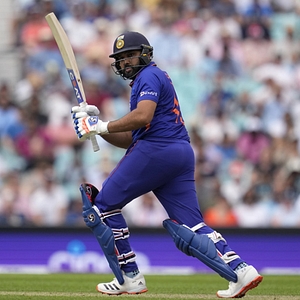 On June 23, 2007, in a one-day match in Belfast against Ireland, Sharma made his complete international debut. This was a contest in the 2007 Future Cup that also included South Africa. He batted at number seven in the order but did not participate in the innings as India won by nine wickets. On November 18, 2007, against Pakistan in Jaipur, he reached his first ODI half-century (52). He was then chosen for the Indian team that would compete in the 2007–08 Commonwealth Bank Series in Australia. He defeated Zimbabwe on May 28, 2010, and that day he hit his first ODI century with 114 runs.

In 2012, he suffered a dismal loss of form, scoring just 168 runs overall at a pitiful average of 12.92 with just one half-century. Nevertheless, his captain Mahendra Singh Dhoni had confidence in him, and in 2013 his career was revived. In the 2013 ICC Champions Trophy, Dhoni made the choice to bat him higher in the order to bat alongside Shikhar Dhawan to start the innings. India prevailed against the hosts England in the competition's final, and the pairing was a triumph.

Later in the year, when playing Australia in Jaipur, he maintained his strong form and struck 141 (not out). Following that, he scored 209 off 158 balls in Bangalore, setting a record for most sixes (16 sixes) in one day match and that has since been surpassed by England's Eoin Morgan with 17 sixes. On November 13, 2014, while competing against Sri Lanka at Kolkata's Eden Gardens, Sharma scored 264 runs off 173 balls, shattering the previous record of most runs in a one-day international match.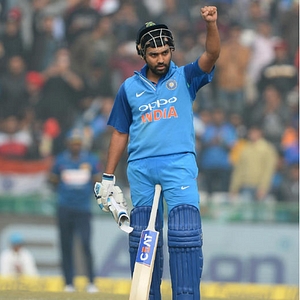 Rohit Sharma competed in eight matches for India during the 2015 Cricket World Cup in Australia, where he made his World Cup debut in March of that year. India advanced to the semi-final round before losing to Australia. Sharma finished the competition with 330 runs, one century, and a score of 137 against Bangladesh in the quarterfinal.

In preparation for India's tour of South Africa, which kicked off in the first week of January 2018, Rohit Sharma was appointed as captain. India won the series 2-1 under Sharma's leadership after he was named team captain. Sharma also scored 208 (not out) in this series' third ODI double-century to break the record for the most ODI double-centuries by a batsman.

Rohit Sharma was named the India team's vice-captain for the 2019 World Cup in England on April 15. He scored 122, including his 12,000th run in international cricket, in the first game against South Africa. He then recorded centuries against Bangladesh, England, and Pakistan. He equaled Tendulkar's record for the most centuries (six) in all World Cup games by hitting yet another century in the match against Sri Lanka, making him the first batsman to score five centuries in a single World Cup tournament. Sharma scored a total of 648 runs during the competition, finishing as the top run scorer and becoming the third Indian player to win the ICC Golden Bat title.

With 1,490 runs scored in ODIs over the year, including 7 centuries, he has the highest batting average in 2019. Rohit Sharma was nominated for the ICC Men's ODI Cricketer of the Decade award in November 2020.

Rohit Sharma Test Career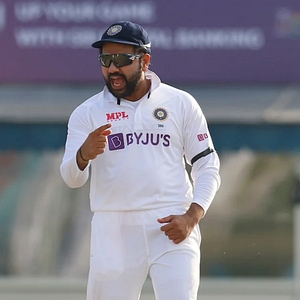 Rohit Sharma made his Test debut at Eden Gardens in Kolkata against the West Indies in November 2013 as part of Sachin Tendulkar's last series. In the third Test against South Africa in October 2019, Sharma notched his 2,000th run as well as his first Test double century. In the game's first innings, he scored 212 runs. Cheteshwar Pujara was replaced by Sharma as vice-captain of India's Test team for the 2020 tour of Australia.

In 2021, Rohit Sharma played well for India against England. He hit a century that The Guardian deemed deserves to be considered one of the greatest this century, and was crucial to his team's comeback after losing the first Test at Chennai. He scored 161 runs in an innings that featured 18 fours and two sixes, adding 167 runs with Ajinkya Rahane for the fourth wicket. India ultimately won the Test by 317 runs. On September 4, 2021, against England at The Oval, he went on to record his first overseas Test century and pass the 3,000-run mark in Test cricket.

Prior to a two-match series against Sri Lanka in February 2022, Rohit Sharma was named captain of India's Test team, succeeding Virat Kohli. Chetan Sharma, India's chairman of selectors, said: We will train future captains under him. Sunil Gavaskar appreciated his leadership.

Rohit Sharma T 20 Career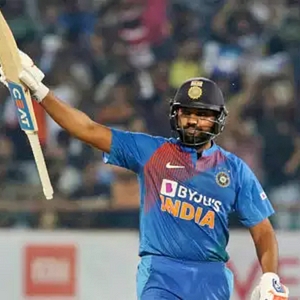 Rohit Sharma earned a name for himself at the 2007 ICC World Twenty20 by scoring an unbroken 50 from 40 deliveries against the tournament's hosts, South Africa. At the HPCA Stadium in Dharamshala on October 2, 2015, during the South African tour of India, Rohit Sharma struck 106 runs in the opening Twenty20 match.

With that, he joined a select group of Indian cricketers who have achieved century status in each of the game's three formats. In a series against Sri Lanka in December 2017, Rohit Sharma tied David Miller's record for the joint-fastest T20I century, scoring it in 35 balls and finishing with 118 from 43 deliveries. His second century in a Twenty20 international game came with this one.

Rohit Sharma was a candidate for the ICC Men's T20I Cricketer of the Decade award in November 2020. Rohit Sharma became the first captain in T20I history to guide their team to 14 straight victories in July 2022.

Rohit Sharma IPL Career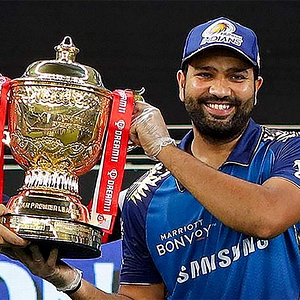 Rohit Sharma joined the Indian Premier League (IPL) in 2008 after agreeing to a US$750,000 yearly contract with the Hyderabad-based Deccan Chargers team. He was purchased by the Mumbai Indians for US$2 million at the 2011 auction. In the 2012 IPL, he made 109 (not out) runs against the Kolkata Knight Riders for his lone century. Mumbai has won under his direction in the IPL in 2013, 2015, 2017, 2019, and 2020. They also triumphed in the old Champions League Twenty20 in 2013.

Rohit Sharma has been the captain of the Mumbai Indians since 2013 and has led them to five IPL championships, making him one of the league's most successful players. He is one of just six players with 5,000 career runs in the competition as of March 2022. Rohit Sharma is the third-highest run-scorer with 5,611 runs, behind Virat Kohli and Shikhar Dhawan.

Rohit Sharma scored 268 runs in IPL 2022.

T20 World Cup 2022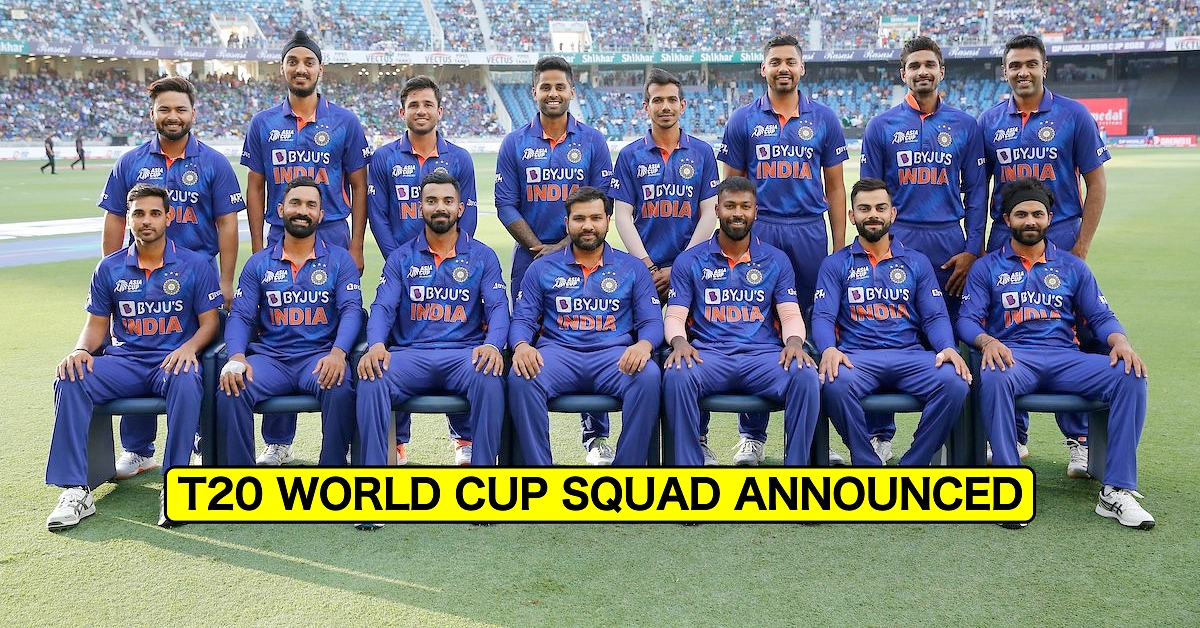 In September 2022 T20 World Cup squad was announced.

Rohit Sharma is a part of the Indian team along with Virat Kohli, KL Rahul, Suryakumar Yadav, Deepak Hooda, Rishabh Pant (wk), Dinesh Karthik (wk), Hardik Pandya, R Ashwin, Yuzvendra Chahal, Axar Patel, Jasprit Bumrah, Bhuvneshwar Kumar, Harshal Patel, Arshdeep Singh.
Standby players are Mohammad Shami, Shreyas Iyer, Ravi Bishnoi, Deepak Chahar
Rohit Sharma Runs and and Stats (as of July 2022)
Rohit Sharma's Controversies
A Tweet critical of Anushka Sharma was liked by Rohit Sharma.
The Indian team visited the high commissioner of India in London during their 2018 trip to England. The entire team sent photos to Twitter and shared a frame with the commissioner. Anushka Sharma, Virat Kohli's wife, was also seen in the photo, which upset several Twitter users. Many expressed their displeasure that Ajinkya Rahane, the vice-captain of the Indian test team, was hidden in the background as Anushka stood in the center of the frame. Because Rohit Sharma wasn't on that team, he liked a tweet and that caused a stir online.

When Rohit Sharma unfollowed Virat Kohli
Since they are frequently compared for their cricketing prowess, Virat Kohli and Rohit Sharma haven't been the best of friends. Following India's painful loss in the World Cup 2019 semi-final, the two were in the spotlight, with some experts calling for Virat Kohli to step aside as captain in order to make room for Rohit Sharma to fill the position. In the thick of it all, Rohit Sharma stopped following Virat Kohli on Twitter, which at the time caused a significant uproar.

Rohit Sharma unfollowed Anushka Sharma on Instagram
Rohit Sharma recently made waves after he unfollowed Anushka Sharma on Instagram in addition to unfollowing Virat Kohli. The Bollywood actress was previously followed by India's vice-captain on Instagram, but throughout their falling out, Rohit unfollowed her, sparking several rumors. Anushka Sharma created a weird Instagram tale following the incident. A smart man once chose not to speak. In a jumble of misleading appearances, only truth can shake hands with quiet, she stated in the Instagram story.

Rohit Sharma liked a post that stated KL is Overrated
Both KL Rahul and Rohit Sharma were part of India's West Indies trip, however in both tests, the former was chosen over the latter. A modest test series was played by KL Rahul, who scored 101 runs in four innings. Following the series, Rohit Sharma liked a tweet that claimed KL Rahul was better than Rohit Sharma in tests. The viral nature of the post sparked yet another debate.

Rohit Sharma's Net Worth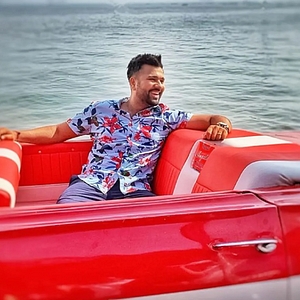 Mr. Rohit Sharma is thought to be worth a total of 24 million US dollars (or 180 crore rupees), which is roughly 180 crore rupees in Indian currency (i.e. approx One Hundred Eighty Crore INR). Cricket was the primary source of both his income and wealth. Additionally, Mr. Rohit Sharma has a very high brand value and is the most well-liked player in the world. Additionally, he makes a sizable chunk of money from the Indian Premier League and numerous international and national cricket matches. He also demands a hefty sum of money to endorse numerous brands.

In 2015, Rohit Sharma purchased a luxurious and stylish home in Mumbai, India. His home is currently worth 30 crore rupees. Additionally, he owns other real estate properties across the nation. Rohit Sharma has a handful of the finest luxury vehicles in existence. Rohit Sharma is the owner of the automobile companies BMW, Audi, Porsche, and Mercedes Benz.

Rohit Sharma Awards and Achievements
Rohit Sharma was honored with the 'Arjuna Award' in 2015.
2015 – GQ award for Sportsman of the Year.
Name included in ICC ODI Team of the Year: 2014, 2016, 2017, 2018, 2019.
ICC ODI Player of the Year – 2019
Awarded the Golden Bat award for scoring the most number of runs in ICC Cricket World Cup 2019.
Rohit Sharma won the Sportsman of the year award from Indian Sports Honours. (Year – 2019)
Rohit Sharma was awarded the highest sports honor in the country, the Rajiv Gandhi Khel Ratna Award in 2020.
Rohit Sharma's Records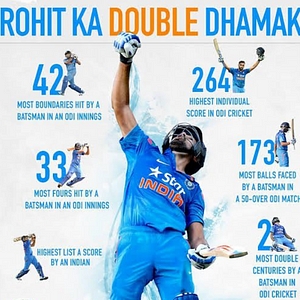 In each of the three formats, Rohit Sharma holds the distinction of scoring a century with a six.
The 264 in the ODI is Rohit Sharma's greatest personal score. This is any player's highest score in an ODI to date. The only batsman to record three double centuries in one-day international games is Rohit Sharma.
In ODIs, only Rohit Sharma has scored eight innings of 150 or more, beating the previous records held by David Warner and Sachin Tendulkar.
In the 12th Cricket World Cup, he is the only other batsman with five centuries.
In ODIs, Rohit Sharma has won 21 Player Of Match Awards.
He accomplished the first-ever T20I record for a batsman in the world.
With scores of 176 and 127, Sharma became the first Indian opener to score two hundred in a Test match. He accomplished the first-ever feat of four T20I centuries by a batsman.
Since Rohit has won five IPL championships for the Mumbai Indians, he is regarded as one of the best captains.
For MI, Rohit Sharma has been a rather capable fielder. The record for the most catches taken in an inning belongs to Rohit Sharma.
The only cricketer from India to have scored a hundred runs and taken a hat-trick in the IPL is Rohit Sharma.
Rohit Sharma's Interesting Facts
Although Rohit Sharma played domestic cricket for Mumbai, he was born in Visakhapatnam.
The four languages that Rohit Sharma is fluent in are Telugu, Marathi, Hindi, and English.
Off-spinner was how Rohit Sharma began his professional career.
Rohit is known as Hitman by him.
In order to meet his batting idol, Indian cricketer Virender Sehwag, Rohit Sharma once skipped class.
Manchester United has a devoted follower in Rohit Sharma.
Rohit is the Indian cricket team member who loves to sleep the most, according to Virat Kohli.
Social Media
Frequently Asked Questions