Shantanu Nikhil | Career, Designs, Age, Biography, Net Worth

Violeena Vargav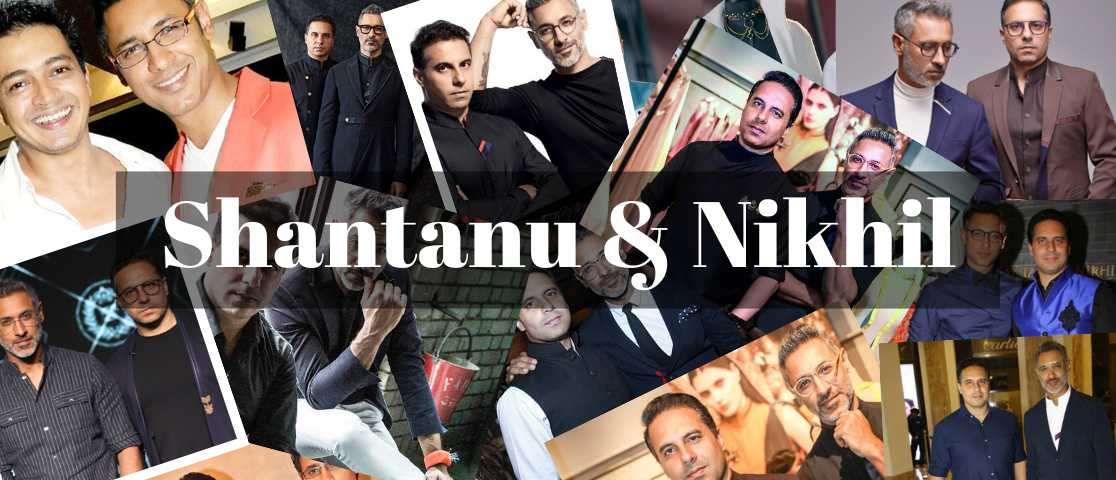 Shantanu and Nikhil's Biography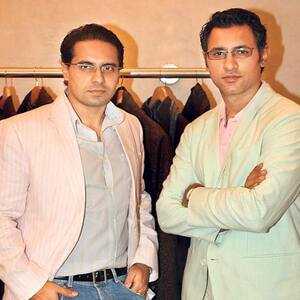 In 2000, brothers Shantanu and Nikhil Mehra launched the Indian couture brand Shantanu & Nikhil. In a 60 crore agreement, Aditya Birla Fashion and Retail Limited (ABFRL) purchased 51% of the stock in the label's company Finesse International Design Private Limited.

Shantanu Mehra's birthday is 25 August. Shantanu Mehra's birthplace is Delhi, India. Shantanu Mehra has been active in the fashion industry since 1999. Shantanu Mehra's age is assumed to be around 50. Shantanu Mehra's religion is Hinduism. Shantanu Mehra's zodiac sign is Leo Shantanu Mehra's height is not known. Shantanu Mehra's weight is not known.

Nikhil Mehra's birthday is 17 June 1974. Nikhil Mehra's birthplace is Delhi, India. Nikhil Mehra has been active in the fashion industry since 1986. Nikhil Mehra's age is 48 years, as of 2022. Nikhil Mehra's religion is Hinduism. Nikhil Mehra's zodiac sign is Gemini. Nikhil Mehra's height is not known. Nikhil Mehra's weight is not known.

Shantanu and Nikhil are unquestionably a winning duo of two brothers who have what it takes to succeed in the global fashion industry. With the introduction of their label Shantanu and Nikhil in 1999, Shantanu Mehra and Nikhil Mehra entered the world of fashion thanks to their entrepreneurial spirit and creative outlook.

The works of Shantanu and Nikhil appeal to the youthfulness of a person who wants to be fashionable and stylish with their vibrant colours and elegant forms. The brand caters to a wide range of tastes, from the bubbly to the elegant and stylish. With their power dressing line of apparel for the urban populace who demand the ideal fusion of traditional and modern styles, Shantanu and Nikhil have earned a name for themselves in the world of haute couture for both men and women.

These brothers have traveled far—from the West Coast to the East Coast, from America to India, from sharing a room as children to sharing offices as adults. It has typically involved an ambitious older brother and a creatively inclined younger brother. Their early responsibilities have naturally evolved into more complex ones along the way. Even if their ideas are diametrically opposed on paper, Shantanu & Nikhil's two minds get together to discuss a disruptive course for Indian couture.
Shantanu and Nikhil's Family and Education.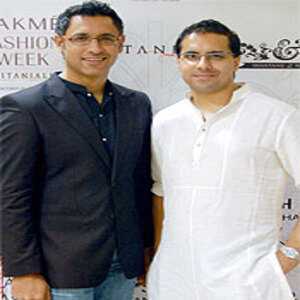 Shantanu and Nikhil Mehra's father's name is not known. Shantanu and Nikhil Mehra's mother's name is also not known. Shantanu and Nikhil were Delhi based.

United States-based University of Toledo is where Shantanu received his MBA. At this point, he became aware of the promise of the young Indian fashion sector as well as the pitfalls of the trade.

On the other hand, Nikhil was always the more imaginative of the two. In addition to enrolling in an advanced course at the Fashion Institute of Design and Merchandising in Los Angeles, California, he also won a number of renowned awards and scholarships while he was there.
Talk To Similar Celebrities
Shantanu Mehra's Marriage
Rima Mehra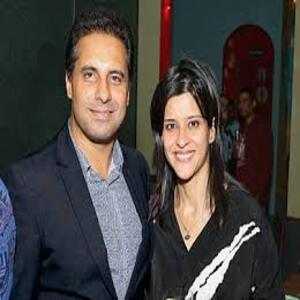 Shantanu Mehra's wife's name is Rima Mehra. They are often seen together attending various events and shows. The couple has kids of their own.

Nikhil Mehra's Marriage
Vidushi Mehra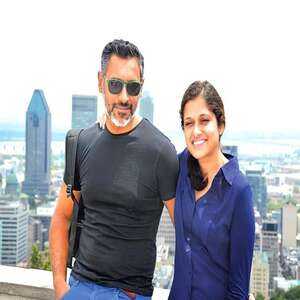 Nikhil Mehra's wife's name is Vidushi Mehra. Vidushi Mehra is a theatre actor. She is highly known in Delhi's social circles, and is frequently identified as the spouse of fashion designer Nikhil Mehra by many. The couple has 2 kids.

Shantanu and Nikhil's Career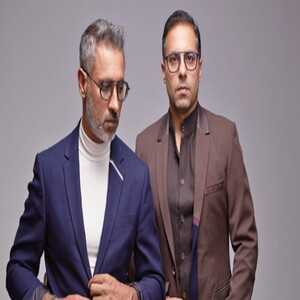 Indian fashion was in its infancy in the 1990s. There were many innovative people in the field, but it wasn't run professionally. With an MBA under his belt, Shantanu had a deep understanding of the market's demands as well as the minute nuances necessary to succeed in the fashion industry. While living in Los Angeles, Nikhil, on the other hand, experienced significant exposure to the fashion industry. He held the distinction of being the only Indian fashion designer to have exhibited at Universal Studios in Hollywood.

In 1999, Shantanu and Nikhil made the decision to combine their talents to establish a powerful team that would possess both marketing and business savvy. A lethal mix for breaking into the Indian fashion industry and succeeding. They sought to develop a look that would blend the classic with the modern to produce something smart and authentically urban. In order to create futuristic clothing, they made the decision to appeal to young and fashionable people.

They made a name for themselves in the men's wear couture market when they first began out. The designer team opted to debut women's clothing in 2001 by showcasing their iconic Diffusion and Couture collections during Indian Fashion Week. The brothers made the decision to try their hand at the fashion industry, and in 2003 they took the risk of expanding their customer base with their elegant western range, which included saris, stylish sportswear, pants with short kurtis, Banarasi georgettes, and chiffon bustiers with skirts. They made the decision to use textiles and embroideries from the illustrious Indian Heritage to add a particular level of richness to their clothing.
By releasing clothing that has garnered not just domestic but also international acclaim, Shantanu and Nikhil have enjoyed enormous success in a short period of time. Reputable celebrities from the worlds of cricket and Bollywood, including Amitabh Bachchan, Glenn McGrath, Stephen Fleming, Zaheer Khan, Saif Ali Khan, Leander Paes, Irfan Pathan, Hrithik Roshan, Shahrukh Khan, Neha Dhupia, Dia Mirza, A.R. Rahman, Shilpa Shetty, Kunal Kapoor, Bipasha Basu, and Sushmita Sen.

In addition to their two distinctive stores in upscale areas of New Delhi, Shantanu & Nikhil are represented in numerous other national and international couture showrooms. Their brand is available in Vancouver, New York, London, Jeddah, Birmingham, Tokyo, Switzerland, Dubai, and Kuwait.

For women's ensembles, Shantanu & Nikhil are renowned for skillfully fusing the traditional with delicate elegance. Vintage India served as the designers' inspiration, which they combined with modern fabrics, contemporary sensibilities, and textures to create a nouveau trend. The two brothers have worked to produce a range of high-end ethnic and contemporary clothing that has been exotically imbued with delicate workmanship, great delicacy, and rich materials since they started their business in 1999. To create an enigmatic line of clothes, Shantanu and Nikhil combined western sensibilities with Indian culture.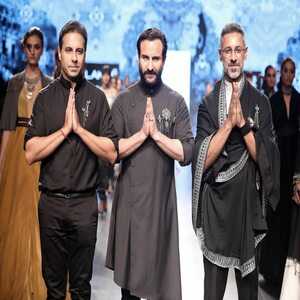 In 2012, Shantanu and Nikhil made an appearance at Delhi Couture Week with their clothes collection honouring the strength of Indian women. The overall aesthetic featured dark and strong hues, retro appeal, and clothing that was heavily embroidered and adorned with metal, resulting in hefty clothing.

The Dunes, a collection by Shantanu & Nikhil that featured everything from Indian traditional outfits to Western cocktail gowns, was another well-liked clothing line. It was inspired by the stunning colours of the desert. Lace and leather appliqué techniques were widely used. In fact, they were in charge of remodeling Amitabh Bachchan's entire appearance for a KBC season.
By working with sportswear behemoth Adidas to create jerseys for the Pune Warriers, Delhi Daredevils, and Mumbai Indians for the IPL, Shantanu & Nikhil have expanded beyond their area of expertise. They join forces with designers like Yohji Yamamoto and Stella McCartney thanks to this tactical cooperation.

The fashion design team also created clothing for a Grey Goose IIFA Rocks event celebrating 100 years of Indian cinema that brought to spotlight the bad cinematic characters in Hindi cinema. The former anti-heroes were transformed into their contemporary incarnations employing Shantanu and Nikhil's creative talent, of course in their individual trademark styles.

By capturing the vivacity of classic India and fusing it with the delight and excitement of a modern celebratory India, Shantanu & Nikhil's journey as a brand over the past two decades distinguishes progressivism and distinctiveness. The creative team has questioned conventional ideas about bridal attire and given a more modern and inclusive perspective. This idea served as the inspiration for the Shantanu & Nikhil philosophy, which places a strong emphasis on gender fluidity and providing sartorial options.
Celebrities Wearing Shantanu and Nikhil Outfits
Parineeti Chopra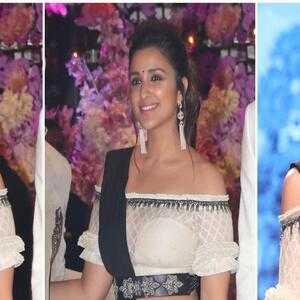 Parineeti Chopra wore a black pre-stitched saree and a white off-the-shoulder top by Shantanu and Nikhil to Akash Ambani and Shloka Mehta's engagement party.
Sanya Malhotra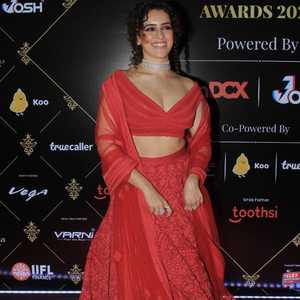 In a stunning crimson lehenga with shimmer, actress Sanya Malhotra radiates ultra-glam like a fashionista. The actress ups the style ante with her appearance at the Dadasaheb Phalke Awards 2022, dominating social media with her ensemble. The gorgeous glam attire consists of a breathtaking lehenga skirt with self-embroidered flares and an off-the-shoulder shirt with a plunging neckline. The flowing dupatta gave the outfit an additional edge and dramatic element. The actress retained a simple jewelry look as she went for a lovely choker set. Her cult-favorite curls and natural makeup look were the ideal finishing touches for the glam.
Ayushmann Khurrana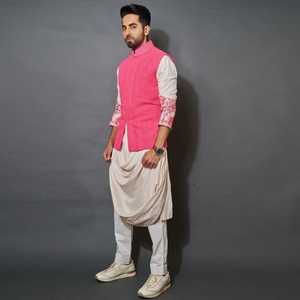 Ayushmann Khurrana dressed in a draped kurta and contrast hot pink waistcoat by Shantanu and Nikhil for the promotion of his upcoming film, Dream Girl. He had a good look. Not only does he wear this kurta set with unmatched grace, but he also added a wonderful touch by wearing it with that specific pair of white sneakers.

Fatima Sana Shaikh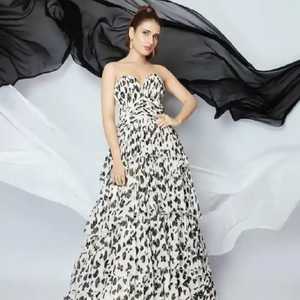 Fatima Sana Shaikh set a high standard for elegance in a black and white gown by Shantanu Nikhil. The sweetheart neckline and lovely flare of the tube neck dress made it stand out. The entire floor-length, backless garment had ruffle accents. Fatima completed the ensemble with dangling gold earrings and a high ponytail for her hair. Fatima's two-toned outfit is nicely complemented by her shimmering eyelids, dewy makeup, and bare lip colour.
Sanjana Sanghi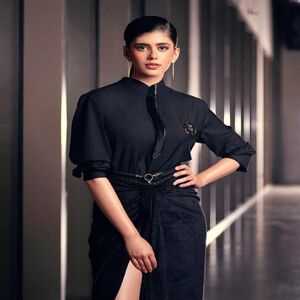 Sanjana Sanghi served as the inspiration for the all-black ensemble worn by Shantanu & Nikhil. Sanjana was dressed in a black shirt that resembled Nehru's collar. The shirt boasts a hand-made crest and a black velvet placket. Quarter-length sleeves are also included. She wore a faux leather belt with her black velvet skirt, which had a twisted drape. The skirt has a slit that extends all the way to the thigh, making it a classy, sophisticated, and exquisitely made fashion choice.
Genelia D'Souza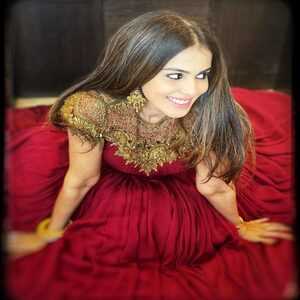 People were in awe of Genelia D'Souza after she shared a couple of images of herself looking stunning for a date night on Valentine's Day. Shantanu & Nikhil created Genelia's stunning crimson Anarkali dress. The cocktail Anarkali from their revival line is a stunning example of how ethnic and modern styles can coexist. She accessorized the look with a set of bangles and a pair of statement earrings in the gown's colour. She finished off her look with a dab of bare lipstick, kohl-rimmed eyes, and contoured cheeks.

Rajkumar Rao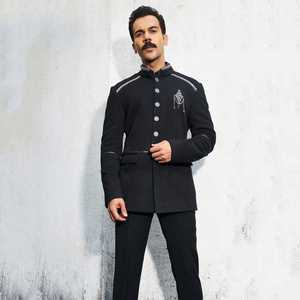 Rajkummar Rao appeared entirely different with the military look and complementary moustache. Rajkummar Rao was spotted donning a look from Shantanu & Nikhil's The Wayfarers line. He was seen donning a sharp black bandhgala with bejewelled accents on the pockets and neck. To finish the sharp bandhgala, he wore a shiny brooch with stones set into it. Moreover, he completed the look with a set of eccentric, space-age glasses, a pair of ankle-length cigarette pants, and shoes.

Kriti Sanon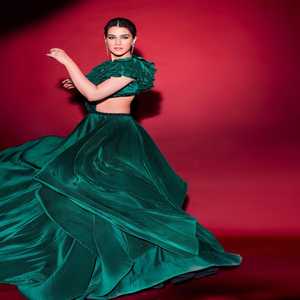 Kriti Sanon dazzled everyone in an emerald cut-out gown. The Luka Chuppi actress graced the Zee Cine Awards 2020 in a spectacular and daring attire. The velvet dress had a cut-out waistline and a plunging neckline. The dress also had a flared skirt that gave it more volume. A black border was used as decoration on the dress' top half. However, the pleated sleeves of this dress were its most striking feature. She added some diamond rings and a set of statement earrings to her ensemble. Nude lips, bright green eyeshadow, and a messy center-parted bun with her hair pulled back did most of the talking for this outfit.
Shantanu and Nikhil's Awards

2018: Excellence in Fashion Award by the Hello Hall of Fame Award

Shantanu and Nikhil's Interesting Facts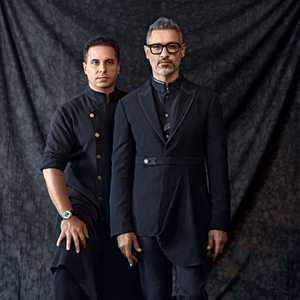 Shantanu and Nikhil are brothers.
Shantanu and Nikhil are from Delhi.
Shantanu Mehra is an MBA graduate.
Nikhil Mehra is the father of a set of twins.
Shantanu and Nikhil launched their label in 1999.
Social Media
Frequently Asked Questions