Irfan Pathan | Movies, Age, Biography, Height, Net Worth

Violeena Vargav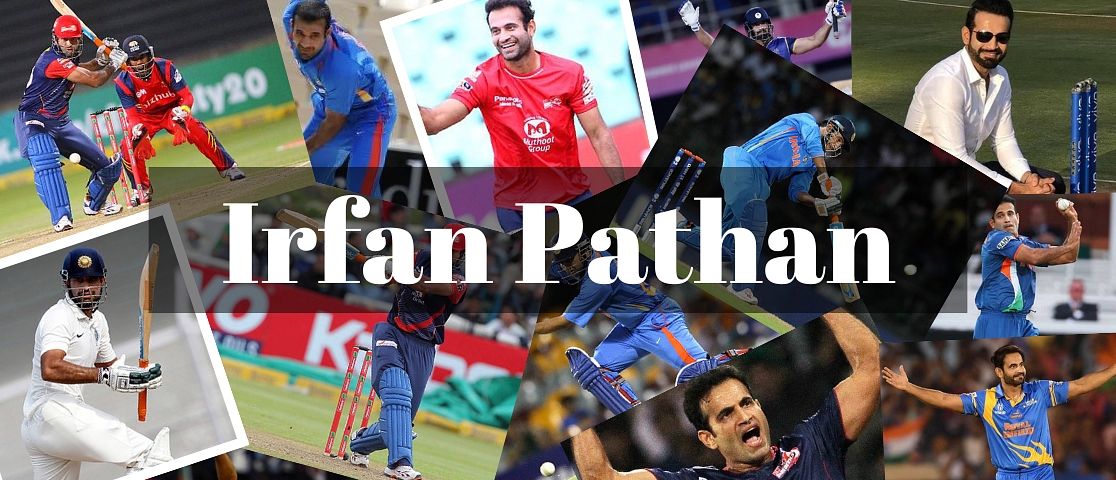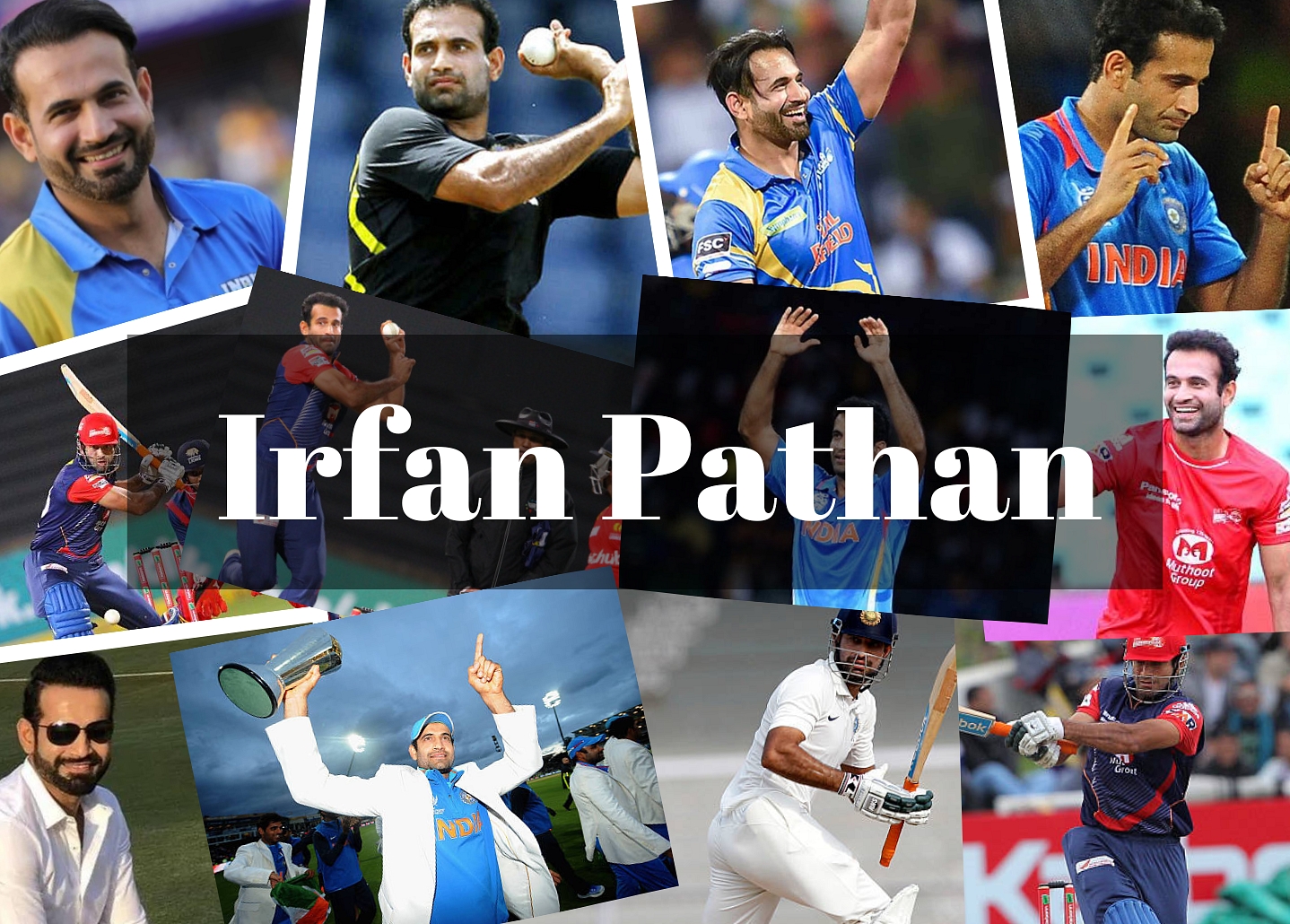 Irfan Pathan's Biography
Former Indian cricketer and actor Irfan Pathan. He was a bowling all-arounder who played for India in cricket, where his team won both the inaugural ICC Twenty20 World Cup in 2007 and the 2013 ICC Champions Trophy.

Irfan Pathan, who began his career as a fast-medium swing and seam bowler, made his national team debut shortly after turning 19 and, with his promising performances and enormous swing, drew comparisons to Pakistan's Wasim Akram. Pathan was the only bowler to take a Test hat-trick in the opening over of a game in early 2006. (vs Pakistan at Karachi).

The successful streak did not persist, either, and Pathan gradually lost pace and swing towards the beginning of 2006, which resulted in a decline in the number of wickets he took. Despite Pathan's strong batting, he was not considered a specialist and was removed from the team in both Tests and ODIs by the end of 2006, and by 2007 he was no longer in the squad until his comeback in the 2007 World Twenty20.
Irfan Pathan's birthday is on 27 October 1984. Irfan Pathan's age is 38 years as of 2022. Irfan Pathan's birthplace is Baroda, Gujarat. Irfan Pathan's zodiac sign is Scorpio. Irfan Pathan's height is 1.83m or 6" in inches. Irfan Pathan's religion is Islam. Irfan Pathan does left-handed batting. Irfan Pathan is a left-arm medium-fast bowler.

Irfan Pathan was listed by Shashi Tharoor as one of "India's lost boys," with athletes like Vinod Kambli and Laxman Sivaramakrishnan. He solidified his place on the team and was named the 2004 ICC Men's Emerging Player of the Year by the International Cricket Council. In 2004, Pathan played a key role in India's victories in the One-Day International and Test Series against Pakistan. The media referred to him as Indian cricket's blue-eyed boy.

Irfan Pathan grabbed 18 wickets in two Test matches against Bangladesh in late 2004. However, towards the beginning of 2005, he played poorly and gave up runs at a high rate, which resulted in a brief expulsion from the one-day international (ODI) team. After that, Australia's Greg Chappell, one of his generation's best batters, was appointed India's coach (2005) and saw Pathan's batting potential. Pathan worked on developing his bowling all-around abilities while also honing his batting abilities. After Virender Sehwag fell ill in a Test match against Sri Lanka on December 10, 2005, Pathan filled the role and scored 93 runs.

In the course of four Test innings against Pakistan and Sri Lanka, he scored three times more than 80. Pathan displayed outstanding bat and ball performance for the first nine months of Chappell's tenure as captain, consistently scoring runs and getting top-order wickets. In the ICC's ODI all-rounder rankings, he advanced to No. 2, and he also placed in the top five in the Test rankings. Due to this, he was compared by detractors to the late Indian all-around fast bowler Kapil Dev.

In September 2007, Irfan Pathan made a comeback to international cricket at the first World Twenty20, when he took three wickets and was named player of the match as India defeated Pakistan in the championship game. He was subsequently called back into the ODI team, where he played regularly for the majority of the following 12 months before being dropped as his economy rate continued to rise and he later battled ailments and a loss of form. Pathan was also recalled to the Test team in late 2007 after a 19-month absence, and he scored his first Test century.

However, he was unable to keep his spot in the team since his bowling was ineffective when only two pacemen were required. In April 2008, against South Africa, Pathan played his final Test match for India. Although his slow pace was regularly critiqued as being irrelevant at the international level, he continued to produce with both the bat and the ball at the domestic level. However, he made a strong impression during the 2011–12 Ranji Trophy, where he led the tournament in wickets, and his accomplishments led to his recall to the national team. In 2015, he participated in the dance reality competition Jhalak Dikhhla Jaa. Irfan Pathan will appear in the Kollywood film Cobra for his acting debut.
Talk To Similar Celebrities
Irfan Pathan's Family and Irfan Pathan's Education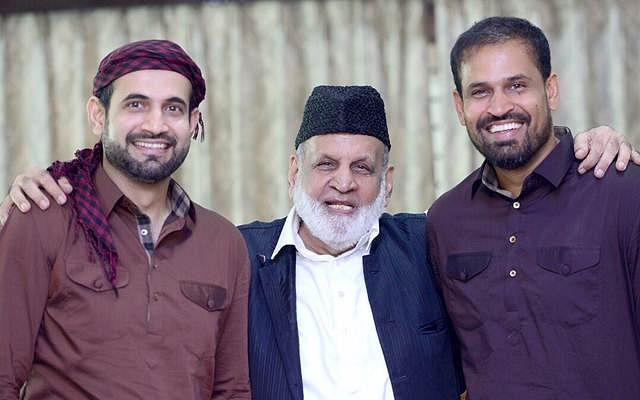 Irfan Pathan's father's name is Mehmood Khan Pathan and his mother's name is Samimbanu Pathan. Irfan Pathan has an elder brother whose name is Yusuf Pathan. He has half Pashtun origin and speaks Pashto, but he is not entirely Pashtun. He is a member of the Pathan community in Gujarat and goes by the surname Pathan. He grew up in a mosque in Vadodara with his older brother Yusuf in a poor family. The muezzin was his father.

Irfan Pathan and his brother developed a passion for cricket in spite of their parents' wishes for them to become Islamic scholars. Their father frequently had to apologise to Muslim worshipers who visited the mosque because of their antics on the premises and inside the building. His deliveries did not initially reach the opposite end of the cricket pitch, but he steadily improved thanks to long, hot, six-hour training sessions and the dedication instilled in him by his family. Irfan Pathan attended the MES High School, Baroda.
Irfan Pathan Relations and Marriage
Shivangi Dev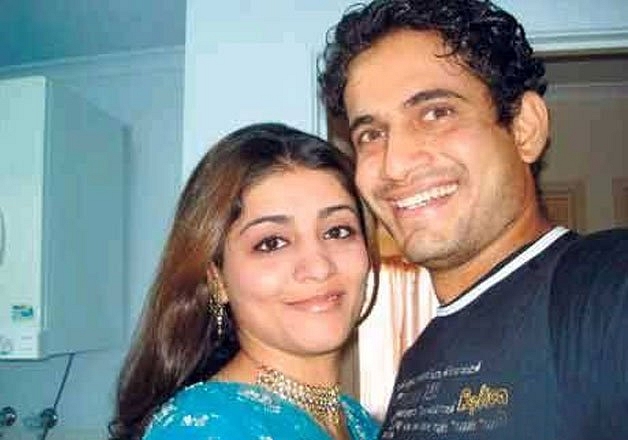 Australian-born Shivangi Dev is a CA by profession. When India was on tour in Australia in 2003, Irfan Pathan and Shivangi crossed paths. It was a meeting that was meant to be. Shivangi travelled to India to see Irfan in order to stay in contact with her love as their relationship quickly began to bloom.

She spent a considerable three years in Vadodara. Both sets of parents were initially opposed to their union, but nevertheless they were won over. But they began to drift apart in 2012. Irfan reportedly preferred that his older brother Yusuf Pathan marry first, but Shivangi preferred an early union. This ultimately caused them to split up.
Safa Baig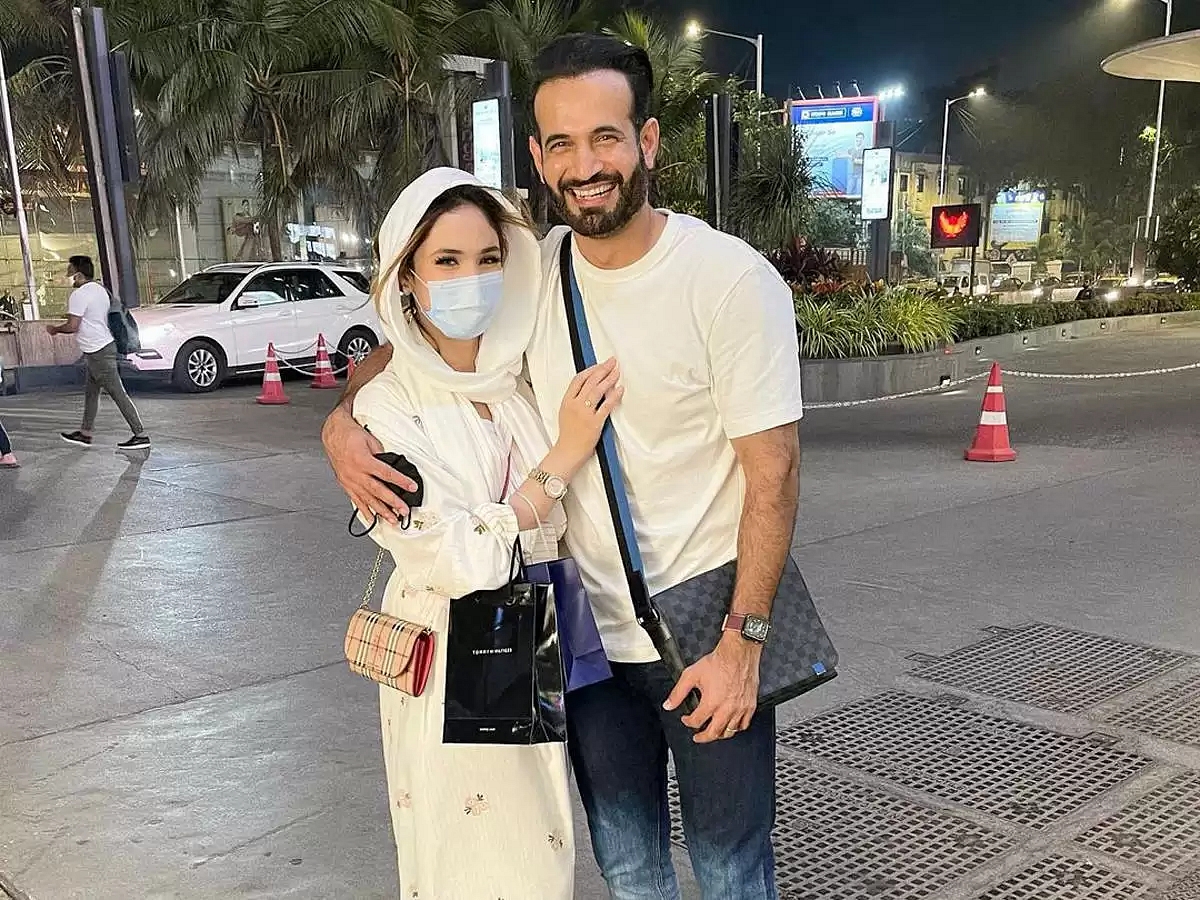 According to rumours, Irfan Pathan and his wife Safa Baig first met in 2014. Irfan supposedly ran across her at a social function during one of his visits. The cricketer had fallen head over heels for her right away. Despite having a 10-year age difference, Irfan and Safa had a great relationship that led to their falling in love within two years. Irfan invited his ladylove, Safa, to Vadodara after nearly two years of dating in order to meet his parents and extended relatives. Following this, the two families were introduced and their marriage was consummated.

Irfan Pathan and Safa Baig exchanged vows on February 4, 2016, during a low-key wedding ceremony. The nikaah ritual had taken place in the holy and well-known city of Mecca. In Jeddah, the supper was accompanied. On December 20, 2016, Safa Baig gave birth to a child, and Irfan Pathan and his wife celebrated becoming parents. Irfan posted the joyful news to his social media accounts. The couple had a second son in 2021.
Irfan Pathan's Career
Early Years (1997-2000)
Irfan Pathan developed under the tutelage of former Indian captain Datta Gaekwad to be chosen for the Under-14 Baroda cricket team. When he was chosen at Under-15 level to represent Baroda in a national tournament, he was finally given a full set of cricket equipment after having previously been limited to second-hand equipment because of his family's modest financial resources.

Less than two months after turning 13 years old, Irfan Pathan made his debut for the Baroda Under-16 squad in December 1997. He scored 1 and 11 on a total of 1/35 against Gujarat before being dropped right away. After sitting out for two years, he made his next appearance for the Baroda Under-19s against Maharashtra in November 1999, less than a month after turning 15 years old. After scoring 61 and 9 and taking a total of 3/41 in a win, he was promptly demoted to the Under-16s for the following game and played there for the remainder of the 1999–2000 season. In the lower level, he bowled brief bursts, taking four wickets at 38.00 in six games, averaging fewer than seven overs per innings. With the bat, he was more effective, accumulating 253 runs at 31.62, with a high of 72 against Mumbai.

In the middle of 2000, Irfan Pathan was then chosen for the India Under-15 squad to compete in a number of games against teammates from other nations. In ten games, he recorded 15 wickets at 12.66, including a high of 3/2 against Thailand, and he also scored 15 runs at 7.50. With the exception of one, India won every game, and often by a wide margin.
2000 - 2004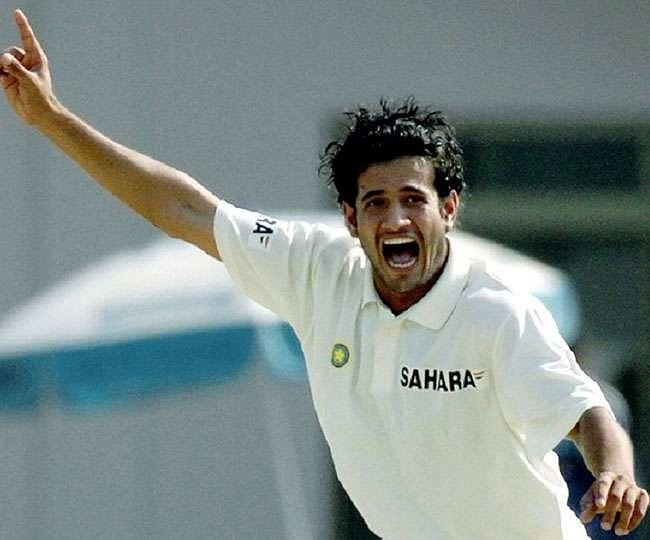 Irfan Pathan returned to the Under-19s at the start of the 2000–01 season, this time bowling more frequently more than 20 overs per innings. He scored 102 runs at 102.00 in four games, with a top of 63 not out, and claimed 10 wickets at 32.50. The Baroda selectors then advanced him into the senior team when he was promoted to the Under-22s, where he scored 44 and took 4/71 in his first encounter against Saurashtra.

He was subsequently chosen for India Emerging Players in 2003–04 for a run of limited-overs matches against opponents from Pakistan and Sri Lanka. In three games, Pathan picked up seven wickets for 11.00, including 4/22 and 3/35 against Pakistan.

Irfan Pathan was chosen for the India Under-19 side to play in an Asian junior ODI tournament in Pakistan in late 2003. He led the bowling attack with 18 wickets at an average of 7.38 and an economy rate of 3.54. This was more than twice as many wickets as the next-highest wicket-taker. He was declared the winner of the competition, which India won after defeating Sri Lanka in the championship match by an eight-wicket margin. Pathan made waves when he took 9/16 against Bangladesh and helped bowl them out for 34.

He also contributed to India's victory over Sri Lanka in the championship match by claiming 3/33. Pathan also amassed 94 runs at a strikeout rate of 31.33, with scores of 32, 28 and 34. In his first Ranji Trophy game of the season against Andhra Pradesh, Pathan, who had recently returned to India, took 3/51 and 1/33 and scored 26 and 12. As a result, he was chosen for the Indian national team to play in the Australian Border-Gavaskar Trophy Test Series in 2003–2004.
Domestic Career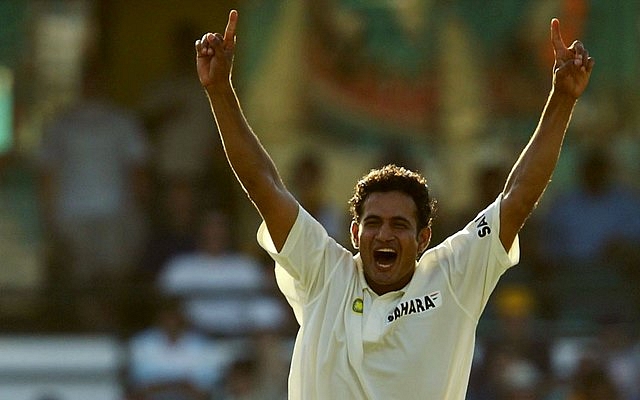 In March 2001, Irfan Pathan made his debut against Bengal after fellow left-arm paceman Zaheer Khan was chosen for the national team. In a 222-run victory, he amassed 13 not out and 2 runs while taking 3/40 and 2/68. Baroda was still able to win the Ranji Trophy even though he was only able to maintain this form in the final three games, taking two additional wickets overall. With a best score of 40 not out against Orissa, he finished his rookie campaign with seven wickets at a strike rate of 43.28 and 75 runs at 12.50.

Baroda qualified for the Irani Trophy the next season, where they faced the Rest of India, thanks to the Ranji victory. Even though Pathan lost and only managed to score 32 in the second innings while taking 3/95 and 1/34, Test batsman V. V. S. Laxman compared Pathan to Zaheer for his performance. He was, however, dropped from the senior team the following week and returned to the Under-19s, where he remained for the following two months while playing eight double-innings matches for Baroda. He scored 190 runs at 31.66 with a best of 63 not out while taking 20 wickets at 20.40, including a best of 6/41 against Gujarat. Pathan then made his List A debut against Mumbai after being summoned back up to the senior team, taking 1/69 from nine overs. Kiran More recommended that Pathan continue honing his bowling at the MRF Pace Foundation in Chennai.

Irfan Pathan was chosen for the Under-19 Cricket World Cup in New Zealand in early 2002. There, he claimed two out of every eight wickets in a victory over South Africa while scoring 30 runs at a rate of 15.00 and taking six for 27.50. Pathan was chosen for a senior zonal team for the first time after returning to India. Despite not having participated in a single Ranji Trophy match for Baroda, he was chosen for West Zone's Duleep Trophy team. In the first encounter against Central Zone, he took 4/74 and 6/72, his maiden ten-wicket match haul, repaying the selectors' faith and paving the way for a 161-run victory. He took 4/72 and 3/85 in the following game as West defeated North by 178 runs. In the following game against South, he only managed to take 1/55, but West still advanced to the championship, where he helped West defeat East Zone for 162 in the first innings with the help of his 4/43. In total, Pathan had 46 runs at an average of 11.50 and had taken 22 wickets for 18.22 during the tournament.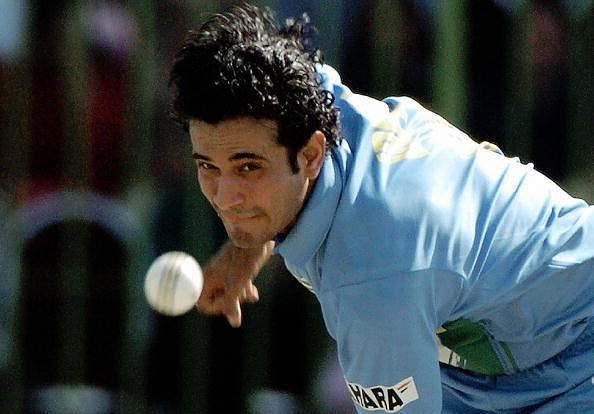 At the age of 17 and a half, Irfan Pathan's skills got him into the India A team for a tour of Sri Lanka, where he took six wickets at 35.00 in three first-class matches. Midway through 2002, Pathan travelled to England as part of an India Under-19 trip. In the three youth tests, which India lost 1-0, he took 15 wickets at 25.93, with a best of 4/83 in the second test. The three youth ODIs, which India won 2-1, saw him take four wickets at 42.00, allowing more than six runs an over, and score 66 runs at 33.00.

At the commencement of the 2002–03 season, Irfan Pathan was chosen to play for Rest of India against Railways in the Irani Trophy. He finished with a total of 2/84 and 29 runs as the Ranji winners won. In seven matches for the Ranji Trophy, he took 18 wickets at an average of 39.33. He defeated Orissa in a game in which he took 6/31 and 3/46 in an innings victory, accounting for half of his wickets. He amassed 161 runs at a strike rate of 23.00, including two other 40's and his first-ever first-class fifty—a 54 against Tamil Nadu. Pathan was chosen to play for Elite Group A in the Duleep Trophy despite Baroda's shortage of wickets. Before taking 3/53 and 2/42 as Elite Group A overcame Elite Group B in the final by seven wickets, he took 5/88 and 4/106 against Plate Group A and 4/101 against Elite Group C.

Pathan finished the event with 19 wickets for 27.00 runs at 24.00 and 19 for 27.00 wickets. Pathan also had trouble in one-day matches for Baroda, taking three wickets at 64.66 in four matches and 4.85 at an economy rate. Despite this, he was still chosen for the zonal team, where he took four wickets at 34.25 in four matches and 3.91 at an economy rate. Irfan Pathan was chosen for the India A team that visited England in 2003. Pathan got nine wickets at a 43.77 average while participating in five first-class matches, including 4/60 against Yorkshire and 3/83 against South Africa.

With the bat, he only produced 8 runs at 4.00. In the limited-overs games, he was more successful, taking eight wickets at an average of 11.12 in three games, including a 4/19 against Lancashire, and hitting 27 runs at an average of 27.00. Irfan Pathan made his domestic Challenger Trophy debut at the beginning of the 2003–04 season. He performed poorly for India A, taking two wickets at 79.00 and a 5.85 economy rate, and he was not able to push his way into India's limited-overs squad. He became a coach and mentor for the cricket team of Jammu & Kashmir in 2019.
International Career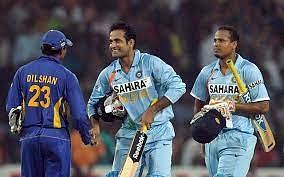 On December 12, 2003, Irfan Pathan played in his first international game in Adelaide against Australia. He underperformed and was benched for the following game. When given another chance two games later, he again performed poorly. Only the third bowler in cricket history, Pathan lost 21 wickets in a two-match series against Zimbabwe in 2005. Pathan has completed 1105 runs at an average of 31.57 during the course of 29 Test matches. In this style, he scores his sole international century. Additionally, he has 100 wickets to his credit with a best bowling average of 7/59.

Irfan Pathan was selected for the ODI match after making his Test debut, and he also played for Team India in a Tri-Series event against Australia and Zimbabwe. Irfan Pathan was named Player of the Tournament in that competition after taking 16 wickets. He also won Man of the Match for his outstanding performance against Zimbabwe, taking 4 wickets.

Irfan Pathan then dominated the pace attack once more on the 2004 Test tour to Pakistan, taking 12 wickets and bowling more first-innings deliveries than any other bowler to help India record its first victory over Pakistan in a row in 20 years. He delivered 28 overs in the first innings and recorded a 4/100, which enabled India to hold their bitter enemies to 407 and gain a 268-run advantage.

The Pakistanis were tied after second-in-command Rahul Dravid forced the follow-on, and Pathan bowled 12 times in his 21 overs to finish at 2/26 as India won the game by an innings. Following a top-order batting collapse in the second Test in Lahore, Pathan contributed with a score of 49 to help India recover and reach 287. However, despite Pathan bowling 44 overs to finish with 3/107 and the hosts securing a nine-wicket victory, Pakistan reached 489. Pathan scored an innings-winning 2/49 and 1/35 in the critical Test at Rawalpindi. With 12 wickets at 28.50 and 64 runs at 21.33, he finished the series.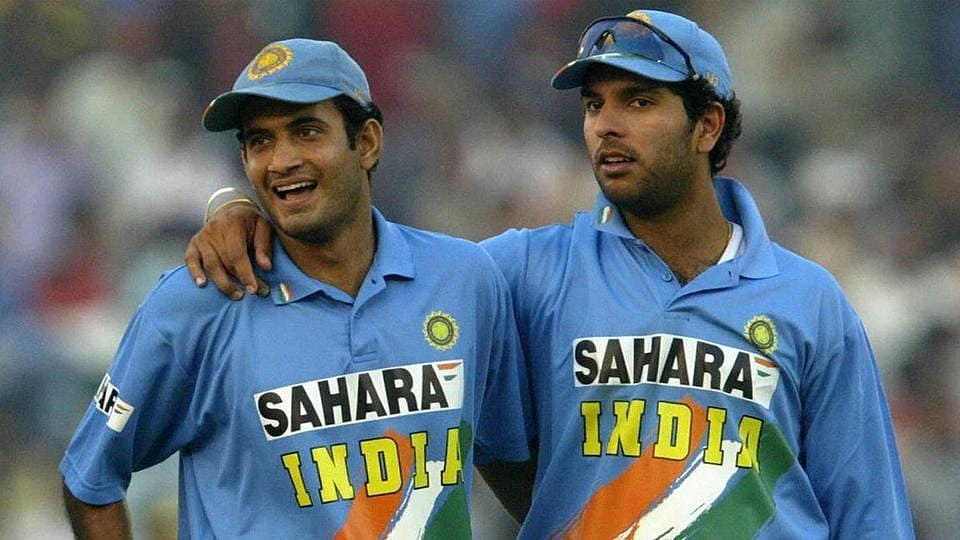 Irfan Pathan continued to amass wickets in the ODIs as well, taking eight in three games at an average of 17.87 and a save rate of 4.76, including three top-order dismissals in the pivotal fifth ODI in Lahore. In ODIs, he added 36 runs at a 36.00 average. His innings at Lahore and his ability to swing the ball both ways raised the possibility that he could develop into an all-rounder. Pathan received the ICC Emerging Player of the Year award in 2004 in honour of his accomplishments in the early stages of his international career.

Irfan Pathan carried on his impressive play from the ODIs at the 2004 Asian Cup in Sri Lanka, where he was the tournament's top wicket-taker with 14 dismissals at an economy rate of 4.37 and 14 wickets at a strike rate of 16.28 in six matches, including three three-wicket hauls against the United Arab Emirates, Bangladesh, and Pakistan, respectively. In a loss to Pakistan, he also scored 64 runs at a 32.00 average, including 38.

The following ODI tour in Europe was difficult for Irfan Pathan; he took three wickets at 78.00 with a save percentage of 5.48 from five games. India only had one victory and four losses in those games. During India's brief appearance at the 2004 ICC Champions Trophy in England, when he grabbed 5 wickets with a 9.00 average and a 3.00 save rate, Pathan found his form again. He defeated Pakistan 3/34 while defeating Kenya 2/11, but India's campaign was over with the defeat to Pakistan.

Irfan Pathan was one of several younger players to reclaim the national selection after India's elder players were disqualified from the first World Twenty20. In a format that favoured stronger field teams, India was not anticipated to perform well. In the opening game, India drew with Pakistan in the first round before prevailing in a bowl-out. He scored 20 points and went 2/20 in four overs. After India's defeat by New Zealand, he took 0/16 before winning 3/37 in England's defeat.

To advance to the semifinals, India needed to defeat the South African hosts. Irfan Pathan gave up just 16 runs in his four overs, which helped to keep the South Africans to 9/116 in a 154-run chase. India managed to defend 188 for a 15 run victory and a trip to the final. Pathan then finished with 2/44, taking out Brad Hodge and Andrew Symonds. In the championship game, India faced Pakistan. Pathan was named Man of the Match after turning up a respectable bowling performance, taking 3/16. He dismissed Pakistani captain Shoaib Malik and powerful hitter Shahid Afridi for ducks in the span of three balls before also dismissing Yasir Arafat.

In December 2011, Irfan Pathan was called up to India's ODI team for the final two games of a one-day, five-match series against the West Indies. He played in the series finale and claimed the series' first wicket. Pathan was a member of the Indian team that competed in the 2012 ICC World Twenty20 in Sri Lanka. Pathan's third domestic hundred brought his top-flight tally to 121 in the 2012–13 Ranji Trophy opener against Karnataka. But he suffered a knee injury during the game, and he didn't play cricket again until March 2013. In order to play in the Indian Premier League, Sunrisers Hyderabad signed him in 2014.
Irfan Pathan's IPL Career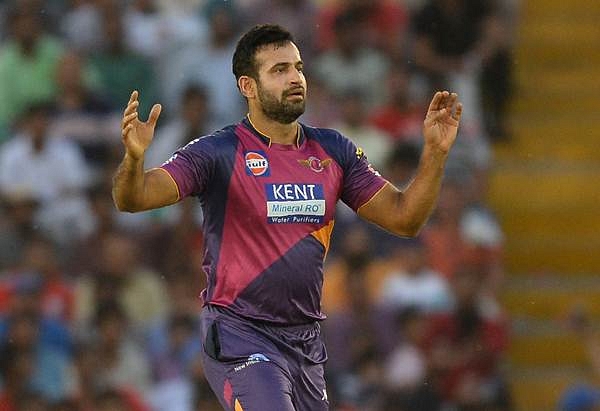 Irfan Pathan is one among the Indian players that played at English County Middlesex Club in 2015. Irfan Pathan began his IPL career with the Kings XI Punjab squad in the inaugural season, and in that year he took 15 wickets for them at an economy rate of 6.60 runs per over. He left Kings Xi Punjab in 2012 and joined the Delhi Dare Devils. After playing for them for two seasons, he switched to the three-time IPL champion Sunrisers Hyderabad.
Irfan Pathan's IPL performance has not been up to par, which forces him to switch teams every year. After playing for Hyderabad in 2014, he then played for Chennai Super Kings in 2015, Rising Pune Super Giants in 2016, and most recently, Gujarat Lions in 2017. According to Irfan Pathan's bio, he wasn't very smart, as his form declines as the tournament goes on.
Irfan Pathan's Retirement
Irfan Pathan announced his retirement from cricket on January 4, 2020. The left-arm pacer, who played his final IPL game in 2017, was passed over in the next three auctions.
Irfan Pathan's Net Worth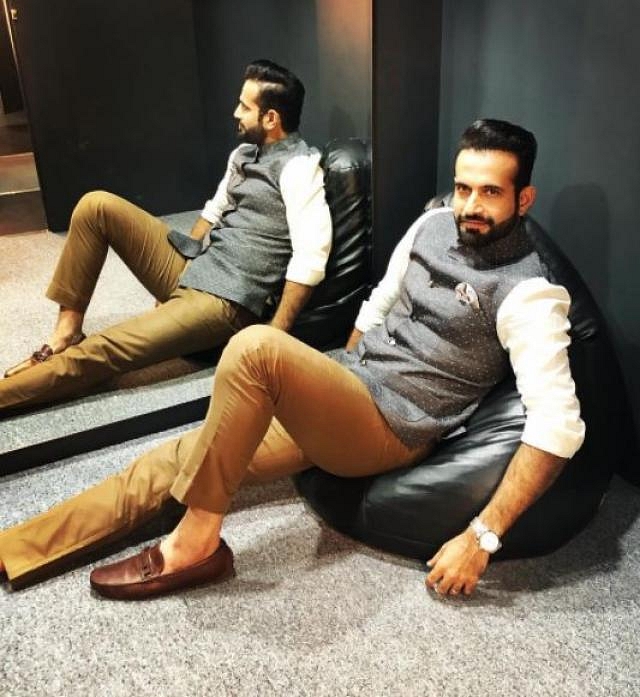 Irfan Pathan's net worth is $7 million US or 51 crore rupees, as of 2022. Cricket was his primary source of income and wealth. Additionally, he makes a sizable chunk of money from the Indian Premier League and numerous international and national cricket matches (IPL). He also demands a hefty sum of money to endorse numerous brands.
According to reports, Irfan Pathan earns a monthly salary of about Rs 35 lakhs and a yearly salary of Rs 4 crore. Along with possessing a lavish property in his birthplace of Vadodara that is valued at an astounding Rs. 6 crore, he also owns high-end vehicles like Mercedes Benz, Mahindra Scorpio, and Toyota Fortuner. His nationwide real estate investment, which is allegedly expanding at a profitable rate, is last but certainly not least.
Irfan Pathan's Controversy
Amit Mishra
Amit Mishra and Irfan Pathan, two Indian cricketers, Friday stirred up controversy on social media when the former responded to the latter's tweet. Mishra responded to a tweet on India by Pathan on his Twitter account. Since then, the exchange has greatly divided social media users, with some criticising Mishra and others applauding him for his comment. "My country, my beautiful country, has the potential to be the greatest country on earth, BUT...." Irfan Pathan wrote in a tweet about India on Friday.

Mishra responded to the open-ended tweet by saying that, "only if some people realise that our Constitution is the first book to be followed," India has the potential to be the greatest nation in the world. After Mishra's reply, which was extensively disseminated on social media, Pathan did not hold back and responded with a scathing tweet. Pathan uploaded a touching caption with the preamble's image, claiming he has always adhered to it and urging his followers to read and reread the written words.
Irfan Pathan's Achievements
2004: ICC Emerging Player of the Year
The only bowler to record a hat-trick in the opening over of a Test match is Irfan Pathan.
Irfan Pathan is the Indian bowler to reach 100 ODI wickets the quickest (59 matches, Next best: 65 matches by Zaheer Khan).
Irfan Pathan is also the fastest player to score 1000 runs and take 100 wickets in an ODI (1059 days).
Irfan Pathan has 1105 runs, at an average of 31.57, in 29 Test matches.
Irfan Pathan has six fifty-year anniversaries and a century.
Additionally, Irfan Pathan has collected 100 Test wickets at a 32.26 average
7/59 are Irfan Pathan highest bowling averages.
In 120 games, Irfan Pathan has amassed 1544 ODI runs at an average of 23.39. In ODI cricket, he has five fifty-saves. In addition, he has 173 wickets at a 29.72 average, with a best of 5/27.
Irfan Pathan has 172 runs on the board in 24 T20Is. At an average of 22.07 and an economy rate of 8.02, he has captured 28 wickets.
Social Media
Frequently Asked Questions