Zaheer Khan | Age, Biography, Net Worth, Marriage, Matches

Violeena Vargav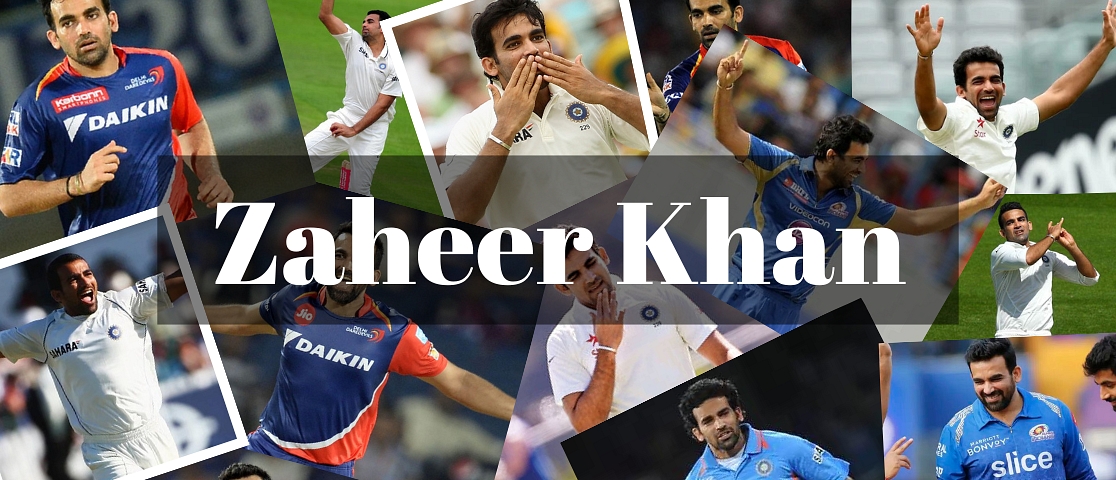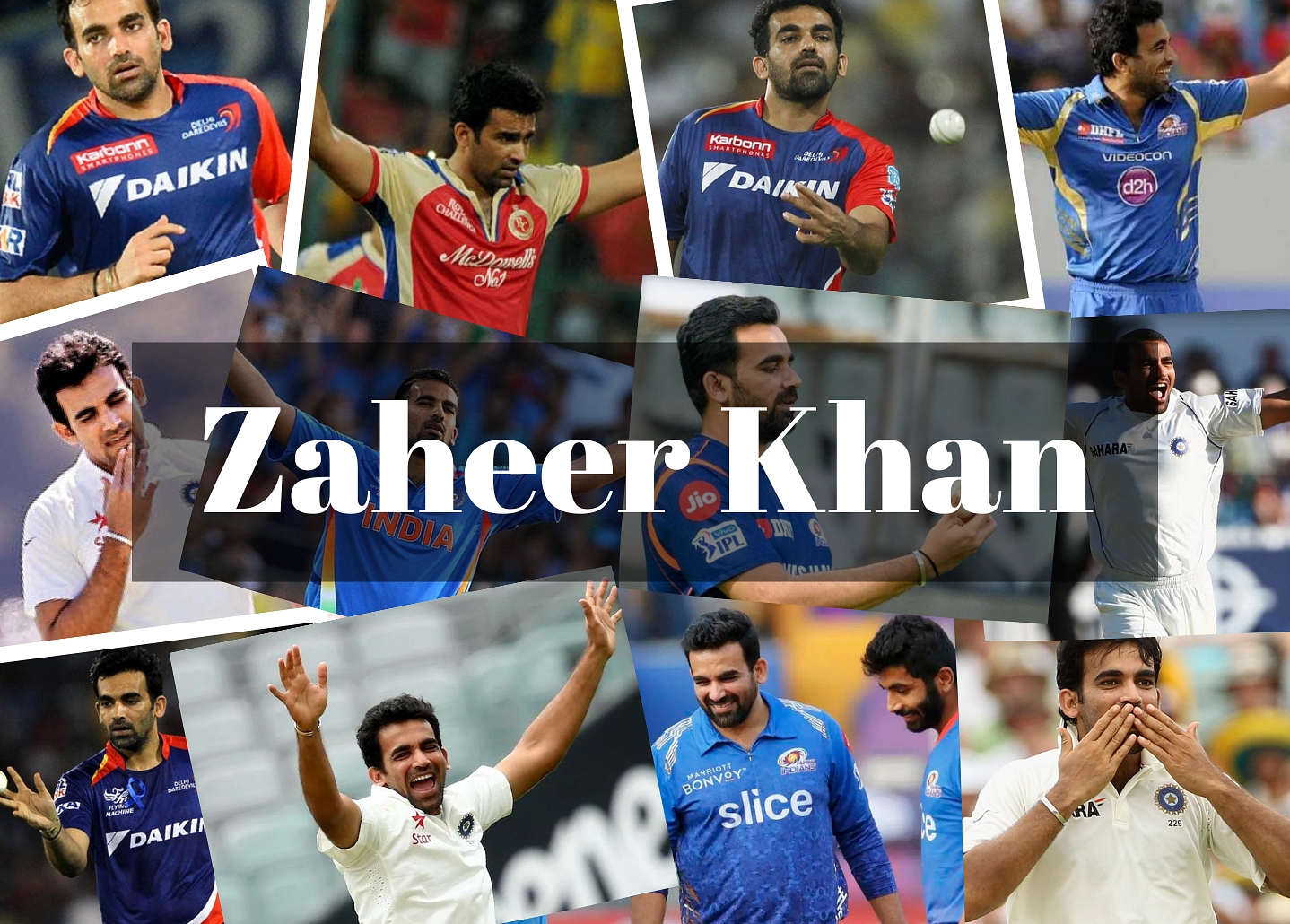 Zaheer Khan's Biography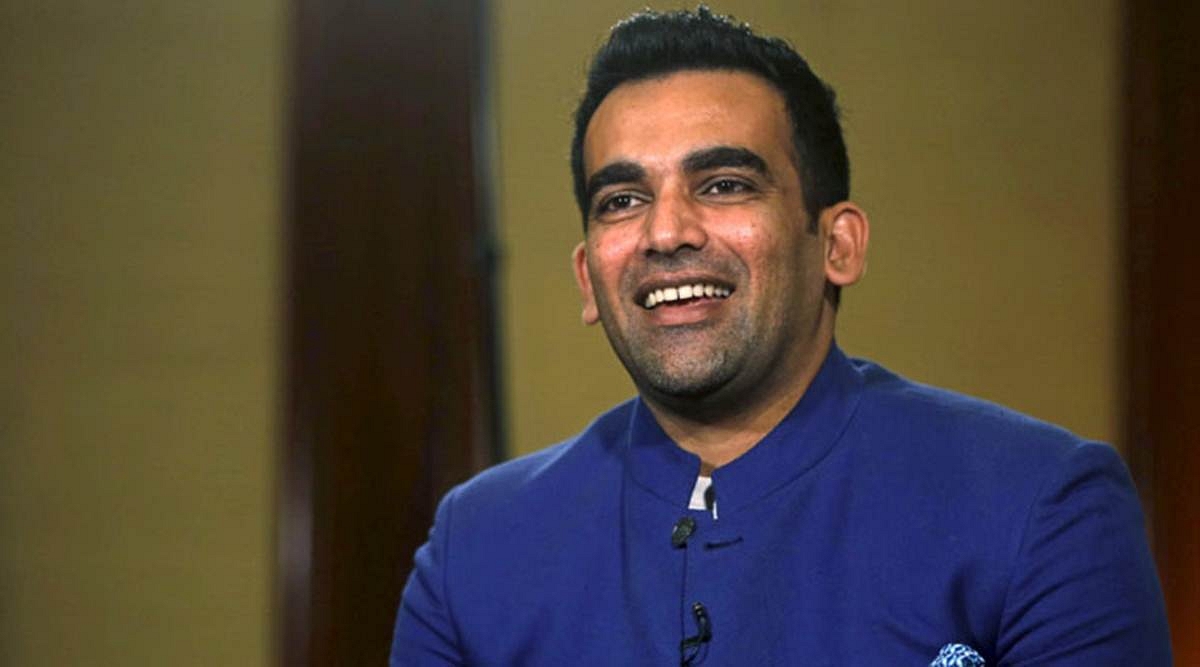 Zaheer Khan is a famous Indian professional cricketer. From 2000 to 2014, Zaheer Khan participated in all sports for the Indian national team. He is a left-arm fast-medium bowler. After Kapil Dev, he was the second-most successful Indian speed bowler in Test cricket. Zaheer Khan began his domestic playing career with Baroda. Zaheer Khan gained notoriety early in his career for his aggressive seam and pace bowling, particularly fast inch-perfect. He is frequently considered as one of India's top fast bowlers.

Zaheer Khan's birthday is on 8 October 1978. Zaheer Khan's age is 44 years as of 2022. Zaheer Khan's birthplace is Shrirampur, Maharashtra. Zaheer Khan's zodiac sign is Libra. Zaheer Khan's height is 1.85m or 6'1" in inches. Zaheer Khan's religion is Islam.

In an effort to hone his bowling, Zaheer Khan relocated to England in 2006 to play for Worcestershire for a brief period of time. His ability to "move the ball both ways off the wicket and swing the old ball at some pace" made him a standout among left-arm fast-medium bowlers. With the old ball, Zaheer Khan excelled at reverse swing. Graeme Smith, Kumar Sangakkara, Sanath Jayasuriya, and Matthew Hayden, some of the most feared left-hand batsmen in the game, have all been dismissed by him more than ten times apiece in international cricket.

He receives plaudits for his skills on flat subcontinental fields and his handling of various cricket ball varieties. He was an important contributor to the team that won the ODI World Cup in 2011, leading the pace attack with 21 wickets in just 9 games. He received the Arjuna Award in 2011, the second-highest athletic honour given by the President of India. Additionally, Zaheer Khan established ProSport Fitness & Services, a unique rehabilitation and training facility, in collaboration with Adrian Le Roux and Andrew Leipus for this reason. The Indian government awarded him the Padma Shri in 2020.

In 2008, Zaheer Khan was chosen as one of the Wisden Cricketers of the Year. In October 2015, Zaheer Khan made the announcement that he was quitting international cricket. In domestic cricket in India, he also represented Mumbai, Royal Challengers Bangalore, Delhi Daredevils, and Mumbai Indians in addition to Worcestershire in County Cricket.
Talk To Similar Celebrities
Zaheer Khan's Family and Zaheer Khan's Childhood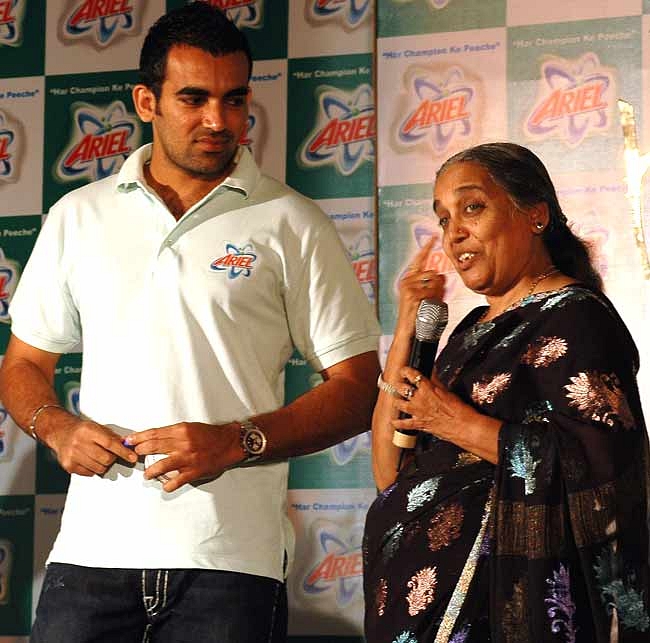 Zaheer Khan's Father's name is Bakhtiyar Khan and his Mother's name is Zakia. Zaheer Khan has two brothers. Zaheer Khan's elder brother's name is Zeeshan Khan and his younger brother's name is Anees Khan. His brothers are like his childhood's best pals to him. He was raised in a Muslim Marathi household. His mother Zakia, a housewife and a School Teacher has raised her children well, while his father was a photographer.

In Shrirampur, Zaheer Khan went to the K.J. Somaiyya Secondary School and the New Marathi Primary School. He began receiving cricket coaching from Utsav Yadav. He also participated in local Revenue Colony Cricket Club (RCC) games in Shrirampur before beginning his professional career there.
Zaheer Khan's Affairs
Isha Sharvani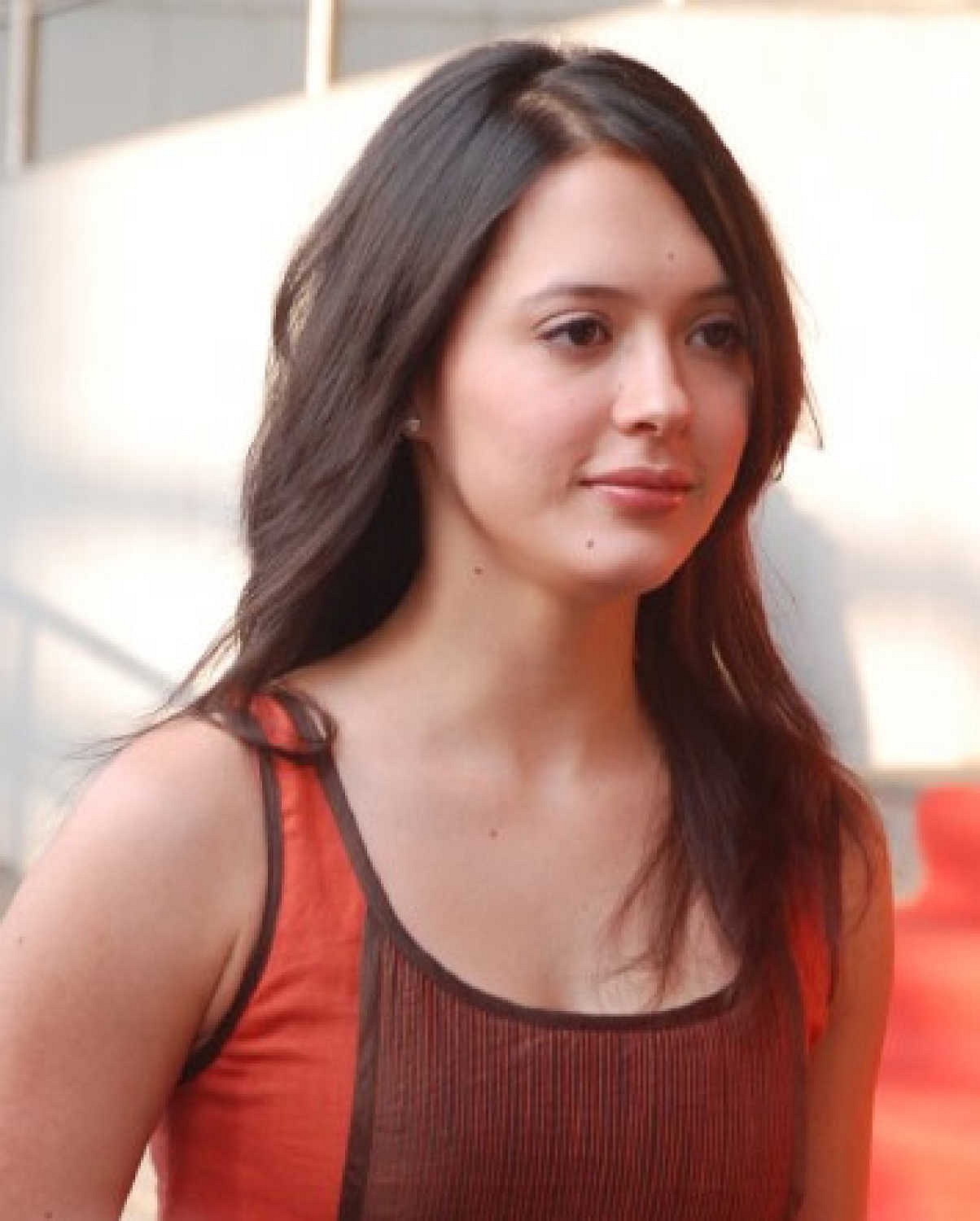 In 2005, Isha Sharvani and Zaheer Khan had their first encounter at a party. Since then, they had become close. The friendship had gradually developed into love. After that, they dated for eight long years, making this one of Zaheer's longest relationships. In addition to partying together and going on dinner dates, Isha Sharvani was frequently seen supporting Zaheer Khan in the cricket stadium.

Everyone had assumed that Isha and Zaheer would be married shortly after being in a relationship for eight years and making it public for their admirers, but the reality was otherwise. They had a rift between them, despite the fact that their serious relationship had progressed to the point of igniting rumours of an upcoming wedding. Isha herself acknowledged the couple's split in an interview in 2012. Despite her silence over the cause of their breakup, she had stated that she still valued Zaheer Khan as a close friend.
Zaheer Khan's Marriage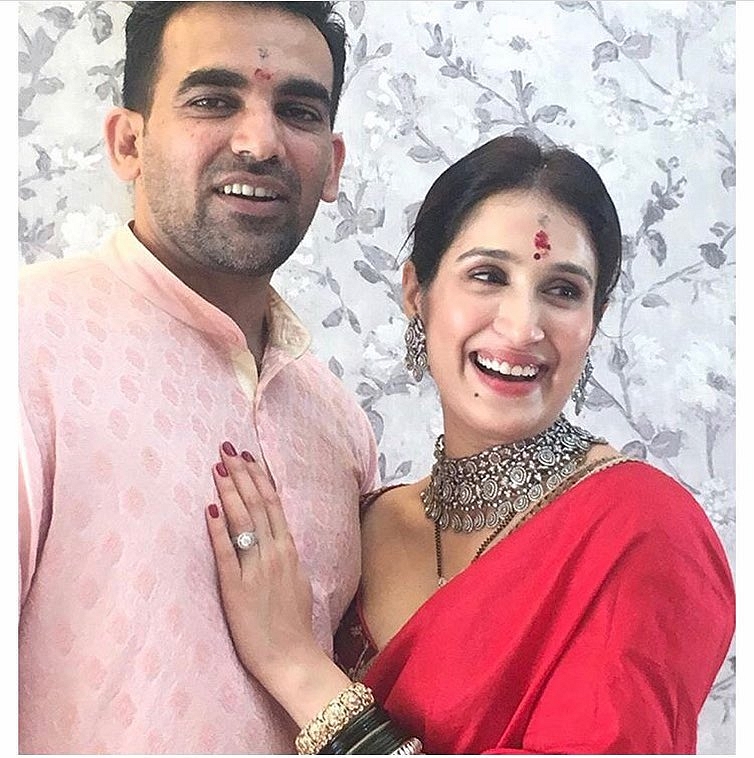 At the home of a mutual friend, Zaheer Khan and Sagarika Ghatge first met and instantly clicked. They got along well right away, were excellent friends, and this period of catching up with one another never came to an end. Although there were media reports that the pair was dating, Zaheer and Sagarika had both made the decision to keep a respectful silence. However, the couple had made their first-ever public appearance together at the wedding of cricketer Yuvraj Singh and actress Hazel Keech. After almost nine months of dating, Zaheer decided to make their relationship public on Twitter when they felt that everything was in order.

Zaheer Khan and Sagarika Ghatge made the decision to get engaged during the 2017 Indian Premier League (IPL) season and announced it on their individual social media accounts. Zaheer Khan and Sagarika Ghatge got married on 23 November 2017. The couple, unlike other celebrities, chose a court marriage and kept their wedding with their close friends and family including Anushka Sharma and Virat Kolhi. Pictures from their wedding photo shoot were uploaded to the internet in droves. Zaheer and Sagarika had held a lavish wedding celebration for their professional friends in contrast to their low-key private wedding ceremony. Celebrities from the cricket and Bollywood worlds came to bless the newlyweds that evening, and it was a star-studded affair. Mumbai was the location of the wedding reception.
Zaheer Khan's Career
Domestic Career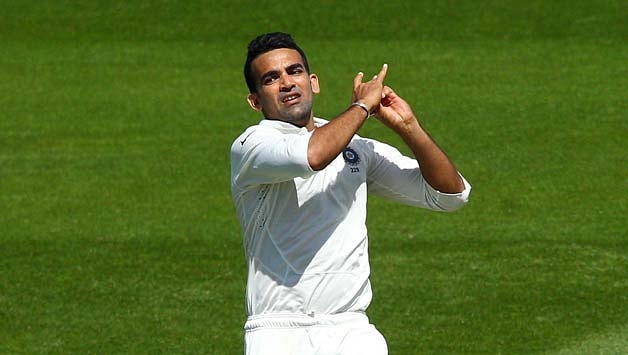 In 1996, Zaheer Khan moved to Mumbai and began playing cricket for the National Cricket Club, a Division A team in the city. He participated with the team in events including the Kanga Cricket League, Comrade Shield, and Purshottam Shield. Sudhir Naik, owner of the National Cricket Club, later sent him to the MRF Pace Foundation in Chennai. T. A. Sekhar, the bowling coach there, encouraged Khan to play for Baroda after noticing his talent.

As a first-class player for Baroda, Zaheer Khan immediately established himself. Zaheer Khan won the man of the match award in the Ranji Trophy final of the 2000–01 season against Railways after returning figures of 8/145 for the game, including a five-wicket haul in the second innings (5/16), and aiding his team in winning the trophy for the fifth time and for the first time in 43 years. At the beginning of the 2006–2007 Indian cricket season, Zaheer Khan moved to Mumbai. He didn't make his Mumbai debut until the Ranji Trophy final, when Mumbai overcame Bengal with 9 wickets taken by Khan.
In place of Shoaib Akhtar, Zaheer Khan signed on as one of Worcestershire County Cricket Club's two foreign players in 2005. Zaheer became the first Worcestershire player in more than a century to capture ten wickets in his debut against Somerset, despite the fact that Worcestershire ultimately lost the game. The first bowler to ever take all ten for the county was Zaheer Khan, but wicket-keeper Steven Davies dropped a catch provided by last man Darren Gough. He took the first nine wickets to fall in the first innings in a match against Essex in June, finishing with 9-138.

Before being chosen for the Delhi Daredevils in the 2015 auction, Zaheer Khan played for both the Royal Challengers and the Mumbai Indians. In 2016 and 2017, he served as the Daredevils' captain. In the 2017 season, Zaheer picked up 100 wickets in the Indian Premier League, making him the tenth bowler in history and the eighth Indian. He is the oldest player to accomplish this milestone at the age of 38.
International Career
In 2000, Zaheer Khan was chosen for the National Cricket Academy's initial intake in Bangalore. During the 2000 ICC KnockOut Trophy, he made his Test debut against Bangladesh and his ODI debut against Kenya. Late in 2005, Indian pacemen Sreesanth and R. P. Singh made their debuts on the international stage and settled in as regulars, making it challenging for Zaheer Khan to hold onto his spot in the starting eleven. At the end of the year, Zaheer's contract was downgraded from a B-grade to a C-grade by the Board of Control for Cricket in India. In 2005, when India played Pakistan, they fielded three left-handed pacemen and struggled to dismiss them due to a lack of variation in their bowling attack. He then returned for that tour.

Zaheer Khan was called up to the Test and ODI team for the South Africa tour in the latter part of 2006 as a result of Irfan Pathan's decline in performance and Munaf Patel's injury. His early 2007 home ODI performances against the West Indies and Sri Lanka, which included a career-best 5/42, saw his selection to the squad for the 2007 World Cup following consistent performances on tour. For his all-around performance with the bat and the ball during the 2008–2009 series in India, he was named Man of the Match in the opening Test between India and Australia.

India began a tour of England in July 2011. Zaheer Khan, who had bowled 13.3 overs, was forced to leave the trip after injuring his ankle and hamstring in the first Test of the four-match series. Zaheer returned in December and participated in a test match on Boxing Day against Australia. He dismissed Mike Hussey for a duck and Michael Clarke for 31 in two straight deliveries to claim two wickets. He took three of the four wickets that fell in the second test in Sydney, when Clarke scored 329; these were his highest statistics in both innings. Zaheer Khan is currently ranked 22 among Test bowlers in the ICC Player Rankings. He performed concerts in New Zealand in 2014 and South Africa in December 2013.
Test Career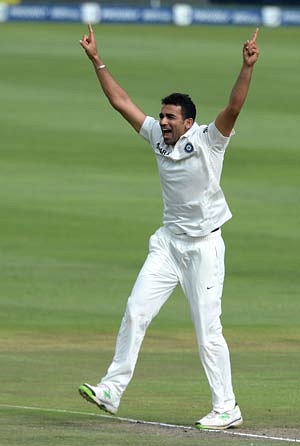 At a little over 32 runs per wicket, Zaheer has taken 311 Test wickets. Jacques Kallis, a prominent all-arounder from South Africa, was Zaheer's 300th test wicket. Zaheer got 54 wickets from 16 matches at an average of 30 runs between the start of the West Indies tour in April 2002 and the conclusion of the first match against Australia in December 2003, Brisbane. After the first Test matchup with Australia in Brisbane in December 2003, everything started to go south. He injured himself during the opening spell of the second innings after taking 5 of the top 7 Australian batsmen in the first innings (5 for 95).

He showed up for the third Test after skipping the second one but was forced to leave because of an injury midway through. He was unable to participate in India's early 2004 trip of Pakistan, which resulted in the nation's maiden Test series victory.

When he hit 75 against Bangladesh in 2004, Zaheer Khan previously held the record for the highest Test score by a number 11 in the globe. He was batting alongside Sachin Tendulkar at the time, and their 133 runs set a new mark for India's tenth wicket. Tino Best of the West Indies broke this record in 2012.
Knuckle Ball
Zaheer Khan was the first bowler to use a knuckle ball in international cricket. The knuckle ball was invented by Zaheer Khan back in the 2011 World Cup. He made fantastic use of that ball. With that ball, he was able to take out players at important moments, including Michael Hussey in the Quarterfinal against Australia and Ian Bell and Paul Collingwood against England, Devon Smith against the West Indies, and Ian Bell and Paul Collingwood against England.
World Cup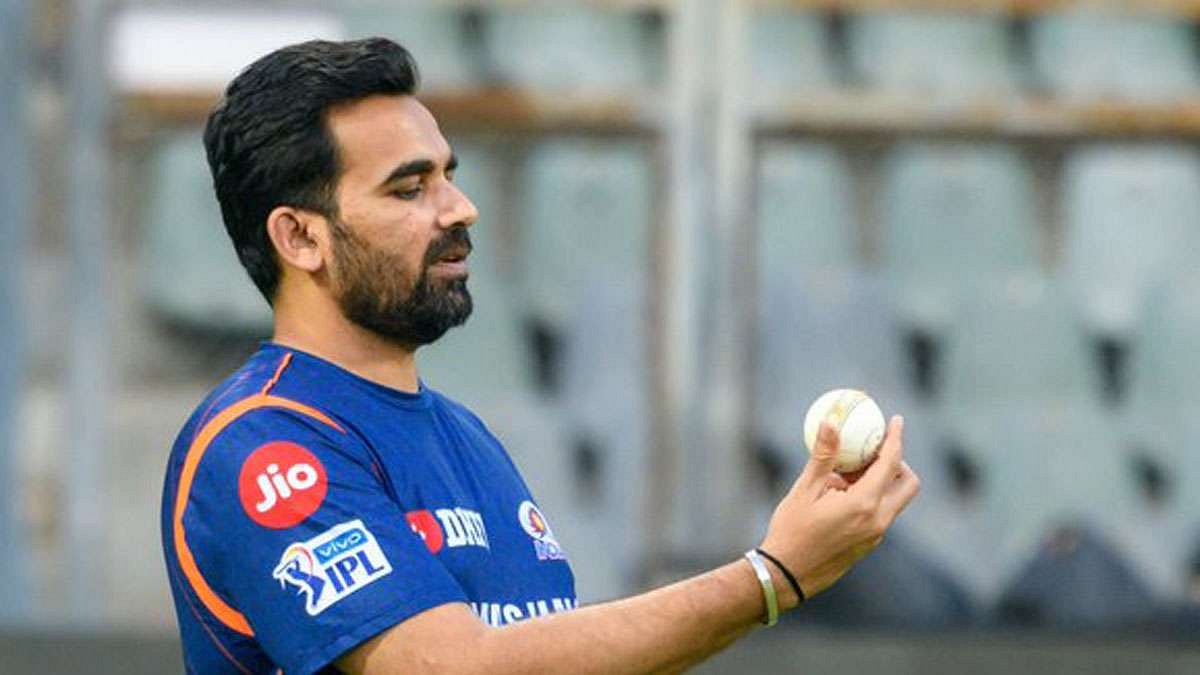 Zaheer Khan ranks sixth on the list of bowlers with the most World Cup wickets, behind Glenn McGrath (71), Muttiah Muralitharan (68), Wasim Akram (55), Chaminda Vaas (49), Mitchell Starc (49), and Lasith Malinga (47), with 44 throughout the period from 2003 to 2011. Zaheer and Srinath are tied for sixth place, however Srinath has played 34 games to Zaheer's 23.

Zaheer Khan finished as the joint-highest wicket-taker alongside Shahid Afridi with 21 kills, serving as one of India's secret weapons during their World Cup victory in 2011.

On October 15, 2015, Zaheer Khan tweeted about his decision to retire from both first-class and international cricket. 2017 saw the appointment of Zaheer Khan as the bowling advisor for the Indian national cricket team.
Zaheer Khan's Net Worth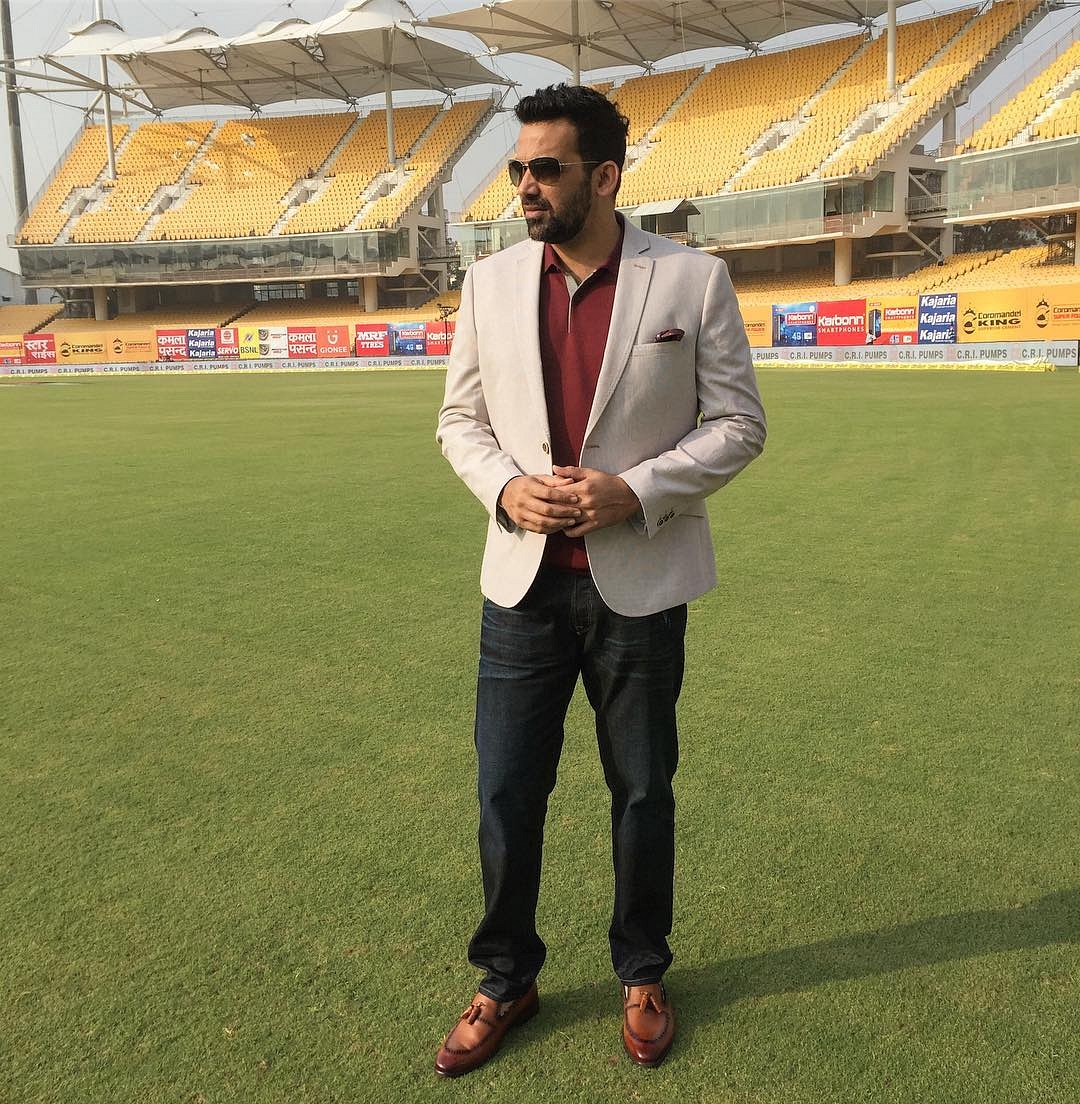 Zaheer Khan's net worth is $25 million US or Rs 182 crore Indian rupees, as of 2022. Zaheer Khan's primary source of income and wealth was cricket. Additionally, Mr. Zaheer Khan has a very high brand value and is widely regarded as the best player in the world.

Additionally, he receives a sizable income from the Indian Premier League and several international and national cricket matches (IPL). He also gets paid a considerable sum of money to endorse numerous brands.

An opulent, elegant home is owned by Zaheer Khan in Mumbai, Maharashtra. He also has a number of properties in real estate across the nation. Zaheer Khan's car collection is fairly modest. Few of the finest luxury vehicles in the world are owned by Zaheer Khan.

Zaheer Khan is the owner of some of the car manufacturers, including the Toyota Fortuner, Audi A8, and Mercedes-Benz S-Class. One of the most well-liked and financially successful sports figures in India and other nations is Zaheer Khan. He has also made investments in a number of real estate ventures.
Zaheer Khan's Controversies
Tamil Nadu Hotel Controversy
Following the refusal of one of his companions to check into a hotel in Tamil Nadu in 2008, Zaheer became irate with the security personnel. After leaving his room, Zaheer Khan got into a fight with the security guards. After being properly frisked, Zaheer's friend who plays cricket for Tamil Nadu was eventually permitted to enter the hotel, further infuriating the bowler. Tamil Nadu Police took the incident seriously and filed a complaint against Zaheer Khan with the Indian team management for violating security rules and tussling with guards at the team hotel.
Hardik Pandya Tweet Controversy
After the renowned Indian seamer was unjustly "trolled" by all-rounder Hardik Pandya on his 41st birthday, Zaheer Khan came up with a clever retort. Pandya shared a video of the Indian all-rounder hitting Zaheer for a boundary during a domestic match. Pandya kept his sense of humour, but the Twitterati quickly disapproved of the birthday message.A day after Pandya received criticism for his lacklustre birthday post, Zaheer responded with a humorous reply. Zaheer Khan concluded the story by making a subtle jab at Pandya, saying that his birthday was comparable to the subsequent delivery that Pandya handled during that same game.
Diwali Controversy
Zaheer Khan received constant criticism on social media in October 2019 for posting a photo of himself and his wife, the actress Sagarika Ghatge, and wishing everyone a happy Diwali. When criticising Khan, several fundamentalists questioned what face he would present to Allah if he observed Diwali in this manner.
Zaheer Khan's Awards and Achievements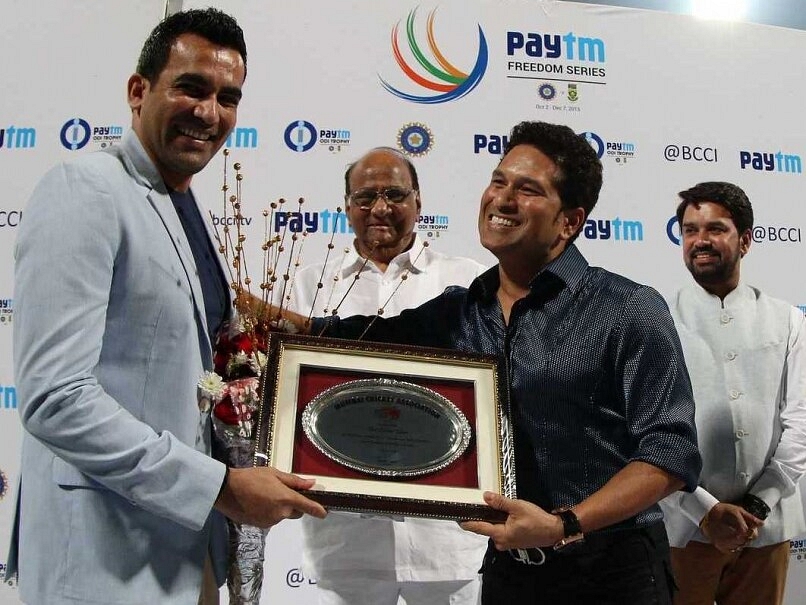 In India's 2007 triumph over England, Zaheer Khan was nominated for player of the series.
The Wisden Cricketers Almanack picked Zaheer Khan as one of the Five Cricketers of the Year in 2008.
In 2011, Zaheer Khan received the Arjuna Award in appreciation for his contributions to the sport.
In 2020, Zaheer Khan received the Padma Shri, India's fourth-highest civilian honor, in recognition of his services to the game.
Zaheer Khan Records
When playing at position 11 for his team against Bangladesh in 2004, Zaheer Khan still maintains the record for the most runs scored, scoring 75 runs.
The 2003 World Cup's fourth-highest wicket-taker was Zaheer Khan.
In international cricket, Zaheer Khan and Sachin Tendulkar continue to hold the record for the highest partnership for the 10th wicket (133 runs)
Zaheer Khan made history for the Worcestershire county team in England by becoming the first player to ever take 10 wickets in just one game.
The cricketer has 610 wickets to his name in international play. There are 311 test matches, 282 One Day Internationals, and 17 T20 Internationals included in this total.
Zaheer Khan's Interesting Facts
Zaheer Khan was an honest and well-behaved pupil. He was granted entrance to a mechanical engineering degree programme to continue his education. However, on the recommendation of his coach Sudhir Naik, he gave up engineering and turned his attention to cricket.
Zaheer had a history of anxiety about flying. He invited his coach Vidhyadhar Paradkar to fly with him on his first flight to Madhya Pradesh.
Former South African captain Graeme Smith has been struck out 14 times in international cricket by Zaheer Khan.
Zaheer's squad mates affectionately refer to him as Zak. After impressing England with 78 wickets for Worcestershire in 2006, his teammates began referring to him as Zippy Zakky.
Zaheer loves Sachin Tendulkar a lot. The cricketer is also inspired by Roger Federer.
Zaheer has participated in the Indian Premier League (IPL) from its inception with three separate teams: the Delhi Daredevils, the Mumbai Indians, and the Royal Challengers Bangalore (DD).
Together with Mumbai-based cricket physiotherapists Adrian Le Roux and Andrew Leipus, Zaheer is the owner of ProSport Fitness & Services, a specialized training, and recovery facility.
In Pune, Zaheer Khan also owns a restaurant under the name of ZK.
Social Media
Frequently Asked Questions