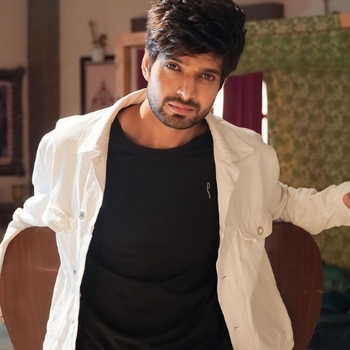 Hitesh Bharadwaj
Hitesh Bharadwaj
Book video @

₹7999
Secured & Safe Payments
---

Buy For

₹7599
Extra ₹400 off on this booking
Members Only

Flat 15% Off
Additional discount for Prime Users
---
Money-back Guarantee!
If for some reason, your request could not be completed, we'll refund your money within 3-5 working days.
Need help?
Reach out to us on WhatsApp or Email for queries. Our support team shall get back to you within 2-3 working days.
Secured & safe payments
Every transaction is 100% safe. Your payment details are encrypted during the transaction to safeguard your data.
Turn Special Occasions into Extraordinary Memories with Celebrity Wishes!
Looking to make celebrations truly unforgettable? Your search ends here! Embark on an extraordinary journey with personalised wishes from your beloved celebrity. Witness sheer delight as heartfelt messages from renowned stars create lifelong cherished memories.
Experience the magic of receiving a personalised birthday or anniversary wish from a celebrity. These extraordinary moments will etch themselves into your loved one's heart, ensuring unforgettable memories that stand the test of time.
Book An Exclusive Personalised Celebrity Invitation Video message Experience - Elevate Your Special Occasion!
Are you planning a birthday celebration, anniversary party, or wedding event and want to make it truly exceptional? Look no further! We are excited to present a unique opportunity to book an exclusive celebrity invitation experience for your special occasion.
Imagine the joy and excitement on your guests' faces when they receive a personalised invitation from a renowned celebrity. Whether it's a milestone birthday, the most important day of your life, or a cherished anniversary, this exclusive celebrity invitation experience will make your event truly unforgettable.
Unlock the Power of Motivation with Personalised Messages from Beloved Celebrities
Are you seeking to bestow the gift of motivation upon your loved ones? Look no further! We are thrilled to present personalised motivational messages from adored celebrities, guaranteed to uplift and empower those dear to you.
Envision the profound effect of receiving a customised motivational wish from a renowned celebrity. Whether your loved ones are navigating through adversity, pursuing aspirations, or in need of a boost, these messages will rekindle their inner flame, equipping them to triumph over any hurdle they encounter.
Why Book A Personalised Celebrity Wish From Hitesh Bharadwaj?
Memorable Moments: By booking personalised wishes from your favourite celebrity, you'll create cherished memories that will last a lifetime. The genuine and heartfelt messages from these renowned personalities will bring a smile to your loved one's face and create a lasting impression.

Exclusive and personalised: Each wish will be tailor-made for your loved one, reflecting their unique personality and the occasion they are celebrating. The celebrity will take into account any specific details or requests you provide, ensuring a truly personalised experience.

A Celebrity Connection: Your loved one will feel an incredible sense of connection and excitement as they receive a wish from their favourite celebrity. It's a chance to bridge the gap between fandom and personal interactions, creating a moment they will treasure forever.

Variety of Occasions: Whether it's a birthday, anniversary, wedding, or festival, personalised celebrity wishes are available for various occasions. Choose the celebrity who holds a special place in your loved one's heart and let their heartfelt wishes make the celebration extraordinary.
Book a Personalised video message from Hitesh Bharadwaj and surprise your family and friends.
Book a Wish From Hitesh Bharadwaj
Are you seeking a unique and unforgettable way to celebrate special occasions? Look no further! We are thrilled to announce an exclusive opportunity to book personalised wishes from the renowned actor, RJ, and model Hitesh Bharadwaj for birthdays, anniversaries, weddings, festivals, and more!
Imagine the delight on your loved one's face as they receive a sincere video message directly from him, specially created just for them. Whether it's a birthday surprise, an anniversary celebration, a wedding gift, or any other special occasion, Hitesh's personalised wishes will make the moment truly memorable.
Book an Invitation From Hitesh Bharadwaj
Are you planning an anniversary event and want to make your invitations truly remarkable? We are thrilled to introduce a unique opportunity to book personalised invitation messages from Hitesh Bharadwaj, who is widely known for his work in Iss Mod Se Jaate Hai and Agar Tum Saath Ho.
Imagine the excitement on your guests' faces when they receive a one-of-a-kind invitation directly from Hitesh himself. Whether it's a birthday extravaganza, an anniversary celebration, a wedding ceremony, or any other special occasion, his personalised invitation messages will add an unforgettable touch of charm and warmth.
Book a Motivational Video Message From Hitesh Bharadwaj
Are you searching for a unique and impactful way to uplift and motivate your loved ones who are struggling? Book personalised motivational messages from Hitesh Bharadwaj. Whether it's a friend facing a setback, a family member in need of a boost, or anyone going through a difficult phase, his personalised motivational messages will ignite a spark of hope and motivation.
Why Should You Book A Personalised Wish From Hitesh Bharadwaj?
A Touch of Stardom - Hitesh's charisma and talent have won the hearts of millions. Now, you can bring his star power directly to your loved ones, making their day extraordinary and full of star-studded charm.

Sweet and Personalised Messages - He will pour his heart into creating personalised messages created for the individual and occasion. From sincere birthday greetings to warm anniversary wishes, his messages will leave a lasting impression and touch the person's soul.

Exclusive Content - Each personalised wish from Hitesh Bharadwaj will be unique and exclusive. You can expect his warm smile, infectious energy, and genuine emotions to make your dearest feel truly special and cherished.

Flexibility and Variety - Whether it's a video message, a voice note, or a virtual meet-and-greet, we offer various options to suit your preferences and occasion. You can choose the perfect way to surprise your loved ones and make their day even more magical.

Unforgettable Memories - Hitesh's personalised wishes will create lifelong memories for both you and your loved ones. They will treasure the personalised video or voice message, relishing the joy and excitement of receiving greetings from a beloved star.
Hitesh Bharadwaj is an Indian actor, model, and RJ who is widely known for his work in the television industry. He is known for playing the lead role of Sanjay Pathak in the TV series Iss Mod Se Jaate Hai.
Life Story
Hitesh was born on the 23rd of December, 1991, in Mathura, Uttar Pradesh. Hitesh Bharadwaj's age is 31 as of 2023. His zodiac sign is Capricorn.
Education
Hitesh received his education at the Army School in Mathura and then completed his education at St. John's College in Agra.
Family
Hitesh's mother's name is Kusum Lata Sharma. His father's name is Rakesh Sharma. He has a younger brother named Rahul Bharadwaj. Hitesh Bharadwaj's wife's name is Suditi Srivastava. The couple got married in 2019.
Career
During his early career, Hitesh worked at BIG FM 92.7 as a radio jockey (RJ). In 2016, Hitesh Bharadwaj made his TV debut with the Indian television drama series Agar Tum Saath Ho.
In 2019, he was on the show Choti Sarrdaarni on Colours TV with Nimrit Kaur Ahluwalia. Later, on the Star Plus show Shaurya Aur Anokhi Ki Kahani, he played the important part of ACP Ahir. He played the male lead in the Zee TV show Iss Mod Se Jaate Hai in 2021, opposite Akshita Mudgal.
In addition to that, he also starred in a number of different television shows, including Million Dollar Girl, Love by Chance, Suvreen Guggal Topper of the Year, Udaariyaan, and others.
The year 2018 marked Hitesh's debut in the film industry with the movie Jaane Kyun De Yaaron. In the same year, Hitesh appeared in the short film Confessions with Megha Chakraborty. Hitesh worked as both an anchor and a VJ at one point.
He used to weigh over 120 kg, but after following a strict food routine and working out, he lost nearly 45 kg. So, he is an inspiration to his fans because he was able to change his body and become healthy. He has a huge fan base on social media.
Hitesh Bharadwaj's Instagram ID is @hitesh_bharadwaj. He shares great posts on his page, which his fans admire. His fans respect him for all of his great work.
We encourage you to book well in advance to secure your personalised wishes from Hitesh Bharadwaj. Make your special occasions truly extraordinary with a touch of his special wishes and star-studded charm. Book now and create cherished memories that will be treasured for a lifetime! #JustTringIt
Photos