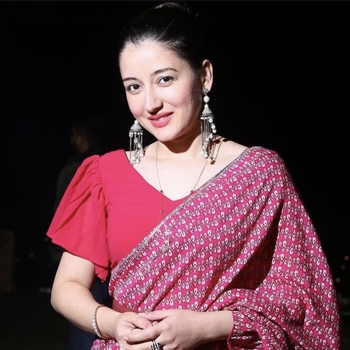 Priyanka Kandwal
Priyanka Kandwal
Book video @

₹999
Secured & Safe Payments
---

Buy For

₹949
Extra ₹50 off on this booking
Members Only

Flat 15% Off
Additional discount for Prime Users
---
Money-back Guarantee!
If for some reason, your request could not be completed, we'll refund your money within 3-5 working days.
Need help?
Reach out to us on WhatsApp or Email for queries. Our support team shall get back to you within 2-3 working days.
Secured & safe payments
Every transaction is 100% safe. Your payment details are encrypted during the transaction to safeguard your data.
You can now interact with Priyanka Kandwal via Tring! Book a Personalised video message from Priyanka Kandwal and surprise your friends or yourself. With Tring, you can even get your brand promoted by Priyanka Kandwal.
Priyanka Kandwal's birth date is the 18th of July. Priyanka Kandwal's birth year is 1987. Priyanka Kandwal's zodiac sign is Cancer. Priyanka Kandwal is a popular actress known for her amazing acting skills and screen presence. She is an Indian and was born in a Hindu family. She secured a degree in commerce. She also went on to do modeling and worked in many commercials. She is a well-known actor and TV artist who has made a name for herself in the industry.
Priyanka made her acting debut in the serial Pavitra Rishta 2013, Jana Na Dil Se Door 2017, and Mariam Khan Reporting Live. She made her Movie debut in the Malayalam movie Style and then went on to perform in various language-based TV serials and movies like Neenade Naa, Unni Mukundan, etc. She is very popular and has garnered a lot of love and respect from her fans. They cluster in front of their TV units to watch and enjoy her Performance.
She has collaborated with many famous brands and is even in discussion to act with a famous Bollywood star. Her acting and personality have made a mark n the industry, and her career took after she played a role in Pavitra Rishta. Her family and friends love and support her work. They are very happy with her work and are very supportive of her career choice.
She has a huge fan following on her social media platforms. Her Instagram id is @priyankakandwal.
Book a personalised message from Priyanka Kandwal and make someone's day special. Book Now!! #JustTringIt
Priyanka Kandal Profession - Artist
Priyanka Kandal Celebrity Type - Actor
Priyanka Kandal Age - 29
Priyanka Kandal Date Of Birth - 18 July
Priyanka Kandal Year of Birth - 1994
Priyanka Kandal Zodiac Sign - NA
Priyanka Kandal's Birthplace - Dehradun Uttarakhand
Priyanka Kandal Height - NA
Priyanka Kandal Weight - NA
Priyanka Kandal Debut - 2013
Priyanka Kandal Notable Work - She has worked in various movies and TV shows like Pavitra Rishta, Dil Se Door, Style, and Neenade Naa.
Priyanka Kandal's Net Worth - NA
Priyanka Kandal Instagram - @priyankakandwal
Priyanka Kandal Twitter - NA
---
Frequently asked questions
Priyanka Kandal is an Indian Actor and TV artist.
Priyanka Kandal is famous for her brilliant and excellent performance in various movies and TV serials.
Priyanka Kandal's birthday is on 18 July 1994.
Priyanka Kandal's age is 29 (as of 2023).
Priyanka Kandal was born in Dehradun, India.
You can easily book a personalised wish from Priyanka Kandal via Tring.
Priyanka Kandal's Instagram ID is @priyankakandwal
Priyanka Kandal's phone number is not available.