Kapil Dev | Cricket, Age, Biography, Height, Net Worth

Violeena Vargav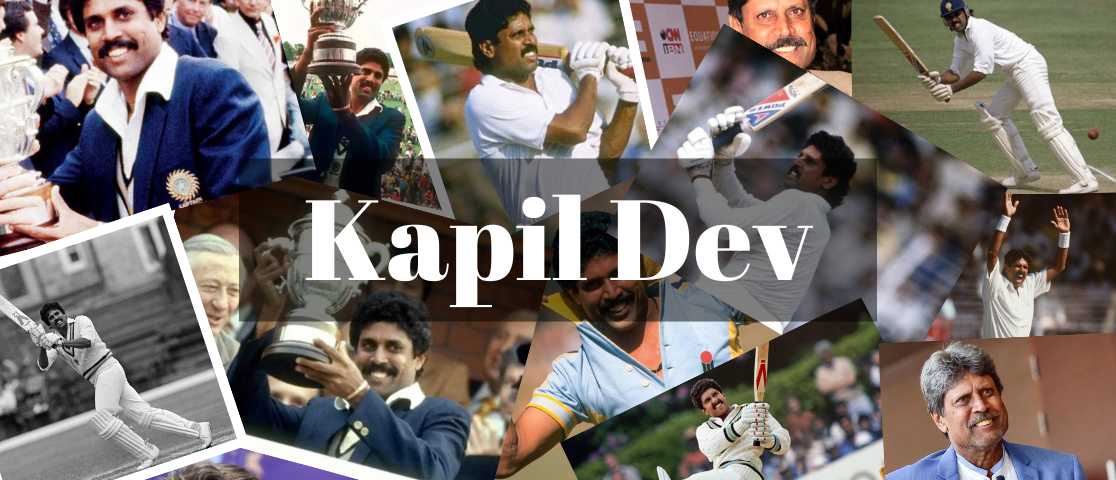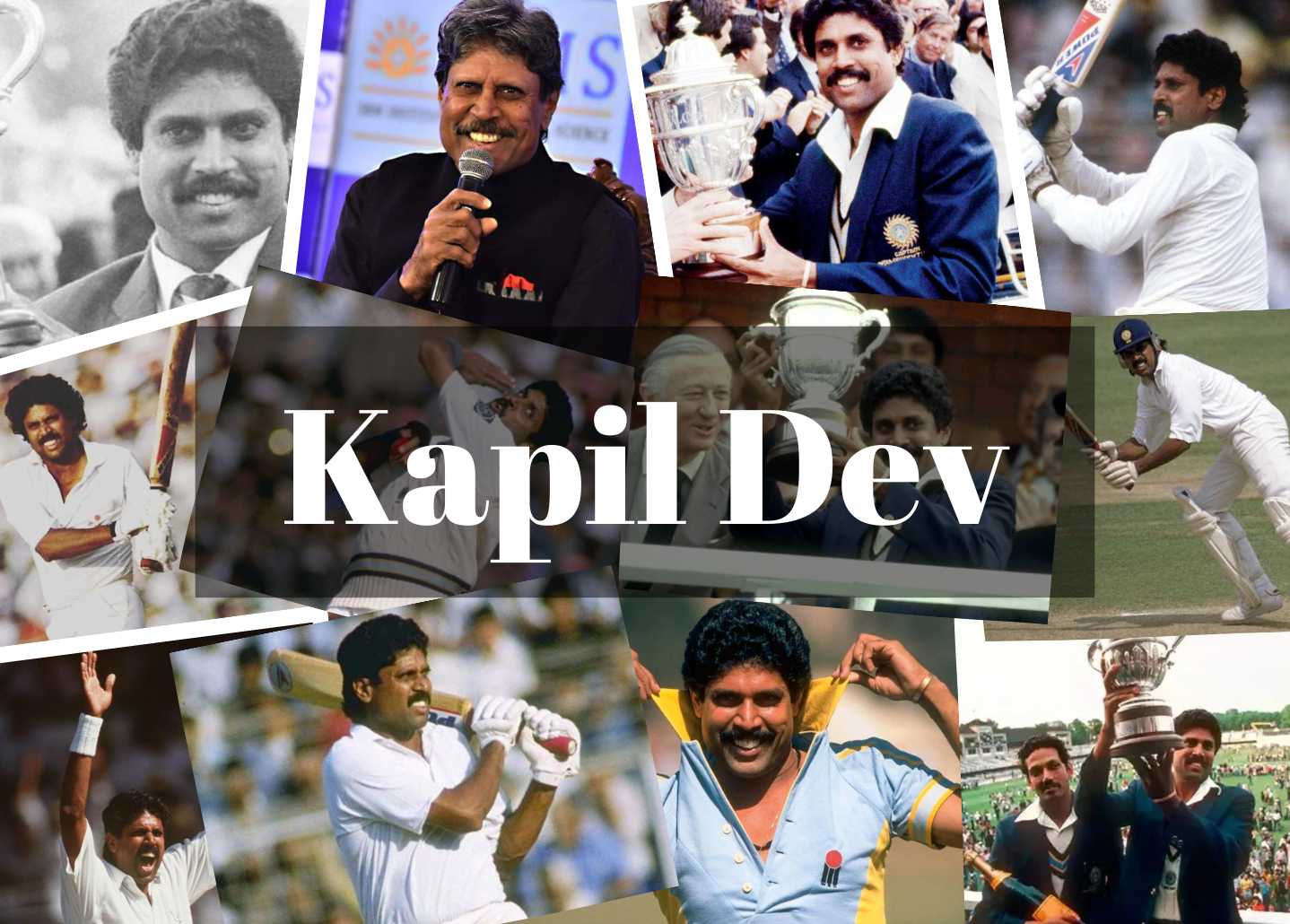 Kapil Dev's Biography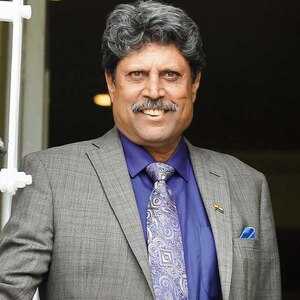 Kapil Dev is a former Indian cricketer. He was a hard-hitting middle-order batsman and a fast-medium bowler. In 2002, Wisden named him the Indian Cricketer of the Century.

Kapil Dev's full Name is Kapildev Ramlal Nikhanj. Kapil Dev's birthday is on 6 January 1959. Kapil Dev's age is 63 years as of 2022. Kapil Dev's birthplace is Chandigarh, Punjab, India. Kapil Dev's zodiac sign is Capricorn. Kapil Dev's height is 1.83m or 6 ft. Kapil Dev's religion is Sikhism. Kapil Dev did right-handed batting. Kapil Dev was a right arm fast-medium bowler.

The Indian cricket team captained by Kapil Dev won the 1983 Cricket World Cup, making him the first Indian captain to do so. He is still the youngest captain of any team to have won the World Cup. He retired in 1994 while still holding the world record for most Test cricket wickets taken, a mark that was surpassed by Courtney Walsh in 2000. He was also India's leading wicket-taker in both the Test and ODI formats of the game at the time.

The first player to 200 ODI wickets is Kapil Dev. One of the best all-rounders in cricket history, he is the only player to have taken more than 400 wickets (434 wickets) and scored more than 5,000 runs in Test matches. Cricket players, like Sunil Gavaskar, who considers Dev to be one of the best all-rounders to ever play the game, have hailed Dev's all-around talent.

The Indian national team was coached by Kapil Dev from September 1999 until September 2000. Dev was admitted to the ICC Cricket Hall of Fame on March 11, 2010. received the Padma Shri in 1982 and the Padma Bhushan in 1991.

Right-arm pace bowler Kapil Dev was India's primary strike bowler for the majority of his career and was renowned for his fluid motion and powerful outswinger. In the 1980s, he perfected an excellent inswinging yorker that he used to great effect against tail-enders. He was an excellent hook and drive batsman and a natural striker of the ball. Being a naturally aggressive player, he frequently assisted India by attacking the opposition in trying circumstances. Nicknamed The Haryana Hurricane, he represented the Haryana cricket team in domestic cricket.
Claim Your FREE Celebrity Shoutout
✕
Claim Now!
Kapil Dev's Family and Kapil Dev's Education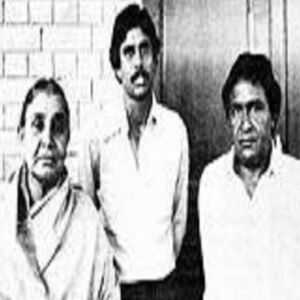 Kapildev's father's name is Lal Nikhanj and his mother's name is Rajkumari. Lal Nikhanj was a teak merchant. After the Partition, his family first relocated to Fazilka before eventually relocating to Chandigarh. His mother was born in Pakpattan, Okara, while his paternal family hails from Montgomery (currently referred to as Sahiwal).

Up until the 12th grade, Kapil Dev attended school. He made his international debut in 1978 after completing his study at the D.A.V. School.

Talk To Similar Celebrities
Kapil Dev's Relations and Kapil Dev's Marriage
Sarika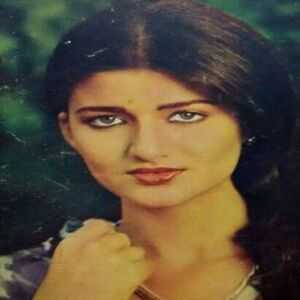 When they first met, both Sarika and Kapil Dev were in the prime of their careers. At a gathering, Manoj Kumar's wife Shashi Goswami introduced them to one another. They started interacting and became friends. That friendship quickly became love. Kapil reportedly brought Sarika to Punjab to meet with his parents.

After he made the decision to return to his then-girlfriend and current wife Romi Bhatia, Kapil Dev broke up with Sarika. According to rumours, Kapil Dev began dating Sarika following an altercation with Romi. But after a few days, he returned to Romi, and the two eventually got hitched. Sarika, on the other hand, married South Indian movie star Kamal Haasan.

Romi Bhatia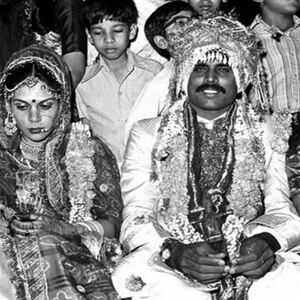 Sunil Bhatia, a close friend of former cricketer Kapil Dev, had introduced him to Romi Bhatia, one of his buddies. After the former Indian captain invited her to witness India's test match against the West Indies in 1979, Romi Bhatia and Kapil Dev first met in Delhi.

Romi Bhatia, a businesswoman, accepted the offer, therefore it was now Kapil Dev's turn to make the best impression possible. The legendary batsman, however, not only left her speechless but also achieved a significant personal milestone on the same day. Kapil Dev had registered his first century in a match against the formidable West Indies team. Romi Bhatia was not the only person in the world that day who was amazed by Kapil Dev's cricket skills.
Kapil Dev spilled the beans about his proposal to Romi Bhatia in his book, Triumph of the Spirit. Romi Bhatia and Kapil Dev were riding in a local train when he proposed to her, which is the first factor that makes it a fantasy proposal. While riding the Mumbai local, a large billboard with Kapil Dev's image on it had passed in front of them. The cricketer requested Romi to take a picture of it right away and suggested that they show their children this image. Romi Bhatia initially blushed in response to Kapil Dev's wonderful proposal, took her time, and later accepted his vision of togetherness. Kapil Dev and Romi Bhatia got married in 1980.

Kapil Dev and Romi Bhatia welcomed their beautiful daughter Amiya Dev into the world on January 16, 1996, shortly after getting married. The couple has since embraced motherhood. In his interviews, the devoted father Kapil Dev never misses an opportunity to show his daughter how much he loves her. For instance, he previously thanked his daughter for turning him into a tech enthusiast while speaking at a promotional event in Mumbai.

Romi Bhatia is a successful businesswoman. She began managing her new family's hotel, Kaptain Retreat, after getting married to Kapil (previously known as Kapil Hotel). In addition to managing the hotel, which is located in Chandigarh, Romi Bhatia also looks after several other minor family companies. The intimidating woman had always been outspoken about her personal life and had never been afraid to discuss her relationship with Kapil Dev.
Kapil Dev's Cricket Career
Domestic Career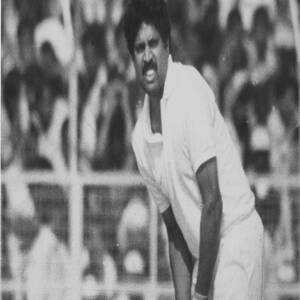 In November 1975, Kapil Dev had an outstanding start for Haryana against Punjab with a 6-wicket haul, holding Punjab to just 63 runs and assisting Haryana in winning. In 30 matches, he took 121 wickets to conclude the season. He had a match haul of 8/36 in the victory over Jammu & Kashmir in the 1976–1977 campaign's first game. Haryana was able to go to the pre-quarterfinals despite his production being below average for the remainder of the season. In the second innings, Dev amassed his then-best innings performance of 8/20 in just 9 overs to skittle Bengal for 58 runs in under 19 overs. Bombay defeated Haryana in the quarterfinals.

Beginning his 1977–1978 campaign against Services, Kapil dev claimed 8/38 in the first inning. He took his first 10-wicket haul in first-class cricket with 3 wickets in the second innings, a milestone he would later do twice in Test cricket. He was chosen for the Irani Trophy, Duleep Trophy, and Wills Trophy matches after taking 23 wickets in 4 games.

After Kapil Dev's underwhelming season, Haryana faced Bengal again in the pre-quarterfinal game in the 1978–1979 season (12 wickets from 4 matches). In the games during the group stage, he scored two half-centuries. In the first innings of the pre-quarterfinal game, he claimed a 5-wicket haul. Bengal scored the necessary 161 runs for the cost of just 4 wickets to avenge their setback from two seasons prior thanks to poor batting by Haryana in the second innings. With 62 runs scored and an eighth-place finish in the Irani Trophy game, Kapil Dev distinguished himself. Dev entered the national attention with a spectacular performance in the finals of the Duleep Trophy, taking a first-innings haul of 7/65 in 24 overs in the match when Karnataka was defeated by the Rest of India XI. He also made five catches in the match. For the first time, he was a member of the North Zone roster for the Deodhar Trophy and the Wills Trophy. He faced Pakistan in his first Test game of the year.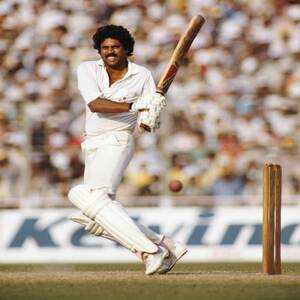 Kapil Dev demonstrated his batting prowess during the 1979–80 season by scoring a first-century against Delhi, setting a new career high of 193. He led Haryana for the first time against Uttar Pradesh in the pre-quarterfinal match. He took a five-wicket haul in the second innings to help Haryana move to the quarterfinals, where they lost to Karnataka. Dev's involvement in domestic games decreased as he solidified his place in the Indian national team.

On the strength of Chetan Sharma's bowling and Amarjit Kaypee's batting in the 1990–91 Ranji season, Haryana advanced to the semifinals. In the semi-final matchup against Bengal, Kapil Dev took centre stage, inspiring his team to a mammoth total of 605 runs while hitting 141 runs and claiming 5 wickets.

The 1991 season's championship games will be remembered for the number of international cricketers who took part, including Kapil Dev, Chetan Sharma, Ajay Jadeja, and Vijay Yadav, who competed for Haryana and the Bombay cricket team, which was comprised of Sanjay Manjrekar, Vinod Kambli, Sachin Tendulkar, Dilip Vengsarkar, Chandrakant Pandit, Salil Ankola, and Abe Haryana scored 522 with the help of Deepak Sharma (199), Ajay Jadeja (94), and Chetan Sharma (98), while Bombay's first-inning total was held to 410 runs by Yogendra Bhandari (5 wickets) and Dev (3 wickets). Haryana reached 242 runs thanks to a pivotal 41 from Kapil Dev and the leading scorer Banerjee (60), giving Bombay a goal of 355 runs. After the first few wickets, the Bombay squad rallied behind Vengsarkar (139) and Tendulkar (96). Haryana captured the final 6 wickets for 102 runs after Tendulkar was out, leaving Vengsarkar and Bombay stranded 3 runs short of the mark. Dev took home his first and only Ranji Trophy title.
County Cricket
Between 1981 and 1983, Kapil Dev played county cricket in England for Northamptonshire, and between 1984 and 1985, he did so for Worcestershire. During his time with the county, he participated in 40 first-class games and scored 2,312 runs over 64 innings, including four centuries and 14 half-centuries. 103 of the 835 first-class wickets he took total were in county cricket.

International Career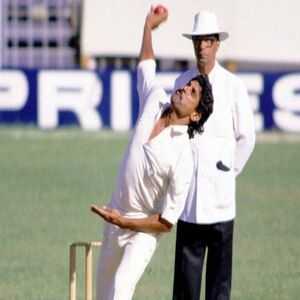 On October 16, 1978, Kapil Dev made his Test cricket debut in Faisalabad, Pakistan. Even if his match statistics weren't remarkable, they didn't reflect how much of a contribution he made. His quickness and multiple bouncers that hit the Pakistani batsmen in the helmet stunned them. With his signature outswinger, Dev got Sadiq Mohammad for his first wicket. At the third Test match at National Stadium in Karachi, he demonstrated his all-around ability by scoring India's quickest Test half-century off 33 balls and two sixes in both innings, despite the fact that India lost the game and the series 2-0.

Kapil Dev got his first Test century (126) at Feroz Shah Kotla in Delhi during the subsequent series against a touring West Indies squad in just 124 balls while also bowling consistently (17 wickets at 33.00). Dev's first series outside of the sub-continent, the ensuring series, revealed troubling indications of his fondness for England. He took all of England's wickets and his first five-wicket haul, but it cost him dearly (48 overs and 146 runs), as England scored a magnificent 633 and easily won the match. Kapil Dev finished the series with 16 wickets despite his mediocre batting total of 45 runs (Average: 7.5). His ODI debut was on an earlier tour of Pakistan, where his individual performance was unremarkable and it remained the same as both Dev and India had a dismal World Cup run in 1979.

With two 5-wicket hauls, Kapil Dev established himself as India's top fast bowler. He finished the home series against Australia with 28 wickets (an average of 22.32), 212 runs, including a half-century, and 28 wickets (an average of 22.32). He rose to fame during India's two victories over Pakistan in the 6-Test home series in the 1979–80 season, one with the bat (69) at Wankhede Stadium in Bombay and the other with the ball and the bat (10–wicket haul in match – 4/90 in the first innings and 7/56 in the second innings, 84 in 98 balls with his bat) (Now Chennai). Dev considers his overall performance in this game to be the best of his career, and his second innings figure of 7/56 was the best he had ever recorded. He concluded the series with 32 wickets (Ave: 17.68) and 278 runs, including 2 fifties, making him the youngest Test player to ever complete the all-round double of 100 wickets and 1000 runs in 25 matches (whereas Ian Botham needed just 21).
India's tour of Australia in 1980–81 had all the makings of a typical Indian series: India was trailing 1-0, needed to defend just 143 runs, and Kapil Dev was all but ruled out due to a groin injury. Dev forced himself to play the last day despite receiving painkiller injections when Australia concluded the fourth day at 18/3. He also got rid of the risky Australia middle order. Dev's innings bowling performance of 16.4-4-28-5, which ranks among his five best bowling performances, helped India win the match. He scored his first fifty during the Australian tour against New Zealand in an ODI in Brisbane. The rising star of Indian Test cricket, who struggled to adapt to ODI cricket, started his career with 278 runs (an average of 17.38) and 17 wickets after 16 ODI games.

Kapil Dev was prepared for the 1981–82 home series against England after a disastrous tour of New Zealand, and his five-wicket haul at Bombay's Wankhede Stadium helped India win the opening test. He finished with 318 runs (an average of 53, 1 century, and 1 fifty) and 22 wickets (2 5-wicket hauls), earning him the title of Man of the Series. In the following home series against the Indian cricket side in the 1982 campaign, England saw more of Dev when he began with a 5-wicket haul and 130 runs in a losing cause at Lord's. He earned the Man of the Series award once more after finishing the three-match series with 292 runs (Average: 73, 3 fifties) and 10 wickets.

To begin the 1982–83 season, Kapil Dev faced Sri Lanka for the first time and helped himself to a five-wicket haul. Dev and Mohinder Amarnath were the only standouts in a series that was dominated by rival all-rounder Imran Khan during the subsequent tour to Pakistan (40 wickets and 1 century). While receiving little assistance from his teammates, Dev took a 5/102 haul in the second Test at National Stadium in Karachi, a 7/220 haul in the third Test at Iqbal Stadium in Faisalabad, and an 8/85 haul at Gaddafi Stadium in Lahore. Dev succeeded Sunil Gavaskar as captain of the Indian cricket team following this disappointing tour.
World Cup:1983 and Captaincy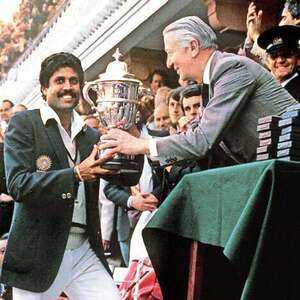 In the 1982–83 season, Kapil Dev made his debut as India's captain against Sri Lanka (before the Pakistan visit). The tour of the West Indies, his first duty as regular captain, saw him achieve the most success in one ODI. The Indian cricket team claims that this victory gave them the confidence to take on the West Indies team at the 1983 Cricket World Cup. Dev (72) and Gavaskar (90) led India to a massive score of 282/5 in 47 overs. Dev's 2 wickets also helped India to restrict the West Indies for 255. Dev had a successful series overall in the West Indies, as he picked up 17 wickets and made a century to win the second test match (Average: 24.94).

Kapil Dev had a typical individual record going into the World Cup: 32 matches, 608 runs (on average 21), and 34 wickets. In the previous two World Cups, India only managed one win, which came against East Africa in 1975. India handed the West Indies their first-ever World Cup loss thanks to Yashpal Sharma (89 Runs), Roger Binny, and Ravi Shastri (3 wickets apiece). India won its next match against Zimbabwe, but then fell to West Indies and Australia despite Dev's greatest career performance of 5/43. India required wins over Australia and Zimbabwe to advance to the semifinals at this point.
On June 18, 1983, India played Zimbabwe at Royal Tunbridge Wells' Nevill Ground. After falling behind, Roger Binny (22 runs) and Madan Lal helped Kapil Dev, batting with the lower order batsmen, stabilise the team. Dev needed 72 balls to reach his century. Dev put on an unbroken 126 runs for the ninth wicket with Kirmani (24 runs), setting a global record that remained unbroken for 27 years (10,000 days). Dev finished unbeaten with 175 runs off 138 balls, an innings that featured 16 boundaries and 6 sixes. The performance ranks No. 4 among the Top 10 ODI Batting Performances. India defeated England by 31 runs. Dev allegedly reserved a Mercedes for himself as a gift after this game.

In the semifinal match, India took on the English cricket team. After England began to lose regular wickets to Binny and Amarnath, Dev assisted in containing the lower order. The middle order of Amarnath (46 runs), Yashpal Sharma (61 runs), and Sandeep Patil (51) ensured victory and India's entry into the finals to face the West Indies cricket team, which was vying for a hat-trick of World Cup victories. He took 3 wickets as India restricted England to 213, and they won the match and advanced to face them. Only Krishnamachari Srikkanth (38 runs) helped the West Indies break the 183 run scoring barrier for India. Viv Richards' fast score helped West Indies maintain their innings at 57/2 despite losing Gordon Greenidge. When Richards skied a pull shot from Madan Lal that Dev caught at deep square leg after going backward for more than 20 yards, he had played one too many aggressive shots. The catch, which is regarded as one of the best in ODI cricket, is credited with turning the tide in the 1983 World Cup Final. West Indies lost control, going from 50/1 to 76/6 before being bowled out for 140 with Andy Roberts' wicket taken by Dev. He led with 303 runs (Average: 60.6), 12 wickets (Average: 20.41), and 7 catches in 8 games as India won its first World Cup.
Post World Cup
India welcomed the West Indies cricket team after the World Cup but lost the Test series 3-0 and the ODI series 5-0. Dev bowled his finest test match at Motera Stadium in Ahmedabad, earning 9/83 in a defeat. His subpar batting in the test and ODI series detracted from his bowling effort. Early in 1984, the selectors reinstated Gavaskar as captain, ending Dev's dominance.

In 1986, Kapil Dev led India to a Test series victory over England after being reappointed captain in March 1985. During this time, he played in one of his most well-known games, the second Tied Test, where he shared the man of the match award with Australian batsman Dean Jones.

For the 1987 Cricket World Cup, Kapil Dev remained the captain. In their first encounter, Australia scored 268 against India. Dev and the umpires agreed, however, that the score should be raised to 270 since one boundary throughout the innings had been inadvertently signaled as a four rather than a six. India's response score of 269 was one run short of Australia's total. India continued on to the 1987 World Cup semi-final, where they fell to England. Dev bore responsibility for India's loss since his hole-out to deep mid-wicket started the unanticipated collapse that resulted in the loss. Despite serving as vice-captain during India's 1989 tour of Pakistan, he did not lead India as captain again.

On the whole, Kapil Dev's time as captain was challenging because of rumours of friction with Gavaskar and his own patchy bowling performance. Later on, though, both men argued that these claims were embellished. Dev performed better as captain than as a player.
Final Years in Cricket
In the early 1990s, Kapil Dev remained India's top fast bowler under a series of captains. In the 1990 Lord's Test Match, he took part in a noteworthy incident when he smashed off-spinner Eddie Hemmings for four consecutive sixes to advance India past the follow-on goal. In this match, Graham Gooch's 333 against India was the greatest test score by an Englishman. Umpire Dickie Bird named Dev as one of history's best all-around players.

In the ODI version of the game, pinch-hitters like Kapil Dev were utilised to boost run production, usually in the final ten overs, and were counted on to keep innings from imploding if necessary. His final Cricket World Cup appearance was in 1992, and he led the batting strike rate standings with 125.80 runs per 100 balls. Mohammad Azharuddin served as his captain. Younger bowlers like Javagal Srinath and Manoj Prabhakar, who would later supplant him as India's top pace bowlers, were under his leadership in the bowling assault. After surpassing Richard Hadlee's previous record for most Test wickets taken, he announced his retirement in 1994.
Kapil Dev's Coaching Career
New Zealand Tour
In 1999, Kapil Dev succeeded Anshuman Gaekwad as coach of the Indian national cricket team. His appointment fell during Sachin Tendulkar's second stint as captain. The Indian squad was bowled out for 83 all out in their opening match as Kapil's replacement as India's coach against a visiting New Zealand team in Mohali. After New Zealand was bowled for 215, the lead was reduced to 132 runs thanks to some outstanding bowling by Javagal Srinath. Rahul Dravid and Tendulkar both scored centuries as India's batsmen recovered in the second innings, hitting a total of 505 with all five of their top batsmen passing the fifty-run mark. India won the second Test match thanks to Anil Kumble's ten-wicket match haul at Kanpur. Tendulkar scored his first double-century in Test Cricket during the Third Test, which ended in a draw. In the next ODI Series, which India won 3-2, the highlight for the Indian squad was a 331-run partnership between Dravid and Tendulkar in the second game at Hyderabad, which set a world record for an ODI partnership. Kapil's best series as a national coach would be the one against New Zealand.

Australian Tour
India visited Australia after the tour of New Zealand. India lost the Test series 3-0, and each of these games was lost by large margins (285 runs, 180 runs, innings, and 141 runs, respectively). The final Test, played at the Sydney Cricket Ground in waning light, included V. V. S. Laxman's 167-run performance, which was hailed by the media as the series' high point. Only one match was won by India in the ODI series against Pakistan, and Kapil had to defend his team, mirroring the Test series' record.

South African Tour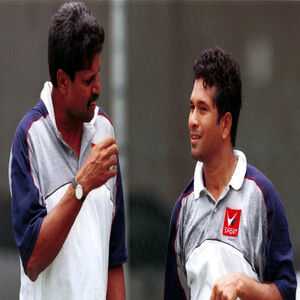 When South Africa visited India in February or March 2000, India's tradition of not losing a home test series since 1987 (against Pakistan) came to an end as India dropped the domestic series 2-0. The cricket was overshadowed, though, by events off the field. Before the series began, Tendulkar declared his intention to step down as captain after the Test matches, Azharuddin and Mongia were called back into the lineup, and a controversy over Azharuddin's injury led to his exclusion from the First Test. For the one-day series, Sourav Ganguly was named captain of the Indian team. When India grabbed a 2-0 lead in the ODI Series and finished the series at 3-2 after South Africa won the last two games, media talk about no way but UP was not baseless. Later, it was discovered that Cronje, the captain of South Africa, participated in gambling and that he and bookmakers tried to bribe South African players. The media found Ganguly's attitude and leadership encouraging at the end of the series. India took part in a triangular series in March 2000 alongside South Africa and Pakistan. India failed to make the finals after only one of their four games ended in victory.
Kapil Dev's Resignation as the Coach
The Delhi Police startled the cricket community when they revealed that Cronje was a part of a Cricket Match-fixing and Betting Racket as the 1999–2000 cricket season came to a close. A diplomatic scuffle was started when the UCBSA issued curt statements disputing the accusations. In a phone chat with Ali Bacher, the head of UCBSA, Cronje acknowledged taking payment for discarding games as Delhi Police's case against him grew. Shaun Pollock was hired in place of Cronje.

Prabhakar, a former Indian player, also made a public allegation that Kapil Dev intended to lose a game to Pakistan. The accusations made by Prabhakar against an unnamed team member were not new; BCCI established the Chandrachud Inquiry, a one-man committee led by retired Chief Justice of India Yeshwant Vishnu Chandrachud, in response to his 1997 publication of the charges in the magazine The Outlook. Prabhakar withheld names and information supporting his accusations (match fixing and phone tapping allegation on then cricket manager Ajit Wadekar). In 2000, when the match-fixing scandal reappeared, BCCI made the Chandrachud Report public. The International Cricket Council and the BCCI were asked to comment in the Delhi and Calcutta High Courts in response to the Indian public's response, which led to PILs. On April 28, 2000, the Indian government launched a CBI investigation in reaction to the issue. On May 4, 2000, former BCCI President Inderjit Singh Bindra disclosed that Prabhakar had told him that Kapil Dev had asked him to squander the match. Kapil Dev sobbed throughout the subsequent arguments between the various parties during an appearance on BBC's Hard Talk with Karan Thapar.

At first, Kapil Dev chose not to resign or take a leave of absence from his coaching duties. As the weeks went on and public resentment over the government's inaction in the match-fixing scandal increased, along with pressure from the then-Union Sport Minister Shukdev Singh Dhindsa, Kapil Dev resigned as the Indian Cricket Coach on September 12, 2000, declaring his retirement from the sport.

On November 1st, 2000, the CBI sent its findings to the Union Sports Minister following a thorough investigation and interview process. According to the study, Kapil was not implicated by any reliable evidence. On November 28, 2000, K Madhavan, the anti-corruption officer for the BCCI and a former joint director of the CBI, turned in a report that went into detail about the players who had been linked to the match-fixing ring. Madhavan came to the conclusion that neither Kapil nor any of the other participants supported Prabhakar's account of the events.
Post Resignation
Dev made his comeback to cricket when Wisden named him one of the sixteen finalists for the Wisden Indian Cricketer of the Century award in July 2002, breaking his long silence from the spotlight. Dev won the award ahead of longtime partner Gavaskar and fan favourite Tendulkar, calling it his finest hour.

Dev gradually made a comeback to cricket as a bowling consultant and served as the camp's bowling coach before India's March 2004 trip to Pakistan. He received a nomination in October 2006 for the two-year position of chairman of the National Cricket Academy.

Kapil Dev played himself in a brief role in the Vipul K. Rawal-written cult classic Iqbal from 2005. The part was written with the director in mind, but writer Rawal insisted when the filmmaker initially expressed reluctance to approach him.
Kapil Dev's Bowling Style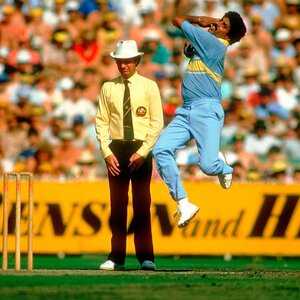 Kapil Dev bowled quickly. The outswinger, though, came easy to him thanks to a fluid run-up and a gather that was exactly side-on at the time of delivery. His delivery was the misery of most of his victims as he aimed to beat the bat on the outside edge, either caught on the off-side cordon or even LBW and bowled in case the ball missed the edge. He typically bowled at a length and direction that always affected right-handers. For the first few years, he could only bowl this delivery due to the side-on action. Natural fluctuations outside the field resulted in the deliveries that held their lines or went into the right-hander. However, as he acquired age, the action became less side-on and he developed an inswinger too. Midway through the 1980s, he saw that the leg-cutter was the one delivery he was unable to bowl at will.

Kapil Dev had approximately 250 Test wickets in just five years by the end of 1983, and he appeared to be on track to become one of the most productive wicket-takers in history. However, as he lost some of his jump at the crease after knee surgery in 1984, his bowling performance suffered. He never missed a single test or one-day game due to injury, notwithstanding this setback. Even though he started to lose some of his bite, he continued to bowl well for another ten years, and in 1991–1992, when he removed Mark Taylor during a series against Australia in Australia, he became only the second bowler in Test cricket history to reach 400 wickets. He had 25 wickets during that tour of Australia.
Kapil Dev's Books
Three of Kapil Dev's novels are autobiographical, while one is about Sikhism. Among the autobiographical works are By God's Decree, published in 1985; Cricket My Style, published in 1987; and Straight from the Heart, published in 2004. We, The Sikhs, his most recent book, was published in 2019.

Kapil Dev's Records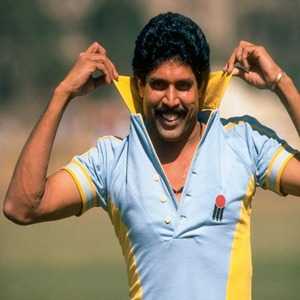 Sir Richard Hadlee's previous record was broken by Kapil Dev in 1994, making him the highest wicket-taker in Tests. Courtney Walsh eventually beat Kapil Dev's record in 1999.
The only person in history to score 4,000 Test runs and take 400 Test wickets, achieving the all-rounder's double.
Most innings in a career-- 184 Not Out.
Youngest Cricketer to take 100 wickets (21 years old), 200 wickets (24 years old) and 300 wickets (27 years old).
The only captain in test cricket history to have a 9-wicket haul (9/83).
Highest wicket-taker in ODI cricket from 1978 to 1994.
Peak rating of 631 was recorded on March 22, 1985, following an Australian World Series championship match against Pakistan.
The highest ODI score ever in a World Cup was 175 Not Out while batting in the sixth position.
The sixth-position batter in ODI history to face the most balls in an inning. The record was tied with Neil McCallum— 138 balls.
Kapil Dev's Awards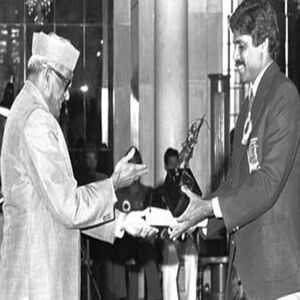 Arjuna Award (1979-80)
Padma Shri (1982)
Wisden Cricketer of the Year (1983)
Padma Bhushan (1991)
Wisden Indian Cricketer of the Century (2002)
ICC Cricket Hall of Fame (2010)
The 25 Greatest Global Living Legends In India by NDTV (2013)
CK Nayudu Lifetime Achievement award (2013)
Honoured with the rank of Lieutenant Colonel by the Indian Territorial Army in 2008.
Kapil Dev's Biopic
In 2021, Kabir Khan wrote and directed the Hindi-language sports drama film 83, which is produced by Deepika Padukone, Vishnu Vardhan Induri, Sajid Nadiadwala, and Reliance Entertainment. The 1983 Cricket World Cup-winning India national cricket team, coached by Kapil Dev, was the inspiration for the scenario and dialogue in the movie, which Khan co-wrote with Sanjay Puran Singh Chauhan, Vasan Bala, and Sumit Arora. Rob Miller oversaw the movie's sports action. Ranveer Singh, Jiiva, Pankaj Tripathi, Tahir Raj Bhasin, Saqib Saleem, Jatin Sarna, Chirag Patil, Dinker Sharma, Nishant Dahiya, Harrdy Sandhu, Sahil Khattar, Ammy Virk, Adinath Kothare, Dhairya Karwa, and R Badree are among the ensemble cast members in this film.

Midway through July 2016, the Indian team of 1983 and its star player Kapil Dev were formally introduced to Phantom Films, the company that owned the film's rights. They then signed a Memorandum of Understanding (MoU) to develop the official biography. Singh and Khan were added to the winning team's biopic, which Reliance Entertainment officially revealed in September 2017 when they joined as producers. The film started principal photography on June 5, 2019, after a lengthy casting and pre-production process. For the next three months, it was primarily shot in and around England, with a little amount of time spent in India. Filming was completed on October 7, 2019.
The movie, which was originally scheduled for release in theatres in April 2020, had its release date repeatedly moved back because of casting and pre-production work that caused a delay in filming as well as the COVID-19 pandemic in India, which caused the movie to be completely postponed until 2021. Aside from the original version, it had its international premiere on December 15 at the Red Sea International Film Festival and was made available in traditional 2D and 3D formats on December 24 (Christmas Eve) by Reliance Entertainment and PVR Pictures. Both critics and viewers gave the movie high marks for the cast performances, the screenplay, the director, and the technical aspects. Despite the rave reviews, the movie ultimately failed to perform well at the Indian box office, but it enjoyed tremendous success abroad, going on to become the highest-grossing Hindi movie of 2021.
83 earned 14 nominations for the 67th Filmfare Awards, including Best Director (Khan), Best Supporting Actor (Tripathi), and Best Male Playback Singer (Arijit Singh for Lehra Do), and took home two prizes, including Best Actor (Ranveer Singh) and Best Lyricist (Munir for Lehra Do).
Kapil Dev's Controversies
Kapil Dev- Gavaskar Controversy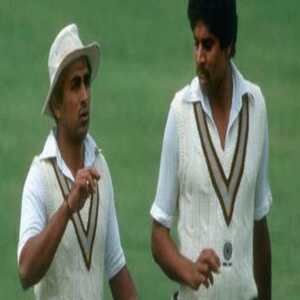 When England was visiting India in 1984, the two teams were getting ready for a Test match in Kolkata, which the home team ultimately won by eight wickets. Notably, Kapil Dev was dropped from the team for the Test, and many found it difficult to accept the move given that he was at his best at the time. Kapil reportedly received criticism for making risky strokes during the previous Test match, which India lost, in Delhi.

On day five, the series' second game, which was being played at the Feroz Shah Kotla, seemed poised to end in a draw. At that point, Kapil Dev attempted to play a risky shot and was unsuccessful. The final few wickets easily fell, giving England a historic triumph.

The Team India selection committee, which at the time was led by Chandu Borde, is thought to have eventually decided to bench Kapil Dev for the next game at the Eden Gardens in Calcutta. Interestingly, captain Sunil Gavaskar served on the selection committee, and Kapil claimed that the opener was to blame for his exclusion. Gavaskar, though, insisted that he had nothing to do with the famed all-firing.
Match Fixing Controversy
After Manoj Prabhakar, a former teammate, claimed that Kapil Dev had attempted to bribe him during an ODI tournament in Sri Lanka in 1994, the all-rounder became embroiled in a scandal regarding match-fixing. Dev, who was angry and visibly upset, attacked Prabhakar in the press conference, but under constant political pressure, the legendary cricketer resigned from his position as head coach in September 2000. The CBI cleared Kapil Dev of all allegations two months later.

The Comment on Virat Kohli
With his controversial remarks about Virat Kohli, the legendary Kapil Dev caused quite a commotion. He suggested that if the top India batter isn't making runs, it might not be a bad idea to keep him out of the T20I setup and provide opportunities to others. Kapil said that Kohli, who amassed 303 runs in the IPL 2022 and recorded scores of 1 and 11 in the two T20Is against England, should be given the same shot as R Ashwin, the No. 2 Test bowler in the world, who isn't getting a spot in the Indian Test XI while playing abroad.

When Kapil Dev made his comment, it caused quite a stir because many people discounted the former India World Cup winning captain's viewpoint. Usman Khawaja of Australia responded sarcastically to the famous Kapil's remarks. Khawaja offered a witty retort to the ICC's graphic of Kapil's words that was released on its Instagram page. which The post said, Averages 50 at almost 140. Good call. Australia Agrees, with a couple of tears of laughter emojis.
Kapil Dev's Net Worth
Kapil Dev's net worth is $30 million US or 220 crore rupees, as of 2022. Cricket is the primary source of his income and wealth. Additionally, Kapil Dev has a very high brand value and is the most well-liked player worldwide. As a pundit for numerous international and domestic cricket matches, he also makes a sizable chunk of money. He also demands a hefty sum of money to endorse numerous brands.

Additionally, Kapil Dev owns a business called Dev Musco Lighting Pvt. Ltd. and a 5 percent ownership in Zicom Electronics. In addition to this, he is the owner of a hotel and a restaurant in Chandigarh. These items are included in his net worth.

One of Kapil Dev's possessions is a sumptuous home in Chandigarh. He is the owner of several companies in the nation, including the Captain's Eleven restaurants in Chandigarh and Patna and the Kaptian's Retreat Hotel in Chandigarh. A Porsche Panamera owned by Kapil Dev is thought to be worth about Rs. 2.67 crores. He also owns a Jeep Compass and a Mercedes-Benz GLS in his collection of automobiles.

Increased ownership of SAMCO Ventures in 2015, the holding company for SAMCO Securities He now plays golf professionally and makes a large income from it. Kapil Dev contributed roughly $3 million to the Indian Trading League (ITL), which SAMCO established.
Kapil Dev's Interesting Facts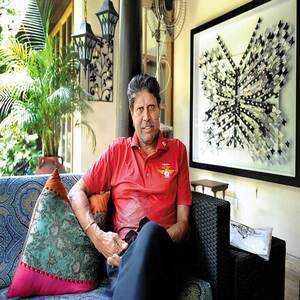 Kapil Dev's full name is Kapildev Ramlal Nikhanj.
Kapil Dev's parents had migrated from Rawalpindi, Punjab during the Partition of India.
Kapil Dev joined Desh Prem Azad in 1971.
From 1975 to 1992, Kapil Dev played for Haryana for 17 years and was a consistent team member.
On October 16, 1978, Kapil Dev faced Pakistan in Faisalabad for his debut Test match.
As the youngest Test player to take 100 wickets and score 1,000 runs, Kapil Dev also holds the record for both feats.
The aggressive batter Kapil Dev was known for regularly hitting sixes. In the 1990 Lord's Test match, he was involved in a noteworthy incident when he struck off-spinner Eddie Hemmings for four successive sixes to advance India past the follow-on goal.
In a career spanning 131 Tests over 16 years, Kapil Dev never missed a game because of an injury or lack of fitness.
Kapil Dev was voted as India's Cricketer of the Century during 2002, ahead of Sunil Gavaskar and Sachin Tendulkar.
Kapil Dev started playing golf after his 1994 retirement from cricket.
There are three autobiographical works by Kapil Dev.
Social Media
Frequently Asked Questions