Rahul Dravid | Cricketer, Age, Biography, Matches, Family

Hitesh Mandot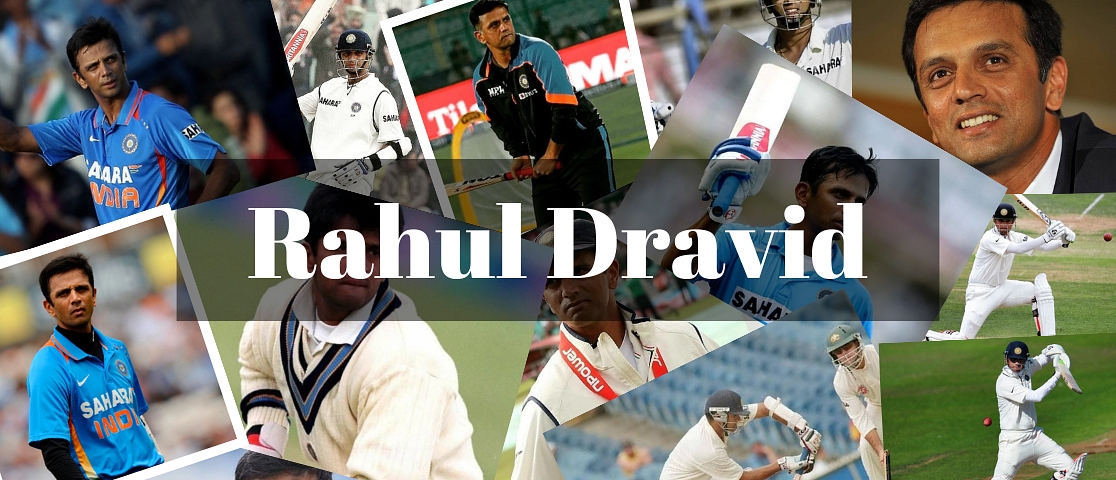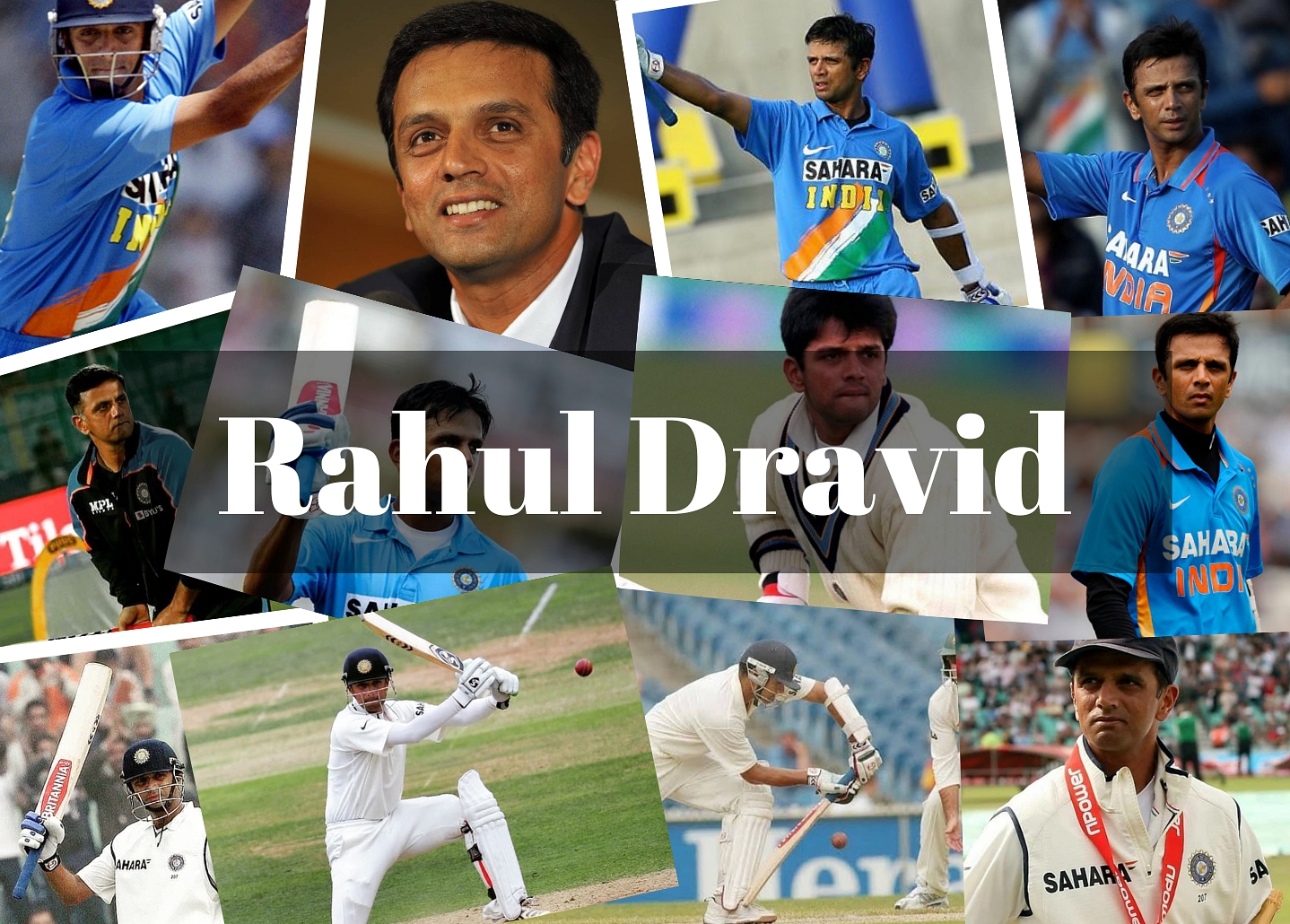 The Wall of Indian Cricket and Indira Nagar Ka Gunda, Rahul Dravid is an Indian Cricketer. Indira Nagar Ka Gunda Hu Mein was the famous funny line that became a viral sensation recently. Rahul Dravid spoke this line in an Advertisement. The Wall, Mr. Dependable, and Jammy are some of the nicknames Rahul Dravid has got from media and cricket lovers.
Rahul Dravid's Age and Rahul Dravid's Biography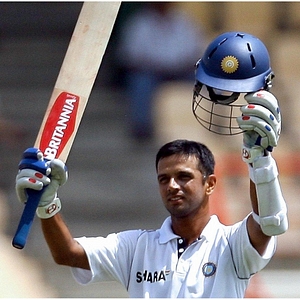 Rahul Dravid is an Indian Cricketer. Rahul Dravid's full name is Rahul Sharad Dravid. Rahul Dravid's birthdate is 11 January 1973. Rahul Dravid's age is 49 years old as of 2022. The Wall, Mr. Dependable, and Jammy are some of the nicknames Rahul Dravid has got from media and cricket lovers. Rahul Dravid's country is India.

Rahul Dravid is a right-handed batsman. Rahul Dravid's jersey number was 5 and 19. Rahul Dravid, was a former captain of the Indian national cricket team. Rahul Dravid is the current head coach of the Indian Cricket Team. Dravid was the Head of Cricket at the National Cricket Academy (NCA) and the head coach of the India Under-19 and India A teams before being appointed to the senior men's national squad. Rahul Dravid oversaw the under-19 squad, which won the 2018 U-19 Cricket World Cup and came second at the 2016 U-19 Cricket World Cup.

One of the best batsmen in cricket history, Dravid is renowned for his solid batting technique Rahul Dravid has scored 24,177 runs in international Cricket. Rahul Dravid is sometimes referred to as The Wall in media and among the people of India.

Rahul Dravid, behind Sachin Tendulkar, Ricky Ponting, and Jacques Kallis, is the fourth-highest run scorer in Test cricket as of January 2022. Dravid was one of the top batsmen for the Indian cricket team and was renowned for his technique. He was once regarded as a defensive batsman who belonged only in Test cricket and was expelled from the ODI squad because of a poor strike rate. He later scored frequently in ODIs as well and was recognized with the ICC Player of the Year title. Since appearing in Reebok commercials, he has adopted the nickname The Wall.

Rahul Dravid announced his retirement from ODIs and Twenty20 International (T20I) in August 2011. He then made similar announcements about his retirement from international and first-class cricket in March 2012. After competing in the 2013 Champions League Twenty20 in September–October 2013, Dravid announced his retirement from Twenty20 as well.
Get Personalised Gift Messages from Similar Celebrities and make your loved ones feel Special.
Talk To Similar Celebrities
Rahul Dravid's Family and Rahul Dravid's Childhood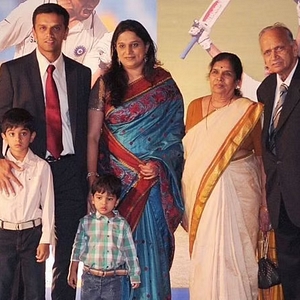 Rahul Dravid's birthdate is 11 January 1973. Rahul Dravid was born in Indore, Madhya Pradesh. Rahul Dravid is 49 years old as of 2022. Rahul Dravid's father's name is Sharad Dravid. Rahul Dravid's mother's name is Pushpa Dravid. Rahul Dravid's younger brother is Vijay Dravid. Rahul Dravid's wife is Vijeta Pendharkar. Rahul Dravid has two sons. Rahul Dravid's sons are Samit Dravid and Anvay Dravid.

Rahul Dravid was born into a Marathi-speaking Brahmin family. Rahul Dravid was raised in Bangalore, Karnataka after his family relocated. Rahul Dravid is a Marathi speaker. Sharad Dravid worked for a company that produced jams and preserves. At Bangalore's University Visvesvaraya College of Engineering (UVCE), Dravid's mother Pushpa taught architecture. Vijeta Pendharkar is a Surgeon.

Rahul Dravid attended St. Joseph's Boys High School in Bangalore and graduated from St. Joseph's College of Commerce in Bangalore with a degree in commerce. While pursuing an MBA at Bangalore's St Joseph's College of Business Administration, Rahul Dravid was chosen for the Indian cricket team.

Rahul Dravid Relationship and Affairs
Rahul Dravid and Raveena Tandon
Raveena Tandon, who had never met Rahul Dravid before, developed love feelings for the player in 2002. Many others even though the two were about to wed. However, the actress herself denied these rumors and said that she doesn't even personally know him in an interview with Filmfare.

For God's sake, he (Rahul Dravid) is not even a friend, Raveena Tandon said in a statement to the magazine. If he had been my buddy or someone else, I would have understood. I don't have anything against the poor man, but it's really heartbreaking. I'm simply concentrating on my work right now.

Rahul Dravid and Vijeta Pendharkar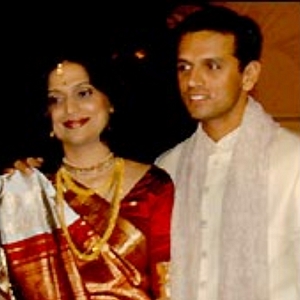 The Pendharkars and the Dravid's have been close friends for more than 35 years. The Pendharkar family lived in Bangalore between 1968 and 1971 since Vijeta's father was a wing commander, and it was at this time that the two families' bond first developed. Later, Vijeta Pendharkar and young Rahul Dravid became close friends since Vijeta's father, Sharad, had been working in Nagpur for a long.

Rahul would frequently visit Vijeta in Nagpur, which led Vijeta's acquaintances to believe that he liked her. The couple and their families had not been disturbed by the three-year age difference. Their parents made the decision to convert their relationship into rishtedaari as their friendship was growing since they knew what their kids wanted. The day of Rahul and Vijeta's wedding was quickly set, and the union was both arranged and based on love.

Although Rahul had to practice for the 2003 World Cup and Vijeta's parents had scheduled their wedding for 2002, they decided to postpone the ceremony till the World Cup was done. Prior to the start of the series, Vijeta and Rahul exchanged rings, and Vijeta even traveled to South Africa with Rahul, her then-fiance, to watch him play. Rahul chose a white kurta-pajama with a scarlet stole for their engagement ceremony, while Vijeta chose an orange saree. Rahul and Vijeta's engagement was announced by former cricketer Sourav Ganguly, who also stated that it is time Rahul settled down.

The wedding date between Vijeta Pendharkar and Rahul Dravid was set for May 4, 2003. In 2005, Rahul and Vijeta welcomed their first son, Samit Dravid, and in 2009, they welcomed their second son, Anvay Dravid.

Rahul Dravid's Matches and Career
Rahul Dravid's Early Career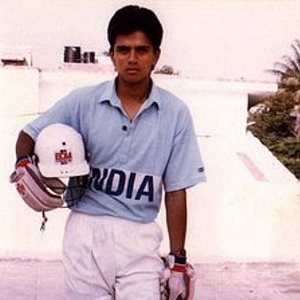 At the age of 12, Rahul Dravid began playing cricket. He later competed for Karnataka at the under-15, under-17, and under-19 levels. Dravid won the Player of the Year and the Test Player of the Year honours at the first ICC awards ceremony in 2004. He was voted one of the top five cricketers of the year by Wisden Cricketers' Almanack in 2000. He delivered the Bradman Oration in Canberra for the first time as a non-Australian cricketer in December 2011.

In 286 Test innings, Dravid has played, he has never been dismissed for a Golden duck, a feat that is unheard of. The most balls of any player in test cricket have been faced by him, with 31258 balls. He has also stayed at the crease for 44152 minutes, which is the most of any player in test cricket. With a combined total of 6920 runs when batting together for India, Dravid and Sachin Tendulkar presently hold the record for the highest scoring partnership in Test cricket history. Rahul Dravid continues to be recognized for some of his slowest performances, like, for example, 21 off 140 at Nagpur and waiving his bat after hitting his maiden run in 40 balls.

When Keki Tarapore was a summer camp counselor at the Chinnaswamy Stadium, he first became aware of Dravid's skill. For his school team, Dravid scored a century. Additionally, he was a wicketkeeper. While still a college student, Dravid made his Ranji Trophy debut in February 1991. He made 82 runs while playing against Maharashtra in Pune alongside future India colleagues Anil Kumble and Javagal Srinath. The game ended in a tie. He then scored a century against Bengal and three more in quick succession. But Dravid's first complete season came in 1991–1992, when he scored 380 runs at an average of 63.30, scored two hundreds, and was chosen for the South Zone cricket squad in the Duleep Trophy. Dravid's strong performances for India A during the home series against England A in 1994–1995 drew the attention of the national team selectors.

Rahul Dravid International Cricket Career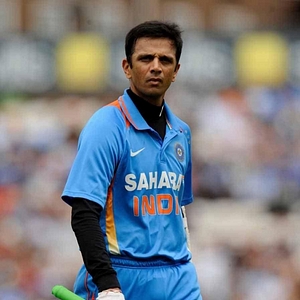 Rahul Dravid played his first International Cricket match in ODI on 3 April 1996.

Dravid received his international debut in October 1994 for the final two games of the Wills World Series after having been persistently looking for a spot on the Indian national cricket team for some time. He was unable to join the playing eleven, though. He returned to the home circuit and continued to perform better. So much so that an Indian daily newspaper ran the headline Rahul Dravid gets a harsh treatment when the selectors revealed the Indian lineup for the 1996 World Cup without Dravid. In the end, he replaced Vinod Kambli in an ODI against Sri Lanka on April 3, 1996, as part of the Singer Cup, which was being held in Singapore shortly following the 1996 World Cup. He didn't bat all that well, only getting three runs before Muttiah Muralitharan dismissed him, although he did manage to take two catches throughout the game. In the subsequent game, he failed once more, managing just four runs before being outrun by Pakistan.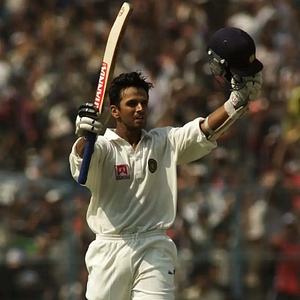 Rahul Dravid played his first International Cricket Test Match on 20 June 1996.

Rahul Dravid's Test debut was much more successful than his ODI debut. Dravid was chosen for the Indian team that is touring England due to his steady play in domestic cricket over a five-year period. Despite excellent performances in the tour games, including fifty-point performances against Gloucestershire and Leicestershire, he was not selected for the First Test team. On June 20, 1996, against England in the second Test of the series, he made his Test debut at Lord's at the expense of seasoned batsman Sanjay Manjrekar, who was injured. On the morning of the second test, Manjrekar, who had an ankle injury, was required to do a fitness test.

If Manjrekar fails the test, Dravid will play, it was previously announced. Ten minutes before the toss, Sandeep Patil, the then-Indian coach, went over to Dravid to let him know that he would be making his debut that day after Manjrekar failed the fitness test. Dravid made 95 runs before being struck out by Chris Lewis' bowling. In this game, he also took his first catch in Test cricket to get Nasser Hussain out off Srinath's bowling. Dravid got a hundred runs in the following tour game versus British Universities. In the Third Test's opening inning, he added another fifty runs. Dravid finished his maiden series with two Test matches with an outstanding average of 62.33.
Rahul Dravid in World Cup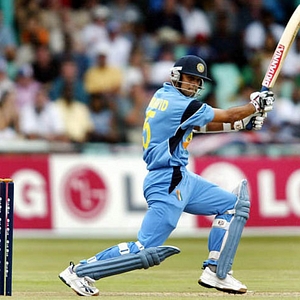 In ODI World Cup 1999, At Hove, Rahul Dravid made his World Cup debut by hitting a half-century against South Africa. At Bristol, Dravid and Sachin Tendulkar scored 237 runs together, a World Cup record, and Dravid also scored his first World Cup century, which helped India defeat Kenya by 94 runs. Dravid played his debut ODI as Wicket-keeper against Sri Lanka at Taunton because Nayan Mongia was out due to injury. Dravid led India to a 157-run victory with the help of Sourav Ganguly in a record-breaking partnership totaling 318 runs, the first 300-run partnership in ODI history. Dravid became the second batsman in World Cup history to reach the century mark with 145 runs from 129 balls with 17 fours and a six.

Dravid finished with 461 runs from 8 games, an average of 65.85, and an 85.52 strike rate to become the tournament's highest scorer.

In ODI World Cup 2003, As India's first-choice keeper-batsman for the 2003 Cricket World Cup, Dravid traveled to South Africa with the Indian team. Dravid scored 318 runs at an average of 63.60 and 16 wickets (15 catches, 1 stumping). A fifty against England, 44 not out against Pakistan in a successful chase, and an unbeaten fifty in another successful chase against New Zealand were some of Dravid's tournament highlights.

Rahul Dravid Captaincy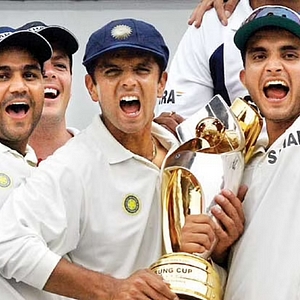 In the latter half of 2005, Dravid succeeded Ganguly as captain after the latter had been relieved of his duties due to a conflict with the team's then-Indian coach, Chappel. Dravid led India in 25 tests and 79 one-day internationals, winning 8 and 42 matches, respectively. The Dravidian era in Indian cricket had several ground-breaking highs, from a variety of successful ODI chases to winning a Test series abroad. He was responsible for some of Indian Cricket's greatest victories.
A world record of 17 successful ODI run-chases
First series win in the West Indies after 1971 (1-0 in 2006)
First Ever Test win in South Africa, Johannesburg 2006.
Series Win in England after 21 years (1-0 in 2007)

Rahul Dravid T 20 Career
Rahul Dravid played only one T20 match. Rahul Dravid scored 31 runs in the match with the strike rate of 147.


Rahul Dravid IPL Career
In IPL 2008, 2009, and 2010, Rahul Dravid participated for Royal Challengers Bangalore. Later, he played with the Rajasthan Royals, helping the team to the 2013 Champions League T20 finals and Indian Premier League play-offs. After competing in the 2013 Champions League Twenty20 in September–October 2013, Dravid announced his retirement from Twenty20.

Rahul Dravid Coach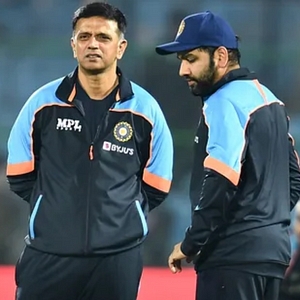 As his playing career came to an end, Rahul Dravid accepted a position as coach of the Rajasthan Royals IPL franchise, which he joined in 2014. He also got involved with the Indian national squad around this time, acting as a mentor for them during their 2014 England tour. He was named the head coach of the India U-19 and India A teams after guiding the Royals to a third-place finish in the 2015 IPL season. Rahul Dravid had great success as a coach, leading the U-19s to the 2016 U-19 Cricket World Cup finals. The squad won the 2018 U-19 Cricket World Cup two years later, defeating Australia by 8 wickets to claim their fourth Under-19 World Cup, the most ever.

After serving as the youth teams' coach for four years, Dravid was named Head of Cricket at the National Cricket Academy in July 2019. He was responsible for supervising all cricket-related operations at NCA and was involved in mentoring, coaching, training, and inspiring players, coaches, and support personnel at the NCA. Rahul Dravid was appointed as the Indian national cricket team's head coach in November 2021.

Best Matches of Rahul Dravid
Rahul Dravid scoring 180 in the India vs. Australia Test Match in Kolkata in 2001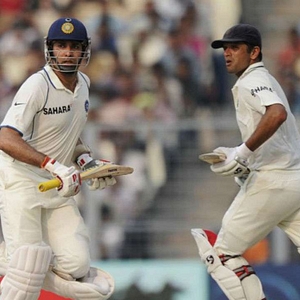 India was brought in to bat again after being dismissed for 171 in response to Australia's 445 runs. When Dravid entered the batting order, India had already lost 4 wickets for 232 runs. It seemed impossible to even win the game, much less save it.

Laxman and Dravid were facing a brick wall. Dravid played a reliable but unspectacular innings as Laxman smashed the Australians from start to finish. Dravid had responses for whatever Shane Warne, Jason Gillespie, Michael Kasprowicz, and the other Australian bowlers threw at him. He was run out, which serves as further evidence.

Warne was smashed to the fence as Rahul Dravid hit a century, and his celebration revealed how much he valued reaching this milestone. It marked the start of a new period.

Dravid's performance enabled India to score more than 600 runs in the second innings, leading to one of the greatest comebacks in Test cricket history. It's true that this was the biggest comeback since Lazarus, as John Wright loves to say.

Rahul Dravid scoring 233 in India vs. Australia Test Match in Adelaide, 2003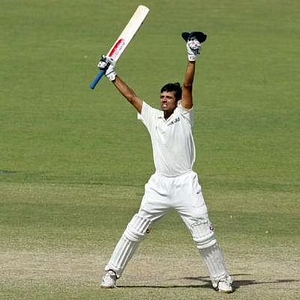 The Adelaide Oval pitch for the second Test was a batsman's haven. After winning the toss, Ricky Ponting made an instant decision to bat first. The Australians successfully took advantage of the circumstance and amassed a huge 556 in the first innings.

India got off to a decent start because to Virender Sehwag's 47. However, wickets started to fall like a domino, as India quickly went from 66-0 to 85-4. The Australians rejoiced as Ganguly got out, confident that victory was still within reach even with Dravid and Laxman on the field. They had no idea that the Adelaide Oval would experience recalls from Eden Gardens, in 2001. Fans like us were completely unaware that our prayers were about to be granted. A rerun of history was about to occur. This time, the Adelaide Oval served as the backdrop, with its rich greenery and bright sunlight. Rahul Dravid and VVS Laxman started India's comeback.

Dravid hit high gear and hammered the bowlers all over the field after wearing down the Australian bowlers with his skillful defense. The team was kept together by Dravid's talismanic innings. Dravid scored 233 runs from 446 balls and Laxman scored 148 runs from 282 balls. Rahul Dravid was the last player to go as India had regained control of the match. India ended up winning, with Dravid's contribution being the most significant in both the first and second innings.

Rahul Dravid scoring 270 in India vs. Pakistan Test Match in Rawalpindi, 2004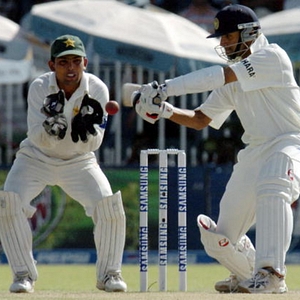 Going into the last Test at Rawalpindi, the entire series was on the line. Pakistan had scored 224 in the first innings.

Surprisingly, Dravid didn't score in the first two tests. He knew of the fact that he was due for a big score. Virender Shewag was out on the first ball, and Dravid took over the charge after.

Rahul Dravid steadily increased his innings total till he reached his greatest Test score of 270 from 495 balls.

India won by an innings, therefore they didn't need to bat again. David was appropriately named the game's best player.

Rahul Dravid Runs and (as of July 2022) and Stats
Rahul Dravid Controversies
Declaring the game when Sachin had reached 194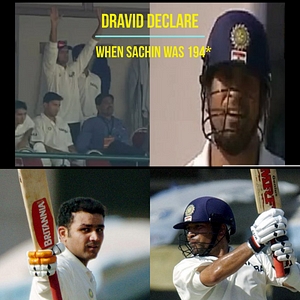 When one thinks of Rahul Dravid's controversies, this has to be at the top of the list. When Pakistan and India played a test in Multan in 2004, Virender Sehwag had already ignited the match with a brilliant 309 in the first innings.

With over 16 overs remaining on the second day of the Test after Sehwag's stunning effort, Sachin had grabbed control of the innings and India was in control of the match at 675/5. On 194, Tendulkar was undefeated. Even Pakistani fans were unimpressed by the wicket's fall, but what happened next was strange. Rahul Dravid, the acting captain, declared India's innings with the knowledge that his teammate Sachin Tendulkar was one shot away from a well-earned double century.

Although the cause of Dravid's declaration is still unknown, there was a lot of controversy around it, with many people thinking that there may have been a falling out between the two Indian cricket legends. The declaration had no effect on their friendship, Sachin Tendulkar cleared in his book.

Sourav Ganguly said that David lacked the courage to rebel.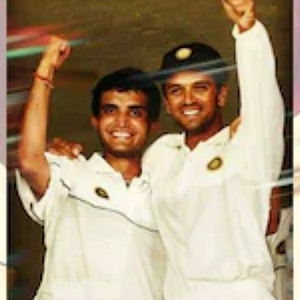 The conflict between Greg Chappell and Sourav Ganguly in the first ten years of the twenty-first century is widely known in cricket history. Rahul Dravid was named the team's captain after the former was abruptly fired from the squad. Naturally, after Ganguly made a comeback, things in the locker room did not go well. Additionally, a recent video from before one of the matches, in which Ganguly got into a furious argument with Dravid and Chappell, went viral. However, the Prince of Kolkata had publicly acknowledged that Dravid lacked the bravery at the time to rebel against Chappell.

Greg Chappell caused the dressing room to be split. Rahul Dravid is the kind of person who likes things to go without a fight. He was aware that something was amiss but lacked the guts to tell Chappell that he was incorrect, according to Ganguly in an interview.

All is good today, though, as both illustrious cricketers are working to advance Indian cricket. Dravid is the National Cricket Academy's head coach, and Ganguly is the president of the BCCI.

Rahul Dravid's Net Worth
Rahul Dravid is thought to have a net worth of about $ 23 million, or roughly Rs. 172 crores in Indian rupees. Rahul Dravid net worth has also been aided by the revenue he receives from brand endorsements, his work as a Commentator and coach, and other sources.

When he served as the head coach of the India A and India Under -19 teams in the last two years, he reportedly made Rs. 5 Crores. He receives a monthly salary of Rs. 60 lacs for serving as the National Cricket Academy's Head of Operations.

Among the companies, Rahul Dravid has endorsed are Reebok, Castrol, Max Life, Cred, and Gillette. Despite being off the ground for so long, he continues to promote numerous products.

In Bengaluru's Indira Nagar, he is the proud owner of a lavish home worth Rs. 4 crores. Mercedes-Benz GLE at Rs. 80 lacs, BMW 5 series for Rs. 72 lacs, and Audi Q5 luxury SUV worth Rs. 55 lacs make up his auto collection.

Rahul Dravid Awards and Achievements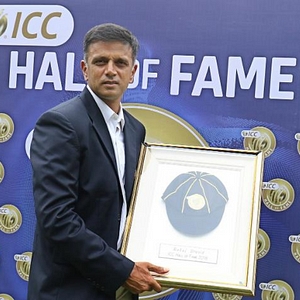 Arjuna Award for achievement in cricket in the year 1998.
CEAT International Cricketer of the World Cup - 1999
Dravid was one of the five cricketers selected as Wisden Cricketer of the Year - 2000
MTV Youth Icon of the Year - 2004
Padma Shri, India's fourth highest civilian award in the year 2004.
ICC cricketer of the year in the year 2004.
NDTV Indian of the Year's Lifetime Achievement Award with Dev Anand - 2011
Don Bradman Award in the year 2012.
Padma Bhushan, India's third highest civilian award in the year 2013.
Wisden India's Highest Impact Test Batsman - 2015
ICC Hall of Fame in the year 2018.
Rahul Dravid Has faced 31,258 balls which is the highest number of balls faced by any player in test cricket and has spent 44,152 minutes at the crease which is the highest time spent on the crease by any player in test cricket.
Rahul Dravid Records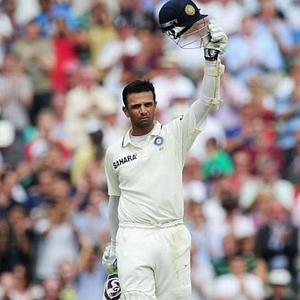 Rahul Dravid is recorded with the Fastest fifty by an Indian wicketkeeper i.e 50 runs of 22 balls.
Most number of catches by a fielder in Test cricket i.e 210 catches.
Most numbers of minutes spent at the crease by a batsman in Test cricket i.e 44152 minutes
Rahul Dravid only Indian Cricketer to score 4 consecutive Test hundreds.
Most number of deliveries faced by a batsman in Test cricket i.e 31258 balls.
Oldest player for India to debut in T20Is. He was 38 years and 232 days old.
Most number of hundred-run partnerships i.e 20.
Rahul Dravid is one of seven Player to score 10000+ runs in ODI and Test.
Rahul Dravid Interesting Facts
Rahul Dravid's father used to work in the Kissan factory, hence earning him the nickname Jammy. Dravid later appeared in a Kissan Jam commercial.
Rahul Dravid was suggested on the popular MTV program Bakra as part of a joke. No doubt. He did, however, advise the woman to pursue further education and prioritize other vital aspects of her life.
The seasoned batsman Rahul Dravid is honored with a local school-level cricket competition. The Jammy Cup is hosted in Bangalore, and the winner receives the honor of being named Jammy of the Day.
In an online poll conducted between 2004 and 2005, Rahul Dravid defeated athletes like Yuvraj Singh, Sania Mirza, and others to win the title of Sexiest Sports Personality in India.
The first cricketer to make his T20 International debut and announce his retirement in the same game is Rahul Dravid.
When asked why, Rahul Dravid responded, It's the finest way to remember my wife's birthday. Rahul Dravid's jersey number is 19.
Social Media
Frequently Asked Questions