---
Buy For
₹1899
Extra ₹100 off on this booking
Instagram DM
Free Combo
Celebrity shares message on Insta handle
Members Only
Flat 15% Off
Additional discount for Prime Users
---
Money-back Guarantee!
If for some reason, your request could not be completed, we'll refund your money within 3-5 working days.
Need help?
Reach out to us on WhatsApp or Email for queries. Our support team shall get back to you within 2-3 working days.
Secured & safe payments
Every transaction is 100% safe. Your payment details are encrypted during the transaction to safeguard your data.
Book a Personalised video message from Nitin Chandila and surprise your family and friends.
Book a Wish From Nitin Chandila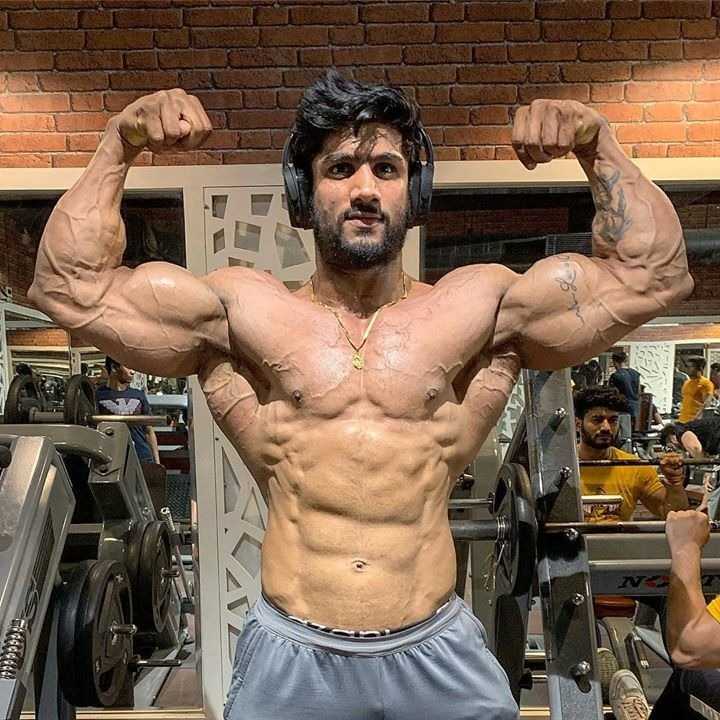 Are you seeking a unique and unforgettable way to celebrate your special occasions? Look no further! We are thrilled to announce an exclusive opportunity to book personalised wishes from the renowned Bollywood actress and dancer Nitin Chandila for birthdays, anniversaries, weddings, festivals, and more!
Imagine the delight on your loved one's face as they receive a heartfelt video message directly from Nitin Chandila, specially created just for them. Whether it's a birthday surprise, an anniversary celebration, a wedding gift, or any other special occasion, Nitin Chandila's personalised wishes will make the moment truly memorable.
Book an Invitation From Nitin Chandila
Are you planning a milestone event and want to make your invitations truly remarkable? We are thrilled to introduce a unique opportunity to book personalised invitation messages from Nitin Chandila.
Imagine the excitement on your guests' faces when they receive a one-of-a-kind invitation directly from Nitin Chandila himself. Whether it's a birthday extravaganza, an anniversary celebration, a wedding affair, or any other special occasion, Nitin Chandila's personalised invitation messages will add an unforgettable touch of glamour and warmth.
Book a Motivation Video Message From Nitin Chandila
Are you searching for a unique and impactful way to uplift and motivate your loved ones who are struggling? Book personalised motivational messages from Nitin Chandila. Whether it's a friend facing a setback, a family member in need of a boost, or anyone going through a difficult phase, Nitin Chandila's personalised motivational messages will ignite a spark of hope and motivation.
Why Should You Book A Personalised Wish From Nitin Chandila?
A Touch of Stardom:

Nitin Chandila's charisma and talent have won the hearts of millions. Now, you can bring his star power directly to your loved ones, making their day extraordinary and full of star-studded glamour.

Heartfelt and Personalised Messages:

Nitin Chandila will pour his heart into creating personalised messages tailored to the recipient and occasion. From heartfelt birthday greetings to warm anniversary wishes, his messages will leave a lasting impression and touch the recipient's soul.

Exclusive Content:

Each personalised wish from Nitin Chandila will be unique and exclusive. You can expect his warm smile, infectious energy, and genuine emotions to make the recipient feel truly special and cherished.

Flexibility and Variety:

Whether it's a video message, a voice note, or a virtual meet-and-greet, we offer various options to suit your preferences and occasion. You can choose the perfect way to surprise your loved ones and make their day even more magical.

Unforgettable Memories:

Nitin Chandila's personalised wishes will create lifelong memories for both you and your loved ones. They will treasure the personalized video or voice message, relishing the joy and excitement of receiving greetings from a beloved fitness star.
Nitin Chandila Gurjar is a renowned Indian pro bodybuilder and fitness trainer who's making waves in the world of fitness. With his eyes set on the prestigious Mr. Olympia title, this young powerhouse has been pushing his limits since his teenage years. Nitin's awe-inspiring physique and electrifying performances have catapulted him to fame, making him the ultimate role model for aspiring Indian bodybuilders and fitness enthusiasts alike.
But Nitin's talents don't stop there. As a fitness coach and lifestyle influencer, he's dedicated to sharing his knowledge and passion with others. For the past two years, Nitin has been professionally competing in bodybuilding contests, fueled by an unwavering desire to bring the Mr. Olympia title home to India.
Through sheer determination and hard work, Nitin Chandila Gurjar has earned his place among India's most successful young bodybuilders. And with his relentless pursuit of greatness, the sky's the limit for this rising star.
Life Story
Nitin Chandila Gurjar is a talented bodybuilder and fitness trainer who has made a name for himself in the world of fitness. Born on August 14, 1997, in Fatehpur Chandela, Faridabad, India, as of 2023, Nitin is 27 years old and proudly holds Indian nationality. As an Leo , he is known for his passion and determination, which are evident in his pursuit of bodybuilding excellence.
Belonging to the Gurjar caste, Nitin has always been proud of his heritage and strives to represent his community in the best way possible. His hobbies include travelling, gymming, and indulging in delicious food, all of which contribute to his well-rounded and adventurous lifestyle.
Nitin's family has been a crucial part of his journey, with his father Mahipal Chandila and mother Manju Chandial providing unwavering support. He also shares a close bond with his brothers, Rocky and Pawan Chandial.
In his personal life, Nitin is happily married to his wife, Priyanka Nagar. Together, they continue to navigate the world of fitness and support each other in their respective endeavours.
Education
Nitin's journey began in his hometown of Fatehpur Chandela, where he attended Karamvir Public School in Faridabad. His thirst for knowledge led him to pursue a BBA degree at the esteemed DAV Institute of Management Faridabad, but his love for fitness ultimately caused him to drop out and fully commit to his bodybuilding career.
Career
From a young age, Nitin Chandila's passion for bodybuilding was nurtured by his father, who not only encouraged him but also guided him throughout his childhood. Nitin's dedication to the sport was evident when he joined the gym while still in grade 10. With unwavering determination, he transformed himself into one of India's most successful bodybuilders in just a few short years.
As a professional bodybuilder, Nitin has competed in numerous competitions, claiming victory in many national titles. At the tender age of 25, he proudly holds the titles of Mr. Haryana, Mr. Delhi, and Mr. India. In 2022, he further cemented his status as a top-tier bodybuilder by winning the gold medal as Mr. India.
Nitin's talents have also taken him to the international stage, with notable appearances in competitions such as IBBF 2019, where he secured 4th place, and NBBUI Mr. World 2018. His ultimate goal is to bring home the coveted title of Mr. Olympia for his country.
In addition to his bodybuilding career, Nitin is the proud owner of "Fitness Garage & Spa," where he provides coaching to fellow professional bodybuilders. As a fitness influencer, he utilizes platforms such as YouTube and Instagram to inspire and motivate young bodybuilders and fitness enthusiasts. With nearly 1 million followers on Instagram and a highly engaged YouTube audience, Nitin has become a go-to source for health and bodybuilding tips.
Through his YouTube channel, aptly named "Nitin Chandila," fitness lovers can access a wealth of information and advice to help them achieve their goals. Nitin's journey is a testament to the power of dedication and hard work, and his influence continues to grow as he inspires the next generation of bodybuilders and fitness enthusiasts.
Notable Work
Nitin Chandila has competed in NBBUI Mr. World, IBBF Runner Up, and Olympia Amateur. Nitin is also a Certified Personal Trainer. His admirers adore him for his fitness abilities, which he shares on social media platforms to assist fitness fanatics.

Nitin also does brand promotions on his social media handles. Nitin Chandila is seen promoting Fitness and Health based brands. He also owns a gym of his own in Faridabad. Nitin has a sizable fan base on social media.

Nitin Chandila is super active on his Instagram account. He posts pictures of him in the gym very often. Many of his followers follow him to be inspired. Nitin Chandila also runs a YouTube channel. Nitin's YouTube channel is called nitin chandila. The channel has a significant number of subscribers.
Nitin Chandila Gurjar is a force to be reckoned with in the world of bodybuilding and fitness training. His passion, dedication, and love for the sport have propelled him to great heights, and his journey is far from over. With the support of his family and loved ones, there's no doubt that Nitin will continue to make waves in the fitness world for years to come.
We encourage you to book well in advance to secure your personalised wishes from Nitin Chandila. Make your special occasions truly extraordinary with a touch of Nitin's warm wishes and star-studded charm. Book now and create cherished memories that will be treasured for a lifetime! #JustTringIt
---
Frequently asked questions
Nitin Chandila was born in 1997.
Nitin Chandila is a Body Builder and Fitness Model.
YES! You can easily get a personalised video message/ birthday wish from Nitin Chandila via www.tring.co.in
Yes. Nitin Chandila's ID is @nitinchandila
Nitin Chandila was born in Faridabad, Haryana, India.
Yes, Nitin Chandila is married.
No, Nitin Chandila does not have children.
Nitin Chandila's gym's name is Olympia Amateur.
Yes. Nitin Chandila is a certified fitness trainer.
Nitin Chandila's birthday is on 14th August.
Nitin Chandila's age is 25 years old as of 2022.
Nitin Chandila's zodiac sign is Leo.
Nitin Chandila's wife's name is Priyanka Nagar.
Nitin Chandila's height is 5 feet 11 inches (180cm)