Thank you so much! You will be contacted by our team shortly.
Vanita Kharat
Vanita Kharat
Book video @

₹ 1,299
Secured & Safe Payments
---

Buy For

₹1,234
Extra ₹65 off on this booking
Instagram DM

Free Combo
Celebrity shares message on Insta handle
Members Only

Flat 15% Off
Additional discount for Prime Users
---
very energetic video..thank you comedy queen....!!!!
Money-back Guarantee!
If for some reason, your request could not be completed, we'll refund your money within 3-5 working days.
Need help?
Reach out to us on WhatsApp or Email for queries. Our support team shall get back to you within 2-3 working days.
Secured & safe payments
Every transaction is 100% safe. Your payment details are encrypted during the transaction to safeguard your data.
Experience the Magic of Celebrity Wishes - Book a Personalised Celebrity Wish From Vanita Kharat
Are you tired of giving the same old gifts for birthdays, anniversaries, weddings, or festivals? It's time to level up your gifting game! We are excited to introduce an exclusive opportunity that will leave your loved ones speechless. Picture the look of pure joy and awe on their faces when they receive a personalised wish from their favourite celebrity. Whether it's a milestone birthday, a cherished anniversary, or a momentous wedding, these celebrity wishes will add an unforgettable touch of magic and glamour to their special occasion. Say goodbye to ordinary gifts and embrace the extraordinary with our unique and unforgettable celebrity greetings.
With our platform, you can easily book personalised wishes from a wide range of renowned celebrities, regardless of where you or your loved ones are located. Distance is no longer a barrier to making someone's day truly remarkable. Just imagine the excitement of receiving a heartfelt message or a happy birthday song from a celebrity they admire. This extraordinary experience will create memories that last a lifetime, making your loved one's celebration absolutely unforgettable. Refrain from settling for ordinary when you can create extraordinary moments with personalised celebrity wishes.
Book A Personalised Celebrity Invitation Video Message From Vanita Kharat - Make Your Special Event Extraordinary!
Looking to elevate your upcoming celebration with glamour and excitement? Look no further! Get ready for a remarkable experience as we bring you an exclusive opportunity to book personalised invitations from your beloved celebrity. Picture the sheer delight on your guests' faces when they receive a special invitation straight from the celebrity they admire. Whether it's a milestone birthday, a cherished anniversary, or the most important day of your life, let the star power of your favourite celebrity shine on your extraordinary event. Don't miss out; book now and make your celebration unforgettable!
Experience the magic of personalised celebrity invitations and take your event to the next level. Capture the attention and admiration of your guests with invitations that carry the touch of celebrity glamour. From milestone birthdays to treasured anniversaries or your dream wedding, let your favourite celebrity play a part in making your special day truly remarkable. Embrace this unique opportunity to add a sprinkle of stardust to your celebration and create memories that will be cherished forever. Seize the moment and book your personalised celebrity invitations now!
Ignite the Flame of Motivation with Personalised Messages from Celebrities
Surprise your loved ones with an extraordinary gift! Book personalised video messages from your favourite celebrities and witness their sheer delight. Whether it's a birthday, anniversary, or any special occasion, these exclusive messages will create unforgettable memories. Make their day exceptional with a celebrity surprise they'll treasure forever!
Why Book A Personalised Celebrity Wish From Vanita Kharat?
Unforgettable Surprises - By booking celebrity wishes, you'll create an unforgettable surprise for your loved one. The sheer joy and excitement they'll experience upon receiving a heartfelt wish from their favourite celebrity will make their day truly extraordinary.

Heartfelt Connection - These personalised wishes will create a heartfelt connection between your loved one and their idol. It's an opportunity for them to feel seen and valued by someone they admire, making their celebration even more meaningful and memorable.

Exclusive and Unique - Each wish will be crafted with care and tailored to suit your loved one's personality and the occasion. Whether it's a warm birthday greeting, a heartfelt anniversary wish, or a festive message, the celebrity will ensure it resonates with your loved one's heart.

Variety of Choices - From renowned actors and musicians to beloved sports stars and influencers, you can choose the celebrity who holds a special place in your loved one's heart. Select the perfect personality to make their wish truly remarkable.
Book a Personalised video message from Vanita Kharat and surprise your family and friends.
Book a Wish From Vanita Kharat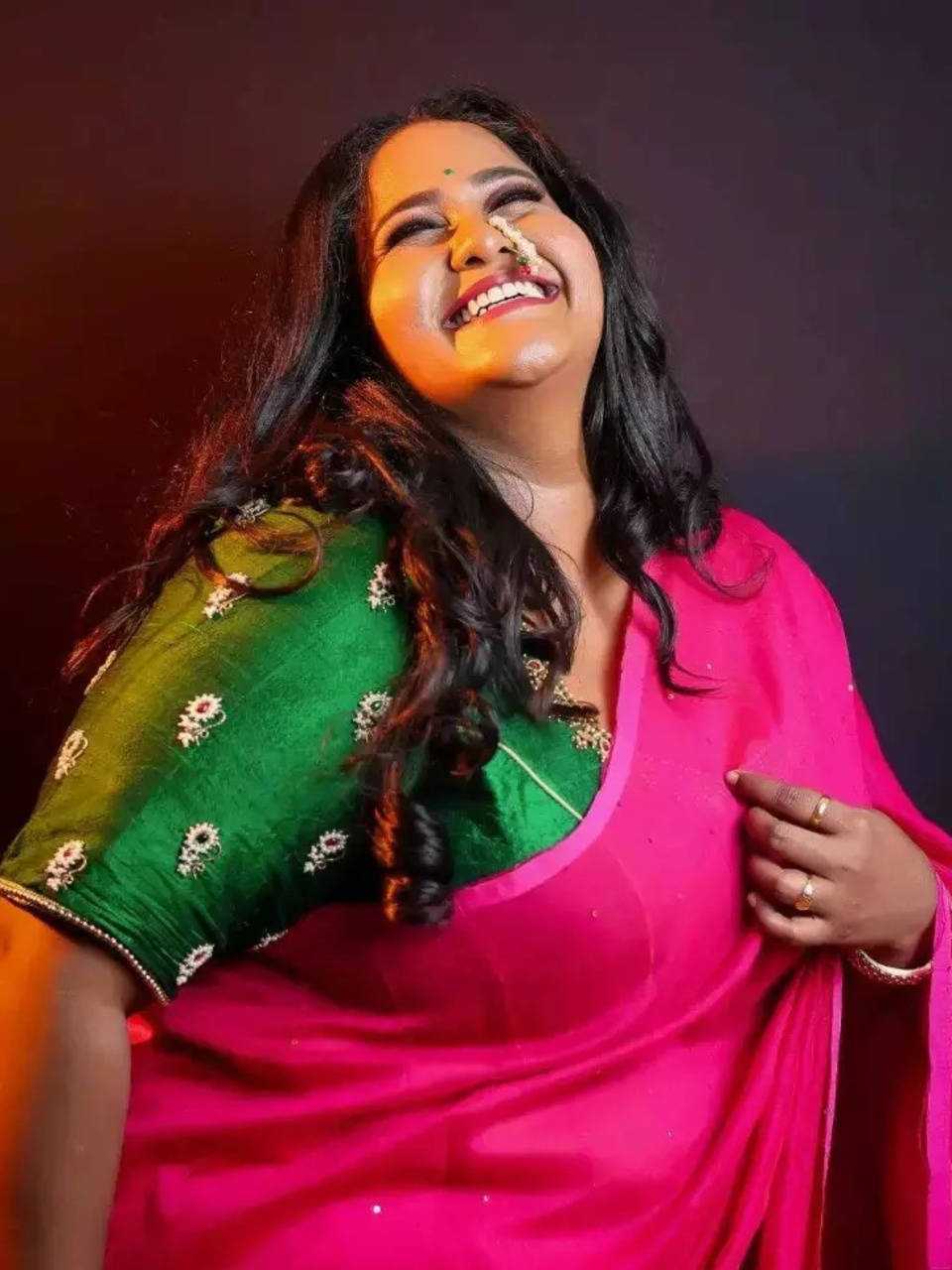 Are you seeking a unique and unforgettable way to celebrate your special occasions? Look no further! We are thrilled to announce an exclusive opportunity to book personalised wishes from the renowned Bollywood actress and dancer Vanita Kharat for birthdays, anniversaries, weddings, festivals, and more!
Imagine the delight on your loved one's face as they receive a heartfelt video message directly from Vanita Kharat, specially created just for them. Whether it's a birthday surprise, an anniversary celebration, a wedding gift, or any other special occasion, Vanita's personalised wishes will make the moment truly memorable.
Book an Invitation From Vanita Kharat
Are you planning a milestone event and want to make your invitations truly remarkable? We are thrilled to introduce a unique opportunity to book personalised invitation messages from Vanita Kharat.
Imagine the excitement on your guests' faces when they receive a one-of-a-kind invitation directly from Vanita Kharat herself. Whether it's a birthday extravaganza, an anniversary celebration, a wedding affair, or any other special occasion, Vanita's personalised invitation messages will add an unforgettable touch of glamour and warmth.
Book a Motivational Video Message From Vanita Kharat
Are you searching for a unique and impactful way to uplift and motivate your loved ones who are struggling? Book personalised motivational messages from Vanita Kharat. Whether it's a friend facing a setback, a family member in need of a boost, or anyone going through a difficult phase, Vanita's personalised motivational messages will ignite a spark of hope and motivation.
Book a Personalised Brand Endorsement Video From Vanita Kharat
Looking to boost your brand's visibility? Look no further! Tring India offers the opportunity to book Vanita Kharat, the renowned actor, for brand endorsements and promotions. With her captivating persona, Vanita will take your brand to new heights. Take advantage of this, contact Tring India today!
Why Should You Book A Personalised Wish From Vanita Kharat?
A Touch of Stardom: Vanita Kharat's charisma and talent have won the hearts of millions. Now, you can bring her star power directly to your loved ones, making their day extraordinary and full of star-studded glamour.
Heartfelt and Personalised Messages: Vanita Kharat will pour her heart into creating personalised messages tailored to the recipient and occasion. From heartfelt birthday greetings to warm anniversary wishes, her messages will leave a lasting impression and touch the recipient's soul.
Exclusive Content: Each personalised wish from Vanita Kharat will be unique and exclusive. You can expect her warm smile, infectious energy, and genuine emotions making the recipient feel truly special and cherished.
Flexibility and Variety: Whether it's a video message, a voice note, or a virtual meet-and-greet, we offer various options to suit your preferences and occasion. You can choose the perfect way to surprise your loved ones and make their day even more magical.
Unforgettable Memories: Vanita Kharat's personalised wishes will create lifelong memories for both you and your loved ones. They will treasure the personalized video or voice message, relishing the joy and excitement of receiving greetings from a beloved Bollywood star.
Life Story
Vanita Kharat is an Indian actress and model who has gained recognition for her work in the Marathi film industry. Known for her talent and confident personality, Vanita has made a mark in the entertainment industry and has become an inspiration for body positivity and self-acceptance. Vanita was born on the 19th of July, 1992. She was born and brought up in Mumbai, Maharashtra. As of 2023, she is 31 years old.
Family
Vanita Kharat tied the knot with the love of her life, her boyfriend, Sumit Londhe, in February 2023.
Career
Vanita Kharat began her career as a model, showcasing her natural beauty and charisma. Her striking features and bold presence caught the attention of the industry, leading her to be featured in various fashion campaigns and advertisements. Through her modeling career, Vanita garnered popularity and became a role model for embracing one's individuality and breaking societal beauty standards.
Vanita made her debut in Marathi cinema with the film Vicky Velingar in 2019 which was directed by Saurabh Verma. Her portrayal in the film earned her critical acclaim and brought her into the spotlight. She then appeared in movies like Luckdown and Kabir Singh. Vanita was also seen in the web series RaanBazaar.
Vanita Kharat's career reached new heights when she became a part of the renowned television show Maharashtrachi Hasya Jatra. Her powerful performance in this reality TV comedy show showcased her acting prowess and versatility, further establishing her as a prominent figure in the Marathi entertainment industry.
Vanita is set to star in the upcoming Marathi drama film titled Ilu Ilu in 2023. Directed by Ajinkya Bapu Phalke, the film features a stellar cast, including Veena Jamkar and Kamlakar Satputhe. Vanita Kharat takes on the role of Jadhav Bai, a character that is bound to showcase her exceptional acting skills.
With her rising popularity and growing influence, Vanita Kharat continues to explore new opportunities in the entertainment industry. Her career serves as an inspiration for aspiring actors and models, highlighting the importance of embracing one's uniqueness and redefining traditional beauty standards.
Vanita's journey is a testament to her talent, determination, and fearlessness in breaking barriers. Through her work, she has not only made a mark in the industry but also sparked conversations about body positivity, challenging societal norms, and encouraging self-love and acceptance. As she continues to make strides in her career, Vanita Kharat remains an influential figure and an inspiration to many.
You can also book a personalised B2B video from Vanita Kharat. In a competitive marketplace, an effective brand video can be the game-changer that sets your business apart. Take advantage of the opportunity to showcase your brand in a unique and captivating way. Whether you're looking to launch a new product, establish your brand's identity, or simply leave a lasting impression, Vanita Kharat is the perfect choice to elevate your brand's image.
We encourage you to book well in advance to secure your personalised wishes from Vanita Kharat. Make your special occasions truly extraordinary with a touch of Vanita's warm wishes and star-studded charm. Book now and create cherished memories that will be treasured for a lifetime! #JustTringIt
| | |
| --- | --- |
| Real Name | Vanita Kharat |
| Known Name | Vanita Kharat |
| Profession | Actress |
| Celebrity Type | TV, Movie Star |
| Age | 31 Years as of 2023 |
| Date Of Birth | 19 Jul 1992 |
| Birthplace | Mumbai |
| Marital Status | Married |
| Zodiac Sign | Cancer |
| Nationality | Indian |
| City of Residence | Mumbai |
| Height | 5 feet 5 inches |
| Weight | 80kgs |
| Notable Work | Maharashtrachi Hasya Jatra |
| First Movie | Vicky Velingar |
| Net Worth in INR | Rs 50 Lakhs- 1 crore |
| Net Worth in USD | $10 million |
| Instagram ID | @vanitakharat19 |
| Instagram Followers | 100k+ |
---
Frequently asked questions
Vanita Kharat's date of birth is 19th July.
Vanita Kharat is an Indian actress.
You can easily get on a live call with Vanita Kharat via www.tring.co.in
Yes. Vanita Kharat's ID is @vanitakharat19
Vanita Kharat was born in Mumbai.
No. Vanita Kharat is not married.
Vinita Kharat's boyfriend is Sumit Londhe.
No, Vinita Kharat is not married yet but will soon get married to her boyfriend in February 2023.
Vinita Kharat's fiance is her long-term boyfriend Sumit Londhe.