Sandeep Khosla | Career, Age, Designs, Biography, Net Worth

Violeena Vargav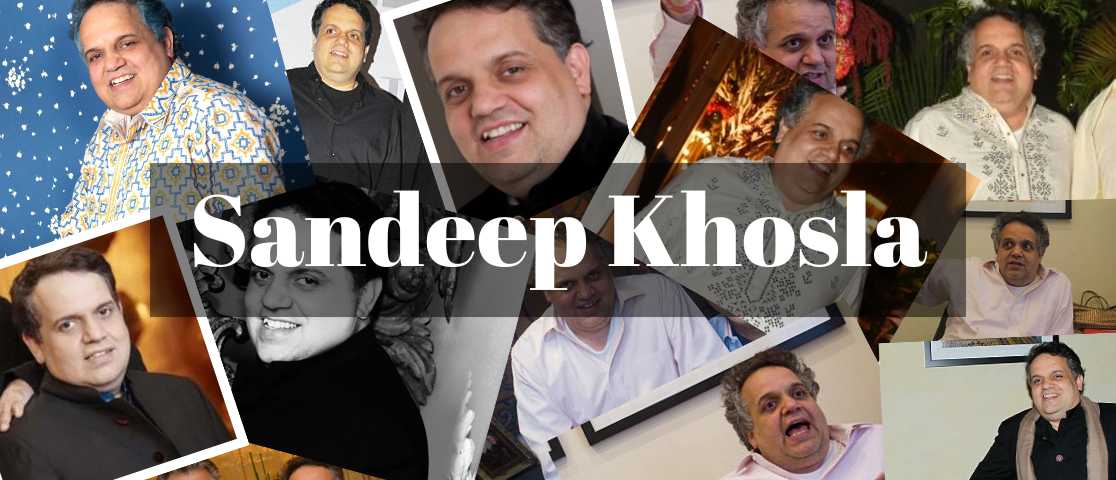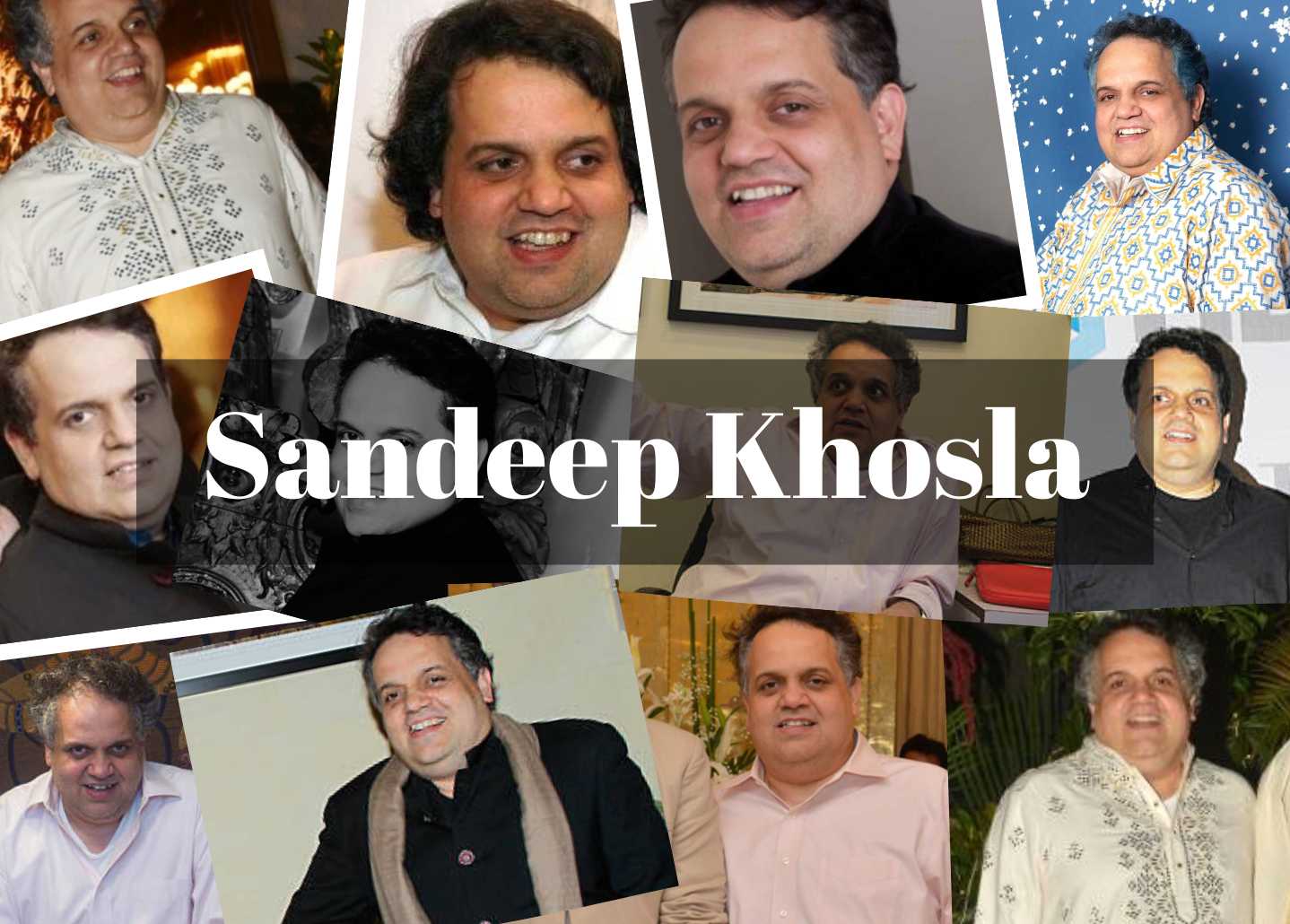 Sandeep Khosla's Biography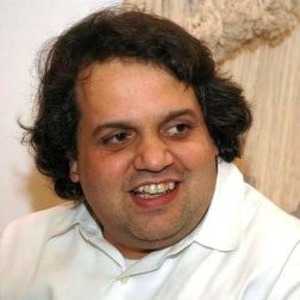 Sandeep Khosla is a famous Indian fashion designer. The label Abu Jani-Sandeep Khosla is co-owned by Sandeep Khosla. He is best known for his ability to combine European-fitted form with Indian craftsmanship and textile expertise. His distinctive style is the fusion of conventional beauty with cutting-edge design.

Sandeep Khosla's birthday is not known. Sandeep Khosla's birthplace is Kapurthala, Punjab, India. Sandeep Khosla has been active in the fashion industry since 1986. Sandeep Khosla's age is assumed to be around 60. Sandeep Khosla's religion is Sikhism. Sandeep Khosla's zodiac sign is not known. Sandeep Khosla's height is 1.68m or 5'6. Sandeep Khosla's weight is 75kgs.

For awards night, many international celebrities chose to wear Khosla clothing. Judi Dench wore Khosla's creation to the BAFTA Awards in 2012. He shared the 2002 National Film Award for Best Costume Design with Neeta Lulla, Abu Jani, and Reza Shariffi for their work on the Sanjay Leela Bhansali-helmed Bollywood film Devdas.

Khosla has recently taken on a number of interior design jobs. He has created interiors for resorts, houses, hotels (including The Sofala in Goa), and restaurants (including the Aish at the Park in Hyderabad), and has even started to create event designs for Indian weddings.
Claim Your FREE Celebrity Shoutout
✕
Claim Now!
Sandeep Khosla's Family and Sandeep Khosla's Education
Sandeep Khosla's father's name is not known. Sandeep Khosla's mother's name is not known. Not much is known about his family and childhood.

Sandeep Khosla was raised in a Punjabi family and was born in Kapurthala. Sandeep attended The Doon School before working for his family's leather and clothing company. He finished college in Jalandhar and then spent a year studying at a leather school in Chennai before moving to Delhi.

Talk To Similar Celebrities
Sandeep Khosla Career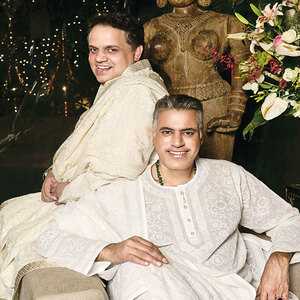 Sandeep Khosla began his career in Delhi as a buyer for an export firm before opening Limelight, a small store. However, he quickly relocated to Mumbai and began working with Xerxes Bhathena, a film costume designer. Abu Jani had, incidentally, also been helping Bhatena. Abu Jani was working as a freelancer and creating the costumes for Alyque Padamsee's musical adaption of Andrew Lloyd Webber's Evita in 1986. Sandeep Khosla unexpectedly found himself in Bombay around this period. On August 15, Abu and Sandeep met in Xerxes Bathena's studio.

During a cab journey, they became friends over their desire to devote their art to a lavish originality that emits a romantic homage to the good life. As time went on, Abu and Sandeep were given the chance to launch their first business as Abu Jani Sandeep Khosla when Gopi Mangnani offered to open a boutique in Juhu. Their collection, which they decided to call Mata Hari, went on to become the first of numerous freelance ventures. Sandeep Khosla and Abu Jani opened the store Mata Hari in 1986. They immediately had fresh prospects in the fashion sector after their work was published in one of the top fashion magazines.
Sandeep Khosla and Abu Jani began reinterpreting the dhoti pant in 1987 using only pure materials and panels with Zardozi embroidery. They had no idea that the stores on Fashion Street would mass-produce it. Back then, this could only mean one thing: a new trend had begun. They joined Tarun Tahiliani's ensemble multi-brand store in 1987 as one of the five designers after their creations were highlighted in a renowned Bombay magazine and on the cover. Their first famous customer was the actress Dimple Kapadia, who later introduced them to Jaya Bachchan and Parmeshwar Godrej.

Sunita Pitamber introduced Abu Jani and Sandeep Khosla to prominent figures in high society, like Shakira Caine, and granted them use of her Juhu home as a studio when they first met her in 1988. She entered their world like gold dust on a stunning energy wave.

The art seen in Couture was first presented in 1989 by Abu Jani and Sandeep Khosla. In this exquisite devotion to Indian miniature paintings, they discovered the wonder of the supernatural. A little glass frame was placed over the featured embroidered and appliqued images, and it was secured to the fabric with exquisitely delicate beadwork. The effect was so alluring that it gave the impression of a body covered in sparkling jewels. Sonam Kapoor replicated the 1989 line for her 2018 movie Veerey Di Wedding and wore it.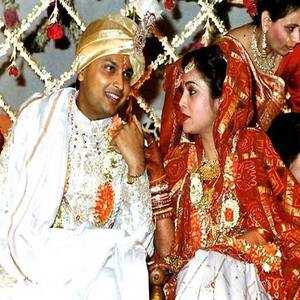 The famous Jamawar Shawl from Kashmir was revived as fashion in 1990. Abu Jani and Sandeep Khosla have never been satisfied with merely reviving a traditional skill; instead, they have always created beauty that is truly new. This was the first time they had ever used fringe, specifically beaded tassels.

They created Tina Munim's bridal lehenga in 1991. Based on a maroon, pure silk georgette velvet fabric that was purchased in Paris, this opulent ensemble. It is lined with opulent neon brocade and made with the most spectacular Persian designs, including leaves and flowers in Resham and Zardozi. The ensemble was evidence that Anil Ambani had asked Abu Sandeep to let their imaginations run wild. The pair began incorporating Chikankari into their designs in 1992. They proved to be extremely sophisticated and improbably elegant. It was unmatched in terms of pure beauty.

Sandeep Khosla and Abu Jani are also into interior design. Sandeep Khosla and Abu Jani's furniture line made its debut in 1993 at Mumbai's Bajaj Gallery. Celebrities like Dimple Kapadia, Amitabh Bachchan, Shweta Bachchan Nanda, Nikhil Nanda, and others have had their homes designed by them as well.
Hollywood first learned about their ideas in 1997. Abu Jani and Sandeep Khosla showed the superiority of Indian craftsmanship to the western world at Eileen Coyne's London store called Also. As a result of their visits to the store, Dame Judi Dench, Dame Maggie Smith, and Princess Michael of Kent all developed a love for Abu Jani Sandeep Khosla. The shop was crucial in presenting the duo's universe and work to London.

In order to start a fund for women and children affected by HIV and AIDS, Abu Jani and Sandeep Khosla produced A Celebration of Style, a Fashion Theatre performance, in the year 2000. Sandeep Khosla and Abu Jani co-hosted the television programme, The First Ladies with Sandeep Khosla and Abu Jani, in 2008. In the show, they interacted with well-known people like Kirron Kher, Gauri Khan, Usha Mittal, Maharani Padmini Devi, Jaya Bachchan, Nita Ambani, and others. The brand Abhu Jani-Sandeep Khosla celebrated its 25th anniversary in the fashion business in 2012 with a runway show.

Numerous Bollywood A-List stars, prominent industrialists, and well-known politicians are among Sandeep Khosla and Abu Jani's extensive clientele. The company is well-known for its stunning bridal attire, which features beautiful embroidery, femininity, and sophistication. There are now Abu Jani Sandeep Khosla stores in Delhi, Bangalore, and Mumbai.

Together, Sandeep Khosla and Abu Jani have started a lavish creative voyage. Abu Jani and Sandeep Khosla were brought together despite having different upbringings by their dedication to impossibly perfect craftsmanship, appreciation for antique linens and embroideries, and desire to break new ground. Since then, they have established styles, developed their own set of guidelines, and built something completely unique using the astounding breadth of their combined imagination.
Celebrities Wearing Abu Jani Sandeep Khosla Outfits
Sonam Kapoor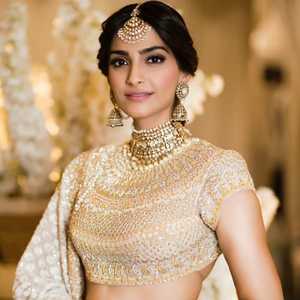 The wedding of Sonam Kapoor and Anand Ahuja drew a large number of Bollywood celebrities. Sonam Kapoor, who has previously sported a number of Abu Jani-Khosla ensembles, looked ethereal in the Chikankari lehenga.

Multiple methods, including zardozi, zari, sequin, beading, and Swarovski embroidery, were used to create the bespoke Abu Jani Sandeep Khosla design. For her after-reception celebration, Sonam also changed into a gorgeous Chikankari kaftan.
Deepika Padukone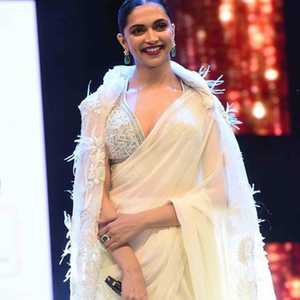 In a white Abu Jani-Sandeep Khosla fusion outfit that featured a saree with a cape, Deepika Padukone left the audience in awe. Deepika had a gorgeous and refined appearance. The sheer cape's intricate flower designs and feather twist added great value to the outfit.
Shweta Bachchan Nanda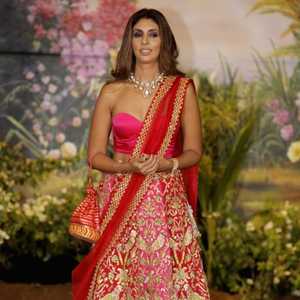 For many years, the Bachchan family has worn Abu Jani and Sandeep Khosla creations. The Bachchan family has frequently worn the designer's clothing, including Jaya Bachchan, Shweta Bachchan Nanda, and Aishwarya Rai Bachchan.
Amitabh, Shweta, and Abhishek gave us huge family goals during Sonam's wedding by wooing us in Jani-Khosla clothing.

Aishwarya Rai Bachchan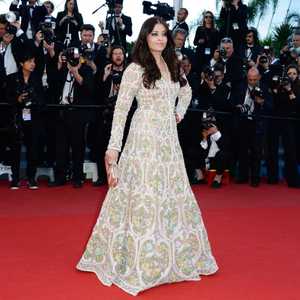 Aishwarya chose a floor-length Anarkali by Abu Jani Khosla with vibrant, intricate embroidery for the 2013 Cannes Film Festival premiere of Blood Ties. Additionally, Aishwarya Rai Bachchan has been spotted wearing Abu-Sandeep creations on other occasions.
Kareena Kapoor Khan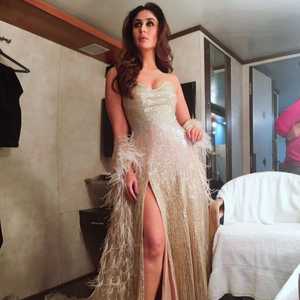 In the creation of the designer pair Sandeep Khosla and Abu Jani, Kareena Kapoor, the quintessential fashionista, also offered us major body goals. By forgoing his signature chikankari design, this sensuous gown gives Bebo the ideal diva look.

Madhuri Dixit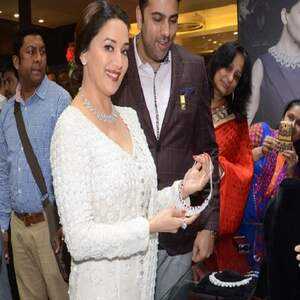 In each outfit, Madhuri Dixit Nene steals the show. This time, she's wearing a stunning off-white Abu Jani Sandeep Khosla floral pearl slim sherwani. The entire outfit is hand stitched and adorned with Swarovski crystals, pearls, and sequins, which creates a sheer beauty in the finery and drapes.

Dame Judie Dench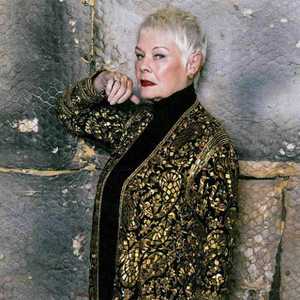 Dame Judi Dench, a veteran star of Hollywood, shone elegantly in an Abu Jani Sandeep Khosla design at the Oliver Awards. The much-discussed collection that was flaunted on the red carpet was the black georgette paneled coat. black pants with gold and silk threads as embellishments.
Beyonce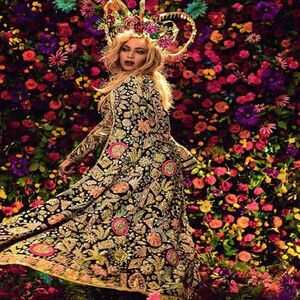 Beyonce looked stunning in Sandeep Khosla and Abu Jani's skin net lotus sequins hand embroidered dress in Coldplay's Hymn for the Weekend music video, which was decorated with gold sequins and crystals. She covered it with a floor-length black Exotica Gota coat.

Tyra Banks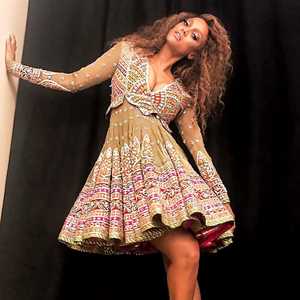 Another well-known face from Hollywood, Tyra Banks, was spotted looking stunning on the set of the talent competition America's Got Talent in a vibrant Abu Jani Sandeep Khosla dress. The dress' intricate mirror work gave the colourful garment a bohemian feel, while its voluminous pleats and gota work were reminiscent of a Rajasthani ghagra with a contemporary touch.

Sandeep Khosla's Awards and Achievements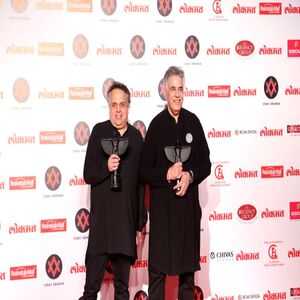 • National Film Award for Best Costume Design for Devdas (2003)• IIFA Award for Best Costume Design for Devdas (2003)• Zee Cine Award for Best Costume Design for Devdas (2003)• Honoured for Outstanding Achievement in Arts and Design at the Asian Awards in London (2010)• Hello Hall of Fame Award for his Contribution to Fashion (2011)• Lifetime Achievement Award at the Marie Claire Fashion Awards in December 2011
Sandeep Khosla Controversies
Incorrect Map of India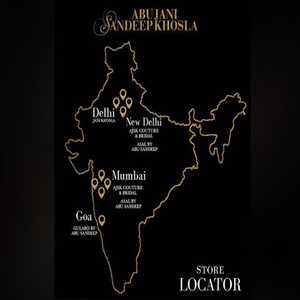 The map the company posted to represent its India flagship stores did not include regions of Jammu and Kashmir, which led to a backlash against the design team Abu Jani & Sandeep Khosla's most recent Instagram post from December 29, 2018. Please improve the map, to Shame on you, were some of the comments left on the post. Going to unfollow, said a different user.

After that, the post was deleted, and the company focused on acknowledging its successes in 2018.
HDIL Couture Week
The entire Bachchan family was scheduled to walk the runway to kick off HDIL Couture Week alongside Abu Jani and Sandeep Khosla. They abruptly withdrew, alleging that they hadn't received the guaranteed quantity of front-row seats for their guests.

Arpita Khan Bridal Lehenga
There was a rumour going around that Arpita complained about the fabric and the fit when she received her bridal attire. Abu-Sandeep scoffed in response, blaming Arpita's physical type for the fashion faux pas. Arpita cried and fled to her brother Salman Khan for help. Salman then chased Abu-Sandeep, who then ran to their mutual friend Jaya Bachchan.
Sandeep Khosla's Net Worth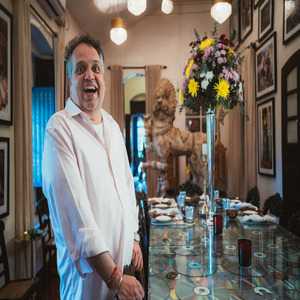 Sandeep Khosla's net worth is estimated to be approximately $26.3 million US or 210 crores in INR, as of 2022. Sandeep Khosla and Abu Jani live in a lavish home. The living space of Abu Jani and Sandeep Khosla is a showcase for their distinctive tastes. Their favourite area has angel sculptures covering the ceiling. It houses several ancient objects that are positioned diagonally. Two silver tortoises serve as accents on the black glass centre table.

Three unique seating places in their living room, each with its own special features, add to the aesthetic appeal of their house. The shiny sheen of the walls makes them appear even more gorgeous. Additionally, it has golden shelves with silver accents. Overall, the lighting is good in this area of Abu Jani and Sandeep Khosla's house.

Sandeep Khosla and Abu Jani's home is frequently visited by friends and acquaintances. They, therefore, have a variety of rooms to amuse the visitors. A giant framed piece of art is mounted on a glass wall in another area of their living room. The mauve couch strikes a balance between the room's many components.

The bedrooms of Abu Jani and Sandeep Khosla share the same design as their living area. There are four intricate paintings on the wall in one of the bedrooms. Warm lighting and wooden horse sculptures on their bed frame further enhance the appeal of the space. The residence of Abu Jani and Sandeep Khosla has a spacious library that also serves as a dining area. It holds classic movie theatre chairs and gives them a dash of drama.
Sandeep Khosla Interesting Facts
Sandeep Khosla had his first internship at the age of 17.
Sandeep Khosla never married.
Sandeep Khosla's family had a leather business.
Sandeep Khosla's first boutique was named Limelight.
Sandeep Khosla and Abu Jani's first boutique was named Mata Hari
Sandeep Khosla is also an interior designer.
Social Media
Frequently Asked Questions