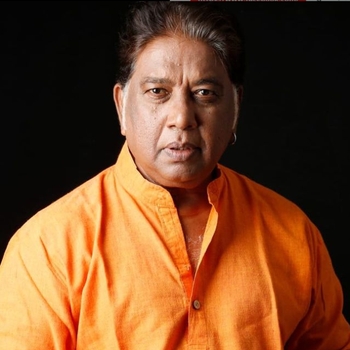 Jaywant Wadkar

Sorry, Jaywant Wadkar is not available at the moment. Click on 'Add to Wishlist' to receive any updates.
For Business
---

Buy For

₹1424
Extra ₹75 off on this booking
Instagram DM

Free Combo
Celebrity shares message on Insta handle
Members Only

Flat 15% Off
Additional discount for Prime Users
---
Money-back Guarantee!
If for some reason, your request could not be completed, we'll refund your money within 3-5 working days.
Need help?
Reach out to us on WhatsApp or Email for queries. Our support team shall get back to you within 2-3 working days.
Secured & safe payments
Every transaction is 100% safe. Your payment details are encrypted during the transaction to safeguard your data.
You can now interact with Jaywant Wadkar via Tring! Book a
Personalised video message
from Jaywant Wadkar and surprise your friends or yourself. With Tring, you can even get your brand promoted by Jaywant Wadkar.
Jaywant Wadkar is an Indian actor, he primarily works in
Marathi Industry
. Jaywant Wadkar was born and brought up in Mumbai itself.
Jaywant Wadkar Pandurang is a Mumbai-based veteran Bollywood and Marathi
theatre actor
. Jaywant Wadkar began his career as a modest actor and went on to perform a variety of supporting roles in both Marathi and Bollywood films.
Jaywant Wadkar made his acting debut in the popular Bollywood film Tezaab in the year 1988, in which Jaywant Wadkar played the protagonist's companion. In Jaywant Wadkar's most recent films, he has primarily played comedic roles or the role of a Marathi cop or constable.
Jaywant Wadkar intended to be a cricketer when he was younger, but fate led him to acting.
Jaywant Wadkar was introduced to Bollywood by Vijay Patkar, a well-known comedian-actor and Jaywant Wadkar 's best friend. In the film Tezaab, directed by N. Chandra and starring Anil Kapoor as the male lead, Jaywant Wadkar made his Bollywood debut.
Jaywant Wadkar also acted in many movies such as in Vipin Varti's 1989 Marathi comedy-drama film Ek Gadi Baki Anadi, which also starred Vijay Patkar.
Jaywant Wadkar has been part of the movies Hamaal De Dhamaal in 1989, Ghanchakkar in 1990, Chikat Navra in 1994, Ek Unad Divas in 2006, Mee Shivajiraje Bhosale Boltoy in 2009, Sasu Cha Swayamvar in the year 2013, Welcome Zindagi in 2015, and Poster Girl in 2016 are only a handful of his Marathi films. Jaywant Wadkar also appeared in Bollywood films such as Sarfarosh in the year 1999, Gunaah in 2002, Hathyar Face to Face with Reality in 2002, Maqbool in the year 2003, Johnny Gaddaar in 2007, and others.
Jaywant Wadkar's prominent appearances in highly praised Bollywood films such as A Wednesday (2008), Detective Naani (2009), and Baby (2015) starring Naseeruddin Shah were well received by critics.
In the Marathi theatre world, he is now a well-known figure. Jaywant Wadkar has also appeared in the fourth season of Fu Bai Fu, a Marathi stand-up comedy television show that airs on Zee Marathi. For the show, he formed a collaboration with Amrita Khopkar, another experienced actor.
Jaywant Wadkar Instagram ID is @jaywantwadkar Jaywant Wadkar has a huge fan following on his Instagram ID.
Book a personalised message from Jaywant Wadkar and make someone's day special. Book Now!! #JustTringIt
---
Frequently asked questions
Jaywant Wadkar is an Indian Actor
Jaywant Wadkar is famous for his path-breaking performance in many movies such as Tezaab.
Jaywant Wadkar was born in Mumbai. Jaywant Wadkar is from Mumbai.
Yes, you can easily book a personalised wish from Jaywant Wadkar via Tring.
Yes, Jaywant Wadkar is married.
Yes, Jaywant Wadkar does have a child.
Jaywant Wadkar's first movie was Tezaab in the year 1988.
Jaywant Wadkar's Instagram ID is @jaywantwadkar.
Yes, Jaywant Wadkar is a theatre artist.
Yes, Jaywant Wadkar works in both Bollywood as well as Marathi Industry