Prabhas | Biography, Affairs, Best Movies, Career, Facts

Faraz Shaikh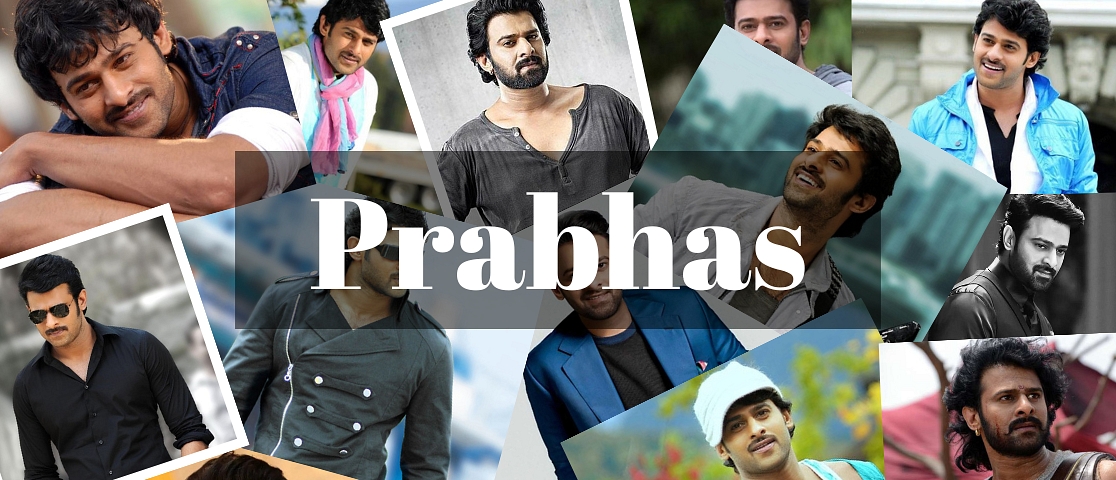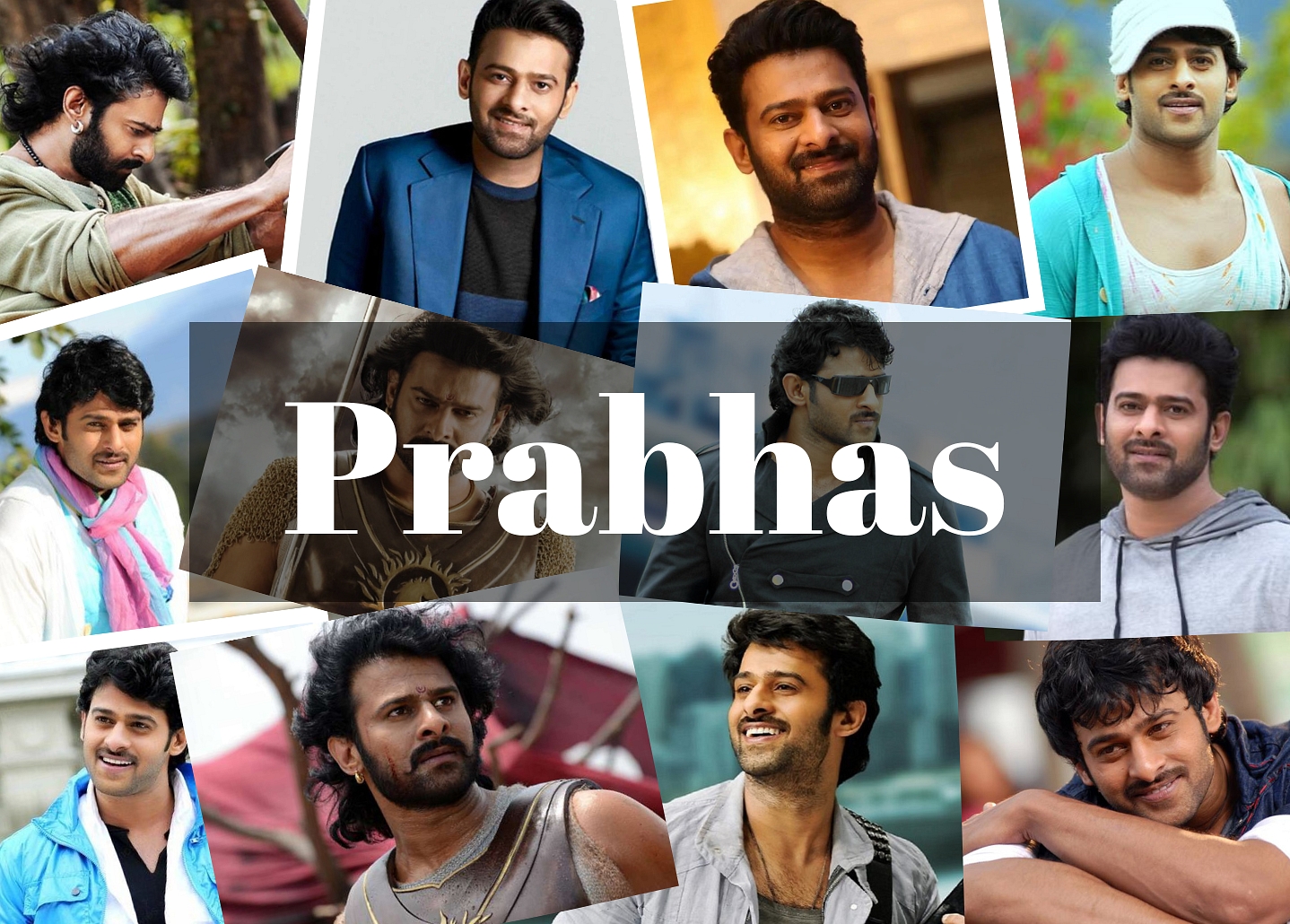 Prabhas's Biography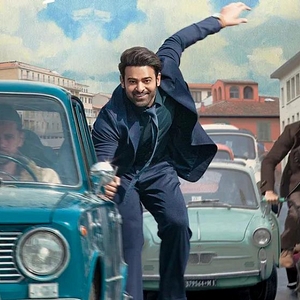 Indian actor Uppalapati Venkata Suryanarayana Prabhas Raju, better known by his stage name Prabhas, was born on October 23, 1979. Based on his earnings and popularity, Prabhas, one of the highest-paid actors in Indian cinema, has appeared on Forbes India's Celebrity 100 list three times since 2015. He is the first actor from South India to receive a wax figure from the Madame Tussauds museum. Prabhas made his acting debut in the 2002 Telugu drama Eeswar before breaking out with the romantic action film Varsham (2004). Chatrapathi (2005), Bujjigadu (2008), Billa (2009), Darling (2010), Mr. Perfect (2011), and Mirchi (2012) are among his notable works (2013). For his performance in Mirchi, he received the state Nandi Award for Best Actor. Prabhas played the title role in S. S. Rajamouli's epic action film Baahubali: The Beginning, which became the fourth-highest-grossing Indian film of all time in 2015. He later reprised his role in the film's sequel, Baahubali 2: The Conclusion (2017), which became the first Indian film ever to gross more than 1,000 crores (US$155 million) in all languages in just ten days and is the second highest-grossing Indian film to date.
Talk To Similar Celebrities
Prabhas's Family and Prabhas's Education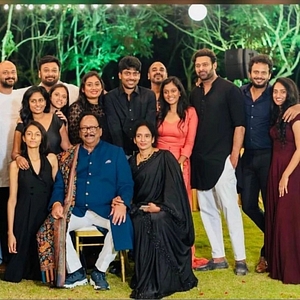 Prabhas was born on 23 October 1979. Prabhas's age as of 2022 is 43 years. Prabhas's zodiac sign is Scorpio. Prabhas is from West Godavari district, Andhra Pradesh, India. Prabhas is the son of filmmaker U. Suryanarayana Raju and his wife Siva Kumari. He has two siblings: Prabodh Uppalapati, his brother, and Pragathi Uppalapati, his sister. He is the youngest of three siblings. Uppalapati Krishnam Raju, a Telugu actor, is his uncle. Prabhas attended Nsm School in Gannavaram Mandal and earned a B.Tech. from Sri Chaitanya College in Hyderabad. Prabhas attended Satyanand Film Institute in Visakhapatnam. In reality, Prabhas had no interest in acting. He initially desired a career in business. But after being persuaded by his uncle, he chose to try his hand at Telugu film acting.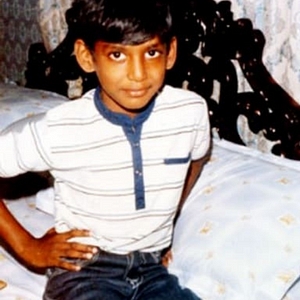 Prabha's first two films didn't do well at the box office or establish him as a credible actor. Finally, he appeared in the film Varsham in 2004. That served as his big break because the Telugu market considered it to be a commercial smash. Additionally, it was his most lucrative film in a while. He became a well-known star in the Telugu industry as a result of the film. After that, he appeared in a number of other films, some of which were mediocre hits. Prabhas' career was not only revived by Baahubai, but the film also elevated him to stardom throughout India. Multiple languages were used for the film's release. Prabhas' acting was praised after the film for its quality. The film went on to become a worldwide sensation and was briefly the highest-grossing Indian production.
Prabhas's Affairs and Relationships
Prabhas - Anushka Shetty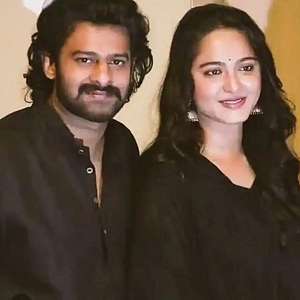 Regarding the long-standing alleged relationship between Prabhas and Anushka Shetty, much has been said and written. The couple, however, consistently disputed the claims, insisting that they get along well as friends. In fact, Anushka Shetty stated in a recent interview that they are the same kind of people who don't conceal their emotions, so if they were dating, it would have been known by now. Anushka was asked what three qualities about Prabhas she finds endearing when Baahubali was first released. The birthday girl remarked, 'His devotion to his friends. He is a person who favours development. He thinks deeply and develops as a person. His greatest obstacle is himself, which helps him to comprehend and develop in that way. There is nothing like I, me, myself, and if tomorrow he gets anything, it will be for me and ten more people nearby, she continued. He is giving without being overly so. According to reports, Anushka Shetty acknowledged her friendship with Prabhas by declaring, 'He's one of my 3 AM friends.'
Prabhas - Ileana D' Cruz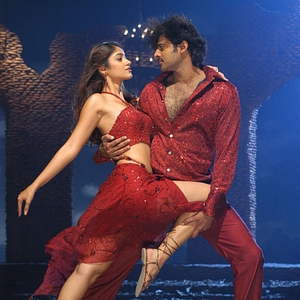 Since she began her career in the film industry, Ileana D. Cruz has collaborated with numerous actors. Her name was associated with a few of her co-stars, particularly when she worked with South Indian movies. One of the rumored relationships of Ileana D' Cruz was associated with Prabhas. According to the actress, falling in love is simple, but maintaining that love is the hardest part. She continued by saying that she is in love with herself and that she is not yet ready to be in a relationship again. 'Your partner can help you feel at ease and secure, but your mental health should come first. I am content where I am and not ready for love. I'm starting to love myself ' Ileana stated. 'I was in a serious relationship with a co-star whom I loved and trusted, but he repeatedly betrayed my trust and made me feel unworthy. So I've learned to be cautious now 'A leading daily quoted Ileana as saying. Ileana, on the other hand, had refused to reveal the identity of the actor with whom she was in love. The actress also mentioned her father's advice which is not to trust men easily, despite falling in love with him.
Prabhas's Career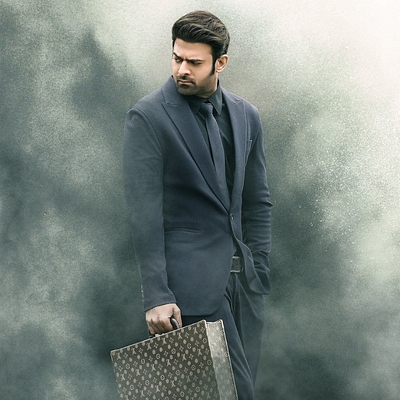 Prabhas began his film career in 2002 with Eeswar. He was the lead in Raghavendra in 2003. He made an appearance in Varsham in 2004. He went on to work with Adavi Raamudu and Chakram. In 2005, he appeared in the film Chatrapathi, directed by S. S. Rajamouli, as a refugee who is exploited by goons. It ran for 100 days in 54 locations. Idlebrain claimed to have a distinct style and macho charm in his screen presence. Later, in 2007, he appeared in the action-drama Pournami, Yogi, and Munna, followed by the action-comedy Bujjigadu in 2008. Billa and Ek Niranjan were his two films in 2009. Billa was described as stylish and visually rich by Indiaglitz.

In 2010, he starred in the romantic comedy Darling. The film received positive reviews upon its initial release. The Times of India gave it two and a half stars, explaining that 'Director Karunakaran extracts good performances from his actors but is unable to come up with a fresh plot.' It appears that the director hasn't fully recovered from his Tholi Prema hangover, as he serves up yet another one-sided love saga but fails to provide a valid and logical reason for making a Gen Z lad suppress his feelings for his lover until the very end. However, he makes up for it by including a lot of fun moments in the film, and the screenplay does have some touching moments.'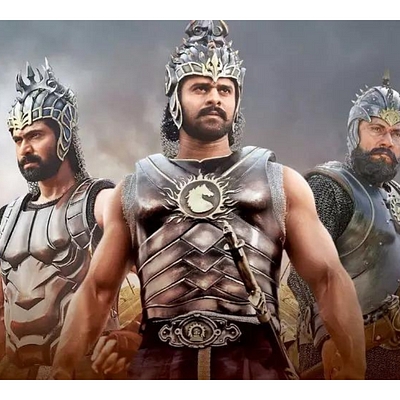 Prabhas starred in Raghava Lawrence's action movie Rebel in 2012. Mirchi was his following movie. He provided the voiceover for a brief cameo in the movie Denikaina Ready. 'The film belongs to hard-core Prabhas fans as the movie is stylish and visually rich but not much in content,' Sashidhar from The Times of India said. As NDTV's Purnima Ranawat put it, 'Rebel serves up fare for the mass market. Prabhas' fans will undoubtedly enjoy the movie. Watch it for Prabhas' action prowess and Tamannaah Bhatia's dancing talent. Using hardly any plot, director Raghava Lawrence created a difficult-to-watch film, according to Radhika Rajamani of Rediff.com, who gave the film one and a half stars out of five. In 2015, he starred as Mahendra Baahubali and Amarendra Baahubali in S.S. Rajamouli's epic Baahubali: The Beginning, which went on to become the fourth-highest-grossing Indian film of all time. Prabhas reprised his role in the sequel, Baahubali 2: The Conclusion (2017), increasing his weight to 105 kg for the character of Baahubali. The film became the first Indian film ever to gross more than 1,000 crores (US$155 million) in all languages in just ten days, and it is currently the second highest-grossing Indian film of all time. For his performance in The Conclusion, Prabhas received the SIIMA Award for Best Actor (Telugu).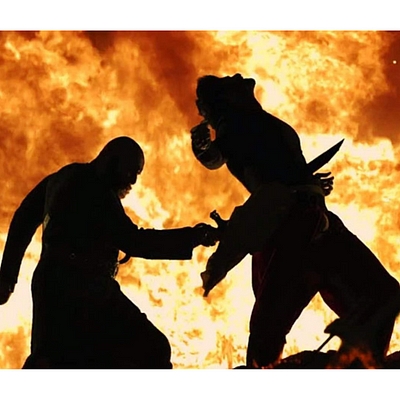 With a sizable fan base in Telugu, Tamil, and Hindi, Prabhas has become a pan-Indian actor thanks to the success of Baahubali. Saaho, an action thriller directed by Sujeeth, starred Prabhas in 2019. Despite receiving negative reviews, the movie still made over 433 crores. Later in 2022, Radha Krishna Kumar's period romance film Radhe Shyam, in which Prabhas starred, was met with mixed reviews. Prabhas has three films in various stages of production as of March 2022. The first is the action film Salaar, directed by Prashanth Neel. He recently wrapped production on Adipurush, an adaptation of the Hindu epic Ramayana in which he plays Rama. The film, directed by Om Raut, also stars Saif Ali Khan. He has also begun filming for Nag Ashwin's untitled sci-fi film, Project K, in which he co-stars with Deepika Padukone and Amitabh Bachchan. Spirit, his 25th film, will be released in October 2021. Sandeep Reddy Vanga directed the film, which was produced by UV Creations, T-Series, and Bhadrakali Pictures. In her article, Pooja Dhar of Pinkvilla described him as 'one of the most humble and down-to-earth Indian actors.' Prabhas adopted 1650 acres of land in Khazipally Reserve Forest in September 2020 and made additional donations for the development of the eco-park in his late father's name.

Prabhas's Career Timeline
Prabhas's Best Movies
Baahubali: The Begining
The story for the movie was created by Rajamouli's father, V. Vijayendra Prasad, who intrigued him by telling him a story about Kattappa and Sivagami, two women who cross rivers while holding babies in their arms. His interest in the tale was further stoked by his fascination with the Mahabharata as well as the stories from Amar Chitra Katha and Chandamama. The final draught, however, took the authors three months to complete. M. M. Keeravani wrote the soundtrack and the background music, and K. K. Senthil Kumar, Sabu Cyril, and V. Srinivas Mohan handled the cinematography, production design, and visual effects, respectively. The film cost 180 crores ($28 million) to make, making it the most expensive Indian film at the time of its release. The film was released worldwide on July 10, 2015, along with dubbed versions in Hindi and Malayalam. It received positive reviews from critics and audiences alike, and it became a box office smash. At the time of its release, it was the highest-grossing film in India, the third highest-grossing Indian film worldwide, and the highest-grossing South Indian film, with a worldwide box office gross of 600-650 crore ($93-101 million). It's Hindi dubbed version also set several records, including being the highest-grossing dubbed film in Hindi history.

The main character of Baahubali: The Beginning (2015) is Shivudu, a young tribal warrior who learns about his past and waits for his fate. The fictional kingdom of Mahishmati, where the story is set, is featured heavily. An elderly but regal woman (Sivagami) tries valiantly to protect a baby from a few charging soldiers but perishes in the process against the backdrop of a powerful waterfall. That infant boy is taken in by the tribal chief and his wife. The boy (Shivudu) defies his mother's orders and ventures out of the valley, toward the waterfall, and further north into the nearby mountains out of curiosity and courage. He simply falls in love with a rebel (Avantika), whose cause he willingly adopts. He frees the captured and enslaved queen, who is later identified as his real mother (Devasena). A devoted warrior slave informs him of his father, the good and righteous Amarendra Baahubali, and his ambitious uncle, Bhallaladeva (Kattappa). And what is the astounding response Kattappa provides to Shivudu's query regarding the identity of his father Amarendra Baahubali's killer?

Baahubali: The Conclusion
The 2017 Indian epic action film Baahubali 2: The Conclusion was directed by S. S. Rajamouli, who also co-wrote the script with V. Vijayendra Prasad. Under the name Arka Media Works, Shobu Yarlagadda and Prasad Devineni produced it. The movie was simultaneously shot in Tamil and Telugu at Tollywood,[6] the hub of Telugu language film production in India. Prabhas, Rana Daggubati, Anushka Shetty, Tamannaah, Ramya Krishna, Sathyaraj, Nassar, and Subbaraju are among the ensemble cast members in the movie. It is the sequel to Baahubali: The Beginning and the second film in the Baahubali series, acting as both a prequel and a sequel. The story takes place in medieval India and centres on the conflict between Amarendra Baahubali and Bhallaladeva, the latter of whom plans to kill the former by having Kattappa do it. The son of Amarendra comes back to exact revenge years later.

With a worldwide gross of 1,810 crores ($267 million), the film briefly surpassed PK (2014) to become the highest-grossing Indian film of all time, collecting around 800 crores in just six days. It became the first Indian film to gross more than 1,000 crores in ten days. It broke numerous box office records in India, becoming the highest-grossing film in Hindi, as well as Telugu and Tamil. It is the highest-grossing Indian film, the second-highest-grossing Indian film in the world, and the 39th-highest-grossing film of 2017. During its box office run, the film sold over 10 crores (100 million) tickets, the highest estimated admissions for any film in India since Sholay (1975).

Bahubali's son Shiva starts seeking explanations after learning about his ancestry. His tale is contrasted with earlier occasions that took place in the Mahishmati Kingdom. Shivudu learns his ancestry as the prince of Mahishmati and the son of Amarendra Baahubali from Kattappa as he tells him the tale of Amarendra Baahubali. With the aid of Kattappa, Shivudu, now Mahendra Baahubali, decides to depose Bhallaladeva and punish him for all of his past transgressions. After hearing a description of his parents' love affair and the betrayal that resulted in his father's death, Shiva, the son of Bahubali, must assert his position as the legitimate heir to the Mahishmati Kingdom. However, he must first exact revenge on those who wronged his parents and the kingdom.

Darling
As children, Prabhas (Prabhas) and Nandini (Kajal Agarwal), who was his childhood sweetheart, are split apart. Nandini and her father immigrate to Switzerland. Prabhas, meanwhile, declines romantic advances from other women because Nandini is the one in his heart. During the reunion of their respective parents, who had previously attended school together, Prabhas and Nandini have the opportunity to reunite for the first time since their separation. How Prabhas wins Nandini's love is the focus of the remaining parts of the narrative.

The romantic comedy Darling was released in 2010 and was directed by A. Karunakaran. Under his production company Sri Venkateswara Cine Chitra, B. V. S. N. Prasad produces it. Prabhas and Kajal Aggarwal star in the movie. G. V. Prakash Kumar is the composer of the music. It was one of the highest-grossing Telugu films of 2010 after becoming a hit at the box office. The movie, which debuted on April 23, 2010, was well-received and financially successful. Later, the movie was remade in Kannada and starred Darshan and Rachita Ram as Bulbul (2013).

Darling is a love story with some action. Another intriguing aspect of the movie starring Prabhas and Kajal is that veteran Tamil actor Prabhu is portraying a significant role as Prabhas's father, and Shraddha Das played a unique character. The director of the adorable film is Tholiprema. Karunakaran and 'Chatrapathi' famed producer The music of GV Prakash Kumar supports BVSN Prasad's song 'Darling.' In order to avoid being forced into an unwelcome marriage to a gangster's daughter, a man recounts how he met up with his childhood sweetheart again in Switzerland.

Saaho
Sujeeth of 'Run Raja Run' fame directed the Telugu action film Saaho aka Saho. Prabhas plays the lead in the film. On April 23, 2017, a first-look poster was made available. Sabu Cyril has been hired as the art director, and Madhie is in charge of the cinematography. Under the production company UV Creations, Vamsi and Pramod produced the film. Prabhas and Shraddha Kapoor play the main lead roles in this film, which also stars Bollywood actors like Neil Nitin Mukesh, Evelyn Sharma, Natassia Malthe, Lal, Arun Vijay, Srabanti Chatterjee, Jackie Shroff, Vennela Kishore, Mahesh Manjrekar, Chunky Pandey, Sasha Chettri, Tinnu Anand, Naveen Varma Ganapathiraju,

The loss of the head of the Roy Group of Companies due to an accident is a problem. The eminent members are engaged in a power struggle. In the meantime, a Mumbai theft case is being looked into by Ashok Chakravarthy and his team. What links these two occurrences together? Saaho discovers all of this and more. A conflict between rival criminals seeking to obtain a 'black box,' their ultimate key to a treasure, involves an undercover police officer. This action thriller is about a power struggle happening at the highest levels of government. Unrelated and unconnected events happening all over the world intertwine unexpectedly to reveal mind games. In order to reveal the true nature of everyone involved, the story immerses the audience in the game of a brilliant mastermind. It questions assumptions about who is the hunter and who is being hunted.

Chatrapathi
Sivaji, a young child from Sri Lanka, and his family—a mother and his brother Ashok—are uprooted from their native country and end up in Vizag, Andhra Pradesh. There, a local mob boss named Baji Rao forces them to work against their will by making them transport illegal goods. The torture and unjust demands Baji Rao places on them make their lives an ongoing hell. When Sivaji can no longer take Baji Rao's injustices, he transforms into Chatrapati to complete the legend of the original Chatrapati, who led the people in revolt against the Mughal emperor Aurangazeb and reconciled with his mother. A local rowdy is in charge of the displaced Sri Lankans living in a Vizag port. This is the tale of Chatrapati Sivaji, who overcame oppression to find his mother and brother after a long separation.

S. S. Rajamouli co-wrote and directed Chatrapathi in 2005, and it was produced by B. V. S. N. Prasad. Prabhas and Shriya Saran star in the film, with Shafi, Bhanupriya, and Pradeep Rawat playing supporting roles. Aarthi Agarwal appears as a guest. The film was released on September 29, 2005. It earned an estimated 22 crore ($5 million) from distributors against a budget of 12.5 crores ($2.8 million). Bhanupriya was named Best Supporting Actress in the film, and M. M. Keeravani was named Best Music Director. The film was remade in Bengali as Refugee (2006) and in Kannada as Refugee (2013). The production of a Hindi remake with the same title began in 2021.

Prabhas's Upcoming Movies
Adipurush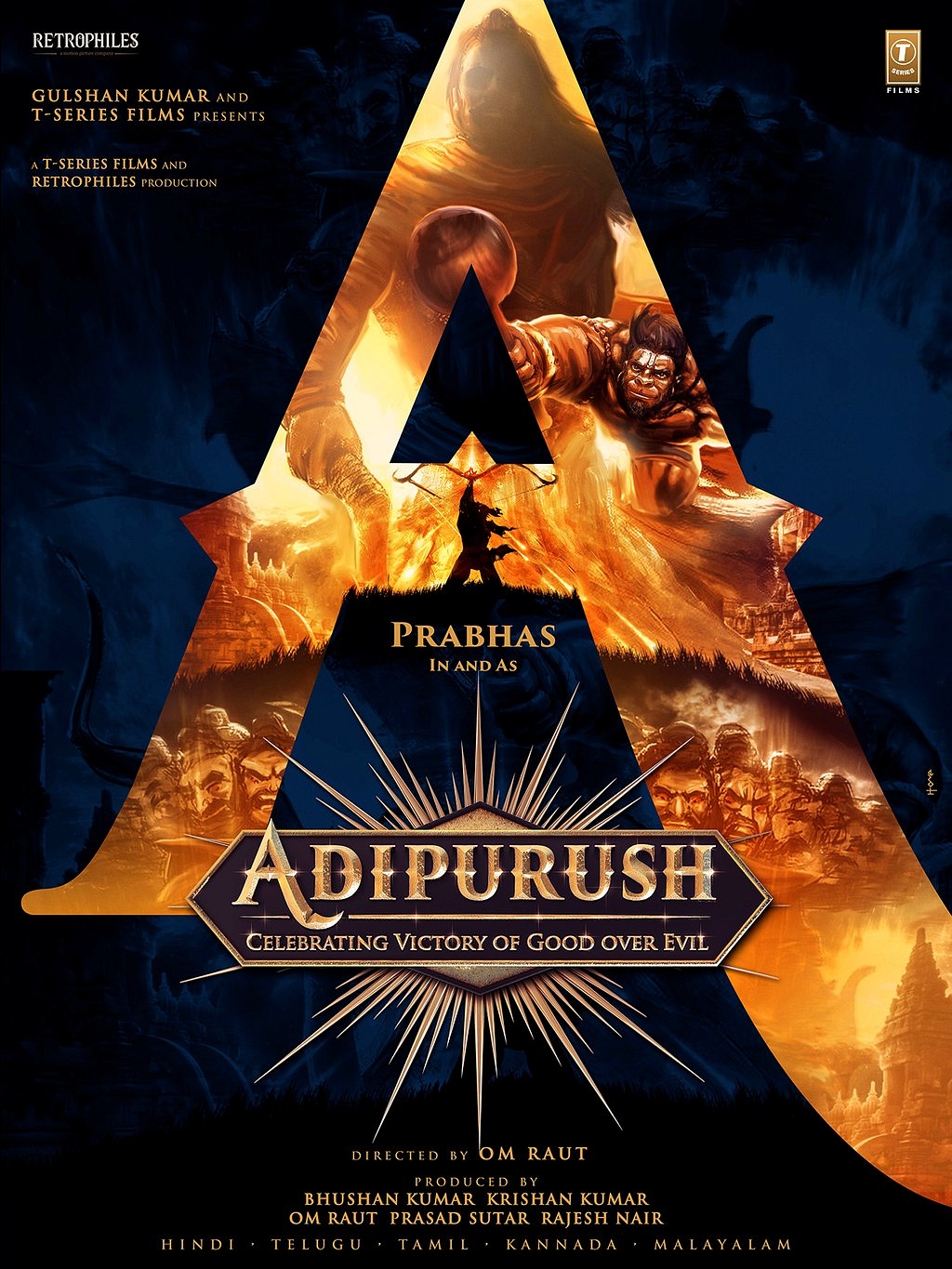 An upcoming Indian Hindu mythological film based on the epic Ramayana is titled Adipurush which translates to The first man. Om Raut is the director, and T-Series Films and Retrophiles are the producers. The movie, starring Prabhas as Raghava, Kriti Sanon as Janaki, and Saif Ali Khan as Lankesh, was simultaneously shot in Hindi and Telugu. Adipurush is one of the most expensive Indian movies ever made, with a budget of 500 crores (US$63 million). Filming was primarily done in Mumbai from February 2021 to November 2021 for the main production. The movie is slated for January 12, 2023, theatrical debut. The plot of the movie revolves around In order to save his wife Janaki, who has been kidnapped by Lankesh, the king of Lanka, 7000 years ago, Raghava, the king of Ayodhya, journeys to the island of Lanka.

On his birthday, Rabhas wrote a sweet note to Adipurush co-star Saif Ali Khan. Prabhas celebrated the actor's 52nd birthday on Tuesday by posting a photo of him on his Instagram Stories, along with a birthday wish. 'Happy Birthday, Sir #SaifAliKhan!' Have a wonderful year!!! 'Can't wait for the rest of the world to see your incredible performance in #Adipurush,' Prabhas wrote. Ramayana, an Indian mythological saga, is adapted in Adipurush. There hasn't been a significant update on the movie in a while, despite the fact that it is known to have a budget of Rs 500 crores, making it one of the most expensive films ever produced in India. The film's creators will soon release a fantastic update about the film as a Dussehra gift to the audience

Salaar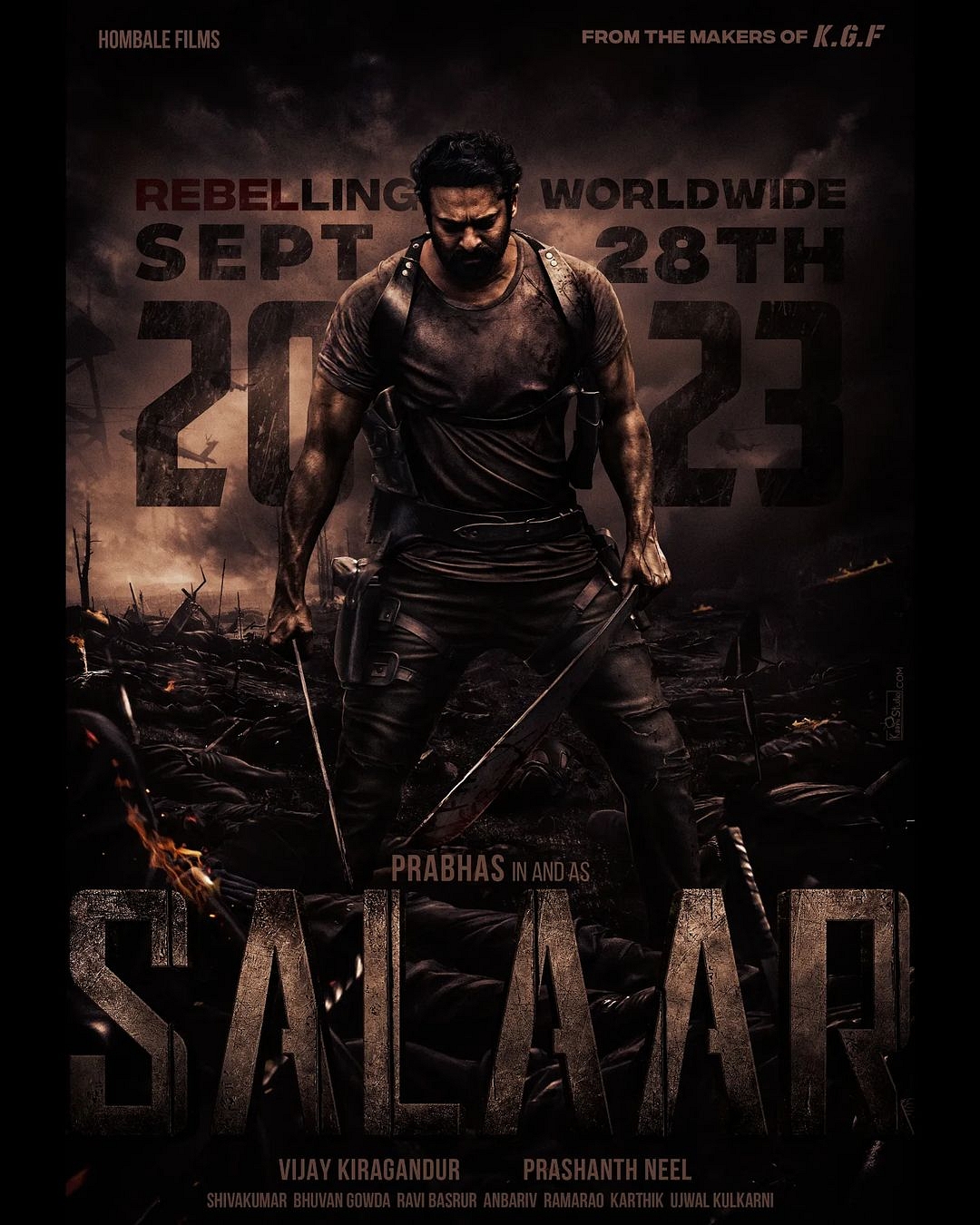 Salaar is an upcoming Indian Telugu-language action thriller film written and directed by Prashanth Neel and produced by Hombale Films' Vijay Kiragandur. Prabhas plays the titular character in the film, which also stars Prithviraj Sukumaran, Shruti Haasan, and Jagapathi Babu. The project was announced in December 2020, with principal photography set to begin in January 2021 near Godavarikhani, Telangana. Ravi Basrur composed the music, and Bhuvan Gowda handled the cinematography. Salaar was originally scheduled for a 14 April 2022 theatrical release but was postponed due to production delays caused by the COVID-19 pandemic. The film will be released in theatres on September 28, 2023.

Prabhas announced the release date of his upcoming film Salaar, his first collaboration with director Prashanth Neel, on Monday. Prabhas revealed a new poster on Instagram and announced that Salaar will be released worldwide on September 28, 2023. Prabhas can be seen standing with two swords in his hands, looking at the ground in the poster. In the dark background, there are numerous bodies visible. He captioned the post, '#TheEraOfSalaarBegins. See you in the theatres on September 28, 2023. #Salaar.'

Spirit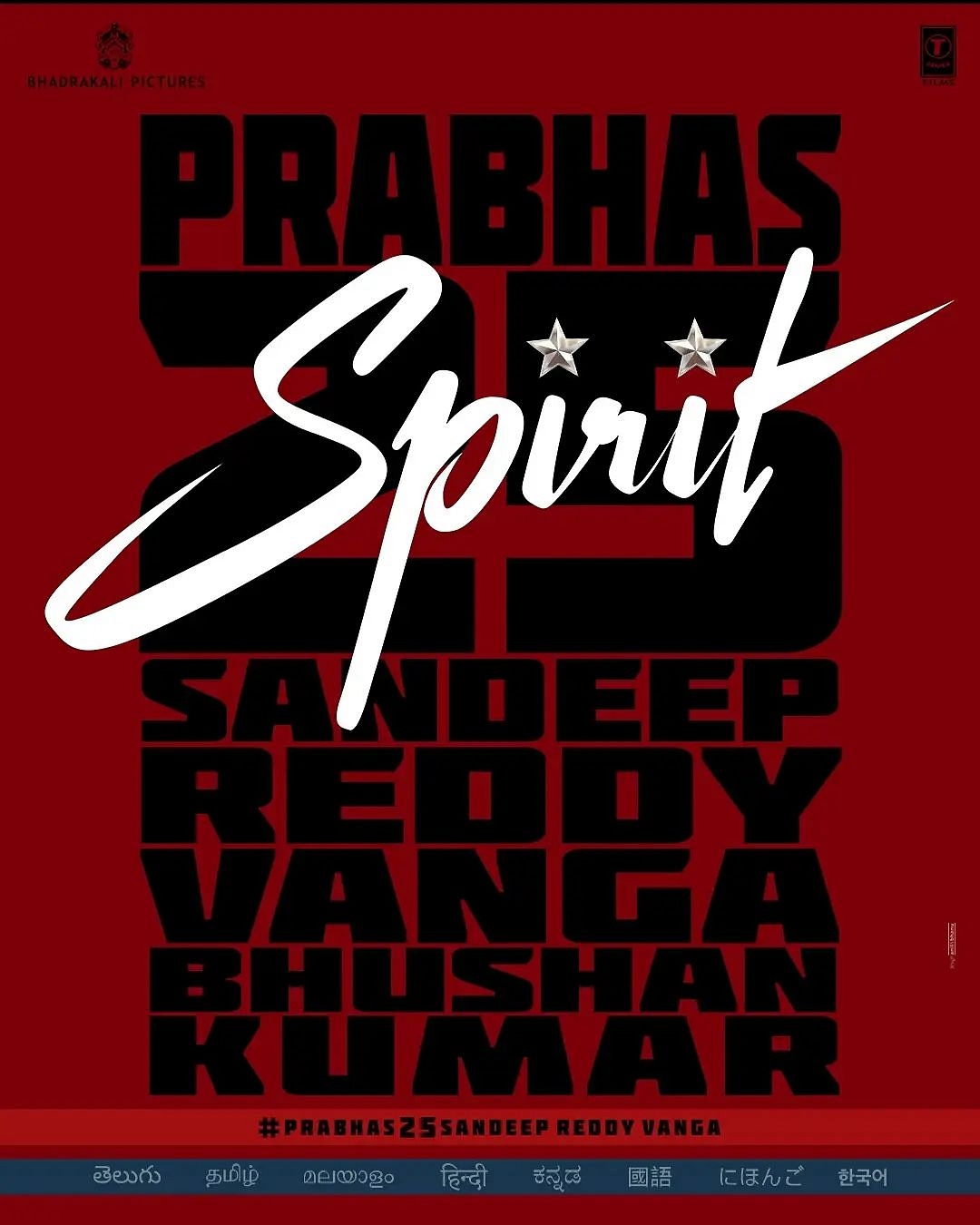 Spirit is a romantic action comedy film directed by Sandeep Reddy Vanga. Prabhas plays the lead roles in the film. Bhushan Kumar, working under the T Series banner, is the film's producer. It is undeniable that Prabhas currently has the most films in production than any other Indian actor, including Project K, Salaar, Radhe Shyam, Adipurush, and Spirit. And this is only the beginning; numerous producers have lined up outside his home with additional suggestions for extravagant entertainers. Bhushan Kumar is the producer of three of the aforementioned five.

The producer declares his desire to create films that transcend regional boundaries. 'Prabhas is a pan-Indian actor, so it goes without saying that as a producer I want to work on pan-Indian films. Saaho didn't engage in that type of business (that was expected). When asked about working with Prabhas, he responds, 'But his lowest business was also a hit business of Hindi movies. Bhushan Kumar comments on the Om Raut-directed film Adipurush, saying, 'Adipurush is tailored for Prabhas. He played the role of Lord Ram, and he did a fantastic job. It's our most eagerly anticipated movie, and we plan to release it in 2022. The audience will enjoy a unique visual treat because it is the Ramayana.

Project K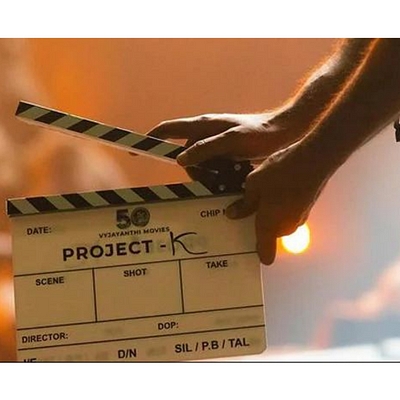 Nag Ashwin's upcoming Indian science fiction film, Project K, is currently in development. Vyjayanthi Movies is producing the film, which is being shot in both Telugu and Hindi. Amitabh Bachchan, Prabhas, Deepika Padukone (making her Telugu debut), and Disha Patani star. The film was announced in February 2020 to commemorate Vyjayanthi Movies' 50th anniversary. The film's production was delayed by a year due to the COVID-19 pandemic. Filming began in July 2021 at Ramoji Film City in Hyderabad on a futuristic set. Project K is one of the most expensive Indian films ever made, with an estimated budget of 500 crores. Mickey J. created the film's music score. Mickey J. Meyer composed the film's music score, and Dani Sanchez Lopez directed the cinematography. Project K will be released in theatres on either October 18, 2023, or January 20, 2024.
Prabhas's Struggles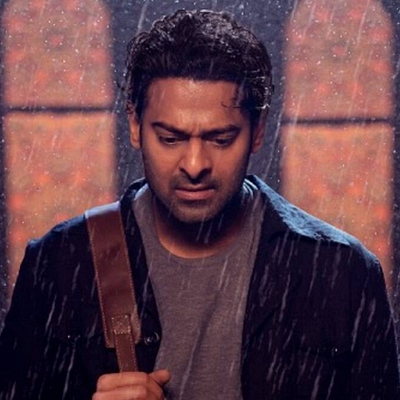 The road to superstardom is a long one filled with many difficulties. Prabhas was one of the actors who took a while to receive the recognition he deserved. When he appeared in the epic and well-known Baahubali: The Beginning, he received the attention he deserved. Many actors turned down this project, but Prabhas was the one to accept it, making him the star of the world-record-breaking movie. 'I've been in the business for around 13–14 years, but I still have no idea how to handle stardom. My followers are disappointed that their hero doesn't appear more frequently. I've improved from before, and I'm working to do better ' stated Prabhas After Baahubali's massive success, actor Prabhas gained the privileges of being a superstar, but in real life, he avoids all attention. The 37-year-old actor acknowledged that he is working on it in an interview with the news organization IANS. 'I've been in the business for around 13–14 years, but I still have no idea how to handle stardom. My followers are disappointed that their hero doesn't appear more frequently. I've improved and am working to do so.' Prabhas, who is rarely seen in public, added in his interview: 'Even now, I still feel shy in interviews. I want a lot of people to come to see my film, but I can't face (that many) people.'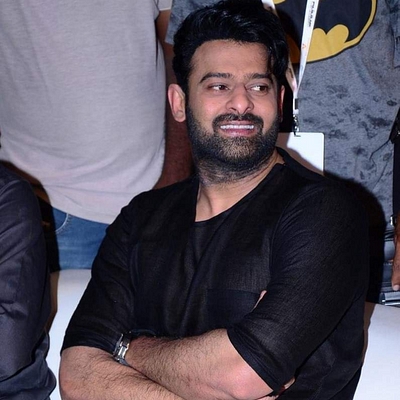 Prabhas also thought back to memories from when he hadn't yet made his acting debut and the idea of entering the film industry seemed somewhat 'impossible.' 'My dad is a producer and my uncle is an actor, so when they asked if I was interested, I said, 'How can someone act in front of so many people with lights and emote?' I used to be timid. Once or twice, my parents inquired, and I responded that it is impossible 'He said to IANS. Prabhas is the nephew of director Krishnam Raju Uppalapati and the son of renowned Telugu producer Uppalapati Surya Narayana Raju. With the release of Eeshwar in 2002, Prabhas entered the Telugu film industry. Prabhas would have been a chef if he hadn't been an actor, because - 'I had planned to start a business because I am too lazy to work. I had considered going into the hotel business because our family enjoys eating. And north Indian cuisine is well-known in Hyderabad.' So, what prompted him to consider acting as a career? 'This is what I remember (though I'm not sure what happened inside my head). I was watching my uncle's film, directed by Bapu, one day. I imagined myself in the role of my uncle... Then I believe it began gradually somewhere 'Prabhas was quoted as saying by IANS.
Prabhas Controversies
According to an ETimes report from the time, the actor stated that the CM has been doing well and expressed hope that the CM will give the state a new direction and development. This, however, did not sit well with the opposition Telugu Desam Party, whose social media wing launched a negative campaign against the film.
He was recently chastised for his Hindi pronunciation. When asked about his fluency in Hindi, Prabhas stated that his only issue is that his Hindi has a Hyderabadi flavour because Hindi is his first language. 'I worked hard on my language skills. I am fluent in Hindi and can read and write in it. I request Hindi dialogue... I don't like reading them in English because the pronunciation suffers 'Prabhas stated. He continued, 'The only problem is that my Hindi has a Hyderabadi flavour, and we don't speak in that language at home. We do, however, watch a lot of Hindi films and listen to Hindi music.'
The upcoming film 'Adipurush,' starring Prabhas and Om Raut, has sparked a major controversy. Even before the film's production began, BJP leaders were outraged. Recently, Saif Ali Khan, who is involved in the project, stated that the film will justify Ravana's kidnapping of Sita Devi. @OmRaut director, you made #Tanhaji which was well-received worldwide because it does justice to Hindu pride and Marathi Asmita. But if #Adhipurush plans to show Ravan in a positive light and justify the inhuman act of abduction of Sita Maa, we will never allow that to happen. Hope better sense prevails #JaiShriRam.' tweeted Ram Kadam.
Prabhas's Networth and Income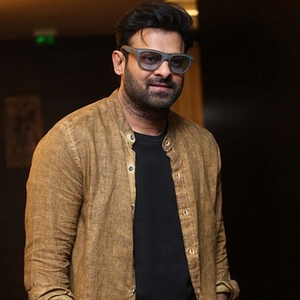 The amount of assets that exceed liabilities is referred to as net worth. Cash, real estate, and anything else of value are examples of assets. It is the value of everything you own less everything you own. Net worth is not calculated on a yearly basis. So, how much is Prabhas currently worth? Mr. Prabhas's estimated total net worth is 29 million USD, or roughly 215 crore Indian rupees, in Indian currency (i.e. approx Two Hundred and Fifteen Crore Indian National Rupee). Prabhas's Monthly Income And Salary is estimated to be around 3 Crore +. Additionally, the actor's personal investments and brand endorsements account for the majority of his income. Additionally, Prabhas has some ratification with South Indian brands. But Prabhas's brand value has significantly increased since the release of his film Baahubali. Prabhas, who has been signed on by Mahindra & Mahindra as a brand ambassador for the new Mahindra TUV300 car, made his television commercial debut in 2015 with their new ad. In general, he does not frequently endorse brands. According to News 18, he turned down brand endorsements worth Rs 150 crore in 2020. Numerous shoe and cologne brands have also made him offers. He is also a prominent figure when it comes to charitable giving and social causes.
Prabhas Awards and Achievements
CineMAA Awards
2011 Winner CineMAA Award Best Actor: Critics Darling (2010)
2005 Winner CineMAA Award Sensational Hero Varsham (2004)
ETC Bollywood Business Awards
2020 Winner Bollywood Business Award Highest Grossing Debut Actor Saaho (2019)
Nandi Awards
2014 Winner Nandi Award Best Actor Mirchi (2013)
South Indian International Movie Awards
2018 Winner SIIMA - Telugu Best Actor in a Leading Role Bahubali 2: The Conclusion (2017)
Prabhas Interesting Facts
The first South Indian actor to have a wax replica of himself at Madame Tussauds, Bangkok, is Prabhas. Yes, he has beaten actors like Kamal Haasan and Rajinikanth, and he was honoured with a statue of his Baahubali character Amarendra Baahubali, complete with battle armor.
Prabhas didn't want to be an actor; he wanted to run a hotel. Prabhas previously acknowledged that he never considered becoming an actor and that, instead, he preferred the life of a hotelier.
Rajkumar Hirani is a big favourite of Prabhas'! Prabhas has seen 3 Idiots and Munna Bhai MBBS nearly 20 times. He loves Raju Hirani more than most of you do.
Prabhas declined every opportunity while he was working on Baahubali. He reportedly turned down $15 million worth of offers for commercials and movies.
Prabhas remained dedicated to Baahubali for four long years during which time he signed on for no other projects. Prabhas devoted so much time to the two-part film that he didn't take on any other work during that time and worked exclusively on it for almost four years.
Prabhas reportedly put himself under a lot of mental and physical strain to gain the 30 kg he needed for his 'Baahubali' physique. Maintaining that physique for close to four years was more difficult.
Prabhas had also made a volleyball court in his house to prepare for Baahubali. Prabhas played volleyball as part of his exercise regimen to build muscle for the film. He began to adore the game to the point where he built a court inside his house so he could play it whenever he wants.
Social Media
Frequently Asked Questions