Athiya Shetty | Movies, Age, Biography, Boyfriend, Career

Zeenat Sayyed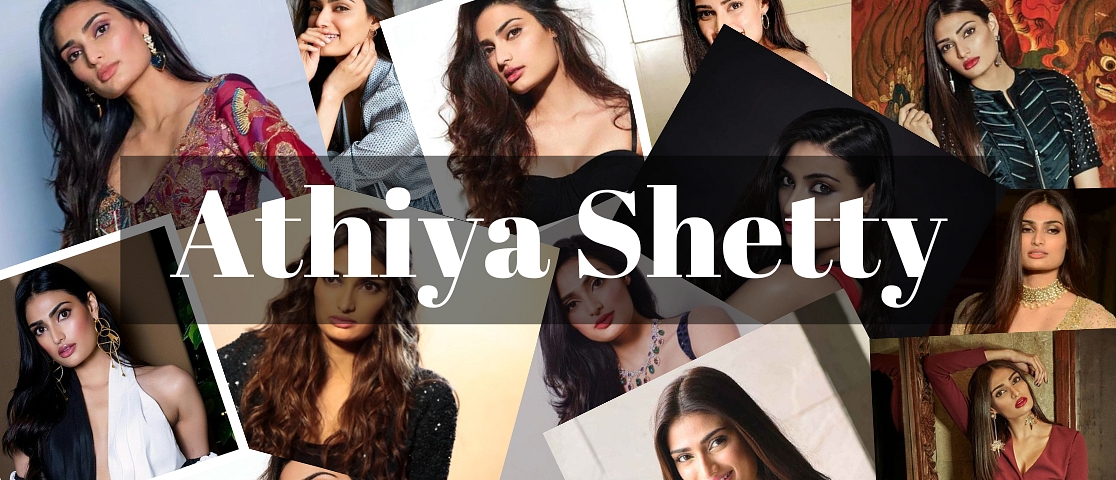 Athiya Shetty's Age and Athiya Shetty's Biography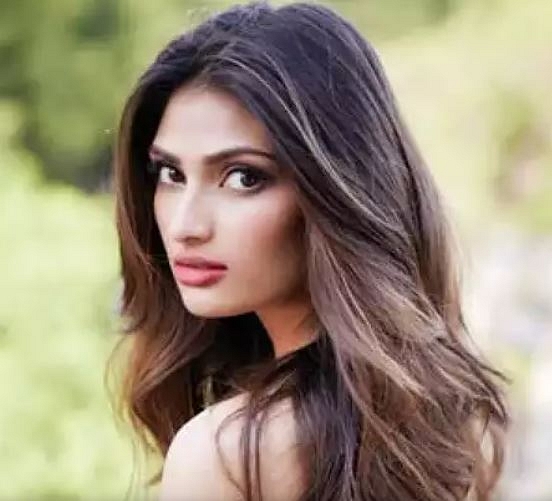 Athiya Shetty is an Indian Actress who works in the Hindi film industry. Athiya Shetty's birthday is on 5 November 1992. Athiya Shetty's birthplace is Mumbai, Maharashtra India. Athiya Shetty's sun sign is Libra. As of 2022, Athiya Shetty's age is 30 years as of 2022. Athiya Shetty's height is 1.73 meters i.e. 5'7 feet. Athiya Shetty is the daughter of a famous Indian actor, producer, television host, and businessperson Suniel Shetty. Athiya Shetty's Hobbies are Photography, Dancing, and playing with her pets.Athiya Shetty received a Filmfare Award nomination for her debut movie Hero in 2015 as Best Female Debut.

Athiya Shetty started her career with the film Hero 2015, a romantic action film. Nikhil Advani directed the film and Athiya Shetty's co-actor was Sooraj Pancholi, who also debuted with the same film. The film was the remake of Subhash Ghai's movie Hero which was released back in the year 1983. The film was produced by Salman Khan Films, Mukta Arts, and Emmay Entertainment. The movie premiered on September 11, 2015, across the globe. The movie received mixed to unfavorable reviews. In the film, Athiya Shetty plays Radha Mathur Kaushik an aspiring dancer, the daughter of Shrikant who was a police officer, and the love interest of Sooraj who was a gangster from Mumbai.

Athiya Shetty's Zodiac Sign is Scorpio. Athiya Shetty was featured on the covers of prestigious magazines like Cosmopolitan, Verve, and Harper's Bazaar in the Indian version after making her debut as a brand ambassador for Maybelline New York's Indian branch. In 2015, in the category face to watch out for in the Vogue beauty awards, in the same year she earned 'Best Debut Female' in Dada Saheb Phalke Excellence Awards, following that along with Sooraj Pancholi she received the Producers Guild Film Award for most promising Jodi in 2016. They also received the International Film Academy Award for the hottest pair. Shetty has committed to appearing in the biopic Hope Solo, starring as the titular character, about football player Afshan Ashiq. The estimated net worth of Athiya Shetty is $5 million.
Get Personalised Gift Messages from Similar Celebrities and make your loved ones feel Special.
Athiya Shetty's Family and Athiya Shetty's Education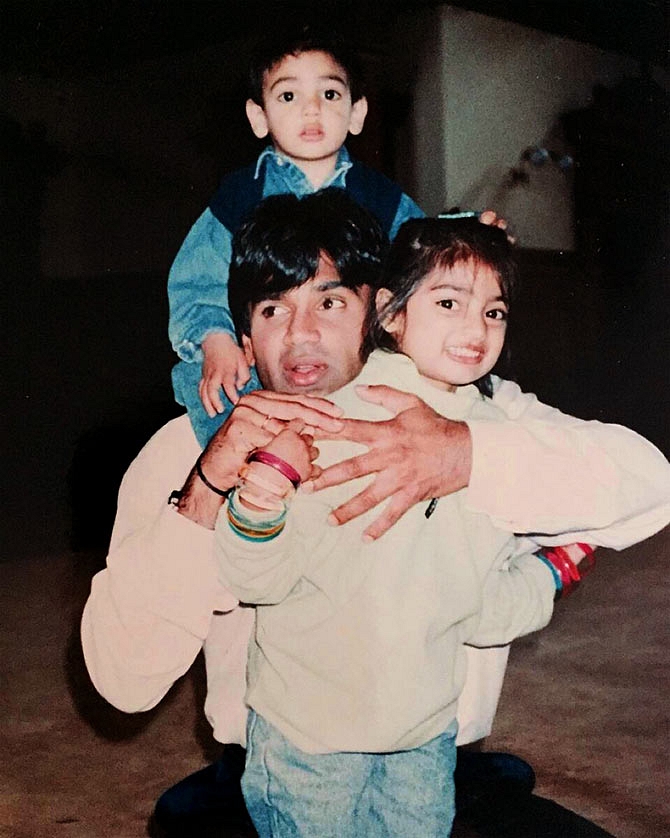 Athiya Shetty was born to father Suniel Shetty and mother Mana Shetty. She was born on 5 November 1992 in Mumbai, Maharashtra. Athiya Shetty's father Suneil Shetty is a prominent Hindi-language film actor, producer, television host, and businessman from India. He has appeared in more than 100 films throughout an almost 30-year career. Action and comedic movies have been among his best efforts. Out of five nominations for the movie Dhadkan, Suniel Shetty won a Filmfare Award. He is the proprietor of Popcorn Entertainment Private Limited, a production company. Under the auspices of Popcorn Motion Pictures, he has produced a variety of movies, including Khel - No Ordinary Game, Rakht, and Bhagam Bhag.

Athiya Shetty's mother Mana Shetty was born into a Gujrati Muslim Family. Athiya Shetty's mother started her career as a fashion designer, she also owns a Real Estate firm that has built many luxurious villas in Mumbai. Mana Shetty also owns a showroom named 'R house' in Mumbai itself. She also organizes fundraising events for needful people every year.

Athiya Shetty has one younger brother who is 26 years old. Ahaan Shetty has also started her film career in the action romance film Tadap released in 2021. This gained him the IIFA Award for Star Debut of the Year - Male and was much praised.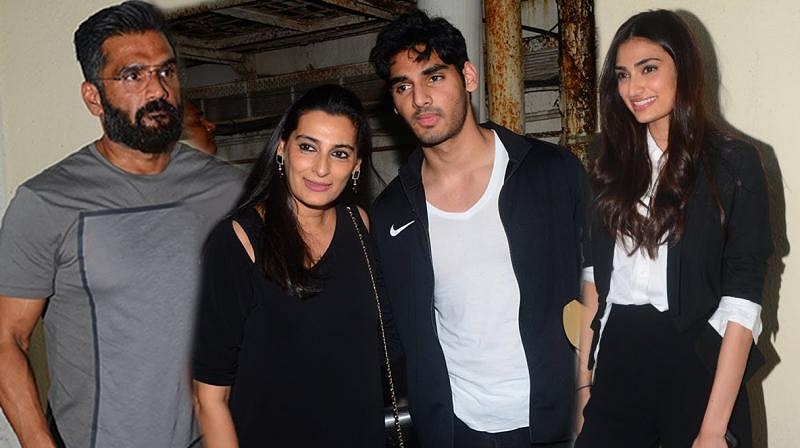 Athiya Shetty completed her schooling at Cathedral and John Connon School which was located in Fort, Mumbai afterward transferring to the American School of Bombay. During her school time, Athiya Shetty used to participate in plays along with Shraddha Kapoor and Tiger Shroff.

Afterward, she moved there by herself to attend the New York Film Academy because she wanted to perform in movies. Filmmaking, producing, screenwriting, cinematography, digital editing, documentary film, acting for film, 3D animation and visual effects, photography, game design, musical theatre, graphic design, virtual reality, and English as a Second Language are among the programs offered by New York Film Academy. Additionally, there is an English as a Second Language program that aims to combine traditional language learning with arts-related activities.
Talk To Similar Celebrities
Athiya Shetty's Boyfriend and Athiya Shetty's Affairs
Sooraj Pancholi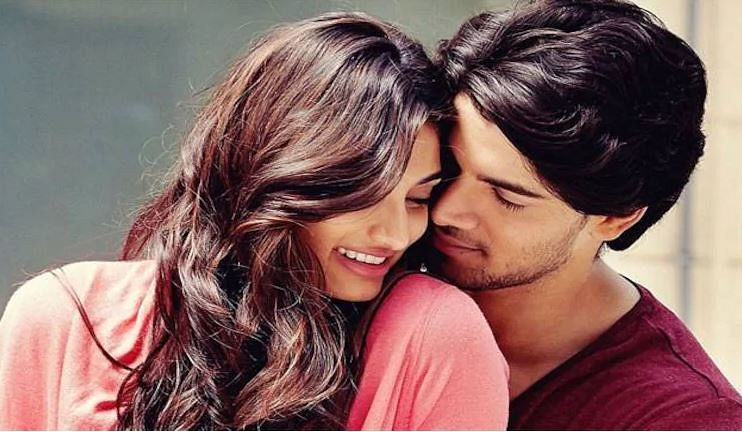 During the time of her first film Hero back in 2015, there was a rumor of Athiya Shetty is dating her co-actor Sooraj Pancholi, as the cozy pictures of them got viral. Sooraj Pancholi is the son of actor Aditya Pancholi and debuted alongside Athiya Shetty in the film Hero which was released in 2015 and directed by Nikkhil Advani.

However, In an interview, Aditya Pancholi said Never did we date. Many folks were curious as to why we weren't. We don't have those kinds of feelings, so I don't think we'll ever go on a date. However, we have a close friendship and talk about the proposals we receive.
Aditya Bhandari
Before stepping into Bollywood there was a report of Athiya Shetty secretly dating Aditya Bhandari who is the son of Vanita Bhandari, the director of DBS Business Center. They reportedly dated for three years before breaking up a few months ago. Even though Athiya Shetty and Aditya Bhandari decided to spend some time apart, their love for one another was still very strong. Aditya Bhandari moved on and found love with someone else by December of last year, leaving poor Athiya Shetty devastated and heartbroken.

Athiya Shetty recently stated that she and her family do not take link-up rumors seriously in an interview. Since her father, Suniel Shetty, is also an actor, he is aware of the difficulties actors face daily.
Drake
Athiya Shetty made headlines a few years ago due to rumors of a romance with American musician Drake. Drake a.k.a Aubrey Drake Graham is a rapper, singer, and actor from Canada. However, To set the record straight, Athiya Shetty made a public statement in which she clarified that Drake is simply a close friend of hers. The two met in a London nightclub and hit it off right away, becoming close friends.
K. L Rahul
The cricketing superstar K. L. Rahul and actor Athiya Shetty made waves by attending Ahan Shetty's movie screening together. The two were seen together for the first time following the formalization of their relationship. Recently, there have been various clues from both Athiya Shetty and KL Rahul's social media activity that things between the two have started to get serious. After Tadap's screening, fans are aware that the two had intensified their secret relationship.


According to several media stories, one of KL Rahul and Athiya Shetty's mutual acquaintances put them up. Official confirmation of the same has not yet been made, though. When the two started congratulating each other on birthdays, their friendship captured the attention of viewers and followers. Although there were many romantic rumors, the two took their own time to announce their relationship on social media.


On the occasion of Athiya Shetty's birthday, the cricketer and star batter finally made their Instagram romance official. KL Rahul used social media to post cute pictures of the couple along with a brief but heartfelt statement that let followers know that love is growing between the two. Rahul congratulated Athiya on her birthday and referred to her as her heart, which made their fanbase happy. There is a rumor of Athiya Shetty and KL Rahul getting married next year which is in 2023. However, the couple denied such rumors. Talking about Athiya Shetty's Latest News, Athiya and K. L. Rahul move in toghether according to latest reports of Pink Villa.
Athiya Shetty's Movies and Athiya Shetty's Career
Athiya Shetty's First Movie: Hero (2015)
Athiya Shetty started her career with the film Hero in 2015, which was released on 11 September 2015. The film was directed by Nikkhil Advani and was written by Nikkhil Advani along with Umesh Bist. The film was produced by Salman Khan Films, Mukta Arts, and Emmay Entertainments. The film was a Hindi romantic comedy and was a remake of a Jackie Shroff-starring blockbuster, directed by Subhash Ghai in 1983 film named Hero.

Sooraj Pancholi, the son of actor Aditya Pancholi along with Athiya Shetty made their acting debut in the movie. Mixed to unfavorable reviews were given to the movie. The storyline of the movie follows A party where Mumbai mobster Sooraj Kaushik played by Sooraj Pancholi and Radha Mathur played by Athiya Shetty, daughter of the city's police chief, IG Shrikant Mathur, first meet.

Sooraj kidnaps Radha on the orders of his gangster father Suryakant Pasha Ranade because Shrikant presented evidence against Pasha in court. Sooraj poses as a police officer and tells Radha that he has received orders from the police to take her out of the city because Pasha and his gang will kidnap her if they stay put for too long. They begin to steadily fall in love during these days. The story leads to ups and downs in their love story to how they end up getting married.

The movie made 6.85 crores (US$860,000) on its first day of release. The movie made 6.62 crores (US$830,000) on its second day, bringing its two-day total to 13.50 crore (US$1.7 million). Its opening weekend revenue is 21 crore (US$2.6 million). The movie brought in 3.03 crore (US$380,000) net on its fourth day. On its fifth day of release, the movie brought in 2.45 crore (US$310,000). In its first week, the movie brought in about 30 crores (US$3.8 million) net.
Mubarakaan (2017)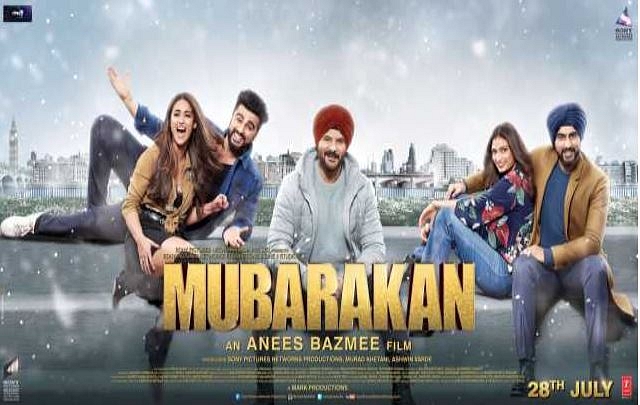 Athiya Shetty's second film was Mubarakan which was released on 28 July 2017. It was a romantic comedy Hindi film and was directed by Anees Bazmee. The film was produced by Sony Pictures Networks Production, Murad Khetani, and Ashwin Varde.

Along with Athiya Shetty, Sanjay Kapoor makes a cameo appearance in the movie, which also stars Anil Kapoor, Arjun Kapoor, Ileana D'Cruz, and Neha Sharma, Karan Kundra, and Ratna Pathak Shah.

The film's storyline holds an eccentric uncle played by Anil Kapoor assisting his twin nephews both Charan and Karan played by Arjun Kapoor in finding love with the ladies they want to marry. The twins, who were both orphaned and brought up separately, band together for a larger good. Athiya Shetty plays Binkle Sandhu Bajwa, who is also Karan's ex-fiancée, Manpreet's sister, Akalpreet's daughter, and Charan's wife. Amaal Mallik, Gourov Roshin, Rishi Rich, and Kumaar wrote the film's soundtrack, and they also wrote the lyrics. Mubarakan, which cost 820 million (US$10 million) to produce, has made over 935,9 million (US$12 million) at the box office worldwide.
Song: Tere Naal Nachna from the Film Nawabzaade
Athiya Shetty was featured in the song 'Tere Naal Nachna' for the film Nawabzaade. It is a Hindi language song.

Song was released on 5 July 2018. Song's lyrics were written by Badshah. This marked female Punjabi singer Sunanda Sharma's Bollywood singing debut along with Badshah. The song's duration is 02:46 minutes.

Raghav Juyal, Dharmesh Yelande, and Punit Pathak were also there in the song. Song was directed by choreographer Jayesh Pradhan and was directed by Remo D'souza.
Motichoor Chaknachoor (2019)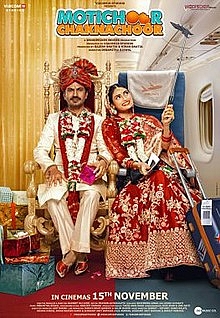 Motichoor Chaknachoor is Athiya Shetty's third film which was a Hindi romantic comedy film Debamitra Biswal, a debutante, directed the film, which was made by Rajesh and Kiran Bhatia of Woodpecker Movies Private Limited in collaboration with Viacom 18 Studios. Along with Athiya Shetty, Nawazuddin Siddiqui was cast for the lead role. Additionally, the movie has supporting performances from Vibha Chibber, Navni Parihar, Vivek Mishra, Karuna Pandey, Sanjeev Vats, Abhishek Rawat, Sapna Sand, and Usha Nagar.

The movie's Indian theatrical debut took place on November 15, 2019. Although the theme received mixed reviews, Nawazuddin Siddiqui's acting was praised. The movie was launched on Netflix on January 24, 2020, and it immediately became popular with viewers, peaking at number 10 for six weeks.

In-depth filming for the movie took place in Bhopal, Madhya Pradesh. The fact that every performer in the movie spoke Bundelkhandi and had to take workshops to master the dialect was its best feature.Debamitra Biswal, a director, was charged with and found guilty of a Rs 32 lakh scam. According to a statement petition (Suit no. 855 of 2019) submitted on November 6 before a court of sub-judge in Saran Chapra, Bihar, Biswal has acknowledged selling the movie's rights and obtaining the money unlawfully without the knowledge of the production company and studio.

A young middle-class woman Anita Awasthi a.k.a Ani played by Athiya Shetty who is desperate to relocate abroad marries a much older man Pushpinder played by Nawazuddin Siddiqui who works in Dubai. Her grand ambitions, however, are derailed when he is sacked and decides to remain in his own country. And the movie revolved around how being in the fight and conflict and how their love took place.
Athiya Shetty's Upcoming Movies
Hope Solo
Athiya Shetty's upcoming movie is Hope Solo. In the film, Athiya Shetty is going to play a Kashmiri girl, and footballer Afsan Ashiq. The film is the biopic of Afsan Ashiq, who received the contentious label of a stone pelter when a picture of her went viral throwing stones at the security forces during the protest. The film will be directed by Manish Harishankar.
Athiya Shetty's Career Timeline
Athiya Shetty's Controversies
Motichoor Caknachoor Controversy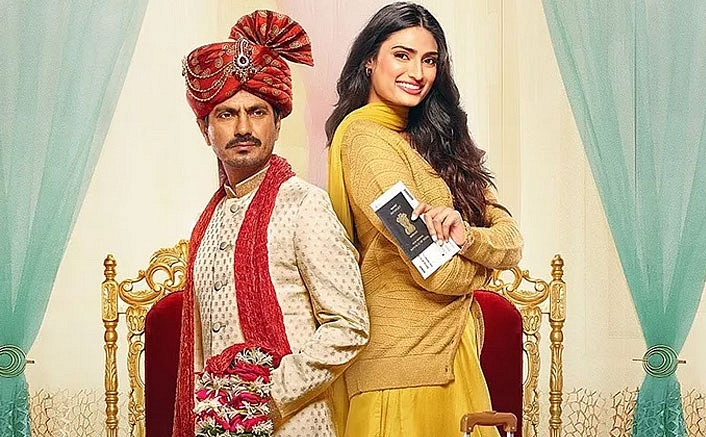 The director of Motichoor Chaknachoor, which stars Athiya Shetty and Nawazuddin Siddiqui, served actor Suniel Shetty with a notice earlier this month for interfering with his daughter's next movie. The film's producers reportedly didn't appreciate the Border actor's frequent interference in Deba Mitra Hasan's direction, so they gave him a public notice urging him to keep his distance.

The notice was given to Suniel by the producers' attorneys Ramesh and Kusum Jain, who informed him that Rajesh and Kiran Bhatia were the only final authority and decision-making authority and that Suniel had no right, title, and/or interest in the said film and has no capacity or any authority to either directly or indirectly discuss or take any decisions, negotiate, strategize, overlook the edit, or in any manner interfere film Motichoor Chaknachoor or in any way work with the cast, crew, technical team, or coordinate with the production company, the creative and marketing teams, post-production, or anybody else involved in the industry.
Athiya Shetty's Net Worth
Athiya Shetty's net worth as of 2022 is 4 million dollars and 28 crore rupees in Indian currency. She was born in Mumbai, Maharashtra, India, on November 5, 1992. Sunil Shetty's daughter is referred to as such. The annual income of Athiya Shetty exceeds one crore. She makes more than 30 lakhs per month.
Athiya Shetty's Awards and Achievements
2015- Won Stardust Awards-Best Jodi Of The Year (Shared with Sooraj Pancholi)- Hero
2016- Won Producers Guild Awards-Best Jodi Of The Year (Shared with Sooraj Pancholi)- Hero
2016- Won International Indian Film Academy Awards-Hottest Pair (Shared with Sooraj Pancholi)- Hero
Athiya Shetty's Interesting Facts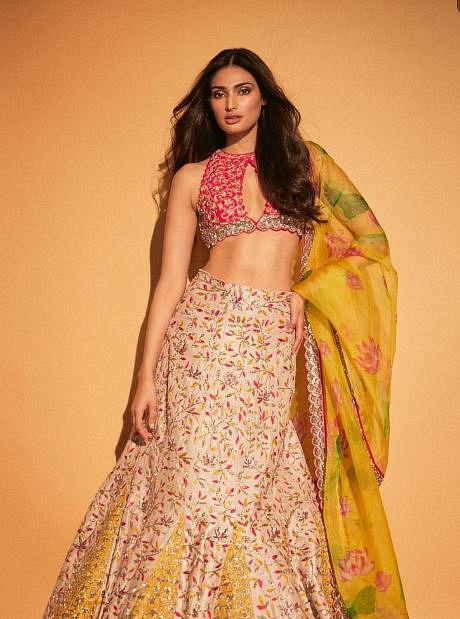 Athiya attended the same school as Tiger Shroff and Shraddha Kapoor, but they were her seniors. While Tiger consistently bullied Athiya, she was greatly impressed by Shraddha's dancing abilities.
Additionally, she completed a course in filmmaking and liberal arts at the New York Film Academy.
When she was younger, Athiya would go with her father, Suneil Shetty, to the Umrao Jaan filming locations. Then she would spend hours in Ash's room, carefully observing her as she prepared for the shots. She found the entire procedure to be so fascinating that she quickly started having dreams about being an actress.
On the same day, Suniel Shetty and his daughter Athiya both made their Bollywood debuts. Suneil made his Bollywood debut on September 11th, 1992 with the release of Balwaan. Athiya made her debut on the same day 23 years later.
She goes by the nickname Attu-Pattu.
She enjoys extreme activities, and she wants to go skydiving.
She also admitted that when she was younger, she had a celebrity crush on Hrithik Roshan.
Social Media
Frequently Asked Questions