Vikram | Biography, Movies, Struggle, Age, Net Worth, Songs

Zeenat Sayyed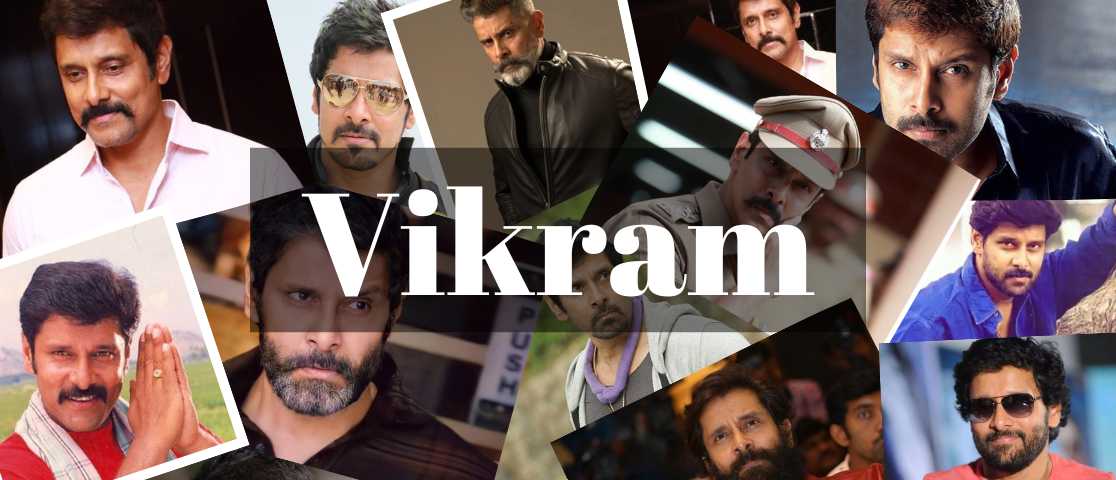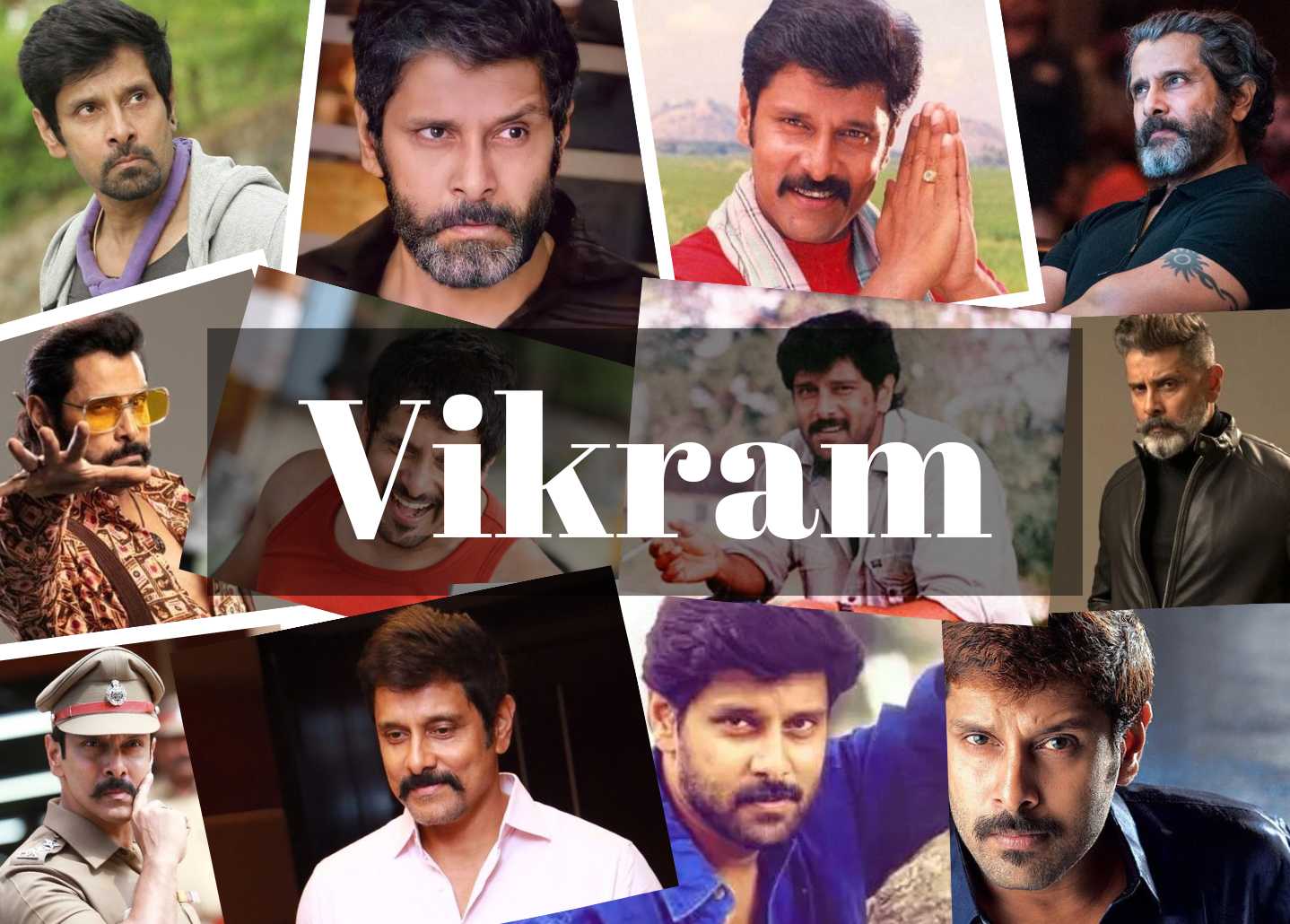 Vikram's Age and Vikram's Biography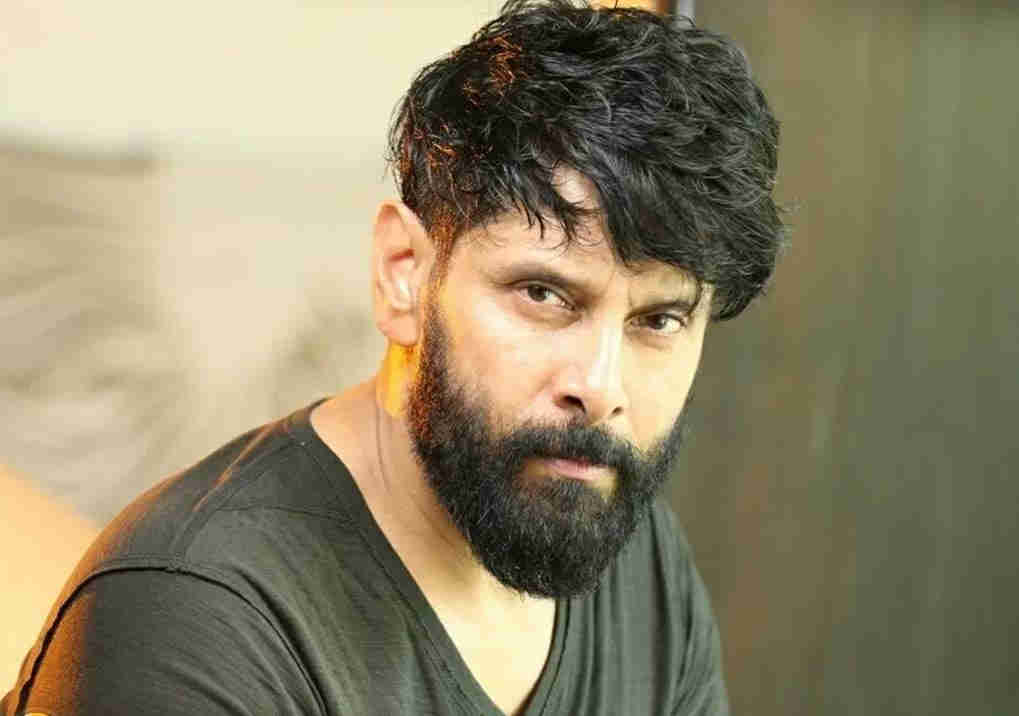 The Real Name of Vikram is Kennedy John Victor. Vikram is an Indian playback singer and actor. He primarily performs in Tamil-language movies with sporadic appearances in Malayalam, Telugu, and Hindi productions. With accolades including seven Filmfare Awards South, a National Film Award, and a Tamil Nadu State Film Award, he is one of the most honored actors in Tamil film. He also received an honorary doctorate from the Popular University of Milan in May 2011 and the Kalaimamani Award from the Tamil Nadu government in 2004. Vikram's Birthday is on the 17th of April. Vikram's Zodiac Sign is Aries. Vikram's Birthplace is Tamil Nadu. Vikram was listed in the Forbes India Celebrity 100 list for 2016 and 2018 based on the earnings of Indian celebrities. He is one of the most productive performers in Indian cinema, having played various roles in his films. As of 2022, Vikram's age is 56 years.

After making his cinematic debut in 1990 with En Kadhal Kanmani, Vikram went on to star in a number of unheralded low-budget Malayalam, Tamil, and Telugu movies. His major break came in Bala's tragic movie Sethu as a renegade turned lover (1999). Vikram has advocated for a number of social concerns and made an appearance in 2011 as the Youth Envoy for the UN Human Settlements Programme.

He has long-standing relationships with Kasi Eye Care and has managed his own welfare organization through the Vikram Foundation. He has also served as a brand ambassador for the Sanjeevani Trust and Vidya Sudha, a school for disabled kids where he resided while filming Deiva Thirumagal. As an homage to the city's volunteers, he produced and directed the video for the flood relief song, Spirit of Chennai, in 2016.

As a result of a string of lucrative dubbed Telugu movies, including 2005's Aparichitudu, which was dubbed from his Tamil feature Anniyan, Vikram has a sizable fan base in Andhra Pradesh. As a result, all of his films receive Telugu releases quickly following their Tamil debuts. Anniyan was also remade into Hindi as Aparichit. In Kerala, where his films have demanded significant box office openings comparable to Malayalam film stars, he has also found success. In terms of accolades, he ranks among the most prestigious actors in Tamil film history. Only four other actors who have appeared in Tamil films have won a National Film Award for Best Actor, which he currently holds. In addition, Vikram has won seven Filmfare Awards in the South, placing second only to Kamal Haasan, who has ten.
Claim Your FREE Celebrity Shoutout
✕
Claim Now!
Vikram's Childhood and Vikram's Education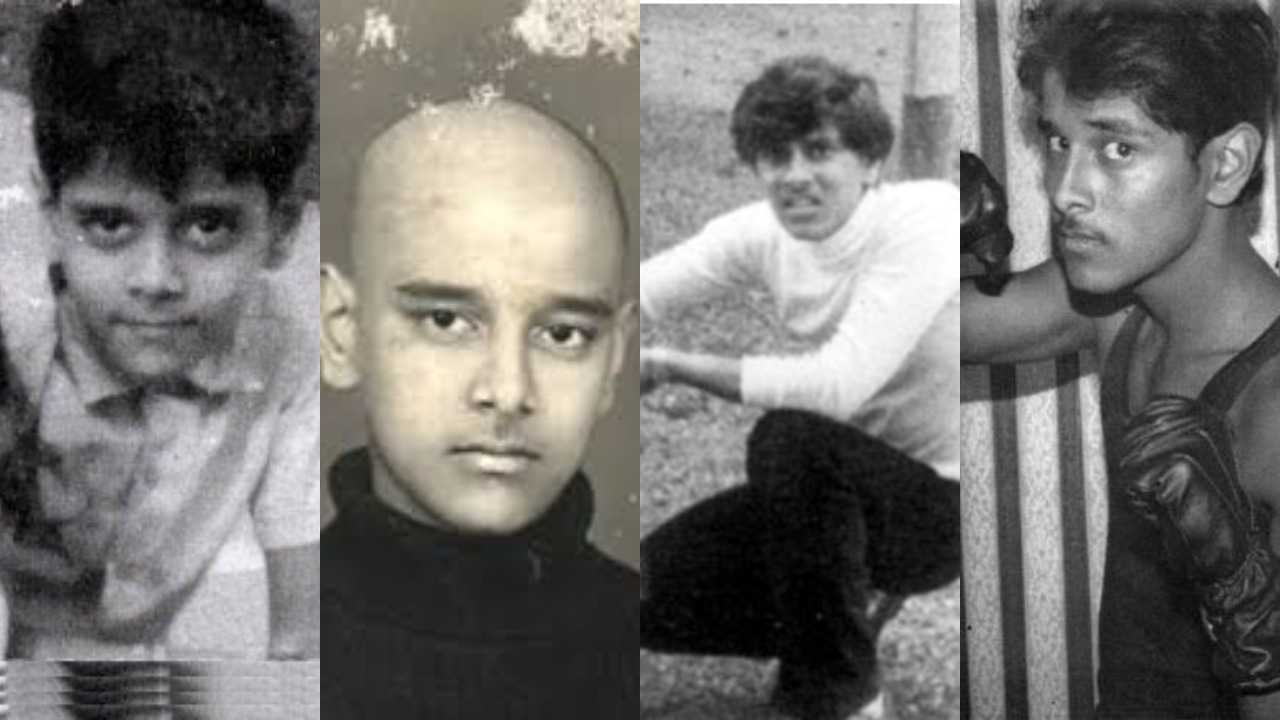 Vikram was born to a Hindu mother and a Christian father on April 17, 1966, with the name Kennedy John Victor. Vikram's father, John Victor (also known as Vinod Raj), was a Paramakudi native who fled his birthplace to pursue a career in film. Vikram was motivated to take acting classes and receive professional training in classical and cinematic dance forms because his father struggled and was only able to act in supporting roles in Tamil movies and television series. Vikram hopes to follow in his father's footsteps and become a leading actor. Vikram's mother, Rajeshwari, worked as a sub-collector, and his first cousin, actor Prashanth, is the son of Thiagarajan, a well-known director, and actor in Tamil cinema.

Arvind, Vikram's younger brother, was supposed to make his acting debut in the 2008 movie Saroja but ended up not appearing in it. Additionally, Anitha, Vikram's younger sister, is a teacher. The name Vikram was created by combining the letters Vi from his father's name, K from Kennedy, Ra from his mother's name, and ram from his solar sign, Aries. Vikram is used as a screen name because he loathed his original name, Kennedy.

Vikram completed his education at the boarding school Montfort School in Yercaud, a hill hamlet close to Salem, in 1983. He has highlighted that he made the most of his school-based possibilities by participating in karate, horseback riding, and swimming and that this early exposure to activities gave him confidence as a child.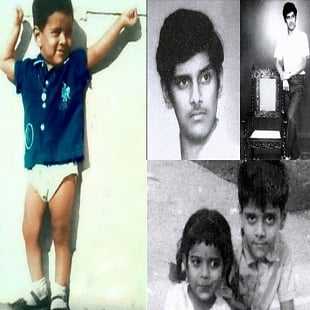 Before being given the main role in the school's rendition of Molière's The Doctor in Spite of Himself after the original lead developed chicken pox, Vikram spent a long time lurking on the periphery of the theatre club and frequently participating in backstage chores. Vikram had expressed a desire to work in film after graduation, but his father insisted that he complete his studies. Vikram eventually earned an English Literature degree from Loyola College in Chennai and made progress toward an MBA program. Vikram participated in stage performances through the active dramatics club, winning best actor prizes for his roles in campus adaptations of Peter Shaffer's Black Comedy and The Caine Mutiny Court-Martial.

Vikram was riding his motorcycle home after receiving the Best Actor Award at an event hosted at IIT Madras when he was struck by a truck, resulting in a severe leg injury. He spent three years in the hospital while in college and underwent a total of 23 surgeries to keep his leg from being amputated. After his injury, Vikram returned to continue his last year of school, and he was given permission to complete his dissertation at home as he could only use crutches for a limited time.
Talk To Similar Celebrities
Vikram's Marriage Story and Vikram's Family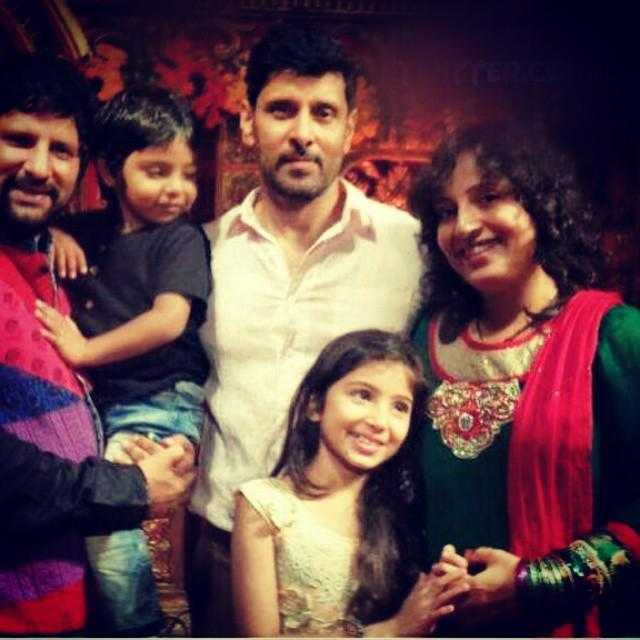 In the late 1980s, Vikram first met Shailaja Balakrishnan, with whom he later got married in a large wedding at the Guruvayoor Temple in 1992. Shailaja and Vikram must have crossed paths at Chennai's Loyola College. Even Shailaja must have attended the same college if we are to hazard a guess. They allegedly began as casual acquaintances but after his accident-related return, they allegedly grew closer romantically. Shailaja, who hails from Thalassery, Kerala, has supported him ever since he was a little-known individual. She actually attended the 1986 IIT Madras intercollegiate festival where Vikram first received praise for his acting prowess and was even in the audience.
A shared friend had a get-together after Vikram was discharged from the hospital, healing from his accident, and returning to campus, and here is where we believe the romance began. According to rumors, Vikram began courting Shailaja following the encounter and even purchased her a saree from a store. He allegedly met her parents in an effort to impress them, but when he revealed his desire to pursue acting, he confused them about the choice their daughter had made.

The likelihood is that the pair dated for close to five years. In a 2013 interview, Shailaja shared a rare glimpse into their romantic relationship. Vikram began receiving movie offers in the early 1990s, once he had fully recovered. I suppose they felt it was a good time to get married. In the year 1994, Shailaja and Vikram were married. There were two wedding ceremonies for the pair. Since Shailaja was a Hindu, one was held at the church of Loyola College in Chennai, and the other was a traditional Hindu wedding at the Guruvayur temple. Since then, they have been a happy couple in the Industry.

The likelihood is that the pair dated for close to five years. In a 2013 interview, Shailaja shared a rare glimpse into their romantic relationship. Vikram began receiving movie offers in the early 1990s, once he had fully recovered. I suppose they felt it was a good time to get married. In the year 1994, Shailaja and Vikram were married. There were two wedding ceremonies for the pair. Since Shailaja was a Hindu, one was held at the church of Loyola College in Chennai, and the other was a traditional Hindu wedding at the Guruvayur temple. Since then, they have been a happy couple, and it is safe to say that their union is one of the most prosperous ones in the entertainment industry.
Vikram's Movies and Career
For his first commercial roles, Vikram modeled for companies including Chola Tea, TVS Excel, and Alwyn Watches. He also had an appearance in the six-part television series Galatta Kudumbam, which aired between November and December 1988. He was recognized by the film business during his final year of the M.B.A. degree at Loyola College, and seasoned director C. V. Sridhar approached him for the lead role in a movie.
Vikram First Movie: En Kadhal Kanmani (1990)
Vikram and Rekha Nambiar appear in the 1990 Tamil-language romantic drama En Kadhal Kanmani. Vikram's first film is this one. Vairamuthu wrote the songs, and L. Vaidyanathan composed the music. Hema becomes the affection of smoking addict Vinod (Vikram). How Vinod manages to give up smoking and wed Hema is the subject of the remaining narrative.
Bombay (1995)
Arvind Swamy and Manisha Koirala appear in Mani Ratnam's 1995 romantic drama film Bombay, which was made in Tamil in India. The movie depicts the tale of an interfaith family living in Bombay before and during the riots that broke out between December 1992 and January 1993 due to tensions caused by the Babri Masjid's demolition between the Hindu and Muslim communities. It is the third movie in Ratnam's trilogy, following Roja (1992) and Dil Se (2001), which both show interpersonal relationships against the backdrop of Indian politics (1998).

Bombay was published on March 10th, 1995. Both critically and financially, the movie was highly received. It was shown in 1996 at the Philadelphia Film Festival among other major international film festivals. One of the best Indian soundtracks of all time, the music for the movie earned composer A. R. Rahman his fourth consecutive Filmfare Best Music Director Award (Tamil). However, the movie's portrayal of interfaith relations between a Muslim woman and a Hindu guy generated a lot of controversies when it was first released, both in India and overseas. Upon release, the movie was outlawed in Malaysia and Singapore. A book by Lalitha Gopalan on the movie, released in July 2005 by BFI Modern Classics, examined the making of the movie, the range of topics it covered, and the impact of its release in India and other countries. The British Film Institute listed the movie as one of the best 20 Indian movies.
Kasi (2001)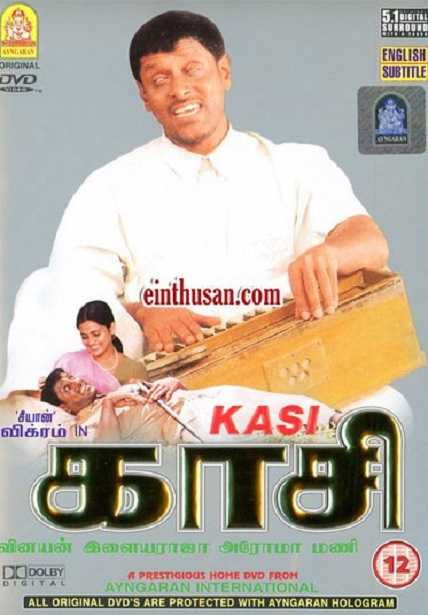 Vinayan wrote and directed the drama film Kasi, which was released in 2001 and was made in Tamil. The title role, a blind rural singer, is played by Vikram in the movie. Kaveri reprises her part from the original Vasanthiyum Lakshmiyum Pinne Njaanum (1999) and Kavya Madhavan makes her Tamil debut in supporting roles in this remake of the director's own Malayalam film. Sunitha Productions hired Aroma Mani to produce the movie. Ilaiyaraaja wrote the soundtrack and the film's score.

The movie, which debuted on November 14, 2001, received favorable reviews from critics. Vikram got the Cinema Express Award for Best Actor - Tamil as well as the Filmfare Best Actor Award. The man Kasi is blind. Dinesh promises to cover Kasi's eye surgery after learning about his condition. Kaveri, Kasi's girlfriend, chooses to donate one of her eyeballs to him after hearing the good news.
Kanthaswamy (2009)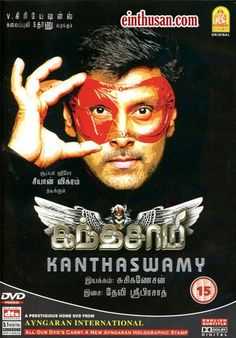 Vikram played Kokorako, a vigilante disguised as an anthropomorphic rooster, in Susi Ganesan's next film, Kanthaswamy, which also starred Shriya Saran and was the first superhero film in Tamil cinema. With scenes filmed in Italy and Mexico, Kanthaswamy overtook Anniyan as Vikram's most expensive production. The movie also has outstanding production values and an inventive pre-launch teaser. The movie received mixed reviews from critics, with one from Sify stating that it strikes a fine balance between style and substance and going on to say that Vikram is mesmerizing and has given an extra dimension to the characters he plays in the film and steers it to the winning post, implying that there is no doubt that he is one of the best actors working today.

The reviewer from Sify stated that the movie strikes a fine balance between style and substance and went on to say that Vikram is mesmerizing and has given an extra dimension to the characters he plays in the film and steers it to the winning post, implying that there are very few people in Indian cinema who can do the larger-than-life fantasy characters as easily as Vikram. The critics' reactions to the movie were mixed. The Hindu's Sudhish Kamath described the movie as slow death, asserting that as an actor, Vikram has nothing to do.In its first week of international release, the movie had a great opening weekend, earning Rs. 370 million at the box office, including Rs. 160 million in Tamil Nadu. The movie stayed in theatres for over a hundred days and went on to become one of the most financially successful movies of the year.
I (2015)
I is a 2015 romantic action thriller movie in Tamil that was written and directed by S. Shankar. The movie is produced and released by V. Ravichandran under his production company, Aascar Films, and stars Vikram, Amy Jackson, and Suresh Gopi in the key characters, along with Ramkumar Ganesan, Santhanam, Upen Patel, and Ojas Rajani (in her film debut). The movie narrates the tale of Lingesan, a wealthy and appealing bodybuilder and supermodel (played by Vikram), who was turned into a Hunchback by his adversaries using a Virus. Taking retribution on those who caused his deformity after becoming one, he. The Hunchback of Notre Dame and Beauty and the Beast were both roughly adapted into various scenes in the movie.

The reviewers praised Shankar's direction, the performances (especially those of Vikram, Suresh Gopi, and Amy Jackson), the technical aspects of the movie (especially the visual effects, cinematography, costume design, and makeup), and A.R. Rahman's soundtrack and background score, though they had some criticism for the movie's length, pace, and editing. The movie was a financial success, earning 239.35 crores (US$30 million) globally, becoming Vikram's highest-grossing movie as well as one of the top Tamil films of all time. For the movie, Vikram received the Filmfare Award for Best Actor - Tamil.
Sammy Square (2018)
The 2018 Indian action movie Saamy 2, often referred to as Saamy Square, was written and directed by Hari, with Shibu Thameens serving as producer. With Keerthy Suresh and Aishwarya Rajesh playing the male protagonists and Prabhu, Bobby Simha, and Soori playing supporting roles, it has Vikram in a dual role as a father and son. The movie is a continuation of the 2003 movie Saamy. The movie opened in theatres on September 21, 2018.
Mahaan (2022)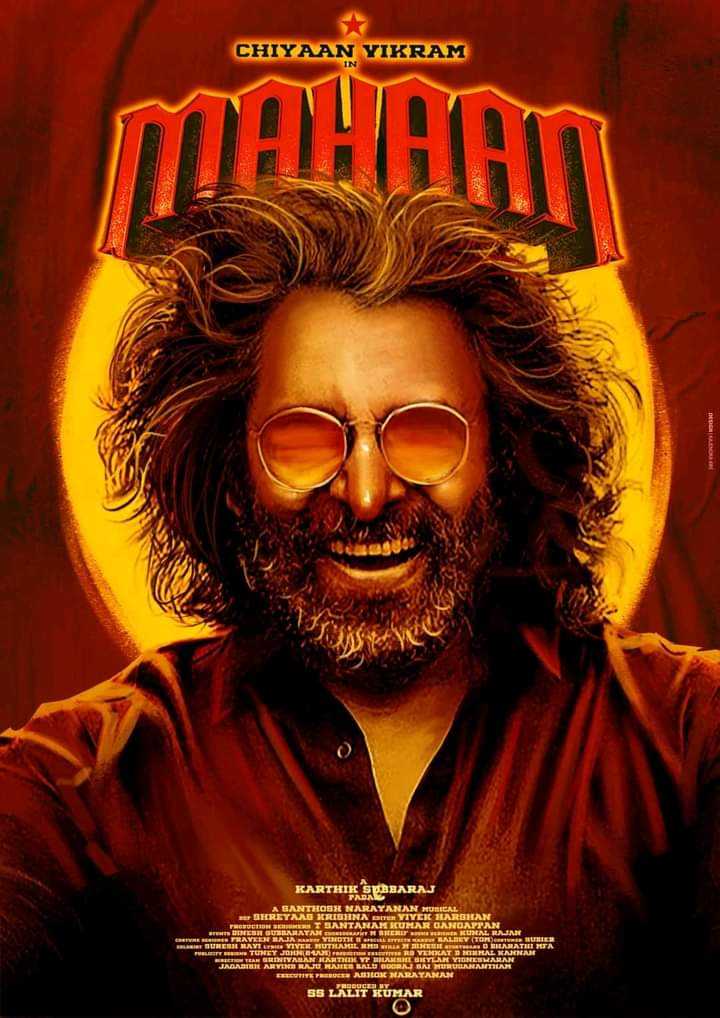 Mahaan is a 2022 Indian action thriller movie in the Tamil language that was written, directed, and produced by S. S. Lalit Kumar under the auspices of Seven Screen Studio. In addition to Sananth, Vettai Muthukumar, Deepak Paramesh, and Aadukalam Naren, the movie also stars Vikram, Simran, Dhruv Vikram, Bobby Simha, and others in supporting parts. Gandhi Mahaan, a business instructor who becomes a booze baron and leads a life of his own after being abandoned by his family, serves as the central character in the story.

Santhosh Narayanan wrote the soundtrack for the movie. Shreyas Krishna handled the photography, and Vivek Harshan handled the editing. The movie's main photography commenced on March 10, 2021. Due to COVID-19 constraints, filming was halted after a few days. It was then picked back up on July 6. The movie's filming was finished on August 14. The film's final runtime of 3 hours was reduced by a few incomplete sequences as a result of the COVID-19 pandemic delays. These scenes were later published on the film's 100th day of release. The movie premiered on Amazon Prime Video on February 10, 2022, and both critics and viewers praised it.
Vikram's TV Shows, Singing and Dubbing Career
Vikram's involvement in the film industry extends beyond acting; he has held positions as an assistant director and a playback vocalist. Although the project was finished without much marketing, Vikram and actress Meena released a pop album titled Kadhalism in 2000. The duo would sing and participate in music videos for the record. In response to the popularity of Bharathwaj's score for Vikram's 2002 movie Gemini, a cover of the hit song O Podu! was performed by Vikram for the extended album. Devi Sri Prasad, the film's music composer, requested Vikram to sing a few rough tracks while the song for the movie was being written in Malaysia in 2009 while Kanthaswamy was being made.

Because of the filmmakers' admiration for his voice, Vikram ended up singing four songs in the movie. Additionally, Vikram also recorded each of the four songs for the Mallana album's Telugu translation. Then he performed Meghame for G. V. Prakash Kumar's record in Madrasapattinam in five distinct voices for a film he was not associated with. For his Deiva Thirumagal, he sang two additional songs with Prakash Kumar, singing in the voice of his role, an adult with the maturity of a six-year-old. He sang the song Laddu Laddu for his movie Rajapattai in 2011 under the direction of composer Yuvan Shankar Raja.

In July 2009, Vikram unveiled Reel Life Entertainment as his own production business and said that Sasikumar would helm his debut movie, the action thriller Easan, starring Samudrakani, Vaibhav, Abhinaya, and Aparnaa Bajpai. Vikram withdrew from the project, claiming Sasikumar had over his budget after 90% of the shooting was finished. The director eventually acquired and released the movie. The actor made his debut in film funding, though, when he was later designated as one of the three producers for his 2013 bilingual movie David. In Majaa, Vikram served as Shafi's assistant director and has stated that he hopes to one day make his own movie.
Vikram's Upcoming Movies
Ponniyin Selvan: I (2022)
Ponniyin Selvan: I is an upcoming epic fantasy action movie in Tamil that Mani Ratnam is directing and co-writing with B. Jeyamohan, Elango Kumaravel, and other writers. It is the first of two film adaptations of Kalki Krishnamurthy's 1955 novel Ponniyin Selvan, which was produced by Ratnam and Allirajah Subaskaran under the banners of Madras Talkies and Lyca Productions. Aishwarya Rai Bachchan, Jayam Ravi, Karthi, Trisha, Aishwarya Lekshmi, Sobhita Dhulipala, Prabhu, R. Sarathkumar, Vikram Prabhu, Jayaram, Prakash Raj, Rahman, and R. Parthiban are among the cast members of the movie. A. R. Rahman created the soundtrack, while Ravi Varman handled the cinematography, A. Sreekar Prasad handled the editing, and Thota Tharani did the production design. The movie chronicles Arulmozhivarman's formative years before he rose to power as Rajaraja Chola I, the great Chola emperor (947 CE – 1014 CE).

Since the novel gained popularity, a number of directors in Tamil cinema have suggested turning the book into a feature film. However, this idea has not materialised, primarily due to financial limitations. Following a failed attempt by M. G. Ramachandran in the late 1950s, Mani Ratnam made another attempt to adapt the book in the middle of the 1990s and early 2010s. In January 2019, with Lyca Productions on board to provide money, Ratnam restarted the adaptation, referring to it as his dream project.

Despite having to stop twice due to the COVID-19 epidemic, the movie started filming in the middle of December and was finished by September 2021, with a number of cast and crew changes. The movie was primarily filmed in India, with a few portions also being filmed in Thailand. Originally planned to be a standalone movie, Ponniyin Selvan was eventually divided into two parts. On September 30, 2022, the first portion will be theatrically released in both normal and IMAX formats. Watch the Amazing Trailer of Ponniyin Selvan: I.
Vikram's Career Timeline
Vikram's Net Worth
Vikram's Net Worth is $20 Million. He is an Indian actor and singer. He rose to fame thanks to his exceptional acting abilities and blockbuster films in several different languages. He has also received a National Film Award, a Tamil Nadu State Film Award, and somewhere between six Filmfare Awards. Vikram is a well-known method actor who is sometimes likened to Hollywood actor Christian Bale. Since the success of Sethu, critics have praised Vikram for his compelling performances and wide range of roles.

] Vikram took part in Vikram Mega Nite, a live stadium stage event produced by P. L. Thenappan, in 2004. His South East Asian admirers attended the event, which was staged in Singapore and took the shape of a stage musical. Vikram is frequently taken into consideration for brand endorsements as a result of his widespread popularity in India. He was appointed as the Tamil Nadu brand ambassador for Coca-Cola in 2005. Since 2010, he has served as an ambassador for Manappuram General Finance and Leasing Ltd., Josco Jewellers, and Brooke Bond 3 Roses. Vikram has given his support to the celebrity-driven home shopping channel Big Deal TV in 2015.

According to a number of reports, his annual income is $2 million as of 2022. He earns most of his money from acting, promotions, and brand partnerships. According to Forbes India, he is included in the top 100 celebrity rankings based on his popularity and revenue. He receives between Rs. 10 and 12 crore every movie, making him one of the most paid actors in the south Indian cinema business. Additionally, he has completed a number of sponsorships and TV commercials for which he charges Rs. 1.5 crore.
Vikram's Social Work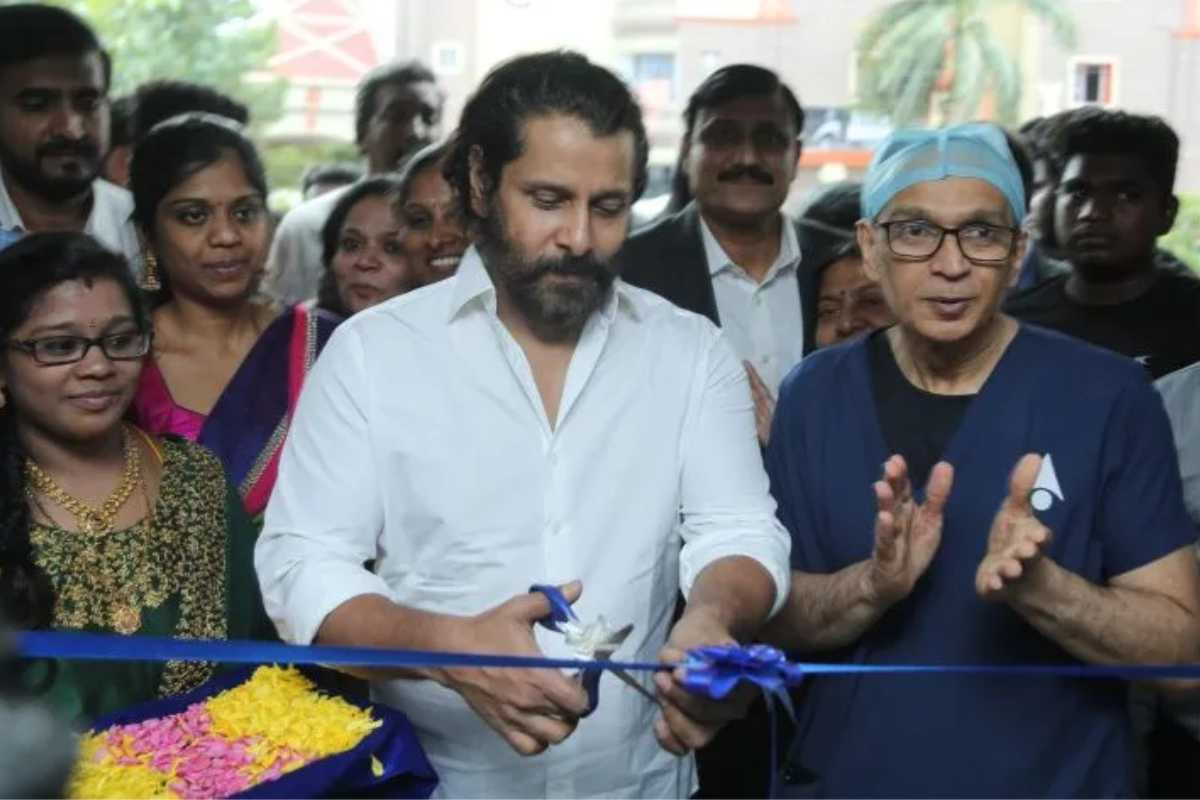 Vikram has advocated for a number of social concerns, and several of his charitable endeavors are connected to characters he played in his movies. He served as a brand ambassador for the Sanjeevani Trust and Vidya Sudha, a school for children with special needs where he lived while Deiva Thirumagal was being made. Additionally, he has a long-standing relationship with Kasi Eye Care, which provides free eye surgery for the underprivileged, dating back to the production of his movie Kasi.

Through his fan club, Vikram also established The Vikram Foundation to help the underprivileged receive heart procedures, educate their children, and recover from natural calamities. Every year, Vikram spends his birthday performing charitable acts throughout Tamil Nadu. In 2008, he organized a camp where 1,000 of his followers donated their eyes as part of an appeal for eye donations.

He has volunteered his assistance for the Chennai-based charity The Banyan and participated in the Mani Ratnam-directed charity musical Netru, Indru, Naalai. Along with numerous other Indian actors and singers, the actor also appeared in the 2010 Mile Sur Mera Tumhara song video, which deals with national integration. The actor called the experience phenomenal. Vikram was chosen in 2011 to serve as a youth representative for the United Nations Human Settlements Programme.

His mission is to raise awareness of the U.N. Habitat's statutes, which include urban stabilization, and to assist in developing plans for effective water management, slum eradication, women's empowerment, and youth empowerment. Soon after, he revealed two more charitable initiatives: Karka Kasadara and Patchai Puratchi. The former aimed to locate school and college dropouts and assist them in becoming self-sufficient, while the latter involved planting trees to help Chennai become a greener city. Following the 2015 South Indian floods, he produced and directed the music video for the flood relief anthem Spirit of Chennai as a homage to the city's volunteers.
Vikram's Awards and Achievements
1999-Won Filmfare Awards South-Sethu-Special Award
2001-Won Filmfare Awards South-Kasi-Best Actor
2003-Won Filmfare Awards South-Pithamagan-Best Actor
2003-Won CineMAA Awards-Sivaputrudu / Pithamagan-South India's Best Actor
2005-Won Filmfare Awards South-Anniyan-Best Actor
2001-Won Cinema Express Awards-Kasi-Best Actor
2010-Won Amrita TV-FEFKA Film Awards-Raavanan-Best Actor – Tamil
2010-Won Filmfare Awards South-Raavanan-Best Actor
2011-Won Filmfare Awards South-Deiva Thirumagal-Best Actor (Critics) – South
2015-Won Asianet Film Awards-I-Popular Tamil Actor
2015-Won Filmfare Awards South-I-Best Actor
Vikram's Interesting Facts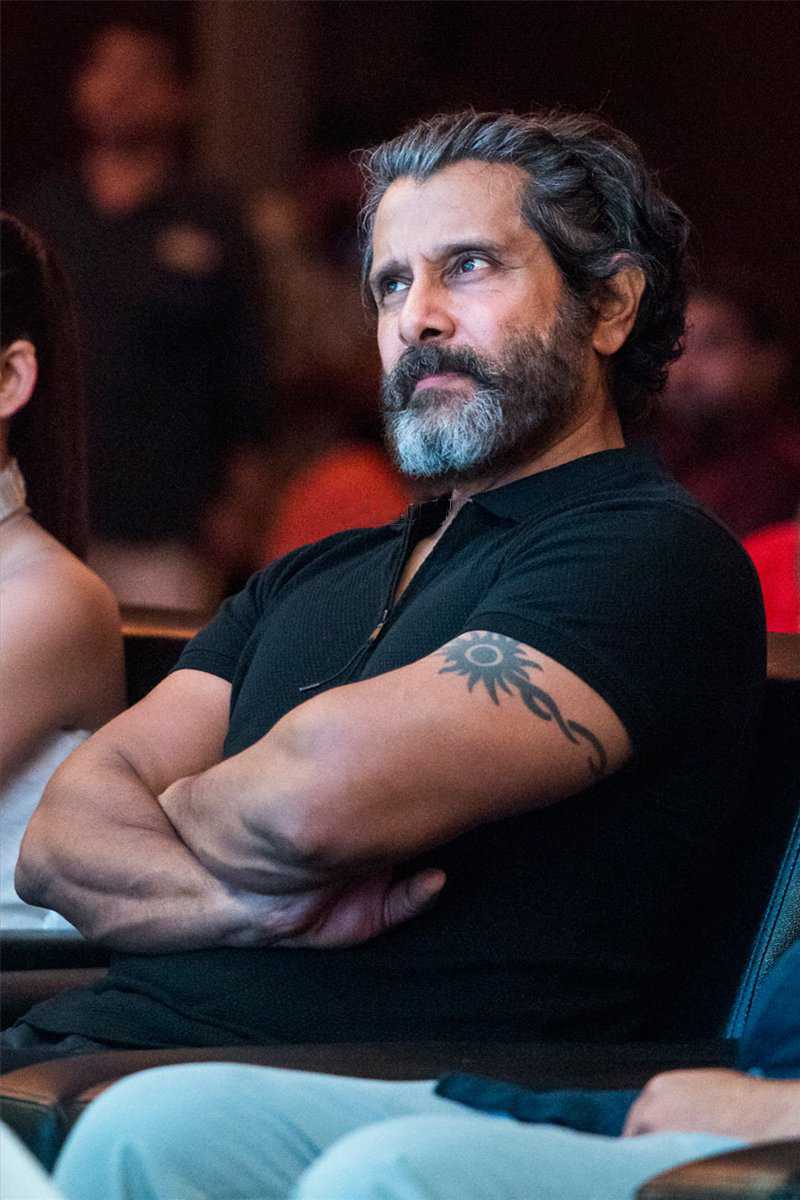 Vikram was expected to appear in the film Bombay. He turned it down nevertheless since he was keeping his beard for another project.
Vikar possesses a wide range of skills. He also sings for playback. For performers like Prabhu Deva and Kamal Hassan, he has provided dubbing.
Vikram became what he is now as a result of his enthusiasm for breaking into the film industry. Vikram suffered serious injuries when he was struck by a truck while still a college student. But despite the wounds and spending many years in bed, he didn't give up on the idea of leading a normal life and entered the world of movies with all of his might and dedication.
Vikram established The Vikram Foundation to help a charity by enlisting the aid of his fan club to fund heart procedures for the underprivileged, educational opportunities for underprivileged kids, and the rehabilitation of those affected by natural calamities.
In the Mani Ratnam-directed movie Ravanan, Vikram played the lead role. This movie was the first from India to get a German dub.
Social Media
Frequently Asked Questions