Ravi Shastri | Cricket, Age, Biography, Height, Net Worth

Violeena Vargav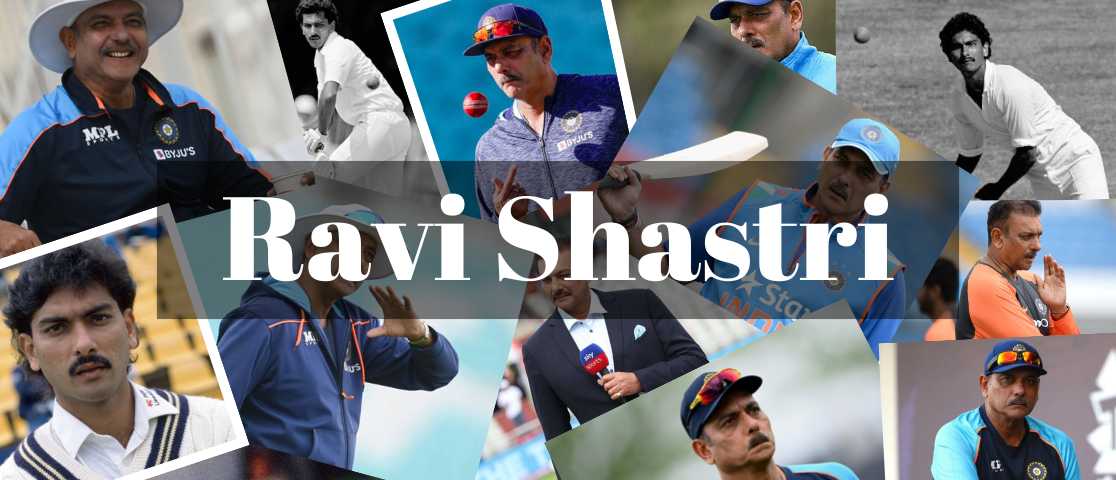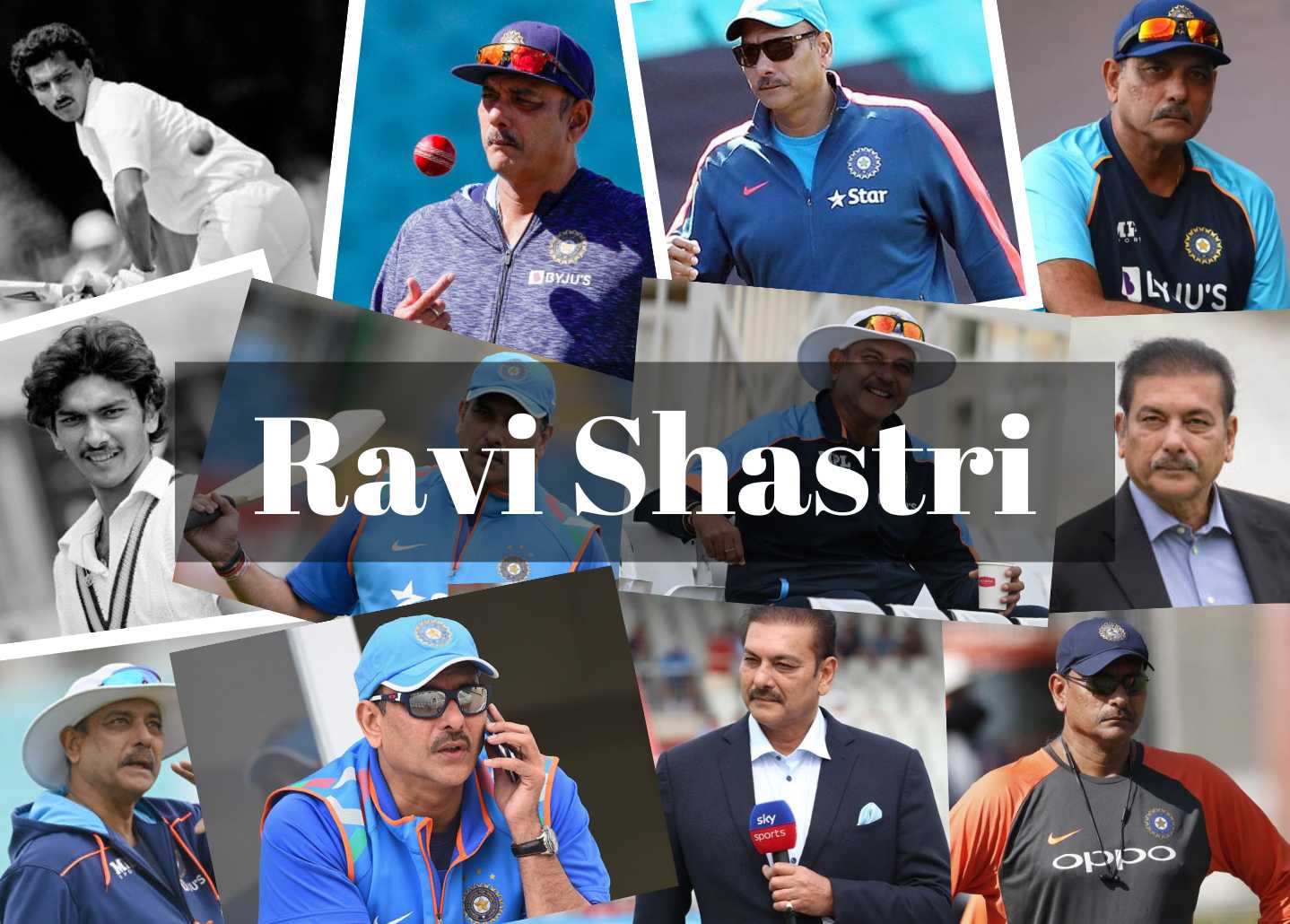 Ravi Shastri's Biography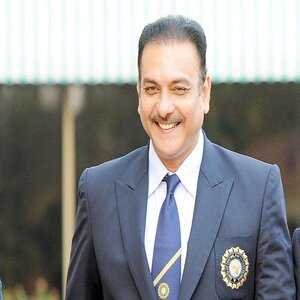 Ravi Shastri is a famous former Indian cricketer, former head coach of the Indian team, and a cricket commentator. He participated in both Test matches and One Day Internationals between 1981 and 1992 as a player for the Indian national cricket team. He began his career as a left-arm spin bowler, but throughout the course of his career, he evolved into a batting all-rounder.

Ravi Shastri's full Name is Ravishankar Jayadritha Shastri. Ravi Shastri's nickname is Shaz. Ravi Shastri's birthday is on 27 May 1962. Ravi Shastri's age is 60 years as of 2022. Ravi Shastri's birthplace is Bombay, Maharashtra, India. Ravi Shastri's zodiac sign is Gemini. Ravi Shastri's height is 1.91m or 6'3. Ravi Shastri's religion is Hinduism. Ravi Shastri did right-handed batting. Ravi Shastri did slow left-arm orthodox bowling.

With his signature chapati stroke (a flick of the pads), Ravi Shastri was mostly defensive when playing cricket, although he had the ability to increase his strike rate when necessary. He had few options against quick bowling because of his above-average height and erect stance, but he was able to make good use of the lofted shot against spin bowling. Ravi batted either as the opener or in the middle of the order.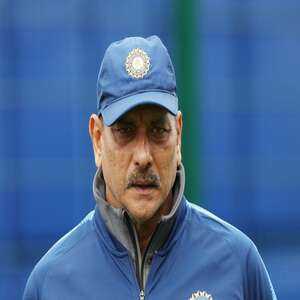 The pinnacle of Ravi Shastri's career came in 1985 when he was named Champion of Champions at the Cricket World Championship in Australia. On January 10, 1985, during the same season, he tied West Indian Garry Sobers' record of six sixes in an over of first-class cricket. He was seen as a future captain, but he led India in just one Test due to his reputation outside of cricket, injuries, and a propensity to falter when it mattered most.

In his final season of domestic cricket, Ravi Shastri captained Bombay to the Ranji Trophy championship. For Glamorgan, he also participated in four seasons of county cricket. Due to a persistent knee problem, he was forced to retire at the age of 31. He has provided BCCI commentary for the games that India has played. He was appointed director of the Indian cricket team in 2014 and served in that capacity for eight months, from the time India visited England till the World Cup in 2015. He was chosen to lead the Indian cricket team on July 13, 2017. He was reappointed as the senior men's Indian team's head coach on August 16, 2019, and served in that capacity through the ICC T20 World Cup in 2021.
Claim Your FREE Celebrity Shoutout
✕
Claim Now!
Ravi Shastri's Family and Ravi Shastri's Education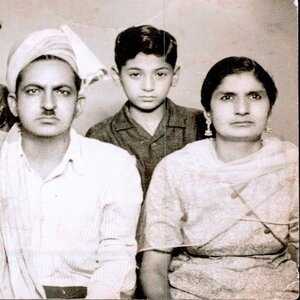 Ravi Shastri's father's name is M. Jayadritha Shastri and his mother's name is Lakshmi Shastri. Ravi Shastri belongs to a middle-class Hindu family from Mumbai, Maharashtra. Shastri is of Marathi-Mangalorean descent.

In Mumbai, India's Matunga neighbourhood, Ravi Shastri attended Don Bosco High School. Following that, he moved to the Ramniranjan Anandilal Poddar College of Commerce and Economics, where he earned his graduation degree in business.

Ravi Shastri became serious about cricket as a teenager. Shastri, a player for Don Bosco (Matunga), advanced to the inter-school Giles Shield final in 1976 before falling to St Mary's. For the first time in the school's history, Don Bosco won the Giles Shield the following year under Shastri's captaincy. His coach at school was B. D. Desai, a former member of the Dadar Union and Tatas. Don Bosco hasn't historically been a significant power in school cricket, but the R. Many talented cricketers came out of A. Podar College, where Shastri later studied commerce. Particularly Vasant Amladi and V. S. Shastri's growth as a cricket player was significantly influenced by Marshall Patil.
Talk To Similar Celebrities
Ravi Shastri's Relations and Marriage
Amrita Singh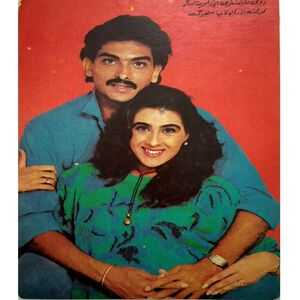 Before Amrita Singh started having feelings for Saif Ali Khan, Ravi Shastri and her were deeply in love. Amrita and Shastri both frequently professed their love for one another in public, and soon it became the talk of the town. In addition, Amrita Singh and Ravi Shastri were featured on the front cover of a well-known publication. According to rumours, they both made this photo the formal announcement of their relationship. However, the romance ended despite being engaged for a number of reasons. Shastri had stated that he had never desired an actress as a wife since he believed that his wife's first responsibility should be to their family after learning of their split broke via the public.

Following their split from Amrita Singh, Ravi Shastri wed Ritu Singh in 1990, and Amrita Singh wed Saif Ali Khan the following year, in 1991.
Ritu Singh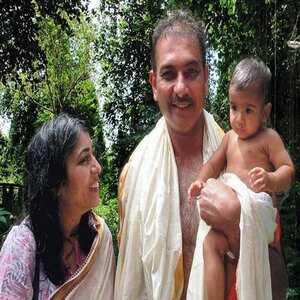 Ritu Singh is the daughter of a veteran of the military. Because her father was an army colonel, she grew up in a strict household. She has training in classical dance in addition to being a doctor. She would rather not be in the spotlight. According to reports, Dr. M. Jayadratha Shastri, the father of Ravi Shastri, compelled his son to marry Ritu Singh.

Ravi Shastri and Ritu Sing got married on 18th March 1990. Much later in 2008, their daughter was born. They have a lovely daughter named Aleka Shastri. They had parted ways in the year 2012, yet they are still cordial now. Ritu Singh is still working as a physician.

Nimrat Kaur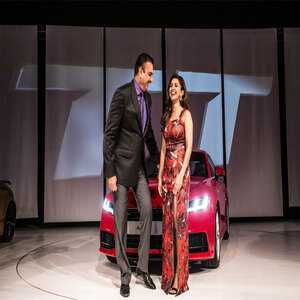 The rumoured relationship between Team India head coach Ravi Shastri and Airlift actress Nimrat Kaur was one of the greatest talking issues in Indian cricket. Shastri and Nimrat Kaur relationship rumours first surfaced in 2018.

The rumours of Ravi Shastri and Nimrat Kaur dating spread quickly, and the Indian head coach was forced to respond forcefully to a Mumbai tabloid to put an end to the rumours. Ravi Shastri responded to it by calling it the greatest heap of crap while speaking to Mid-Day during India's 2018 tour of England.

Ravi Shastri's Career
Domestic Career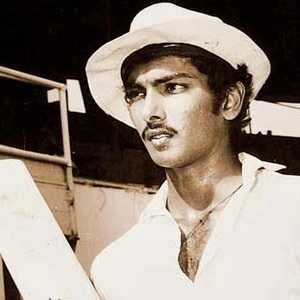 In his final year of junior college, Ravi Shastri was chosen to play for the Bombay team in the Ranji Trophy. He was then the youngest cricketer to play for Bombay at the age of 17 years and 292 days.

In the 1980–81 season, a young Indian squad was slated to visit Pakistan. Hemu Adhikari, the national coach, unexpectedly added Ravi Shastri to the coaching camp. Shastri was asked to captain the Indian Under-19 team after leading one of the two sides in a trial game. However, the tour was postponed. Later, the team traveled to Sri Lanka, where rain frequently caused game interruptions.

In his first two Ranji seasons, Ravi Shastri's lone noteworthy performance was a bowling performance of 6-61 against Delhi in the 1979–80 Ranji final, which Bombay ultimately lost. The next year, while he was playing in Kanpur against Uttar Pradesh, he was called up to the team touring New Zealand to fill in for injured left arm spinner Dilip Doshi. The previous evening of the first Test, Shastri arrived in Wellington. The New Zealand captain Geoff Howarth was given a maiden in his opening Test over. He quickly ended the New Zealand innings in the second innings by taking three wickets in the span of four deliveries, all of which were caught by Dilip Vengsarkar. His 15 wickets in the series were the most for either side, and his seven wickets in the third Test earned him the Man of the Match award.
One of the greatest games in the annals of Indian domestic cricket, is the Ranji final of 1984/85. Sunil Gavaskar won the toss and elected to bat when drowsy. Bombay was 3 down for 42 before he had a chance to close his eyes. He made his 20th and last Ranji Trophy hundred while batting at No. 5 and led Bombay to 333. Before being bowled while attempting to cut an arm-ball, Ravi Shastri had made 29 runs. Chetan Chauhan, who was batting with a fractured finger in his final first-class game, saved Delhi from early difficulty. In his first season, Ajay Sharma made a century and helped Delhi recover from being nine wickets behind to take the lead.

According to the competition's rules, in the event of a tie, the team that led after the first inning would be crowned the winner. Bombay went for short runs with two days and one hundred minutes left. On the fourth day, a crowd of roughly 46,000 people showed out for the game, and the organizers ran out of tickets. With 76 points, Ravi Shastri led the way as Bombay beat Delhi 300 to 300 in a day and 90 minutes.

With the exception of one delivery, the ball spun slowly and gave the batsmen enough time to execute their strokes. Delhi reached 95 for no loss early on the final day before collapsing. Chauhan, who was called out caught behind with the ball spinning across the bat's face but not appearing to touch it, was Ravi Shastri's first victim. The game drastically shifted, and the batsmen lost their cool. Surinder Khanna was stumped after a few slogs, Kirti Azad continued playing, and Gursharan Singh was lbw while making no strokes. Shastri finished with 8 for 91, and Bombay won by 90 runs. It was their 30th championship in the Ranji Trophy's 50th year.

After the 1985–86 tour of Australia, Ravi Shastri's bowling performance also started to deteriorate. Bombay was defeated by Haryana in the Ranji Trophy quarterfinal, while West Zone took home the Duleep Trophy. His bowling performance against North Zone in the semifinal at Trivandrum's flat surface was his significant contribution. Similar to the Ranji final, North appeared to be the likely victor heading into the final day before going 8 for 145.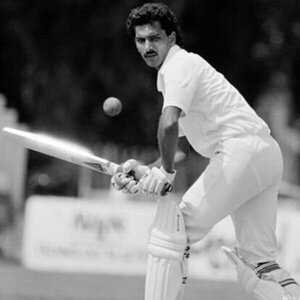 In the Duleep Trophy semifinal and quarterfinal, Ravi Shastri hit hundreds of runs, but in the latter game, West Zone fell to South due to a first-innings lead. The only other score Shastri had in the season that was above fifty was a relatively unimpressive 125 against Pakistan in the Jaipur Test. He performed well enough to win the one-day series' men's title. He led India for the first time against Pakistan in the opening one-day encounter, hitting 50 runs and collecting three wickets. In two dramatic endings, he took four wickets at Calcutta and 69* at Hyderabad. He later hit 52 in 40 balls in Nagpur with India facing a large target.

Ravi Shastri was hired by Glamorgan in 1987 to play for them. He remained with them until 1991, only taking a break in 1990 to attend India's England tour. Shastri's presence did little to improve the country's situation, which in two of those seasons placed last in the first-class standings. In 1989, Shastri surpassed 1000 runs and against Middlesex, he got hundreds in both innings. His finest bowling performance in the game, a 7 for 49 (11 for 90) total, came against Lancashire in 1988. Wisden called him unplayable at the time because of his bounce and turn. The almanac noted that Shastri was starting to hesitate before bowling.

The 1988 season was by far Glamorgan's most successful in one-day matches. They advanced to the Benson & Hedges Cup quarterfinal and placed fifth in the Sunday League, moving up from fourteen in 1987. With 14 sixes in the 1988 Sunday league games, Ravi Shastri was named the top six-hitter. He participated in the 1987 MCC bicentennial match at Lord's against a Rest of the World team.

Bombay won all four games, a highly uncommon occurrence, in the West Zone league of the 1993–94 Ranji Trophy, cruising through it with ease. In the knockout games, Ravi Shastri led the youthful squad as the Test stars were absent. In the pre-quarterfinal match, Bombay trounced Haryana by an innings and 202 runs, although they struggled against Karnataka in the subsequent round. Bombay lost their first six games for 174 against a total of 406, then Shastri and Sairaj Bahutule contributed 259 in six hours. Shastri received a personal rating of 151. Bombay managed to win on a first-inning advantage despite experiencing the best of the last day. Shastri had a season total of 612 runs and 17 wickets at a 15. After defeating Bengal in a close final, Bombay went on to win the Ranji Trophy. Since their famous victory over Delhi nine years prior, they had not won a title.

While covering the Singer World Series in Sri Lanka in September 1994, Ravi Shastri made the announcement that he was quitting first-class cricket.
International Career
In the 18 months following his Test debut, Ravi Shastri went from being the tenth batsman in the batting order to the opening batsman. He batted in every position from one to 10 at the end of his career. He said that he neglected his bowling in favour of his batting. His performances demonstrated this. His numbers of 9-101 in the season-opening 1981 Irani Trophy, however, remained a competition record for almost 20 years.

Due to the ineffectiveness of the customary openers Pranab Roy and Ghulam Parkar, Ravi Shastri was forced to start the 1982 match against England at the Oval. He distinguished himself in that game by scoring 66 runs. He was unable to participate in four of the Test matches taking place in Pakistan due to a hand injury. Ravi Shastri achieved his first Test century despite being forced to start at the front again in the last Test in Karachi against Imran Khan's quick bowling. Later, in Antigua, he scored another hundred against the West Indies. Indian Cricket was sufficiently impressed to state that, with time, he might develop into one of the team's top batsmen.

During the 1983 World Cup, Ravi Shastri was not chosen to participate in the majority of crucial games. Later that year, in the West Indies series, he once again stood out for his fearless batting against the powerful West Indian pace bowlers.

India visited Pakistan for the third time in six years in October 1984. India scored 156 against Pakistan's 428 in the Lahore Test before losing the match and moving on. With six wickets remaining on the last day, India trailed by 92 runs but was saved by a 126-run stand for the fifth wicket between Ravi Shastri and Mohinder Amarnath. Amarnath made 101* while Shastri scored 71. In the subsequent Test at Faisalabad, where he scored 139 and shared a partnership of 200 with Sandeep Patil, Shastri was even more successful. Because of Indira Gandhi's assassination, the last Test and the rest of the trip were postponed.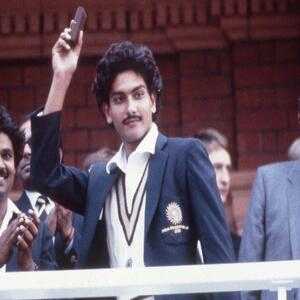 Ravi Shastri was already giving off signs that he was being prepared to become a captain. Ravi Shastri, the captain of India, was nearing the end of his playing days, and Kapil Dev, who had captained India the season before, was anticipated to succeed him. The next person in line appeared to be Shastri. At the beginning of 1984, he led the Young India team to Zimbabwe. In November, he led the India Under-25 team to an innings victory over the visiting English team, the first tour match victory for India for England in fifty years.

Around this time, Ravi Shastri started routinely starting the innings in one-day games. He made the same score against England in Cuttack in December after making 102 against Australia in October, India's second century in ODIs. In two World Cup matches from 1983, Shastri filled in for Sunil Gavaskar and started alongside Srikkanth. At Cuttack, where they opened the third time, they established a world record of 188 for the first wicket. This alliance would later serve as the cornerstone for India's victory in the World Cricket Championship in Australia.

In the Test matches against England, Ravi Shastri maintained his winning ways. His 235-run partnership with wicketkeeper Syed Kirmani helped India win the Bombay Test. His 142 outperformed his previous best score of 139 from Faisalabad.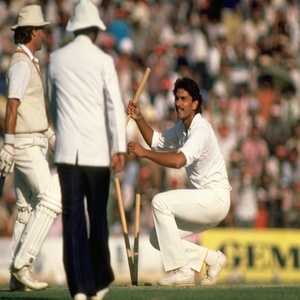 Ravi Shastri scored 111 points in 357 balls and 455 minutes during the third Test in Kolkata, despite having a significant amount of rain interfere with his game. He combined 214 for the fifth wicket with Mohammad Azharuddin, another Indian record. He was one of the select few batsmen to bat on all five days of a Test when India began the second innings late on the last day.

In a West Zone Ranji game against Baroda, Ravi Shastri broke yet another Bombay record. His first hundred, which contained nine fours and four sixes, was reached in 72 minutes and 80 balls. It only took the second 41 minutes and 43 balls. His 123 ball, 113 minutes 200*, which featured 13 fours and 13 sixes, broke the previous record for the fastest double hundred in first-class history by 7 minutes. The left-arm spinner Tilak Raj's single overproduced six sixes. It surpassed CK Nayudu's 58-year-old Indian record of 11 sixes against a visiting MCC team at Bombay Gymkhana in 1926-7 in terms of the number of sixes. Only 33 runs were added to the 204* sixth wicket stand that Shastri and Ghulam Parkar put together in 83 minutes. Shastri grabbed two wickets in Baroda's second innings in a span of four overs.

The World Championship of Cricket in Australia was the first time international cricket matches were broadcast live in India, with the exception of a few series in Pakistan and the 1983 World Cup final. India dominated the WCC, winning every game handily. Although the World Cup was intended to commemorate Victoria's 150th anniversary, Pakistan and India ended up winning.

Although Ravi Shastri had a sluggish start to the tournament, he ended up scoring fifty in the final three games. In the final and against Australia, India achieved a century opening stands thanks in part to Srikkanth's three fifty-scores. India entered every match with two spinners. The fact that all of the games were held in Melbourne and Sydney, cities with twisting tracks and lengthy boundaries, was beneficial. In five games, Sivaramakrishnan and Shastri both grabbed 18 wickets.
Ravi Shastri was selected as the player of the series, known in this competition as The Champion of Champions, for his 182 runs and 8 wickets. For his efforts, he received an Audi 100 vehicle. Rajiv Gandhi, the Prime Minister, issued a special order for Indian customs to waive the hefty duty that would have typically been applied to its shipment.

India defeated Pakistan and Australia to win the Rothman's Cup two weeks later in Sharjah. The victory over Pakistan stands out, especially because India only held 125 total. Siva and Ravi Shastri continued to work well together with the ball. Shastri made his debut as the Indian vice-captain during this particular competition. Before the competition started, Gavaskar made the decision to give up his captaincy after the conclusion of the WCC. Ian Chappell, a former captain of Australia, urged before the game that for the benefit of Indian cricket, Gavaskar should stay as captain till Shastri could succeed him.

In the 1985–86 season, Ravi Shastri remained Kapil Dev's vice-captain. For him, this season and the 1986 England tour were unremarkable. In 1986–1987, Australia, Sri Lanka, and Pakistan made trips to India. Shastri scored 62 and 48* in the Tied Test at Madras against Australia, which was a vital performance. His two successive sixes off off-spinner Greg Matthews were useful as the Indian middle order crumbled and India trailed behind the run rate. He received 121* in the last Test played in Bombay. It was performed in first and fourth gear, as was becoming more and more typical. For the final run of his fifty, he stayed about 30 minutes, and for the nineties, twice as long. Nevertheless, he managed to strike six sixes, three of which came after he reached a hundred. Particularly noteworthy was the massive six off left-arm fast bowler Bruce Reid, a cross-hit heave that sailed over London. At the time, an Indian inning record was six sixes. Dilip Vengsarkar, who hit 164* in the same innings, outperformed him. They added 298 runs* for the sixth wicket, a record.
That's Cricket was a 15-minute coaching series that Ravi Shastri offered at the beginning of 1987. On Sunday mornings, this was broadcast on Doordarshan, a national television network. India fell to Pakistan in the 1986–1987 series after losing the last Test at Bangalore. The media criticized Kapil Dev harshly for leading the team. At the start of the 1987–88 season, the Reliance World Cup, the selectors decided to keep him as captain. In the Reliance Cup, Shastri struggled with the bat but teamed up with fellow left-handed spinner Maninder Singh to have success bowling. Despite winning its group, India lost to England in the semifinal. More criticism was directed at Kapil Dev for missing a catch at deep midwicket when victory was still a possibility.

Around this time, Vengsarkar became the front-runner to replace Kapil Dev. He had a fantastic batting streak that began with the 1986 England series. He was rated as the best batsman in the world in 1987 by the just created Deloitte ratings (the predecessor to the current LG ratings). The Indian selection committee has historically favoured appointing the team's top player the captain. Thus, Kapil was fired ahead of India's home series against the West Indies, and Vengsarkar was appointed captain.

In the third Test, Vengsarkar's left arm was broken, and Ravi Shastri led India for the first time in his Test career. India won the toss and decided to bat first in Madras on a turning wicket that wasn't well prepared. India won by 255 runs to tie the series at 1-1 thanks in part to 16 for 136 from debutant Narendra Hirwani. Shastri didn't do much else with the bat or ball other from this. He served as captain for six of the eight one-day matches in which West Indies prevailed. Vengsarkar received a six-month suspension from the BCCI in the meantime for penning newspaper columns.

In the beginning of 1989, India visited the West Indies. Despite the series being a failure overall, Ravi Shastri played the finest innings for either team. It happened during the second Test at Bridgetown. India were behind by 56 runs in the first innings and lost six wickets for a score of 63 in the second. Shastri, who was batting at No. 3, was last out after making a valiant 107 out of 251 all out. He would later reflect that this was his best performance when looking back on the end of his career. Malcolm Marshall, Curtly Ambrose, Courtney Walsh, and Ian Bishop were the bowlers, and the pitch was challenging.
Many of the Indian athletes participated in an exhibition game in the United States on their way home. Players are suspended by BCCI. Vengsarkar was fired despite the fact that the suspension was eventually lifted. Ravi Shastri was once more named the deputy, and Srikkanth was named the new captain. Both were dropped from the 1990 tour of New Zealand following a lackluster series in Pakistan. A selection referred to Azharuddin's experimental team as the team of the 1990s. The statement quickly gained the status of a joke. As vice-captain, Shastri was called up for the tour to England that summer.

Up to the 1990 England tour, when Ravi Shastri hit two hundreds in three Test matches, Ravi Shastri's career largely remained difficult. He began his debut innings for India with an even 100 as India responded to a massive England total at Lord's. The majority of the runs came from Shastri's typical flicks and nudges, which made for a laborious inning in which he frequently played and missed. He became more aggressive at the close of his innings, scoring 100 runs by hitting English off-spinner Eddie Hemmings for two fours and a six in an over, and then leaving soon after trying another huge hit. He exceeded this at the Oval with 187. The assessment of this innings by writer and critic Harsha Bhogle applies to many of Shastri's significant initiatives.

Following the Oval innings, Ravi Shastri hit a maximum score of 88 against Sri Lanka in the Chandigarh Test and a career-best 217 against India in the Irani Trophy on a very poor surface. A week later, in a one-day game against the same opponents, he batted with his bat for 101*, hitting the century with a two off the final ball. He struck 109 at Delhi the following year during South Africa's first-ever ODI series after their comeback to international cricket, becoming his fourth and last one-day century. India played few home games at this time due to a string of postponed tours.

India traveled to Australia for a five-test series at the end of 1991, which was followed by the World Cup. It was dubbed the Indian Summer by Channel 9. India's performance in the series was dismal; they dropped four of the five Test matches, and there were numerous umpiring disputes. But it also marked the pinnacle of Ravi Shastri's and Kapil Dev's professional lives.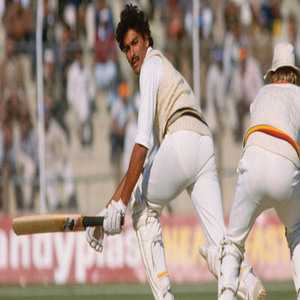 In the opening World Series Cup game against Australia, Ravi Shastri collected 5 wickets for 15 runs. At that time, it was the best ODI bowling performance by an Indian. Though three batsmen were caught on the legside boundary and another was stumped, the majority of the wickets were unjustly gained. He made the first double hundred for an Indian against Australia in the third Test at Sydney, his only such feat in Test cricket. The Australian leg-spinner Shane Warne, who was making his debut, dropped him in the sixties off his own bowling. He finished his hundred early on the fourth day despite many weather delays, and a six off Warne brought up the 150. After nine and a half hours, he finally succumbed to a worn-out shot from Warne, hitting 206 with 17 fours and two sixes, becoming Warne's first Test wicket.

The knee injury that would soon put an end to Ravi Shastri's career first surfaced during this inning as well. India entered the game with four pace bowlers but no consistent spinners. At this point, Shastri was primarily a part-time bowler. The pitch began to lose its luster on the last day. In the second innings, Shastri claimed four wickets, and Australia just about beat the deadline to force a tie. India may have been able to win the game with a different spinner.
The Sydney Test was followed by the remaining WSC games. Ravi Shastri's knee ailment became worse during the second final against Australia. He was made to stand and slog in the closing parts of the innings. It culminated in an expected mishit to cover after a few rapid runs. The final two Test matches, which India lost in each, were missed by him. He was unexpectedly added to the World Cup team that was being held by Australia and New Zealand after it appeared for a while that he might not be able to participate.

India defeated Australia in their second game by chasing 238 and winning in 50 overs. The aim was changed to 236 in 47 overs due to a weather delay. India lost by one run as Ravi Shastri needed 67 balls to reach his score of 25. He was given the blame for the loss and excluded from the tournament's remaining games.

The next year, South Africa welcomed India on their inaugural trip. In all four Test matches, Ravi Shastri opened and had trouble scoring runs. In India's one-day victory at Centurion Park, a 16-ball 27 not out was the sole positive development. In this series' one-day matches, he has batted down the order. He subsequently remarked that for once, he knew exactly what his role was during the World Cup innings against Australia.

Following the South Africa series, India hosted England. Before the series, Ravi Shastri's knee problem flared up again, forcing him to miss eight months of cricket. He didn't play for India in international cricket again.
Post Retirement
In March 1995, Ravi Shastri made his television commentary debut while covering the World Masters Tournament in Mumbai. He helped establish the celebrity management firm Showdiff Worldwide in 2003. Since then, he has worked as a UNICEF Goodwill Ambassador and in temporary official positions for the ICC and BCCI. Some of his short-lived programmes, like Super Spells, are still broadcast on Star Sports and other stations.

In April 2008, Ravi Shastri and his co-commentator resigned from their lengthy affiliations with ESPN-STAR Sports because the BCCI had hired them to serve as commentators for the lucrative Indian Premier League, which was shown on a competing network called Sony Max. For their 2007 tour of Bangladesh, he served as an interim coach for the Indian cricket team. He was selected to carry the Olympic Torch during the Oman Leg of the 2008 Summer Games.
Ravi Shastri's Coaching Career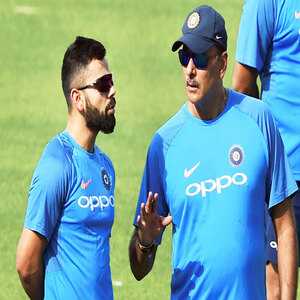 The Cricket Advisory Committee (CAC), made up of Sourav Ganguly, Sachin Tendulkar, and VVS Laxman, selected the former team director Ravi Shastri as head coach for the national squad in July 2017. According to the contract, he will receive Rs. 8 crores annually. 1.5 Crore rupees more than his forerunner Anil Kumble.

On June 13, when the 2019 World Cup was still in process, the BCCI announced that Shastri's contract would be extended by 45 days following the event. He was reinstated as the senior men's Indian team's head coach on August 16, 2019, and his new contract runs through the country's hosting of the ICC T20 World Cup in 2021.
Legends League Cricket
Ravi Shastri retired as the head coach of the Indian National Cricket Team in November 2021 and joined Legends League Cricket as the league's commissioner. He is in charge of the League's cricketing components in this capacity. Vivek Khushalani and Raman Raheja came up with the idea for The League. T20 cricket players who have lately retired have played there.

Ravi Sashtri's Records
10th Youngest player to take five-wickets-in-an-innings.
10th Highest partnership for the Seventh wicket.
10th Most wickets taken stumped (22)
Ravi Shastri's Awards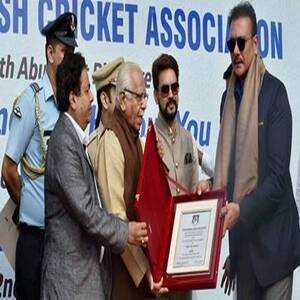 1984: Arjuna Award
2004: ITA Award for Best Anchor Commentator
2017: CNN-IBN Indian of the Year Special Achievement Award
Ravi Shastri's Controversies
Underage Drinking
When he was a part of the U-19 team, Ravi Shastri got busted by his warden for drinking beer. The warden was about to leave with the beer bottle after confronting Shastri and threatening to report him to higher authorities when Shastri summoned him back and poured some into his glass before letting him go. He acknowledged it and related the tale in a Breakfast With Champions episode.

Sourav Ganguly VS Ravi Shastri
Ravi Shastri was abruptly forced to resign as team director in 2016 after being hired during the poor England trip in 2014. Anil Kumble was appointed in his place. But after being requested to reapply, he was given the position of head coach again. Shastri admitted to TOI that he thought someone was preparing a plan against him.

Sourav Ganguly, the president of the BCCI, and Ravi Shastri, the head coach, are two of the most powerful figures in Indian cricket. They have a very public dislike for one another. Back in 2016, when Shastri lost out to Anil Kumble for the position of head coach, he put the failure on Ganguly and dubbed the hiring procedure rude.
Sleeping During Matches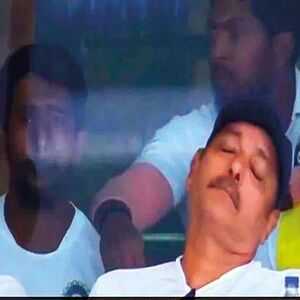 In the middle of a Test match between India and South Africa in Ranchi in October 2019, Ravi Shastri, the head coach of Team India, was seen dozing off. His photographs of peacefully nodding off went viral as memes, and Twitter users had a great time mocking him. According to Mid-Day, Shastri told the haters to enjoy, in response. He said who cares what people think and that he never missed a ball.

Amazingly, this wasn't the first time Ravi Shastri was observed sleeping while his team was in action. Shastri was spotted dozing off during an India vs. England Test match in 2018, and Harbhajan Singh made fun of him during the commentary saying Ravi Shastri is there taking a nap. Harbhajan exclaimed, Ravi, wake up, as the other commentators around him started to chuckle.
Ravi Shastri VS Ravi Shastri
After India's 3-1 defeat to England in the Test series, Ravi Shastri decided to make a strong message. The current Indian test team, according to the head coach, is the greatest Indian side to travel abroad in the recent 15 to 20 years. Ravi Shastri had a suitable retort for Shastri in response to this significant assertion made by the former India star. Gavaskar claimed that in the 1980s, his team had more victories in England and the West Indies.

Ravi Shastri also made fun of the current Indian side, which suffered consecutive series defeats in South Africa and England in 2018. Ravi Shastri's remarks were obviously unimpressive to Gavaskar, who chose to share examples of times when India had triumphed away from home during his time.
Azhar Movie
The 2016 release of the Bollywood film Azhar, directed by Tony D'Souza, centres on the match-fixing incidents of the late 1990s and early 2000s and the involvement of Mohammad Azharuddin in the scam. Gautam Gulati played the role of Ravi Shastri in the movie. The movie, however, painted Shastri's persona in a very poor light by portraying him as a womanizer. Shastri criticized the film's creators for the poor portrayal and added that he has no plans to see the movie.

Ravi Shastri's Net Worth
Ravi Shastri's net worth is $8 million US or 58 crore rupees, as of 2022. Being the head coach of the Indian Cricket team for the BCCI generates the most of his salary. In order to launch Showdiff Worldwide, a talent management business, Ravi teamed up with Rediffusion DY&R in 2003. Shastri is well recognized for his charitable activities, support of sports and young athletes, and impressive record and earnings.

For the year 2019, Ravi Shastri received an annual salary from the BCCI of approximately Rs. 9.5 to 10 crores. He received a fairly substantial salary for his work as the Indian team's director and commentator.

Additionally, Ravi Shastri serves as the board's strategic advisor for India Resources Limited, a mining corporation. In addition, he has assets in a variety of businesses, including the educational institution GreyCells Education Private Limited.

Ravi Shastri has his house in Mumbai. it is one of the extravagant properties he purchased in Mumbai and is currently worth Rs. 11.2 crore. In 2001, he purchased this home. The collection of expensive vehicles owned by Ravi Shastri is relatively modest. He has vehicles from a variety of manufacturers, including BMW, Mercedes Benz, Ford, and others.
Ravi Shastri Interesting Facts
Ravi Shastri's full name is Ravishankar Jayadritha Shastri.
Ravi Shastri's nickname in cricket is Shaz.
Ravi Shastri is known for his trademark chapati shot, a flick off the pads.
At 17, Ravi Shastri was the youngest cricketer to play for Mumbai in Ranji.
Ravi Shastri began his career playing at position 10. Shastri, however, advanced to being an opening batsman just 18 months after making his Test debut.
Ravi Shastri played his last game in December 1992.
Ravi Shastri retired at the age of 30.
For nearly 20 years, the 1981 Irani Trophy's scoring total of 9-101 by Ravi Shastri stood as the competition record.
Social Media
Frequently Asked Questions