Sunil Gavaskar | Cricket, Age, Biography, Height, Net Worth

Violeena Vargav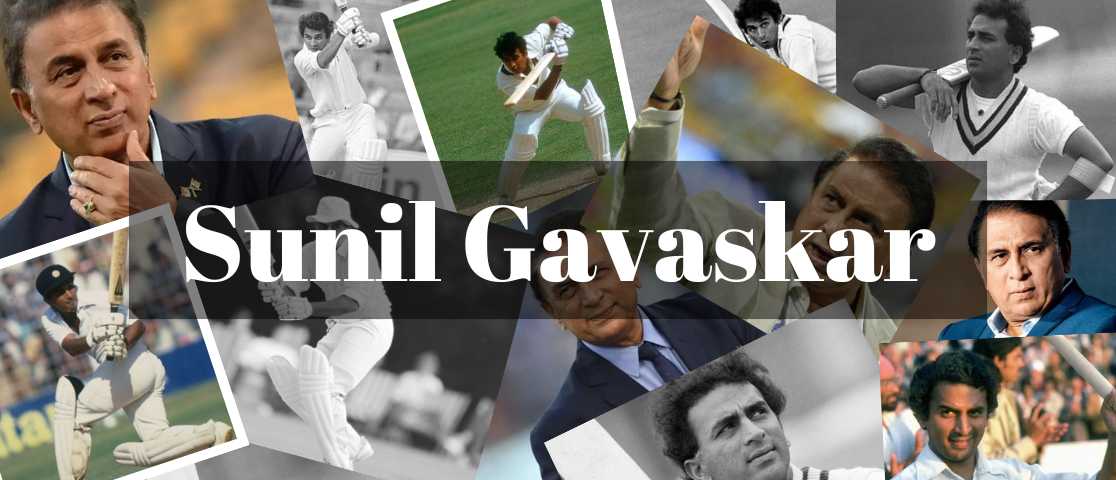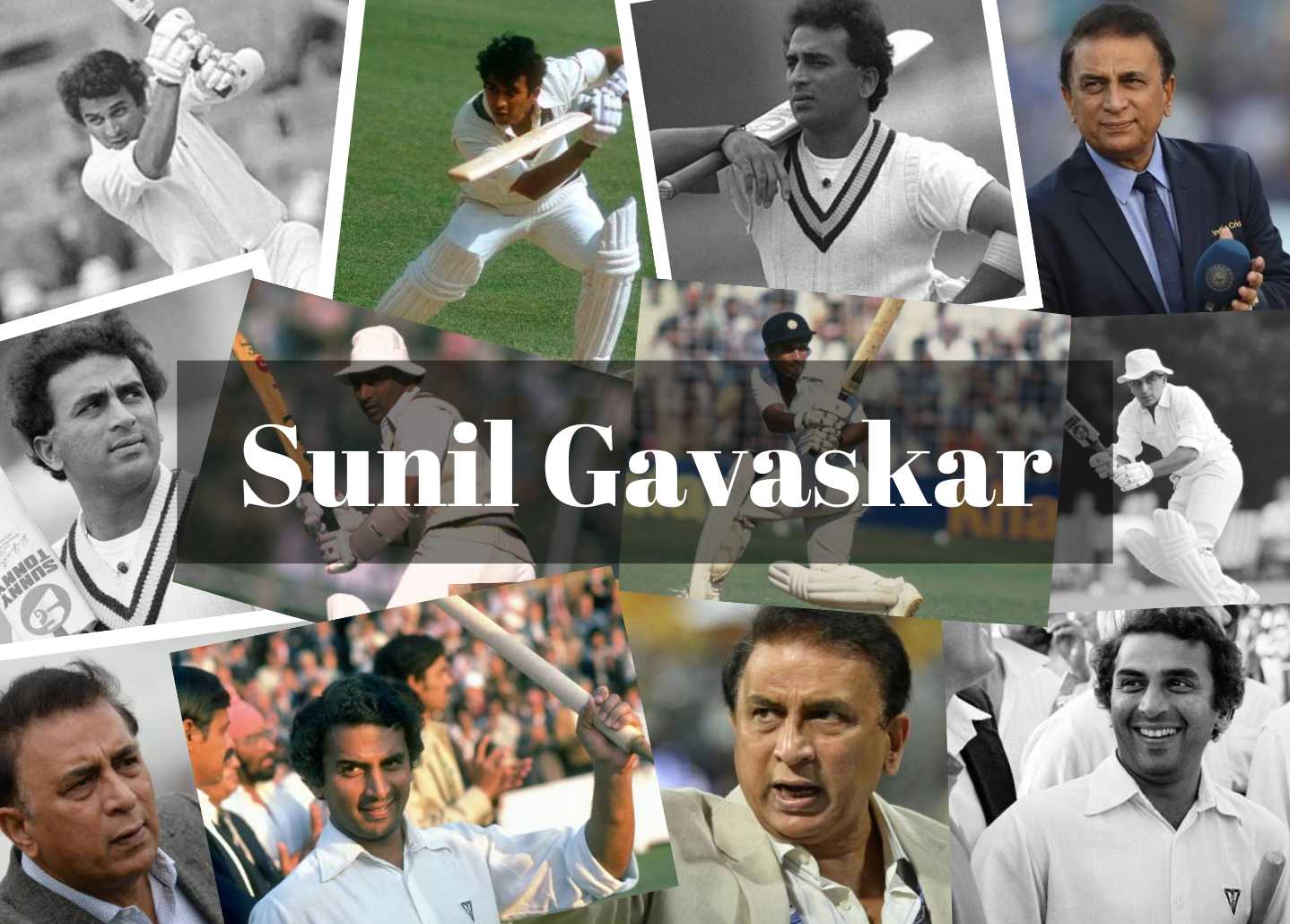 Sunil Gavaskar's Biography
Sunil Gavaskar is a famous former Indian cricketer and a cricket commentator. Sunil Gavaskar represented India and Bombay from 1971 to 1987. Gavaskar is regarded as one of the best opening batters in history.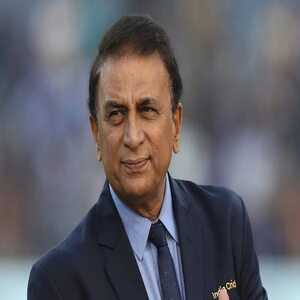 Sunil Gavaskar's full Name is Sunil Manohar Gavaskar. Sunil Gavaskar's nickname is Sunny or Little Master. Sunil Gavaskar's birthday is on 10 July 1949. Sunil Gavaskar's age is 73 years as of 2022. Sunil Gavaskar's birthplace is Bombay, Maharashtra, India. Sunil Gavaskar's zodiac sign is Cancer. Sunil Gavaskar's height is 1.65m or 5'5. Sunil Gavaskar's religion is Hinduism. Sunil Gavaskar did right-handed batting. Sunil Gavaskar was an opening batsman.

With a particularly high average of 65.45 against the West Indies, who had a four-pronged fast bowling assault regarded as the most ruthless in Test history, Sunil Gavaskar was universally recognized for his technique against fast bowling. The majority of Gavaskar's hundreds against West Indies, meanwhile, came against their backup team when their four-pronged attack wasn't functioning as a unit. Despite the Indian side winning the 1985 Benson & Hedges World Championship of Cricket, his leadership of the team was cited as being less successful. A number of captaincy changes between Gavaskar and Sunil Gavaskar resulted from the team's erratic performances, with one of Gavaskar's dismissals occurring just six months before Kapil led India to victory at the 1983 Cricket World Cup. He was also Mumbai's former Sheriff.

Both the civilian Padma Bhushan award and the Indian sports Arjuna Award have been given to Sunil Gavaskar. In 2009, he was admitted into the ICC Cricket Hall of Fame. The Col CK Nayudu Lifetime Achievement Award for Cricket in India was given to him in 2012.
Claim Your FREE Celebrity Shoutout
✕
Claim Now!
Sunil Gavaskar's Family and Sunil Gavaskar's Education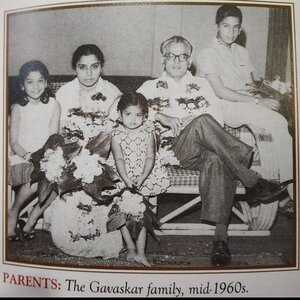 Sunil Gavaskar's father's name was Manohar Gavaskar and his mother's name was Meenal Gavaskar. Sunil Gavaskar has two sisters whose names are Kavita Viswanath and Nutan Gavaskar. At birth, a baby belonging to a fisherman was swapped for Sunil Gavaskar. Since the youngster had a birthmark close to his ear, it was his uncle who realized that he was not Sunil. Sunil was raised in a middle-class household. It was not surprising that he had a fondness for cricket from an early age. His maternal uncle Madhav Mantri was a former Indian Test wicketkeeper, while his father had been a successful club player.

St. Xavier's School, which was renowned for its cricketing traditions, was where Sunil Gavaskar completed his primary education. He participated in a lot of cricket during his time in school and was awarded the best schoolboy cricketer in India in 1966. In 1966–1967, while playing for Vazir Sultan Colts XI, he made his debut in the first class.
Talk To Similar Celebrities
Sunil Gavaskar's Marriage
Marshneil Gavaskar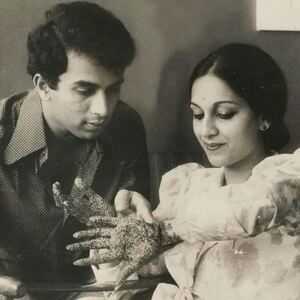 Marshneil Gavaskar is a native of Kanpur and the daughter of one of the city's most illustrious leather manufacturers. Marshneil enjoyed watching cricket matches at stadiums with her family and friends, just like every other Indian. The young Marshneil had travelled from Kanpur to Delhi, the capital of the country, for her studies. The young Marshneil made the decision to see the Indian team play a match in Delhi in the year 1973 with her pals from the stands. The small group of Marshneil had gone to the stadium and had the opportunity to collect the autographs of several of the Indian cricket players around lunchtime.

Marshneil was signing autographs from cricket players, much like the majority of her mates. But Sunil Gavaskar, an Indian cricketer, was a little away from the crowd, and when Marshneil spotted him, she went up to him and requested his autograph. Sunil Gavaskar saw Marshneil at that precise time and fell in love with her at first sight. Sunil Gavaskar proposed to Marshneil, his fan and ladylove, in Kanpur after a few months had passed, and she accepted.
There were numerous reports in numerous newspapers at the time that Sunil Gavaskar frequently traveled to Kanpur to see his girlfriend Marshneil and lodged at the home of his buddy Ajay Gupta. Ajay Gupta once admitted in a 1974 newspaper interview that he was oblivious to his relationship with Marshneil when Sunil Gavaskar used to visit his home. However, Sunil quickly revealed everything regarding his relationship with Marshneil and asked him to provide Marshneil's family with the tickets for his forthcoming match in Kanpur. The cricketer then proposed to her after the game, and everyone approved of their relationship.

Sunil Gavaskar married Marshneil on 23 September, 1974. After two years, on February 20, 1976, Marshneil gave birth to a baby boy whom they called Rohan Gavaskar, and the couple experienced parenting for the first time. Their son, Rohan, was a cricketer who competed for India in 11 One Day Internationals but was unable to get a berth on the team. In honor of Sunil Gavaskar's three favourite cricketers—Rohan Kanhai, M. L. Jaisimha, and Rohan's uncle Gundappa Vishwanath—his father gave Rohan the name Rohan Jaivishwa. Even though Rohan Sunil Gavaskar is the name that is typically recorded. Vivaan, a small boy, and Reya, a stunning girl, are the grandchildren of Sunil and Marshneil Gavaskar today.
Sunil Gavaskar's Career
Domestic Career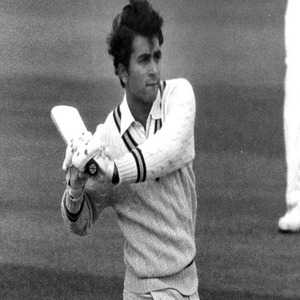 Sunil Gavaskar, who was born in Mumbai to a middle-class Marathi family and attended St. Xavier's High School, won the 1966 India's Best Schoolboy Cricketer of the Year award while competing for his school. Before hitting a century against the visiting London schoolboys in his final year of secondary school, he scored 246*, 222, and 85 in school cricket. In 1966–67, he played in his first-ever first-class match for Vazir Sultan Colts XI against an XI from Dungarpur, but he remained a member of Bombay's Ranji Trophy team for the following two years without taking part in a game. He attended Bombay's St. Xavier's College and made his debut against Karnataka in the 1968–1969 season. He made a duck, however, and was the target of mocking claims that his selection was influenced by the fact that his uncle Madhav Mantri, a former Indian Test wicketkeeper, served on the selection committee for Bombay. He followed up by scoring 114 against Rajasthan in his second game, and two more successive centuries led to his selection for the 1970–71 Indian team's West Indies trip.

Test Debut
Sunil Gavaskar struck 65 and 67 not out in the second Test in Port-of-Spain, Trinidad, after missing the first due to a nail infection, scoring the winning runs that handed India its first-ever victory against the West Indies.

Then, in the third test in Georgetown, Guyana, Sunil Gavaskar scored 116 and 64*, and in the fourth test in Bridgetown, Barbados, he scored 1 and 117*. These two innings marked the first 100 for Sunil Gavaskar. He went back to Trinidad for the fifth Test, when his scores of 124 and 220 helped India defeat the West Indies in a series for the first time ever and the only time until 2006. Due to his performance in the Test, he is still the only Indian to date to have scored a century and a double century in the same game, trailing only Doug Walters. As the second Indian after Vijay Hazare to hit two centuries in a single Test and the third after Hazare and Polly Umrigar to score hundreds in three straight innings, he also made history by becoming the first Indian to make four centuries in a single Test series. He is still the only Indian to have amassed more than 700 runs in a series, having done so first. The 774 runs at 154.80 remain the batsman's career high for runs scored in a debut series. The Gavaskar Calypso was written in honor of Gavaskar by Trinidad Calypso musician Lord Relator (Willard Harris).

In light of his debut series, Sunil Gavaskar's presence in England for a three-Test series in 1971 attracted a lot of media attention. He was unable to continue playing well, scoring just two half-centuries. When he took a quick single off of John Snow's bowling, he caused a stir. Gavaskar collapsed after their collision. Snow was suspended after being accused of intentionally ramming into Gavaskar. Some questioned Gavaskar's eligibility for international cricket after he scored 144 runs at a low average of 24.
Sunil Gavaskar's first home match was against England during their five-match Test series in India in 1972–1973. In the first three Tests, when India established a 2-1 lead, he was unsuccessful, scoring just sixty runs in five innings. He contributed a few runs in the final two Tests that India drew with England to win the series 2-0. His first home series, which included 224 runs at 24.89, was generally disappointing. When India returned in 1974 and Gavaskar hit 101 and 58 in the second Test at Old Trafford, his English detractors were appeased. He scored 227 runs at an average of 37.83 as India was defeated 3-0.

Sunil Gavaskar's 1974–75 series against the West Indies was cut short, as he only participated in the first and fifth, and final Tests. The closest the Indian crowd got to see a century was when he hit 108 runs at 27, with an 86 bowled by Lance Gibbs at Bombay's Wankhede Stadium, which was holding the maiden test on this field. A world record string of 106 consecutive Test appearances began with the test.

Three and four Test tours, respectively, were made to New Zealand and the West Indies during the 1975–76 season. Sunil Gavaskar took over as India's Test captain for the first time against New Zealand in the First Test in Auckland in January 1976 as regular skipper Bishen Singh Bedi was sidelined with a leg injury. Gavaskar honoured the selectors by playing despite having scored only 703 runs at a pace of 28.12 since his debut series with 116 and 35*. India eventually won by eight wickets as a consequence. He finished with 266 runs at a 66.33 average. Gavaskar struck successive centuries of 156 and 102 in the Second and Third Tests of the West Indian leg of the tour, both in Port of Spain, Trinidad. His third and fourth centuries at the grounds were those. He contributed 102 to India's 4/406 in the Third Test, which broke the previous record for the highest winning fourth-innings score. West Indian captain Clive Lloyd reportedly promised that he would only rely on pace in future Test matches after the Indians' dominance of the Caribbean spinners on a turning ground. For the series, Gavaskar ran 390 runs with an average of 55.71.
It took Sunil Gavaskar until November 1976 to record a century on home soil. Gavaskar struck a century in the first and final Tests of an eight-test season, three of them against New Zealand and five of them against England. At the Wankhede Stadium, the first scored 119 in front of his home fans, giving India the victory. Gavaskar added another half-century to his series total of 259 at 43.16 in the second test. He was mobbed after becoming the first Indian to score 1,000 Test runs in a calendar year during the First Test against England in Delhi. He finished the series with 394 runs at 39.4, including two half-centuries and a century in the fifth Test.

During his tour of Australia in 1977–1978, Sunil Gavaskar amassed three straight Test hundreds (113, 127, and 118) in the second innings of the first three matches, which were played at Brisbane, Perth, and Melbourne, respectively. India lost the first two games but won the third. With 450 runs at 50, he failed twice as India lost the final Test and the series 3-2. He ended the Five Test series.

India visited Pakistan in 1978–1979 for the first series between the bitter rivals in 17 years. Imran Khan, the leader of Pakistan's pace attack, said about Sunil Gavaskar that he was the most compact batsman he bowled to. Gavaskar scored 89 in the first test, which India drew in, and 97 in the second test, which India lost. Gavaskar reserved his finest performance for the third test in Karachi, where he scored 111 and 137, but he was unable to stop a loss and a series loss. His two centuries helped him surpass Umrigar as India's top Test run-scorer and made him the first Indian to record two hundred in a single Test on two separate occasions. Gavaskar scored 447 runs in the series, averaging 89.40.
Captaincy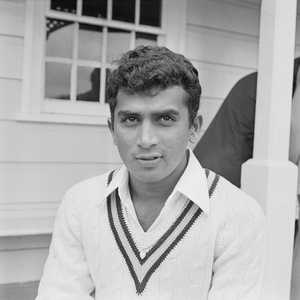 Despite having a middling track record, Sunil Gavaskar led the Indian team on multiple occasions in the late 1970s and early 1980s. He frequently used conservative strategies that produced lots of draws because he was armed with uninspiring bowling assaults. Sunil Gavaskar became one of the nation's top pace bowlers during his leadership. With 30 games played in draws, he led India to nine wins, eight losses, and one tie.

A six-match Test series against West Indies was Sunil Gavaskar's maiden series in command. The numerous great centuries by Gavaskar were in contrast to his numerous failures. He became the first Indian to achieve a double century in India against the West Indies with his 205 in the First Test. In the second innings of a high-scoring draw, he added a further 73 runs. In the Third Test in Calcutta, another high-scoring tie, he struck 107 and 182 not out after failing to score in the Second Test. As a result, he became the first player in Test history to record hundreds in each of a test's two innings three times. He only scored four runs and one during the fourth Test in Madras, which India won by force. He scored 120 in the Fifth Test at Delhi, posting his fourth century of the series, and became the first Indian to reach 4000 Test runs. In his maiden series as captain, he scored 732 runs overall at 91.50, giving India a 1-0 victory.
Sunil Gavaskar was relieved of his captaincy when India toured England in 1979 for a four-Test series, notwithstanding this. Most observers believed that Gavaskar was penalised because it was thought that he was considering defecting to World Series Cricket, despite the official explanation being that Srinivas Venkataraghavan was picked owing to his greater experience playing on English soil. In the first three Tests, he had a steady start, scoring four half-centuries in five innings. His best innings on English soil were played in the Fourth Test at The Oval. India needed to achieve a world record goal of 438 to tie the series after falling behind 1-0. At stumps on the fourth day, they were 76/0. India, under the leadership of Gavaskar, made steady progress, reaching 328/1 with 20 overs left on the final day, leaving a record-breaking victory open. Gavaskar was removed after an Ian Botham-led comeback, but India still needed 49 runs from 46 balls. The match had three balls remaining, and all four outcomes were possible. When the game was drawn, India had two wickets in hand but was still nine runs short. He was recognized as one of the Wisden Cricketers of the Year after finishing the series with 542 runs at an average of 77.42.

For the demanding 1979–80 season, which included six home Test series against both Australia and Pakistan, Sunil Gavaskar was reinstated as captain. India took a first-innings lead in both of the first two Tests against Australia after posting scores of over 400. Only 45 wickets were lost throughout these high-scoring draws. Gavaskar made 76 runs as India prevailed by 153 runs in the third Test in Kanpur. He scored 115 runs in the Fourth Test at Delhi, which ended in a draw since India was unable to capitalise on the first-inning advantage of 212 runs. Gavaskar struck 123 in the sixth test, where Australia lost by an innings after India made their fourth first innings of more than 400 for the series, following another tie in the fifth test. Similar to this, there were four draws in the series against Pakistan, three of which were decided before the fourth innings. In Bombay and Madras, India won the third and fifth Test matches. He scored 166 runs in the first innings in Madras and was still standing at 29 when India scored the winning runs.

Sunil Gavaskar was relieved of his captaincy for the tie-breaking Sixth Test after the team won the series 2-0. This happened because Gavaskar declined to go to the West Indies for a second series right away, requesting a break. Gundappa Viswanath was consequently chosen for the position so that he could develop his leadership abilities before the tour. The West Indian board ultimately decided against the tour because they would not support a squad without Gavaskar. India lost the final Test of the season against England at Bombay. He scored 1027 runs at 51.35 with three hundreds and four half-centuries in the 13 Test matches that season. Gavaskar had participated in 22 Test matches throughout the previous 14 months, as well as the 1979 Cricket World Cup. He amassed 2301 Test runs over that span, including eight hundreds.
Sunil Gavaskar returned to lead India for the 1980–81 season's tour of Australia, but it would mark the beginning of an unsatisfactory reign for both of them. In the three Tests he played against Australia, he scored just 118 runs at 19.66, but he made a big impression on the country because of a contentious event. Gavaskar ordered Chetan Chauhan off the field at the Melbourne Cricket Ground after being ruled out by Australian umpire Rex Whitehead. The Indian manager, SK Durani, convinced Chauhan to stay in the game instead of leaving it, and India went on to defeat Australia by 59 runs as their second-innings total dropped to 83. India drew the series 1-1, but the subsequent three-Test series in New Zealand would mark the beginning of a winless streak of 19 Test matches for India under Sunil Gavaskar, during which time they would triumph in only one and lose in five. Gavaskar managed 126 runs at 25.2 in India's 1-0 loss to New Zealand. With 244 runs at 22.18 and just two half-centuries at the end of the Oceania tour, he had a negligible impact.

During the 1981–82 Indian season, they defeated England in six Test matches, winning the series 1-0. India won the first test, but after that, there were five straight draws, four of which ended before the fourth innings. Sunil Gavaskar scored 172 runs during the second Test match in Bangalore and added three more half-centuries to his total of 500 runs at 62.5. India hosted England in 1982 for a three-Test series that ended in a 1-0 defeat. Gavaskar was unable to bat in the third Test despite scoring 74 runs at a 24.66 average.

A six-match Test series against the powerful West Indies on tour was played after the Pakistan series. Sunil Gavaskar had his bat knocked out of his hand by a nasty delivery from Malcolm Marshall before being dismissed in the First Test, which was played at Kanpur. India was defeated by an innings. Gavaskar responded to Marshall in the Delhi Second Test by hooking him for a series of fours and sixes to start his innings. Gavaskar persistently hooked the short-pitched assault, refusing to follow the Caribbean pacemen's instructions, and finished his half-century in 37 balls. Later, he equaled Don Bradman's record by scoring 121, his 29th Test century in 94 balls, in his 95th test match. The Indian Prime Minister, Indira Gandhi, personally recognized him at the venue for surpassing 8,000 Test runs in the innings. The game ended in a tie.

Sunil Gavaskar broke Geoff Boycott's Test career record of 8,114 runs with a score of 90 in the third Test at Ahmedabad, but it wasn't enough to stop another loss. India lost the fifth test of the series in Calcutta by an innings, giving up a 3-0 series lead. India has had one recent test victory and none in the previous 28. Gavaskar, who had created a golden duck and 20, was singled out by the crowd. Before stoning the team bus, irate spectators threw objects onto the playing field and got into a fight with the police. His undefeated 236 in the sixth Test in Madras, which was the highest Test performance by an Indian, gave him his 30th Test century in his 99th test match. He surpassed Donald Bradman's record of 29 test centuries by scoring his third double century against the West Indies and his 30th Test century overall. For the series, he scored 505 runs total at an average of 50.50.
India had lost 29 straight Test matches when Kapil was relieved of his captaincy, and Sunil Gavaskar took over at the start of the 1984–85 campaign. With two more draws during the two-Test visit of Pakistan, Gavaskar amassed 120 runs at 40. India won its first Test match in 32 games in the opening Test against England. England leveled the series at 1-1 in Delhi before another contentious Third Test at Eden Gardens in Calcutta, thus it turned out to be a false dawn.

India batted for more than two days before reaching 7/437 after 203 overs in front of a hostile crowd. The fans shouted Gavaskar down, Gavaskar Out in frustration at the sluggishness of India's batting, pointing the finger at him for India's failure. According to reports, the local police commander asked Gavaskar to make a statement to calm the irate gathering. Gavaskar received fruit pelting as he led his team onto the field.

Sunil Gavaskar promised to never play in Eden Gardens any more, and he dutifully withdrew from the team for India's subsequent match in the capital of Bengal two years later, breaking his record of 106 straight Test matches. Even though the game was a tie, India gave up the series after losing the fourth. Gavaskar resigned after the series, even though he had already declared his desire to do so before the series, due to a dismal performance of 140 runs at 17.5. Gavaskar's performance and that of India, who were touring Sri Lanka for a three-Test series, were not enhanced by the change of captain. At the time, India was humiliated 1-0 by the Test minnows, and Gavaskar only scored 186 runs at an average of 37.2.
Retirement
India made a tour of Australia in 1985–86. Three tests were drawn in all. Sunil Gavaskar finished the series with 352 runs at 117.33 after scoring an undefeated 166 in the first test in Adelaide and 172 in the third test in Sydney. He managed only 185 runs at 30.83 during a three-Test tour of England, which India won 2-0 despite his underwhelming performance. India had a lengthy schedule of eleven home Test matches in 1986–1987, Gavaskar's final season playing Test cricket. Gavaskar scored 90 runs in the second innings of the First Test in Madras (now Chennai) against an Australian team, giving India a chance to meet the objective of 348 runs. The match ended in a tie. He finished the series with 205 runs at 51.66 after scoring 103 in the third test.

Sunil Gavaskar's 34th and last Test century of 176 came in the first match against Sri Lanka at Kanpur. In the following two Tests, he scored 74 and 5, and India went on to win the three-match series 2-0. His final series would be a five-match one against Pakistan, one of his bitter rivals. Gavaskar hit 91 in the tie-breaking First Test in Madras before making good on his pledge to skip the Second Test in Calcutta. Gavaskar became the first batsman to surpass 10,000 runs in the Fourth Test at Ahmedabad with a score of 63. There was not going to be a fairytale with the score at 0-0 going into the last Test in Bangalore. As India was bowled out in the second innings after Gavaskar's dismissal for 96, Pakistan won the series 1-0.

The 1987 Cricket World Cup served as the capstone of Sunil Gavaskar's international career. With the competition, he amassed 300 runs at an average of 50. He scored 103* against New Zealand in the league phase, which was his greatest ODI score. In the semifinals, Phil Defreitas bowled him for 4 runs in his final international innings, therefore the fine form did not last.
Sunil Gavaskar's Batting Style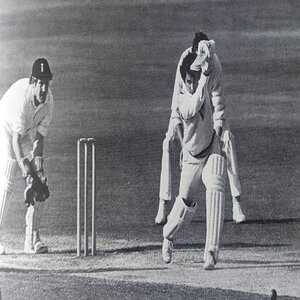 Sunil Gavaskar was a skilled slip fielder who made history by becoming the first Indian (aside from wicketkeepers) to grab more than 100 catches in a Test match. He took four catches and assisted India in defending a meager total of 125 in one ODI against Pakistan played in Sharjah in 1985. When India utilized pace bowlers sparingly early in his Test career, Gavaskar occasionally began the bowling for a brief while before a three-pronged spin attack took control. He only claimed one wicket, that of Pakistani Zaheer Abbas during the 1978–1979 season.

Sunil Gavaskar was not what one would call an attacking batsman, yet he was able to keep the scoreboard moving with unusual shots like the late flip. Because he prioritised technical accuracy over flair, his playing style was typically less suited to the shorter version of the game, where he was less successful. When he made the infamous 36 not out against England in the 1975 World Cup, carrying his bat through all 60 overs, Indian fans stormed the field to confront him for scoring so slowly when India needed almost a run every ball to win; at the conclusion of the game, India had lost only three wickets but had scored 200 runs less than England. Gavaskar almost didn't have a one-day century during his entire career. He scored his first (and only) ODI century at the 1987 World Cup against New Zealand in his penultimate ODI innings at the Vidarbha Cricket Association Ground in Nagpur, with 103 not out in 88 balls.
Sunil Gavaskar's Post Retirement Career
Sunil Gavaskar has maintained a devoted following as a well-liked, if occasionally contentious, pundit on television and in print. He took part in The Grand Knockout Tournament, a charity television event hosted by Prince Edward of the United Kingdom, in 1987. He gave the MCC Spirit of Cricket Cowdrey Lecture for the first time in 2003.

In 2004's home series against Australia, Sunil Gavaskar also provided advice to the Indian cricket squad. Until he was forced to decide between commenting and serving on the committee, he presided over the ICC cricket committee. He resigned from the committee to pursue a broadcasting career.

Sunil Gavaskar delivered the inaugural Mansoor Ali Khan Pataudi Memorial Lecture on February 20, 2013, at the Taj Coromandel in Chennai. Sunil Gavaskar was appointed interim president of the BCCI by the Supreme Court of India on March 28, 2014, largely to oversee the seventh season of the Indian Premier League. The Court also ordered him to resign from his position as a pundit at the same time. Gavaskar became the brand ambassador for Triton Solar.
Sunil Gavaskar's Entertainment Career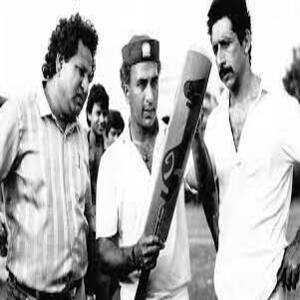 Sunil Gavaskar also made an attempt at acting in a movie. In the Marathi film Savli Premachi, he portrayed the main character. However, there wasn't much praise for the film. After a long absence, he had a brief cameo appearance alongside Naseeruddin Shah and Satish Shah in the 1988 Hindi film Maalamaal. He performed the famous Marathi poet Shantaram Nandgaonkar's song Ya Duniyemadhye Thambayaala Vel Konala. The song illustrated how a cricket match and everyday life are comparable.

Sunil Gavaskar's Books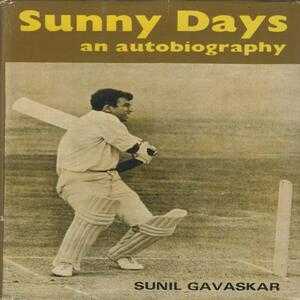 Including his own autobiography, Sunny Days: An Autobiography, published in 1976, Gavaskar also penned four books on cricket. His other publications are-
Idols from 1983
Runs 'n Ruins from 1984
One Day Wonders from 1986.
Sunil Gavaskar's Records
The first cricketer to reach 10,000 runs in a Test match was Sunil Gavaskar. During the Test match against Pakistan in Ahmedabad on March 7, 1987, the noteworthy milestone was attained. In test cricket, he scored 10,122 runs on this particular day.
Sunil Gavaskar amassed 34 centuries during 125 Test games. Later, in 2005, the God of Cricket, Sachin Tendulkar, smashed the record.
Sunil Gavaskar got 13 hundreds in the 27 games he played against West Indies.
The only cricketer to score 774 runs in a series against the West Indies is Sunil Gavaskar.
In the Faisalabad Test against Pakistan, Sunil Gavaskar was the first Indian to bat continuously. In that inning, he had ran up 127* runs.
Only one other batsman, Sunil Gavaskar, has ever scored more than 1,000 runs in a single year on four separate occasions.
Only Sunil Gavaskar has more consecutive hundreds on two cricket fields than any other batsman in history. Both in Port of Spain and Wankhede Stadium, he scored four straight hundreds.
Sunil Gavaskar was the first Indian fielder to accumulate a century of catches in a Test match, excluding the wicket keepers. He has 108 catches to his name during the course of his Test career.
Over the course of nearly 12 years, Sunil Gavaskar participated in 106 straight Test matches and remained an essential part of Team India.
The only Indian with three centuries in a single Test was Sunil Gavaskar.
The fastest Indian to accumulate 5000 Test runs is Sunil Gavaskar.
The only cricketer with 58 Test century partnerships with 18 different players is Sunil Gavaskar.
Along with Australia's Ricky Ponting and David Warner, Sunil Gavaskar holds the record for most hundreds in both innings in a Test Match, three in a row.
Sunil Gavaskar was named one of the Wisden cricketers of the year in 1980.
Sunil Gavaskar's Awards and Honours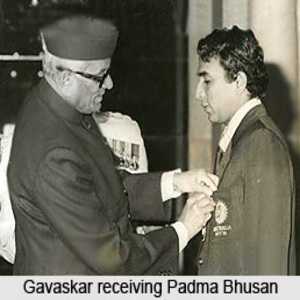 1980: Former Indian President Neelam Sanjiva Reddy presented Sunil Gavaskar with the Padma Bhushan honour.
1994: Former governor P. C. Alexander and former chief minister Sharad Pawar were present as Sunil Gavaskar took the oath of office to begin his honorary one-year term as Bombay Sheriff at Raj Bhavan in Mumbai.
1996: Establishment of the Border-Gavaskar Trophy in his honour. Any bilateral Test series between India and Australia will now be referred to as the Border-Gavaskar Trophy in honour of legendary athletes Allan Border and Sunil Gavaskar.
In his honour.
2003: Sunil Gavaskar was the first and only Indian to present an MCC Spirit Of Cricket Cowdrey Lecture. In the Cowdrey Lecture's history, he was the third speaker.
2012: Gavaskar received the Col. CK Nayudu Lifetime Achievement Award from BCCI during the BCCI Annual Awards Function for 2011–12. Gavaskar received the Lifetime Achievement Award from the then-BCCI president N. Srinivasan, who also presented him with a certificate, trophy, and a check for $2,500,000.
2017: Sunil Gavaskar officially opened a cricket field in Louisville, Kentucky, making it the first international sporting complex to bear an Indian athlete's name. The Louisville Cricket Club, a member of the 42-team MidWest Cricket League, calls the Sunil M. Gavaskar Cricket Field its home field. Greg Fischer, the mayor of Louisville, handed the keys to the stadium over to Gavaskar.
Sunil Gavaskar's Controversies
Shane Warne
Shane Warne is not the best spinner, according to Sunil Gavaskar. Now, the opinion itself is not incorrect because he has a right to it. However, saying it so soon after the Australian cricketer passed away was the worst possible timing. To make matters worse, he made absolutely inappropriate remarks about Warne's lifestyle. Later, Gavaskar apologised for his remarks and said that the issue shouldn't have been asked in the first place.

Virat Kohli and Anushka Sharma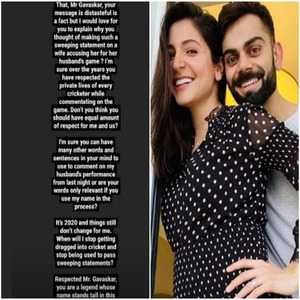 Sunil Gavaskar, who was in the commentary box, said that he had only rehearsed Anushka Sharma's bowling during the lockdown, suggesting that was the cause of Virat Kohli's errors when he dropped two catches in games against KXIP in IPL 2021. That was obviously inappropriate, and Anushka responded to his comments in an Instagram story. He received harsh criticism for his offensive remark.

Sunny Days Controversy
Sunil Gavaskar acknowledged in his autobiography that there were occasions when he thought he ought to leave the stumps and get dismissed. In anguish, he claimed to be. Sometimes it seems as though things were on the verge of severe apathy, despite the fact that one wants to comprehend the pressure he must have been under as a player with enormous obligations. Regarding this, Srinivas Venkataraghavan, his captain at the time, revealed that Gavaskar once sort of abruptly quit the game, and that did not sit well with anyone.

Walking Off in Australia
Sunil Gavaskar was declared out on a delivery from Dennis Lillee in one of India's most famous Test matches against Australia, which India ultimately won. He made the decision to leave with his partner Chetan Chauhan since he did not like the way things were going.

It continues to be one of India's most regrettable cricket-related incidents. Years later, Sunil Gavaskar acknowledged that he was mistaken. Although batters frequently disagree with the umpires and are frequently right in doing so, asking your partner to leave the game is not the proper course of action.

Rahul Dravid
Sunil Gavaskar questioned Rahul Dravid's plan to alter the lineup once the series was won against Sri Lanka in July 2021. He claimed that players now receive India caps far too frequently. Dravid said (without naming any names) that all players selected for the tour are qualified to receive the cap.

Sunil Gavaskar's Net Worth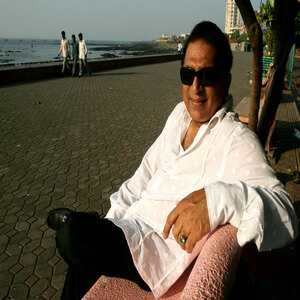 Sunil Gavaskar's net worth is $30 million US or 220 crore rupees, as of 2022. From 1971 through 1987, Sunil Gavaskar played cricket, which is how he made the most of his money. He is also a very well-known commentator, and he provides commentary for the majority of the games in which the Indian team participates. Sunil Gavaskar earns an estimated salary of ₹ 12 Crore Per Year. As a match analyst for Indian matches, Sunil Gavaskar earns 35.92 crores INR, plus an additional 18.9 crores INR for the same role in the IPL.

Sunil Gavaskar resides in his Mumbai-based home. He has a tonne of real estate in Mumbai and elsewhere. Isprava Villa, his most recent house, is one of the most luxurious and exotic homes one could conceive. It is located in Goa. There aren't many cars in Sunil Gavaskar's collection. His principal mode of transportation is a BMW 5-series exotic sedan.
Sunil Gavaskar Interesting Facts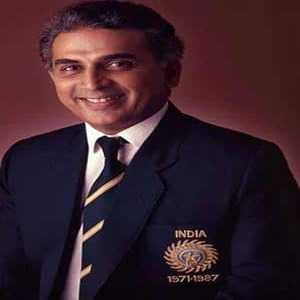 Sunil Gavaskar's full name is Sunil Manohar Gavaskar.
Sunil Gavaskar's nicknames are Sunny and LIttle Master.
Sunil Gavaskar was swapped with a fisherman's baby when he was little.
Rohan Kanhai was Sunil Gavaskar's idol.
Sunil Gavaskar's uncle was also a cricketer.
Sunil Gavaskar's first runs were leg byes.
Umpire, Dickie Bird, gave Sunil Gavaskar a haircut because his hair was getting in his eyes while playing the match.
The main character in the Marathi film Savli Premachi was played by Sunil Gavaskar.
Sunil Gavaskar has previous experience working as a match official.
Sunil Gavaskar has scored 34 centuries in his career.
Social Media
Frequently Asked Questions