Amrita Arora | Career, Age, Birthdate, Net worth, Husband

Anisha Saini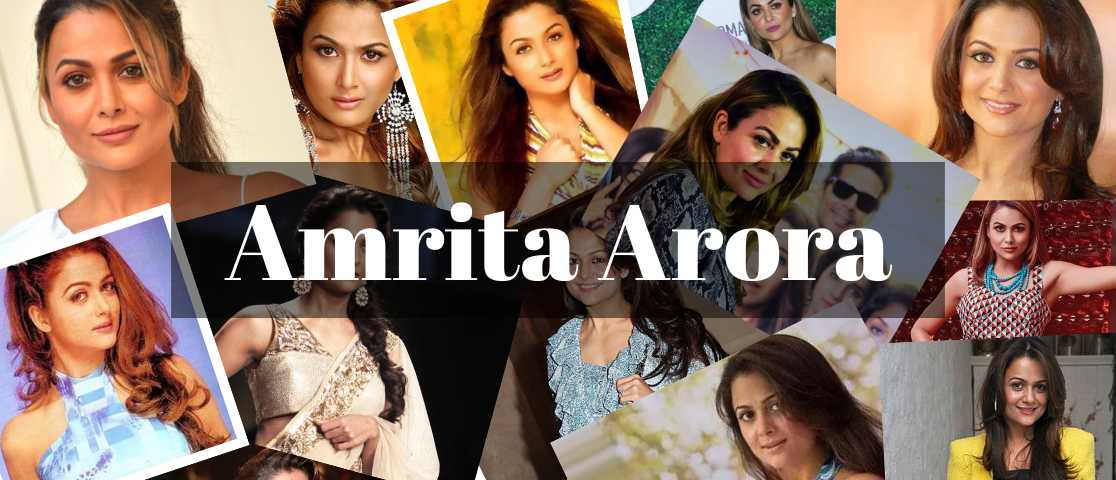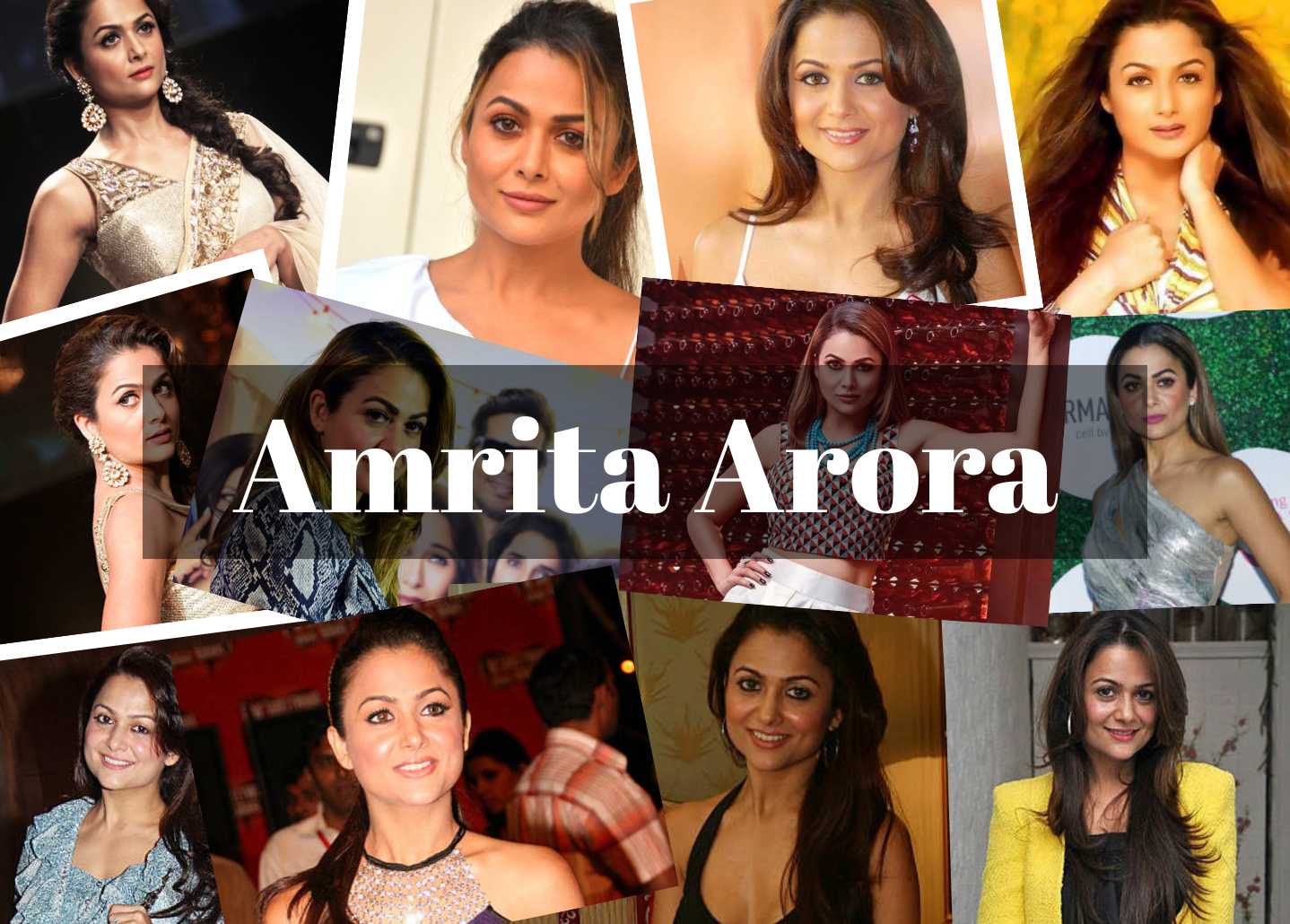 Amrita Arora's Biography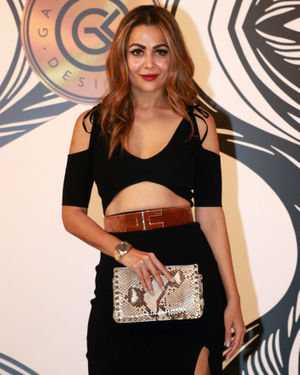 Amrita Arora Ladak, an Indian actress, model, television host, and video jockey (VJ) who primarily works in Hindi-language movies. Amrita Arora's birthdate was on January 31, 1978. In a typical Maharashtrian family, Amrita Arora birthplace is in Mumbai (Bombay). She is Malaika Arora's younger sister, a well-known actress, and a model.

Amrita Arora followed in her sister's footsteps. She began her career as a model before transitioning gradually to being a video jockey. MTV House Full and MTV Chill Out were two of the programs Amrita hosted. She appeared in numerous commercials for products like Sunsilk Fruitamin, Elle 18, and Ponds. Amrita Arora zodiac sign is Aquarius. Amrita Arora hobbies are photography, Shopping, and yoga.

With the Bollywood movie Kitne Door Kitne Pass, Amrita Arora made her acting debut alongside Fardeen Khan. Her debut movie did poorly at the box office. The Vikram Bhatt-directed film Awara Paagal Deewana was Amrita's debut hit.

After that, a slew of unsuccessful movies was released, including the contentious Girlfriend starring Isha Koppikar (a film about lesbian relationships). She had relationships with Kevin Otter, Ashmit Patel, and Upen Patel. She is reportedly seeing Usman Afzaal right now.
Claim Your FREE Celebrity Shoutout
✕
Claim Now!
Amrita Arora's Family and Amrita Arora's Education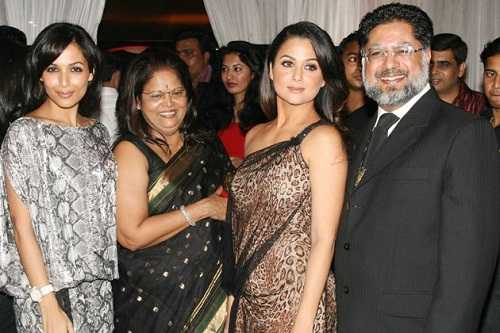 In a typical Maharashtrian family, Amrita Arora was born in Mumbai, India. Amrita Arora other Malayali, Joyce Polycarp, and Amrita Arora's father Punjabi, Anil Arora (Merchant Navy). Amrita Arora sister is Malaika Arora. She graduated from Swami Vivekanand School in Chembur with secondary education. Mumbai School's principal was her aunt Grace Polycarp.

In 2009, she wed Shakeel Ladak, a businessman who works in the construction sector. A Christian wedding took place on March 4, 2009, followed by a Mehendi ceremony on March 5, and a Muslim Nikah ceremony on March 6, 2009. Azaan, who was born on February 5, 2010, and Rayaan are their two sons (born on 20 October 2012).

In the box office failure Kitne Door Kitne Pass, she made her acting debut opposite Fardeen Khan. Her debut film, Awara Paagal Deewana, was a hit. Following were other duds, including the contentious lesbian romance film Girlfriend (2004) starring Isha Koppikar. Fight Club: Member's Only (2006), directed by Sohail Khan, was her most recent film. Along with her sister, she made an appearance on the Karan Johar program Koffee with Karan.

Aftab Shivdasani, Celina Jaitley, and Amrita Arora starred in Red - The Dark Side, which was released in 2007. The twenty-seven-minute sex scene caused some debate. At the box office, Red got a mixed bag of reviews. Along with her sister and Arbaaz Khan, she had a guest appearance in Farah Khan's film Om Shanti Om in the song deewangi.
Talk To Similar Celebrities
Amrita Arora's Relationship and Affairs
Usman Afzal
The diva Amrita Arora made headlines for dating Australian cricketer Usman Afzal, who is of Pakistani descent. The cricketer was well-known for having represented England in that year. Not only were they frequently seen together, but they also never hesitated to complement one another. Amrita had added, This is the man for me, without a doubt. When the time is perfect for us both, we'll make it legal. But due to incompatibility their relationships didn't worked.

Amrita Arora's Marriage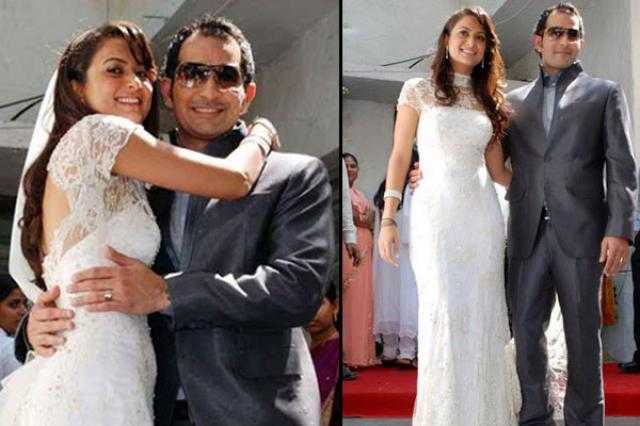 According to Amrita's mother, Joyce, Shakeel and Nisha split up in 2006, whilst Amrita started seeing Shakeel in 2008 when she was single. In March 2009, Shakeel and Amrita became husband and wife. Amrita's father is Punjabi, and her mother is a Catholic Malayali.

Additionally, Shakeel, her spouse, is of Muslim descent. Amrita and Shakeel decided to honour the three different cultures—Punjabi, Muslim, and Christian—during their wedding ceremony. For this, a Christian wedding was held during the day and, on various occasions, a Nikah ceremony was held in the late afternoon. They did not include a Mehendi or sangeet ritual in their celebrations.

Then, a Nikah ceremony provided a glimpse into Muslim weddings for everyone. The elaborate wedding festivities concluded with a formal reception. Shakeel wore a black sherwani created by Shantanu & Nikhil, while Amrita wore a gorgeous red and gold lehenga with a short choli, both by Vikram Phadnis.
Amrita Arora's Movies and Career
Kitne Door Kitne Pass (2002)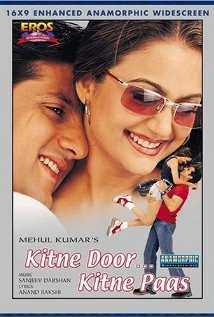 It is an Indian-Hindi romance movie from 2002. Fardeen Khan and Amrita Arora are its stars. On their trip to India, two young Indians named Jatin and Karishma encounter each other on an airliner. Jatin is returning home to wed Jaya, the woman his mother has picked for him. Karishma is also going back to India to wed Nimesh, who is also an Indian.

Despite having quite different temperaments, their paths cross and they both feel a draw to one another. Although they recognize and honor their commitment to Jaya and Nimesh, they both want to be married. Additionally, the parents initially opposed the union, but Jaya clarifies during the ceremony that no one should be pushed into matrimony and that she had no desire to wed Jatin. When a fire breaks out and Jatin saves Karishma as Nimesh withdraws, her father decides that Jatin is a better match for her. In the end, Jatin and Karishma get married.
Awara Paagal Deewana (2002)
It is an action-comedy movie from 2002 that was made in Hindi and was directed by Vikram Bhatt. Anu Malik wrote the music for the movie, and Sameer wrote the lyrics. It was renowned for its extravagant and exotic song picturizations, stunts/action scenes performed by Akshay Kumar and Paresh Rawal, and Johnny Lever's humorous performance as Chhota Chhatri. In 2005, the Deewane Huye Paagal sequel was released. On June 20, 2002, Awara Paagal Deewana was made available worldwide. It earned conflicting reviews from critics and was rated as having an above-average box office take.
Shart The Challenge (2004)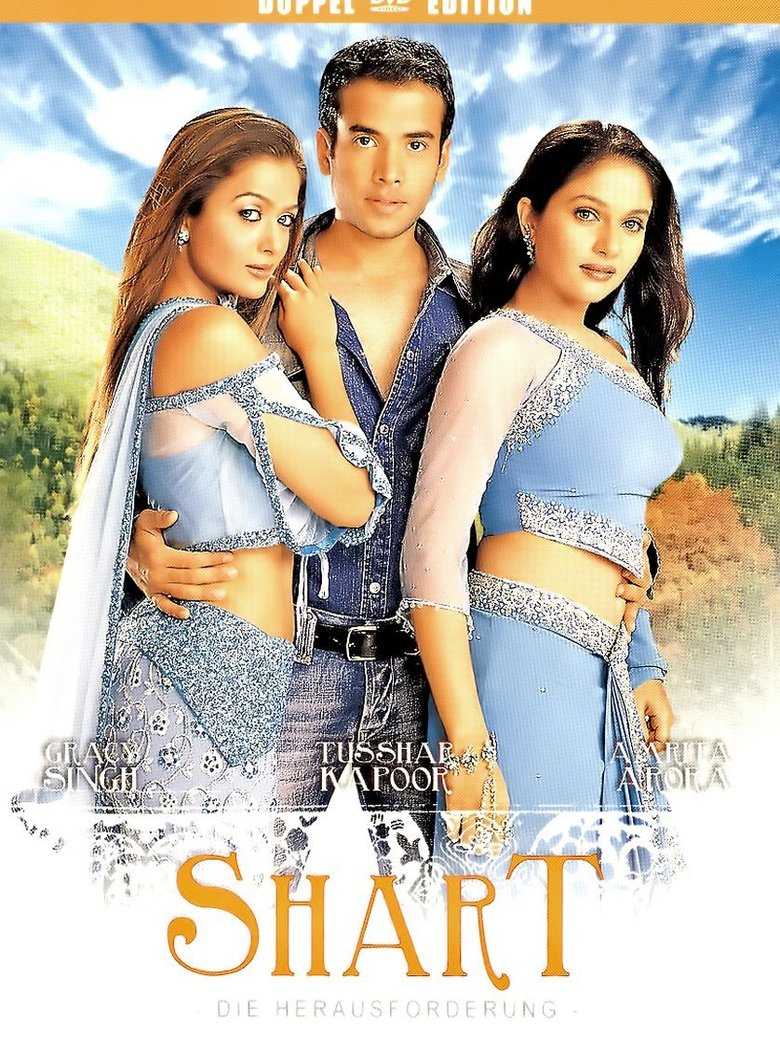 Puri Jagannadh wrote and directed the 2004 Hindi-language romantic drama movie Shart: The Challenge. Tusshar Kapoor, Gracy Singh, Amrita Arora, Prakash Raj, and Anupam Kher are the stars of this movie. It is a remake of his critically acclaimed Telugu film Badri, one of the year's best earners and a cult favorite among young people.

Tusshar Kapoor's character Karan has a propensity for getting involved in all sorts of situations. While Karan and Sonam (Gracy Singh) are out dancing and singing, a discussion about love eventually arises between them. Karan fiercely disagrees, contending that love, at first sight, is nothing more than infatuation, while Sonam firmly believes in the concept. Karan is tasked by Sonam to approach and propose to a girl of her choosing. If he is successful, she will concede defeat and give Karan a gift that he must accept. Karan agrees to take up the task.
Just suddenly, a stunning woman descends the temple steps. She is noticed by Sonam, who then designates her as the object of their challenge. She is named Saryu (Amrita Arora). By using several strategies, Karan eventually develops a bond with Saryu. Nanda, Saryu's brother, happens to observe them together one day.
Rakht (2004)
Mahesh V. Manjrekar is the writer and director of the supernatural horror thriller. Bipasha Basu, Sanjay Dutt, Sunil Shetty, Dino Morea, Amrita Arora, and Neha Dhupia all appear in the movie. Critics gave the movie, which debuted on September 3, 2004, mediocre to unfavorable reviews, praising Basu and Shetty's acting but criticizing the plot and script. Despite having a budget of 120 million dollars, the movie only made 84.4 million dollars ($1.05 million) globally.
Red The Dark Side (2007)
Vikram Bhatt's romantic suspense thriller is an Indian production. The main characters are Aftab Shivdasani, Celina Jaitly, Amrita Arora, and Sushant Singh. Aftab Shivdasani plays the lonely billionaire Neil Oberoi, who has a bad heart problem and needs a heart transplant. He discovers a donor who has left the lovely widow Anahita Saxena behind (Celina Jaitly).

He learns from Anahita that her husband Anuj Saxena, the donor, had an affair with Ria (Amrita Arora), but when he decided to terminate it and get back with Anahita, Ria became infuriated and threatened to kill them both. And that Ria is to blame for his passing, making her vulnerable due to Rocky, Ria's buddy, harassing her (Amin Hajee). Ria walks inside the home. Neil intervenes to stop Anahita from killing Ria.

Neil gives her a deep kiss while they struggle. He departs feeling guilty. When they cross paths again, Anahita slaps him. However, after admitting their mutual lust, they both engage in hours of sex. Neil kills Rocky one evening to safeguard his wife.

Anahita is raped by Neil, but it ends up being consensual. Following the event, ACP Abhay Rastogi (Sushant Singh) begins to suspect Neil after discovering a watch that belonged to him. Neil and Anahita make every effort to avoid the police.
Rama Rama Kya Hai Drama (2008)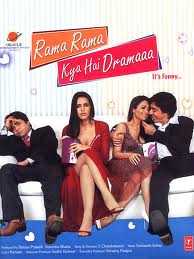 Chandrakant Singh, who also produced the film, and Surendra Bhatia directed the comedy. Rajpal Yadav, Neha Dhupia, Aashish Chaudhary, and Amrita Arora play the key characters in the movie. When it was launched on February 1st, 2008, it was met with a largely unfavorable reception.

The narrative centers on Santosh (Rajpal Yadav), the husband of Shanti (Neha Dhupia). Santosh is a very straightforward man who works at a bank in Mumbai. But because of his bluntness and lack of tact, he frequently gets into domestic fights with Shanti. Santosh's job life begins to suffer as a result of the frequent disputes, and he also finds that his employer Prem (Aashish Chaudhary), who is constantly boasting about how easy his marriage is and how understanding his wife Khushi (Amrita Arora) is, frequently looks down on him. But in truth, he is frequently bothered by his wife and is just as agitated as Santosh at times.
Kambakkht Ishq (2009)
Romantic comedy movie in the Hindi language produced and directed by Sajid Nadiadwala. Akshay Kumar and Kareena Kapoor play key parts in the movie, which is based on the 2002 Tamil film Pammal K. Sambandam. Aftab Shivdasani and Amrita Arora play supporting roles. In cameo roles as themselves, Sylvester Stallone, Denise Richards, Brandon Routh, and Holly Valance all play famous actors from Hollywood. The movie's release date was delayed because of intensive production work from its original December 2008 release date to July 3, 2009, instead. By Box Office India, it had an Average rating.
Amrita Arora's Career Timeline
Amrita Arora's Controversies
Amrita Arora slams trolls for age-shaming
Amrita Arora responded to online trolls who body shamed her and referred to her as buddhi (old) in the discussion thread of her most recent post. Along with her sister Malaika Arora and best friend Kareena Kapoor, Amrita attended Karan Johar's birthday celebration.

On Thursday, she shared an Instagram photo of the group. Amrita educated trolls on her Instagram Stories, and Kareena and Malaika also shared their reaction. Amrita uploaded a screenshot of a few comments on her post on her Instagram Stories, writing, This keeps appearing in comments. If and when I bother checking unless it's the first result! So… Is buddhi intended as a slight? Because to me, it's just a word that implies old? We may be older and wiser, but you lack a name, a face, or an age.

And how about your family? You say it sis., Malaika wrote in her second Instagram Stories post. You are lovely just how you are, and guys, it is simply unacceptable to fat shame anyone. Tch…Tch… Amrita's Instagram Story was shared by Kareena as well, with the caption My beloved Amu.
Amrita Arora fights with Fardeen Khan's Girlfriend
In the early 2000s, one of Bollywood's most eligible bachelors, Fardeen Khan, began a committed relationship with the attractive Ruheen Jaiswal, who came from a well-known business family. But when he signed Kitne Door Kitne Pass opposite Amrita Arora, Malaika Arora's lovely sister, things were different. The two supposedly felt a connection while filming the movie. At some point, Fardeen and Amrita concluded that they would only act together. However, this is not where it ended. The event marked Hrithik Roshan and Sussanne Khan's wedding anniversary. Sussanne then extended an invitation to Amrita, Malaika, and her ex-husband Arbaaz. However, Fardeen Khan and her girlfriend also arrived at this gathering a little late. What happened is that she snapped when she spotted Amrita Arora, Fardeen Khan's girlfriend.

Amrita Arora unleashed her rage after being called quite abusive. She allegedly even attempted to raise her hand to Amrita Arora, but Amrita persisted in attempting to persuade her there was no such thing as this. The celebration eventually fell silent entirely. Even Fardeen Khan herself attempted to calm her girlfriend down, but she was unable. Fardeen Khan later ended their relationship and wed Natasha Madhvani.
Amrita Arora's Net Worth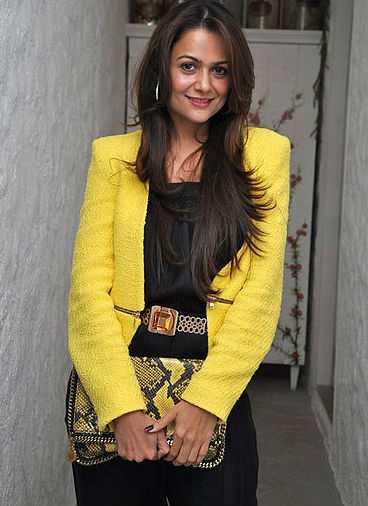 Amrita Arora, an Indian actress, model, and TV host, is lovely. She gained notoriety for her provocative role in the contentious movie Girlfriend. The well-known item song dancer Malaika Arora has a younger sister named Amrita. She was born in Mumbai, India, on January 31, 1981.

Amrita Arora's earnings and net worth: Amrita Arora is a movie actress with a $226,6 million fortune. The actress who, between 2002 and 2011, appeared in over 22 Bollywood movies, including Kambakkth Ishq.

In 2020–2021, her net worth had a huge increase. So, what is the estimated net worth of 43-year-old Amrita Arora. Amrita Arora makes the majority of her money as an accomplished actress. She's an Indian woman.

Amrita Arora, Malaika's younger sister, is another fashionable member of Bebo's girl group. Alongside Fardeen Khan, she made her cinematic debut in 2002's Kitne Door Kitne Pass. The range of Amrita Arora's net worth is between $1 and $5 million.

Amrita Arora and businessman Shakeel Ladak were married in March 2009, and they currently reside in Mumbai and lead pretty opulent lives. She actually has a collection of high-end vehicles and earns a respectable income from her acting and modeling careers.
Amrita Arora's Awards and Achievements
Awara Paagal Deewana, 2003's Most Promising Debut Actress Nominee, Sansui Viewer's Choice Awards.
Viewers' Choice Awards for Sansui A promising newcomer, Kitne Door Kitne Paas Award nominee in 2003.
Amrita Arora's Interesting Facts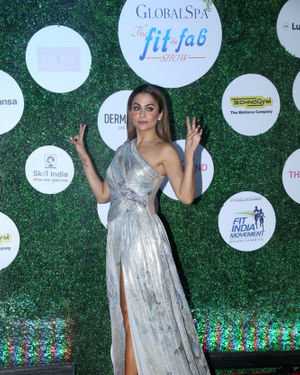 The actress is renowned for her versatility since, in addition to being an actor, she is also a stunning model, television presenter, and VJ who flaunts her extraordinary talent and stands out from the crowd.
Amrita Arora prioritizes her hobbies since she thinks they are the best way to feel calm and relaxed. The actress enjoys shopping, yoga, and photography in her spare time.
Among other prominent Bollywood celebrities, Amrita Arora wed Malaika Arora, the older sister of Salman Khan, Shahrukh Khan, Aamir Khan, and Arbaaz Khan (ex-brother-in-law). She admires Sharmila Tagore, a seasoned actress, and her best friend Kareena Kapoor Khan among female celebrities.
Red and green are Amrita Arora's preferred hues. Spain and New York City, USA are two of Arora's frequent travel destinations.
She married according to both Christian Wedding and Muslim Nikah religion in march 2009.
Social Media
Frequently Asked Questions