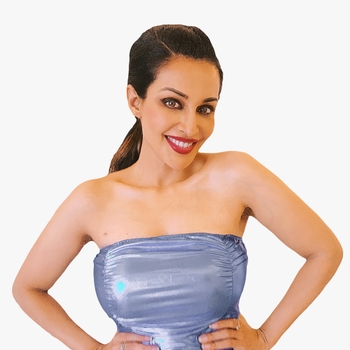 Flora Saini
---

Buy For

₹0
Extra ₹0 off on this booking
Members Only

Flat 15% Off
Additional discount for Prime Users
---
siddharth_goswami
24th November, 2022
Dear ma'am This will be the best gift ever to my son I am big fan of you and I am also following you on Instagram Thanks from my baby he will loves it lot Thank you so much ma'am God bless you Siddharth Goswami
Bipin Sathe
30th June, 2023
Thank you very much for making this video for me in one day. My script was a little different. Certain words were repeated. But anyway, overall it's great. Thanks a Lot Mam 😊
Anand Sindhav
18th April, 2022
Really Great! Really, I have not expected it but Flora Mam has a fantastic wish for our client. I wish her a healthy and wealthy life with lots of love. Anand Sindhav
Sourabh singh
30th November, 2022
Flora Saini ji, if you read these comments yourself, then I will just write that you make very good videos and make very long videos.you are a very good actress
Money-back Guarantee!
If for some reason, your request could not be completed, we'll refund your money within 3-5 working days.
Need help?
Reach out to us on WhatsApp or Email for queries. Our support team shall get back to you within 2-3 working days.
Secured & safe payments
Every transaction is 100% safe. Your payment details are encrypted during the transaction to safeguard your data.
Boost Your Brand with a Personalised Celebrity Endorsement Video from Flora Saini!
Elevate your brand to new heights with a personalised celebrity endorsement video from your favourite star. Witness the transformative power as their influential words and captivating presence create an undeniable impact, boosting your brand's visibility and credibility.
Imagine the buzz and excitement generated by a video featuring your beloved celebrity passionately endorsing your brand. This personalised touch creates an authentic connection with your audience, amplifying brand recognition and attracting new customers. Don't miss out on this incredible opportunity to enhance your brand's reputation and propel your business forward with a celebrity endorsement video that leaves a lasting impression.
Why Book A Personalised Brand Endorsement Video From Flora Saini?
Celebrity Influence: Harness the power of celebrity influence to leave a lasting impression on your target audience. With a personalised endorsement video, you'll tap into the star power of your favourite celebrity, instantly capturing the attention of potential customers and creating a strong brand association.

Authenticity and Trust: A personalised endorsement from a beloved celebrity adds an element of authenticity and trust to your brand. Customers are more likely to engage with a product or service when it is recommended by someone they admire, and a personalised video takes this connection to a whole new level.

Unforgettable Impact: personalised brand endorsement videos create a memorable impact on your audience. The celebrity will use their unique charm, charisma, and professional expertise to deliver a message that resonates with your brand's values, leaving a lasting impression on viewers.

Unique and Catchy: Stand out from the competition by booking a personalised brand endorsement video. Tring offers a range of celebrities from various fields, ensuring you find the perfect match for your brand. Whether it's a renowned actor, sports star, musician, or social media influencer, their personalised video will add a touch of exclusivity and catchiness to your brand's marketing campaigns.
Take advantage of this golden opportunity to give your brand the celebrity touch it deserves. Book a personalised brand endorsement video from your favourite celebrity on Tring and witness the magic unfold. Let the star power and expertise of Flora Saini propel your brand to new levels of success. Elevate your marketing strategy and leave a lasting impression with a personalised endorsement video from Tring today!
You can now interact with Flora Saini via Tring! Book a Personalised video message from Flora Saini and surprise your friends or yourself. With Tring, you can even get your brand promoted by Flora Saini.

Flora Saini is an Indian Actress and Model.

Flora Saini aka Asha Saini aka Mayuri has worked in the Hindi film industry, TV entertainment industry, and a lot of regional cinema. Mostly she's worked in the south Indian film industry and she's got popular over there.

Flora Saini's birthday is on 29th September. She was born in the year 1978. Flora Saini's zodiac sign is Libra. Flora Saini's age is 44 years as of 2022. Flora Saini's birthplace is Chandigarh, then her family started moving from one place to another as her father was from the Indian army they could not stay in one place.

Flora Saini's father is J.S.Saini, a former Indian army officer and her mother is Kamal Saini. She also has a dog that she loves a lot and shares lots of pictures with him on her social media accounts, she loves to share that part of her life as well

Flora Saini's school was the Army school in Udhampur, Jammu and Kashmir, then they migrated to Delhi and she went on to the Army public school, Dhaula Kuan, Delhi. She's a graduate but her university is still unknown.

Flora Saini's modelling career started early on and was the reason she got into the entertainment industry. Flora Saini's debut Bollywood film was Sabse Bada Beiman. She then made a debut in the regional film industries, Kodanda Rama (Kannada), Gajendra (Tamil), paisa Pyaar N Panga(Punjabi), Flora Saini's debut web series was Maid in India.

Flora Saini got famous when she starred in Stree and after that, she's been quite popular with everyone. Before that, when she starred in Gandii Baat season 2 alongside Anveshi Jain, she had an acknowledgeable performance. Flora Saini is a praiseworthy actress, that is something that goes without a doubt, she has always proved her worth with every performance that she's given on-screen. Flora Saini was also in Inside Edge 2 and Aarya.

Flora Saini's awards include the Uttrakhand Ratan Award, The Great Daughter of Soil Award for her towards the poor and helpless. Flora Saini has a unique record in the limca book of records and that consists of 3 of her films getting released on the same day namely Broker (Telugu), Vismaya Pramaya and Vah Re Vah (both Kannada) released on 31 December 2010.

Flora Saini is really popular on social media platforms all around, her fans love her presence and they are really engaged with her over there. Flora Saini loves to share her life on social media and that is how she is connected to her fans online.

She is really active on Instagram, Twitter, and Facebook. She also has her own app on which her fans get to know her a lot. Flora Saini's social media is filled with love from her fans, she treats them as her family and they love her likewise.

Flora Saini's Instagram ID is @florasaini.

Book a personalized message from Flora Saini as a unique birthday gift for your husband to make his day special. Book Now! #JustTringIt

Flora Saini Profession- Actress and Model.

Flora Saini Celebrity Type- Movie Star.

Flora Saini Age- 44 as of 2022.

Flora Saini Date Of Birth- 29th of September 1978.

Flora Saini Year of Birth- 1978.

Flora Saini Zodiac Sign- Libra.

Flora Saini's Birthplace- Chandigarh, India.

Flora Saini Height- 5'4''.

Flora Saini Weight- Approx. 59 Kg.

Flora Saini Bollywood Debut- Sabse Bada Beiman

Flora Saini's Net Worth- N/A.

Flora Saini Instagram Followers- 1.4M.

Flora Saini Twitter Followers- 104.2K.
---
Frequently asked questions
Flora Saini is an Indian Actress and Model
Flora Saini is also known by the names Asha Saini and Mayuri.
Flora Saini's birthday is on the 29th of September.
Flora Saini's Instagram ID is @florasaini.
Flora Saini's Twitter ID is @flora_saini.
Flora Saini appeared in Shraddha Kapoor and Rajkummar Rao's Stree as the ghost.
Yes, you can easily book a personalised wish from Flora Saini via Tring.
Flora Saini can speak English and Hindi.
Flora completed her schooling in Army Public School, Dhaula Kuan, New Delhi, India.
Flora Saini's favourite singers are Lata Mangeshkar, A R Rahman and Arijit Singh.
Flora Saini's favourite actors are Amitabh Bachchan, Balraj Shahni, Salman Khan, Amir Khan, Sanjay Dutt, Shah Rukh Khan and Sunny Deol.
Cricket is the favourite sport of Flora Saini.
Information about Flora Saini is not available.
Flora Saini's age is 44 years as of 2022.
Flora Saini's Bollywood debut was Sabse Bada Beiman.