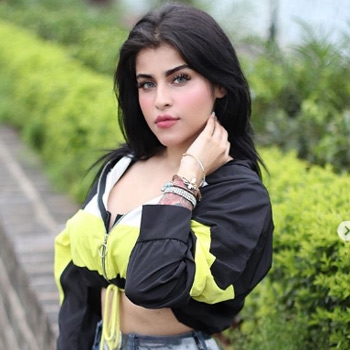 Edin Rose

Sorry, Edin Rose is not available at the moment. Click on 'Add to Wishlist' to receive any updates.
For Business
---

Buy For

₹379
Extra ₹20 off on this booking
Instagram DM

Free Combo
Celebrity shares message on Insta handle
Members Only

Flat 15% Off
Additional discount for Prime Users
---
Money-back Guarantee!
If for some reason, your request could not be completed, we'll refund your money within 3-5 working days.
Need help?
Reach out to us on WhatsApp or Email for queries. Our support team shall get back to you within 2-3 working days.
Secured & safe payments
Every transaction is 100% safe. Your payment details are encrypted during the transaction to safeguard your data.
You can now interact with Edin Rose via Tring! Book a Personalised video message from Edin Rose and surprise your friends or yourself. With Tring, you can even get your brand promoted by Edin Rose.

Edin Rose is an Indian actress and Model. Edin Rose rose to fame with the web series Gandii Baat season 4 on ALT Balaji.

Edin Rose's birthday is on the 30th of September. Edin Rose's birth year is 1998. Edin Rose's age is 25 years as of 2022.

Edin Rose has acted in the TV show named Gandii Baat, Puddan season 1 and Good Girls Brides Night on CinePrime

Gandi Baat TV show was released in the year 2018. This show has about 6 seasons throughout. In this show, the Actress Edin Rose Plays the role of the character Vasudha. The character Vasudha appeared in the 4th season of this show. Edin Rose has many fan followers who love her for her work and looks.

Edin Rose's height is 5'5 feet. Edin Rose's nationality is Indian.

Edin rode's Instagram Id is @iedinrose. She has decent followers on Instagram.

Book a personalised message from Edin Rose as a unique birthday gift for husband to make his day special. Book Now! #JustTringIt


Edin Rose's Profession- Actress
Edin Rose Celebrity Type- Television Star
Edin Rose's Date Of Birth- 30th of September 1998
Edin Rose's Year Of Birth- 1998
Edin Rose's Place Of Birth- Dubai, UAE
Edin Rose's Age- 23 years as of 2022
Edin Rose's Zodiac Sign- Libra
Edin Rose's Notable Work- Gandii Baat
Edin Rose's Height- '5.6" (167cm)
Edin Rose's Weight- 68 kg
Edin Rose's Net Worth- $5 million
Number of Instagram Followers of Edin Rose- 245k followers
---
Frequently asked questions
Edin Rose has acted in the TV show Gandii Baat.
Edin Rose's TV show, Gandi Baat was released in the year 2018.
There are 6 seasons in this TV show.
Edin Rose's character name was Vasudha.
Edin Rose appeared in Season 4th of Gandii Baat.
Edin Rose is n Indian Actress and Model.
Edin Rose's birthdate is 30th of September.
Edin Rose's zodiac sign is Libra.
Edin Rose's age as of 2022 is 24 years.