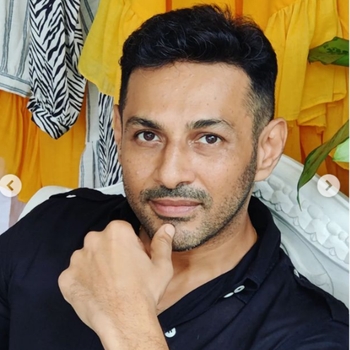 Apurva Asrani
Apurva Asrani
Book video @

₹2499
Secured & Safe Payments
---

Buy For

₹2374
Extra ₹125 off on this booking
Members Only

Flat 15% Off
Additional discount for Prime Users
---
Money-back Guarantee!
If for some reason, your request could not be completed, we'll refund your money within 3-5 working days.
Need help?
Reach out to us on WhatsApp or Email for queries. Our support team shall get back to you within 2-3 working days.
Secured & safe payments
Every transaction is 100% safe. Your payment details are encrypted during the transaction to safeguard your data.
Book A Personalised Celebrity Wish From Apurva Asrani
Looking to add an extra touch of magic and excitement to your special celebrations? Look no further! We are thrilled to introduce a fantastic opportunity to book personalised greetings from your favourite celebrity.
Picture the sheer joy and amazement on your loved one's face when they receive a heartfelt personalised message from their beloved celebrity. Whether it's a birthday, anniversary, wedding, or any other festive occasion, these personalised greetings will create unforgettable memories that will be treasured forever. Don't miss out on this incredible chance to make your loved one's celebration truly extraordinary!
Book A Personalised Celebrity Invitation Video Message From Apurva Asrani
Planning a milestone event and yearning for remarkable invitations? Look no further! Introducing a unique opportunity to book personalised invitation messages from the illustrious Apurva Asrani.
Envision the contagious excitement sweeping across your guests as they receive an exclusive invitation crafted personally by Apurva Asrani. Brace yourself for a touch of Apurva Asrani's warmth and charisma, elevating your birthday extravaganza, anniversary celebration, wedding affair, or any special occasion to unforgettable heights.
Book a Motivational Video Message From Apurva Asrani
Are you searching for a unique, impactful way to uplift and motivate your struggling loved ones? Book personalised motivational messages from Apurva Asrani. Whether it's a friend facing a setback, a family member in need of a boost, or anyone going through a difficult phase, Apurva Asrani's personalised motivational messages will ignite a spark of hope and motivation.
Book a Personalised Brand Endorsement Video From Apurva Asrani
Ready to witness your brand soar to new heights? Look no further! Introducing personalised celebrity endorsement videos that will revolutionise your brand's visibility and leave an indelible mark.
Think about the impact of having your adored celebrity passionately endorse your brand through a captivating, tailor-made video. It's the game-changer that will amplify your brand's reputation, entice fresh customers, and ignite envy among your competitors. With our personalised celebrity endorsement videos, watch your brand shine like never before.
Why Book A Personalised Celebrity Video Wish From Apurva Asrani?
Unforgettable Moments: By booking personalised wishes from your favourite celebrity, you'll create unforgettable moments that your loved one will treasure forever. The genuine and personal messages from these esteemed personalities will make their special day truly exceptional.

Tailored Expressions of Love: Each wish will be carefully crafted to reflect the unique qualities and significance of the occasion. The celebrity will incorporate personal details and heartfelt sentiments to ensure a truly personalised and touching experience.

A Connection with Stardom: Your loved one will feel a remarkable connection to their favourite celebrity as they receive a personalised wish. It's an opportunity for them to feel the warmth, admiration, and support of someone they admire, making their celebration even more special.

Diverse Occasions: Whether it's a birthday, anniversary, wedding, or festival, personalised celebrity wishes are available for various occasions. Choose the celebrity who resonates with your loved one and let their heartfelt wishes make the celebration truly extraordinary.
You can now interact with Apurva Asrani via Tring. Book a personalised video message from Apurva Asrani and surprise your friends or yourself. With Tring, you can even get your brand promoted by Apurva Asrani.
Apurva Asrani is a National Award, Filmfare Award and Scren Award winning filmmaker.
His birthday on the 21st of March. Apurva Asrani was born in the year 1978. His zodiac sign is Aries. Apurva Asrani was born in Goa, India. His age as of 2023 is 45.
Apurva Asrani started his career in 1995 as an assistant on the popular Bollywood countdown show Bpl Oye! on Channel V. At the age of 19, he became a film editor for the movie Satya directed by Ram Gopal Varma. He went on to win the Filmfare Best Editor Award for the same making Apurva Asrani the youngest recipient of the award.
He also edited the bilingual comedy movie Snip! Apurva Asrani's other works include Chhal directed by Hansal Mehta. In Hansal Mehta's words, " The real hero of the movie Chhal was Apurva Asrani". He also edited Anupam Kher's directiorial debut movie, Om Jai Jagdish. Apurva Asrani also went on to edit the Akshay Kumar starrer Tasveer 8X10 as the supervising editor and as film editor Aashayein.
Apurva Asrani was the film editor for a number of other movies. These are Mukhbirr, Shahid, Children of War, Waiting, Dharam Sankat Mein and many more. He was the co-editor for Out of Control and Simran.
He was the story, screenplay and dialogue editor for the famous movie Aligarh. Apurva Asrani is the series editor of Made in Heaven. He is also the story, screenplay and dialogue editor of the series Criminal Justice: Behind Closed Doors.
Apurva Asrani shared the Filmfare Award for Best Editing with Bhanodaya for their edit of Satya. He won the National Film Award for Best Editing for snip!, a bilingual comedy in 2001. Apurva Asrani was nominated for a Zee Cine Award for his edit of Chhal, directed by Hansal Mehta.
In 2003, Apurva Asrani won the Life OK Screen Award for Best Screenplay for Shahid. He was nominated in 2017 for 'Best Editing' and 'Best Original Screenplay' for Aligarh at the South African International Film Festival also known at RapidLion Awards.
He was nominated in the 'Best Editing' category for Made in Heaven at the Critics Choice Awards. Apurva Asrani was nominated for a Filmfare Award in 2021 and Critics Choice Award in 2022 in 'Best Writing' category for his work on Criminal Justice: Behind Closed Doors.
Apurva Asrani has a huge amount of fan following on his Social Media Handles. His Instagram ID is @apurva_asrani. Apurva Asrani's fans admire him for his editing skills.
Book a personalised video message from Apurva Asrani and make someone's day special. Book Now!! #JustTringIt
| | |
| --- | --- |
| Real Name | Apurva Asrani |
| Profession | Filmmaker |
| Celebrity Type | Writer, Editor |
| Age | 45 Years old as of 2023 |
| Date Of Birth | 21 Mar 1978 |
| Birthplace | Goa |
| Zodiac Sign | Pisces |
| Nationality | Indian |
| Height | 5 feet 9 inches |
| Weight | 67kgs |
| Notable Work | Satya, Made In Heaven |
| First Movie | Satya |
| Net Worth in INR | Rs 40 crores |
| Net Worth in USD | $5 million |
| Instagram ID | @apurva_asrani |
| Instagram Followers | 300k+ |
| Twitter ID | @Apurvasrani |
| Twitter Followers | 30k+ |