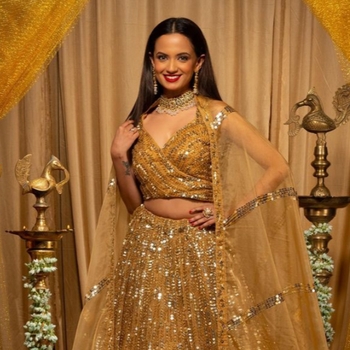 Ketaki Mategaonkar
---

Buy For

₹9500
Extra ₹500 off on this booking
Members Only

Flat 15% Off
Additional discount for Prime Users
---
Money-back Guarantee!
If for some reason, your request could not be completed, we'll refund your money within 3-5 working days.
Need help?
Reach out to us on WhatsApp or Email for queries. Our support team shall get back to you within 2-3 working days.
Secured & safe payments
Every transaction is 100% safe. Your payment details are encrypted during the transaction to safeguard your data.
Boost Your Brand with a Personalised Celebrity Endorsement Video from Ketaki Mategaonkar!
Elevate your brand to new heights with a personalised celebrity endorsement video from your favourite star. Witness the transformative power as their influential words and captivating presence create an undeniable impact, boosting your brand's visibility and credibility.
Imagine the buzz and excitement generated by a video featuring your beloved celebrity passionately endorsing your brand. This personalised touch creates an authentic connection with your audience, amplifying brand recognition and attracting new customers. Don't miss out on this incredible opportunity to enhance your brand's reputation and propel your business forward with a celebrity endorsement video that leaves a lasting impression.
Why Book A Personalised Brand Endorsement Video From Ketaki Mategaonkar?
Celebrity Influence: Harness the power of celebrity influence to leave a lasting impression on your target audience. With a personalised endorsement video, you'll tap into the star power of your favourite celebrity, instantly capturing the attention of potential customers and creating a strong brand association.

Authenticity and Trust: A personalised endorsement from a beloved celebrity adds an element of authenticity and trust to your brand. Customers are more likely to engage with a product or service when it is recommended by someone they admire, and a personalised video takes this connection to a whole new level.

Unforgettable Impact: personalised brand endorsement videos create a memorable impact on your audience. The celebrity will use their unique charm, charisma, and professional expertise to deliver a message that resonates with your brand's values, leaving a lasting impression on viewers.

Unique and Catchy: Stand out from the competition by booking a personalised brand endorsement video. Tring offers a range of celebrities from various fields, ensuring you find the perfect match for your brand. Whether it's a renowned actor, sports star, musician, or social media influencer, their personalised video will add a touch of exclusivity and catchiness to your brand's marketing campaigns.
Take advantage of this golden opportunity to give your brand the celebrity touch it deserves. Book a personalised brand endorsement video from your favourite celebrity on Tring and witness the magic unfold. Let the star power and expertise of Ketaki Mategaonkar propel your brand to new levels of success. Elevate your marketing strategy and leave a lasting impression with a personalised endorsement video from Tring today!
You can now interact with Ketaki Mategaonkar via Tring. With Tring, you can get your brand promoted by Ketaki Mategaonkar
Ketaki Mategaonkar is an Indian Actress and Singer.
Her birthday is on the 22nd of February. Richa Meena was born in 1994. Her zodiac sign is Aquarius.
Ketaki Mategaonkar is the daughter of Parag Mategoankar, a music director and Suvarna Mategaonkar, a singer.
Ketaki Mategaonkar is popularly known for the roles that she has played.
She was part of a number of movies. These include Shala, Aarohi, Kaksparsh, Taani, Timepass, Timepass 2, Phuntroo and many more.
Ketaki Mategaonkar is also a singer. She has sung a number of songs for various movies like Dashavatar, Shala, Tani, Rangakarmi, Timepass, Phuntroo, Ishq Wala Love, YZ, Photocopy, Bhatukali, Kaksparsh, Panghrun, De Dhakka 2 amongst others.
Songs sung by Ketaki Mategaonkar are Phir Se Chamke Tim Tim Taare, Sun Zara, Manaat Yete Mahya, Ajunahi Sanjawel, Kasa Jeev Guntala, Maje Tuje, Sunya Sunya, Priyakara, Oli Ti Maati, Tara Tara, Tu Kkame, Nilaai, Nazar Katyar, etc.
She has been felicitated with a number of awards. Ketaki Mategaonkar received the Shahu Modak Best Singer Puraskar, Maharashtracha Favourite Koun? Popular Face Award, 49th Maharashtra State Best Actress Award, Micta Best Actress Award, Doordarshan Godrej Popular Face of the Year Award, Mirchi Music Best Female Singer Award, Nargis Dutt Best Actress Special Contribution Puraskar, Maharashtracha Favourite Koun? Best Singer and Best Actress Award, Mirchi Music Best Album Listeners Choice Award, Filmfare Best Playback Singer Female Award, Sakal Premier Best Playback Singer Award, Mirchi Music Female Vocalist of the Year Award, GA DI MA Vidya Pradnya Special Contribution in Music Puraskar, Sakar Premier Anandi Gopal (Ranga Maliyela) Award, Mirchi Music Best Album Award and Youth Icon Award- Bhartiya Yuva Mancha.
Ketaki Mategaonkar has a huge amount of fan following on her Social Media Handles. Her Instagram ID is @ketakimategaonkar. Ketaki Mategaonkar fans admire her for the roles she portrays on screen.
Book Now!! #JustTringIt