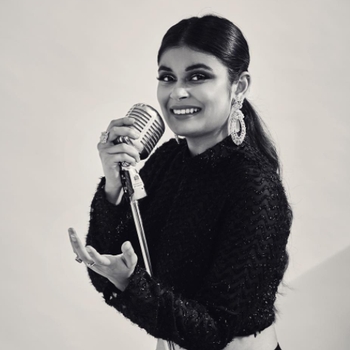 Chetna Bhardwaj
Chetna Bhardwaj
Book video @

₹699

999
Secured & Safe Payments
---

Buy For

₹664
Extra ₹35 off on this booking
Members Only

Flat 15% Off
Additional discount for Prime Users
---
Money-back Guarantee!
If for some reason, your request could not be completed, we'll refund your money within 3-5 working days.
Need help?
Reach out to us on WhatsApp or Email for queries. Our support team shall get back to you within 2-3 working days.
Secured & safe payments
Every transaction is 100% safe. Your payment details are encrypted during the transaction to safeguard your data.
Turn Special Occasions into Extraordinary Memories with Celebrity Wishes!
Looking to make celebrations truly unforgettable? Your search ends here! Embark on an extraordinary journey with personalised wishes from your beloved celebrity. Witness sheer delight as heartfelt messages from renowned stars create lifelong cherished memories.
Experience the magic of receiving a personalised birthday or anniversary wish from a celebrity. These extraordinary moments will etch themselves into your loved one's heart, ensuring unforgettable memories that stand the test of time.
Book An Exclusive Personalised Celebrity Invitation Video message Experience - Elevate Your Special Occasion!
Are you planning a birthday celebration, anniversary party, or wedding event and want to make it truly exceptional? Look no further! We are excited to present a unique opportunity to book an exclusive celebrity invitation experience for your special occasion.
Imagine the joy and excitement on your guests' faces when they receive a personalised invitation from a renowned celebrity. Whether it's a milestone birthday, the most important day of your life, or a cherished anniversary, this exclusive celebrity invitation experience will make your event truly unforgettable.
Unlock the Power of Motivation with Personalised Messages from Beloved Celebrities
Are you seeking to bestow the gift of motivation upon your loved ones? Look no further! We are thrilled to present personalised motivational messages from adored celebrities, guaranteed to uplift and empower those dear to you.
Envision the profound effect of receiving a customised motivational wish from a renowned celebrity. Whether your loved ones are navigating through adversity, pursuing aspirations, or in need of a boost, these messages will rekindle their inner flame, equipping them to triumph over any hurdle they encounter.
Why Book A Personalised Celebrity Wish From Chetna Bhardwaj?
Memorable Moments - By booking personalised wishes from your favourite celebrity, you'll create cherished memories that will last a lifetime. The genuine and heartfelt messages from these renowned personalities will bring a smile to your loved one's face and create a lasting impression.

Exclusive and personalised - Each wish will be tailor-made for your loved one, reflecting their unique personality and the occasion they are celebrating. The celebrity will take into account any specific details or requests you provide, ensuring a truly personalised experience.

A Celebrity Connection - Your loved one will feel an incredible sense of connection and excitement as they receive a wish from their favourite celebrity. It's a chance to bridge the gap between fandom and personal interactions, creating a moment they will treasure forever.

Variety of Occasions - Whether it's a birthday, anniversary, wedding, or festival, personalised celebrity wishes are available for various occasions. Choose the celebrity who holds a special place in your loved one's heart and let their heartfelt wishes make the celebration extraordinary.
You can now interact with Chetna Bharadwaj via Tring! Book a Personalised video message from Chetna Bharadwaj and surprise your friends or yourself. With Tring, you can even get your brand promoted by Chetna Bharadwaj.
Chetna Bharadwaj is an Indian singer.
Chetna Bharadwaj's birthday is on the 15th of October. Chetna Bharadwaj was born in 1987. Chetna Bharadwaj's age is 34 as of 2022. Chetna Bharadwaj's place of birth is Ghaziabad, Uttar Pradesh, India. Chetna Bharadwaj's zodiac sign is Libra.
Chetna Bharadwaj completed her schooling from DLF School. Chetna Bharadwaj completed her graduation from Miranda House which is located in Delhi.
Chetna Bharadwaj's father's name is Shaktikanth Bharadwaj. Chetna Bharadwaj's mother's name is Pramila Bharadwaj. Chetna Bharadwaj has a brother.
Chetna Bhardwaj is an Indian Singer. Chetna Bharadwaj was part of the famous singing reality show "Indian Idol 11". Chetna Bhardwaj was honoured with the name "Charismatic Chetna" by the judges of the show. Chetna Bharadwaj is one of the Top 9 contestants of the show "Indian Idol". Chetna Bhardwaj was born on 15th October in Uttar Pradesh. Chetna Bharadwaj is trained in Classical Music. Chetna Bhardwaj has learned music from "Aruna Sarkar", "Amrita Dutta Mazumdar" and "Pt. Bhola Nath Mishra".
Chetna Bharadwaj started her singing career in 2016 when she performed in various functions. She participated in a solo singing competition at the age of 12 and won a "National Award" for it. The award was presented by the then Chief Minister of Delhi "Sheila Dikshit". She is currently learning music from "Pandit Bholanath Mishra".Chetna Bhardwaj has sung covers of many Bollywood songs. Chetna Bharadwaj's cover songs including "Ve Maahi", "Tujhe Kitna Chahne Lage Hum", "Aao Huzoor Tumko", "Raatan Lambiya" and various others have gone viral. Chetna Bhardwaj's original debut is "Trending".
Chetna Bhardwaj is versatile in many languages. Chetna Bharadwaj had amazed the judges of Indian Idol "Neha Kakkar", "Vishal Dadlani" and "Anu Malik" with her melodious singing. Chetna Bharadwaj has performed in front of a number of famous personalities including "Pyare Lal Ji", "Kumar Sanu", "Bhumi Pednekar", "Dharmendra Ji", "Anuradha Paudwal", "Himesh Reshamiya" and various others.
Chetna Bharadwaj he definitely has a vast vocal range and is a versatile singer. Chetna Bhardwaj has performed all over India and crossed millions of shows. Being a terrific performer, she rocks audiences across the World.
Chetna Bharadwaj's instagram handle is @chetnabhardwajofficial. Chetna Bharadwaj has a huge fan following on her instagram as well.
Book a personalised message from Chetna Bharadwaj and make someone's day special. Book Now!! #JustTringIt
---
Frequently asked questions
Chetna Bharadwaj is an Indian singer.
Chetna Bharadwaj is famous for her appearance on Indian Idol 11.
Chetna Bharadwaj's birthday is on 15th October.
Chetna Bharadwaj was born in Ghaziabad, Uttar Pradesh, India.
Yes, you can easily book a personalised wish from Chetna Bharadwaj via Tring.
No, Chetna Bharadwaj is not married.
Chetna Bharadwaj's Zodiac sign is Libra.