Sunil Chhetri Age Biography Family Net Worth Career Footballer Education Struggle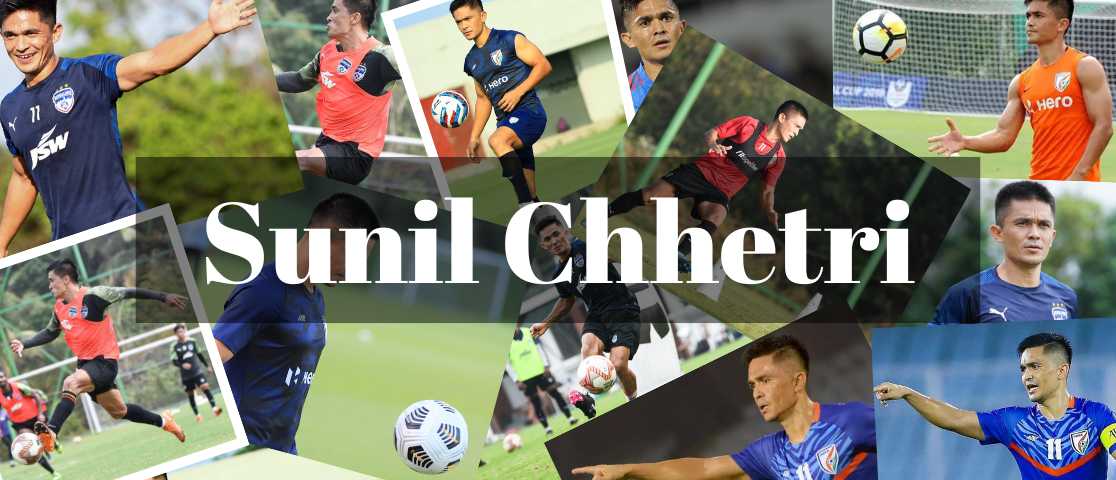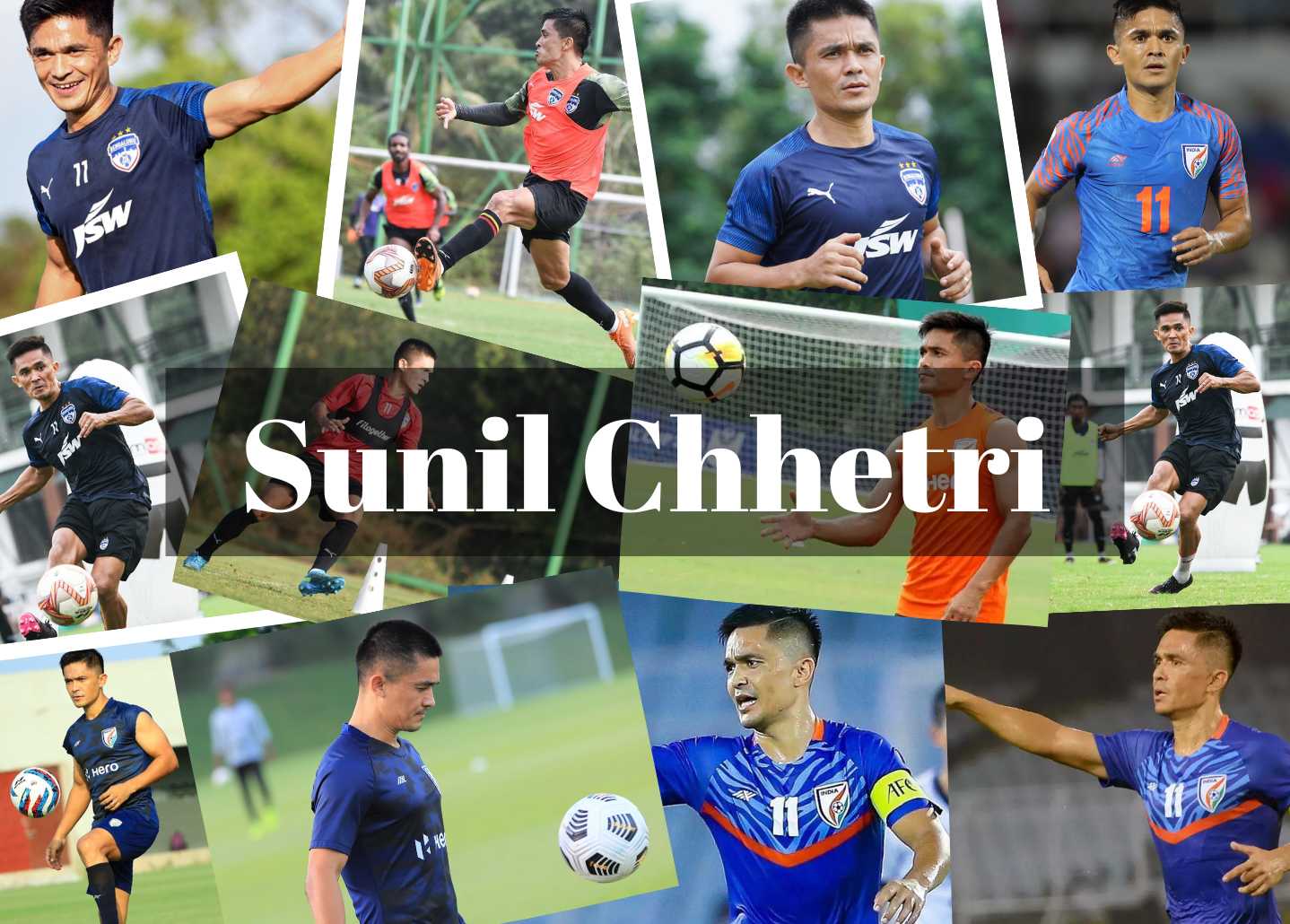 Biography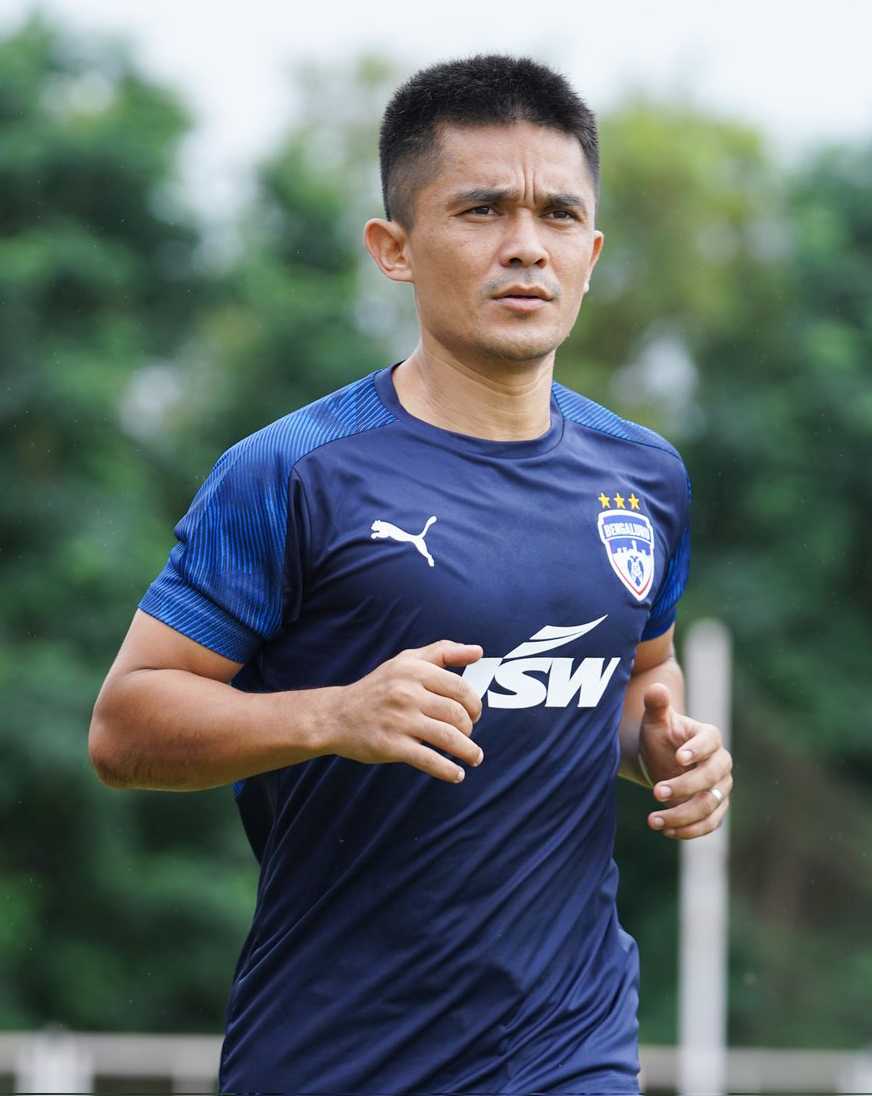 Sunil Chhetri is an Indian football player. He is a forward who plays professionally for Bengaluru of the Indian Super League and the India national team. Chhetri, who is regarded as one of the greatest Indian players of all time, is the joint fifth-highest international goal scorer of all time, the third-highest international goal scorer among active players (behind only Cristiano Ronaldo and Lionel Messi), the most capped player for India, and the top goal scorer of all time.

A well-known professional Indian football player is Sunil Chhetri. Currently, he is the captain and striker for the Indian National Football team. He also serves as the primary striker for Bengaluru FC, an Indian club. He has earned the most caps and goals for the Indian national team overall. With 74 international goals, Sunil is second in terms of total goals. He recently assisted India in a 2-0 victory over Bangladesh on June 8, 2021, in a World Cup qualifying match.

In recognition of his great sporting accomplishments, Chhetri was given the Arjuna Award in 2011 and the Padma Shri Award in 2019, India's fourth-highest civilian honor. He became the first football player to receive India's highest sporting honor, the Khel Ratna Award, in 2021.
Age
Sunil Chhetri's birthdate is August 3, 1984. Sunil Chhetri was 38 years old as of 2022. Sunil Chhetri's zodiac sign is Leo. Sunil Chhetri's hobbies are listening to music and playing cricket, badminton, and tennis.
Family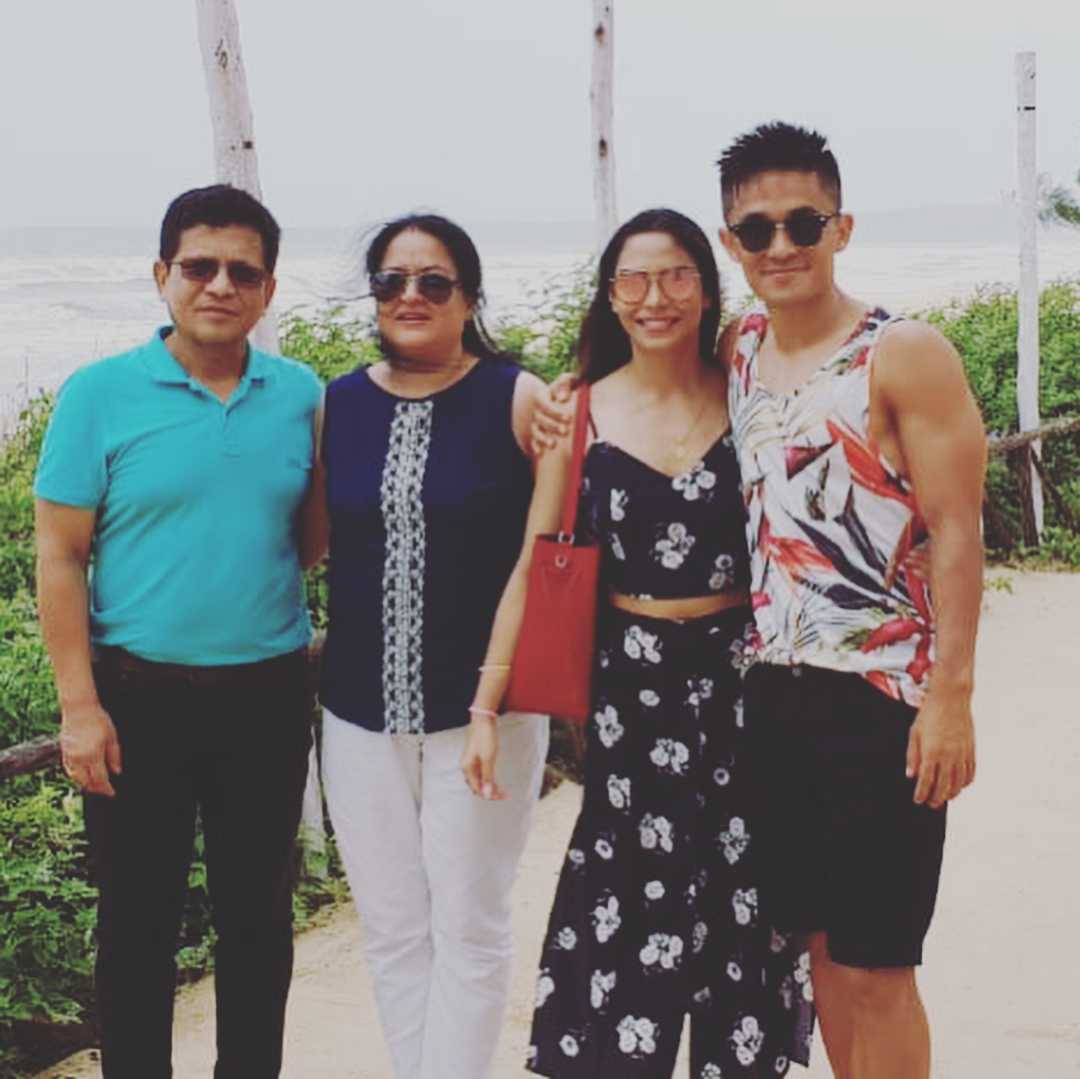 Sunil Chhetri's father is K. B. Chhetri, an officer in the Corps of Electronics and Mechanical Engineers of the Indian Army, and Sunil Chhetri's mother is Sushila Chhetri. Sunil Chhetri's birthplace is in Secunderabad, India.

While his mother and her identical twin sisters played for the Nepal women's national team, his father represented the Indian Army's football squad.

Sunil Chhetri's sister is Bandana Chhetri. Sunil's family was going through a financial crisis in his early years, and he lacked the resources to accomplish his objectives. Chhetri began playing football at an early age and participated in several competitions.

Chhetri wed Sonam Bhattacharya, the daughter of former Indian international and Mohun Bagan player Subrata Bhattacharya, on December 4, 2017, after dating Sonam for a long time.
Education
Sunil Chhetri attends the Bahai School in Gangtok, Darjeeling, for his formal education. He attended Loyola School in Kolkata for his high school studies.

Graduate work was completed at Asutosh College in Kolkata, West Bengal. He once participated in football for both his college and school teams. He is referred to as Captain Fantastic and is an excellent leader.

Struggle
I recall that my father used to make Rs. 8000 every month, and by the 20th, things would be difficult. However, despite coming from a middle-class family, I didn't feel any pressure. My parents taught us to do from the heart whatever we do. It was acceptable for me to study for only 30 minutes as long as I gave it my all. That environment aided in my discovery of my enthusiasm for athletics at the time.

I started playing athletics because of my mother. While Dad traveled frequently because he was in the military, Mom and I used to play carrom, table tennis, and even football.

I used to play in a number of football competitions, and during one of them, the Mohun Bagan club in Kolkata took notice of me. I didn't know I was going to be signed as a footballer until I was 17 years old. My life finally began to turn around when they phoned my father, offered us a contract, and a check for Rs. 90,000.

The initial year went well. In games, I would play for 20 or 30 minutes, and Bhaichung Bhutia would often be tagged as my opponent. When you start losing, the crowd becomes angry, and there have been moments when I've cried. In Kolkata, losing is not an option.

It's challenging; many players even give up. There were times when I felt shaken, and I once contacted my father at home to tell him I didn't believe I should do this. My father frequently flew in to stay with me, and my family gave me a lot of support. We had a conversation, which helped.
I remember taking my family out to eat on that particular day and saying to my dad, We can order whatever we want. Thanks to sports, I could live the life I wanted. It wasn't all glory, though. We once played a game at our home field, and it was a draw. The crowd began to hurl objects at us and even spat on us. I felt defeated.

Even my mother's and sister's names have occasionally been used against me. That kind of circumstance would make me want to give up. But I also experienced highs that made me want to pursue success again.

When I was just 20 years old, I competed in my first international game against Pakistan. Our victory over them on their own turf was my I've done it a moment. I eventually even rose to the position of Team India captain!

I've experienced occasions when only a small number of people showed up to watch the Indian football team play, and I've had to have sutures without anesthesia because I was unable to miss the game. But there have also been occasions when I've played in front of sold-out stadiums and been acknowledged as one of the world's best players.

Only through learning to overcome my lows have I been able to achieve these highs. I can view everything in perspective better when I remember where I began. My current situation is a result of the sacrifices my parents made and the difficulties we encountered. My feet will always be on the earth, despite the fact that I may be striving for the stars.
Marriage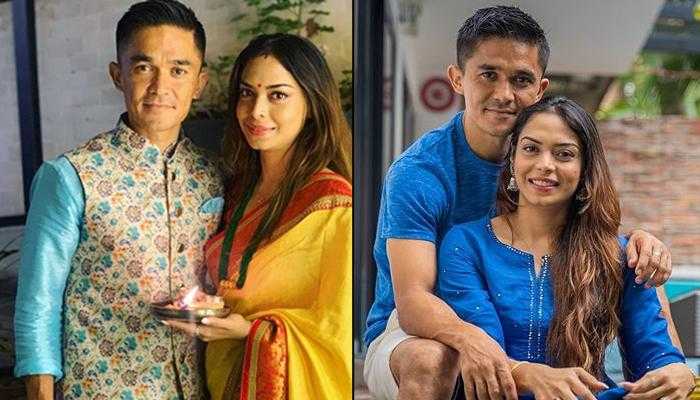 Sunil Chhetri, the coach, is the father of Sonam Bhattacharya. Her father used to always mention this guy called Chhetri to Sonam. She was barely 15 and I was 18. She grabbed my number from her dad's phone because she was so intrigued by me and texted me to say hello. I'm Sonam, and I want to meet you since I'm a great fan.

Sonam Bhattacharya, the wife of former Indian national football player and Mohun Bagan legend Subrata Bhattacharya, and Sunil Chhetri, the team captain, fell in love at first sight. Chhetri chose to meet the girl who messaged him even though he had no idea who she was.

Chhetri shares their love story on the Humans of Bombay Facebook page, saying, I gave in and met her. I discovered that she was a young child when we first met! You're a kid, study, I reminded her before leaving. But for some reason, we continued to text each other on occasion.

Despite their two months of communication, he was unaware that she was his coach's daughter. And he was livid when he learned about it. After two months of this, my coach's phone finally stopped working, and he gave it to me to fix. The coach's daughter called while I was repairing it, and I recognized her number. I recognized it as Sonam's number at that point! I was furious.

When Chhetri called her, he warned her that his football aspirations would be dashed if Subrata Bhattacharya discovered that he was conversing with his daughter. Even more, he swore off all contact with her. He writes, She said she was sorry for not speaking the truth, but I wouldn't have any of it. But after Chhetri realized he was missing her, they started communicating by text and phone.

We soon began to meet. We had to keep everything a secret and exercise extreme caution. We barely saw each other once or twice a year when I used to travel frequently. When I used to go to the movies, I would buy two tickets and leave one on the counter with her name on it. She would arrive ten minutes after I did.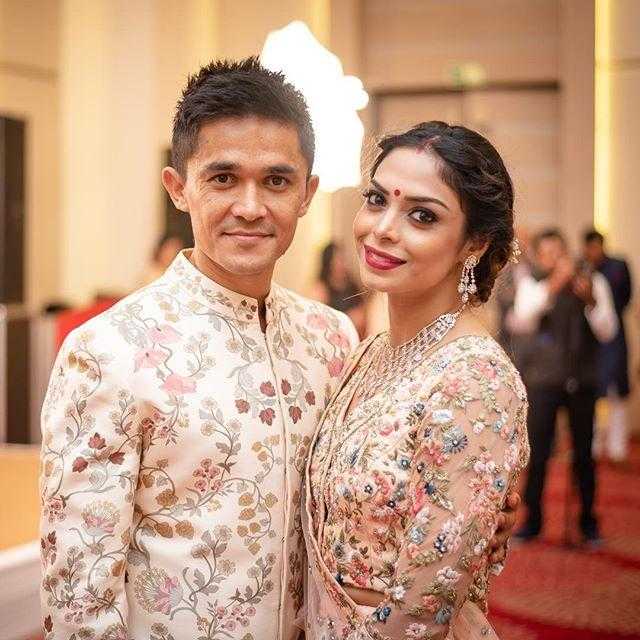 He claimed that the connection endured and only grew stronger with time. As the years passed, our relationship just got closer. She was always there to lift my spirits, allay my anxieties, and be my pillar of support as I flourished in my work. It appeared as though we had grown up together and fallen in love along the way.

When the time came for their wedding, he was nervous as he walked to her house to meet with her father. Her father began chatting about everything as soon as we sat down. It took me a while before I could tell him, Sir, I love your daughter and I believe she loves me too. He simply said, Ya, ya, it's okay, before using the restroom. He finally nodded in agreement when he emerged!

We then got married a few months later. They have been married for two years, according to him, after a lengthy 13-year relationship. Every significant event in my life has practically had Sonam by my side. She was there when I was a nobody and had no money. She was present for both of my first victories and losses.

She was present when I was appointed captain. I simply cannot picture my future or even my history without her. She still refers to herself as my greatest fan, but I hope she is aware of how much more I admire her than that, he adds.

On December 4, 2017, in a lavish ceremony held in Kolkata, Sunil made his Dulhania, Sonam, his forever, donning traditional Nepali garb capped with a topi. Sonam looked stunning as a Bengali Dulhan while wearing a crimson saree, and he later changed into traditional Bengali clothing.
Career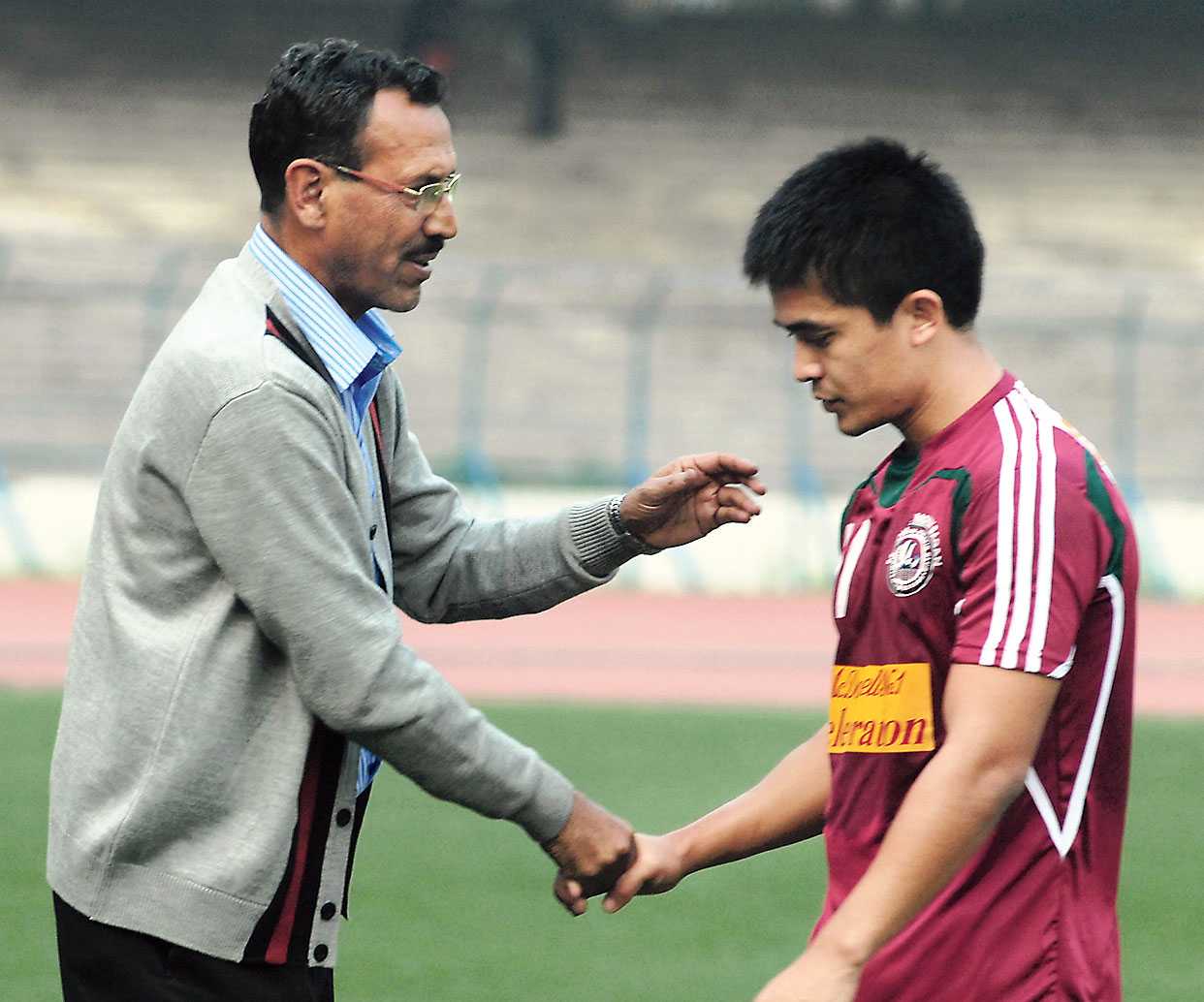 After playing for the City Football Club of New Delhi, Chhetri started his career as a professional football player with Mohun Bagan of the National Football League. Chhetri scored four goals during Mohun Bagan's 2002–03 inaugural season, which saw them finish seventh in the standings. Chhetri scored only two goals the next year.

As Mohun Bagan once again finished in the bottom half of the standings in the ninth position, the first victory came against Sporting Goa, and the second victory came against Indian Bank. The following season, Chhetri only managed to score two goals once more for Mohun Bagan, who placed eighth in the league and qualified for the National Football League based on goal differential.
Jagatjit Cotton and Textile Football Club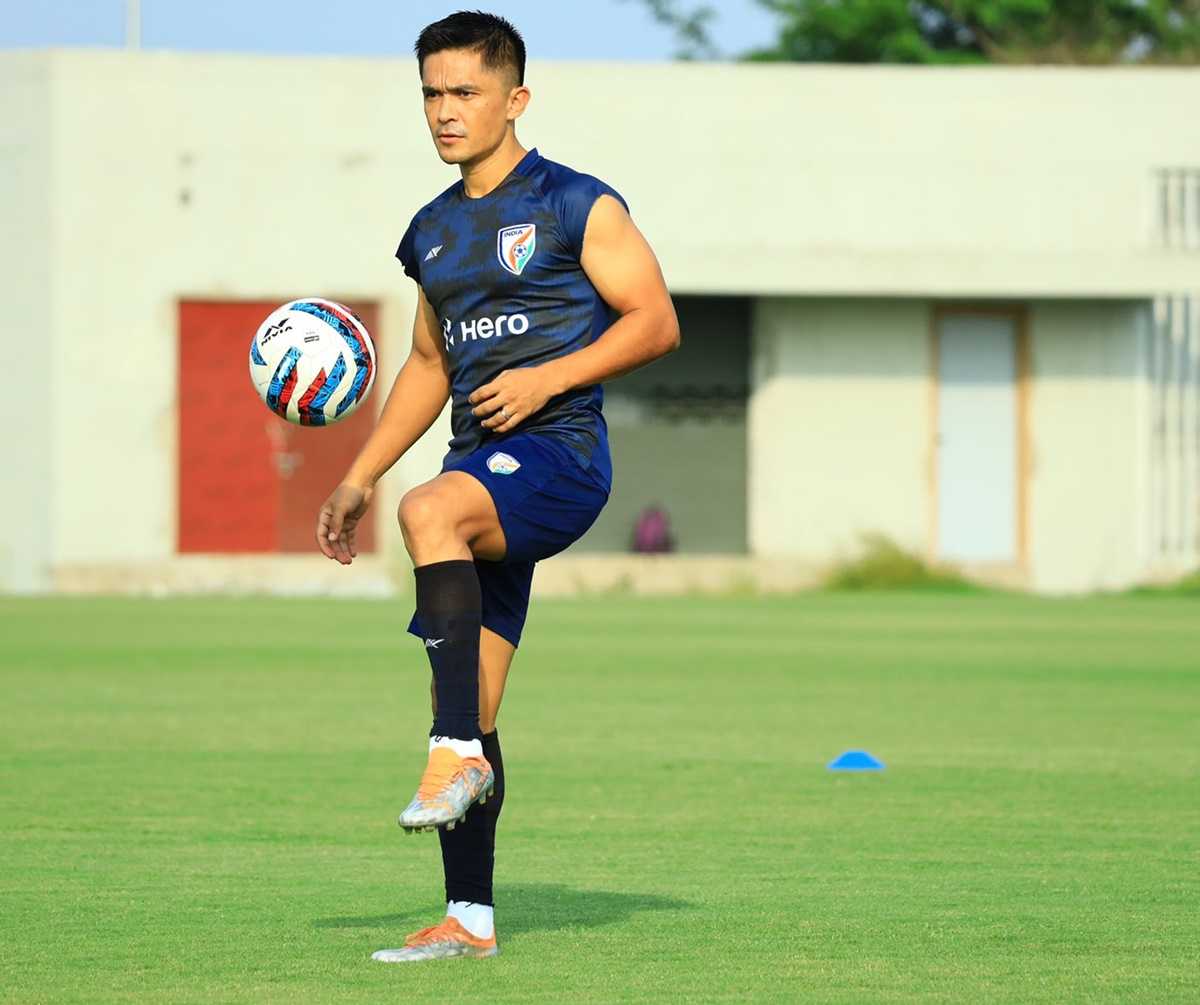 Chhetri committed to JCT in 2005 for the 2005–06 campaign. Chhetri managed to score three goals throughout that campaign. Before scoring against Sporting Goa, he scored twice against Salgaocar, helping JCT complete the season in sixth place.

In the meantime, in the group rounds of the 61st Santosh Trophy, against both Orissa and Railways, Chhetri struck two hat-tricks for Delhi. Nevertheless, despite Chhetri's best efforts, Delhi was eliminated from the tournament before the quarterfinals after falling to Tamil Nadu 1-0 in overtime.

Then, when JCT finished in second place, behind Dempo, in the 2006–07 league season, Chhetri netted a total of twelve goals for the team. The games against his old team, Mohun Bagan, and Dempo, in which he scored braces in both games as JCT won 2-0 and 3-2, respectively, were among his best performances that season.

The next year, Chhetri scored seven goals as JCT finished third in the first I-League season. In the season's final game against Salgaocar, he scored his only brace. But halfway through that campaign, in December 2007, Chhetri received the AIFF Player of the Year award for 2007 in recognition of his outstanding form and contributions to both his club and his country.
East Bengal
Chhetri joined East Bengal, another I-League team, before the start of the 2008-09 campaign. He scored on his East Bengal debut against Chirag United on September 26, 2008, as East Bengal won the game 3-1. He scored in the 28th minute.

Chhetri later went on to score an important goal for East Bengal in the Federation Cup against his old team, JCT, scoring the only goal to secure East Bengal's participation in the semi-finals. In the semi-final game, East Bengal faced Mohun Bagan, their bitter rivals and also one of Sunil's former teams. Sunil missed the go-ahead penalty in the shootout, and East Bengal was consequently eliminated from the competition.

But speculation stating that two Major League Soccer teams were interested in Chhetri and his international partner, Steven Dias, surfaced halfway through the season. The Los Angeles Galaxy and D.C. United was said to be the two MLS teams in question. Chhetri, who had previously rejected MLS, landed in Coventry, England on January 25, 2009, to begin a trial with Coventry City of the Football League Championship.

However, Coventry City manager Chris Coleman announced four days later that they would not be pursuing their interest in Chhetri. But Chhetri announced four months later that he would return to Coventry City in June 2009 for another prolonged trial. However, that never happened.
More Foreign Interest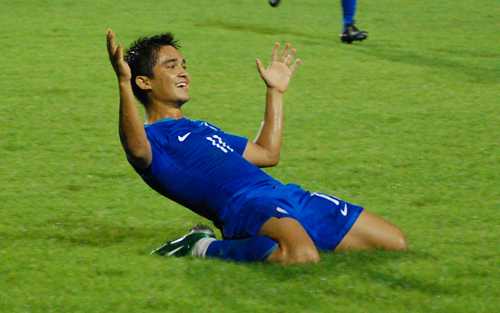 The Scottish Premier League team Celtic was reportedly linked with a deal to capture Chhetri on August 7, 2009. The Scottish team had seen Chhetri play during a preseason friendly against Segunda División B team Santboià. I'm waiting to get a reaction from Celtic, who saw him on Monday by a head scout and then another scout came to see the game, Chhetri's agent Yogesh Joshee was reported as saying. I'll let you know the outcome when I know it.

The Hindustan Times then reported on August 30, 2009, that Chhetri had signed a three-year contract with Queens Park Rangers of the English Football League Championship, but that the British government had refused to grant him a work permit.

Chhetri's work visa was rejected, according to a report on the Football Players' Association of India's official website, since India did not place among the top 70 nations in the FIFA World Rankings. But Chhetri maintained his optimism: But it's not the end of the world. I'll keep putting in a lot of effort for my nation and my club, Dempo, who have been encouraging.
Kansas City
It was revealed in March 2010 that Chhetri was on trial with the Major League Soccer team, the Kansas City Wizards, and had participated in some of their preseason contests. On March 24, 2010, he formally signed with the team, making him only the third Indian to play outside of South Asia and the first to do so in Major League Soccer. According to a remark from Wizards head coach Peter Vermes, we appreciate Sunil's skill as a player. He is technically highly astute and has solid offensive instincts.

Chhetri made his debut for the Wizards on April 14, 2010, against the Colorado Rapids in a play-in game for the U.S. Open Cup. He began the game, but received a yellow card and was taken off at halftime as Kansas City lost the game 1-2. Then, on July 23, 2010, it was revealed that Chhetri would take part in a preseason exhibition game against Manchester United.

However, given that he hadn't yet participated in a professional game, this raised criticism. Chhetri played for the Wizards against Manchester United on July 25, 2010, replacing Teal Bunbury in the 69th minute as Kansas City defeated Manchester United 2-1.

The following day, it was revealed that Chhetri would play for the Indian national side through the 2011 AFC Asian Cup. After that, it was revealed on February 5, 2011, that Chhetri had formally quit the squad.
Bengaluru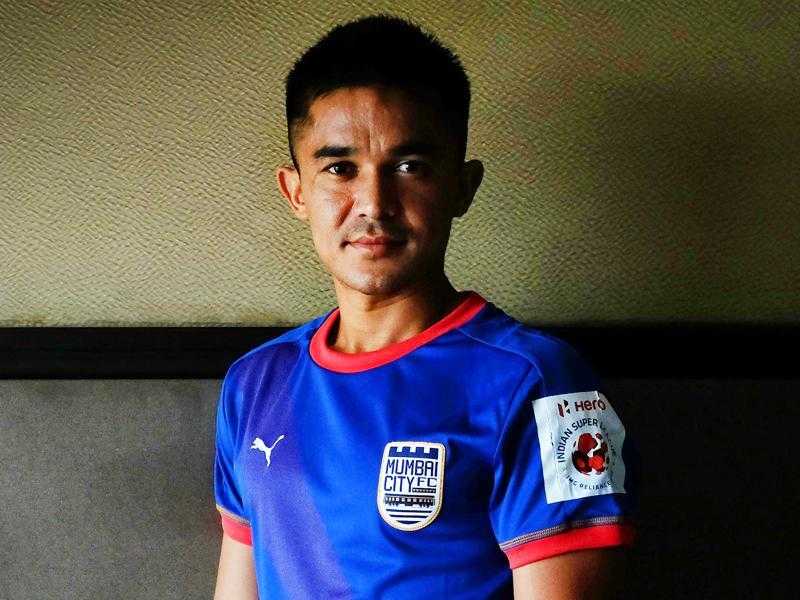 Following his release from Sporting CP on July 19, 2013, Chhetri joined Bengaluru, a new direct-entry I-League team, for the 2013–14 campaign. He made his club debut on September 22, 2013, when Bengaluru played Mohun Bagan, drawing 1-1.

He entered the game as a 46th-minute substitute for Beikhokhei Beingaichho. In the following game, Bengaluru played Rangdajied United, and Chhetri scored his first goal for the team in the 67th minute as Bengaluru won 3-0.

He didn't score again for Bengaluru until November when Chhetri assisted Bengaluru FC to a 2-2 draw on November 2nd against Mumbai with a penalty-spot goal in the 57th minute. On December 1, 2013, he scored his first two goals of the year against Shillong Lajong, and his goals in the 7th and 34th minutes helped the team win 2-1.

Chhetri then scored another brace in Bengaluru FC's 3-1 victory over Churchill Brothers in their subsequent encounter. In the very next game against Mohammedan, he scored his third brace in a row to help Bengaluru FC defeat the opposition 3-2 in Kolkata.

After scoring his ninth goal of the year from the penalty spot against Salgaocar to help Bengaluru defeat Salgaocar 2-1, Chhetri capped off a strong first half of the season for Bengaluru. The following day, on January 15, 2014, Bengaluru FC defeated Sporting Goa 5-3 in the team's inaugural Federation Cup game. Chhetri led Bengaluru FC to their first-ever I-League championship in its inaugural season with 14 goals and 7 assists in 23 games.
Chhetri started the season in the 2014 Durand Cup, where he played and scored three goals, but missed the penalty in the shootout against Salgaocar, which proved to be the game-changing missed penalty as Bengaluru lost.

Chhetri scored twice against Salgaocar in his team's opening Federation Cup game of the 2014–15 season, which ended 3-2 in his team's favor. In the final cup group stage encounter against Pune, Chhetri notched a second hat trick, netting one through open play and one through the penalty spot to advance his team to the semifinals.

He maintained his form against Sporting Goa in the semi-final, contributing to Sean Rooney's first goal and scoring the second, as his team won 3-0. In the championship game, Chhetri scored his sixth goal of the competition, assisting them in taking home the 2014–15 Federation Cup.

In the seventh round against Mohun Bagan, Sunil scored his first goal of the 2014–15 campaign off of a Eugeneson Lyngdoh cross, although he was unable to stop his team from losing 4–1. Parth Jindal, the CEO of Bengaluru FC, confirmed that Chhetri, Robin Singh, and Thoi Singh will sign contracts to play in the Indian Super League at the end of the current campaign. They will join the ISL team that selects them, but it has been arranged that they will be loaned back to Bengaluru for the following I-League campaign.
Mumbai City
Chhetri was the most expensive Indian player in the 2015 Indian Super League auctions when he was purchased by Mumbai City for 1.2 crore. Due to commitments with the national team, he missed his side's first and second-round games of the 2015 Indian Super League season.

He was participating in Group D of the 2018 World Cup qualifications against Turkmenistan and Oman when he returned to Chennaiyin. However, they lost 2-0. In his second game of the year, he scored twice to help Delhi Dynamos defeat Roberto Carlos' club 2-0 for the team's first victory of the year.

He then scored once more, this time from the penalty spot, in the very next matchup against Goa, who was then leading the table under Zico's management. In his fourth game of the season against NorthEast United, Chhetri made history by being the first Indian player to score a hat-trick, bringing his season total to 6 goals in 4 games. He scored 7 goals, making him Mumbai City's leading scorer for the year. In 2018, he remained in first place among Mumbai City FC's all-time leading scorers.

He returned to Mumbai in the 2015–16 season, and while the squad did well this time around—making the playoffs for the first time—national obligations and limited playing time with players like Diego Forlán and Sony Norde kept him off the scoreboard. He got a three-year contract after spending two seasons with the Islanders, making him the highest-paid Indian player in 2017.
Return to Bengaluru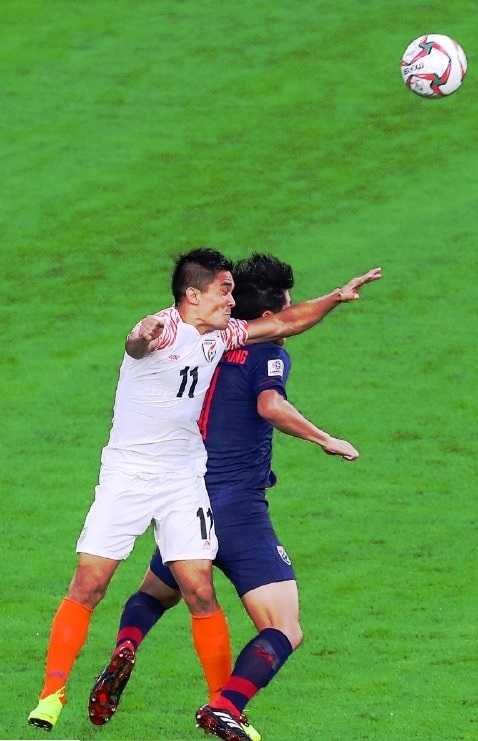 For the 2015–16 I–League season, Chhetri was loaned to Bengaluru. He ended up scoring 5 goals in the league, helping his team win the league title for the second time in three years. In the 2016 AFC Cup round of 16, he also scored twice against Kitchee to propel his team to an unexpected 2-3 away victory. Bengaluru would be making history by becoming the first team to get to the tournament's quarterfinals.

Chhetri returned his ownership rights to the club from Mumbai City by signing a one-year contract with Bengaluru, the club announced on June 9 of that year. Bengaluru defeated Johor Darul Ta'zim in Bengaluru to go to the 2016 AFC Cup semi-final. Chhetri scored twice in the victory. With his second goal, Chhetri gave Bengaluru the lead with a 30-yard strike after receiving the ball from C. K. Vineeth, beating one defender.


During the 2017–18 Indian Super League season, he scored 14 goals for the team, making him the league's leading Indian scorer. He was Bengaluru's second-leading scorer in the league and was named the League's Hero. With Bengaluru FC, Chhetri went on to win the Indian Super Cup in 2018. He led Bengaluru in goals scored during the 2018–19 Indian Super League season with 9 goals, which helped Bengaluru win the league championship. Bengaluru's leading scorer for the 2019–20 season was Chhetri.

He had eight goals in the 2020–21 campaign, making him Bengaluru's leading scorer for three straight years. Chhetri was the first player to make 200 appearances for Bengaluru FC on February 15, 2021. On February 25, 2021, he scored his 100th goal for Bengaluru FC in the league game that concluded the 2020–21 Indian Super League season. Chhetri's two-year contract extension till 2023 was announced on June 20. With the team, he won the 2022 Durand Cup.
International Career
At the 2004 South Asian Games in Pakistan, Chhetri made his debut for the India U-20 football team on March 30, 2004, winning 1-0 against the Pakistan U-23 squad. Chhetri contributed two goals to India's U-20 squad's 4-1 victory over Bhutan's U-23 team on April 3, 2004. Sunil's first goal for the senior Indian national football team came against Pakistan on June 12, 2005.

On October 15, 2019, Chhetri became the only Indian to rank among the top 10 goal scorers in international football. Chhetri's first international competition was the Nehru Cup in 2007. India defeated Cambodia 6-0 in the first game, with Chhetri scoring twice.

He added two more goals, bringing his total to four, in the 3-0 victory against Kyrgyzstan and the 2-3 loss to Syria. Chhetri assisted in the preparation of Pappachen Pradeep's game-winning goal as India defeated Syria 1-0 in the tournament's finale to win for the first time since 1997.

India started their qualifying campaign for the 2010 FIFA World Cup later in 2007. They were eliminated by Lebanon in the first round, with Chhetri scoring once in the away game (a 4-1 loss) and once in the home leg (a 2-2 tie), for an overall loss of 6-3.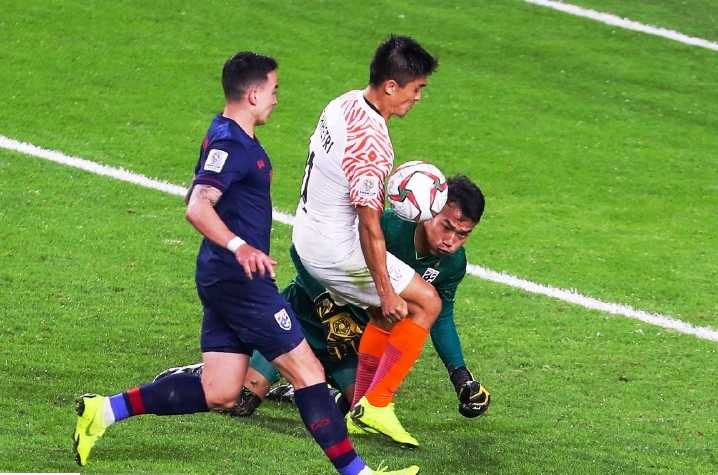 Three wins out of a possible three in the group stages helped the 2008 SAFF Championship get off to a strong start. In the first game, Chhetri contributed to a 4-0 victory over Nepal. He added another goal to his tally for the competition in the 2-1 semi-final triumph over Bhutan. This goal served as an equalizer before Gouramangi Singh scored India's second goal to advance the team to the title game.

Chhetri played the entire 90 minutes in the final, which India lost to the Maldives 1-0. Later that year, Chhetri participated in every game of the 2008 AFC Challenge Cup while scoring four goals.

He contributed to the development of Climax Lawrence's goal in the 1-0 victory over Afghanistan. Additionally, he participated in both the 90-minute matches with Turkmenistan (a 2-1 victory) and Tajikistan (a 1-1 draw). To advance India to the final against Myanmar in the semi-final, Chhetri scored the solitary goal in a 1-0 victory, with Bhaichung Bhutia providing the assist. Chhetri's hat trick in the championship game against Tajikistan helped India win the Cup.

India automatically qualified for the 2011 Asian Cup, its first qualification for the competition in 24 years. Uzbek referee Valentin Kovalenko initially ruled that his first goal was offside, but he later changed his mind after speaking with his assistant. Numerous supporters gathered outside the stadium to welcome India's new. He is outstanding, gutsy, and honest, India manager Bob Houghton said of the player. He never quits.
Chhetri was initially expected to miss the 2009 Nehru Cup due to injury, according to Goal.com. However, he participated in the competition and scored in the second Nehru Cup game, converting a penalty in a 2-1 victory over Kyrgyzstan.

This was the first time he had played a whole match since suffering an injury before his club's pre-season tour of Spain. Although he did not score, he was present in the other three games of the round-robin stage of the competition, including the dress rehearsal for the final versus Syria.

Chhetri contributed to one of India's goals in the final penalty shootout triumph over Syria after the game was at 1-1. In a 5-2 loss to Bahrain in the 2011 Asian Cup, he scored the second goal and showed flashes of brilliance. In the 2011 AFC Asian Cup versus South Korea, he also scored a goal.

For the 2012 AFC Challenge Cup qualifying, which took place in Malaysia. Chhetri scored twice for India against Malaysia on November 16, 2011, in a friendly game played at Salt Lake Stadium, in the 39th and 53rd minutes. India won 3-2 in the final score. On December 11, 2011, he broke I. M. Vijayan's previous record of six goals in the 1997 edition of the SAFF Championship by scoring seven goals in a single edition.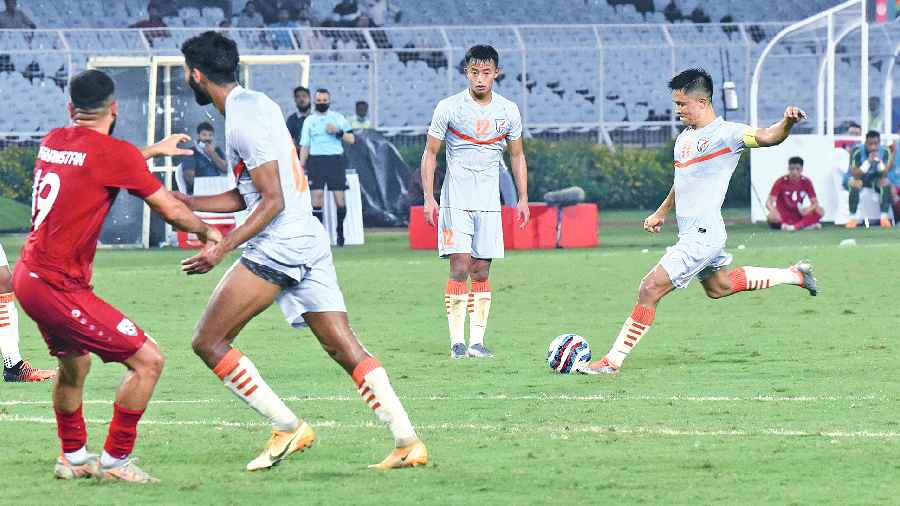 In the extra time of the first half of India's 2012 Nehru Cup encounter against Syria on August 22, 2012, Chhetri scored a header to give India a 2-1 victory. He scored two goals against the Maldives in the second game, which was played on August 25, one of which came from a penalty. The squad won that game 3-0. Chhetri scored from a clutch penalty kick in the championship game against Cameroon to tie the score at 2-2. In the ensuing penalty shootout, they won 5-4.

Chhetri contributed a goal and an assist on October 11, 2017, as India defeated Macau 4-1 at home to go to the 2019 AFC Asian Cup after being eliminated in 2015. Before India's final match against Kyrgyzstan, Chhetri led India to a 13-match winning streak.

Nevertheless, India managed to win their group and not just earn a spot in the 2019 AFC Asian Cup. He was one of four notable Asian athletes selected as seeds for the upcoming Asian Cup, along with Ali Daei, Sun Jihai, and Phil Younghusband.
In their opening game of the 2018 Intercontinental Cup against Chinese Taipei in June 2018, Chhetri grabbed a hat-trick in a 5-0 victory. Chhetri posted a video on Twitter asking people to come to Mumbai Football Arena to support the Indian side after this game since he was upset with the low attendance at the stadium.

Fans, celebrities, and renowned cricketers like Sachin Tendulkar and Virat Kohli sent their support for him when his video went viral and gained a lot of attention. For the remaining games, the stadium was crowded with an enthusiastic crowd. Chhetri made his 100th appearance for India in the tournament's second game, which India won 3-0.

In that game, Chhetri not only scored two goals but also converted a penalty kick. Chhetri scored in the following game against New Zealand, but despite India's qualification for the championship game, India lost 2-1.

On June 10, Chhetri scored twice more in a 2-0 victory over Kenya to win the Intercontinental Cup. He also equaled Lionel Messi of Argentina's career total of 64 goals, moving him into second place behind Cristiano Ronaldo of Portugal among active international goal scorers at the moment. With eight goals, he was the tournament's leading scorer.

On January 6, 2019, Chhetri scored twice against Thailand to enable India to defeat them 4-1 for the first time in AFC Asian Cup history. Chhetri scored twice on June 7, 2021, as India defeated Bangladesh 2-0 to advance to the 2022 FIFA World Cup. He scored twice more on October 13, 2021, as part of a 3-1 victory over the Maldives in the 2021 SAFF Championship, moving him into a tie for sixth place among all-time international goal scorers and into third place among current goal scorers in football, behind only Lionel Messi and Cristiano Ronaldo.

He equaled Messi's 80 goals for his country when he scored once more in a 3-0 victory over Nepal in the 2021 SAFF Championship final on October 16, 2021.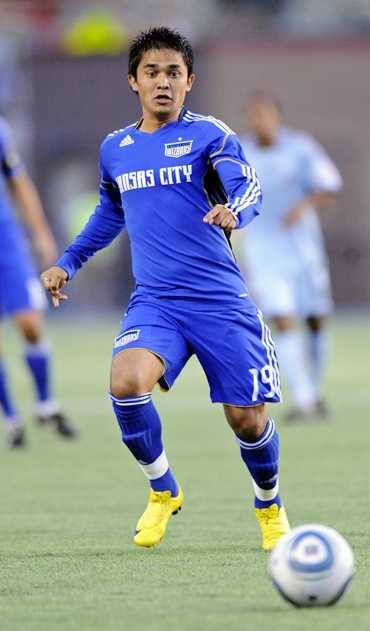 After the 2021–22 Indian Super League season, Sunil suffered a few ailments that prevented him from taking part in March 2022 international friendly against Bahrain and Belarus. Then he made his international debut against Jordan in a friendly match that was organized as part of the preparation for the 2023 AFC Asian Cup Qualifiers, which were scheduled to take place in June 2022.

In a game on June 8, 2022, between India and Cambodia in the 2023 AFC Asian Cup Qualifiers, Chhetri scored twice—once from the penalty spot and once on a header from a cross by Brandon Fernandes—helping India defeat Cambodia 2-0 at Salt Lake Stadium. He scored a free kick in the following game against Afghanistan to bring his total number of goals for his career to 83.

India prevailed in the game, 2-1. In the following game, when India defeated Hong Kong 4-0, Chhetri scored his 84th goal. With four goals in the third round of the qualifiers, Chettri became the top scorer for India and helped the country qualify for the 2023 AFC Asian Cup.
Net Worth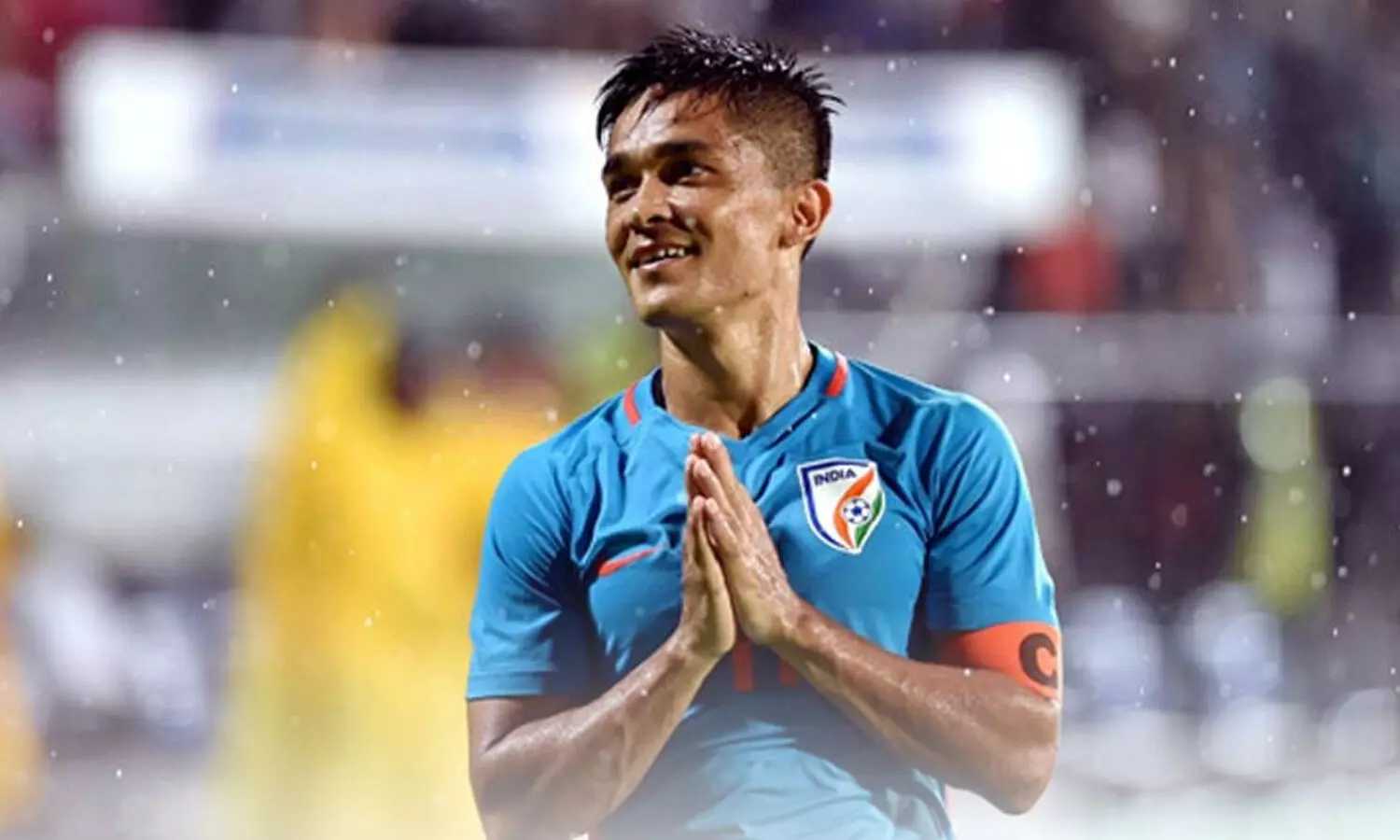 Sunil Chhetri has had a highly successful footballing career. He has accomplished a lot, as evidenced by his records. Sunil Chhetri, the captain of India's national football team, has a net worth of more than Rs 8 crores. Sunil Chhetri only has one car, an Audi A6, so thus he doesn't own many vehicles. Sunil Chhetri resides in Bengaluru in the most magnificent and wonderful house.

Sunil Chhetri's net worth has improved as a result of his pay rising over time. The footballer's wage from competing for Bengaluru FC in the Indian Super League has been his primary source of income. He is one of the highest-paid stars in Indian football.

He also has several sponsorship contracts, and in 2019 he agreed to a three-year contract with the renowned sportswear company Puma. Additionally, he supports Twelfth Man, a fantasy football website. Sunil Chhetri earned 6.1 crores in 2019, according to Forbes magazine.
Awards
Sunil Chhetri guided India to lift the 2008 AFC Challenge Cup and he was awarded the most valuable player of the tournament.
Chhetri was named the AIFF player of the year for a record 5 times. He was awarded in 2007, 2011, 2013, 2014, and 2017.
2019—Padma Shri, the fourth-highest civilian honor in India.
Chhetri also won the FPAI player of the year in 2009 and 2018
Chhetri was awarded the SAFF championship player of the tournament in 2011.
Chhetri was the highest goal scorer in Indian professional football leagues. He has netted 104 times in his 212 appearances.
Sunil won the player of the tournament award at the recently held intercontinental cup in 2018.
Sunil was also the player of the tournament in the i-league 2016-2017 season and the Indian super league season 2017-2018.
Sunil was the all-time highest goal scorer for India as he scored 65 goals in his 103 appearances.
Sunil is sharing the list of the highest number of goal scorers in international matches among the active players along with icons Christiano Ronaldo and Lionel Messi.
Sunil was named an Asian Icon by the Asian football council earlier this year.
Sunil was awarded the second-highest sporting honor Arjuna award in 2011 for his immense contribution to football.
The Indian government awarded him the 2011 Arjuna Award in honor of his great athletic accomplishment.
Khel Ratna Award, India's top sporting honor, 2021
Fun Facts
Sunil Chhetri has the world's highest goals per-match ratio in international football among current players.
Among current players, he is the third-highest goal scorer in international football in the world.
With 100 caps, Sunil Chhetri is the most-capped player for the Indian national team.
Sunil is the all-time top goalscorer for the Indian national team, with 61 goals in 100 appearances.
In 2010, Chhetri became the third player from the subcontinent to be signed by a foreign club.
Chhetri has played for major Indian clubs such as Mohun Bagan, JCT, and Chirag United.
Sunil has won for the national team in the 2007, 2009, and 2012 Nehru Cup and the 2011 SAFF Championship.
The maximum number of goals he has hit is against Chinese Taipei and Maldives – both six.
In the 2011 Asian Cup, Chhetri became the first Indian after Inder Singh to score in more than one match during the cup.
In 2011 he became the third Indian player to win the AIFF Player of the Year award twice.
Profile Summary
How to book a personalised celebrity video wish from a celebrity similar to Sunil Chhetri?
Knowing about Sunil Chhetri is so much fun. How about getting a message from a celebrity similar to Sunil Chhetri? Tring makes it possible!

Now you can get a personalised celebrity video message from over 12000+ celebrities!

What's better than your favourite celebrity making a video for your loved ones? This is your chance to get a personalised celebrity message from celebs like Deepak Punia, Priyanka Goswami, Simran Khosla, Mona Meshram and many more!

All the best experiences, moments and special wishes in one FREE Celebrity Video!

It takes just 4 steps to share the best wishes with your loved ones. Surprise your loved ones now!


Click here to fill out the form above.
Fill in the required details
Click on "Claim Your Rewards" .
Select your favourite celebrity.
Your Personalised Celebrity Shoutout Video/Message will be delivered to your mail/Whatsapp, which takes care of your pocket as well!
Ready to make memories?
Book your wish now!
Social Media
Frequently Asked Questions