Your entry has been submitted!
Mobile number already exists, you have already submitted your entry!
Rekha | Movies, Biography, Net Worth, Relationships, Family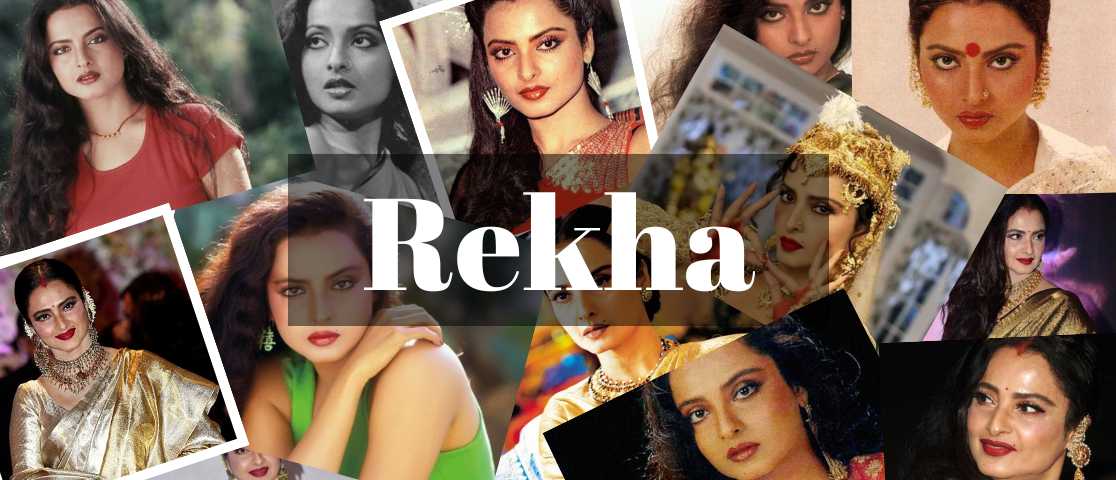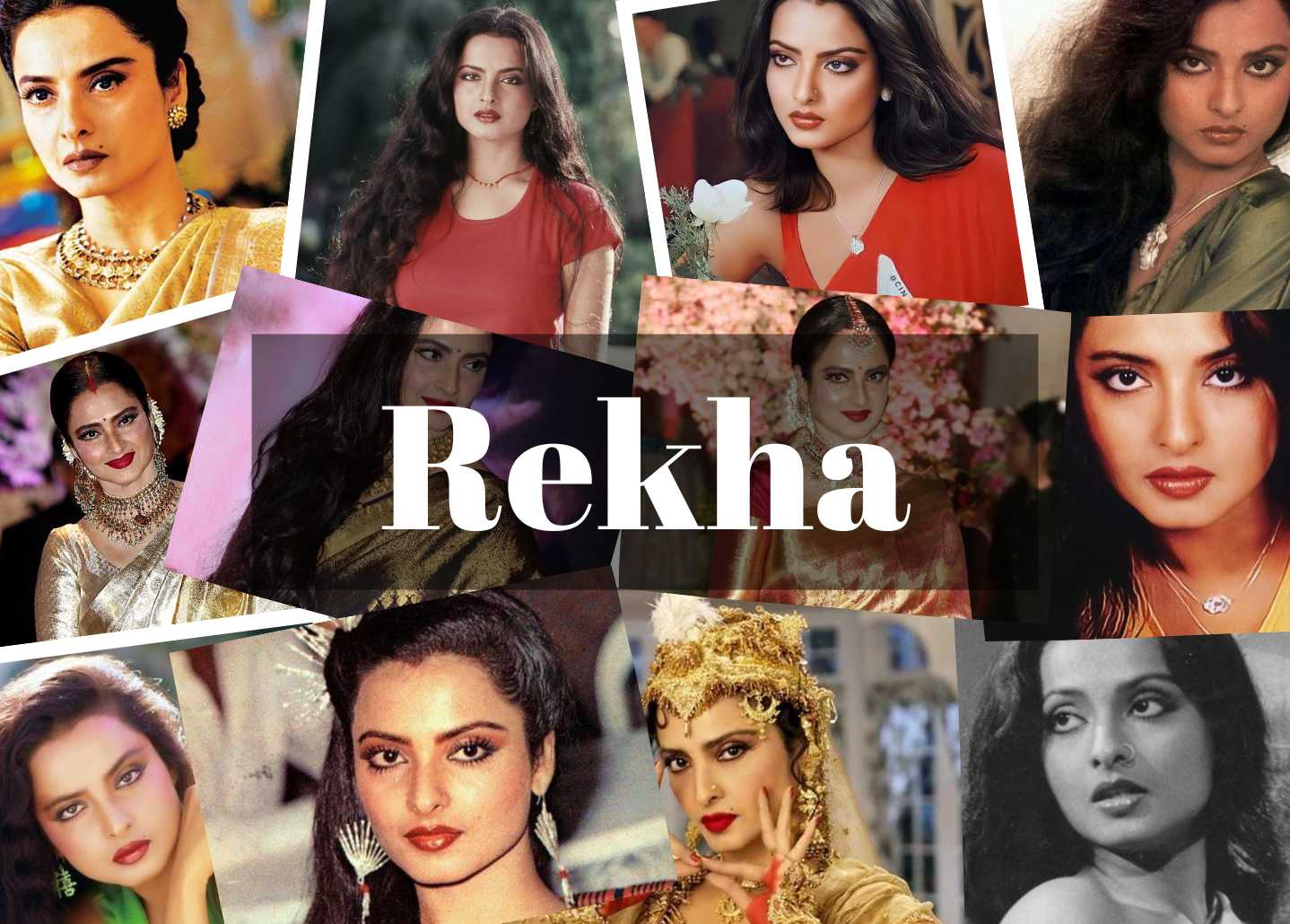 Rekha's Age and Rekha's Biography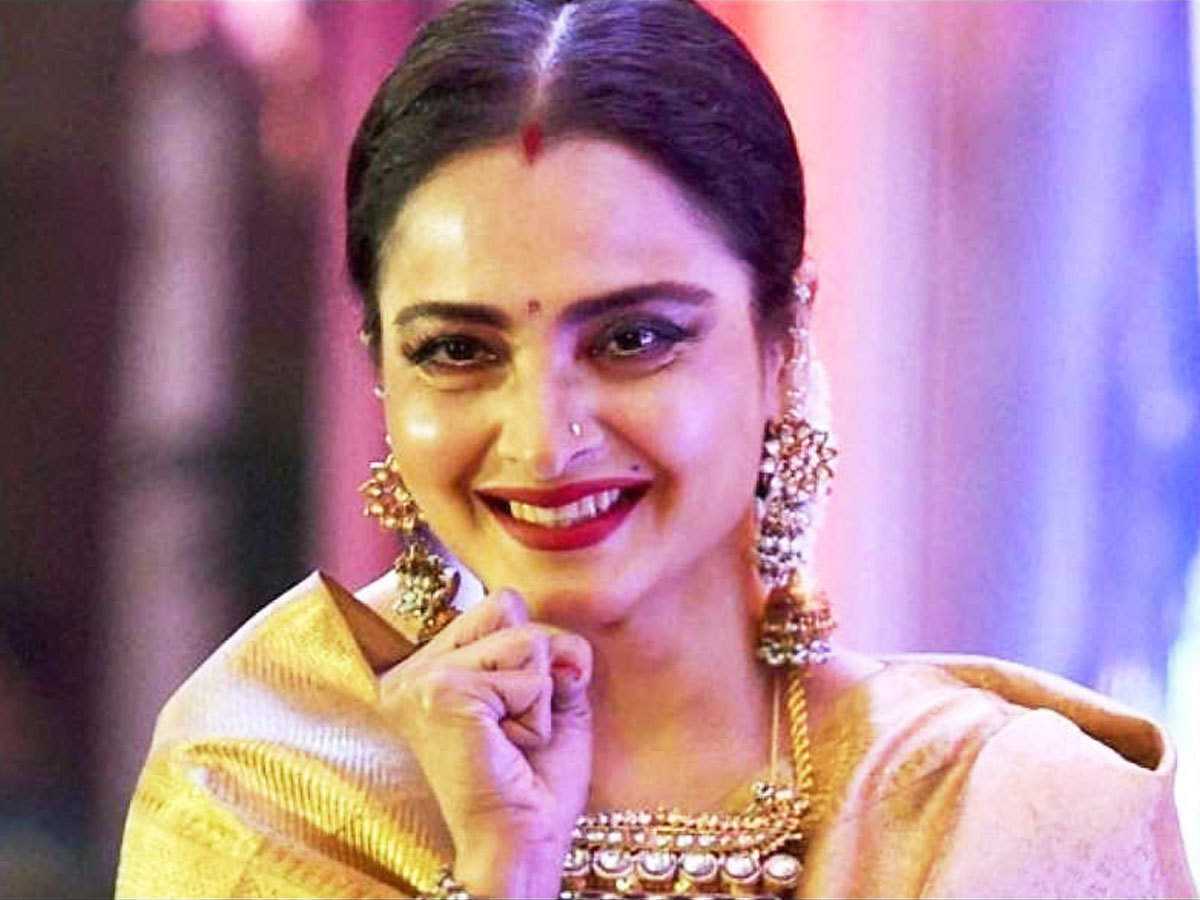 Rekha is an Indian actress who primarily plays roles in Hindi movies. She is regarded as one of the best actresses in Indian cinema, has appeared in more than 180 movies, and has won numerous awards, including three Filmfare Awards and one National Film Award. She has frequently portrayed complex and strong female roles in both mainstream and independent films, including fictitious and literary figures. Rekha has developed a reputation for reinventing herself often and has been given credit for her ability to maintain her standing despite the fact that her career has experienced some moments of decline. The fourth highest civilian honour in India, the Padma Shri, was bestowed upon her by the Indian government in 2010.

Rekha's birthday is on 10 October 1954. Rekha's age is 67 years as of 2022. Rekha's birthplace is Chennai, Tamil Nadu. Rekha's real name is Bhanurekha Ganeshan, while Rekha is her stage name. Rekha's zodiac sign is Libra. Rekha's height is 1.65m or 5'5" in inches. Rekha's religion is Hinduism.

Rekha began acting in Telugu movies as a young child in 1958 with Inti Guttu and Rangula Ratnam (1966). Operation Jackpot Nalli C.I.D. 999, a Kannada film, served as her debut main role (1969). She became a rising celebrity after making her Hindi film debut in Sawan Bhadon in 1970, but despite the success of several of her early movies, she was frequently criticised in the press for her appearance and weight. A well-publicised metamorphosis resulted from her efforts to improve her appearance, acting skills, and Hindi language proficiency in response to criticism.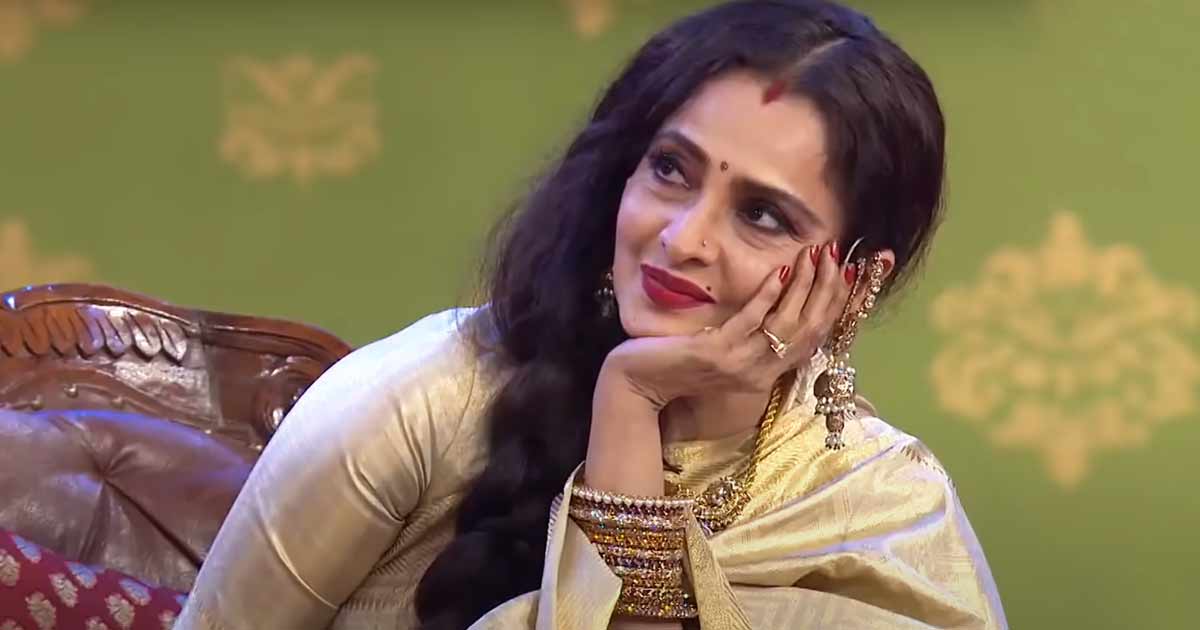 The most prosperous phase of her career began when she received early acclaim in 1978 for her performances in Ghar and Muqaddar Ka Sikandar, and she remained a prominent figure in Hindi film for the majority of the 1980s and the early 1990s. Rekha won her first Filmfare Award for Best Actress for her work in the comedy Khubsoorat (1980). Baseraa (1981), Ek Hi Bhool (1981), Jeevan Dhaara (1982), and Agar Tum Na Hote (1983) were her subsequent films (1983). While mostly active in mainstream Hindi cinema at this time, she also dabbled in the rival arthouse neo-realist film genre.


These movies featured dramas like Kalyug (1981), Vijeta (1982), and Utsav (1984), and she was honoured with the National Film Award for Best Actress in 1981 for her portrayal of a traditional courtesan in Umrao Jaan. She was one of the actresses who spearheaded a new trend of women-centred vengeance movies after a brief setback in the middle of the 1980s, beginning with Khoon Bhari Maang (1988), for which she earned a second Best Actress award at Filmfare.

Get Personalised Gift Messages from Similar Celebrities and make your loved ones feel Special.

Over the years, she produced substantially less work. Reviews of her early 1990s roles were generally unfavourable. She appeared in the action thriller Khiladiyon Ka Khiladi (1996) as an underworld don, playing against type, for which she won a third Filmfare Award in the Best Supporting Actress category. She also made appearances in Kama Sutra: A Tale of Love (1996) and Aastha: In the Prison of Spring (1997), to mixed reviews from critics and some criticism from the general public.

She began playing mother characters in the 2000s, including her appearances in the commercially successful science fiction films Koi... Mil Gaya (2003) and its superhero sequel Krrish (2006). She was hailed for her supporting performances in the 2001 dramas Zubeidaa and Lajja. Her highest-earning release was the most recent. Rekha has been a Rajya Sabha member since 2012 in addition to performing. Her apparent sex appeal has frequently been linked to her public image. Rekha has been called a recluse since she is reluctant to do interviews or talk about her life.
Rekha's Family and Rekha's Childhood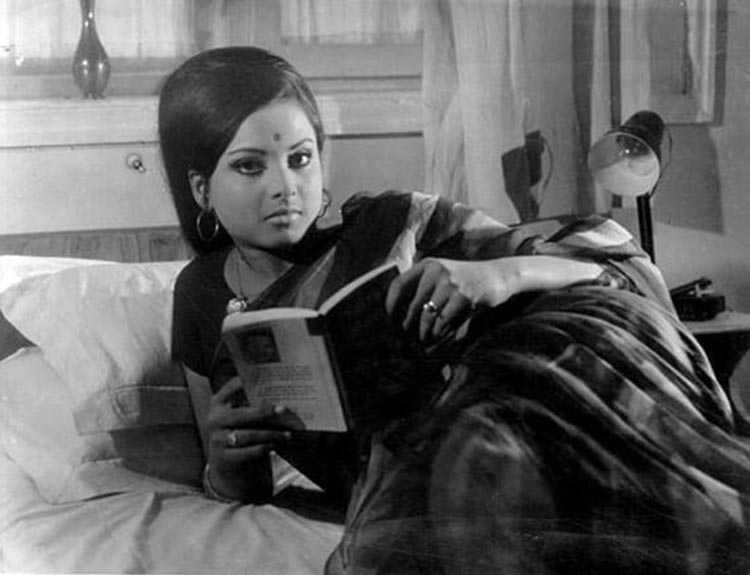 Rekha's father's name is Gemini Ganeshan. Rekha's mother's name is Pushpavalli. Gemini Ganeshan and Pushpavalli were famous South Indian actors of their time. Gemini Ganeshan and Pushpavalli both were unmarried when Rekha was born. Telugu is Rekha's mother tongue, although she also speaks Hindi and English well.

She responded I was a baby when he moved out of our lives,' when asked what she remembered about her father. Even while he was at home, I can't recall it. However, her family's dysfunction was never given to the actor as a concern. Instead, she heard fascinating tales from her mother about her father. Since her mother had to go shoot, Rekha spent the majority of her youth living with her grandmother and aunt. Rekha has five sisters: Kamala Selvaraj, Radha, Jaya Sreedhar, Vijaya Chamundeswari, Revathi Swaminathan, and Narayani Ganesh. Her brother is Sathish Kumar Ganesan.

Rekha's school is Church Park Convent School in Chennai. She had to drop out of school at the age of 13. She had a difficult life and was forced to pursue a career she had never wanted. After her father abandoned her family, Rekha entered the performing industry not because she wanted to be an actor but rather because her family's financial situation was poor. She said she had always been a shy and lonely girl and had been overweight as a child. Rekha used to spend her time at the school chapel and called herself a strong believer in God and destiny.
Rekha's Affairs and Relationships
Jeetendra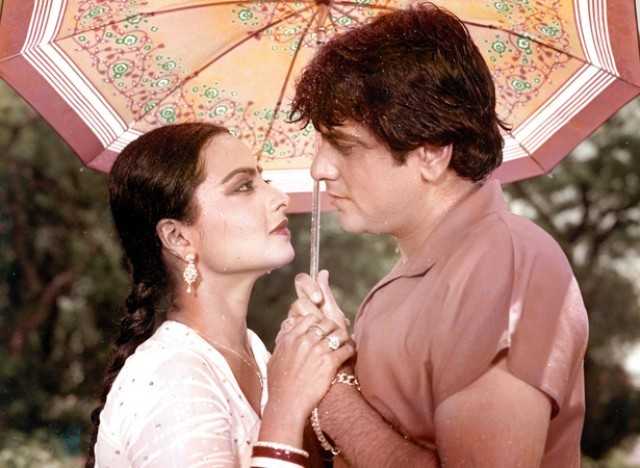 Rekha's first well-known relationship in Bollywood was with Jeetendra, a superstar. For his casual flirting with his female co-stars, Jeetendra was well-known. Rekha and Jeetendra had worked together on various films. Rekha reportedly had a romantic interest in the superstar, but Shobha Kapoor was already his wife when they first met. Rekha was labelled as a home-breaker by many when rumours about their purported dating began to circulate. As a result, their romance ended tragically.
Vinod Mehra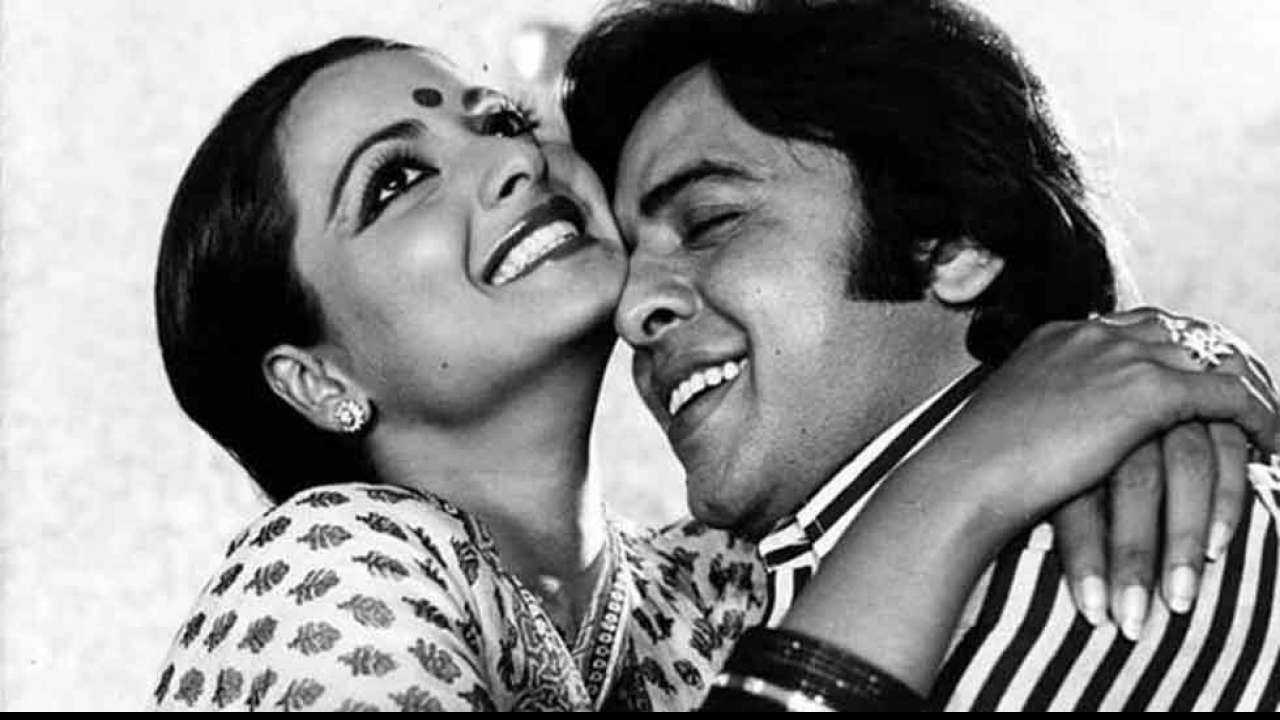 Rekha had a great and well-known relationship with Vinod Mehra. Vinod's charm enchanted the actress, and vice versa. The union between the two was solemnised in a brief ceremony. When Vinod brought Rekha to Calcutta at the time to introduce his new wife, Kamal Mehra treated her harshly, according to a filmmaker.

He added that when a sobbing Rekha ran for the elevator, Vinod's mother shoved Rekha away and nearly took off her sandals to strike her. Vinod, her husband, followed her and urged her to remain calm and enter the house while the matter was being resolved. Rekha, however, had refuted claims that she had ever been married to Vinod Mehra.
Amitabh Bachchan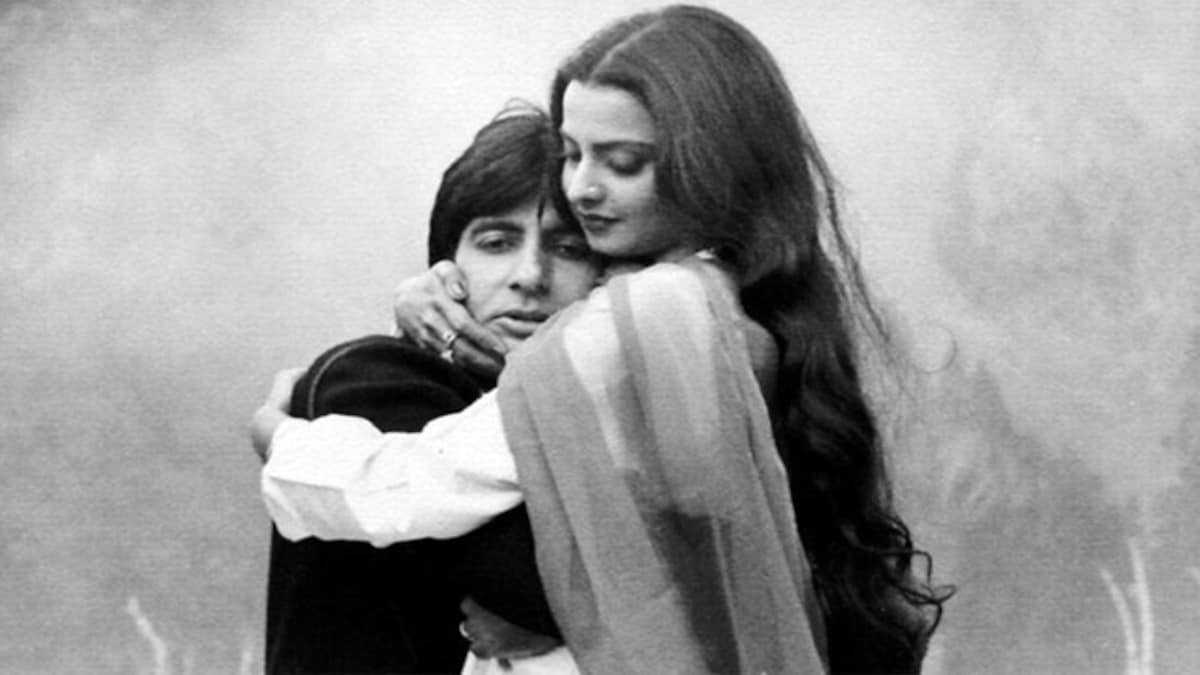 The most talked-about relationship to have ever developed in Bollywood is Rekha's affair with Amitabh Bachchan. The Khoon Bhari Maang actress has expressed her admiration for Bollywood's Shahenshah in subtle ways. With the release of the film Do Anjaane, Rekha and Amitabh made their debut on the big screen. Then they showed up in Yash Chopra's blockbuster Silsila. She responded, I was never impressed by the commonplace, when questioned about it in an interview. Additionally, he was unlike anything I had ever seen. He's never shown any signs of pain to me.
Sanjay Dutt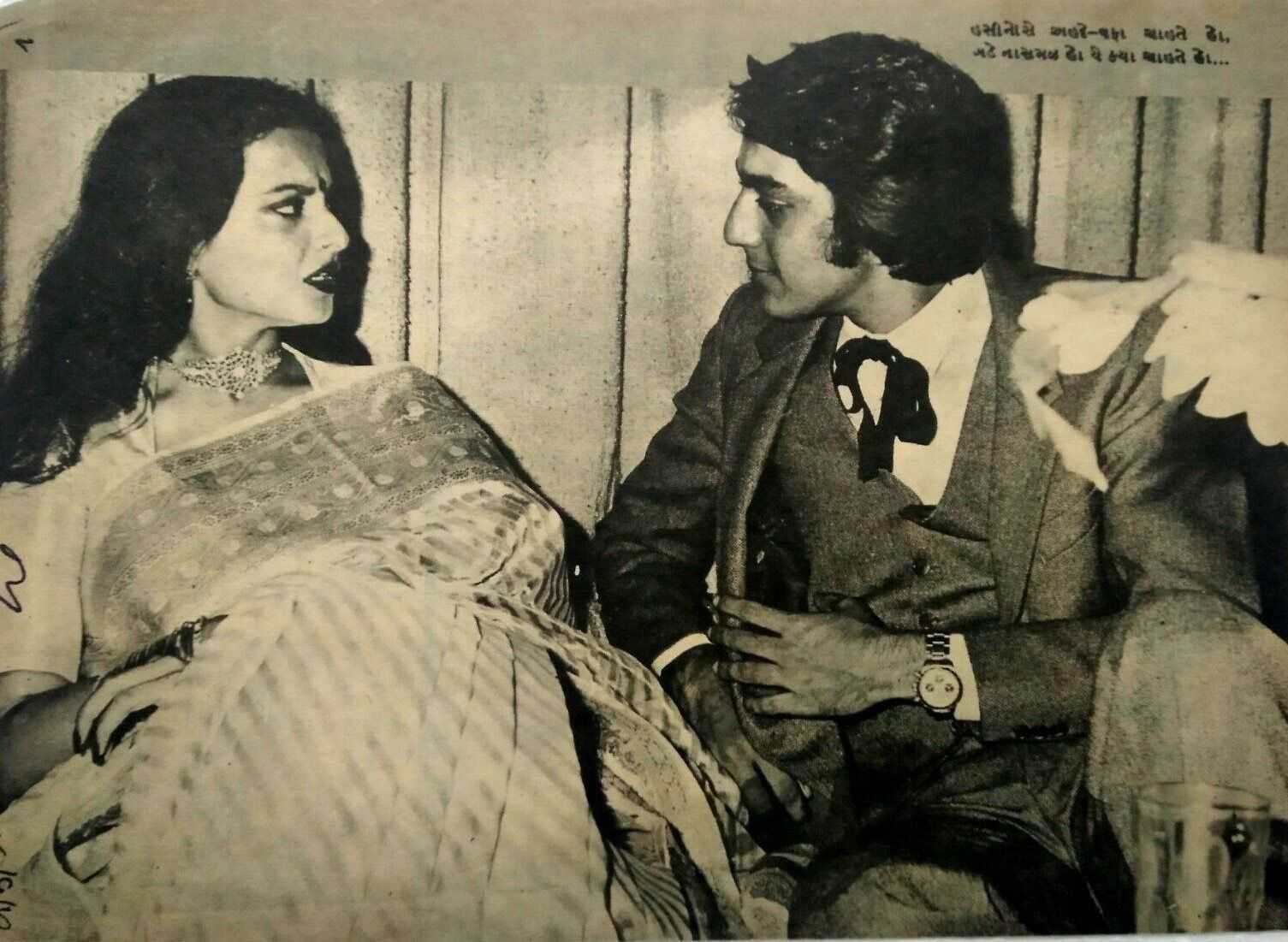 Rekha's alleged relationship with Sanjay Dutt surfaced decades later, in the 1980s. The pair ruled off the likelihood of such a connection. Rekha is rumoured to apply sindoor on Sanjay Dutt. Rekha and Sanjay Dutt were working on a movie together, most likely Zameen Aasmaan, according to Yasser Usman's account in his book Rekha: The Untold Story (1984). At that time, rumours of their relationship started to spread. Some even claimed that they later got married. Sanjay Dutt was forced to refute the charges in a magazine since the rumours got so out of hand. A formal denial was made.
Rekha's Marriage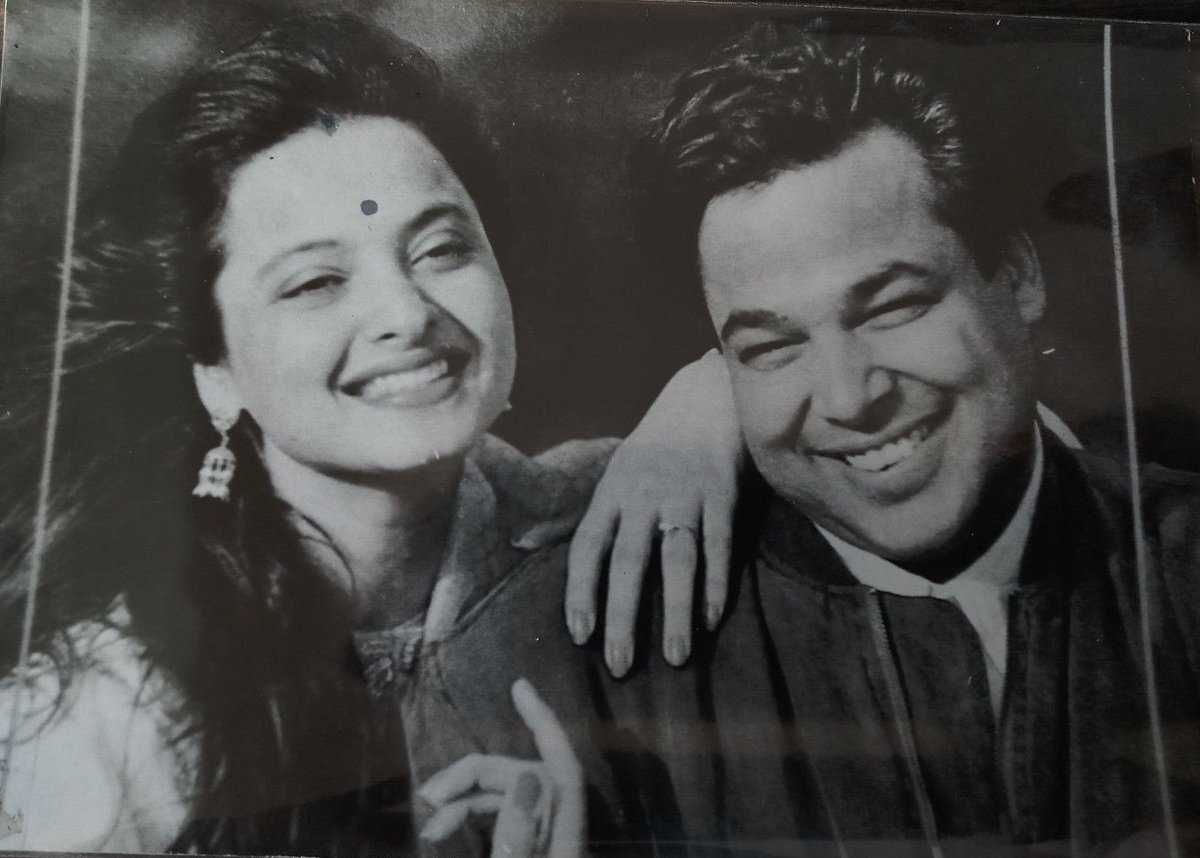 Rekha married Mukesh Aggarwal in 1990. Rekha reportedly made the first call to Mukesh, who was immediately enamoured by her beauty. Within a month of getting to know one another, they decided to be married as a result of their frequent encounters.

Soon after, Mukesh's business began to suffer, and he began to idly hang out on Rekha's sets, much to her embarrassment. Mukesh committed suicide on October 2, 1990, by hanging himself from a ceiling fan. Rekha: The Untold Story claims that Mukesh had severe, ongoing depression and was not at all pleased with Rekha's acting career. Following this ordeal, Rekha was referred to as a witch-hunter, black widow, and man-eater, among other things. She was despised by everyone.
Rekha's Movies and Career
Rekha Movie- Muqaddar Ka Sikandar (1978)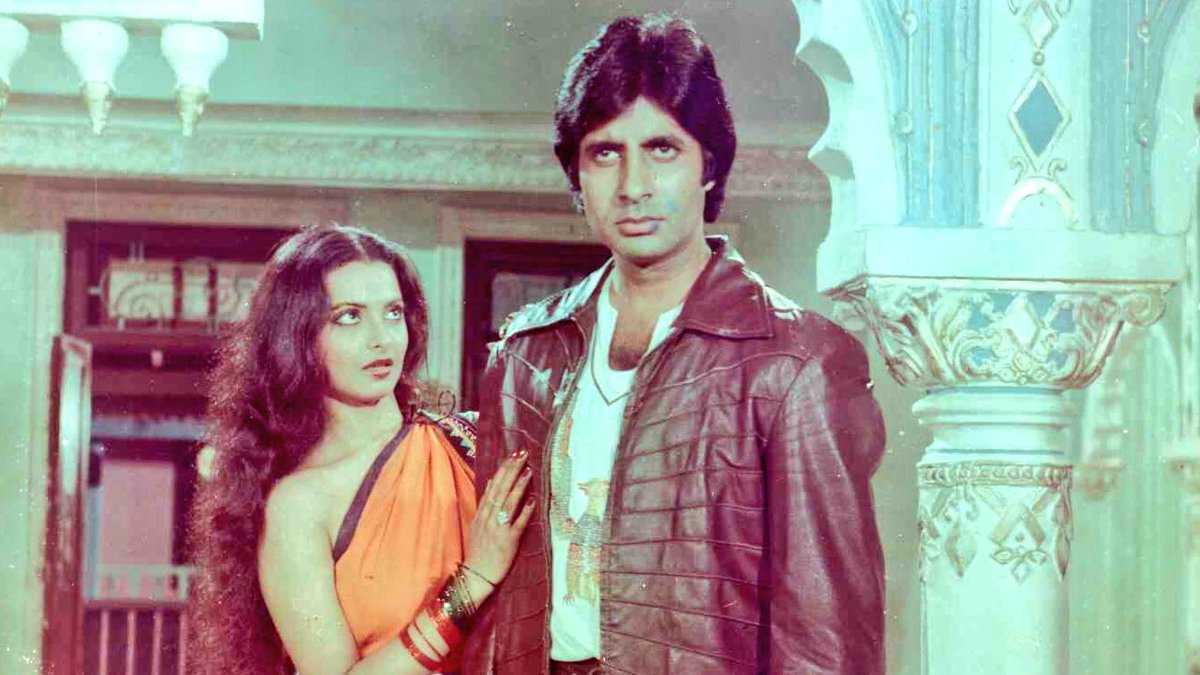 The 1978 drama film Muqaddar Ka Sikandar was produced, directed, and written by Kader Khan, Vijay Kaul, and Laxmikant Sharma. It features Amitabh Bachchan, who has worked with Prakash Mehra on five of his nine films to date. Vinod Khanna, Raakhee, Rekha, Ranjeet, and Amjad Khan also have significant roles, and Nirupa Roy and Kader Khan make cameos. The movie portrays the tale of Sikandar, an orphan reared in Bombay's slums, who is portrayed by Amitabh Bachchan. The Bengali novel Devdas served as a loose inspiration for the movie's plot (1917).

Sikandar, who is orphaned and homeless, struggles to survive day by day while doing anything he can to survive on the harsh streets of India. Sikandar finds work at the affluent Ramanath's home and soon develops feelings for Kaamna, his employer's daughter. Obviously, Sikandar has little possibility of finding love because of their social classes, but with time, Sikandar moves up from his lowly position. The highest-grossing Bollywood movie of 1978 and all-time Diwali blockbuster was Muqaddar Ka Sikandar. After Bobby and Sholay, it was the third-highest-grossing Indian movie of the decade. In the Soviet Union, Muqaddar Ka Sikandar was also a foreign box office success.

It was up for nine Filmfare Awards at the 26th ceremony, including Best Film, however it didn't take home any of the prizes. It was converted into the Tamil movie Amara Kaaviyam and the Telugu movie Prema Tarangalu (1980). (1981). Rekha had been in show business for two decades when this film was released, but her portrayal of Zohra Bai completely changed the course of her career. Rekha was regarded as one of the era's most popular actresses. Rekha received a nomination for Best Supporting Actress at the Filmfare for her brief appearance as a prostitute named Zohrabai. This stage, according to Rekha, was a time of self-discovery.
Rekha Movie- Ghar (1978)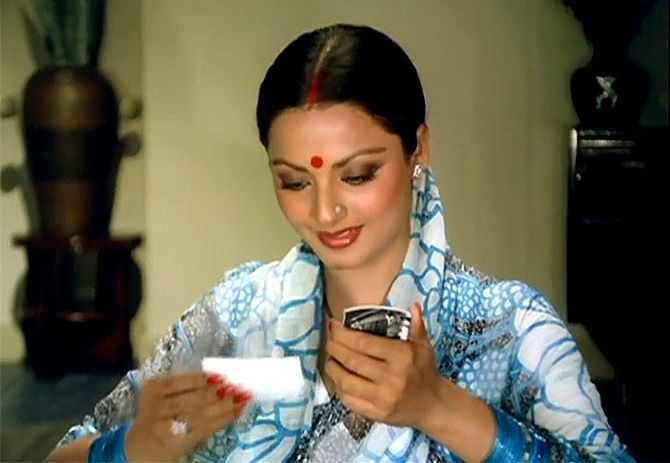 Manik Chatterjee's 1978 Indian Bollywood film Ghar was first shown in theatres. Vinod Mehra and Rekha play the leading parts. R. D. Burman composed the music. The movie was adapted in Malayalam as Aa Raathri and in Tamil as Kaadhal Kiligal.

Aarti and Vikas Chandra recently got married and moved into a new residence. They venture out one day to a nearby movie theatre to see a late-night Hindi film. They decide to walk home because the movie ends well after midnight and there are no cabs available at that time. They are immediately stopped by four men who assault Vikas, knocking him out cold, and carrying Aarti away against their will. When Vikas regains consciousness he finds himself in hospital with a head wound. He is told that Aarti, who was assaulted and gang-raped, is being treated at the same hospital.

This incident garners media attention and is brought up by politicians during their election campaigns. Vikas feels plagued by this experience and is unsure of what to do next. On the other hand, Aarti has suffered severe trauma and is unable to put her trust in any man. Only a miracle can restore the old spark to the couple's marriage as they currently confront a critical issue that is resulting in a loveless relationship.

Her performance was praised by reviewers and viewers alike, and the movie was seen as her first significant turning point. At the Filmfare Awards, she was nominated for Best Actress for the first time.
Rekha Movie- Mr. Natwarlal (1979)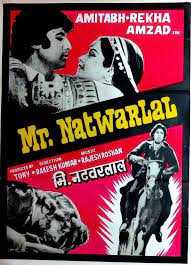 A 1979 Hindi action comedy film called Mr. Natwarlal was produced by Tony Glaad and directed by Rakesh Kumar. Amitabh Bachchan, Rekha, Ajit, Kader Khan, and Amjad Khan appear in the movie. Rajesh Roshan provided the soundtrack, and Anand Bakshi wrote the songs. Amitabh Bachchan's performance of a children's song was the movie's high point. They were chosen by Tony Glaad to serve as the movie's writers.

The law-abiding Inspector Giridhari Lal looks after his silly younger brother, Natwarlal. However, a shady crew of crooks decide to set Giridhari up and have him jailed on false extortion accusations as he starts to bother them. Natwarlal then makes the decision to exact revenge on the people who killed his beloved brother, so he creates an imposing alter ego and starts gaining favour with other criminals. To positive reviews, Rekha portrays Shanoo, a straightforward villager.

The famed Indian conman Natwarlal served as both an inspiration for the title of the movie and the protagonist. In this film, the gimmick of having Amitabh sing was used for the first time. Amitabh had previously used spoken verse within a catchy song in Kabhi Kabhi, but this was his first time singing in a motion picture. Mr. Natwarlal was a Super Hit, according to a trade guide, a high-end box office journal in the 1970s and 1980s.
Rekha Movie- Khoobsurat (1980)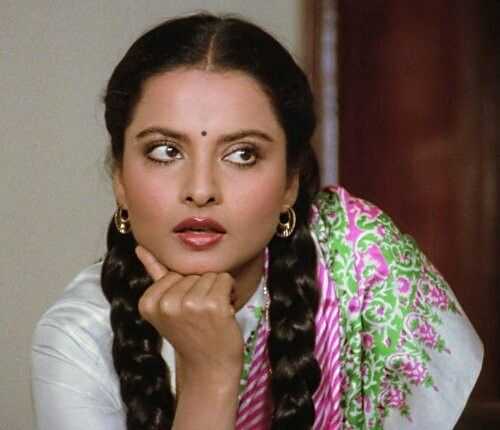 The comedy-drama Khubsoorat, released in 1980 in India in the Hindi language, was written and directed by Gulzar and co-produced by N. C. Sippy. Ashok Kumar, Rekha, Rakesh Roshan, and Dina Pathak play the key roles in the film. The film was well-received by critics and profitable at the box office. The film was adapted in Malayalam as Vannu Kandu Keezhadakki and in Tamil as Lakshmi Vandhachu. It served as the inspiration for the 2014 movie of the same name, which served as Disney's first live-action Bollywood production.

The lady of the house maintains the home with extreme strictness, but when her daughter-in-younger law's sister pays a visit and tries to alter the house's regulations, chaos and humour ensue. The 1981 Filmfare Award for Best Film went to Hrishikesh Mukherjee for directing. The Filmfare Award for Best Actress went to Rekha for her portrayal of Manju Dayal. For her portrayal of Nirmala Gupta, Dina Pathak was nominated for a Filmfare Award for Best Supporting Actress.
Rekha Movie- Silsila (1981)
A 1981 Indian love drama film called Silsila was co-written, directed, and produced by Yash Chopra. Amitabh Bachchan, Jaya Bachchan, Rekha, and Sanjeev Kumar are the film's stars. The central love triangle in the narrative is between Amit, a romantic playwright, Shobha, his wife, and Chandni, a previous lover. Silsila chronicles the events that drive Amit and Shobha apart during their forced marriage as well as his encounter with Chandni, which results in an adulterous relationship. Shiv-Hari composed the music, and Javed Akhtar, Hasan Kamal, Meera Dev Burman, Nida Fazli, Rajendra Krishan, and Harivansh Rai Bachchan contributed the lyrics.

Due to its casting, Silsila garnered a lot of media interest when it was in development. Given that it confirmed the press rumours, it was the most sensational of their films together. Between November 1980 and May 1981, principal photography took place in Amsterdam, Bombay, Delhi, and Kashmir. The movie, which had its premiere on August 14, 1981, barely made $30 million at the box office, which would be the equivalent of 520 million or US$6.5 million in 2020. The movie was nominated for Best Actor, Best Actress, and Best Music Director at the 29th Filmfare Awards. It garnered unfavourable reviews for the plot and the cast's performances.
Rekha Movie- Umrao Jaan (1981)
Rekha plays the title role in the 1981 Indian period musical drama film Umrao Jaan, which was directed by Muzaffar Ali. The movie recounts the career of a Lucknow courtesan, based on the 1905 Urdu classic Umrao Jaan Ada.

Rekha played the titular character of the poet and hooker with a golden heart from Lucknow in the 1840s in the film Umrao Jaan, which was based on Mirza Hadi Ruswa's Urdu novel Umrao Jaan Ada (1905). The film, which had a high production budget, depicts Umrao's life from her early years as a little girl named Amiran who is abducted and sold into a brothel to her position as a well-known courtesan who seeks happiness amidst relationships and other difficulties.

Rekha, who at the beginning of her career did not speak Hindi, undertook the effort of acquiring the subtler subtleties of the Urdu language in order to prepare for the role. Rekha received a lot of praise for her performance, which has subsequently been hailed as among her finest. The National Film Award for Best Actress went to her. Later, she asserted that the movie marked a turning point.
Rekha Movie- Utsav (1984)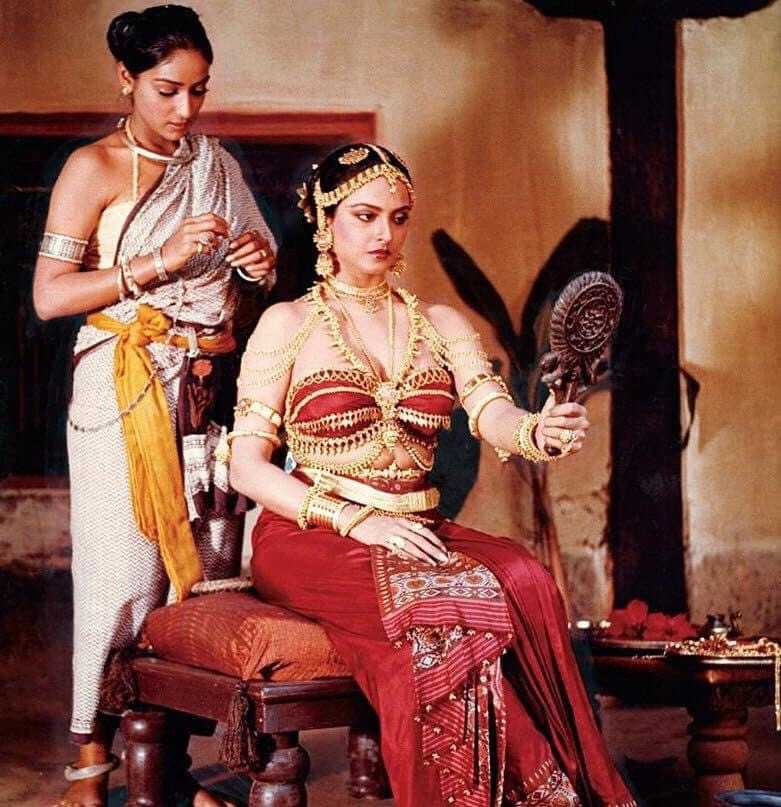 Utsav is a 1984 Hindi sexual drama film that Girish Karnad and Shashi Kapoor both produced. Based on the play Mricchakatika, the movie. Shankar Nag, Shashi Kapoor, Rekha, Amjad Khan, Anuradha Patel, Shekhar Suman, Anupam Kher, Neena Gupta, Kulbhushan Kharbanda, Annu Kapoor, Sanjana Kapoor, and Kunal Kapoor are among the actors who appear in the movie. Courtesan Vasantasena is permitted to hide in Charudatta's home. The two are involved until the legitimate king takes refuge in the residence and kills Vasantasena.

Shashi Kapoor, who is also the film's producer, plays the part of Samsthanak. Amitabh Bachchan was originally slated to portray the role. Bachchan, however, experienced a serious accident in Bangalore in July 1982. The producer then made the decision to intervene. Laxmikant-Pyarelal composed the music for the movie, which is well-known for songs like Man Kyun Behka Re Behka Aadhi Raat Ko, a well-known duet song performed by sisters Lata Mangeshkar and Asha Bhosle. In 1985, Anuradha Paudwal won the Filmfare Best Female Playback Award for her performance in Mere Man Baja Mridang. Sanjh Dhale Gagan Tale, another song by Suresh Wadkar, is available. On August 23, 1984, the Central Board of Film Certification of India awarded the movie a A rating.

After the movie, Rekha's status both on and off-screen shifted. She set new standards for Bollywood at the time with her on-screen sensuality and audacity. Shekhar Suman owes her thanks for his early career boost, even if he was unable to take advantage of it.
Rekha Movie- Ijazaat (1987)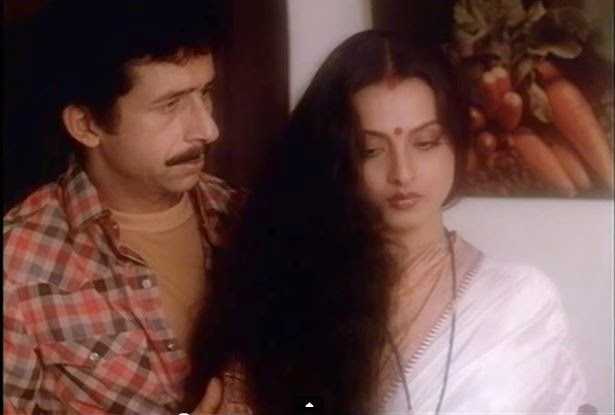 Based on the Bengali novel Jatugriha by Subodh Ghosh, the 1987 Indian musical romance film Ijaazat was directed by Gulzar and released in the Hindi language. The movie, which starred Rekha, Naseeruddin Shah, and Anuradha Patel in the major parts, told the tale of a couple who are estranged but who unexpectedly cross paths in a train station waiting room and learn some facts about their lives apart. The movie received two National Film Awards in the music category and is part of the Parallel Cinema art-house subgenre in India. The film is based on the Bengali film Jatugriha from 1964.

The plot of the film centres on two ex-lovers who reconnect in the late-night waiting area of a remote train station. The familiar strangers sit in their chairs for a painfully brief period of time, simultaneously astonished and ashamed to find themselves in this awkward gathering, before striking up a discussion. They had been apart for a time, and there are a tonne of unsolved questions. Then two cups of tea appear at their table as they begin to put the shards of their relationship back together to achieve closure. For this group, which harbours no animosity toward one another but finds it difficult to live in harmony, life's circumstances become cruelly conflicting. The nearby railroad tracks are used as a metaphor for the two persons who don't mind walking side by side but never actually meet.
Rekha Movie- Khoon Bhari Maang (1988)
Rakesh Roshan is the director and producer of the 1988 Hindi-language action thriller movie Khoon Bhari Maang. Rekha plays a wealthy widow who almost loses her life to her second husband and vows to exact revenge in this film, which is based on the Australian miniseries Return to Eden (1983). Rekha's return project, the movie was a critical and financial success. At the 34th Filmfare Awards, it garnered Rekha her second Best Actress nomination and garnered Roshan nods for Best Film and Best Director. On August 12, 1988, Khoon Bhari Maang was made available.

Aarti is the unintentional victim of a plot to rob her of her family, her wealth, and her life. She is a homely but affluent widow. One of his employees murders her father. With the help of her best friend, her husband's covert lover, Sanjay, the worker's nephew, woos and marries her before tossing her into a lake full of crocodiles in order to inherit his deceased wife's fortune. Aarti is still alive, receives plastic surgery that makes her beautiful, and plans her retaliation despite being wounded.

The movie demonstrated that you could make a very popular movie without a male superstar if you had a solid plot and Rekha. This increased Kabir Bedi's notoriety as a villain beyond that of his role as a Bond villain in Octupussy.
Rekha Movie- Aastha (1997)
Basu Bhattacharya is the producer and director of Aastha. Rekha, Om Puri, Navin Nischol, and Daisy Irani play the prominent parts in the movie. Both critical and economic success followed the release of the movie, something that had eluded Basu in his previous several productions. Following this success, Basu even had plans to remake the movie in English; however, he passed away in June 1997 at the age of 62. The success of the movie was attributed to how art film directors, who were dealing with serious themes, adopted a musical structure to make the movie more commercially appealing, thereby reaching a larger audience. Rekha received a 1997 Star Screen Award nomination for Best Actress.

Mansi, her husband Amar, and their daughter lead a comfortable yet straightforward lifestyle. She comes upon a pair of shoes she cannot afford one day when shoe shopping with her daughter. Reena offers to pay for them, and she accepts without realising that this will affect her life forever. Many people praised her portrayal of a lady torn between remorse and excess.
Rekha's Movie List and Career Timeline
Rekha's Net Worth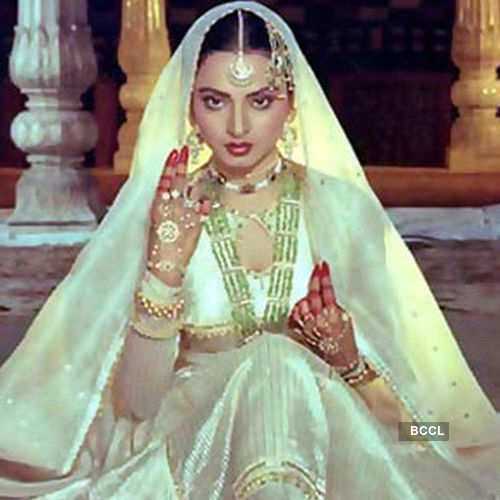 Rekha's net worth is $40 million US or 208 crore rupees, as of 2022. Rekha has been in Bollywood for more than 50 years. She has worked in more than 190 films in her film career. Rekha is a parliamentarian. She resides in a bungalow in Mumbai's Bandra neighbourhood. She lives next door to Shahrukh Khan and Farhan Akhtar. In addition to this, she also owns a lot of properties in Mumbai and the South that she has rented out. Rekha frequently appears at events and store openings.

She also appears on reality TV as a special guest in addition to this. One of the most paid actresses of her era was Rekha. She is reputed to be a prudent spender of money. She has saved a lot of money thus far because of this. Rekha has a variety of high-end automobiles. She has numerous cars, including BMWs, Audi A3s, Honda Citys, and SUVs. Along with cars, Rekha also collects pricey sarees, jewelry, and accessories.
Rekha's Controversies
Amitabh Bachchan
Generations of people have heard about the famed supposed relationship between Rekha and Amitabh Bachchan. They were the audience's favourite on-screen couple, but rumours said that despite Amitabh Bachchan's marriage to Jaya Bachchan, the two were secretly seeing each other.

Jaya Bachchan Slapping Rekha
On the set of the film Ram Balram, Jaya Bachchan is said to have publicly SLAPPED Rekha. When Jaya learned that her husband and Rekha were cast together in Ram Balram, she attempted to have Zeenat Aman take Rekha's place. Rekha was able to persuade the director (Vijay Anand) and producer (Tito Tony) to keep working with her by offering to work for free. Amitabh, too, refused to criticise the movie. As a result, Zeenat was placed opposite Dharmendra, while Rekha was matched with Big B.
Forceful Kiss
Rekha was just shy of 15 years old when she began filming her first movie, Anjana Safar. That didn't stop Raja Nawathe, the director, from planning a kiss sequence without telling Rekha. Actor Biswajit Chatterjee moved in for the kiss after something was uttered. Rekha was stunned by the five-minute duration of the scene.
Rekha's Secretary
Yasser Usman, the author of Rekha's biography, also made passing references to the possibility that Rekha had a romantic involvement with Farzana, her female assistant. It appears that no one else, not even the housekeeper, is allowed inside the actress's bedroom other than Farzana.
Rekha's Awards and Achievements
1977: Film World Award for Best Actress, Immaan Dharam
1981: Filmfare Awards for Best Actress, Khoobsurat
1982: National Film Awards for Best Actress, Umrao Jaan
1985: Bengal Film Journalists' Association Awards for Best Actress (Hindi), Utsav
1989: Filmfare Awards for Best Actress, Khoon Bhari Maang
1997: Lakme Timeless Beauty Award
1997: Filmfare Awards for Best Supporting Actress, Khiladiyon Ka Khiladi
1997: Screen Awards for Best Actress in a Negative Role, Khiladiyon Ka Khiladi
1998: Lachhu Maharaj Award for the Best Kathak Dancer in Hindi films.
2001: Mumbai Academy of the Moving Image, an award for her abiding contribution to Cinema
2003: Lifetime Achievement Award
2003: International Film Academy Awards for Samsung Diva
2004: Maha Style Icon of the year.
2004: Bollywood Movie Awards for Best Supporting Actress, Koi.. Mil Gaya
2005: Sony Golden Glory Award.
2006: Idea Zee F Awards - Fashionable Film Star.
2006: Deenanath Mangeshkar Award.
2006: Deenanath Mangeshkar Award.
2006: Stardust Awards for Role Model of the Year
2006: Zee Cine Awards for Lifetime Achievement Award
2007: Zee Cine Awards for Forever Diva Awards
2007: Living Legend in the world of entertainment by FICCI.
2008: IMPPA (Indian Motion Pictures' Producers Association) Award for outstanding contribution to Bollywood.
2009: Raj Kapoor Pratibha Gaurav Puraskar by the Government of Maharashtra for outstanding contribution to the Indian cinema.
2010: Stardust Awards for Editors' Choice Icon of the Industry
2010: She was awarded the Padma Shri, India's fourth highest civilian honour from the Government of India
2012: Big Star Eternal Youth Star Award
2012: Stardust Awards for Role Model of the Industry Award
2018: Lux Golden Rose Awards - Lux Golden Rose Legendary Beauty Award.
2008: IMPPA (Indian Motion Pictures' Producers Association) Award for outstanding contribution to Bollywood.
2009: Raj Kapoor Pratibha Gaurav Puraskar by the Government of Maharashtra for outstanding contribution to the Indian cinema.
2010: She was awarded the Padma Shri, India's fourth highest civilian honour from the Government of India
2012: International Film Academy Awards for Outstanding Achievement in Indian Cinema
2019 - ANR National Award for 2018
6 Amazing Facts About Rekha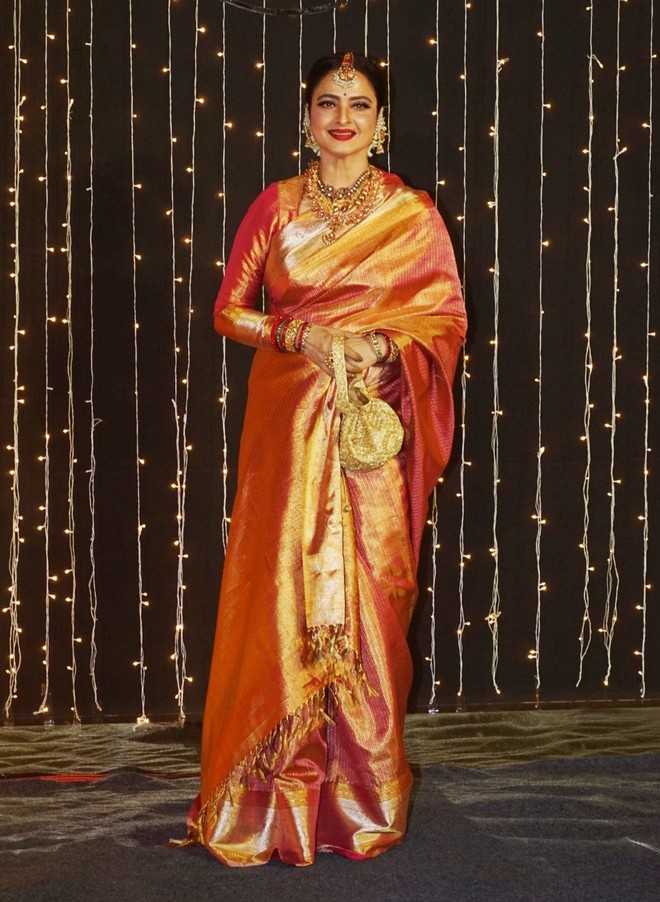 Rekha's real name is Rekha Ganesan
The actor was obliged to engage in B and C Grade Telugu movies due to her financial situation.
Rekha has a search engine with the URL www.rekha.com that bears her name.
She is not only brilliant at acting but also at mimicking. Rekha provided the voices of Smita Patil in the movie Waaris and Neetu Singh in Yaarana.
Rekha has a strong enthusiasm for singing, and the actor even sang two songs in her movie Khoobsurat at RD Burman's request.
In September 2006, the UK publication Eastern Eye ranked Rekha as number 50 on their list of Asia's Sexiest Women.
Rekha's Profile Summary
Frequently Asked Questions