Mahesh Bhatt Biography Family Age Net worth Movies Wife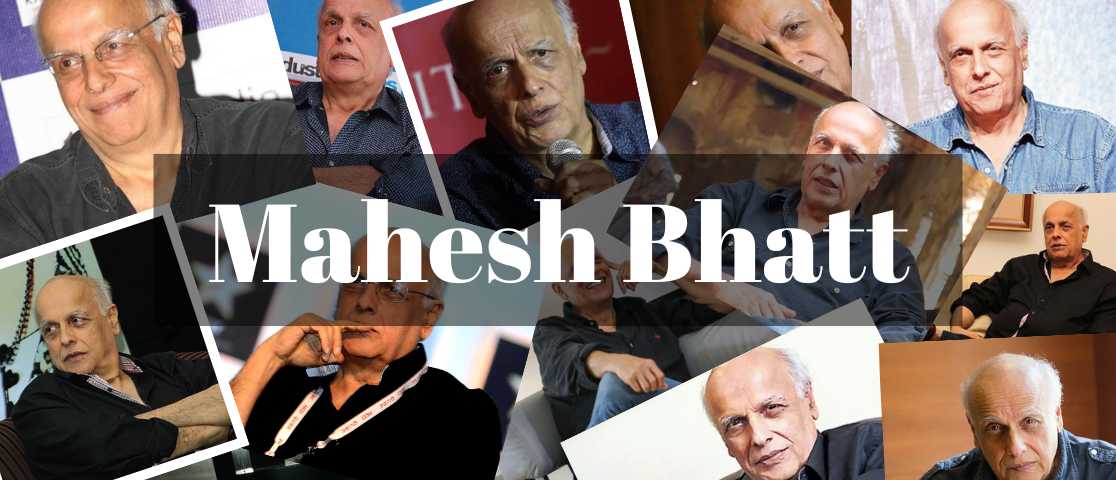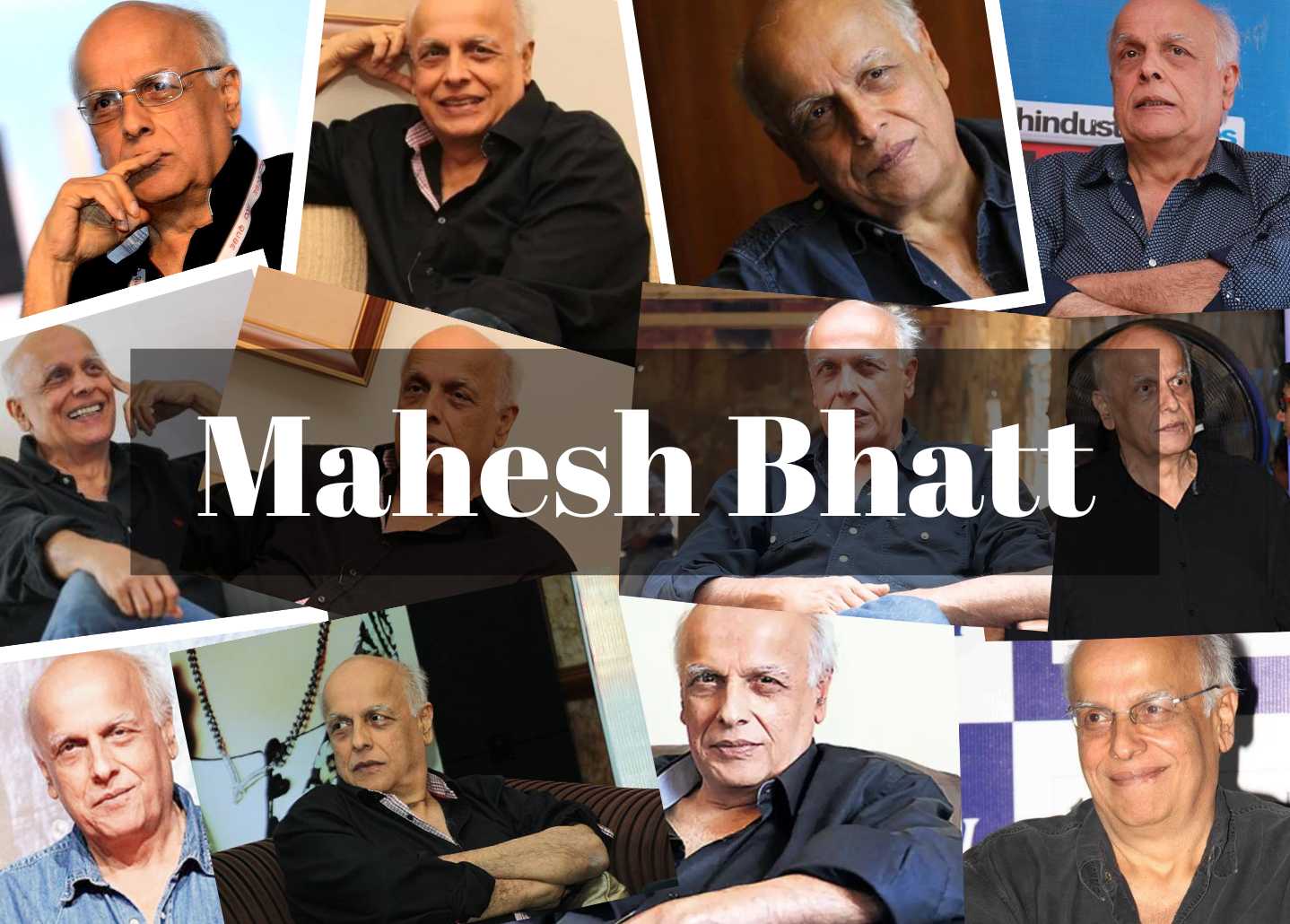 Biography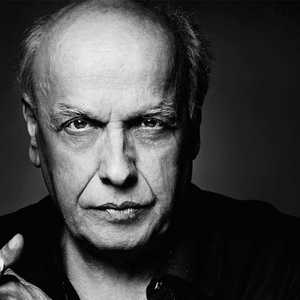 Mahesh Bhatt's mother's name is Shirin Mohammad Ali. Mahesh Bhatt's father is Nanabhai Bhatt.

Mahesh Bhatt, an Indian film producer, screenwriter, and director best known for his work in Hindi cinema, was born on September 20, 1948. Saaransh, which was presented at the 14th Moscow International Film Festival, is a standout movie from his early career. It was then designated as India's official submission for that year's Best Foreign Language Film Academy Award. He made his debut in mainstream cinema with the 1986 movie Naam. Along with his brother Mukesh Bhatt, he founded the production company Vishesh Films in 1987 and made the movie Kabzaa.

In the following ten years, Bhatt rose to prominence as one of the most well-known directors in the Indian film industry, creating both commercially successful love stories like Awaargi (1990), Aashiqui (1990), and Dil Hai Ki Manta Nahin (1991), which starred Pooja alongside actor Aamir Khan, and art-house films like Daddy (1989) and Swayam (1991). His second film, Sadak (1991), was a success and has remained the highest-grossing film that he either directed or produced under the Vishesh Films label.

Mahesh Bhatt received praise from critics for Sir (1993), as well as for subsequent successes including Gumraah (1993) and Criminal (1993). (1994). For directing Hum Hain Rahi Pyar Ke, he received the National Film Award - Special Jury Award in 1994.

Age
Mahesh Bhatt is an Indian director. Mahesh Bhatt's birth date is 20 September 1948. Mahesh Bhatt's age is 74 years as of 2023. Mahesh Bhatt's birthplace is Mumbai. Mahesh Bhatt's zodiac sign is Virgo.
Family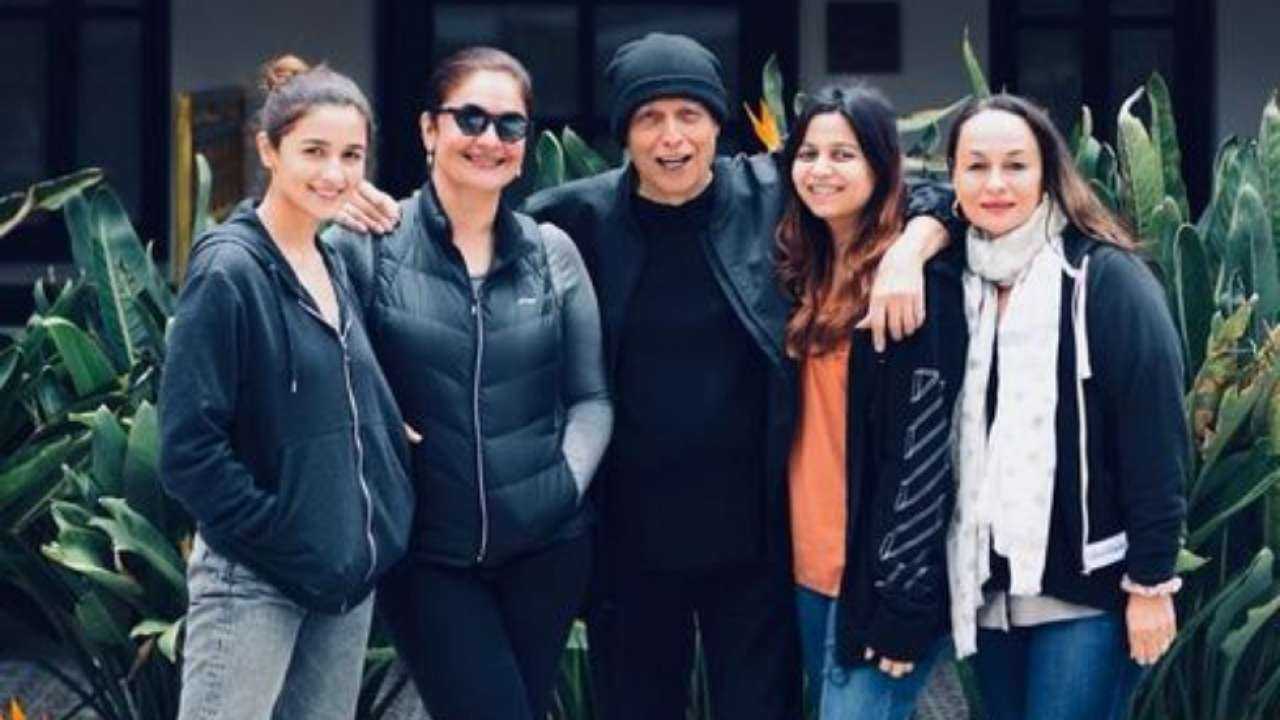 Mahesh Bhatt's birth date is 20 September 1948. Mahesh Bhatt's birthplace is Mumbai. Mahesh Bhatt's zodiac sign is Virgo. Mahesh Bhatt's mother's name is Shirin Mohammad Ali. Mahesh Bhatt's father is Nanabhai Bhatt. Mahesh Bhatt's second wife is Soni Razdan. Mahesh Bhatt's first wife is Lorraine Bhatt (Kiran Bhatt). Mahesh Bhatt's daughters are Pooja Bhatt, Alia Bhatt, and Shaheen Bhatt. Mahesh Bhatt's son is Rahul Bhatt. Mahesh Bhatt's brother is Mukesh Bhatt. Mahesh Bhatt is an uncle to Emraan Hashmi, Mohit Suri, and Milan Luthria.

Childhood and Education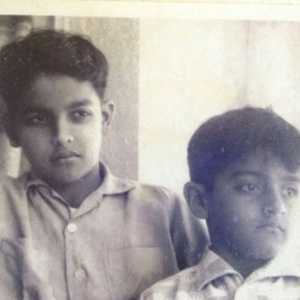 Mahesh Bhatt was born to Shirin Mohammad Ali and Nanabhai Bhatt. Mahesh Bhatt's mother was a Gujarati Muslim, and his father was a Gujarati Hindu Nagar Brahmin.


Mahesh Bhatt attended Don Bosco High School in Matunga for his education. Mahesh Bhatt began working summer jobs while still in school in order to make money and create advertisements for goods. Raj Khosla, the director of the movie, was introduced to him by acquaintances. Mahesh Bhatt so began working with Khosla as an assistant director.
Girlfriends and Relationships
First Wife Lorraine Bright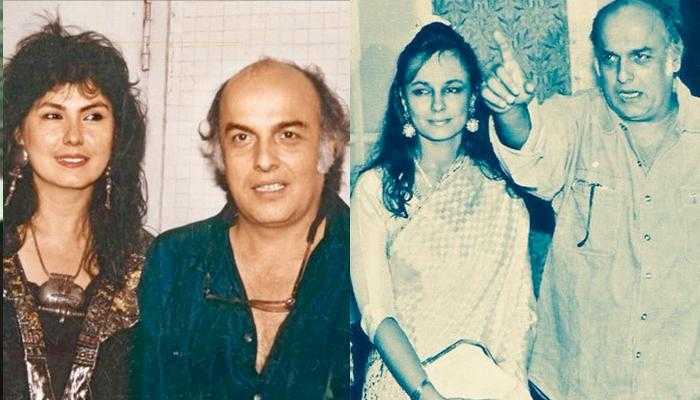 Lorraine Bright was the first woman in Mahesh Bhatt's life. When he was at school, he first encountered Lorraine. She attended school at the Bombay Scottish Orphanage and identified as Catholic.

With time, their friendship deepened, and the young people developed a romantic relationship. Lorraine was kicked out because Mahesh visited her frequently. In a conversation, Mahesh acknowledged, When we got caught, she had to leave the orphanage, so I would leap across the wall to meet her. I managed to enroll her at the YWCA so she could learn to type and support herself. I never stopped working. I created advertising for Lifebuoy and Dalda.

When Lorraine and Mahesh were both barely 20 years old, Lorraine legally changed her name to Kiran and was married. Pooja Bhatt, their daughter, was born when they were just 21 years old. The foundation of Mahesh Bhatt's biggest hit, Aashiqui, is his love for Lorraine. Their once-lovely friendship soured after Mahesh turned in back-to-back flop performances. He also had an extramarital relationship with Parveen Babi around this time. Mahesh admitted I was accountable for both of them because I was married to Kiran and had a child. My physical self was still pulled to another lady, though.

The split between Lorraine and Mahesh was inevitable. When his extramarital liaison turned violent, he returned to her after having left her for Parveen. Their union eventually fell apart. Mahesh and Lorraine have good ties with their kids. Despite not living together, they never divorced.

Extra-marital affair with Parveen Babi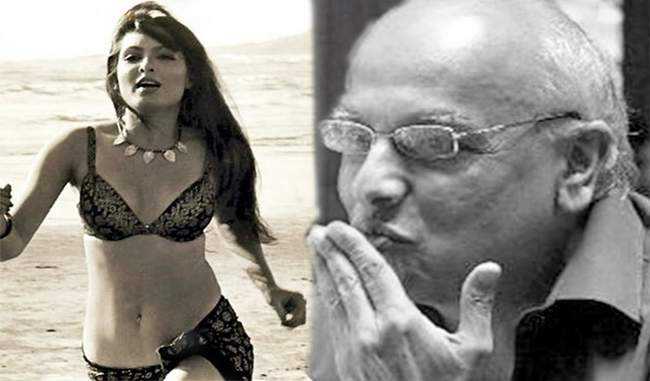 Parveen Babi was a mystery who suffered a terrible fate at a young age. When Parveen was in the height of her career and Mahesh was floundering in the sea of flops, they first met.

Despite being married and having a child, Mahesh continued to live with Parveen. There was no benefit to anyone from his live-in relationship with Parveen. After the happy times had passed, Mahesh saw a new side of Parveen. Her genes quickly caught up to her because she had a history of nervous breakdowns. To aid in her recovery, he relocated to Bangalore with her.

Before Mahesh realized he couldn't cure Parveen, the romance continued for 2.5 years. Mahesh Bhatt said, The sight was frightening; I took LSD, and Parveen experienced a string of panic attacks. For two and a half years, I endured trauma and a hell of my own making.

After Parveen passed away, Mahesh was the one who claimed her body.

Second wife Soni Razdan
Soni Razdan, one of the actresses in the film Saraansh, was born in Birmingham to an Indian father and a German mother.

When she first met Mahesh, she was a nascent artist who had previously made three films. Mahesh was still nursing a failed marriage and the wounds from his relationship with Parveen were still raw, but Soni's company enabled him to view his life from a new angle. He and Soni made the decision to keep their relationship a secret since he did not want to make his life any more difficult.

Mahesh answered Soni's parents' questions regarding Soni's significance in his life by making it plain that he isn't flirting with her but that he could not divorce his first wife. He said When I first met Soni Razdan, my life seemed to be replaying itself. When Soni's father questioned me about how I intended to part ways with Kiran, I said, With permanence. But I wouldn't get rid of Kiran.

Mahesh Bhatt chose to follow his mother's religion and become a Muslim as a means of escape, which permitted him to marry two wives. He secretly wed Sakina, Soni's Muslim name, while posing as Ashraf Bhatt.

A few weeks later, the pair held a reception at the Taj Mahal in Mumbai where they announced their marriage. Shaheen Bhatt, their first daughter, was born in 1988, and Alia Bhatt, their second daughter, was born in 1993.

Movies and Career
Mahesh Bhatt made his directing debut in 1974 with the movie Manzilein Aur Bhi Hain at the age of 26. The musical romance film Aashiqui (1990), produced by Bhatt in association with T-Series, was one of his biggest box office successes. In Dil Hai Ki Manta Nahin, he introduced his daughter Pooja Bhatt as a leading lady alongside Aamir Khan (1991). The movie was a box office hit and received a ton of praise for its score.

Following his retirement as a filmmaker, Bhatt turned to writing. He produced stories and screenplays for over 20 movies, several of which were financial hits, including Woh Lamhe, which was based on the life of actress Parveen Babi, and Dushman, Raaz, Murder. His production company, Vishesh Films, is still in business.

First Movie Manzilein Aur Bhi Hain (1974)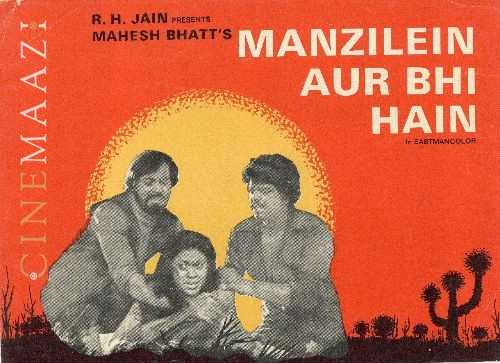 The relationship between two convicts and a prostitute is the subject of this film.

The two robbers are portrayed by Kabir Bedi and Gulshan Arora, and the prostitute is played by Prema Narayan.

Kabir Bedi, Prema Narayan, and Gulshan Arora play the main characters in Mahesh Bhatt's 1974 Bollywood criminal thriller Manzilein Aur Bhi Hain. Glamour Eyes Films currently owns the rights to this movie.

Saaransh (1984)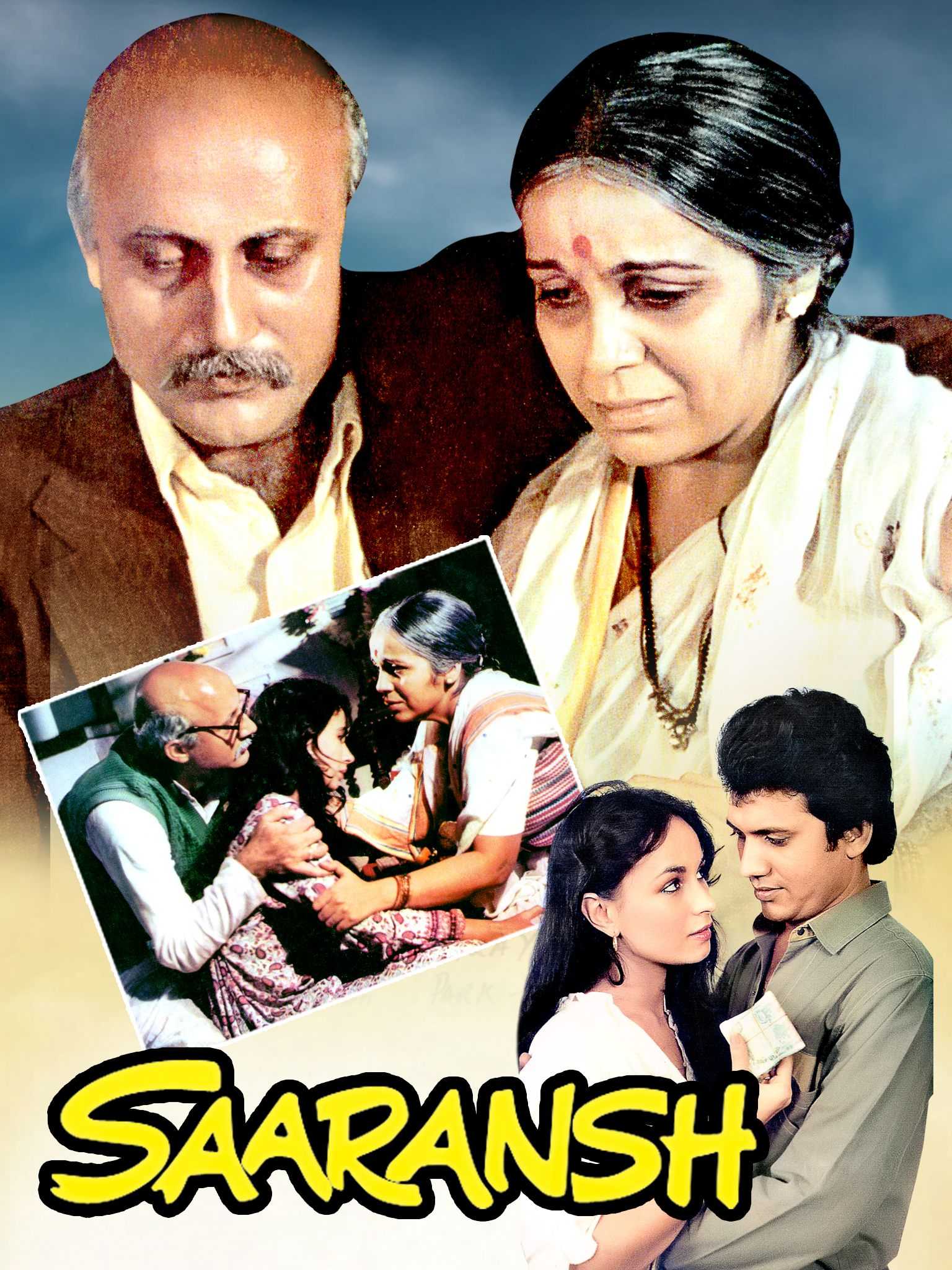 Along with his heartbroken wife, Parvati, retired headmaster BB Pradhan must face the sadness of the death of his only son in New York. The couple decides to rent a room without their son's money but quickly become embroiled in Sujata's tumultuous affairs, which has severe and far-reaching ramifications.

Anupam Kher, Rohini Hattangadi, Madan Jain, Nilu Phule, Suhas Bhalekar, and Soni Razdan feature in Mahesh Bhatt's 1984 Indian Hindi drama film Saaransh, which was also produced in English as The Gist. It tells the story of an old Maharashtrian couple adjusting to the death of their only son while residing in Mumbai. Anupam Kher made his on-screen debut with this. Vasant Dev wrote the lyrics, and Ajit Verman composed the music. Rajshri Productions handled distribution.

It was selected as India's official submission for the 1985 Best Foreign Language Film Academy Award, although it did not receive a nomination.

Dil Hai Ke Manta Nahin (1991)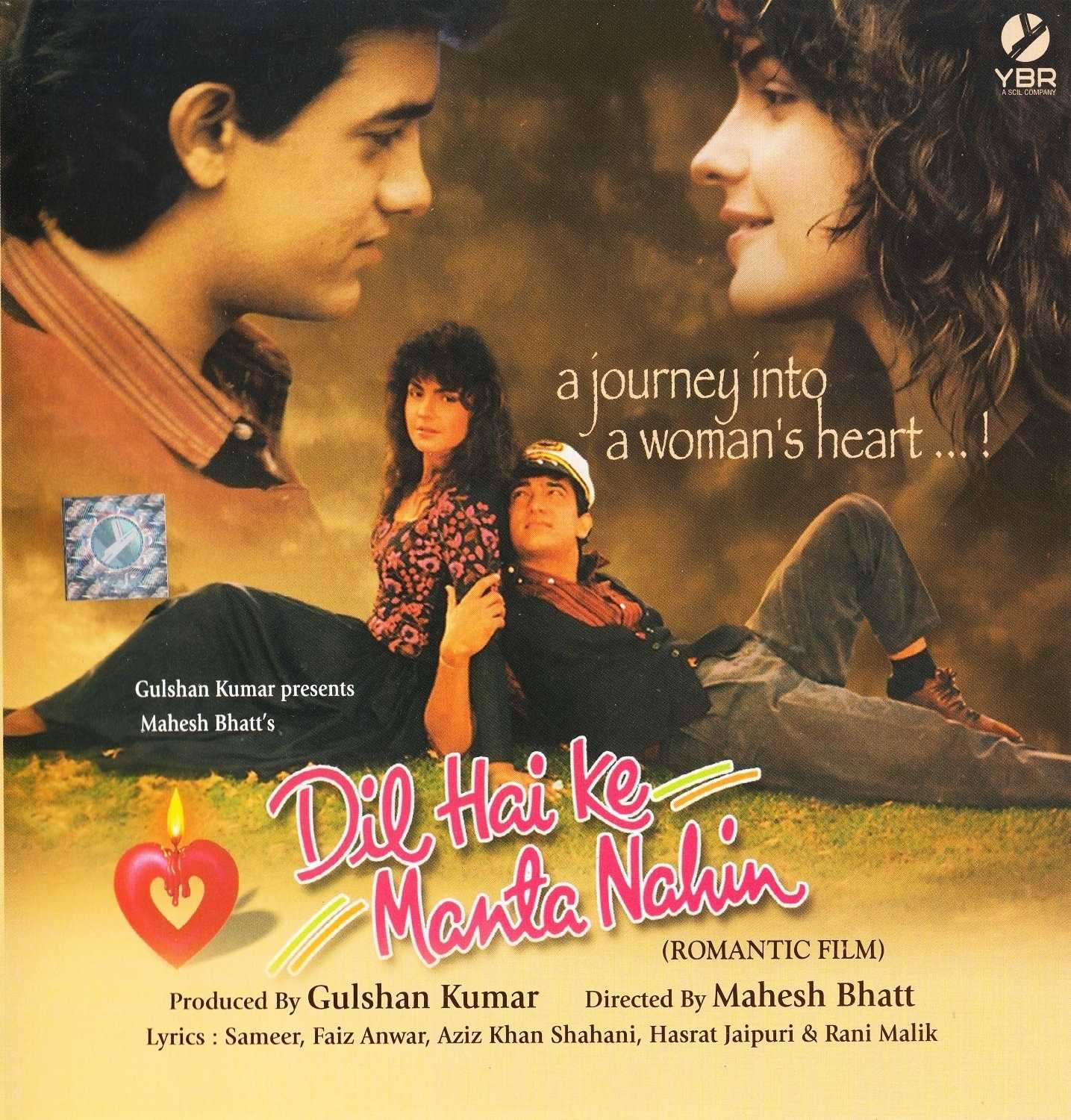 Seth Dharamchand, a wealthy shipping magnate from Bombay, is the father of Pooja Dharamchand. She is madly in love with actor Deepak Kumar, but her father has strong feelings about their relationship. Pooja sneaks off her father's boat one evening and boards a bus towards Bangalore, where Deepak is filming a movie, to be with him. When Seth Dharamchand learns that his daughter has fled, he sends private investigators to find her.

Pooja encounters Raghu Jetley, a brash journalist who had lost his job, on the bus. In exchange for an exclusive piece on her that would boost his dwindling career, he agrees to assist her.

Pooja is coerced into complying with his demands since he threatens to reveal her whereabouts to her father if she disobeys. After they both miss the bus, Raghu and Pooja embark on a series of adventures together and discover they are falling in love.

Raghu wants to wed Pooja but is aware that his financial situation prevents him from doing so. Pooja also develops feelings for Raghu and decides to accompany him, but due to a misunderstanding, she thinks that Raghu was only interested in her love story.

She decides to end things, goes back home, and consents to marry Deepak. However, when he goes to him to get his money back after Raghu spent it on Pooja while traveling to Bangalore, her father finds out about Raghu. He is aware of Raghu's caring for Pooja during the journey. Pooja misinterprets him and thinks he might have come for the reward that her wealthy father had announced. Finally, Pooja's father informs her that Raghu is the ideal partner for her and that he is not visiting for the prize. On the wedding day, she comes to the realization that Raghu truly loves her, and with her father's assistance, she flees the mandap (hall) to be with him.

The 1991 Hindi-language romantic comedy Dil Hai Ke Manta Nahin, was produced in India. It was produced by Gulshan Kumar, directed by Mahesh Bhatt, and starred Pooja Bhatt, his daughter, in her first significant lead female role. Aamir Khan portrayed the lead male part. Anupam Kher, Sameer Chitre, and Tiku Talsania performed supporting roles, and Deepak Tijori made a cameo appearance. The film's soundtracks, which were performed by Anuradha Paudwal, Kumar Sanu, Abhijeet Bhattacharya, Babla Mehta, and Debashish Dasgupta, are another major highlight. Nadeem-Shravan composed the music.

It Happened One Night, a 1934 Hollywood film, is being remade informally. and the 1956 Raj Kapoor and Nargis movie Chori Chori. In response, Kadhal Rojavae, a Tamil remake of Dil Hai Ke Manta Nahin, was produced. The same American film served as an inspiration for the 2007 Kannada film Hudugaata.

Zakhm (1998)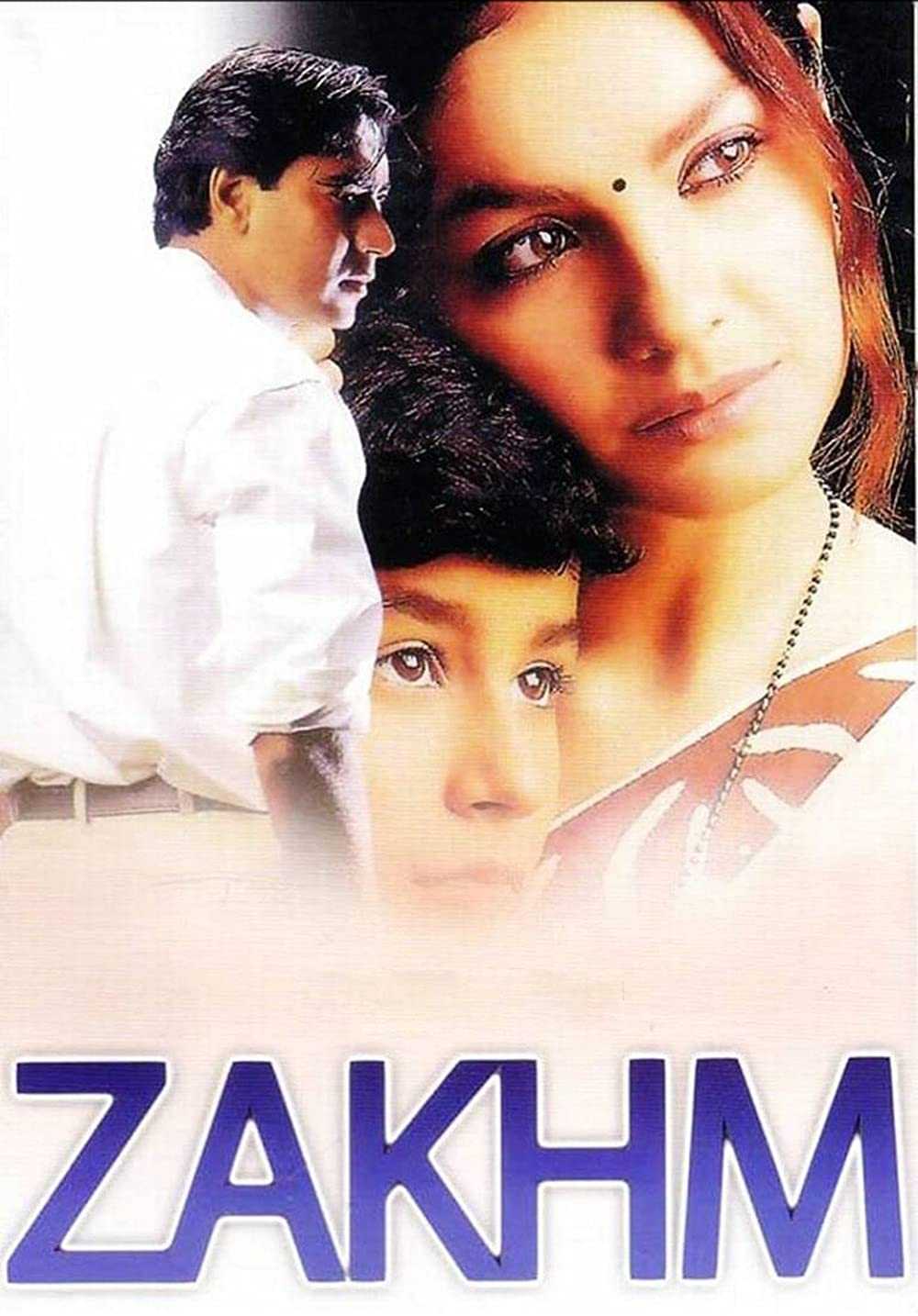 Ajay, a music director, quarrels with Sonia, his wife. Ajay does not want to go to England and rather that his child be born in India, but Sonia wants to give birth to their child there (because of the insecurity caused by the Mumbai riots)

Ajay finds out quickly that his mother was critically injured after being torched by a bunch of Muslim rioters as she left a temple. The difficulties his mother faced while trying to raise her children are depicted in a flashback. She fell in love with Hindu film producer Raman Desai, but because she was a Muslim, she was forbidden from marrying him.

As their marriage was performed without following any established traditions, he marries her but does not officially recognize or record it. She is compelled to hide her religious identity and live a Hindu lifestyle in front of her kid due to the fact that she had children with a Hindu man.

Ajay discovers his mother is a Muslim after learning of his father's unexpected passing due to an accident the day his younger brother is born. When she passes away, she asks him to bury her in accordance with her religious beliefs because only then would she be able to find her sweetheart in heaven.

Ajay also swears to her that he won't ever reveal her true identity to his brother. The mother of Ajay passes away from the burns. After learning about her mother-in-previous law's existence, Sonia chooses against leaving Ajay. She accepts his decision to bury his mother and stands by him. A hardline leader named Subodhbhai, who sought to turn this into a political issue and incited the Hindu young to kill Muslims, is impeding Ajay's efforts to complete his mission.

Anand is Ajay's younger brother and a youth leader. Anand, however, supports his brother's choice to bury their mother in accordance with Islamic norms after learning of Subodhbhai's plans. She gets the burial she wanted for her body and meets Raman again in paradise.

After a long battle and meeting with her husband, Ajay is finally seen releasing his mother's Mangalsutra into the water.

Mahesh Bhatt wrote and directed Zakhm, a 1998 Indian drama film in the Hindi language. Ajay Devgn, Kunal Khemu, Pooja Bhatt, Sonali Bendre, and Nagarjuna are the movie's stars. The Nargis Dutt Award for Best Feature Film on National Integration went to Zakhm. By virtue of his portrayal, Devgn received his first National Film Award for Best Actor.

Hamari Adhuri Kahani (2015)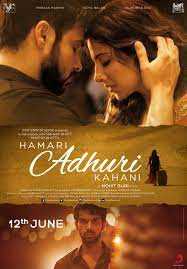 Vasudha, a single mother who lost her husband five years ago, develops feelings for hotel magnate Aarav. But when her missing husband Hari shows up again, it causes a breach between the two lovers.

A 2015 Indian romantic drama film titled Hamari Adhuri Kahani, was written and produced by Mahesh Bhatt for Vishesh Films and Fox Star Studios.

It was directed by Mohit Suri. Emraan Hashmi, Vidya Balan, and Rajkummar Rao are the movie's stars.
It is based on the love triangle between Bhatt's stepmother, Shirin Mohammad Ali, and his father, Nanabhai Bhatt.

Movie List and Career Timeline
Controversy
Controversial magazine cover
When Mahesh Bhatt and his daughter Pooja kissed on the cover of Stardust magazine in the 1980s, it drew harsh criticism. People began speculating about an unusual relationship between director Mahesh Bhatt and his daughter Pooja as a result of the contentious images.


Jiah Khan and Mahesh Bhatt's viral video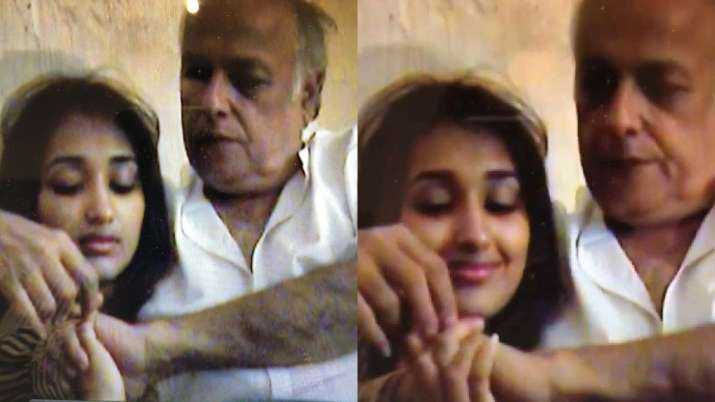 An unreleased footage of the filmmaker surfaced after Mahesh Bhatt and Rhea Chakraborty were involved in the investigation surrounding the death of the late actor Sushant Singh Rajput.

Mahesh Bhatt and late actress Jiah Khan were seen holding hands while seated near to one another in the footage. The two can be seen conversing and grinning in the fan-shared footage. Fans criticized Bhatt for his connection to Jiah when the video went viral since they thought she was 16 in the clip.

Rhea Chakraborty's bond with Mahesh Bhatt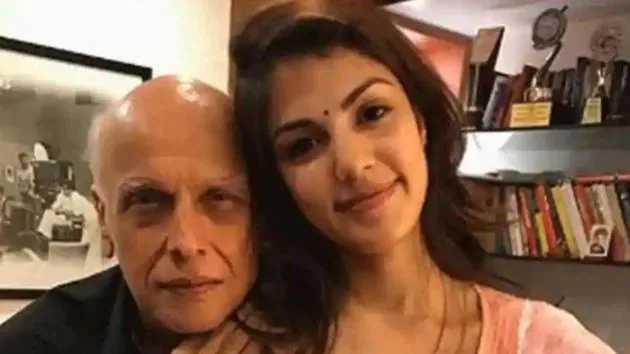 Many people conjectured a love relationship between Rhea Chakraborty and Mahesh Bhatt after their WhatsApp conversations were made public during the investigation into the death of late actor Sushant Singh Rajput.

In an interview with Aaj Tak, she corrected these rumors, saying, This conversation was misconstrued, I was made into his girlfriend while he has a daughter my age. People began to doubt their relationship after Rhea posted a few of their Instagram photos.

When Kangana Ranaut alleged Bhatt threw a chappal at her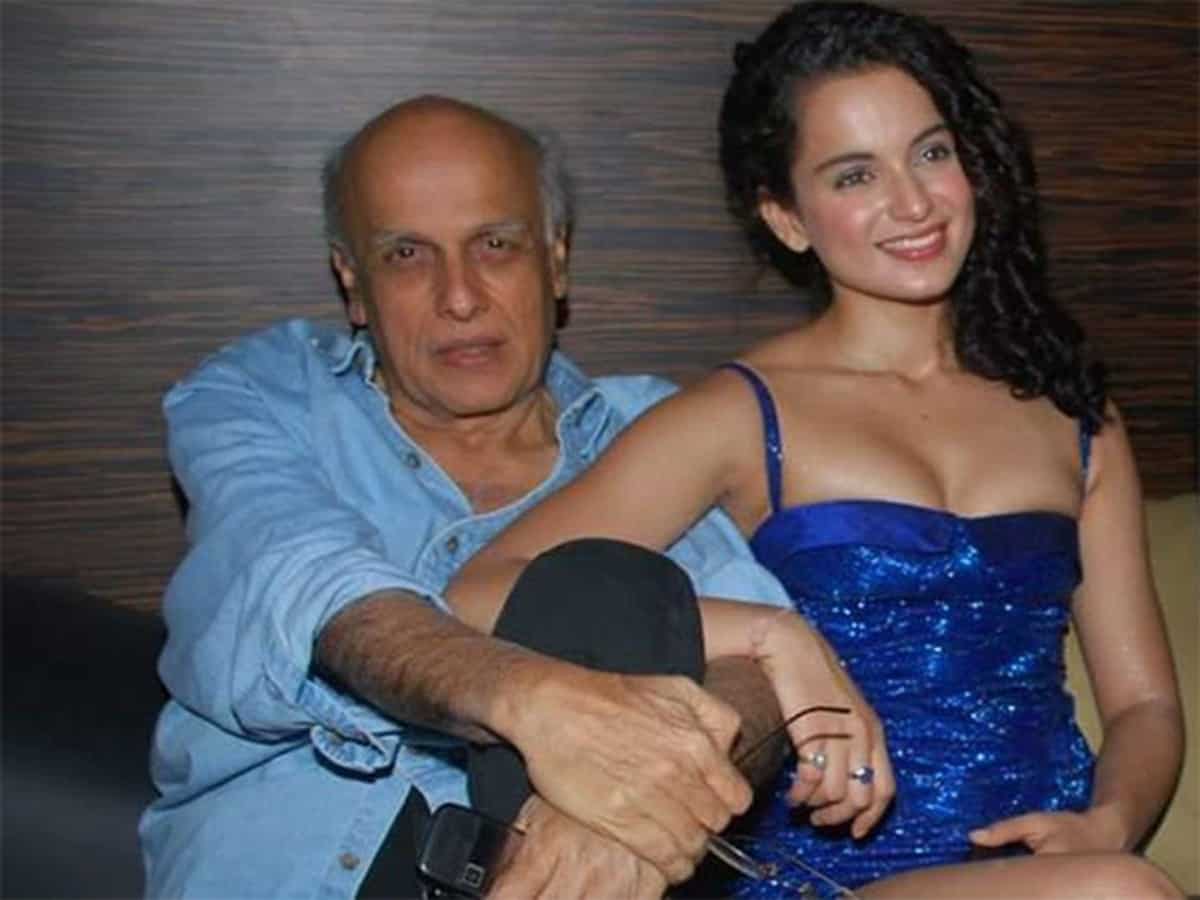 When Sushant Singh Rajput died, Mahesh Bhatt was implicated because Kangana Ranaut said the director had once thrown chappals at her. She alleged that he insulted her and called her crazy.

In an interview with Republic TV, she stated: Although I am appreciative, they do not have the right to label me crazy or psychotic and toss chappals at me. I was hit with a chappal by Mahesh Bhatt.

According to her statement, the event allegedly happened during the screening of their movie Woh Lamhe. She insisted that the director had refused to let her watch the premiere of her own movie.

Net worth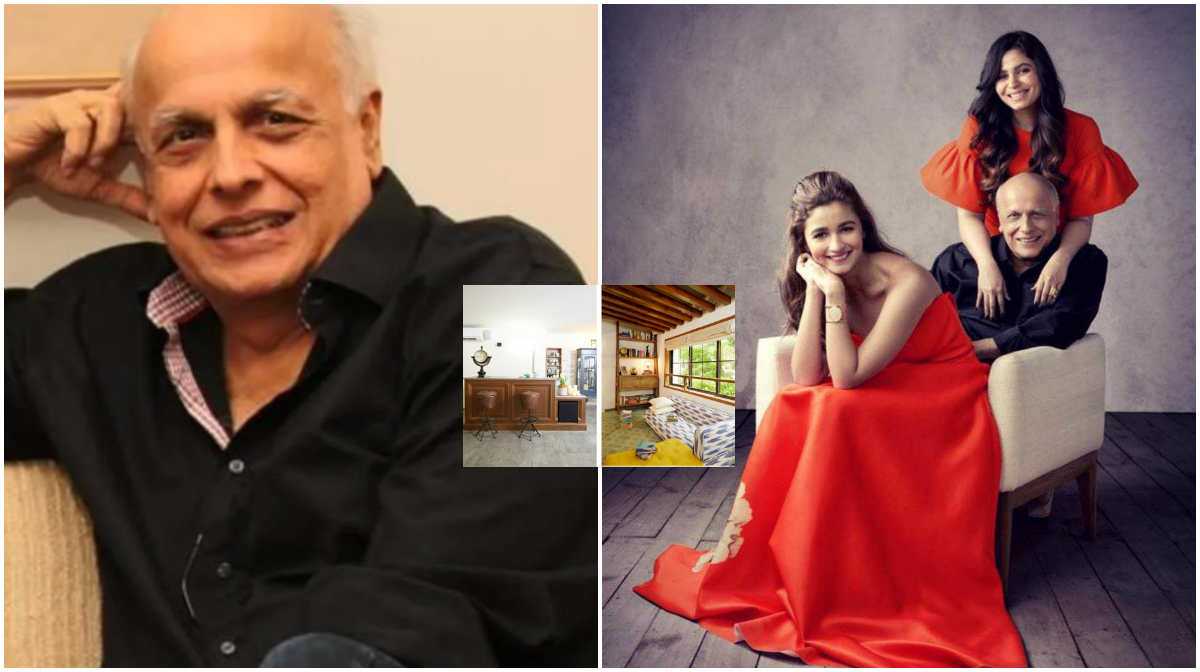 In 2022, Mahesh Bhatt have a net worth of Rs. 373 crores ($48 million). Without a producer, Bollywood film is lacking. If no producer, No movies, said one of the famous people. Bollywood movies heavily rely on film production to be profitable, and Mr. Mahesh Bhatt is one such producer who has propelled Hindi cinema to new heights.

He is a well-known producer who has contributed to numerous successful movies. One of the major production companies in the Bollywood industry, Vishesh Films, is one of the companies he co-owns. As a writer, producer, director, star-maker, master storyteller, and trendsetter in cinema, Mr. Bhatt is in a class by himself. He is primarily responsible for Vishesh Films' creative energy. He made his debut movie when he was barely 26 years old, and it was released in 1974. He is one of the highest-paid producers and filmmakers in Bollywood.

Mahesh Bhatt is thought to have a total net worth of over 48 million dollars or roughly 373 billion rupees (i.e. 363 billion INR) in Indian currency. In recent years, Mr. Mahesh Bhatt's net worth has increased by 55%.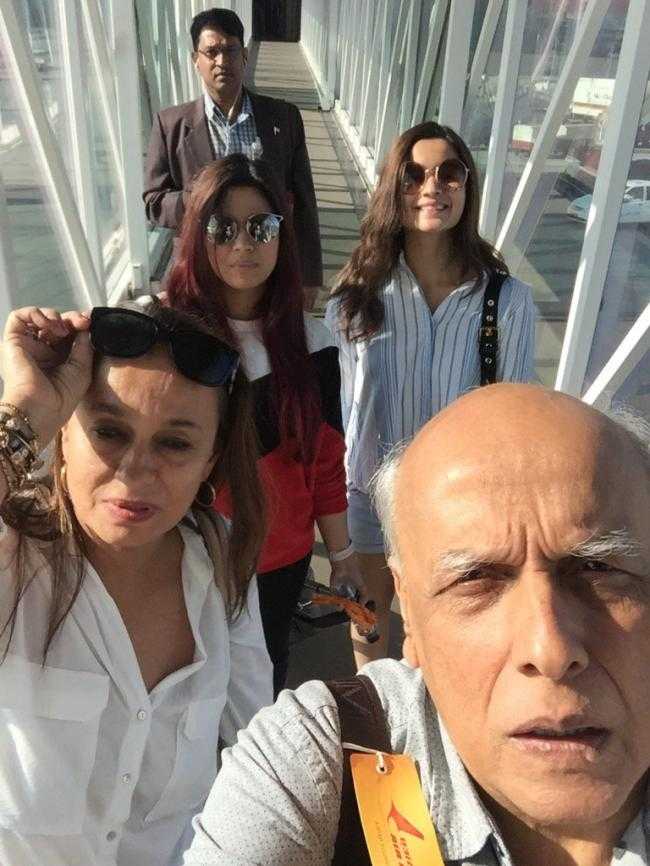 Mr. Bhatt's net worth consists of his production company, personal investments, and earnings from his movie roles. He is among the top people when it comes to giving to charities and social causes as a philanthropist as well. He also pays among the highest taxes in the nation.

In Navi Mumbai, India, Mr. Mahesh Bhatt is the owner of a magnificently crafted luxury home. He acquired this residence in 2012. The house is worth approximately Rs. 6.5 crores. He also owns numerous real estate holdings in other nations.

Some of the most opulent vehicles in the world are Mr. Bhatt's possession. BMW, Range Rover, and Benz are a few of the car brands Mahesh Bhatt owns. These autos would each cost between 1.2 and 2 crores.

Awards & Nominations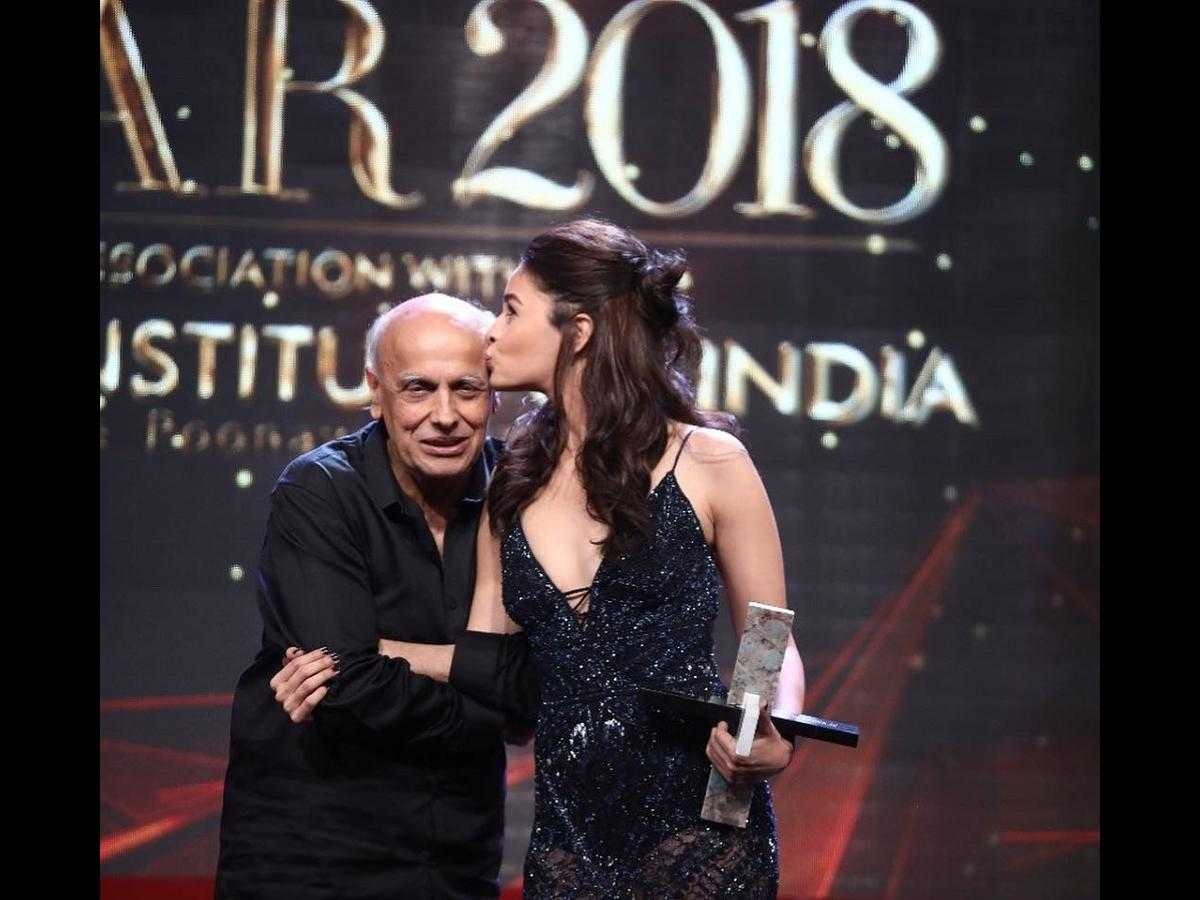 Filmfare Award 1984 - Best Dialogue for Arth (1982) - Winner
Filmfare Award 1985 - Best Story for Saaransh (1984) - Winner
Filmfare Award 1985 - Best Director for Saaransh (1984) - Nominee
Filmfare Award 1991 - Best Director for Aashiqui (1990) - Nominee
Filmfare Award 1992 - Best Director for Dil Hai Ki Manta Nahin (1991) - Nominee
Filmfare Award 1994 - Best Director for Hum Hain Rahi Pyar Ke (1993) - Nominee
National Film Awards 1994 - Special Mention for Hum Hain Rahi Pyar Ke (1993) - Winner
Filmfare Award 1999 - Best Story for Zakhm (1998) - Winner
Silver Lotus Award 1999 - Best Feature Film on National Integration for Zakhm (1998) - Winner
Filmfare Award 2007 - Best Story for Gangster (2006) - Nominee
6 Interesting Facts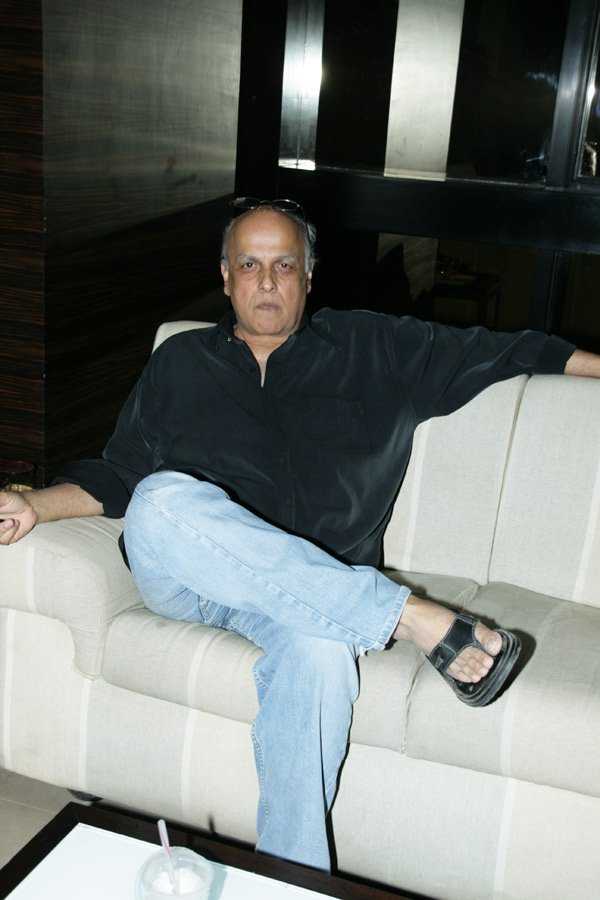 Helen won her lone Filmfare acting prize under Bhatt's direction.
India's official entry for the 1985 Oscar for Best Foreign Language Film was Saaransh, directed by Bhatt.
Bhatt also dabbled in television on various occasions. He co-directed A Mouthful of Sky, the first English TV series made in India, and he directed the TV shows Swabhimaan and Kabhie Kabhie.
Aside from his personal life, Bhatt has taken copious inspiration from numerous Hollywood movies, which has led to accusations of plagiarism. On the Waterfront served as the inspiration for Kabzaa, Dil Hai Ke Manta Nahin for It Happened One Night, Taxi Driver for Sadak, The Fugitive for Criminal, and so on.
Mahesh Bhatt has ties to both filmmaker Milan Luthria and actor Emraan Hashmi.
Mahesh Bhatt was a devotee of UG Krishnamurti, a philosopher.
Mahesh Bhatt made his playback singing debut in the Emraan Hashmi film Mr. X.
Profile Summary
How to book a personalised celebrity video wish from a celebrity similar to Mahesh Bhatt?
Knowing about Mahesh Bhatt is so much fun. How about getting a message from a celebrity similar to Mahesh Bhatt? Tring makes it possible!

Now you can get a personalised celebrity video message from over 12000+ celebrities!

What's better than your favourite celebrity making a video for your loved ones? This is your chance to get a personalised celebrity message from celebs like Daisy Shah, Shankar Mahadevan, Shaan, Salim Merchant, Shraddha Arya and many more!

All the best experiences, moments and special wishes in one FREE Celebrity Video!

It takes just 4 steps to share the best anniversary wishes with your wife. Surprise your loved ones now!


Click here to fill out the form above.
Fill in the required details
Click on "Claim Your Rewards"
Select your favourite celebrity.
Your Personalised Celebrity Shoutout Video/Message will be delivered to your mail/Whatsapp, which takes care of your pocket as well!
Ready to make memories? Book your wish now!
Social Media
Frequently Asked Questions