Harnaaz Sandhu | Biography, Age, Miss Universe, Net worth

Hitesh Mandot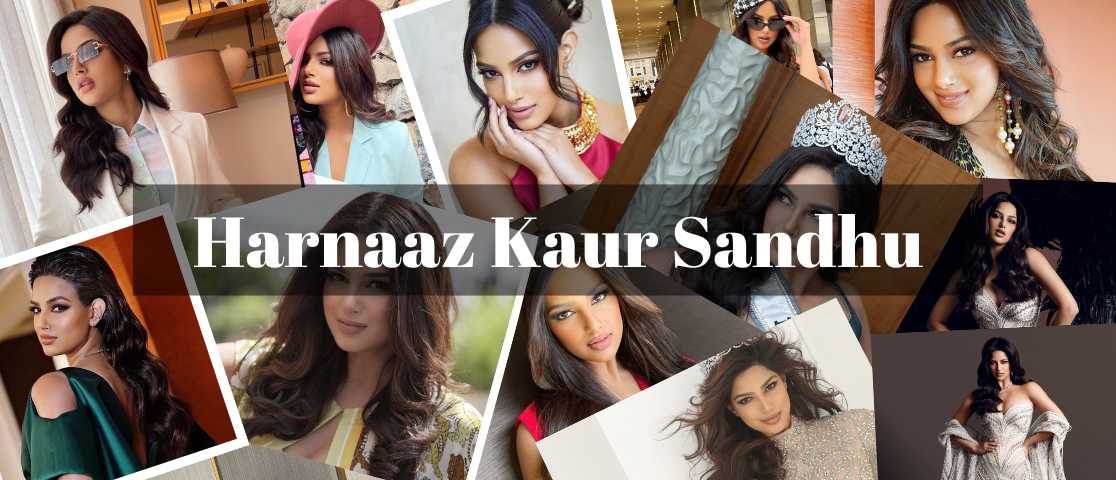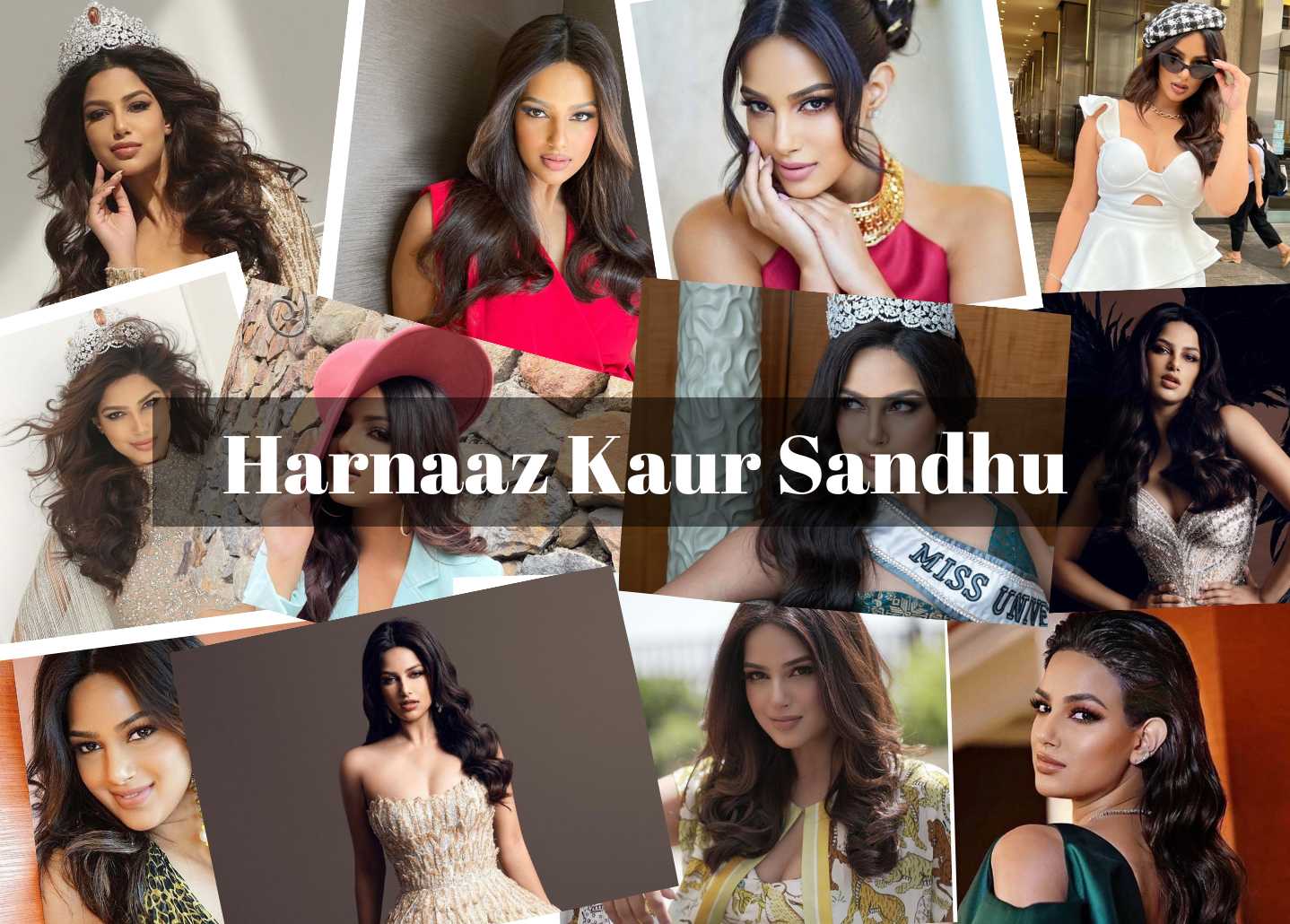 Harnaaz Sandhu's Biography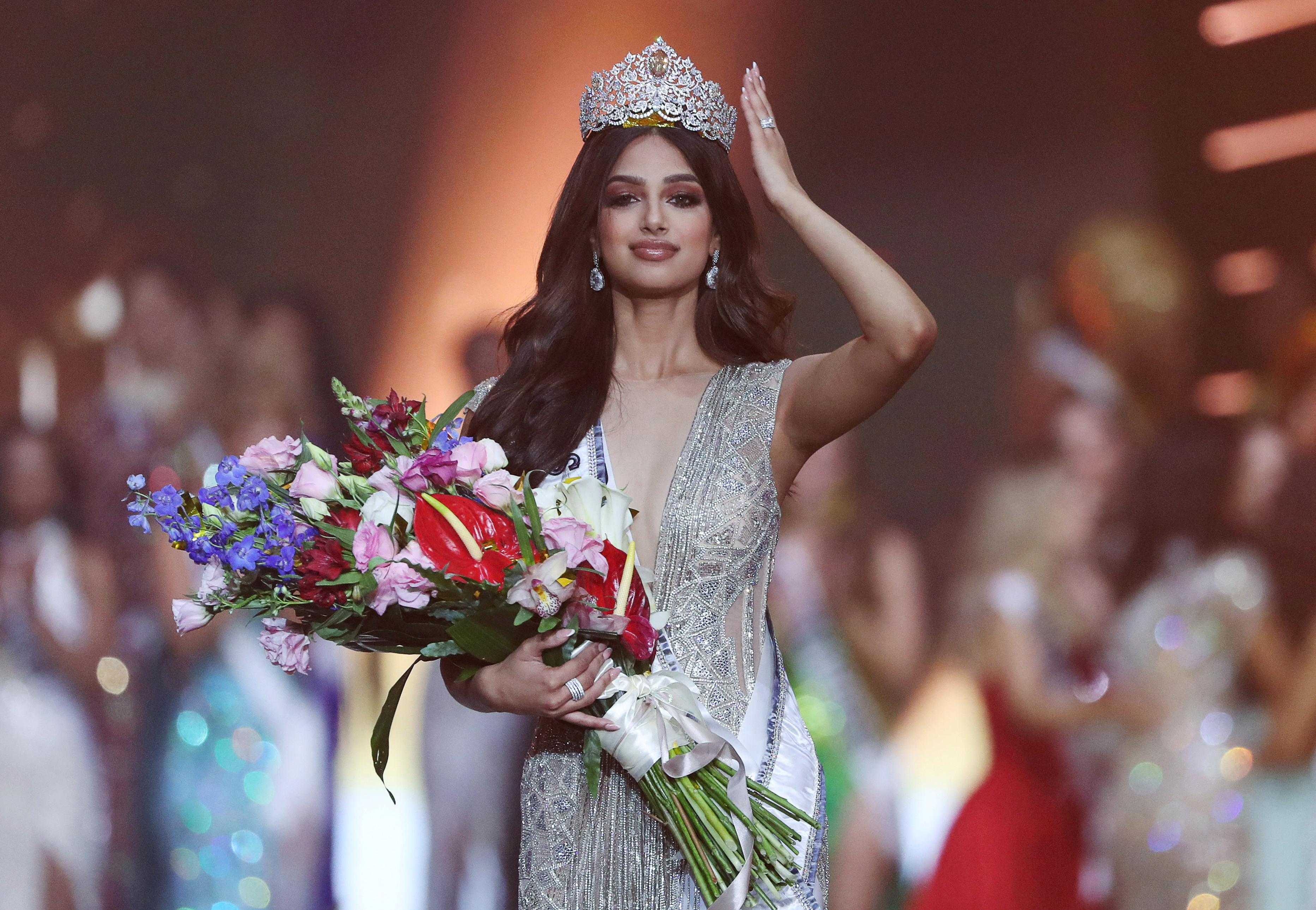 Miss Universe 2021 is an Indian model, actress, and beauty pageant winner named Harnaaz Kaur Sandhu. Harnaaz Sandhu's birthdate is 3 March 2000. Harnaaz Sandhu's age is 22 years as of 2022. Harnaaz Sandhu's birthplace is Gurdaspur, India. Harnaaz Sandhu's hometown is Gurdaspur. Harnaaz Sandhu's zodiac sign is Pisces. Harnaaz Sandhu's height is 5.9 feet. Harnaaz Sandhu nickname is Candy and Naaz.

Miss Universe 2021 is an Indian model, actor, and beauty pageant winner named Harnaaz Kaur Sandhu (born March 3, 2000). Sandhu is the third contestant from India to win Miss Universe; she was previously named Miss Diva Universe 2021. Additionally, Sandhu won the 2019 Femina Miss India Punjab title and finished as a semifinalist in the Femina Miss India 2019 competition.

Harnaaz Sandhu competed in Femina Miss India after winning the title of Femina Miss India Punjab 2019. She ultimately finished in the Top 12, and the winner advances to Miss World.

Claim Your FREE Celebrity Shoutout
✕
Claim Now!
Harnaaz Sandhu's Family and Harnaaz Sandhu's Education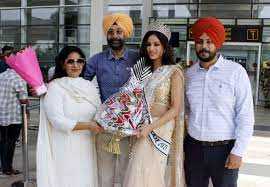 Harnaaz Sandhu was born to Pritampal Singh Sandhu and Rabinder Kaur Sandhu in the Punjabi village of Kohali in the Gurdaspur district. Her mother is a gynaecologist, while her father is a realtor. She has one sibling as well. Harnaaz Sandhu grew up in a Jat Sikh household. The family left for England in 2006, then came back to India two years later and settled in Chandigarh, where Sandhu was raised. Harnaaz Sandhu's father is Pritampal Sandhu. Harnaaz Sandhu's mother is Rabinder Sandhu. Harnaaz Sandhu's brother is Harnoor Sandhu.

Harnaaz Sandhuwent to Chandigarh's Post Graduate Government College for Girls and Shivalik Public School, respectively. Harnaaz Sandhu was pursuing a master's in public administration prior to winning Miss Universe. Sandhu is a native speaker of Punjabi and is also proficient in Hindi and English.

Talk To Similar Celebrities
Harnaaz Sandhu's Miss Diva 2021
Harnaaz Sandhu was selected as one of the Top 50 semifinalists of Miss Diva 2021 on August 16, 2021. Later on August 23, it was announced that she would be one of the Top 20 contestants in the televised Miss Diva competition. Sandhu took home the Miss Beautiful Skin prize during the preliminary competition on September 22 and advanced to the finals for Miss Beach Body, Miss Beautiful Smile, Miss Photogenic, and Miss Talented.

One of the top 10 semifinalists in the Miss Diva 2021 competition, Sandhu, spoke during the opening statement round. A woman who emerged like a phoenix, discovering her true potential, from a young girl with poor mental health, who experienced bullying and body shaming. From a person who once questioned her own existence to a woman who wants to motivate young people. I am proud to stand before the universe today as a strong, vivacious, and caring woman who is ready to live a life of significance and leave a lasting legacy. In the next round of the competition, she was chosen.

The top 5 participants were each given a different topic to speak on during the final question and answer round, which they themselves chose through the draw. In response to Sandhu's choice of Global Warming and Climate Change, she said: Life will one day fly by your eyes; be sure it's something you want to watch. The environment is deteriorating and the climate is changing, but this is not the life you want to observe. It is one of the environmental disasters caused by humans. We still have time, in my opinion, to change our careless behavior.

Our shared home, Earth, can be transformed by the modest deeds we all do when multiplied by billions. Start turning off those extra lights now, starting tonight. I'm grateful. Adline Castelino, who had previously held the title, announced Sandhu as the winner at the conclusion of the competition. She subsequently earned the right to represent India at the 70th Miss Universe competition.

Harnaaz Sandhu's Miss Universe 2021
On December 13, 2021, in Eilat, Israel, Sandhu defeated 80 other contenders to become Miss Universe 2021. She represented India and became the third Indian champion after Sushmita Sen and Lara Dutta in 1994 and 2000, respectively. Steve Harvey, the host, crowned Sandhu as Miss Universe 2021 after Andrea Meza, the current Miss Universe, made the announcement.

As Miss Universe, Sandhu has visited a number of places, including Israel, different American cities, the Philippines, Indonesia, Vietnam, South Africa, Colombia, Thailand, and her native India.

Harnaaz Sandhu's Career Timeline
Harnaaz Sandhu's Controversy
Harnaaz was issued a notice by Court for Upasna Singh Movie
Miss Universe Harnaaz Kaur Sandhu and others have received a notice from the Chandigarh District Court in relation to a civil lawsuit brought by Santosh Entertainment Studio through its producer partner, Upasana Singh, accusing Sandhu of breaching a promotion contract for a Punjabi film.

the Civil Judge Randeep Kumar's Court has issued the notice (Junior Division). Hearing on the subject is now set for September 7, 2022. Singh has sued Sandhu for compensation in the amount of Rs 1 crore through attorney Karan Sachdeva. According to the lawsuit submitted to the court, on December 13, 2020, Sandhu and the company (Santosh Entertainment Studio) agreed into an artist agreement under which Sandhu was contracted to play the lead role in the Punjabi feature film.

The complaint also claimed that on March 24, 2022, Singh informed Sandhu via WhatsApp of the movie promotion dates and specifically assured her that they understood her other obligations and would not take legal action against her in accordance with the contract she had signed on the promotional dates. But shockingly, Sandhu disregarded all of her responsibilities related to promoting the film.

The film's director and financiers allegedly tried to get in touch with Sandhu via Instagram and shared the movie's poster with her, but she never even acknowledged their messages. The Miss Universe title was awarded to Harnaaz Sandhu on December 13, 2021.

Harnaaz Sandhu's Net worth
Modeling, acting, and brand endorsements are the main sources of income for Harnaaz Sandhu, who has a net worth of Rs. 22 crores, or $3 million USD. Harnaaz Sandhu, a beauty queen and Miss Universe in 2021, won the prize money of $250,000 US dollars, or Rs. 1.88 crores in Indian rupees. She served as the cover model for numerous prestigious publications, including Femina India, Metro Style, L'Officiel India, etc.

Harnaaz Sandhu's Awards and Achievements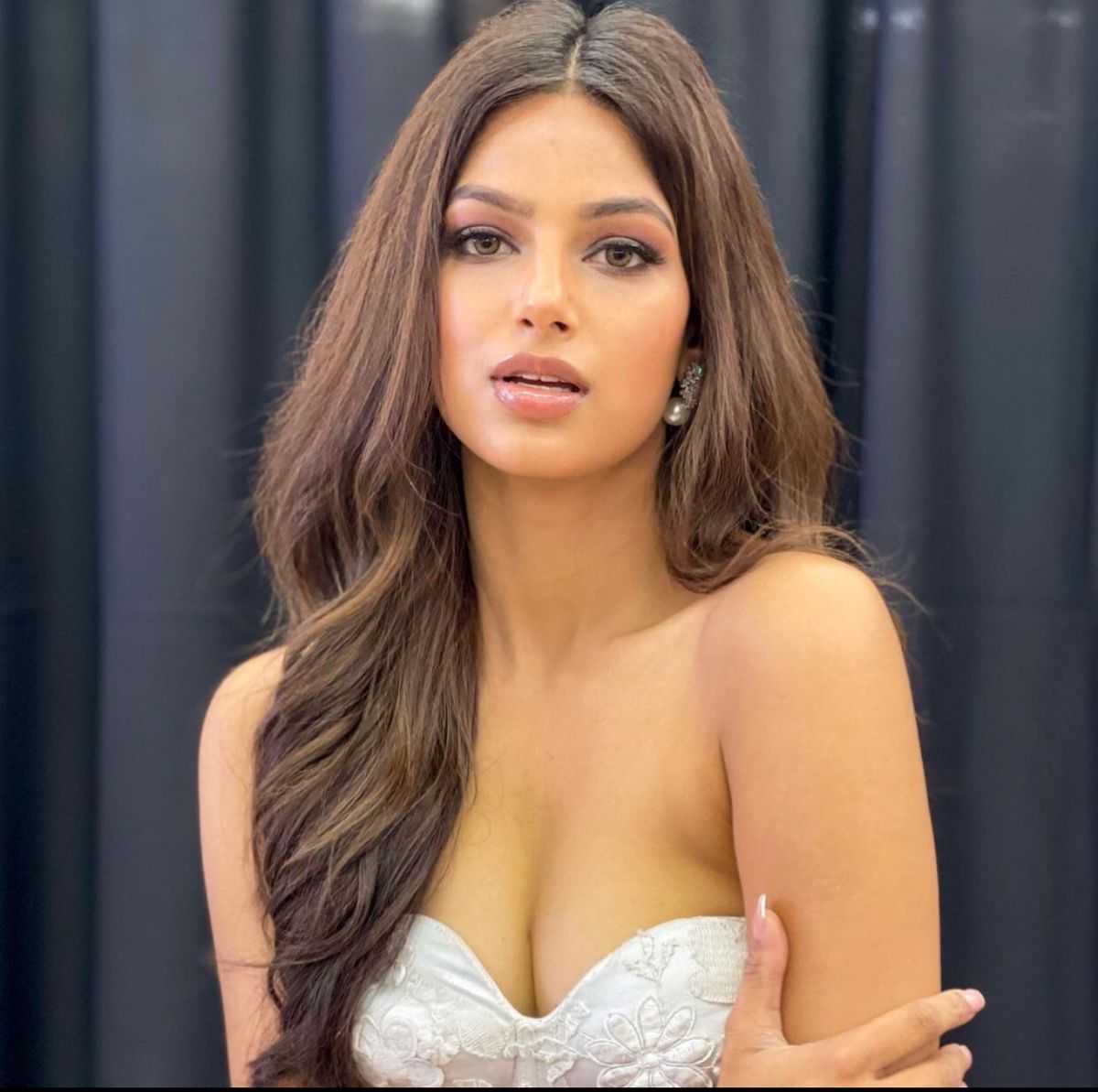 Miss Universe (2021)
Miss Diva (2021)
Femina Miss India Punjab (2019)
Max Emerging Star (2018)
Times Fresh Face Miss Chandigarh (2017)
Miss Ferozepur (2017)
Miss Guruharsahai (2016)
Harnaaz Sandhu's Interesting Facts and Trivia.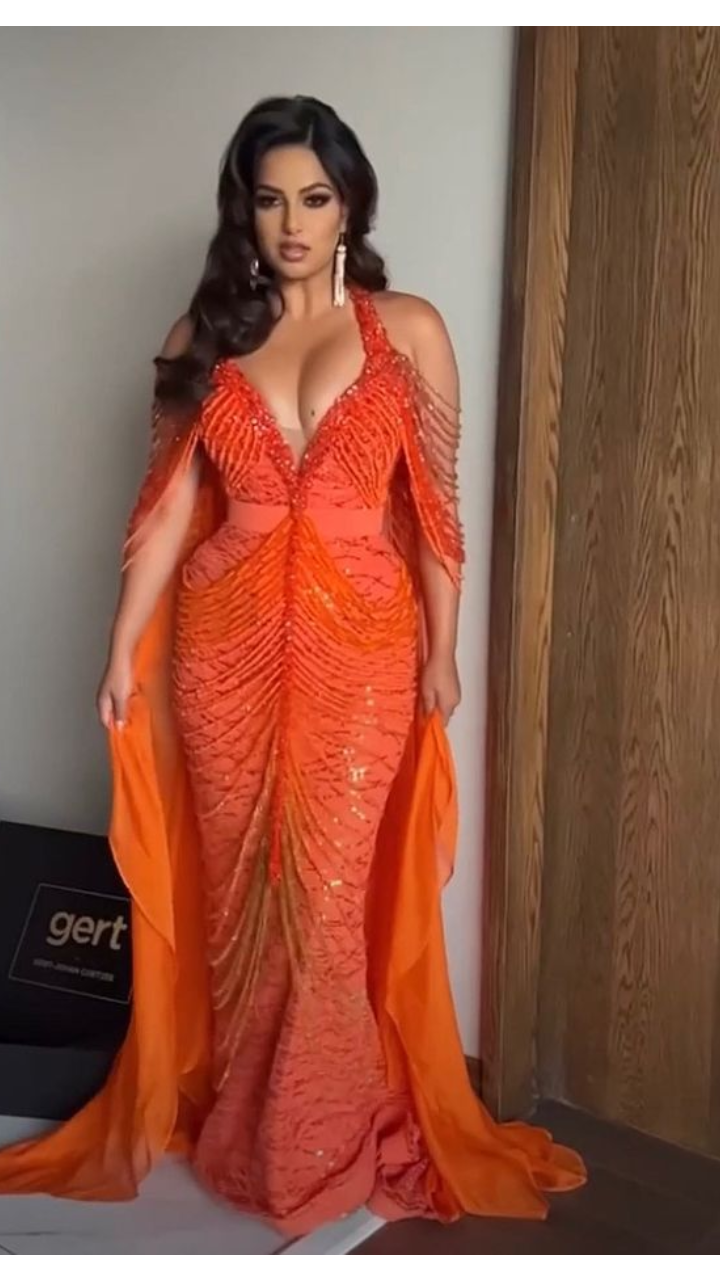 India's Punjab province is home to the birthplace of Harnaaz Kaur Sandhu.
Harnaaz Sandhu is an Indian model and the 2021 Miss Diva of the World.
Harnaaz Sandhu did graduate from Chandigarh's Post Graduate Government College for Girls.
In addition to being a student, actor, and model, Harnaaz is also pursuing her MA in Public Administration at PG GCG, Chandigarh.
Harnaaz Sandhu is a model that debuted in the industry in 2016.
Harnaaz Sandhu competes for the first time as a contestant in the Miss Chandigarh 2017 beauty pageant, where she was crowned.
Harnaaz Sandhu does not consume alcohol or smoke.
Tarthalli, a Punjabi music video, also featured Harnaaz Sandhu.
Additionally, she took home the 2018 Miss Max Emerging Star title.
In addition, Harnaaz Sandhu competes in the Liva Miss Diva Universe 2021 pageant as a representative of her native India, where she won the competition.
Harnaaz Sandhu competes in Miss Universe 2021 wearing a sari to represent India.
Harnaaz Sandhu is an extreme fitness fanatic. She practises yoga daily and exercises.
Harnaaz Sandhu defeated 75 delegates from all over the world to win the title of Miss Universe 2021 in 2021.
Social Media
Frequently Asked Questions