Thank you so much! You will be contacted by our team shortly.
Anusha Rai
Anusha Rai
Book video @

₹ 999
Secured & Safe Payments
---

Buy For

₹949
Extra ₹50 off on this booking
Instagram DM

Free Combo
Celebrity shares message on Insta handle
Members Only

Flat 15% Off
Additional discount for Prime Users
---
Money-back Guarantee!
If for some reason, your request could not be completed, we'll refund your money within 3-5 working days.
Need help?
Reach out to us on WhatsApp or Email for queries. Our support team shall get back to you within 2-3 working days.
Secured & safe payments
Every transaction is 100% safe. Your payment details are encrypted during the transaction to safeguard your data.
Turn Special Occasions into Extraordinary Memories with Celebrity Wishes!
Looking to make celebrations truly unforgettable? Your search ends here! Embark on an extraordinary journey with personalised wishes from your beloved celebrity. Witness sheer delight as heartfelt messages from renowned stars create lifelong cherished memories.
Experience the magic of receiving a personalised birthday or anniversary wish from a celebrity. These extraordinary moments will etch themselves into your loved one's heart, ensuring unforgettable memories that stand the test of time.
Book An Exclusive Personalised Celebrity Invitation Video message Experience - Elevate Your Special Occasion!
Are you planning a birthday celebration, anniversary party, or wedding event and want to make it truly exceptional? Look no further! We are excited to present a unique opportunity to book an exclusive celebrity invitation experience for your special occasion.
Imagine the joy and excitement on your guests' faces when they receive a personalised invitation from a renowned celebrity. Whether it's a milestone birthday, the most important day of your life, or a cherished anniversary, this exclusive celebrity invitation experience will make your event truly unforgettable.
Unlock the Power of Motivation with Personalised Messages from Beloved Celebrities
Are you seeking to bestow the gift of motivation upon your loved ones? Look no further! We are thrilled to present personalised motivational messages from adored celebrities, guaranteed to uplift and empower those dear to you.
Envision the profound effect of receiving a customised motivational wish from a renowned celebrity. Whether your loved ones are navigating through adversity, pursuing aspirations, or in need of a boost, these messages will rekindle their inner flame, equipping them to triumph over any hurdle they encounter.
Why Book A Personalised Celebrity Wish From Anusha Rai?
Memorable Moments - By booking personalised wishes from your favourite celebrity, you'll create cherished memories that will last a lifetime. The genuine and heartfelt messages from these renowned personalities will bring a smile to your loved one's face and create a lasting impression.

Exclusive and personalised - Each wish will be tailor-made for your loved one, reflecting their unique personality and the occasion they are celebrating. The celebrity will take into account any specific details or requests you provide, ensuring a truly personalised experience.

A Celebrity Connection - Your loved one will feel an incredible sense of connection and excitement as they receive a wish from their favourite celebrity. It's a chance to bridge the gap between fandom and personal interactions, creating a moment they will treasure forever.

Variety of Occasions - Whether it's a birthday, anniversary, wedding, or festival, personalised celebrity wishes are available for various occasions. Choose the celebrity who holds a special place in your loved one's heart and let their heartfelt wishes make the celebration extraordinary.
Book a Personalised video message from Anusha Rai and surprise your family and friends.
Book a Wish From Anusha Rai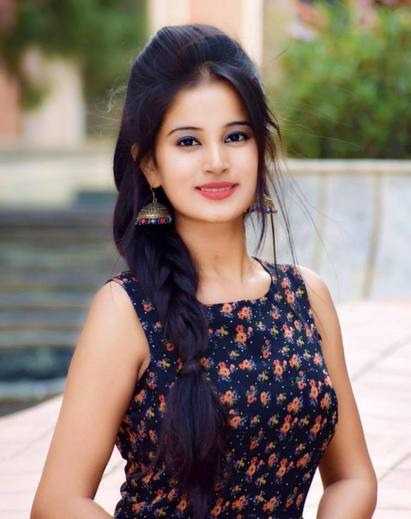 Are you seeking a unique and unforgettable way to celebrate your special occasions? Look no further! We are thrilled to announce an exclusive opportunity to book personalised wishes from the renowned Bollywood actress and dancer Anusha Rai for birthdays, anniversaries, weddings, festivals, and more!
Imagine the delight on your loved one's face as they receive a heartfelt video message directly from Anusha Rai, specially created just for them. Whether it's a birthday surprise, an anniversary celebration, a wedding gift, or any other special occasion, Anusha Rai's personalised wishes will make the moment truly memorable.
Book an Invitation From Anusha Rai
Are you planning a milestone event and want to make your invitations truly remarkable? We are thrilled to introduce a unique opportunity to book personalised invitation messages from Anusha Rai.
Imagine the excitement on your guests' faces when they receive a one-of-a-kind invitation directly from Anusha Rai herself. Whether it's a birthday extravaganza, an anniversary celebration, a wedding affair, or any other special occasion, Anusha Rai's personalised invitation messages will add an unforgettable touch of glamour and warmth.
Book a Motivation Video Message From Anusha Rai
Are you searching for a unique and impactful way to uplift and motivate your loved ones who are struggling? Book personalised motivational messages from Anusha Rai. Whether it's a friend facing a setback, a family member in need of a boost, or anyone going through a difficult phase, Anusha Rai's personalised motivational messages will ignite a spark of hope and motivation.
Why Should You Book A Personalised Wish From Anusha Rai?
A Touch of Stardom:

Anusha Rai's charisma and talent have won the hearts of millions. Now, you can bring her star power directly to your loved ones, making their day extraordinary and full of star-studded glamour.

Heartfelt and Personalised Messages:

Anusha Rai will pour her heart into creating personalised messages tailored to the recipient and occasion. From heartfelt birthday greetings to warm anniversary wishes, her messages will leave a lasting impression and touch the recipient's soul.

Exclusive Content:

Each personalised wish from Anusha Rai will be unique and exclusive. You can expect his warm smile, infectious energy, and genuine emotions to make the recipient feel truly special and cherished.

Flexibility and Variety:

Whether it's a video message, a voice note, or a virtual meet-and-greet, we offer various options to suit your preferences and occasion. You can choose the perfect way to surprise your loved ones and make their day even more magical.

Unforgettable Memories:

Anusha Rai's personalised wishes will create lifelong memories for both you and your loved ones. They will treasure the personalised video or voice message, relishing the joy and excitement of receiving greetings from a beloved star.
Life Story
Anusha Rai, a talented Indian television actress, was born on the 4th of May, 1998, in the picturesque city of Tumkur, Karnataka, India. As of 2023, Anusha is 25 years old and boasts the steadfast and determined qualities of her zodiac sign, Taurus.
With her enchanting presence and exceptional acting skills, Anusha Rai has captivated the hearts of countless viewers, earning her a well-deserved place in the Indian television industry. As she continues to grow and evolve as an artist, Anusha's future in the world of entertainment looks incredibly bright and promising.
Family
Hailing from a supportive family, Anusha is the daughter of Hanumanth Raj and Bhagya. She shares a close bond with her elder brother, Gopal, who has been a constant source of encouragement in her life.
Education
Before entering the world of television, Anusha Rai pursued a degree in Engineering at the prestigious Acharya Institute of Technology in Bangalore. Her academic journey began in her hometown of Tumkur, where she completed her high school education.
Career
Anusha Rai, an incredibly talented Indian model, dancer, and actress, has made a notable impact on the entertainment scene. With her roots in the Tamil and Kannada film industries, she has showcased her skills across various platforms and genres.
Anusha's journey in the world of acting began with the television serial Annaiah, where she made her acting debut. Her impressive performance caught the attention of many, paving the way for her entry into the Sandalwood film industry.
Anusha's big break came when she made her Sandalwood debut with the film Mahanubhavulu. The movie provided her with the perfect platform to display her acting prowess, further solidifying her position in the industry.
As Anusha continued to gain recognition, she was cast in BMW, a film that focused on providing opportunities for newcomers. This project allowed her to expand her horizons and explore new dimensions of her craft.
In addition to her film work, Anusha Rai has also made a name for herself in the world of television. With an impressive list of credits under her belt, she has starred in popular Kannada and Tamil serials such as Annaya (2016), Radha Ramana (2017), Sarayoo (2017), Vani Rani (2017), Nagakanike (2018), Rajakumari (2018).
Anusha Rai's versatility and dedication to her craft have made her a force to be reckoned with in the Indian entertainment industry. As she continues to explore new opportunities and roles, there's no doubt that her star will continue to rise.
We encourage you to book well in advance to secure your personalised wishes from Anusha Rai. Make your special occasions truly extraordinary with a touch of Anusha Rai's warm wishes and star-studded charm. Book now and create cherished memories that will be treasured for a lifetime! #JustTringIt
---
Frequently asked questions
Anusha Rai is an Indian television actress.
Anusha Rai is famous for his outstanding roles in Tamil and Telugu movies.
Anusha Rai's birthday is on 4th May.
Anusha Rai was born in Tumkur, Karnataka, India.
Yes, you can easily book a personalised wish from Anusha Rai via Tring.
Yes, Anusha Rai is single.
Anusha Rai's Zodiac sign is Taurus.
Anusha Rai's age is 25 years as of 2023.
Anusha Rai's first show was Annaiah .
Anusha Rai's Instagram ID is @anusharai_official .