Happy Birthday Wishes for Wife
Making the love of your life feel special on her birthday is the utmost gift you can give her. Express your feelings to her through Tring's happy birthday wishes for wife. Birthdays are one such occasion where you could express to your wife how important she is to you and how wonderful she makes your life. It's an ultimate chance for showing your wife how thankful you are for her presence in your life. A wife is someone who loves you exactly the way you are. She treats you like a darling, her forever love.

Your wife is not just your partner but also your best friend, your companion, your soulmate.

The astounding attachment that a husband shares with his wife is an irreplaceable bond. Celebrating the birthday of your better half that adds meaning to your life is a wonderful opportunity to show them how much you care for them. Relieving fond memories with your wife on the occasion of her Bday is one sweet way of making her feel special. Wish your soulmate a happy birthday wife with special gifts and a party.

Make the birthday morning amazing for your wife with happy birthday wife quotes and flowers. You can send loving messages to her wishing for the best day ever. Tring will have you sorted with birthday quotes for wife to make it magical. Be rest assured to have a memorable moment with your lady love with a little help from us.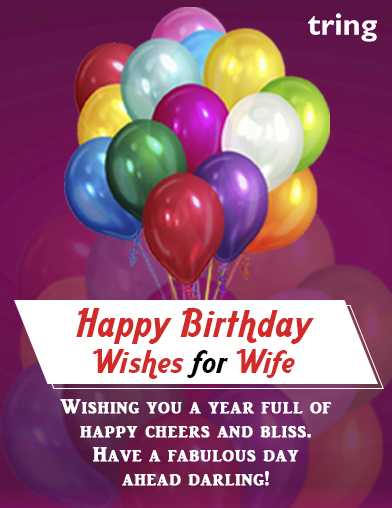 Check Out These Awesome Trendy Birthday Quotes for Wife
Having a wonderful understanding wife is a dream come true. Treating her like the queen she is, is quite important. Give her all your love and care and she will love you from the bottom of her heart for the rest of her life. So, celebrate her whenever you get to and especially on her birthdays. You can celebrate by sending her unique happy birthday wishes for wife and showering unrequited love upon her.

To make your wife's day an absolute special, spend time with her, plan a surprise for her and get her amazing gifts. You can take help from Tring for the birthday quotes for wife and also birthday gift for wife for a fantastic day ahead!


Frequently Asked Questions