Sonakshi Sinha | Biography, Movies, Boyfriend, Net Worth

Zeenat Sayyed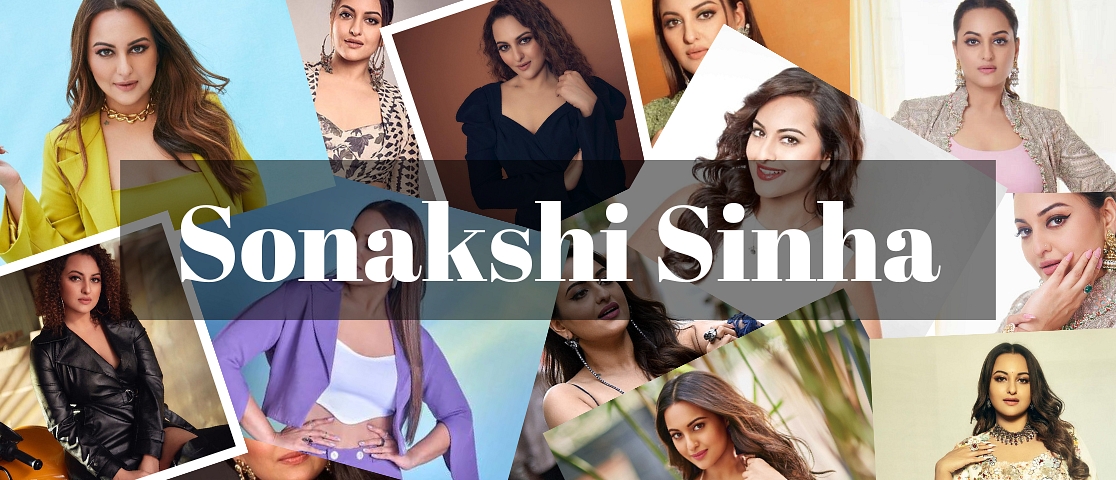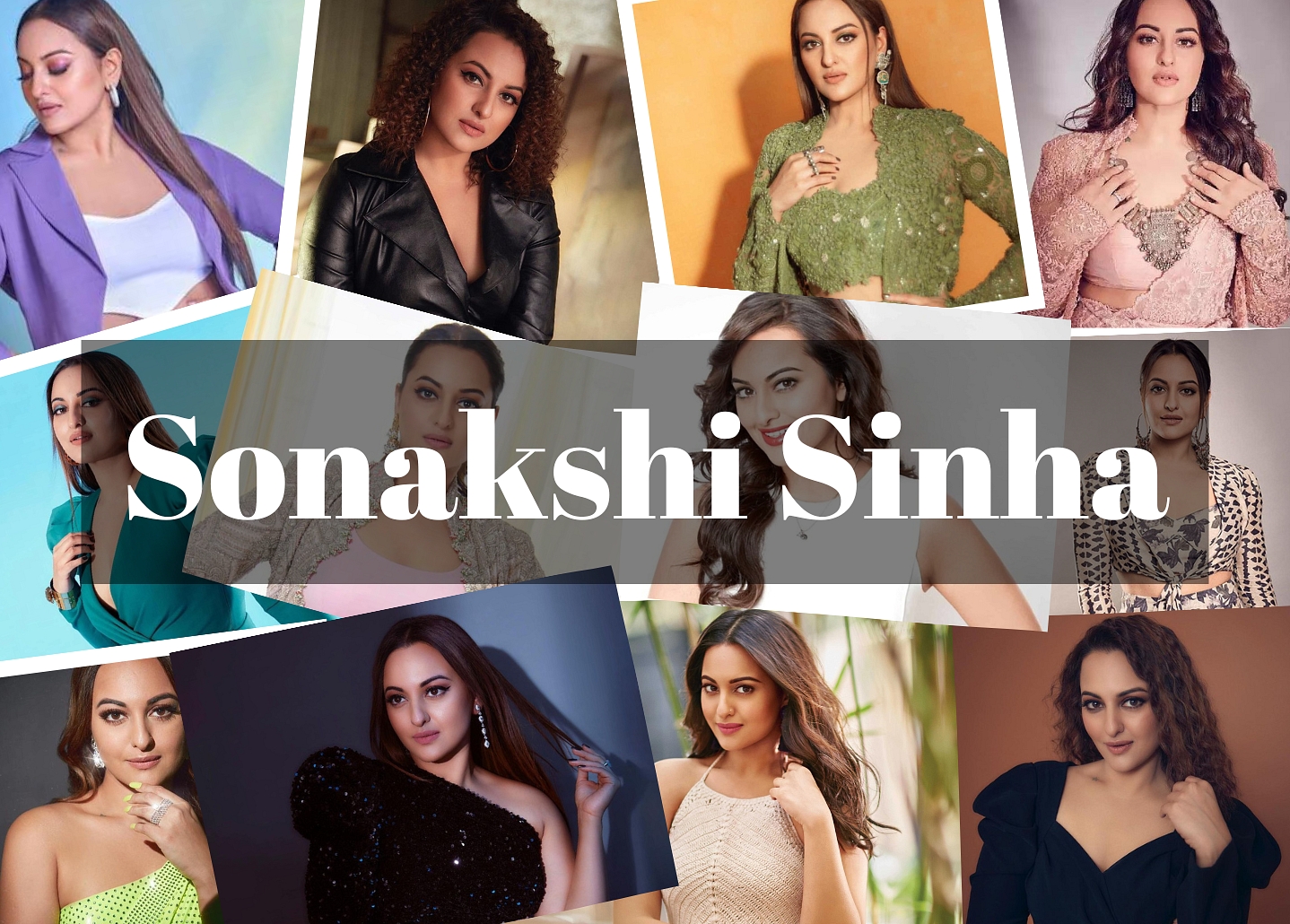 Sonakshi Sinha's Biography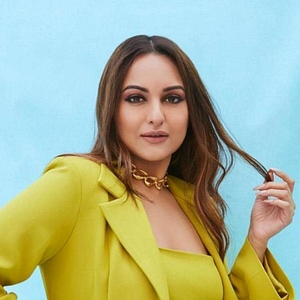 Sonakshi Sinha is an Indian actress who appears in Hindi films. Sonakshi Sinha's Birthday is June 2. Sonakshi Sinha's Birthyear is 1987. Patna is Sonakshi Sinha's Birthplace. Following her work as a costume designer for independent movies, she made her acting debut in the 2010 action movie Dabangg as Rajjo Pandey, for which she was nominated for the Filmfare Award for Best Female Debut. She became well-known for her roles as the male leads' love interests in various action movies, such as Rowdy Rathore (2012), Son of Sardaar (2012), Dabangg 2 (2012), and Holiday: A Soldier Is Never Off Duty (2014), as well as for her appearances in a number of item numbers. For her performance as a disturbed woman with tuberculosis in the historical drama Lootera (2013), Sinha won praise from critics and received multiple honors, including a nomination for the Filmfare Award for Best Actress.

Since then, she has starred in a number of critically panned movies, with the exception of Mission Mangal (2019), where she played a supporting role. Sinha has dabbled with singing in addition to acting, starting with a song in her movie Tevar (2015). Her first song, Aaj Mood Ishqholic Hai, was published in 2015, and she has since performed in four movies, including Rafta Rafta Medley, which is on Yamla Pagla Deewana: Phir Se's soundtrack (2018). Sonakshi Sinha's Zodiac Sign is Gemini.

Sinha, who claims to be an animal lover, appeared in a PETA advertisement to promote the adoption and sterilization of dogs and cats. She played the lead role in a one-minute PSA video asking people to adopt and sterilize animals. She is reported to have said: All the animals who wind up homeless are the fault of breeders, pet shops, and people who don't sterilize their animals. A homeless animal waiting in an animal shelter or wandering the streets loses the potential to find a home and live a happy life every time someone purchases a dog or cat from a breeder or pet store. She advocates for shattering the stigma associated with standard body sizes.
Talk To Similar Celebrities
Sonakshi Sinha's Childhood and Sonakshi Sinha's Family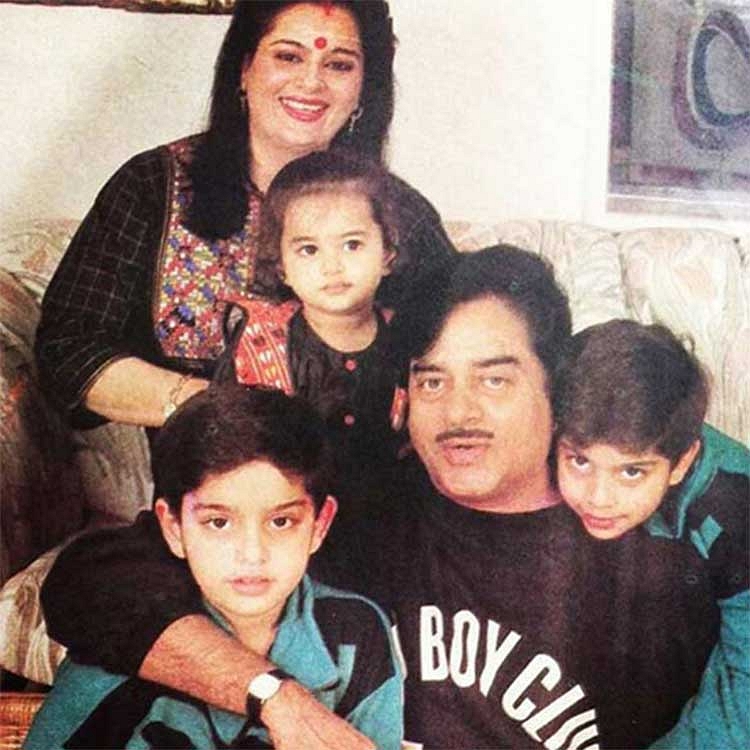 Sonakshi Sinha's Father Shatrughan Sinha and Sonakshi Sinha's Mother Poonam Sinha (née Chandiramani), both actors, welcomed Sinha into the world on June 2, 1987, in Patna, Bihar. Her mother is a Sindhi Hindu, while her father is from a Bihari Kayastha household.] Before joining the Indian National Congress in 2019, her father was a member of parliament for the Bharatiya Janata Party.

Luv and Kush Sinha, her two (twin) brothers of Sonakshi Sinha, are the oldest of Sinha's three siblings. She attended Arya Vidya Mandir for her formal education before earning a degree in fashion design from Shreemati Nathibai Damodar Thackersey Women's University's Premlila Vithaldas Polytechnic.
Sonakshi Sinha's Affairs and Relationships
Arjun Kapoor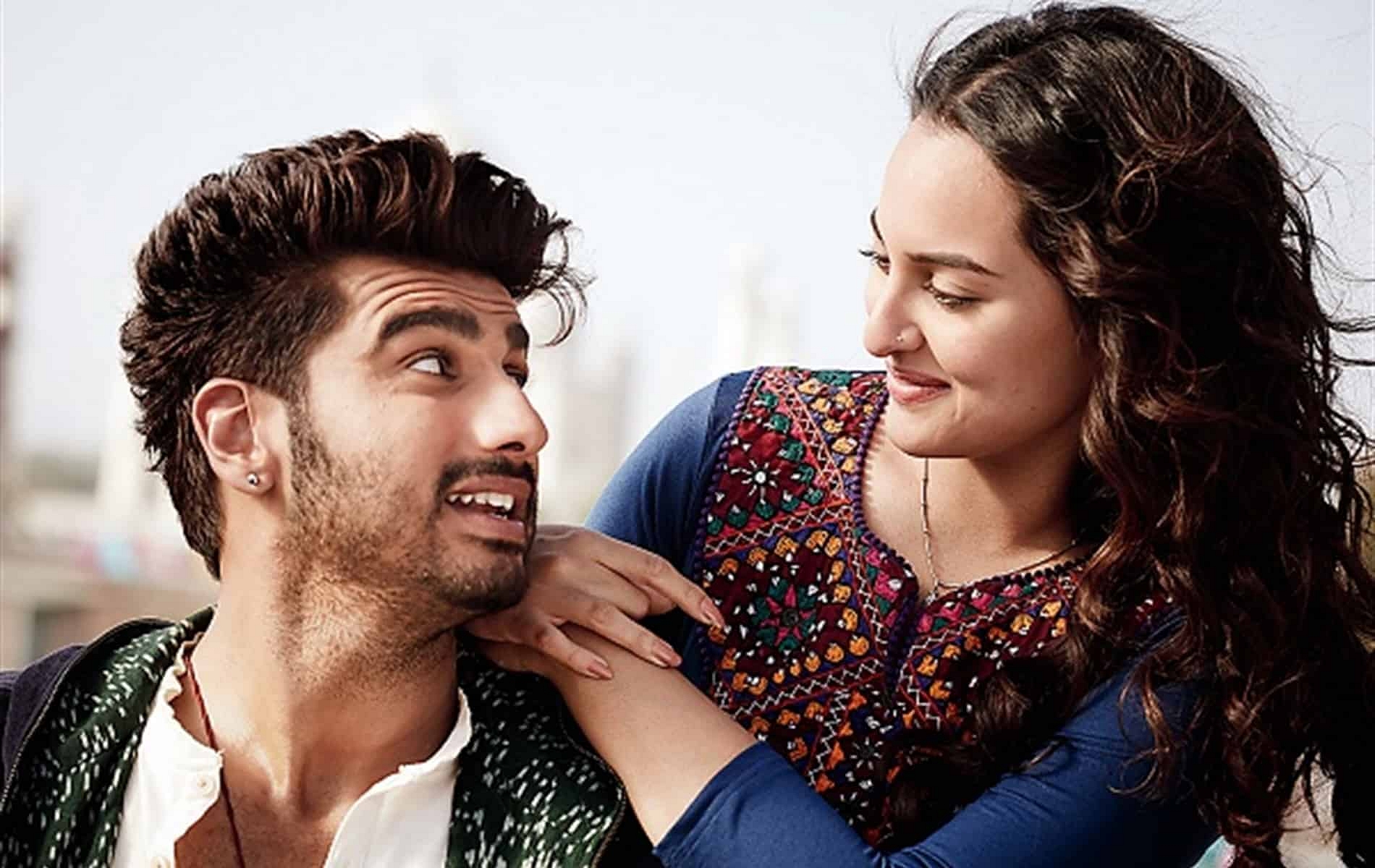 Arjun has always been honest about experiencing love and then breaking it. According to reports, Arjun and Sonakshi Sinha became fairly close while Tevar was being filmed. Their relationship, though, ended just as quickly as the movie's popularity.Arjun Kapoor had said to Mumbai Mirror in reference to what went wrong between the two, Some equations last. Others stop at the filmmaking process since after it is finished, everyone goes their separate ways. She still holds a special place in my heart as a person. Sadly, it is often implied that we do not recognize one another at gatherings, which is untrue. We always make an effort to say hello to one another. Sadly, it is often implied that we do not recognize one another at gatherings, which is untrue. We always make an effort to say hello to one another. No one of us is under any obligation to continue an equation after a set period of time.

According to accounts, Arjun and Sonakshi were really in love, but their differences in personalities caused them to separate. Sonakshi intended to paint the town red, whilst Arjun preferred to keep things quiet. After their breakup, Sonakshi was not unwilling to hold back in criticizing Arjun. Sonakshi had very curtly responded when asked what she would do if left on an island with Arjun Kapoor, I wouldn't be with Arjun Kapoor on an island. While Sonakshi Sinha is rumored to be dating a businessman, Arjun Kapoor appears to have found love with Malaika Arora.
Zaheer Iqbal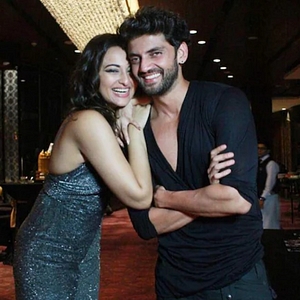 Zaheer Iqbal Ratansi, also known as Zaheer Iqbal, has made headlines once more, this time for admitting his relationship with Sonakshi Sinha, the Dabangg girl from Bollywood. The 33-year-old aspiring actor comes from a jewelry-making family. He is the son of Salman Khan's close friend Iqbal Ratansi and the brother of Sanam Ratansi, a well-known fashion stylist in B-Town. Salman Khan has been on good terms with Iqbal from their childhood and is regarded as his mentor as a result.

Sonakshi Sinha and Zaheer Iqbal have long been the subject of dating rumors. And with an entertaining Instagram video that Zaheer uploaded on Sona's birthday, the actress has finally made it official that she is dating him. Actually, Salman Khan unintentionally helped Sonakshi and Zaheer find each other. At a gathering that Khan hosted, the couple first got to know one another. Salman's childhood friend's son is Zaheer. In the soon-to-be-released movie Double XL, which also features Huma Quershi in the key role, the two will be seen together. It's scheduled for release in 2022.
Sonakshi Sinha's Career
In 2005, Sinha began her career as a costume designer, creating outfits for movies like Mera Dil Leke Dekho. Sonakshi began her modeling career by walking the runway at the Lakme Fashion Week in 2008 and again in 2009. In the 2010 Salman Khan-starrer Dabangg, Sonakshi made her acting debut. She worked as a costume designer for independent movies prior to making her acting debut in Dabangg with Salman Khan. Sonakshi received praise from critics for the role she played in the 2013 historical film Lootera. In addition to acting, Sonakshi has ventured into singing.
Debut: Dabangg (2010)
In the 2010 movie Dabangg, in which she co-starred with Salman Khan, she made her acting debut. It eventually turned into an all-time classic and the highest-grossing movie of 2010. In order to play a country girl, Sinha had to reduce 3 kilograms. Reputable critic Taran Adarsh praised her performance, saying that Sonakshi Sinha has a youthful appearance, exudes confidence, and gels well with Salman. Most significantly, she conveys the appropriate emotions without being overshadowed by the cast's star-studded galaxies. Sinha earned honors for her debut even though she didn't release any movies in 2011. Among many others, these include the Filmfare Award and the IIFA Awards.
Abhinav Singh Kashyap directed the action comedy Dabangg, which translates to Fearless. Malaika Arora Khan and Arbaaz Khan under the banner of Arbaaz Khan Productions and Dhilin Mehta under the banner of Shree Ashtavinayak Cine Vision produced the movie. Salman Khan, the oldest Khan brother, plays the major part, and Sonakshi Sinha makes her acting debut. The Indian film Dabangg is set in the state of Uttar Pradesh and centers on the courageous Chulbul Pandey, a police officer, and his tumultuous relationships with his stepfather and half-brother. Dabangg was made on a $30 million budget and sold for $12 million. The majority of the film was shot in the Maharashtra town of Wai, while some significant scenes were filmed in the United Arab Emirates. It continued to bring in 219 crores.
Son Of Sardaar (2012)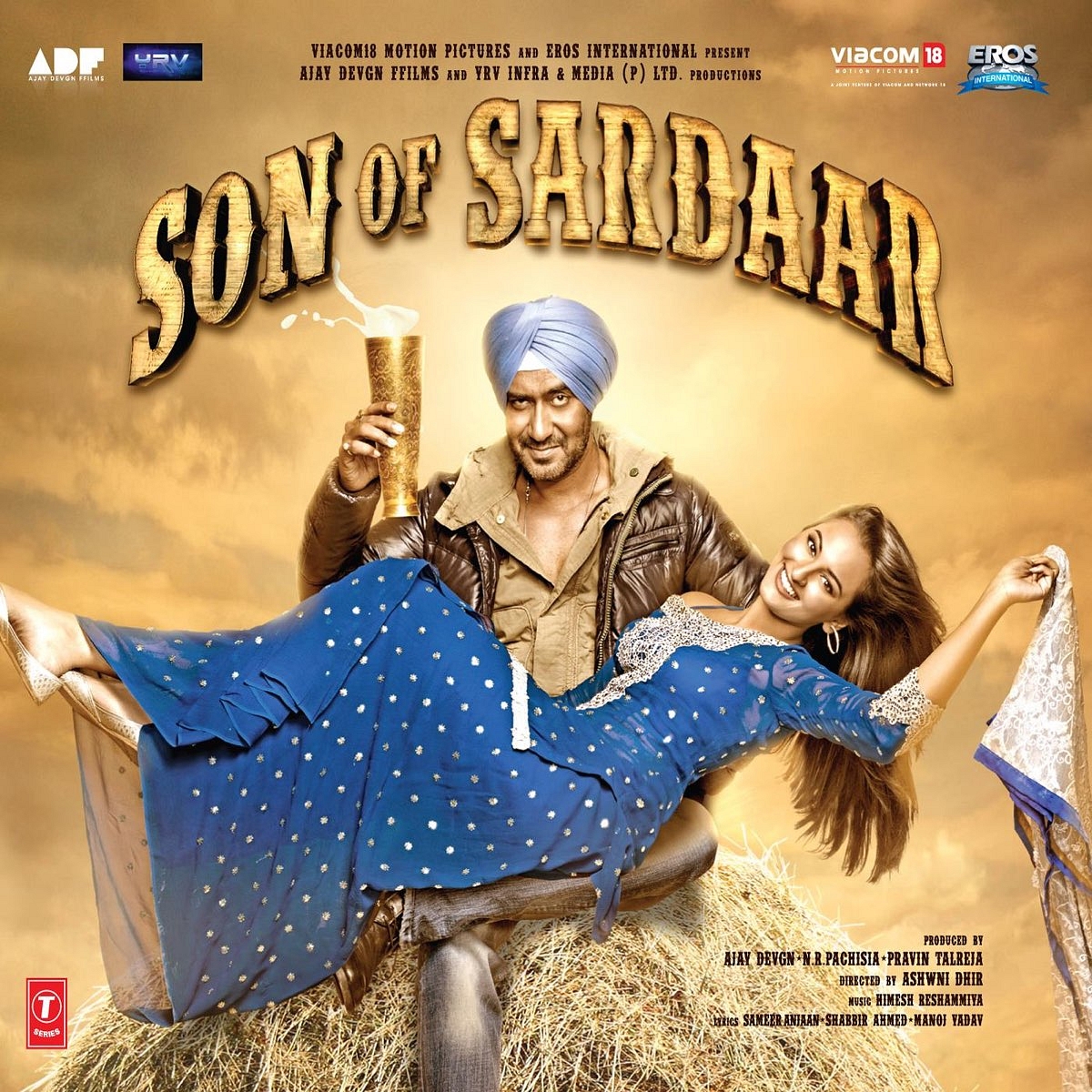 Son of Sardar, starring Ajay Devgn and Ashwni Dhir, earned negative reviews from critics but did well financially. In spite of all the chaos, Sinha endeavors to be pretty and exquisite, according to NDTV critic Saibal Chatterjee. An action comedy movie in Hindi called Son of Sardaar was released in 2012 and was directed by Ashwni Dhir. It was an S. S. Rajamouli-directed remake of the 2010 Telugu film Maryada Ramanna, which starred Ajay Devgn, Sanjay Dutt, Sonakshi Sinha, and Juhi Chawla in the key roles. The release date for Son of Sardaar was November 13, 2012. Salman Khan makes a brief guest appearance.

Son of Sardaar was in direct competition with the Yash Raj film Jab Tak Hai Jaan, yet still managed to perform well at international box offices. Box Office India proclaimed it a hit in India and an average grosser in the international markets. Critics criticized the screenplay while appreciating the humor, performances of the entire cast, stylized action sequences, and familiar tone. It eventually brought in 1.5 billion (US$19 million) globally.
Akira (2016)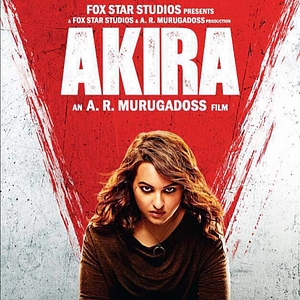 Sonakshi Sinha plays an angry college student in the action drama Akira, an adaptation of the 2011 Tamil film Mouna Guru, directed by AR Murugadoss. Of all the 2016 films with a focus on women, Akira scored the strongest opening weekend at the box office. AR Murugadoss co-wrote, produced, and directed the action/crime/thriller movie Akira, which was released in 2016 in Hindi. Sonakshi Sinha, Konkana Sen Sharma, and Anurag Kashyap play the main characters in this 2011 Tamil-language version of the movie Mouna Guru.

Released on August 16th, 2016, was the soundtrack written by Vishal-Shekhar. The movie received mixed reviews from critics, who praised the cast's performances but criticized the script's scripting. The movie made over 33+ crores at the box office after recovering 15.5 crores at the beginning, making it a median grosser.
Noor (2017)
She appeared in the 2017 comedy Noor, directed by Sunhil Sippy and based on the Saba Imtiaz book Karachi, You're Killing Me! She co-starred in the movie Noor with Purab Kohli, Shibani Dandekar, and Kanan Gill as the title character. Major critics praised Sonakshi Sinha's performance, saying that she pulls off her portrayal without seeming to push too hard. Sonakshi appears pretty convincing with the grimaces, pouts, eye rolls, scowls, and goofy grins — portraying an entertaining dorkiness, according to Hindustan Times. Sonakshi shows off her talent and nails the somber looks, even when her character becomes more serious.

It observes the misadventures and love life of Indian journalist and author Noor as she makes her way through Mumbai. On April 21, 2017, the movie was released internationally. The investigative news story Noor discovers while juggling the pressures of her career and her love life alters her life. Noor is a journalist who works on feature stories but aspires to do real reporting.
Mission Mangal (2019)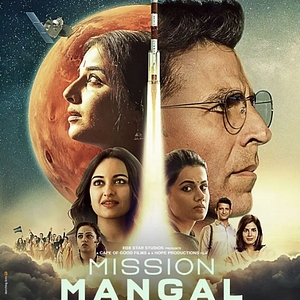 In 2019, Jagan Shakti released the drama film Mission Mangal in the Indian Hindi language. It was produced by Cape of Good Films, Hope Productions, Fox Star Studios, Aruna Bhatia, and Anil Naidu. With an ensemble cast that includes Akshay Kumar, Vidya Balan, Sonakshi Sinha, Taapsee Pannu, Nithya Menen, Kirti Kulhari, and Sharman Joshi in main roles and H. G. Dattatreya, Vikram Gokhale, Dalip Tahil, Sanjay Kapoor, and Mohammed Zeeshan Ayyub among others in supporting roles, the film is loosely based on the lives of scientists.

Principal photography for the movie began in November 2018 after Kumar received the script from Shakti, who served as associate director on his 2018 film Pad Man. On August 15, 2019, India's Independence Day, Mission Mangal was launched in theatres there. It was a commercial triumph after receiving favorable reviews from critics and earning 290.59 crores globally.
Bhuj: The Pride of India (2021)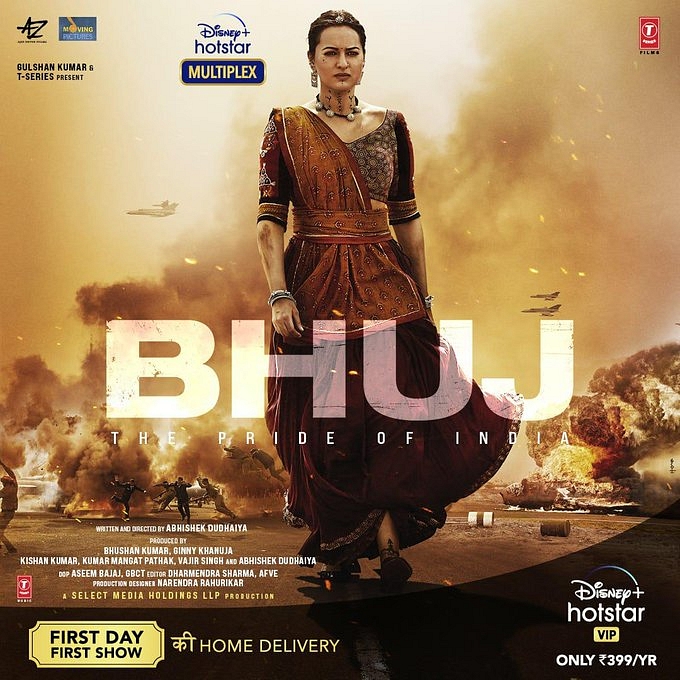 Abhishek Dudhaiya is the director of the 2021 Indian war film Bhuj: The Pride of India. The story, which takes place in 1971 during the Indo-Pakistani War, centers on Indian Air Force Squadron Leader Vijay Karnik, who was in charge of the Bhuj Air Force Base at the time. With the assistance of 300 local women, he was able to rebuild the damaged landing strip in just 72 hours. Along with Sanjay Dutt, Sonakshi Sinha, Nora Fatehi, Sharad Kelkar, Ammy Virk, Pranitha Subhash, and Ihana Dhillon, the movie also stars Ajay Devgn as Karnik.

After being postponed by the pandemic from its initial 14 August 2020 Independence Day weekend release date, it ultimately debuted on Disney+ Hotstar on August 13, 2021. The majority of the reviews for the movie were unfavorable, and the critics berated the writing, pacing, and implausible plot points of the movie.
Sonakshi Sinha's Upcoming Movies
Double XL(2022)
Sonakshi Sinha Will be appearing as Saira Khanna in 2022 Movie Double XL. She Completed Shooting for this film. It is Directed by Satram Ramani. Along with Sonakshi Sinha actors like Zaheer Iqbal and Huma Qureshi will also appear in this film in important roles. The story centers around Rajshree Trivedi from Meerut and Saira Khanna from New Delhi traveling together as plus-size women as they negotiate social expectations of beauty.
Kakuda (2022)
In this horror-comedy movie, three of the town's residents battle a ghost who forces them to reexamine their beliefs in superstition, tradition, and love. The hamlet is cursed to be stuck in time. Riteish Deshmukh and Saqib Saleem will also appear in this film with Sonakshi Sinha. The film was directed by Aditya Sarpotkar.
Sonakshi Sinha's Career Timeline
Sonakshi Sinha's Controversies
Kaun Banega Crorepati Troll with Hashtag #YoSonakshiSoDumb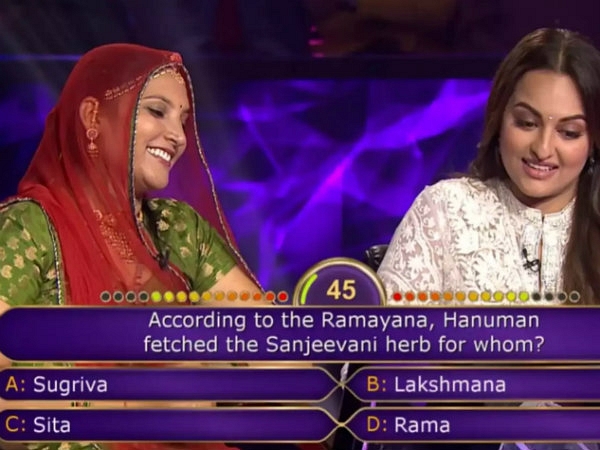 On Friday, September 20, Ruma Devi, a craftsperson and activist from Barmer, Rajasthan, and Sonakshi Sinha both made appearances on Kaun Banega Crorepati 11. The actress is receiving ruthless trolls for being unable to respond to a question that appeared to be simple on the broadcast. Ruma Devi and Sonakshi Sinha were stumped by a Ramayana-related query. They were asked, Whom did Hanuman fetch the Sanjeevani herb for, according to the Ramayana? Sonakshi wasn't confident in her response. She initially answered Sita, but she later altered it to Ram. They soon made the choice to employ their final safety net. Consult an expert. They were able to correctly answer the question and win Rs. 1.6 lakh with the assistance of KBC expert Shweta Jha from Aaj Tak. However, the harm was already done.

The hashtag #YoSonakshiSoDumb began trending on Twitter as the internet responded to Sonakshi's ignorance by saying, Hey Ram. Sonakshi's residence is called Ramayana, her brothers' names are Luv and Kush, and her father is Shatrughan (Ram's brother), nevertheless, she was unable to provide an answer. As another Twitter user put it: Sonakshi Sinha's brain cannot be compared to rubbish since doing so would offend garbage. #YoSonakshiSoDumb.
Radio Show Controversy
It was Sonakshi Sinha's time to deal with the backlash from the Valmiki community after she said an offensive phrase on a radio show. Sonakshi described her residence as appearing like a bhangi during a radio program. This was too much for the Valmiki people, who protested the actress. As the matter spiraled out of control, Sonakshi was forced to retract her statement and claim that the term was used carelessly. The situation worsened throughout the weekend, and on Sunday, protesters burned her effigy in the Moradabad district of Uttar Pradesh. The 32-year-old actress issued an online apology on Sunday. She claimed that the remarks were unintentional and meant no offense in a statement released in both English and Hindi.
Sonakshi Sinha's Net Worth
There are numerous young performers in Bollywood films who have excelled as actors and filmmakers. Sonakshi Sinha is one such gifted actress who has entered the Bollywood film industry and stunned everyone with her very first movie. She began her career as a costume designer before becoming a well-known performer in Hindi cinema and the film industry. Sonakshi Sinha has a $10 million net worth (Rs. 74 Crore). Her personal assets and brand sponsorships account for the majority of her income. She also receives a profit share from her films, her work as a costume designer, or her singing appearances in movies.

Sonakshi Sinha's net worth has increased by 27% in the last three years. One of the most in-demand performers in Bollywood, Sonakshi Sinha believes in donating a portion of her income to charitable causes and organizations. She also pays among the highest amounts of taxes in the nation. Indian actress Sonakshi Sinha resides in a mansion in Mumbai. She purchased this opulent apartment in 2013, and its estimated market worth is 11.3 crore Indian rupees. Additionally, she is the owner of numerous real estate holdings in Mumbai and other cities.

Sonakshi is the owner of a select number of high-end vehicles. Sonakshi Sinha's car collection features high-end automakers like BMW, Range Rover, Mercedes, Mini Cooper, Audi, and others. Actors are considered successful if their films are financially successful and they perform well. Sonakshi has a long history in the film industry that is respected all over the world. Her consistency in films and other endeavors demonstrates her high success rate.

She has also made significant investments in a number of real estate projects and works as a model and costume designer. Therefore, we may have high confidence that her net worth will increase over the coming years. The estimated value of Sonakshi's private investments is Rs. 36 crores. She also has a number of real estate properties spread out among the courtiers.
Sonakshi Sinha's Awards and Achievements
2011- Won Apsara Film & Television Producers Guild Awards-Best Female Debut-Dabangg
2011- Won Filmfare Awards-Best Female Debut-Dabangg
2011- Won International Indian Film Academy Awards-Star Debut of the Year – Female-Dabangg
2011- Won Star Screen Awards-Most Promising Newcomer – Female-Dabangg
2011- Won Stardust Awards- Superstar of Tomorrow – Female-Dabangg
2011- Won Zee Cine Awards-Best Female Debut-Dabangg
2014- Won BIG Star Entertainment Awards-Most Entertaining Actor in a Romantic Role – Female- Lootera
2014- Won Zee Cine Awards-Best Actress (Critics)- Lootera
Sonakshi Sinha's Interesting Facts
Salman Khan is the reason behind Sonakshi's decision to leave the fashion industry and enter Bollywood.
Sonakshi inked a tiny star close to the collarbone.
Sonakshi gave Salman Khan's non-profit organization Being Human her first movie salary from Dabang.
Sonakshi enjoys eating Chinese and Thai food.
Sonakshi actually works as a painter.
Sonakshi enjoys playing with puppy dogs.
Social Media
Frequently Asked Questions