Rhea Chakraborty | Movies, Biography, Net Worth, Boyfriend

Violeena Vargav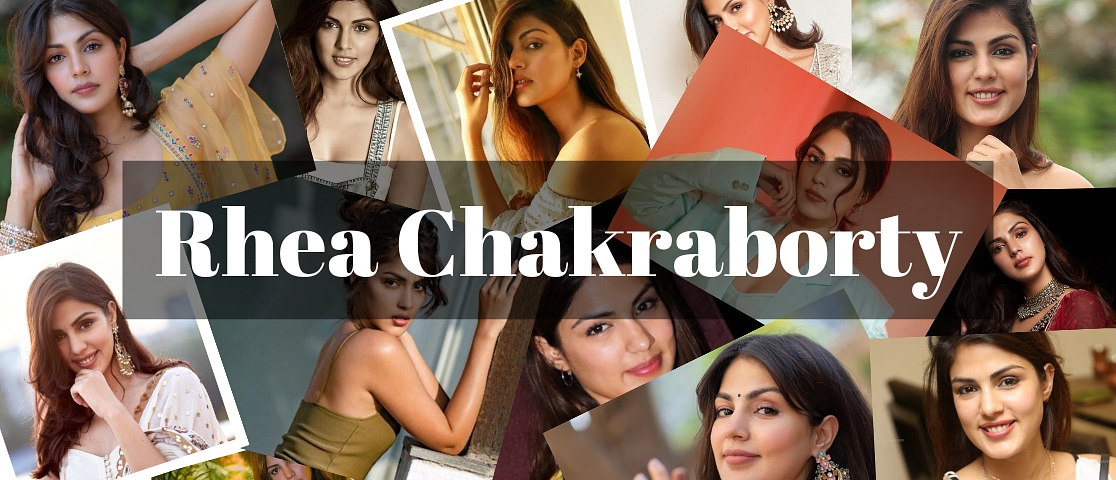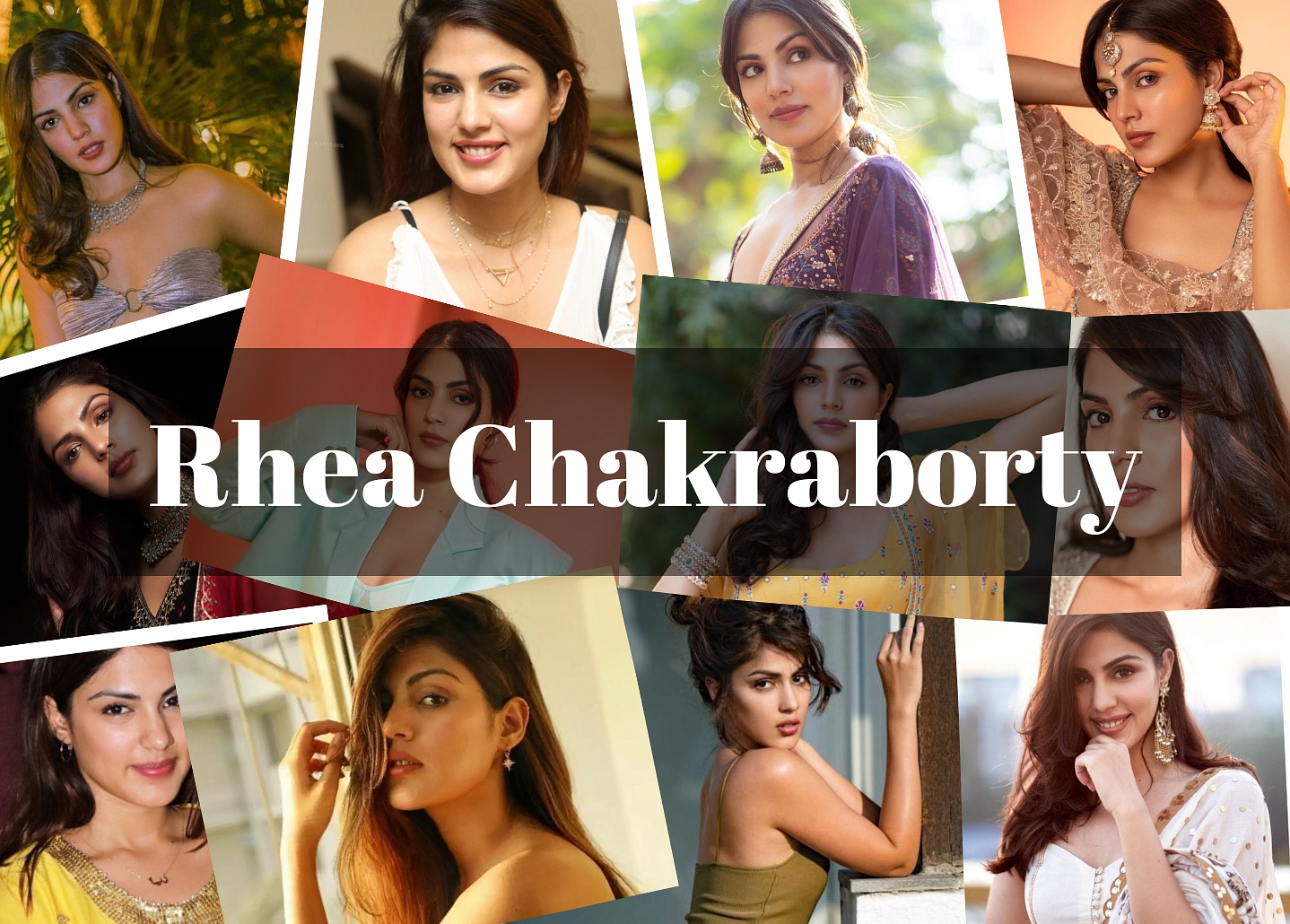 Rhea Chakraborty's Biography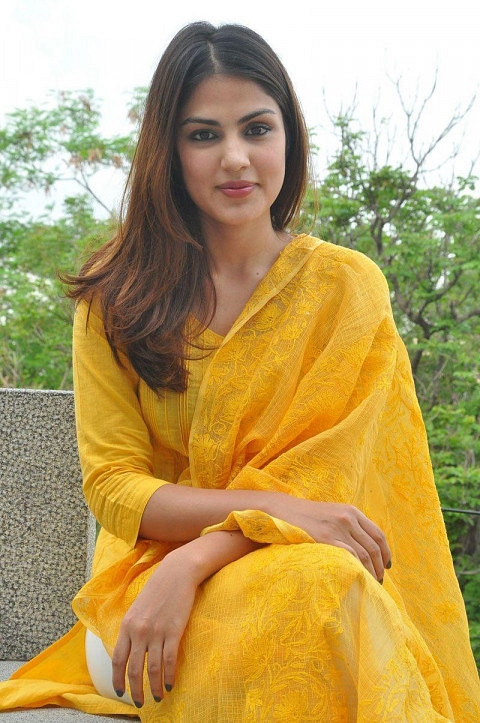 Rhea Chakraborty is a famous Indian actress and a video jockey. Rhea Chakraborty is a Telugu and Bollywood actress from India who works as a VJfor MTV India. As a VJ on MTV India, Rhea initially entered the glittering glamour world and subsequently opened the way for her career as an actor in films.

Rhea Chakraborty's birthday is on 1 July 1992. Rhea Chakraborty's age is 30 years as of 2022. Rhea Chakraborty's birthplace is Bengluru, India. Rhea Chakraborty's zodiac sign is Cancer. Rhea Chakraborty's height is 1.66m or 5'5 in inches. Rhea Chakraborty's religion is Hinduism.

Rhea Chakraborty began her career in television in 2009 when she finished as the first runner-up on MTV India's TVS Scooty Teen Diva. Later, she got chosen for an MTV Delhi VJ audition. She has hosted a number of MTV programmes, including MTV Gone in 60 Seconds, TicTac College Beat, and Pepsi MTV Wassup.

Rhea Chakraborty made her acting debut in the Telugu movie Tuneega Tuneega in 2012, playing the role of Nidhi. She made her Bollywood debut in 2013 as Jasleen in Mere Dad Ki Maruti. She portrayed Sonali in the 2014 film Sonali Cable.

Rhea Chakraborty had an appearance in YRF's Bank Chor in 2017. Additionally, she made cameos in the films Half Girlfriend and Dobaara: See Your Evil. She starred in the 2018 film Jalebi alongside Varun Mitra, a newcomer. In collaboration with her brother and Sushant Singh Rajput, Rhea Chakraborty established the artificial intelligence business Vividrage Rhealityx in September 2019.She was voted Most Desirable Woman in 2020 by The Times of India.
Talk To Similar Celebrities
Rhea Chakraborty Family and Rhea Chakraborty's Education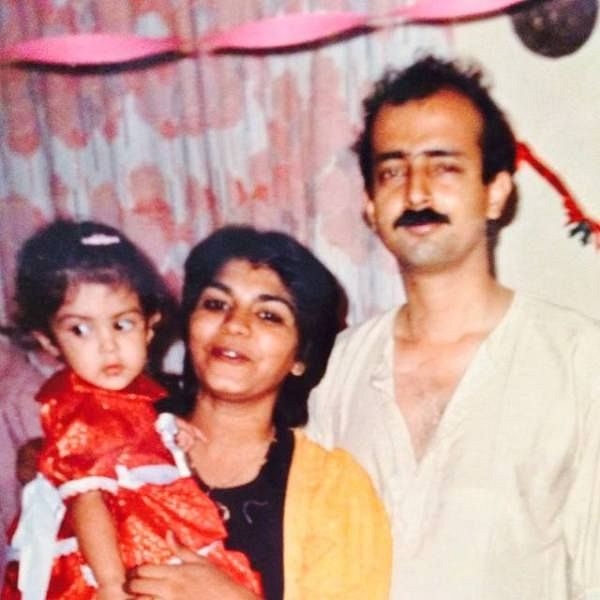 Rhea Chakraborty's father's name is Indrajit Chakraborty and her mother's name is Sandhya Chakraborty. Rhea Chakraborty's father was an Indian Army officer and her mother is a homemaker. Rhea Chakraborty was born into a Hindu Bengali family. Rhea Chakraborty's younger brother's name is Showik Chakraborty. Showik Chakraborty is a businessman by profession.

Rhea Chakraborty finished her elementary education at the Army Public School in Ambala Cantt, Haryana. She then proceeded to H.R. College of Commerce and Economics in Mumbai to complete her business diploma. She had always had a passion for acting and modelling and aspired to work in the field and find success as an actress.
Rhea Chakraborty's Affairs and Relationships
Aditya Roy Kapoor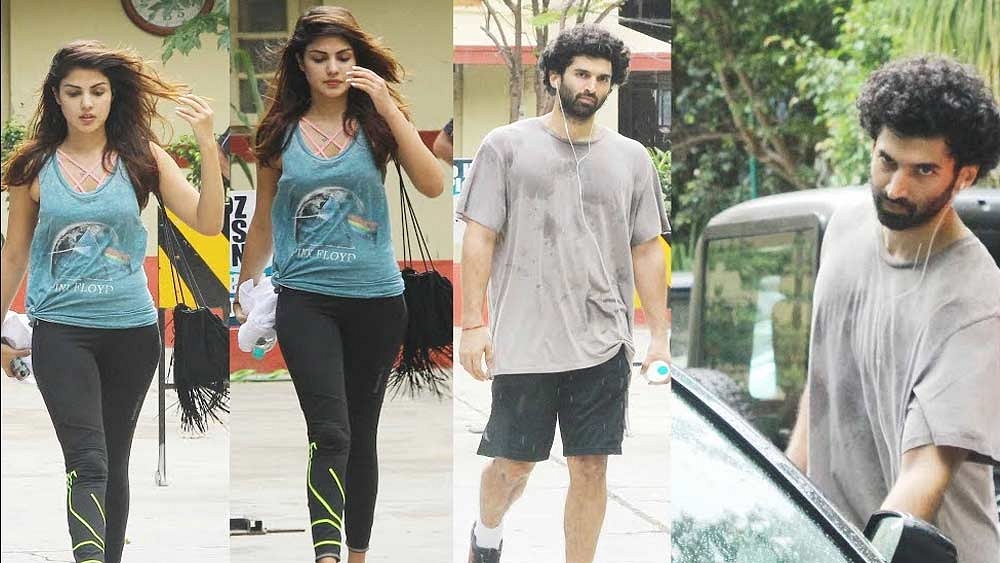 According to Smita Parikh, a friend of the late Sushant Singh Rajput, Rhea Chakraborty once dated Aditya Roy Kapoor, a Bollywood actor. She levelled a number of accusations against Rhea Chakraborty following SSR's passing. And Smita's most recent assertion is that Rhea dated Bollywood actor Aditya Roy Kapur before actually meeting Sushant. Smita mentioned the same on her Twitter account, and many people found her remark to be interesting.

Rhea has previously informed TellyChakkar that she never dated Aditya when the actress was questioned about her alleged romance with the actor. They were all unfounded rumours. She has no idea how such rumours got created.

There was a time when Aditya and Rhea, who are good friends, used to hang out. They used to watch movies together, which may be why rumours about their relationship began to circulate.
Sushant Singh Rajput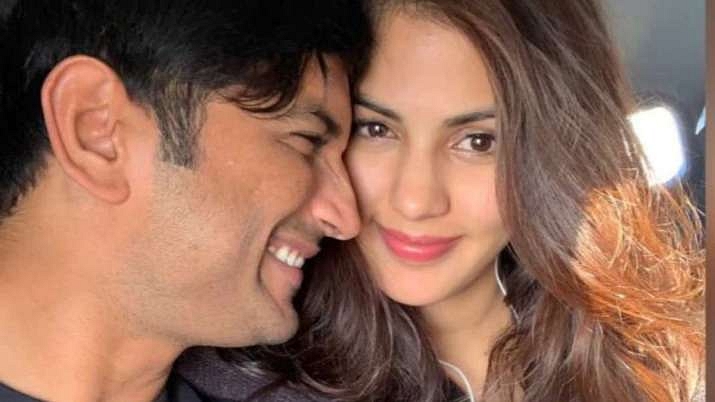 In April 2019, Rhea Chakraborty and Sushant first met at a gathering. They soon began dating and went on a trip to Pawna Lake with some buddies. The two became close throughout the vacation, according to the friends, over their shared love of tennis and stargazing.

Rhea revealed to her friends that she had fallen in love with Sushant after she left for Mumbai. Rhea felt complete with the actor, in contrast to her prior relationships, according to her friends. The couple moved in together quickly but chose to keep their romance private from the media.

After dating for three months, Rhea invited Sushant to dine with her family, where he immediately warmed up to them and expressed a desire to join them. Rhea would devote the most time possible to caring for the actor, according to a friend of hers. Rhea's friends began to believe that Sushant was excluding her from her group of friends after a while. Rhea, however, admitted to her friends in November 2019 that they did not comprehend the toll that providing care for others was having on her.

Susan Walker, Sushant Singh Rajput's therapist, previously in an interview discussed Rhea as a rock and how she helped the actor deal with his mental health. Additionally, according to her acquaintances, Rhea turned down a few movie offers in order to prioritise caring for Sushant.

The couple was frequently seen out and about, sometimes at the gym and other times at restaurants. But none of them made the rumours official. Rhea almost made their romance official by sharing a photo with Sushant on his birthday. There were rumours going around that the couple had chosen to get married and would do so soon. However, neither the date nor any formal confirmation of the same were provided. Everyone was startled to hear the news of Sushant's passing. According to rumours, relations between the two recently have soured. Similar accusations were made against Rhea by Sushant's father KK Singh in his FIR for aiding suicide. What has occurred is unfortunate and sad. The lovely love story of Sushant Singh Rajput and Rhea Chakraborty has now evolved into a tragedy.
Rhea Chakraborty's Movies and Career
Tuneega Tuneega (2012)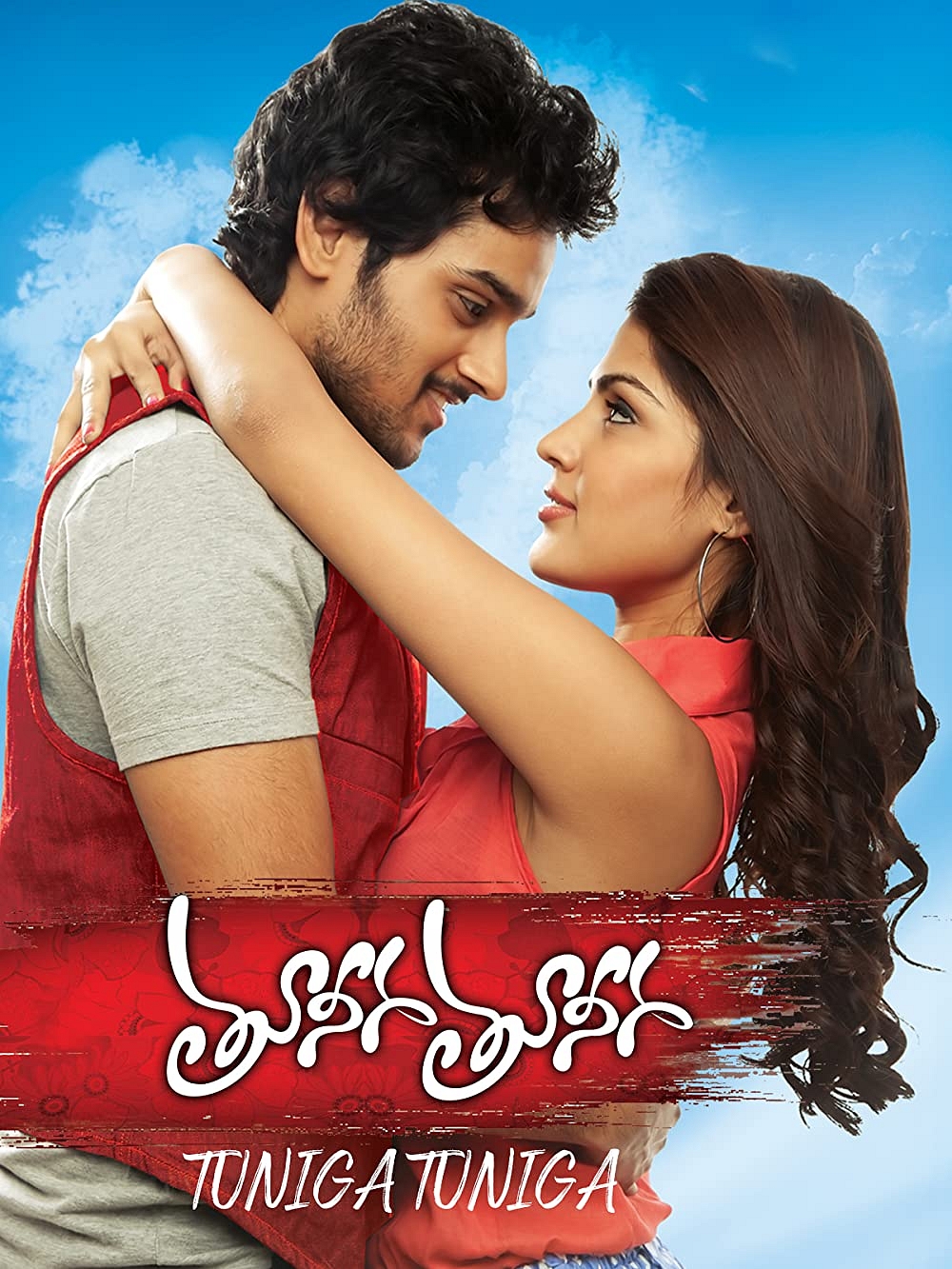 Tuneega M. S. Raju is the author and director of the 2012 Telugu love drama film Tuneega. The movie, which features Sumanth Ashwin and Rhea Chakraborty, is made by Maganti Ramji under the auspices of Padmini Arts. The movie was released globally on July 20, 2012, by Dil Raju's Sri Venkateswara Creations distribution company.

Childhood pals Rama Swamy and Ravindra Babu live together. Karthik and Nidhi, their children, are the same age, but they loathe one another and tease one another by pulling practical jokes on them. Nidhi is eventually sent abroad to further her education.

Nidhi returns after a twelve-year absence and runs into Karthik at a family event. Karthik falls in love right away despite keeping his identity a secret. Nidhi slowly learns the truth and, in the process, is seduced by Karthik. When everything appears to be going well, Nidhi's family urges her to be married to someone else. How Karthik finds love is the subject of the remaining narrative.

The Times of India gave the movie two and a half stars out of five, noting that the visual aspect of the movie just didn't work. It lacks the newness and vibe of a brand-new movie. It fails because there isn't enough novelty throughout. Good stories are simple to comprehend, but in Tuneega Tuneega, there is confusion surrounding the plot and the screenplay, making it most likely that viewers won't have a connection to the characters.
Mere Dad Ki Maruti (2013)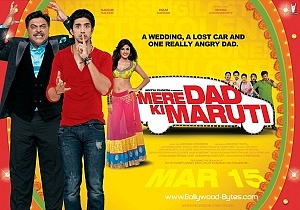 The lead actors in Ashima Chibber's 2013 Indian comedy Mere Dad Ki Maruti are Saqib Saleem, Ram Kapoor, and Prabal Panjabi. Rhea Chakraborty, a newbie, plays a crucial part as well.

Twenty-something The brat Sameer believes he can get away with anything. When he has a good date with Chandigarh Ki Shakira, Jasleen, he makes the hasty decision to steal his Dad's brand-new Maruti. After a wild night at the bar, an enjoyable drive through the well-known Gehri route, and one kiss on the cheek, Sameer loses the car. The car was possibly the only item his frugal father, Tej Khullar, ever spent money on. It was intended as a gift for his sister's wedding. He has three days to find it, and he needs to make sure his father doesn't find out what he's been up to. He will become butter chicken if not. As Sameer encounters some insane individuals, including a bhai from Chor Bazaar, an elderly man with a weapon pointed at his nose, and of course, the Chandigarh cops, his life will be flipped upside down.

Mere Dad Ki Maruti succeeds in avoiding significant obstacles. What sticks out is how most kids strive to escape their parents' expectations but wind up in challenging circumstances. Although the movie never turns preachy or sermonising on that front, this part comes over clearly in the enterprise.
Sonali Cable (2014)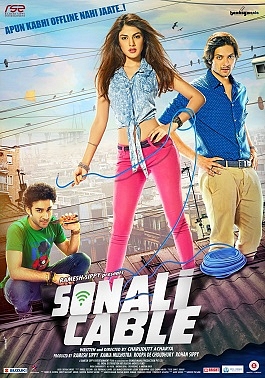 Sonali Cable is a 2014 Indian Bollywood film that was produced by Ramesh Sippy and Rohan Sippy under the direction of Charudutt Acharya. Acharya himself wrote the script, which was one of the eight picked for the Mumbai Mantra-Sundance Institute Screenwriters Lab 2012 after applications from countries around the world, including the United States, United Kingdom, Italy, France, and Germany, were evaluated. Rhea Chakraborty, a recent employee, has been given a crucial assignment. In this movie, Raghav Juyal makes his acting debut while Ali Fazal is coupled with Rhea. The movie premiered on October 17, 2014.

Sonali Cable is the tale of a girl named Sonali and her internet lads, including her brother Sadda, who work in their own internet cable wire company. It is set in the cable internet turf war of Mumbai. When a new police station opens up in their area one day, Sonali goes there to establish a connection. Raghu, a former classmate who has now graduated from a university in the United States, recognises her name and even her student ID number 43 from when they were both attending school. The two fall in love. When Shining, a significant industrial corporation, begins offering broadband services, Sonali encounters difficulties. Sonali and Raghu make love in the course of the Ganapati festival. As some neighbourhood thugs attempt to vandalise their store, Sadda, Sonali's brother, is injured. Injury-related death strikes Sadda. Sonali becomes adamant that she would exact justice on the business.

Sonali Cable is in the middle of a cable internet turf war in Mumbai, much like the David versus Goliath myth. Finally, Sonali defeats her adversaries by gathering intelligence about their corruption. Later, Sonali opens a business selling internet cables under her brother Sadda's identity. She welcomes Raghu into her life and the shop.
Dobaara: See Your Evil (2017)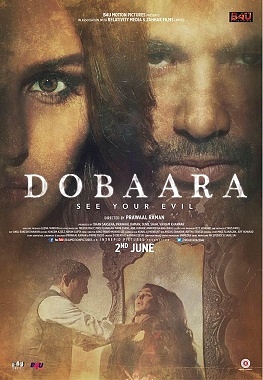 Prawaal Raman is the writer and director of the 2017 Indian supernatural horror movie Dobaara: See Your Evil. Mike Flanagan, who directed and co-wrote the 2013 American horror film Oculus, served as executive producer and got narrative credit for the official adaptation.

The movie is a production of B4U Motion Pictures, Relativity Media, and Zahhak Films Limited. Produced by Ishan Saksena, Prawaal Raman, Sunil Shah, and Vikram Khakhar, Dobaara: See Your Evil stars Saqib Saleem and Huma Qureshi with significant assistance from Adil Hussain, Lisa Ray, Abhishek Singh, and Rhea Chakraborty. The world-wide release date was June 2, 2017.

It is a tale about a supposedly haunted mirror and the divergent perspectives of a brother and sister suffering with the murder of their parents when they were just eleven years old. They go to a jungle one day and forget the address of their house. They go to an old house at night. Khanna was a man who resided there.

It is refined, subdued, frightful, and precise—a very uncommon mix in Bollywood. A brother-sister duo, their parents, a sexy model, and an old mirror are all present. The brutal killings of its owners were caused by this mirror. It is also sentient and capable of defending itself. Adil and Lisa play the parents, while Huma and Saqib, real-life siblings, act as the brother and sister. Everyone is given strong performances by director Raman. The suspense is increased by the narration's constant back and forth between past and present.
Half-Girlfriend (2017)
Based on Chetan Bhagat's novel of the same name, Half Girlfriend is a romantic drama film in the Hindi language. Arjun Kapoor and Shraddha Kapoor play the main roles in the Mohit Suri-directed movie. Vikrant Massey and Rhea Chakraborty have significant roles in the movie as well. The movie opened in theatres everywhere on May 19, 2017.

There once was a Bihari kid by the name of Madhav. He developed feelings for a Delhi-born woman named Riya. Madhav struggled with his English. Riya could speak well. Madhav desired a connection but Riya failed to. Riya only desired companionship which Madhav failed to. Riya made a compromise suggestion. She consented to serve as his half-girlfriend.
Bank Chor (2017)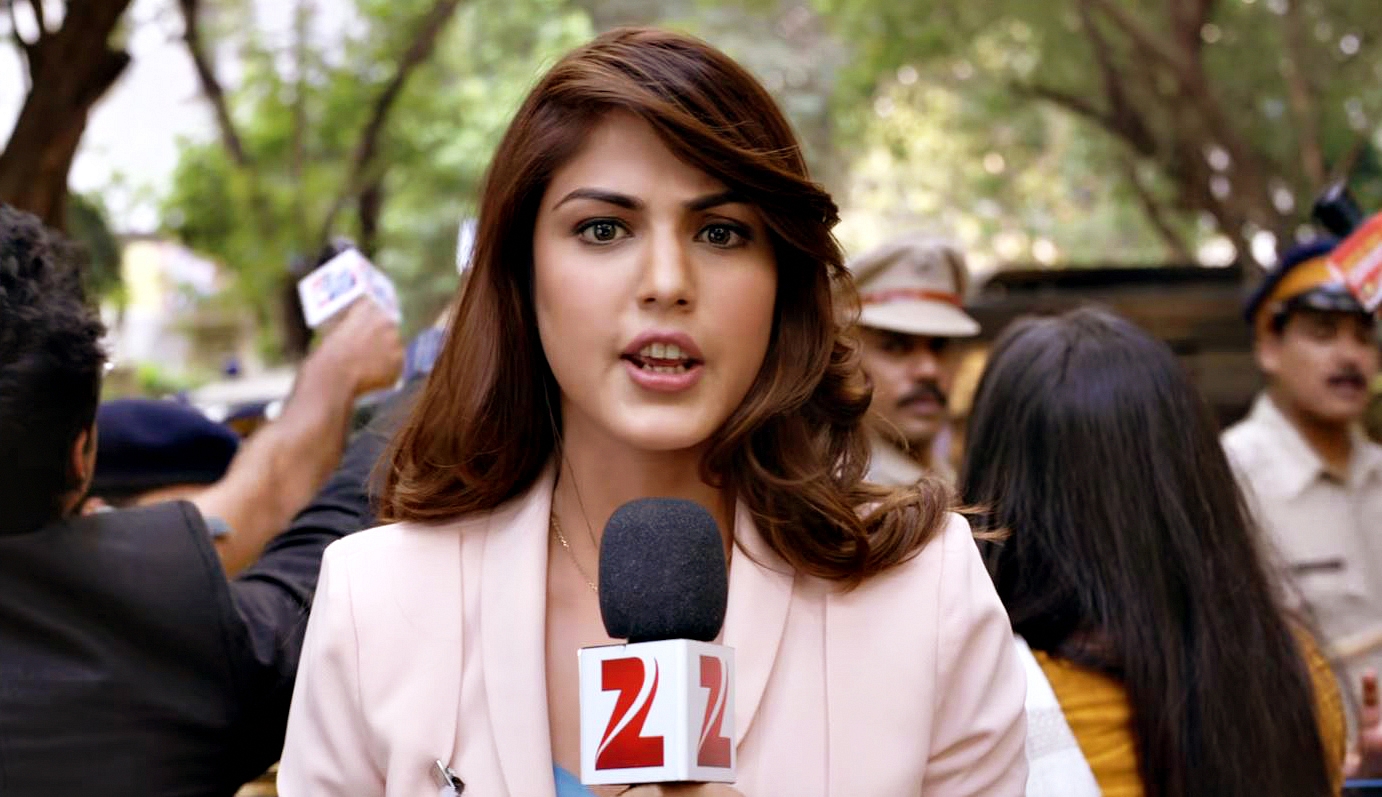 The 2017 Indian black comedy film Bank Chor, which was written by Baljeet Singh Marwah and produced by Ashish Patil, was directed by Bumpy. Y-Films produced the movie, and Yash Raj Films handled distribution. Riteish Deshmukh and Rhea Chakraborty are the movie's stars, and Vivek Oberoi has a significant part. After 15 years, Oberoi rejoined Yash Raj Films; Saathiya was his last project with the studio. The movie premiered on June 16, 2017.

Riteish Deshmukh portrays Champak Chandrakant Chiplunkar, a straightforward Marathi manoos who chooses the worst day possible to rob a bank. He hires two fools from Delhi who have never even picked a pocket to make matters worse. Add the strangest hostage group on top of that, including Baba Sehgal, a hyperactive chef, a maybe undercover cop, and a high-strung housewife. How could it possibly get any worse? Wrong. Vivek Anand Oberoi's portrayal of the tough as nails CBI inspector Amjad Khan, who shoots first and interrogates later, enters the scene. And a crazy media circus outside, led by Rhea Chakraborty's portrayal of Gayatri Ganguly, or Gaga, a former fashion journalist turned crime reporter. And you are aware that the Bankchor family is preparing for the worst day of their lives. Yet. The movie promises to be an exhilarating roller coaster trip filled with chills, thrills, and undoubtedly many spills.
Jalebi (2018)
Pushpdeep Bhardwaj is the director of the 2018 Hindi-language musical love drama film Jalebi. It's an official version of the 2016 Bengali movie Praktan, starring Rhea Chakraborty, Varun Mitra, who is making his acting debut, and Digangana Suryavanshi.

The message that novice director Pushpdeep Bhardwaj wants to convey to the audience through this love story is that unrequited love is the strongest type of love. The story of Aisha and Dev is told in Jalebi, an adaptation of a popular Bengali movie. Aisha, a carefree student, weds Dev, the neighbour guy who resembles a local guide. It turns out that Aisha is not truly suited for marriage or residing in Dev's haveli with his family in Old Delhi.

The story of the movie is portrayed in flashbacks that take place aboard a train from Mumbai to Delhi when the two main characters meet and discuss their lives. The issue is that Dev is riding the train with his daughter and current spouse Digangna Suryavanshi. We see additional characters since a train has other passengers, but none of them add anything to the plot of the movie or the stories of the main characters.
Chehre (2021)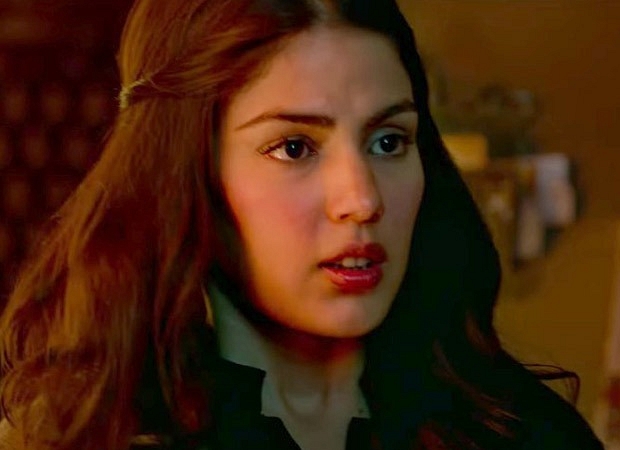 Rumy Jafery is the director of the 2021 Hindi mystery-thriller movie Chehre, which was co-produced by Anand Pandit and Saraswati Entertainment Private Limited. It is an uncredited adaptation of the 1956 German novel A Dangerous Game by Friedrich Dürrenmatt, which had previously been adapted in Marathi as Shantata! Court Chaalu Aahe (1971), Kannada as Male Nilluvavarege (2015), and Bengali as Anusandh. The movie stars Amitabh Bachchan and Emraan Hashmi in the lead roles, and also stars Krystle D'Souza, Rhea Chakraborty.

The movie's release date was set for April 11th, and production got underway on May 10th. The COVID-19 pandemic caused the worldwide distribution to be postponed from its original date of 17 July 2020. The movie was eventually shown in theatres on August 27, 2021.

Sameer encounters Bhullar during a snowstorm, and Bhullar urges him to wait at the home of his friend Acharya. Over cocktails, Sameer is made to feel at ease. He discovers that they are all retired legal experts who are waiting for their friend Lateef Zaidi, along with another acquaintance named Hariya. When Latif arrives, they explain to him that they have decided to play a game where the visitor is the accused and Acharya is the judge, Bhullar is the defence attorney, and Latif is the public prosecutor. Sameer accepts to participate in the game but admits he will get away with it because he has never broken any laws. As the plot develops, Lateef disproves the accusations made against Sameer, but Bhullar maintains his innocence. Given that his examination of the accused has never ended poorly, Lateef does not let it go easily.
Rhea Chakraborty's Upcoming Movies
After a two-year hiatus, Rhea Chakraborty has returned to the business. The following movie starring Rhea Chakraborty is called Gaslight. Rhea Chakraborty, Vikrant Massey, and Chitrangda Singh are also featured.
Rhea Chakraborty's Career Timeine
Rhea Chakraborty's Net Worth
Rhea Chakraborty's net worth is $1.5 million US or 11 crore rupees, as of 2022. One of the paid actresses in India is Rhea Chakraborty. Her primary sources of income are films, brand sponsorships, stage performances, and her own makeup line, Kay. Trade analysts estimate that Rhea's fee for each movie is around Rs. 30 Lakhs. Numerous brands are supported by her. According to the trade expert, she lately earned between Rs 25 and Rs 35 lakhs annually and had a net worth of Rs 11 crores. Rhea Chakraborty doesn't need a dependency to rely on, yet she still has several upcoming movies, personal assets, and savings. Her assistance and support to many foundations that work around the clock to change the world and how people live their lives are effective.
Rhea Chakraborty's Controversies
Sushant Singh Rajput Demise Controversy
On July 25, Rajput's family filed a first information report (FIR) with the Patna Police Department, where his father resides, accusing Chakraborty and a number of other people of aiding in suicide, wrongful restraint, wrongful confinement, theft, criminal breach of trust, and cheating under various IPC sections.

In the FIR, Rajput's father claimed that Rajput had confided in his sister about Chakraborty's threats to expose his medical receipts and show him to be insane, that Rajput feared Chakraborty would blame him for his secretary's suicide, and that Chakraborty had taken away all of his doctor's receipts prior to his suicide. In relation to suspicions of money laundering, the Enforcement Directorate (ED) questioned Chakraborty and her brother on August 7.

The CBI was given permission by the Indian Supreme Court to take charge of the inquiry on August 19. On September 8th, Chakraborty was detained by India's national drug enforcement agency, the Narcotics Control Bureau (NCB), on suspicion that she and her brother were responsible for the supply of marijuana to Rajput.

Chakraborty's judicial remand was prolonged by the Mumbai Sessions Court on October 6 till October 20; however, the Bombay High Court granted her release the following day. The NCB's allegation that Chakraborty had supported and funded Rajput's drug addiction was also rejected by the high court, which determined that she was not a member of the network of drug sellers at issue.
Mahesh Bhatt Controversy
In addition to her on-screen career, Rhea Chakraborty has also been in the spotlight thanks to her relationship with Mahesh Bhatt. Questions about Riya and Mahesh Bhatt's connection have been raised as a result of the social media sharing of all these images of them together. Riya claimed that Mahesh Bhatt is like a father to her in this particular situation.

Rhea Chakraborty Achievements and Awards
2013: BIG Star Entertainments Award- Most Entertaining Debut Actress for Mere Dad Ki Maruti (Nominee)
2014: Zee Cine Award- Best Debut-Female for Mere Dad Ki Maruti (Nominee)
2014: Apsara Film Producers Guild Award- Best Female Debut for Mere Dad Ki Maruti (Nominee)
Did You Know?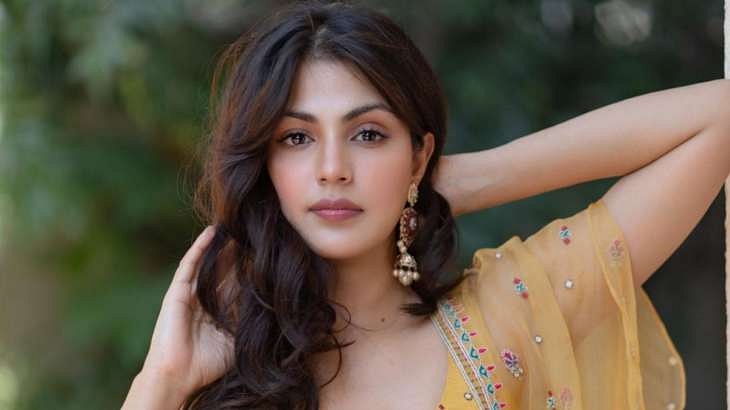 Rhea Chakraborty was born to an Army family in Bangalore.
Rhea Chakraborty was the youngest MTV VJ to hold the position.
Yash Raj Films turned down Rhea Chakraborty's audition for the part of Anushka Sharma in Band Baaja Baarat.
The female lead in Ayushmann Khurrana's song O Heeriye was Rhea Chakraborty.
Rhea and Aditya Roy Kapur were both VJs at different points in their careers. The two apparently met and fell in love while filming Action Replayy. They separated later.
Social Media
Frequently Asked Questions