Ravi Teja | Biography, Movies, Age, Net Worth, Family, Career

Zeenat Sayyed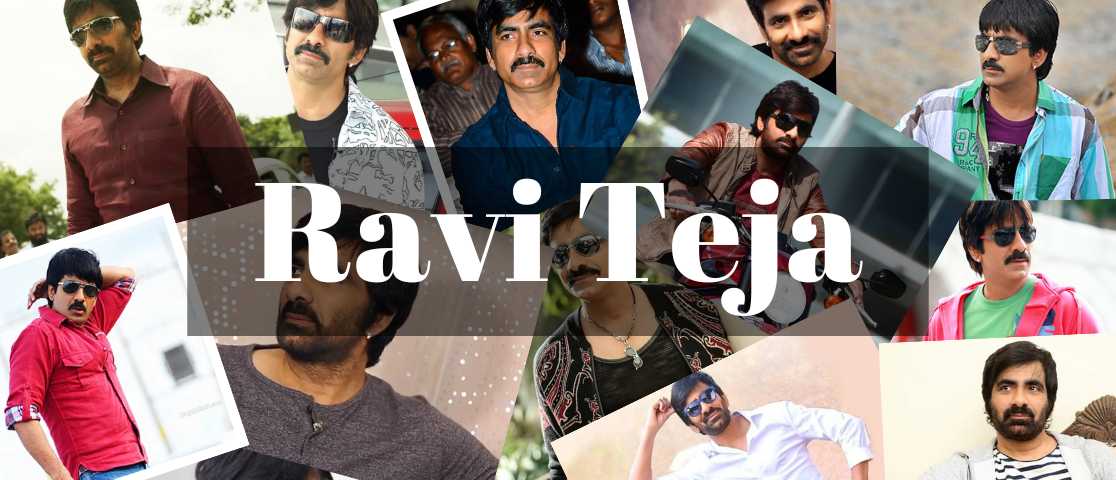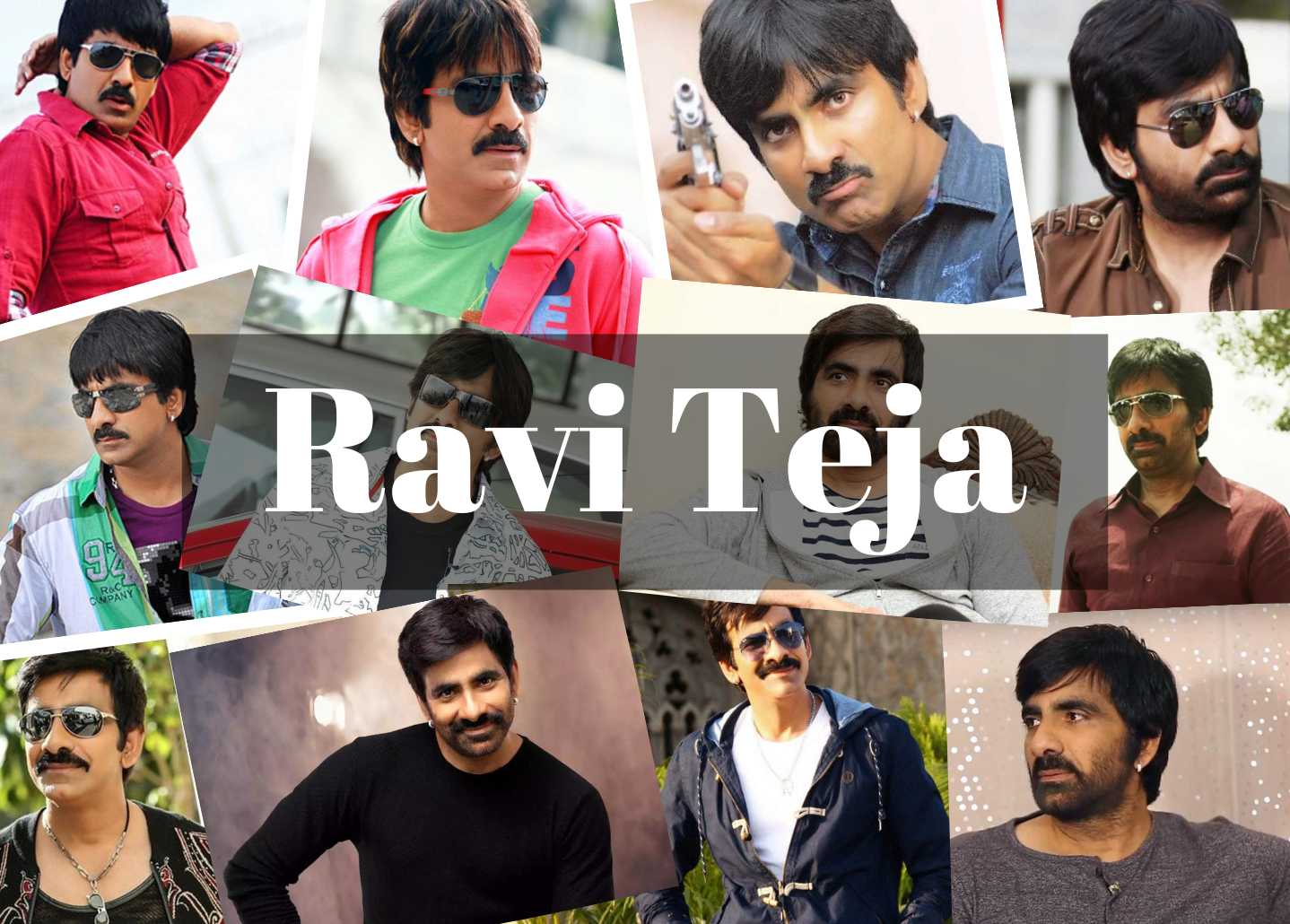 Ravi Teja's Age and Ravi Teja's Biography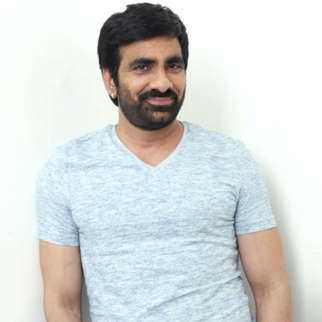 Indian actor Ravi Teja, born as Bhupatiraju Ravi Shankar Raju, primarily performs in Telugu films. His work in action comedies is well renowned. He is one of the Telugu cinema industry's highest-paid actors. He has one Filmfare Award South and three state Nandi Awards. He goes by the name Mass Maharaja in popular culture. Ravi Teja's Birthday is on the 26th of January. Ravi Teja's Zodiac Sign is Aquarius. Ravi Teja's Birthplace is Jaggampeta. Ravi Teja's Birthyear is 1968. As of 2022, Ravi Teja's age is 54 years old.

Beginning his acting career in 1990's Karthavyam, Ravi Teja played uncredited or small parts in several movies, including Allari Priyudu (1993) and Ninne Pelladata (1996). Later, he made appearances in more substantial supporting roles in films like Annayya (2000), Premaku Velayara (1999), Manasichi Chudu (1999), Sindhooram (1997), and Samudram (1999), among others. He was also employed as an Assistant Director.

His first leading part came in the average box office performer Nee Kosam from 1999. But he won the Nandi Special Jury Award for his work in the movie. Through the roles in the movies Itlu Sravani Subramanyam and Aunu Valliddaru Ishta Paddaru, he later established himself as a leading man! , and the commercially successful film Idiot. In 2012, 2013, and 2015, Forbes India's list of the top 100 celebrities included Ravi Teja.
Claim Your FREE Celebrity Shoutout
✕
Claim Now!
Ravi Teja's Childhood Ravi Teja's Education
In Andhra Pradesh's East Godavari district, Jaggampeta is where Ravi Teja was born. Ravi Teja's mother, Bhoopatiraju Rajya Lakshmi, was a housewife, while Ravi Teja's father, Bhoopatiraju Rajagopal Raju, was a pharmacist. Of his three kids, two are actors as well—Bharath and Raghu—Ravi Teja is the oldest.

Because of his father's employment, he spent most of his youth in Northern India. He attended school in Bhopal, Delhi, Mumbai, and Jaipur. From an early age, he was captivated by cinema. He would recreate Amitabh Bachchan's movie scenes at home because he was his idol. Later, he and his family made the journey to Vijayawada. He graduated from Siddhartha Degree College in Vijayawada with a Bachelor of Arts degree. He speaks Telugu and English well.
Talk To Similar Celebrities
Ravi Teja's Family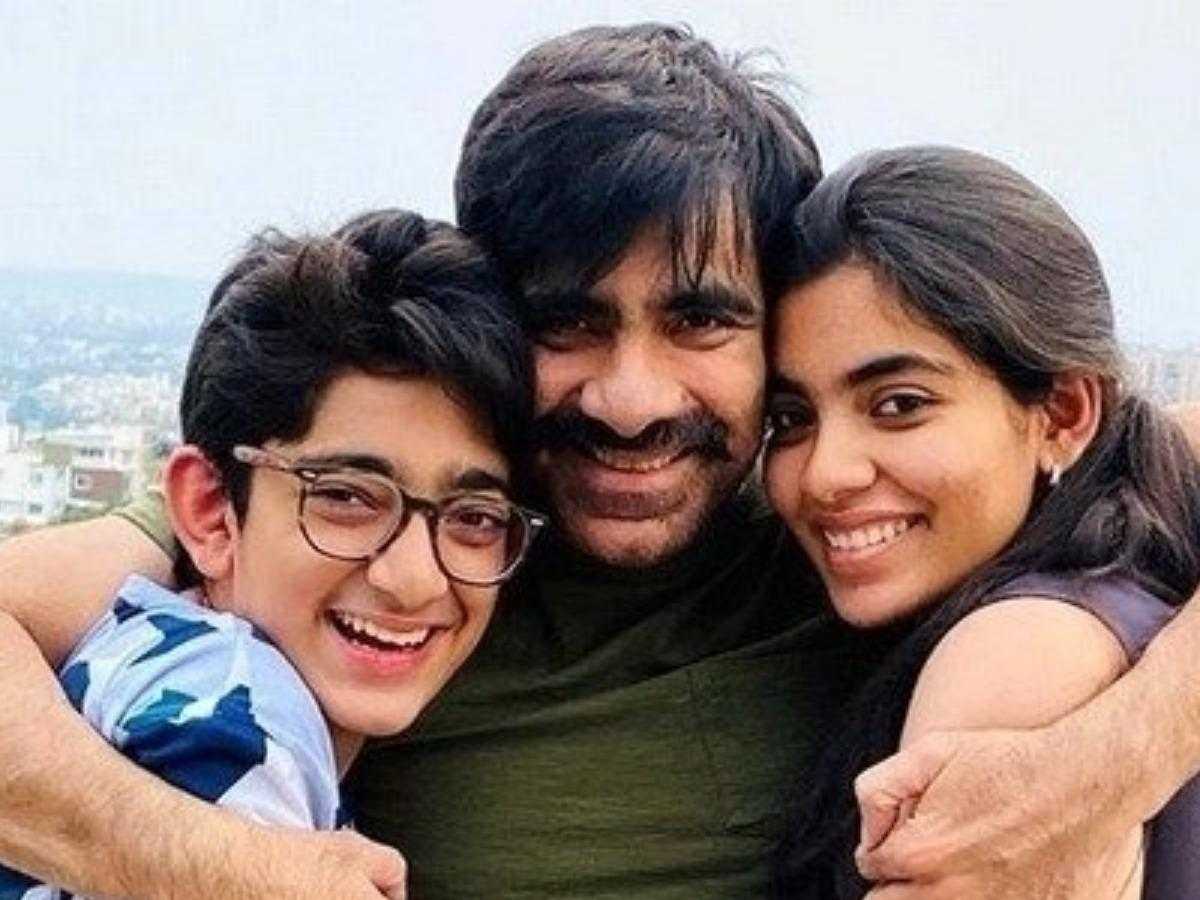 Ravi Teja's Wife Name is Kalyani. Ravi Teja's mother thought Kalyani, an ancestor of his maternal uncle, would make the perfect wife for her son. Therefore, it was a planned union. The birthplace of Kalyani Teja is Vijayawada, Andhra Pradesh, India. She is presently a resident of Telangana, Hyderabad, India.

They were wed on May 26, 2002, in East Godavari, Andhra Pradesh, and have been enjoying their marriage ever since. Kalyani and her children have avoided the media's gaze for all of these years, and there aren't many of her pictures online. A boy and a girl (Mokshadha Bhupatiraju) were born to the couple (Mahadhan Bhupatiraju). Kalyani has devoted her life to becoming a stay-at-home mother.
Ravi Teja's Struggles
In order to pursue a career in movies, he moved to Madras in 1988 while still in the middle of his education. He shared a room with YVS Chowdary and Gunasekhar during his first few years in Madras. He appeared in supporting roles in the 1990 movies Karthavyam, Abhimanyu, Chaitanya, Collector Gaari Alludu, and Aaj Ka Goonda Raj (1992). As a director's assistant, Ravi Teja worked in both film and television.

He worked as an assistant director on a number of Telugu and Bollywood films, such as Prathihnbandh, Aaj Ka Goonda Raj, and Criminal. He worked as Krishna Vamsi's associate director for the popular 1996 movie Ninne Pelladata. Ravi Teja was also given the chance by Vamsi to play a little role in the movie. He kept doing it.
Ravi Teja's Movies and Career
Sindhooram (1997)
Krishna Vamsi is the author and director of the 1997 Indian crime movie Sindhooram, which is in the Telugu language. Brahmaji and Sanghavi are the movie's main actors, and Ravi Teja and SoundRavi Teja play supporting roles. The complexity of Naxalism in Andhra Pradesh was the subject of the movie. Upon release, the movie and soundtrack garnered favorable reviews and developed a cult following.

The movie was shown at the International Film Festival of India and won the National Film Award for Best Feature Film in Telugu. Also, the movie took home five Nandi Awards.
Itlu Sravani Subramanyam (2001)
Puri Jagannadh wrote and directed the love drama movie Itlu Sravani Subramanyam in the year 2001. Tanu Roy, Sheen, and Ravi Teja appear in this movie (the latter two make their debut). The story centers on two strangers who want to reconcile after a failed suicide attempt. Chakri created the music, K. Dutt shot the movie, and Marthand K. Venkatesh edited it.

The movie opened on September 14, 2001, and did well at the box office. For the movie, Jagannadh received the Nandi Award for Best Story Writer. Thavam is the Tamil name for it. Two unhappy strangers who are on the verge of killing themselves have a fortuitous encounter that turns their life around. What comes next is a journey filled with ups and downs that finally helps them fall in love with each other.
Khadgam (2002)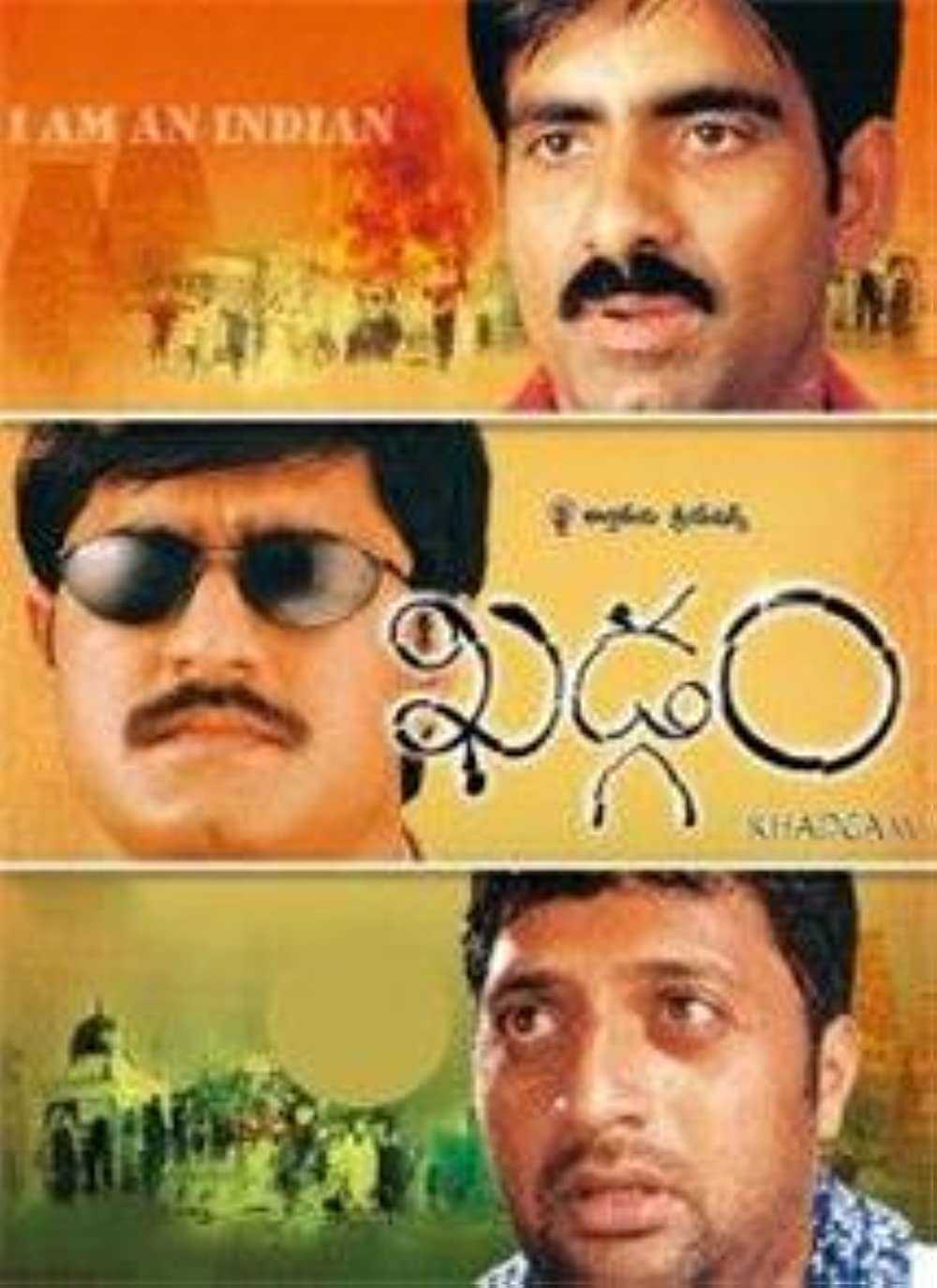 The action drama movie Khadgam was released in 2002 in India's Telugu language. It was directed by Krishna Vamsi and was made by Sunkara Madhu Murali for Karthikeya Movies. With music composed by Devi Sri Prasad, it stars Srikanth, Ravi Teja, Prakash Raj, Sonali Bendre, Sangeetha Krish, and Kim Sharma in important parts.

The movie, which debuted on November 29, 2002, was popular. Three Filmfare Awards and five Nandi Awards were given to the movie. Insan is the Hindi remake of the movie (2005). Hindu aspiring actor Koteswara Rao (Ravi Teja) fantasizes about assuming the role of the hero. His closest friend is a devoted Muslim and proud, patriotic Indian named Amjad Khan (Prakash Raj). A strict and honorable police officer, Radha Krishna (Srikanth) harbors strong misgivings about Islam. The three guys must work together to stop Amjad's brother from smuggling an imprisoned terrorist across the border once it is discovered that he is an agent for the Pakistani government.
Kick (2009)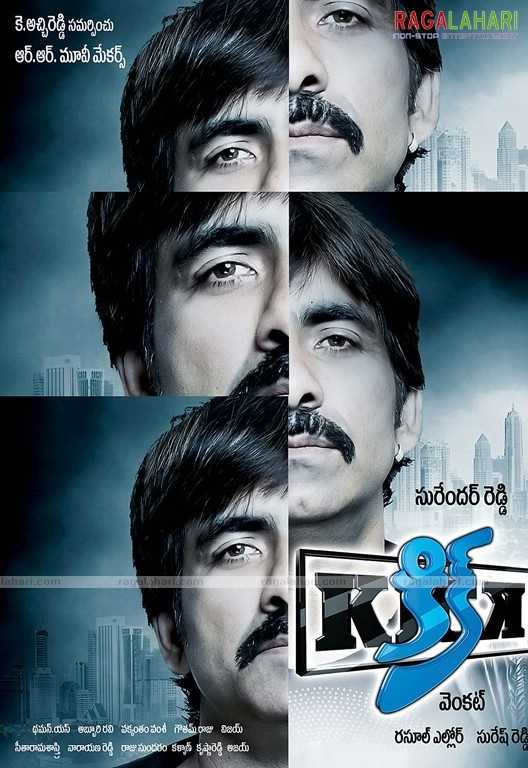 An action comedy movie in the Telugu language called Kick was made in 2009 and was directed by Surender Reddy from a script by Vakkantham Vamsi. The movie has Brahmanandam in a supporting role along with Ravi Teja, Ileana, and Shaam (making his Telugu film debut). S. Thaman composed the soundtrack for the movie. The movie, which was globally released on May 8, 2009, is a financial triumph.

The movie has been adapted in Hindi with the same name, in Tamil as Thillalangadi (2010), and in Kannada as Super Ranga (2014). In 2015, Teja and Reddy co-starred in the sequel Kick 2, which was also directed by Reddy. Young men risk their lives for thrills, thus they don't stick around in one profession for very long. Because of this, his relationship with his girlfriend ends, and he turns to robbery—but for a good reason.
Power (2014)
Action comedy Power is a 2014 Indian Telugu movie that was produced by Rockline Venkatesh and directed by K. S. Ravindra, both of whom made their Telugu film debuts. Regina Cassandra, Hansika Motwani, and Ravi Teja all appear in the movie. The soundtrack was composed by S. Thaman.

The story centres around two characters with identical appearances: Tirupathi, a Hyderabadi aspirant to the police force, and Baldev Sahay, a dishonest ACP in Kolkata. Tirupathi is hired by the Bengali home minister to pose as Baldev in order to apprehend a thug who was saved by Baldev. The remainder of the narrative focuses on Baldev's corruption and Tirupathi's completion of Baldev's unfinished goal.

Production commenced on December 11th, 2013. The talkie portion of the movie was filmed in Hyderabad, Bangalore, Kolkata, Chennai, and Bangkok, while two of the songs were filmed in Bulgaria for the first time ever in a Telugu movie. On August 14, 2014, principal photography came to a finish. The movie premiered on September 12, 2014. In 2016, the same title was given to a Bengali remake of this movie.
Raja: The Great (2017)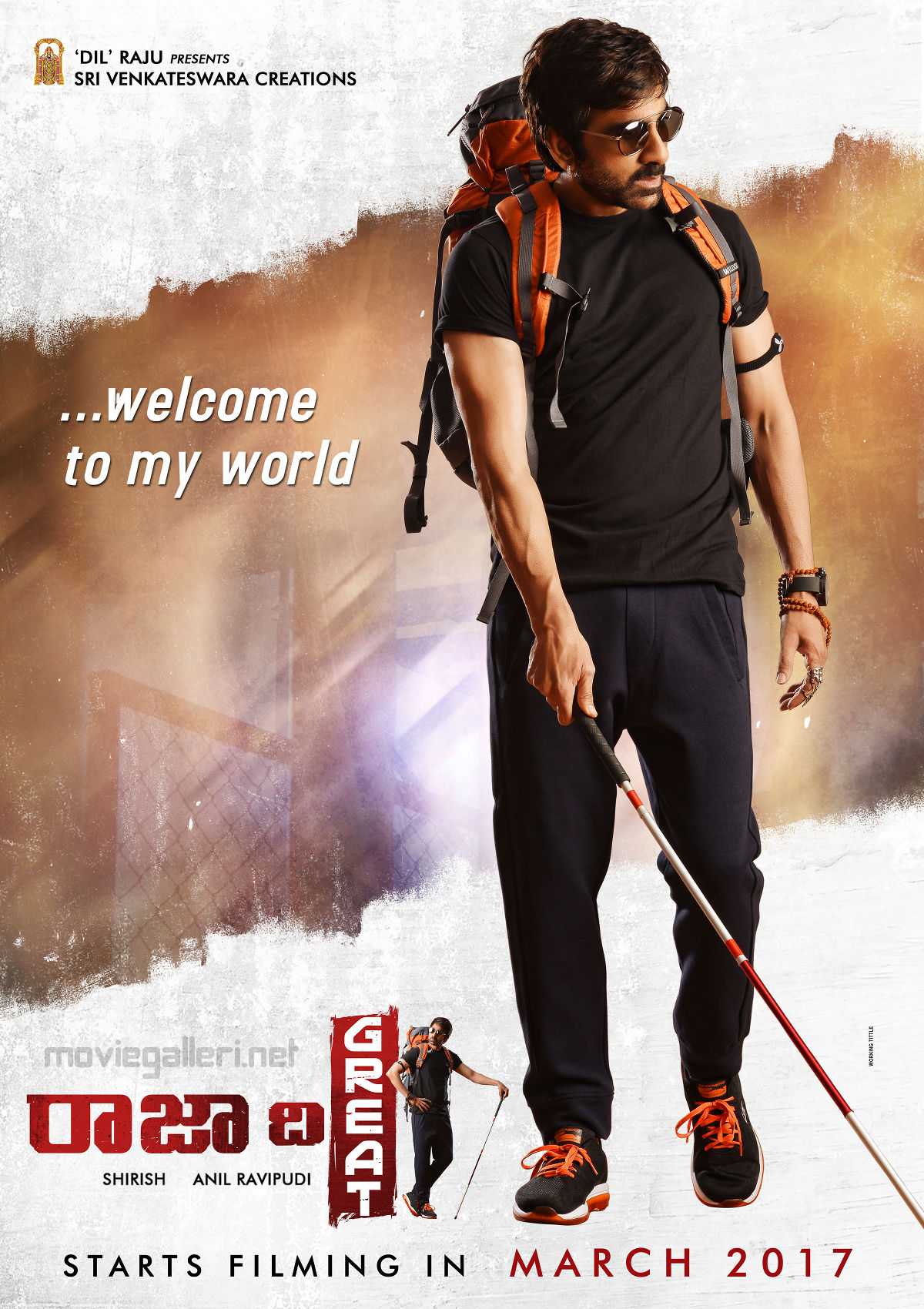 Anil Ravipudi wrote and directed the 2017 action comedy Raja The Great, which was also produced by Dil Raju under the Sri Venkateswara Creations brand. Alongside Raadhika, Mehreen Pirzada, and Ravi Teja, who plays a man who is blind, the movie is starring Ravi Teja. With music by Sai Karthik, supporting actors Vivan Bhatena (making his Telugu debut), Rajendra Prasad, Prakash Raj, and Sampath Raj appear. Mahadhan, Teja's son, makes his acting debut in this movie.

Filming for the movie took place in Darjeeling and Hyderabad starting in April 2017. The movie, which had its global premiere on October 18, 2017, garnered mixed reviews from critics and viewers. The cast performances, the action sequences, and the entertainment value were praised, while the screenplay and uneven tone were criticised. It was a financial success, earning more than 50 crore, and it became Teja's highest-earning movie.
Krack (2021)
Krack is a 2021 Indian Telugu action thriller film that was written by Sai Madhav Burra and directed by Gopichand Malineni. Varalaxmi Sarathkumar, Samuthirakani, Shruti Haasan, and Ravi Teja appear in it. The movie, which is based on numerous actual events that happened in the states of Andhra Pradesh and Telangana and was produced by B. Madhu under the Saraswathi Films Division banner, shows a circle inspector at odds with a criminal. The movie's narrative bears resemblance to Sethupathi, a Tamil film. However, the creators did not formally confirm.

The movie's soundtrack was composed by Thaman S, while G. K. Vishnu handled the film's cinematography and Naveen Nooli handled the editing.Krack was released in theatres on January 9, 2021, to overwhelmingly positive reviews from critics who praised the writing and acting. The movie did well financially, earning between 60 and 70 crore at the box office.
Ravi Teja's Upcoming Movies
Waltair Veerayya
An forthcoming action movie in the Telugu language, Waltair Veerayya, will be directed by K. S. Ravindra and made by Mythri Movie Makers. In addition to Rajendra Prasad and Vennela Kishore, it has Chiranjeevi, Ravi Teja, Shruti Haasan, and Bobby Simha in the lead parts.

The film's tentative title was Mega154 when it was first announced in August 2021. In Hyderabad, the main photography started in December 2021. Additionally, there was filming in Visakhapatnam. Devi Sri Prasad wrote the soundtrack for the movie, and Arthur A. Wilson handled the photography. The release of Waltair Veerayya is planned for January 2023, the same month as the Sankranti festival.
Dhamaka
Dhamaka is an upcoming action movie in the Telugu language, produced by Abhishek Agarwal and T G Vishwa Prasad under the People Media Factory and Abhishek Agarwal Arts labels. It was written and directed by Trinadha Rao Nakkina. Karthik Ghattamaneni handled the photography. Sree Leela and Ravi Teja play the key roles. Spain and some locations in Hyderabad were used for the filming.
Ravi Teja's Career Timeline
Ravi Teja's Controversies
ED Drugs Case
After the scheme was exposed in 2017, Telangana's Prohibition and Excise department sleuths also questioned Ravi Teja. It came after six people were detained, including three Americans, one South African, and one Dutch citizen. The US citizen was a former NASA employee and aeronautical engineer.

The drug ring supplied expensive substances including LSD and MDMA. Calvin Mascarenhas, a singer and the accused leader of the three-person drug-supplying group detained by Excise investigators in 2017, has also been questioned by the central agency.
Ravi Teja's Net Worth
Ravi Teja has a $16 million net worth (Rs. 127 Crore). Ravi Teja is one of the few actors in the nation with such a big fan base. The megastar of South Indian cinema, Ravi Shankar Raju Bhupatiraju, makes the most of his fame by giving audiences exactly what they want to see from him. A producer-actor in the Telugu film industry is Ravi. Ravi is one of the highest-paid performers in the world, with each of his movies setting a new record for earnings.

According to estimates, Ravi Teja has a total net worth of 16 million dollars, or roughly 127 billion rupees in Indian currency (i.e. approx One Hundred Twenty Seven Crores INR). His primary sources of income are movies and brand endorsements. He strives to spend time with his son and be a part of his childhood since he likes spending time with his family, especially with his son. Being the most well-known actor worldwide, Ravi Teja's net worth is expected to rise by 40% over the next three years if his movies are successful. Mr. Ravi has won numerous film-Fare awards for best actor for his roles in his flicks.

Ravi resides in an opulent home in Jaggampeta. This property is thought to be worth 16 crore Indian rupees. He also has a number of real estate holdings across the nation. Ravi is the owner of a few high-end vehicles, including a Range Rover Evoque, a Mercedes Benz S Class, and a BMW M6. Ravi Teja charges between 5 and 6 crores for each film, plus a cut of the take. He demands 2 crore rupees to endorse a product.

Any celebrity's income depends significantly on their fan base. One of the most well-known actors in India and other nations is Ravi Teja. In addition to acting, Ravi is a film producer, stage performer, and host of a reality TV programme. He has also made investments in a number of real estate ventures. We can therefore be absolutely certain that Ravi Sir's net worth will continue to increase over time.
Ravi Teja's Awards and Achievements
1999-Won Nandi Special Jury Award-Nee Kosam
2002- Won Nandi Special Jury Award-Khadgam
2008-Won Filmfare Award for Best Actor – Telugu-Krishna
2010- Won Nandi Award for Best Actor-Neninthe
Ravi Teja's Interesting Facts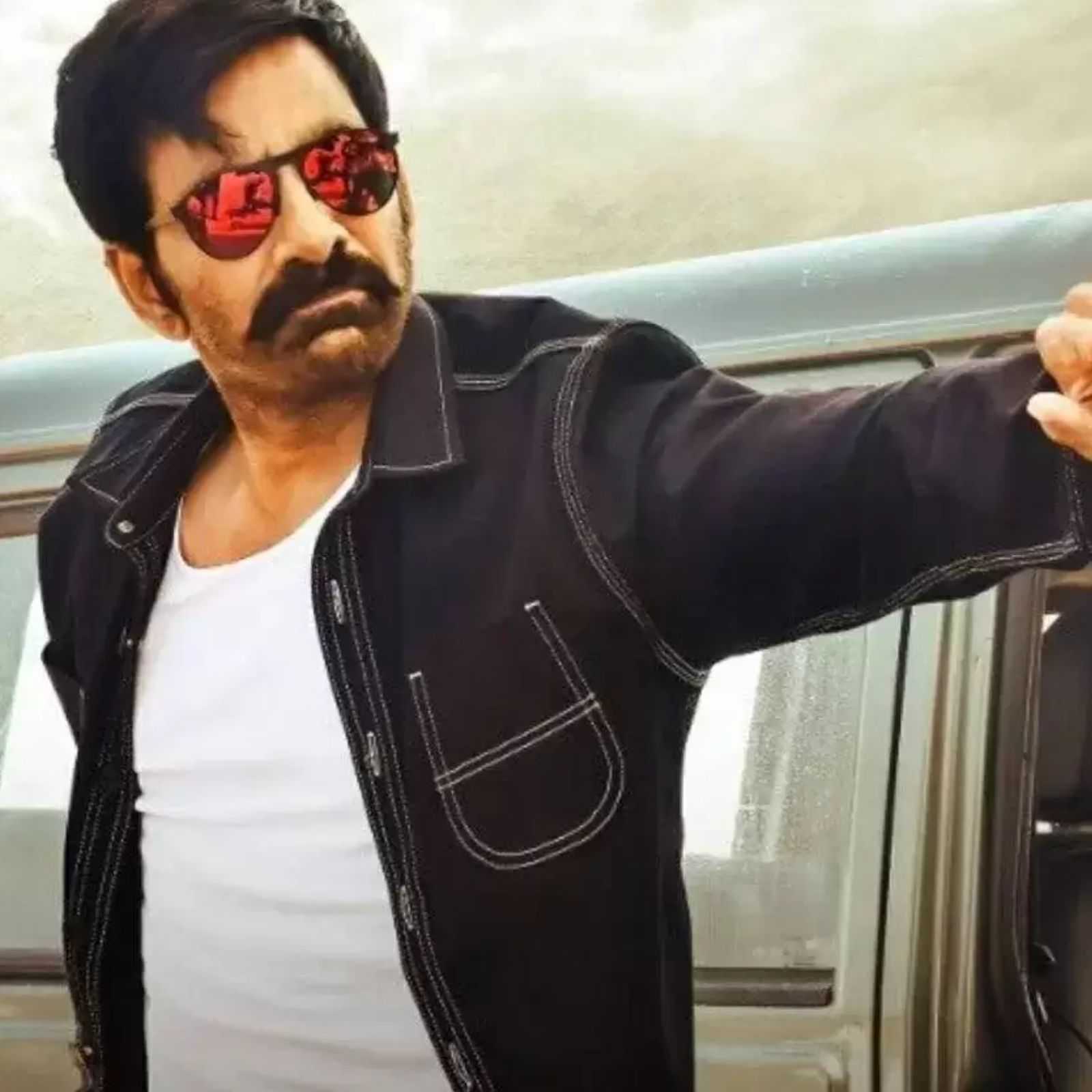 In 2002, the Puri Jagannadh-directed film Idiot gave Ravi Teja his major break. Following its enormous success, the two collaborated five more times to produce blockbuster films like Amma Nanna O Tamilammai and Nenaithe, among others.
The Tollywood actor, Ravi Teja, is also known by the moniker Mass Maharaja, and he enjoys a sizable and devoted fan base in both Tollywood and India, as well as vice versa.
Additionally, although he wasn't given credit for it, Ravi Teja served as an assistant director on some successful films. He made his acting debut in the film Abhimanyu, and he has since won three Nandi Awards.
As an actor, Ravi Teja gets along well with Telugu cinema directors like Krishna Vamsi and Puri Jagannadh, and he has collaborated with them on a number of films.
Dance is Ravi Teja's passion, which is well known in the business. Bollywood superstars Amitabh Bachchan and Govinda served as inspiration for him. He recently expressed his desire to one day direct a movie.
Europe is his preferred travel location, and he adores spending time there with his family.
Social Media
Frequently Asked Questions