Mary Kom | Boxing, Age, Biography, Height, Net Worth, Husband

Violeena Vargav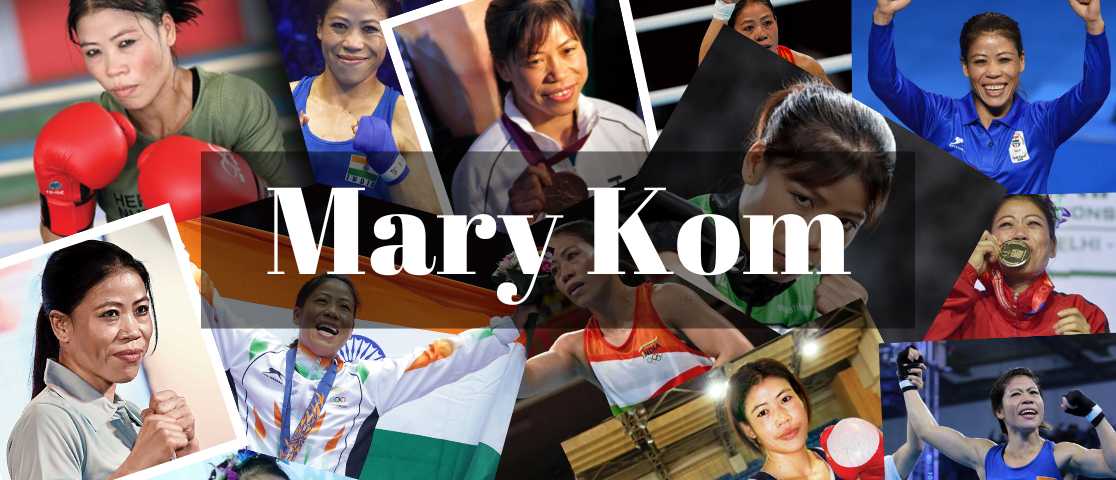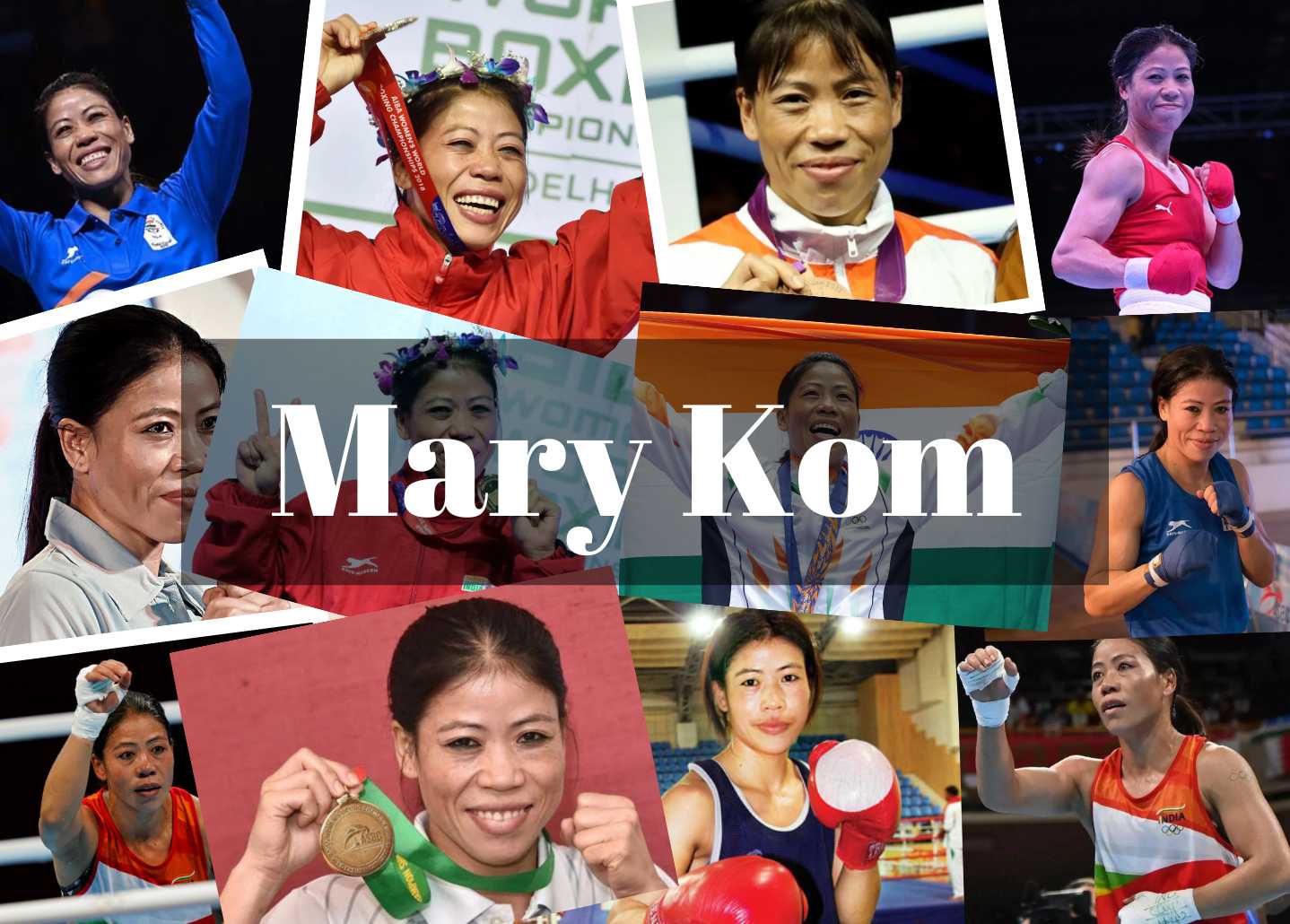 Mary Kom's Biography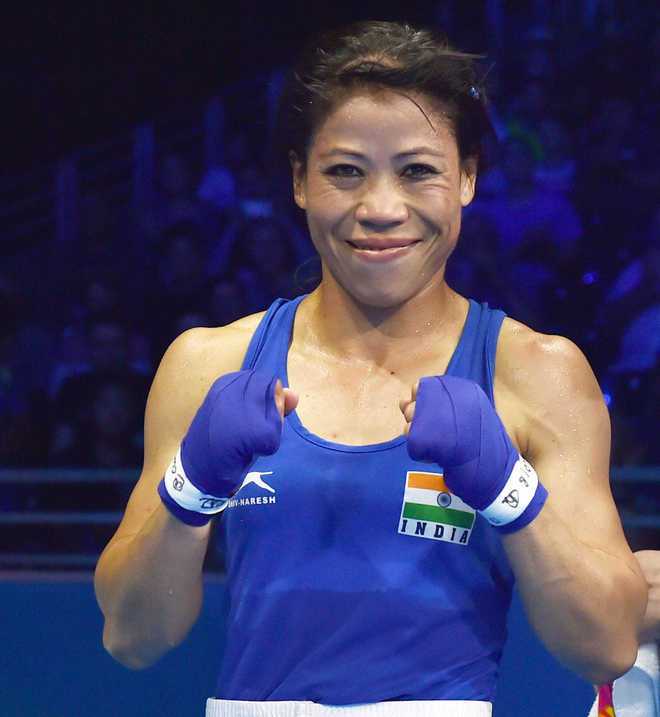 Mary Kom is a famous amateur Indian boxer, politician and a Member of Parliament. Mary Kom's full name is Mangte Chungneijang Mary Kom. Mary Kom's birthday is on 24 November 1982. Mary Kom's age is 40 years as of 2022. Mary Kom's birthplace is Kangathei, Manipur, India. Mary Kom's zodiac sign is Sagittarius. Mary Kom's height is 1.58 m or 5'2 in inches. Mary Kom's religion is Chistianity. Mary Kom's weight is 51 kgs.

Mary Kom made an appearance on the final episode of SFL Challengers, a mixed martial arts reality show produced by the Super Fight League. At this time, Kom was in discussions about working with the SFL in a capacity other than as a boxer with proprietors Raj Kundra and Sanjay Dutt. Kom acted as the SFL's brand ambassador, the Super Fight League announced on September 24, 2012.

Mary Kom is the only female boxer who has won the World Amateur Boxing Championship six times, eight medals from World Championships, and a medal in each of the first seven World Championships. She is the only female boxer from India who made it to the 2012 Summer Olympics, participating in the flyweight (51 kg) division and taking home a bronze medal. She is known as Magnificent Mary.

She was also recognized as the top female light flyweight in the world by the amateur International Boxing Association (AIBA). She won a gold medal at the Asian Games in 2014 in Incheon, South Korea, making history as the first Indian female boxer to do so. She also won a gold medal at the 2018 Commonwealth Games. In addition, she is the only fighter to have won the title of Asian Amateur Boxing Champion a record six times. The President's Cup in Indonesia saw Mary Kom win the 51 kg gold medal.

The Indian President proposed Mary Kom for election to the Rajya Sabha, the country's upper chamber of parliament, on April 25, 2016. Mary Kom and Akhil Kumar were chosen as national boxing observers by India's Ministry of Youth Affairs and Sports in March 2017.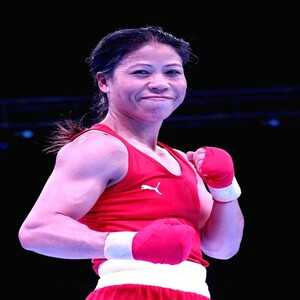 The Government of Manipur awarded her the title Meethoi Leima, which roughly translates to excellent or extraordinary lady after she won her sixth global championship in 2018 during a ceremony of congratulations held in Imphal on December 11, 2018.

In 2019, Mary Kom emerged as the boxer with the most success at the world championships. The road connecting to the National Games village in Imphal West district, where Kom currently resides, will be named MC Mary Kom Road, the then-chief minister of Manipur announced at the event. In 2020, she received the Padma Vibhushan, the second-highest civilian honour in India.
A chapter on Mary Kom can be found in the children's book The Good Night Stories for Rebel Girls, which contains short stories about female role models for young readers.

Additionally, Kom appears in the 2016 film With This Ring, which chronicles the journey of India's women's boxing squad over six years, from 2006 to 2012. Mary Kom's life was included in the third edition of Global Indians 2022, which was written by Bennett, Coleman and Company Limited. The book's first copy was given to India's vice president, Venkaiah Naidu.
Claim Your FREE Celebrity Shoutout
✕
Claim Now!
Mary Kom's Family and Mary Kom's Education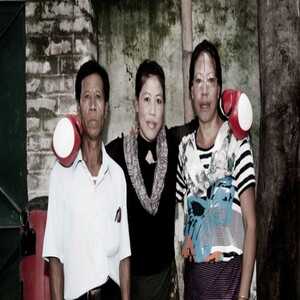 Mary Kom's father's name is Mangte Tonpa Kom and her mother's name is Mangte Akham Kom. Her family, the Koms, were not wealthy. Mangte Tonpa Kom and Mangte Akham Kom, her parents, were jhum field labourers and tenant farmers. Kom grew up in a modest household, assisting her parents with farm chores, attending school, and simultaneously learning boxing and athletics at first. In his youth, Kom's father was an avid wrestler. She is the oldest of three kids; her younger siblings are a sister and a brother. She comes from a family of Christian Baptists.

Mary Kom attended St. Xavier Catholic School in Moirang until class eight after completing her sixth year of study at Loktak Christian Model High School in Moirang. She had a strong interest in athletics around this time, particularly the javelin and the 400-meter run. Dingko Singh, a fellow Manipuri, has just returned from the 1998 Asian Games in Bangkok with a gold medal. Kom recalls that many young people in Manipur were motivated by this to pursue boxing, and she also considered doing so.

Mary Kom transferred to Adimjati High School in Imphal for classes 9 and 10 after finishing class 8, but she was unable to pass the matriculation exam. She left school and took her exams at NIOS, Imphal before graduating from Churachandpur College since she didn't want to retake them.
Talk To Similar Celebrities
Mary Kom's Marriage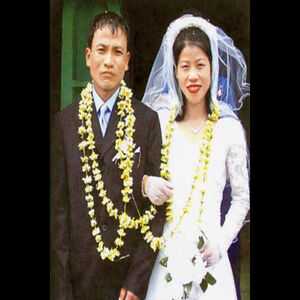 In 2000, Mary Kom and Onler were brought together by fate. She was taking the train with her colleagues from Bangalore to Delhi. All of her paperwork was in her lost luggage. She had misplaced both her passport and all of her money. This was upsetting for her because she was from a low-income household.

At that point, Onler entered her life because she was completely helpless. At the time, Onler served as the president of the Delhi-based Northeast student organization. He approached her and vowed to assist her. They quickly became buddies. He obtained her a new passport as promised. Additionally, he raised money so she could compete in her first World Amateur Boxing Championship in 2002.

Mary Kom's simplicity and her willingness to be a successful sportswoman, according to Onler, are the reasons he married her. After being married, Mary took a break and gave birth to twins. But she was unable to put off boxing for very long. But with two young children at home, she was at a loss as to how to return.
She really needed to go back into boxing, according to Onler. He also gave her the assurance that he would look after the kids while she was gone. Mary was first wary, but she soon realised Onler was sincere. She competed in the competition after competition with an open mind, earning numerous medals.

When authoring her biography or performing volunteer work for animals or young women, Onler is still her pillar of support and is never far away. They spend the limited time they have together as a family in unadulterated love. Mary enjoys singing and cooking for her spouse.

The 2014 film Mary Kom, starring Priyanka Chopra, immortalized the couple's love tale on screen. Together they have three sons, the twins born in 2007, and another son born in 2013. In 2018, Kom and her husband adopted a girl named Merilyn.
Mary Kom's Matches and Career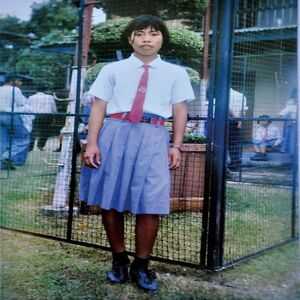 Mary Kom competed in volleyball, football, and other sports at his school. In 2000, she decided to transition from sports to boxing, and Dingko Singh's success served as her inspiration. In Imphal, she began her training under the direction of her first coach, K. Kosana Meitei. She made the decision to move out of her hometown when she was 15 to attend the Imphal Sports Academy. Meitei described her as a committed, industrious girl with a strong will who rapidly took up the fundamentals of boxing. Mary Kom then received training at Khuman Lampak from Manipur state boxing coach M Narjit Singh.

Because her father, an ex-wrestler, was worried that boxing might harm Kom's face and ruin her prospects of getting married, Kom kept her interest in the sport a secret from him. However, he became aware of it when Kom's picture surfaced in a newspaper following her victory at the 2000 State Boxing Championship. After three years, her father started to encourage Kom's boxing endeavors as he became persuaded of her passion for the sport.

Mary Kom stopped boxing for a brief time after getting married. Following the birth of her first kid, Kom resumed her workouts. She won a silver medal in the 2008 Asian Women's Boxing Championship in India, followed by a gold medal at the 2009 Asian Indoor Games in Vietnam. She also won a fourth consecutive gold medal at the 2008 AIBA Women's World Boxing Championships in China.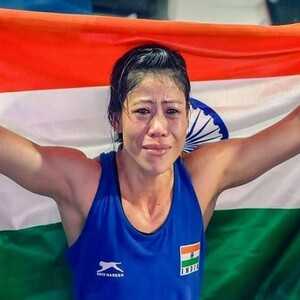 Mary Kom earned her fifth straight gold medal at the event in 2010 after winning the Asian Women's Boxing Championship in Kazakhstan and the 2010 AIBA Women's World Boxing Championships in Barbados. After AIBA discontinued the 46 kg class, she participated in Barbados in the 48 kg weight division. She competed in the 51 kg division at the 2010 Asian Games and took home a bronze medal. At the Asian Women's Cup in China in 2011, she took home the gold in the 48 kg division.

Mary Kom, Sanjay, and Harshit Jain had the honor of carrying the Queen's Baton during the opening ceremony of the 2010 Commonwealth Games in Delhi on October 3, 2010. But because women's boxing was not a part of the Commonwealth Games, she was unable to compete.

After the global body decided to allow women's boxing in only three weight categories, removing the lower weight classes, Mary Kom, who had previously competed in the 46 and 48 kg categories, switched to the 51 kg category.

Mary Kom competed at the 2012 AIBA Women's World Boxing Championship not just for the title but also for a spot in the London Olympics, which marked the first time women's boxing was included as an Olympic sport. She lost to Nicola Adams of the UK in the 51 kg semifinals, although she did manage to win a bronze medal. Laishram Sarita Devi, the only other Indian lady, just missed qualifying for the 60 kg class of the boxing event.
After the global body decided to allow women's boxing in only three weight categories, removing the lower weight classes, Mary Kom, who had previously competed in the 46 and 48 kg categories, switched to the 51 kg category.

Mary Kom competed at the 2012 AIBA Women's World Boxing Championship not just for the title but also for a spot in the London Olympics, which marked the first time women's boxing was included as an Olympic sport. She lost to Nicola Adams of the UK in the 51 kg semifinals, although she did manage to win a bronze medal. Laishram Sarita Devi, the only other Indian lady, just missed qualifying for the 60 kg class of the boxing event.

Mary Kom's mother travelled with her to London. Charles Atkinson, Kom's coach, was unable to accompany her to the Olympic Village because he lacked the International Boxing Association (AIBA) 3 Star Certification, which is required for certification. On the route to the selection camp in Bangkok, Thailand for her maiden Asian Women's Boxing Championships, she had her entire luggage and passport stolen. The third women's boxing match to ever take place at the Olympics took place on August 5, 2012, with Kom defeating Karolina Michalczuk of Poland 19–14.

The following day, Maroua Rahali of Tunisia was defeated by Mary Kom with a score of 15-6 in the quarterfinal. On August 8, 2012, she competed against Nicola Adams of the UK and lost the match 6 to 11. She finished third in the tournament, nevertheless, and was awarded a bronze Olympic medal. At a cabinet meeting on August 9, 2012, the Manipur government presented her with Rs 50 lakhs and two acres of land as a token of appreciation.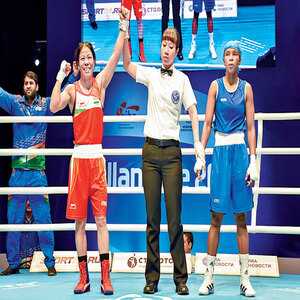 Mary Kom faced off against Colombian boxer Ingrit Valencia, who won the bronze medal at the 2016 Summer Olympics in Rio. The commentator declared the winner on points by the split decision as the match came to a conclusion. Another brief break was followed by another momentary pause in red, but by this time Mary Kom in the blue corner had raised her fist in celebration and was not paying attention to the remaining commentary that named Ingrit Valencia.

At the 2014 Asian Games in Incheon, South Korea, on October 1, 2014, Mary Kom defeated Kazakhstan's Zhaina Shekerbekova in the flyweight (51 kg) summit match to win her first boxing gold medal. She won a historic fifth gold medal (48 kg) in the Asian Boxing Confederation (ASBC) women's boxing championships held in Ho Chi Minh on November 8, 2017, an accomplishment that is unheard of.

The Commonwealth Games were the only significant international competition in which Mary Kom had not received a medal because her weight class, Light flyweight, had not been included until the 2018 Commonwealth Games. On April 14, 2018, Kom won the women's light flyweight 48 kg event and the gold medal. She accomplished this achievement at the 10th AIBA Women's World Boxing Championships held in New Delhi, India, on November 24, 2018, becoming the first woman to win six world championships.

The International Olympic Committee (IOC) announced Mary Kom as a female athlete ambassador for boxing for the Tokyo 2020 Summer Olympics in October 2019. Mary Kom earned her seventh medal at the Asian Championships in May 2021, but Nazym Kazaibay defeated her in the women's 51kg final on Sunday. Kom lost to Chang Yuan of China in the semi-finals of the August 2021 Asian Boxing Olympic Qualifying rounds.
Mary Kom's Autobiography
Unbreakable: An Autobiography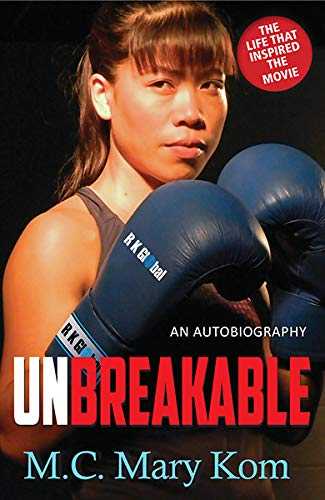 Mary Kom's autobiography, Unbreakable, was co-authored by Dina Serto and published by Harpers Collins in late 2013. Unbreakable: An Autobiography is Mary Kom's autobiography, which details how she never let anything stand in the way of her pursuit of victory. She put in a lot of effort and demonstrated to the world that anyone can become the top female boxer in the world with only sheer effort and unwavering dedication.

Mary Kom writes about her challenges as a beginning boxer with the utmost candor and calm. Everyone lost faith that she would ever return to the ring after her marriage, and she had to fight her way through national boxing selections. However, she defied the conventional wisdom that mothers can't box and can't win fights. Her writing, which is authentic in every aspect, accurately captures the suffering she must have had as she struggled to become an Olympic hero.

Mary Kom also muses on the depressing condition of sports affairs in Manipur, a state in northeastern India, and the typical prejudice held by people in the rest of India toward people from the region. Unbreakable: An Autobiography, on the other hand, is replete with vivid and colorful descriptions of Manipuri culture and life in Manipur as a whole. Mary Kom also writes extremely vividly about her family life, which includes her husband, kids, and parents.
Mary Kom's Biopic Movie
Mary Kom, a 2014 Hindi-language biographical sports film directed by Omung Kumar and produced by Viacom18 Motion Pictures and Sanjay Leela Bhansali, is based on the life of the titular boxer Mary Kom. The movie, which has Priyanka Chopra as the main character and newcomers Darshan Kumar and Sunil Thapa as her mentor and spouse, respectively, tells the story of Mary Kom's boxing career from her first fight through her victory at the 2008 World Boxing Championships in Ningbo. Chopra made her playback singing debut in Hindi for the movie, contributing her vocals to the song Chaoro.

The concept of Mary Kom was created by the author Saiwyn Quadras, who also offered Kumar the plot when Mary Kom, despite her many accomplishments, was not well-known in India. Before Kom's bronze medal win at the 2012 Summer Olympics, which earned her notoriety, Kumar contacted Kom to request her permission for the movie. Chopra spent four months in intense physical training to build muscle and understand the sport and Kom's unique boxing style. The boxing sequences were filmed at Filmistan, where principal photography commenced in June 2013. Mary Kom was filmed in Dharamshala and Manali, where a significant chunk of Manipur was recreated, after the original plan to film in Kom's native Manipur was abandoned owing to safety concerns.

The movie had its world premiere at the 2014 Toronto International Film Festival, making history as the first Hindi movie to screen on the festival's opening night. Mary Kom, which cost 38 crores to produce, debuted on September 5, 2014, to generally favourable reviews that praised Chopra's performance. When it was released, the movie had the best opening weekend ever for an Indian movie with a female lead. With box office receipts of 86.19 crore, the movie was a financial triumph. One of the highest-grossing Indian films starring a female actor is Mary Kom.

At award events held all throughout India, Mary Kom got numerous honours. The movie received two Filmfare Award nominations—Best Film and Best Actress for Chopra—and won the National Film Award for Best Popular Film Providing Wholesome Entertainment. Chopra also won the Producers Guild Film Award and the Screen Award for Best Actress in a Leading Role.
Mary Kom's Social Work
Mary Kom is a proponent of animal rights and a member of PETA India. She is the star of an advertisement to demand an end to the use of elephants in circuses. Kom has additionally supported Compassionate Citizen, a humane education initiative from PETA India. She has requested that the programme be added to official school curricula in a letter to the education ministers of all the states and union territories in India.
Mary Kom's Career Timeline
Mary Kom's Controversies
Nameless Vest Controversy
The legend M C Mary Kom claimed that she was compelled to change minutes before her last-16 match without receiving a fair explanation from the organisers, which led to a small uproar here in the absence of their own and the country's name on some Indian boxers' vests in the Olympics. Lovlina Borgohain and Mary Kom both battled in uniforms that did not display their names or the flags of their respective nations on the back of their vests.

The National Olympic Committee emblem or the athlete's name (Preferred Family Name) may be displayed on the back of the vest, according to IOC rules on uniforms, but only in one location on each of the vest, shorts, and skirt. Mary Kom complained that she was asked to change just before the fight and that the rules hadn't been explained clearly. This seems to be supported by the fact that she was allowed to compete in the first round despite her vest not meeting the requirements.
Nikhat Zareen Controversy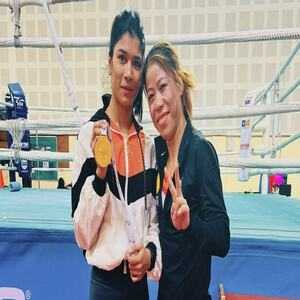 Nikhat Zareen said there was bias in the selection process when the Boxing Federation of India (BFI) selected fighters for the Olympics back in 2019, before the World Boxing Championship incident. Nikhat hoped to compete against Mary Kom in the 51-kg trials however Mary Kom was chosen without any trials to represent India at the Women's World Boxing Championships.

After the trial was turned down, Nikhat wrote a letter to the federation and Sports Minister Kiren Rijiju requesting that a trial be held. At the world championship, Mary Kom earned the bronze medal. Following Mary Kom's triumph at the World Championship, the federation made the decision to select Kom for the Olympic qualifiers in February 2020 rather than continuing with their previous practice of only selecting the gold and silver medalists from the Worlds.

When it appeared that Zareen's door was about to be closed, the boxer sent another letter to Kiran Rijiju, the previous sports minister, requesting a trial and a fair chance. Rijiju chose not to interfere in the situation, nevertheless. In order to determine who would advance to the Olympic qualifiers, the BFI ultimately decided to hold trials for each weight group.

In an interview with Republic TV, when Mary Kom was questioned about the controversy, she responded, Who is Nikhat Zareen, I don't know her. After months of controversy, Nikhat Zareen was finally given the opportunity to compete against Mary Kom for a seat on the Indian Olympic team. The eagerly awaited fight was mostly one-sided, with Kom triumphing over Zareen in a trial with a divided judgement.
Mary Kom's Net Worth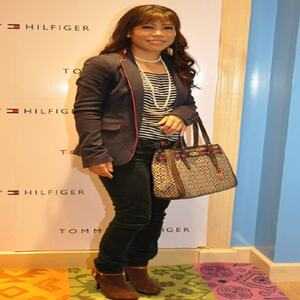 Mary Kom's net worth is $1 million US or 8 crore rupees, as of 2022. After the Olympics, Mary Kom was expected to earn close to Rs 7 crores. The state governments of Manipur and Rajasthan each offered Rs. 50 lacs in exchange for the Olympic Bronze Medal. She reportedly received Rs. 25 lacs for Mary Kom, a 2014 movie starring Priyanka Chopra.

Mary Kom, her husband, and their kids reside in an opulent home. Mary has a number of vehicles, particularly high-end models like Mercedes. Her other main source of income is brand sponsorships. For the women's training ivision in 2019, she was chosen a PUMA brand ambassador. Mary Kom and her husband were signed by Nestle India Ltd to promote the Nestle Every Day brand of dry milk powder. She also supports BSNL and the health care company Herbal Life.
Mary Kom's Awards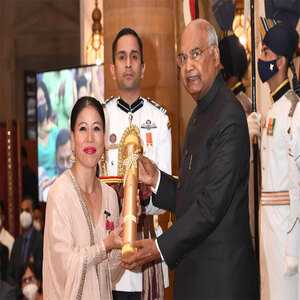 2003: Arjuna Award (Boxing)
2006: Padma Shri (Sports)
2009: Major Dhyan Chand Khel Ratna award
2013: Padma Bhushan (Sports)
2020: Padma Vibhushan (Sports)
2007: People of the Year- Limca Book of Records
2008: Pepsi MTV Youth Icon
2008: People of the Year- Limca Book of Records
2008: CNN-IBN & Reliance Industries' Real Heroes Award
2008: 'Magnificent Mary', AIBA
2009: International Boxing Association's Ambassador for Women's Boxing 2009
2010: Sportswoman of the year 2010, Sahara Sports Award
2013: Olympians for Life by WOA.
2016: The International Boxing Association (AIBA) announced Mary Kom as the brand ambassador for 2016 AIBA Women's World Boxing Championships
2016: Honorary Doctorate degree (D.Litt) from North-Eastern Hill University
2018: Meethoileima' title, Manipur Govt.
2019: (DPhil) from Kaziranga University on 14 January
₹5 million (US$63,000) cash award and two acres of land from the Manipur Government
₹2.5 million (US$31,000) cash award from the Rajasthan Government
₹2 million (US$25,000) cash award from the Assam Government
₹1 million (US$13,000) cash award from the Arunachal Pradesh Government
₹1 million (US$13,000) cash award from the Ministry of Tribal Affairs (India)
₹4 million (US$50,000) cash award from the North Eastern Council
Mary Kom's Achievements
Gold – 1st Women Nat. Boxing Championship, Chennai 6–12.2.2001
The East Open Boxing Champ, Bengal 11–14 December 2001
2nd Sr World Women Boxing Championship, New Delhi 26–30 December 2001
National Women Sort Meet, N. Delhi 26–30 December 2001
32nd National Games, Hyderabad 2002
3rd Sr World Women Boxing Champ, Aizawl 4–8.3.2003
4th Sr WWBC, Kokrajar, Assam 24–28 February 2004
5th Sr WWBC, Kerala 26–30 December 2004
6th Sr WWBC, Jamshedpur 29 November-3.12.2005
10th WNBC, Jamshedpur lost QF by 1–4 on 5 October 2009
Mary Kom's Interesting Facts
Mary Kom's full name is Mangte Chungneijang Mary Kom.
Mary Kom is also known as Magnificent Mary.
Mary Kom didn't consider trying boxing until her idol Dingko Singh won the gold medal at the Asian Games.
In 2007, Mary Kom established the MC Mary Kom Boxing Academy, which provides free instruction to several girls from underprivileged backgrounds.
Mary Kom is a fervent advocate for animal welfare causes.
The Queen's Baton was given to Mary Kom with the honor of carrying it during the opening ceremony of the Delhi 2010 Commonwealth Games.
Mary Kom is a Rajya Sabha member.
Mary Kom became the first amateur athlete to receive the Padma Bhushan, creating a new milestone.
Mary Kom is the only Indian female boxer to have qualified for the 2012 Summer Olympics,
Social Media
Frequently Asked Questions