Kishore Kumar Songs Spouse Song List Age Birthday Son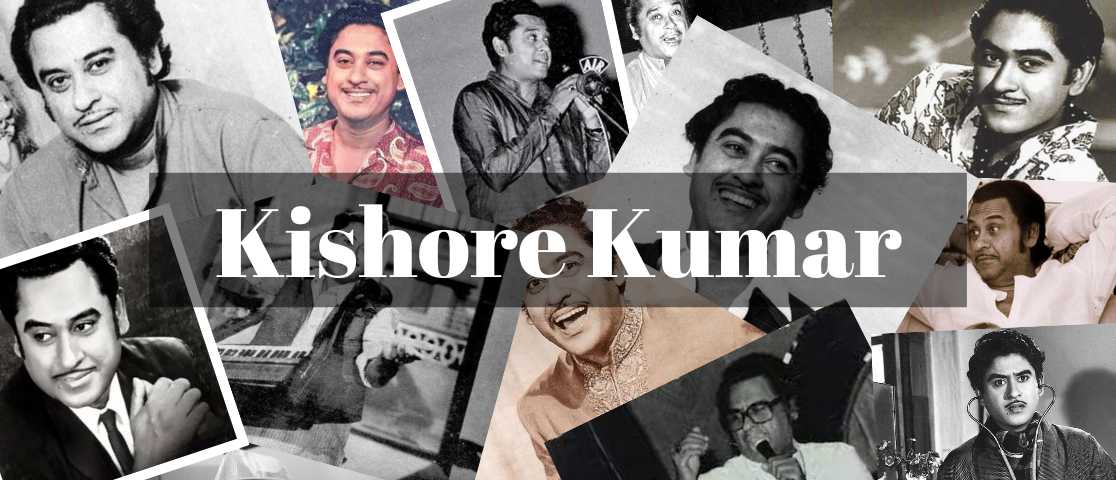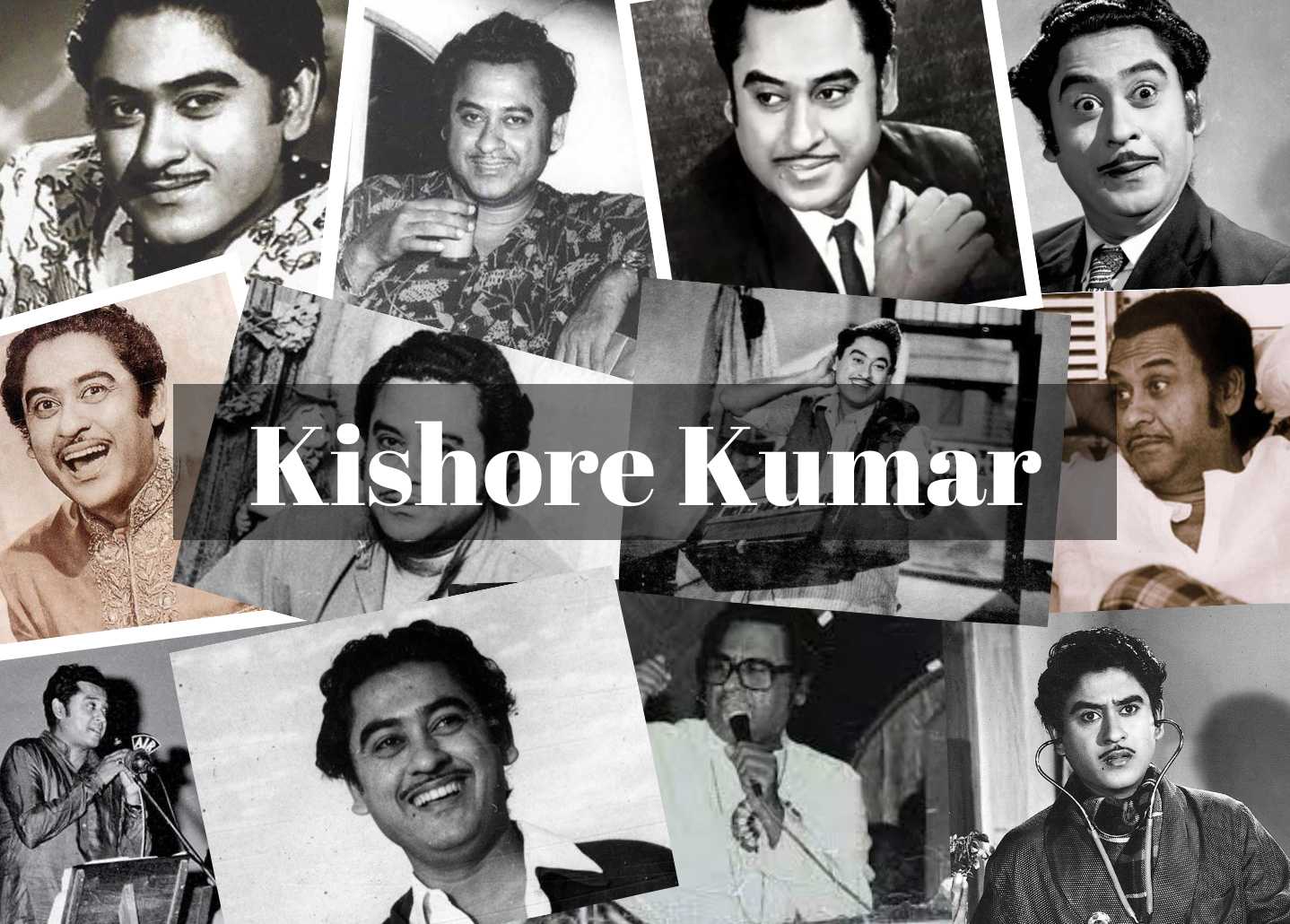 Kishore Kumar's Biography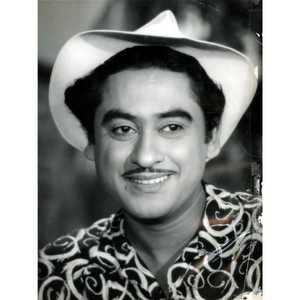 Kishore Kumar was an Indian actor, lyricist, music composer, producer, director, scriptwriter, screenwriter, and singer working in movies. Kishore Kumar is popular for his songs. Kishore Kumar's real anime is Abhas Kumar Ganguly. Kishore Kumar's birthplace is Khandwa, Madhya Pradesh. Kishore Kumar's height is 5 feet 8 inches. Kishore Kumar is from India.

One of the greatest, most influential, most energetic vocalists in Indian music history, he is highly acclaimed. He was a well-known singer in the Indian subcontinent who was known for his yodeling and versatility when singing.

He also performed in Bengali, Marathi, Assamese, Gujarati, Kannada, Bhojpuri, Malayalam, Odia, and Urdu in addition to Hindi. Several of his non-film albums, particularly one in Bengali, were also released and are regarded as classics.

He currently holds the record for the most Filmfare Awards in that category after winning 8 of them for Best Male Playback Singer. The Madhya Pradesh government gave him the Lata Mangeshkar Award in 1985.

Kishore Kumar's Age
Kishore Kumar's birthday was on 4 August 1929. Kishore Kumar's birth year is 1929. Kishore Kumar's age was 58 years at the time of his death in 1987. Kishore Kumar's zodiac sign is Leo.

Kishore Kumar Childhood
Ashok, the oldest, Sati Devi, and Anoop were Kishore Kumar's older three older siblings. Kishore Kumar was the youngest of four children. His brother Ashok became a Hindi film actor while Kishore was still a child. Later, with Ashok's assistance, Kishore too went into the movie industry.

Kishore Kumar's Family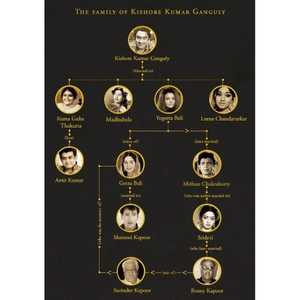 Abhas Kumar Ganguly, the real name of Kishore Kumar, was born in Khandwa, Central Provinces (now in Madhya Pradesh), to Bengali Brahmin Ganguly parents. His mother, Gouri Devi, was a housewife who came from a prosperous Bengali family, and his father, Kunjalal Ganguly (Gangopadhyay), was a lawyer.

The Kamavisadar Gokhale family of Khandwa invited Kunjalal Gangopadhyaya to serve as their personal attorney. Kishore Kumar's wives are Ruma, Madhubala, Yogeeta and Leena. Kishore Kumar's sons are Amit Kumar and Sumit Kumar.

Kishore Kumar's Education
Kishore Kumar received his degree from Indore's Christian College.

Kishore Kumar's Spouse
Kishore Kumar's Wife Ruma Guha Thakurta (1950-58)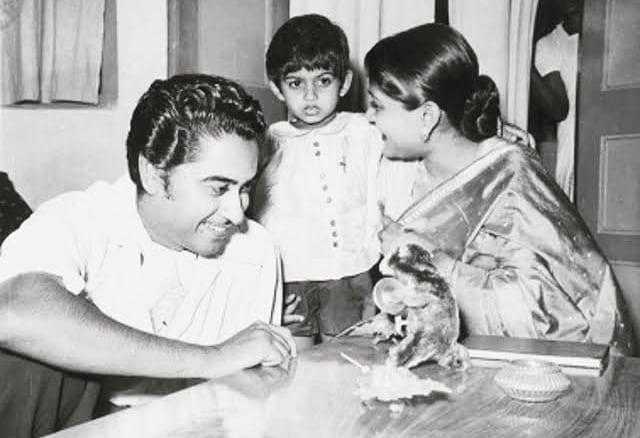 In 1950, Kishore Kumar initially got married to Ruma Guha Thakurta, a niece of Satyajit Ray. Ruma was a talented actress and vocalist in addition to being a communist activist. In 1958, she founded the Calcutta Youth Choir.

The couple married at a lavish wedding in Bombay in 1950, and in 1952 they welcomed a son named Amit Kumar. Soon after their marriage, there were reports of cracks forming in the relationship because Ruma did not want to give up her celebrity and did not want to maximize her full potential since Kishore Kumar wanted her to stay at home and take care of the family and their son.

The pair, who had been married for 8 years, mutually chose to end their relationship in 1958 after many years of conflict and disagreements. Ruma last appeared in 2006's The Namesake, a Hollywood production. In an interview with Pritish Nandy, Kishore Kumar revealed the cause of the split, saying: She was a highly creative girl, but we could not get along because we looked at life differently. Both a choir and a job were goals for her. I wanted a house to be constructed for me. How can they come together? I'm a simple-minded villager, you see. This whole concept of women pursuing careers is beyond my comprehension. First, wives should learn how to build a house. And how do you combine the two? A home and a career are very different things. We parted ways because of this.

Kishore Kumar's Wife Madhubala (1960-69)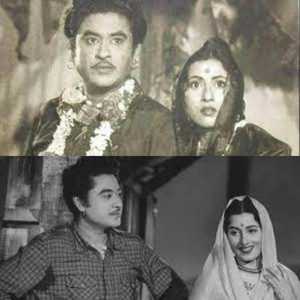 After her relationship with Dilip Kumar deteriorated, Madhubala made the decision to get married to Kishore Kumar. When Madhubala and Kishore Kumar got married, it put the entire country into a frenzy because he allegedly converted to Islam and changed his name to Karim Abdul in order to placate her parents, who passionately opposed their union. Kishore Kumar's family rejected Madhubala even after their civil Hindu wedding.

Madhubala's heart defect was discovered before their wedding. Kishore had made a film-style proposal to Madhubala just as she was about to board a plane for her medical treatment in London. Although their brief marriage was happy for a while, they both experienced depressive episodes in the final few years of their union. The main reason was that Madhubala was primarily bedridden, and Kishore had seen the love of his life suffer a horrible death right in front of him. Madhubala lost the battle with the illness after a protracted period of suffering in 1969.

Kishore Kumar's Wife Yogeeta Bali (1976-78)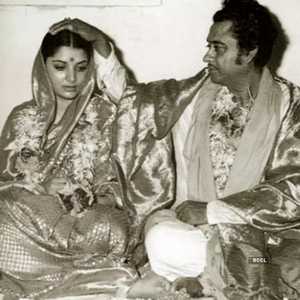 Kishore Kumar fell in love with Yogeeta Bali, the niece of Shammi Kapoor's first wife, Geeta Bali, many years after Madhubala passed away. Yogeeta was rumored to have fallen in love with Mithun Chakraborty while producing the movie Khwaab with her husband Kishore Kumar. The growing hostility between Kishore Kumar and Mithun resulted in Kishore Kumar refusing to perform songs for Mithun, which benefited Bappi Lahiri. Only two years into Yogeeta and Kishore Kumar's marriage was a divorce granted.

Kishore Kumar's Wife Leena Chandavarkar (1980-87)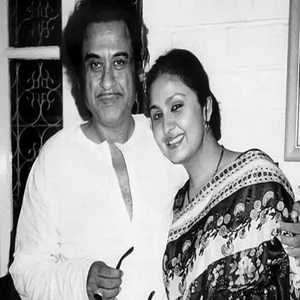 Sidharth had questioned Leena during a trip to Lonavala after seeing Kishore with his third wife, Yogeeta Bali, Would you marry him if he proposed to you? She had said, I said 'never,' She didn't have any idea that she would eventually become Kishore Kumar's fourth wife.

Leena Chandavarkar once recalled their first encounter from 1979 and what she admired about Kishore Kumar in an interview: One day, his driver Abdul came home, gave me his number, and requested me to call him. When I called, he immediately answered and said, Leena! I've been looking forward to your response. He would phone me every morning and immediately begin speaking without introducing himself. He would amuse me. My father noticed that I was changing. Although I didn't fall in love with him right away, being with him made me feel safe. He showed his staff respect. Why was he given the name Kanjoos? There was nothing frivolous or chichorapan about him. He wasn't a drinker. However, he did object to his women working. He had a childlike joy for the rain and excitement for the natural world, and I liked that about him. He lived in a dream world. He once visited a bazaar in Delhi. He noticed masoor ki dal there. Right away he exclaimed, Let's go to Musoorie! I adored the life of a nomad. A life like that was what I needed.

When Kishore performed Mere Dil Me Aaj Kya Hai one day, Leena didn't get his proposal hint. Leena had recalled the same and had said: A few days later, he urged her to consider his proposal if she ever considered getting married again. I informed him that although marriage might be a casual affair for him, I had not yet forgotten Siddarth because I was still hung on him. Achcha cancel it! he yelled. He never brought up marriage again. We were merely speaking professionally. Leena Chandavarkar proceeded by describing how she became insecure after falling in love with him I never received an I love you from Kishore Ji. He claimed that one should feel it rather than say it. He was never openly romantic, not even in his movies. But as I warmed to him, I became uneasy. Girls would kiss him and leave lipstick stains on him at concerts. He once addressed me as his lagaam. Kishore Kumar and Leena married in 1980.

Kishore Kumar's Songs
As a singer, Kumar's work with many music directors in this period includes Ye Raatein Ye Mausam and Hum Toh Mohabbat Karega from Dilli Ka Thug, Piya Piya Mora Jiya from Baap Re Baap, Hello Hello Ji from Bombay Ka Chor, Micheal Hai Toh Cycle Hai from Bewaqoof, Ae Haseeno Nazneeno from Chacha Zindabad, Zaroorat Hai Zaroorat Hai from Manmauji (1961), Likha Hai Teri Ankhon Mein from Teen Deviaan, Suno Jaana Suno Jaana, Pyaar Baatke Chalo and Kya Teri Zulfein Hai from Hum Sab Ustaad Hai, Khoobsurat Haseena from Mr. X in Bombay, Gaata Rahe Mera Dil from Guide (1965), Sultana Sultana from Shreeman Funtoosh, Machalti Hui from Ganga Ki Lahren, Mera Dil Meri Jaan and Pyar Ka Jaahan Hotel from Jaalsaaz and Yeh Dil Na Hota Bechara from Jewel Thief (1967)

Up until his passing in 1987, Kishore was a well-known vocalist during the 1970s and 1980s. In his career, Kumar performed the majority of Rajesh Khanna's songs. Kumar holds the record for singer-actor pairings with 245 songs starring Rajesh Khanna spanning 92 films. Rajesh Khanna received 245 songs from Kishore, Jeetendra received 202, Dev Anand received 119, and Amitabh Bachchan received 131. Most male duet and multi-singer hits with the best vocalists from various eras are attributed to Kishore Kumar. The most duets Kishore Kumar and Asha Bhosle performed together were (687 duets). Along with Lata Mangeshkar and others, he performed duets with Mohammed Rafi, Manna Dey, Mahendra Kapoor, Geeta Dutt, Sulakshana Pandit, and others.

The most renowned vocalists in Hindi movies, Lata Mangeshkar, Mohammed Rafi, and Mukesh, sang one song with Kishore in the Amar Akbar Anthony song Humko Tumse Ho Gaya Hai Pyar. They probably only ever sang together for one song at a time like this.



Some of the Best songs of Kishore Kumar are as follows

Ek ladki bheegi bhaagi si
Koi humdum na raha
Phir suhani sham dhali
Ek ajnabee haseena se
O mere dil ke chain
Sei raate raat chilo purnima
Zindagi pyar ka geet hai
Kishore kumar chhedo na meri zulfen
Tere jaisa yaar kahan
Koi hota jisko apna
Mere sapnon ki rani
Pal pal dil ke paas tum rehti ho
Hamen tumse pyar kitna
Apni to jaise taise
Yeh dosti
Ruk ja rokata hai yeh diwana
Yeh sham mastani
Roop tera mastana
Kishore Kumar Movies
Kishore Kumar Movie Shikari (1946)
In the 1946 Bollywood film Shikari, starring Ashok Kumar, Kishore Kumar, Paro Devi, and Veera, Savak B. Vacha served as the director. Sachin Dev Burman served as the background singer under the direction of Anil Chandra Sengupta for the soundtrack.

Kishore Kumar Movie Chalti Ka Naam Gaadi (1958)
The musical comedy Chalti Ka Naam Gaadi, was released on January 1, 1958, in India. Satyen Bose was the director. The film, which also stars Madhubala and the Ganguly brothers Ashok, Anoop, and Kishore Kumar, centres on a middle-aged guy who despises women owing to certain miscommunications and bans his younger brothers from getting married.

Critics have overwhelmingly praised Chalti Ka Naam Gaadi for its comedic scenarios, soundtrack, execution, and acting. The movie has become a classic over time.

The songs Hum The Woh Thi and Ek Ladki Bheegi Bhaagi Si were adapted from Merle Travis's Sixteen Tons and Tennessee Ernie Ford's The Watermelon Song, respectively. The song's popularity with the audience led Film Companion to rank it at number 51 on their list of the top 100 Bollywood albums. Rediff ranked Ek Ladki Bheegi Bhaagi Si among the Top 25 Bollywood Rain Songs.

Kishore Kumar Movie half ticket (1962)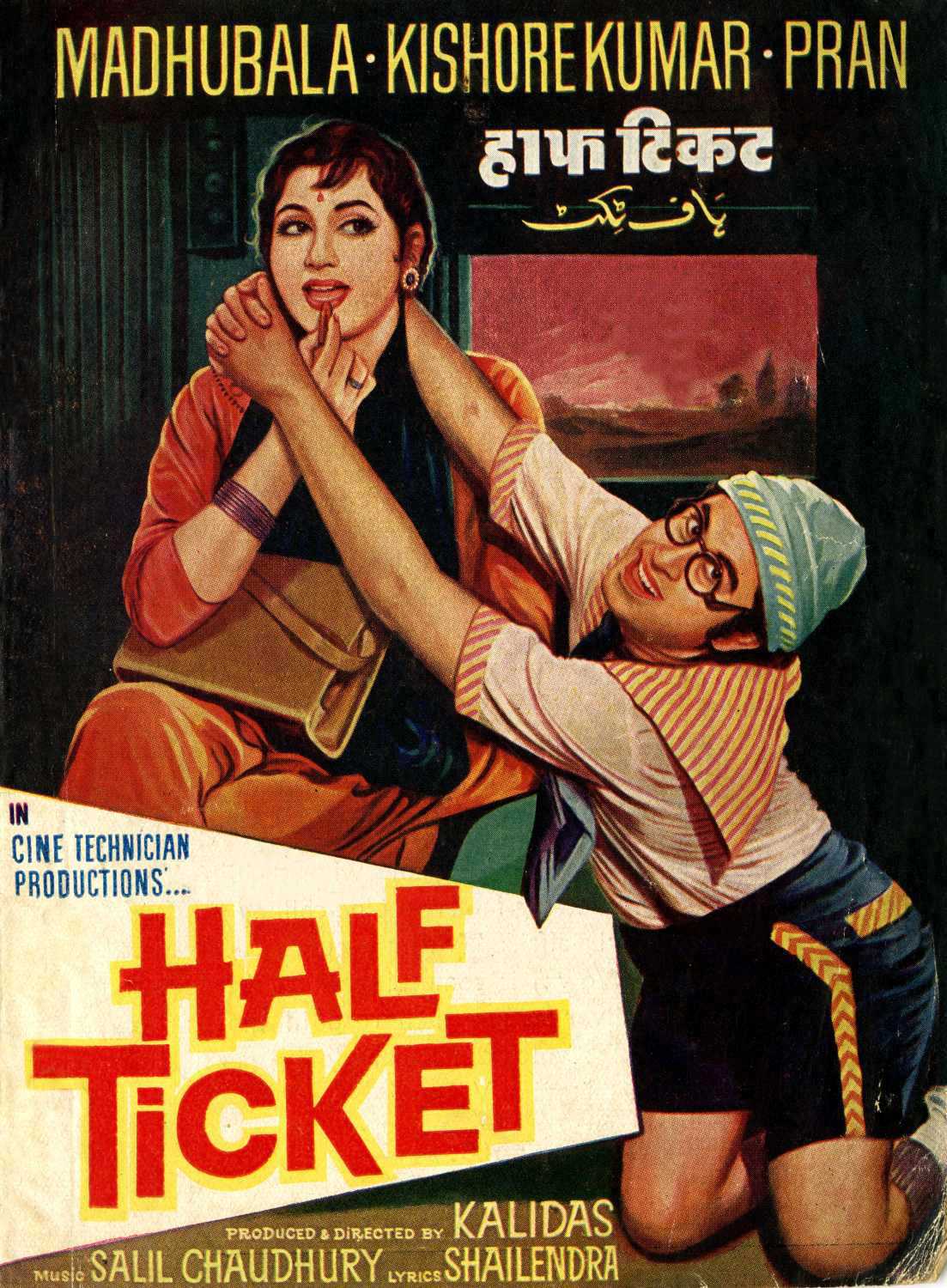 Half Ticket is a 1962 comedy movie in Hindi that was made by Bombay Talkies and directed by Kalidas. The movie, which stars Madhubala, Kishore Kumar, and Pran, centres on Vijay, a selfish young man who intends to leave home after his father makes him get married.

One of Madhubala's final movies and one of the last ones she made with her husband Kishore Kumar is Half Ticket. Since its publication, it has grown in popularity and been both a critical and economic success. The movie was included in The Indian Express's selection of the top 10 Bollywood comedy to see before you die in 2020.

Kishore Kumar Movie Padosan (1968)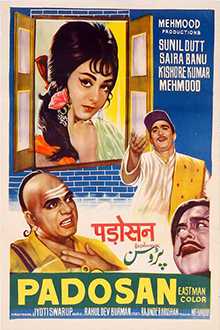 Saira Banu and Sunil Dutt both appear in the movie. The supporting actors were Keshto Mukherjee, Raj Kishore, Mukri, and Kishore Kumar.

The 1968 Indian Hindi-language musical comedy film Padosan, was written by Rajendra Krishan and directed by Jyoti Swaroop. It was also produced by Mehmood and N. C. Sippy. The personality of Kishore Kumar's uncle, the classical vocalist Dhananjay Banerjee, and the composer Khemchand Prakash served as the inspiration for his part in the movie. Ashok Kumar first performed the song Ek Chatur Naar in the 1941 film Jhoola.

Kishore Kumar's Song List
Kishore Kumar Controversy
Kishore Kumar Songs were Banned
Kishore was approached to perform for an INC rally in Bombay during the Indian Emergency (1975–1977) by Sanjay Gandhi, but he declined. Because of this, Vidya Charan Shukla, minister of information and broadcasting from 1975 to 1977, issued an unofficial ban on playing Kumar songs on All India Radio and Doordarshan starting on May 4 till the end of the Emergency.

Kishore Kumar became muslim for Madhubala
Since Madhubala was a Muslim, his family opposed their union when Kishore Kumar wed her. He thus changed his religion to Islam. and married in accordance with Hindu custom, but his family never approved of them. Kishore Kumar also abandoned Madhubala after learning of her grave illness.

Kishore Kumar half makeup
When it came to making his payments, Kishore Kumar was relentless. He always demanded full payment out front. And after receiving half of the payment, one of the directors arrived to the studio wearing only half of his makeup. When questioned, he said, Aadha paisa toh aadha make up.

Kishore Kumar bite his hand
Beware of Kishore Kumar was written on a sign outside of his workplace. It was because Kishore Kumar earlier had a debt to HS Rawail. And when HS Rawail offered to shake Kishore Kumar's hand after he was paid, Kishore Kumar bit Rawail's hand.

Kishore Kumar Court Orders
Kishore Kumar was once sued by a filmmaker who couldn't get Kishore da to do what he wanted. Kishore Kumar then consented to following commands. In a movie, Kishore Kumar drove until Khandala during a driving scene only because the director forgot to call cut.

Kishore Kumar Death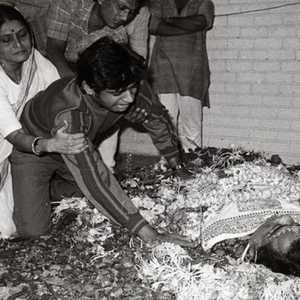 By September 1987, Kishore Kumar had made the decision to retire because he was dissatisfied with the types of songs and tunes being created by music directors. He also intended to go back to Khandwa, the city where he was born.

At 4:45 p.m. on October 13, 1987, on his brother Ashok Kumar's birthday, Kishore Kumar passed away in Bombay from a heart attack. For cremation, his remains was sent to Khandwa. The day before he passed away, Kishore had finished recording Guru Guru, a duet with Asha Bhosle for the 1988 film Waqt Ki Awaz, which was written by Bappi Lahiri for Mithun Chakraborty and Sridevi.

Leena Chandavarkar, Kishore Kumar's wife, was cited as saying the following on the day of his death and the final words he spoke before passing away: On the morning of October 13 (the day Kishore Kumar passed away in 1987), he looked pale and as though in deep sleep. He awoke as I approached him and questioned, Did you feel scared? My vacation day is today. He had a number of meetings that day at his house. He informed me at lunch that we would see River Of No Return that night. Later, I overheard him moving stuff in the adjacent room.

He was lying on the bed when I went to see what was going on. He muttered nervously, I'm feeling weak. To call the doctor, I sprinted. When he became irate, he yelled, If you contact the doctor, I'll have a heart attack. These were his final words. He was exhaling while his eyes were wide open. I initially though he was playing a joke, but that was it. Kishore kumar died on 13 October 1987.

Kishore Kumar's Net worth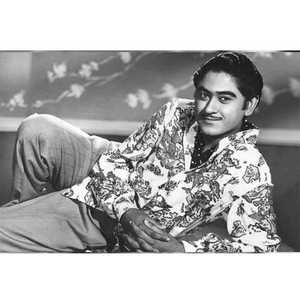 Kishore Kumar's net worth is $5 Million or 40 Crores Rupees as of December 2022. He received a record-breaking eight Filmfare Awards for Best Male Playback Singer, and the Madhya Pradesh state created a special award in his honor. One of the wealthiest and most well-known performers of world music is Kishore. According to our research, Kishore Kumar has a net worth of $5 million, as reported by Forbes, Wikipedia, and Business Insider.

Shareholdings and portfolio as of September 30, 2022, for Kishore Kumar. Kishore Kumar has a net worth of around Rs. 72.4 Cr. and publicly owns 18 stocks, according to corporate shareholdings declared for September 30, 2022. According to the shareholding information reported to the exchanges, Kishore Kumar owns these shares.

Kishore Kumar's Awards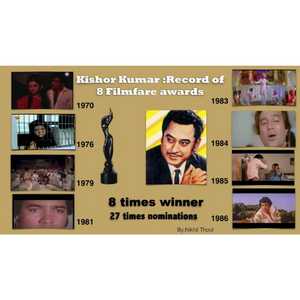 Filmfare Awards 1970 - Best Singer Male for Roop Tera Mastana - Won
Bengal Film Journalists' Association Awards 1971 – Best Male Playback Singer Aradhana
Bengal Film Journalists' Association Awards 1972 – Best Male Playback Singer for Andaz
Bengal Film Journalists' Association Awards 1973 – Best Male Playback Singer for Hare Ram Hare Krishna
Bengal Film Journalists' Association Awards 1975 – Best Male Playback Singer for Kora Kagaz
Filmfare Awards 1976 - Best Singer Male for Dil Aisa Kisi Ne Mera - Won
Filmfare Awards 1979 - Best Singer Male for Khaike Paan Banaras Wala - Won
Filmfare Awards 1981 - Best Singer Male for Hazaar Raahen Mudke Dekheen - Won
Filmfare Awards 1983 - Best Singer Male for Pag Ghungroo Baandh - Won
Filmfare Awards 1984 - Best Singer Male for Agar Tum Na Hote - Won
Filmfare Awards 1985 - Best Singer Male for Manzilein Apni Jagah Hain - Won
Filmfare Awards 1986 - Best Singer Male for Saagar Kinaare - Won
15 Interesting Facts of Kishore Kumar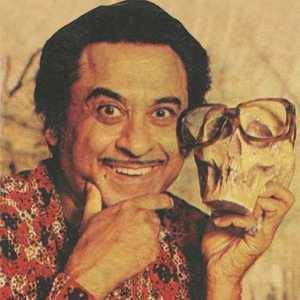 Despite having millions of fans, Kishore Kumar lived a solitary existence and had no friends in or outside of the entertainment world. He admitted in an interview that he didn't have any pals to rely on and that he instead considered his trees to be his closest friends. In addition to this, Kishore Kumar gave a reporter the names of his favourite garden plants when she questioned him about his acquaintances. He called them his best buddies, much to the reporter's amazement.
As Abhas Kumar Ganguly, he was born into a Bengali family.
Abhas Kumar adopted the name Kishore Kumar after travelling to Bombay (now Mumbai), where his brother Ashok Kumar worked, and he started his cinema career as a chorus singer at Bombay Talkies.
Kishore Kumar settled in Bombay in the year 1949. (now Mumbai). He purchased a green Morris Minor automobile in the same year. It is said that in 1961, following his divorce from his first wife, Ruma Guha Thakurta, he buried the automobile under his home.
His own production, Chalti Ka Naam Gaadi (1958), starred Madhubala, the three Ganguly brothers, and other family members.
The song Aake Seedhi Lagi Dil Pe from the movie Half Ticket (1962) was intended to be a duet, and the music director, Salil Chowdhury, wanted Lata Mangeshkar and Kishore Kumar to perform the song. Lata wasn't available, thus Kishore Kumar was forced to perform both the male and feminine sections of the song by himself. Kishore Kumar was costumed as a lady in the duet, which was actually filmed with Pran and Kishore Kumar.
The Yodeling style of singing that made Kishore Kumar famous was something he learned by listening to Jimmie Rodgers and Tex Morton songs.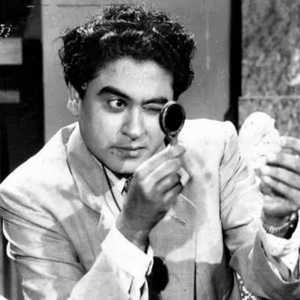 There are numerous tales about Kumar's allegedly bizarre behaviour. Beware of Kishore was written on a signboard that he had installed at the entrance to his Warden Road Flat.
In addition to using Brylcreem, Kishore Kumar had endorsed it too.
He had come up with his own strategy to avoid the spotlight because he had never liked being in the spotlight. He had arranged skulls and bones in his living room with red lights and sounds behind them to frighten away intruders.
Kishore Kumar now holds the record for the most Filmfare Awards for Best Playback Singer victories (8 times).
His preferred genre to read was novels.
On August 4, 2014, the 85th anniversary of his birth, Google's home page featured a special Doodle for Kishore Kumar.
Kishore Kumar reportedly never smoked or drank alcohol throughout his life, although he was reportedly hooked to tea.
Profile Summary
Frequently Asked Questions