Khushi Kapoor |Career, Age, Biography, Net worth, Boyfriend

Anisha Saini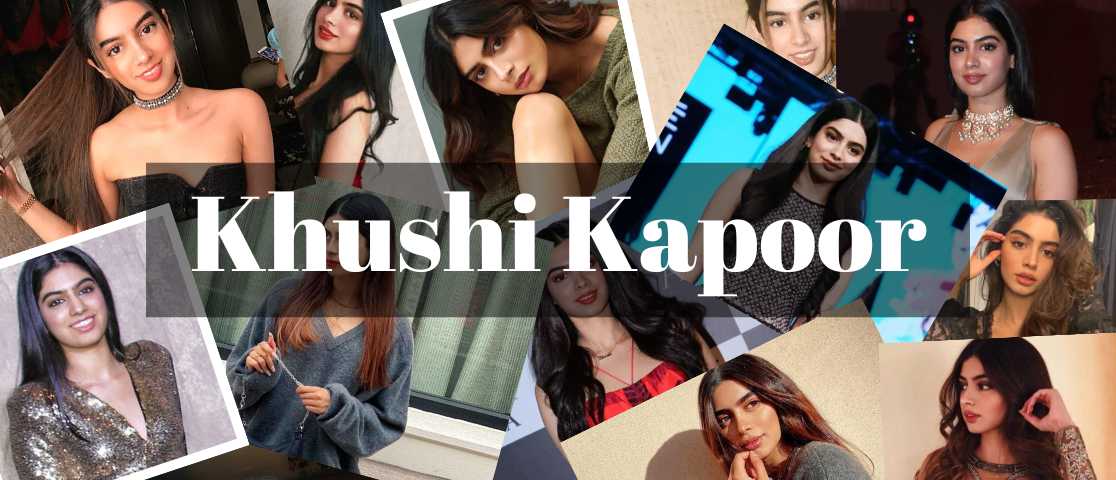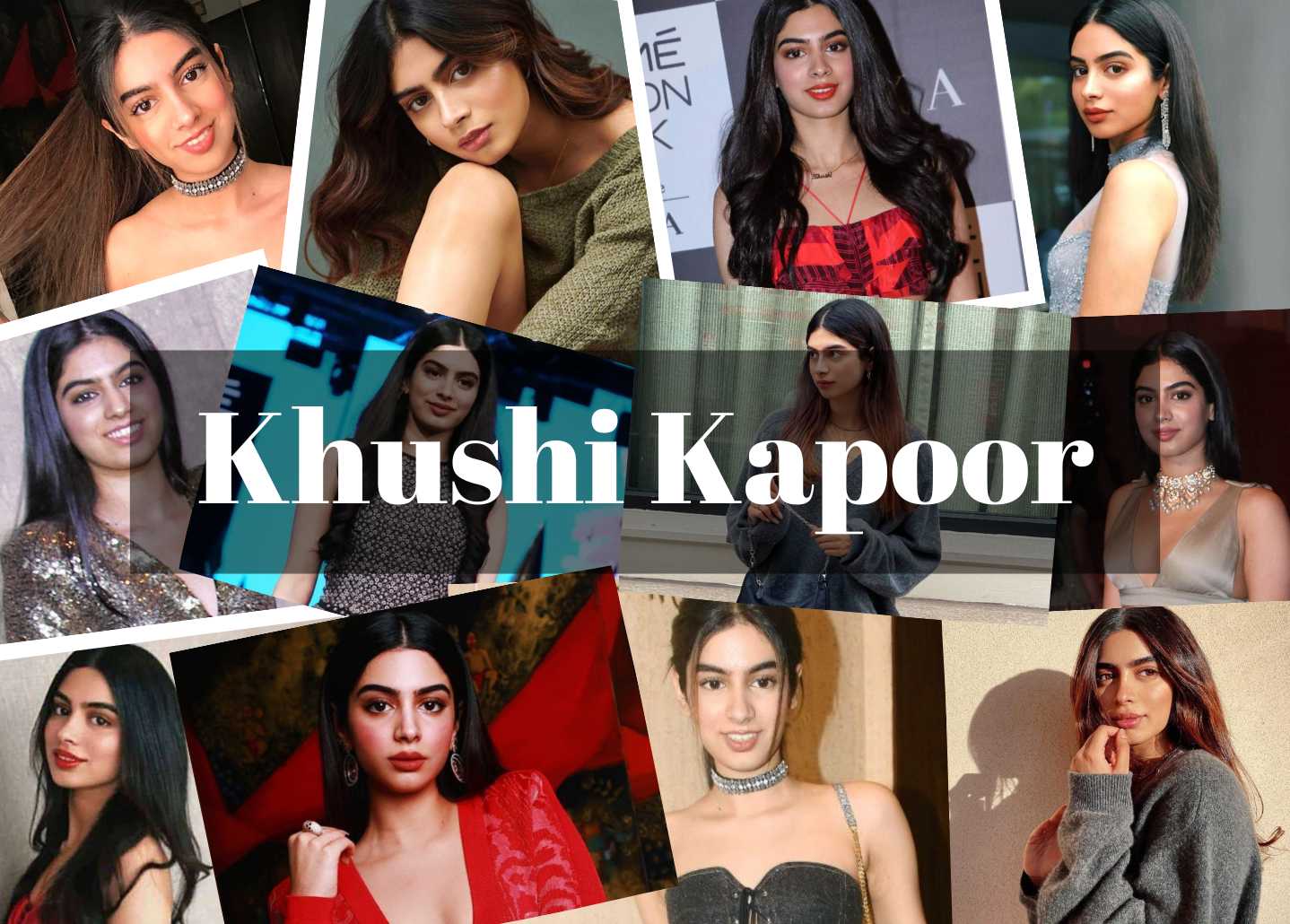 Khushi Kapoor's Biography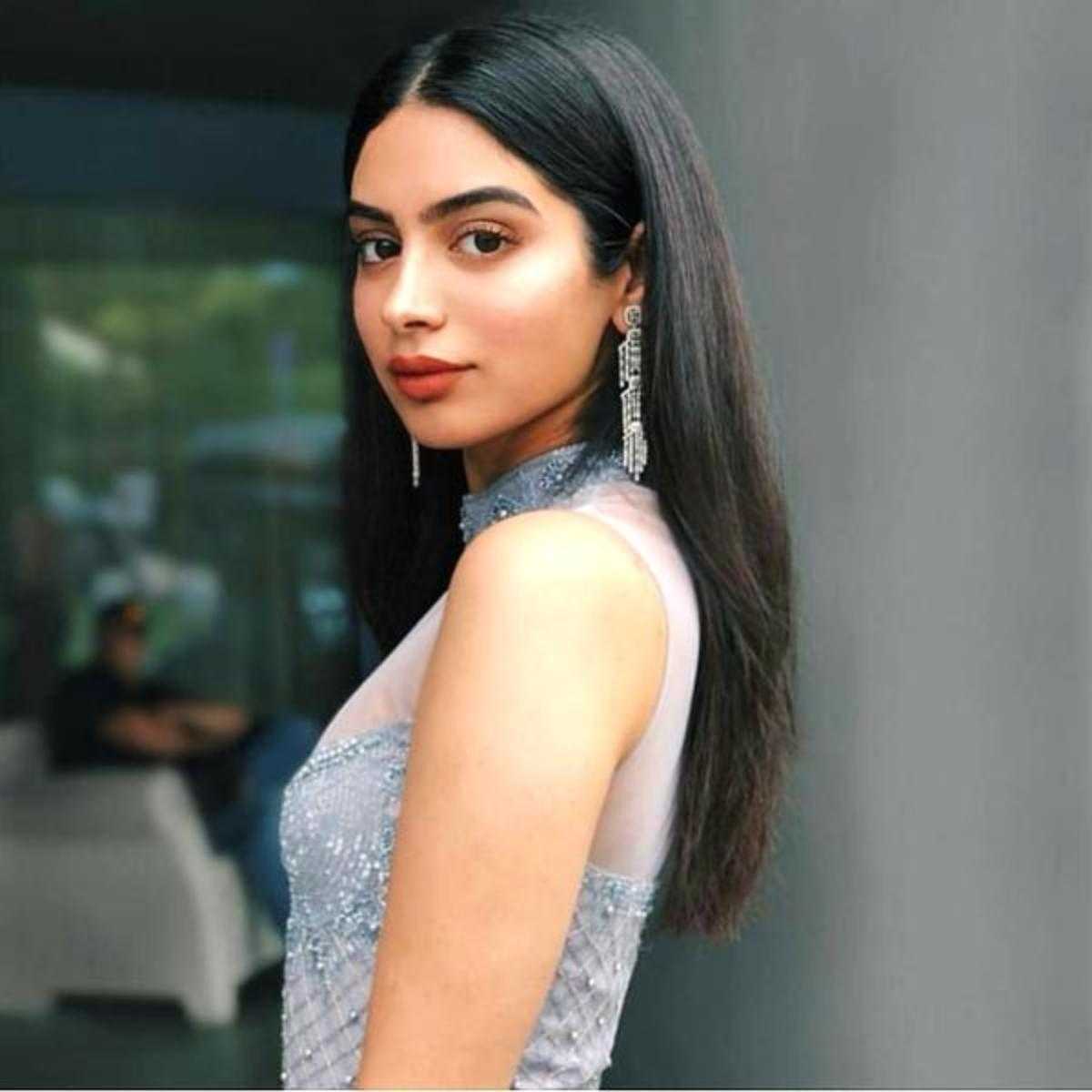 Khushi Kapoor's birthday is on 5th November 2000. Khushi Kapoor's birthplace is in Mumbai, Maharashtra, India. Khushi Kapoor's zodiac sign is Scorpio. Khushi Kapoor Caste is Khatri. Khushi was also raised in a Punjabi home. Khushi Kapoor is a famous child and a fashion icon for young people in India. She has huge popularity on platforms like Instagram, Facebook, Twitter, and others.

She has a large following, and her admirers want to see her break into the Bollywood industry. She once considered a career in modeling. However, she has since made the decision to pursue a career in acting, following in the footsteps of her late mother Sridevi, and sister Jhanvi Kapoor. She was conceived by her parents, Sridevi Kapoor and Boney Kapoor. Janhvi Kapoor, Kushi's older sister, is also a member of the family. Another well-known Bollywood actress is Janhvi. As a result of Boney's first marriage to Mona Suri, Kushi also has two half-siblings.

As far as his religion is concerned, Kushi is a Hindu. Being raised in the biggest family in the movie business, Khushi was always drawn to dancing and performing. In reality, it appears that her perfect acting is directly inherited from her late mother, Sridevi Kapoor, and is encoded in her DNA. Khushi's mother, Sridevi, is a renowned and iconic Bollywood performer. Sridevi passed away in Dubai in 2018.
Khushi and Janhvi Kapoor received a lot of support from Arjun and Anshula, Khushi's half-siblings, throughout the dreadful time. According to sources, Boney Kapoor has announced Khushi's acting debut. Additionally, Kushi is now working diligently on her debut movie. Her sister Janhvi Kapoor and brother Arjun Kapoor are all accomplished actors and actresses.
Claim Your FREE Celebrity Shoutout
✕
Claim Now!
Khushi Kapoor's Childhood and Khushi Kapoor's Education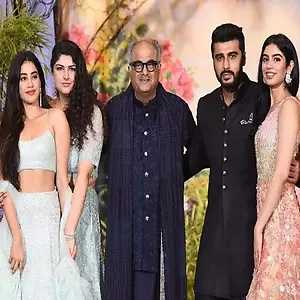 Khushi Kapoor's father is Boney Kapoor, a film producer, and Khushi Kapoor's mother is late Bollywood diva Sridevi. In 2018, Khushi Kapoor's sister Janvi Kapoor, an Indian actress, made her acting debut in the film Dhadak. Khushi Kapoor's half-sister Anshula Kapoor and half-brother Arjun Kapoor share the same father, Boney Kapoor.

The relationship between Khushi and Jhanvi and their half-siblings is quite strong. Khushi Kapoor's uncle is the Indian actor, Anil Kapoor. Khushi Kapoor's grandfather Surinder Kapoor was an Indian film Producer. Surinder served as the film and Television producers Guild of India president for six years. Because of her appearance and sense of style, Khushi Kapoor is already well-known on social media. She wears both an Indian and a Western appearance with style. She got braces on her teeth as a child and was a chubby girl.

She is admired for her good height and sense of style. Her mother Sridevi may be seen in the charm and grace on her face. Due to her several successful Bollywood roles, her mother Sridevi was a well-known actress. Along with her older sister Janhvi Kapoor, she graduated from the most prestigious school in India, Dhirubhai Ambani International School, Mumbai. She then joined the New York Film Academy for higher study to master acting techniques like her sister Janhvi, but she left following the Covid-19 lockdown and went back to Mumbai.

She wore braces as a child because she was a chubby girl with crooked teeth, but today she is an attractive, confident young woman. Khushi Kapoor's mother passed away on February 24, 2018, while attending a wedding reception in Dubai. She was intoxicated and accidentally drowned in the bathtub when she entered the bathroom. She bade this live earth farewell.
Talk To Similar Celebrities
Khushi Kapoor's Relationship and Affairs
Aakash Mehta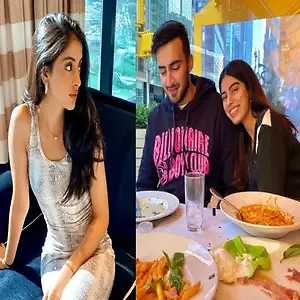 Khushi Kapoor, who is studying further in the US, shared a sweet photo of herself and her close friend Aakash Mehta. Khushi posted a photo of herself and Aakash on Instagram, showing her gripping him. She doesn't need to say much to convey how close they are to one another or how content she is to be with Aakash; a simple grin says more than enough.

Although Ms. Kapoor only included a spaghetti emoji in the description, her pals are overjoyed to see her and Aakash together and have filled her timeline with heart emojis and comments.

Khushi and Aakash's photographs had already sparked a frenzy among internet users. Khushi's photos with Aakash would become viral online even before she made her Instagram profile public, causing a stir on social media.
Khushi Kapoor's Career
BFFs with Vogue
In the season 3 premiere of Colors Infinity's BFFs with Vogue, Janhvi and Khushi Kapoor will appear together for the first time. Janhvi and Khushi Kapoor, the much-discussed sister combination from Bollywood, recently made an appearance in the season three premiere of the chat show BFFs with Vogue.

The episode's promos show Janhvi and Khushi twinning in white tees and short skirts as they talk to host Neha Dhupia about their parents, actor Sridevi and Boney Kapoor, their shared love of fashion, dating, and hidden tattoos.

The younger sibling Khushi claimed that their thoughts on tattoos could not be more dissimilar while discussing their divergent ideas. Khushi admitted to having a tattoo fixation and currently has three. They contain the names of her best friend and family members in Roman numerals, as well as the phrase pave your road, which is written on her lower back and reads Khud ki raah banao. She also disclosed that Janhvi, like their deceased mother, was too chicken to get inked and disapproved of her tattoos. Janhvi said, I detest that your dad's favorite kid. That's the one thing I despise about Khushi. Janhvi's uncomfortable secrets were also revealed by Khushi, who also mentioned that Janhvi frequently uses language from her movies while dozing off.
Khushi Kapoor's Upcoming Movies
The Garhwal Rifles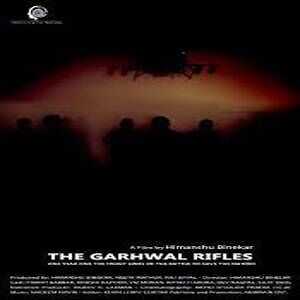 The Director of The Garhwal Rifles is Himanshu Binekar and the writer is Md Farhad Sheikh. The cast of this film is Khushi Kapoor as Mohna Taneja. The Garhwal Rifles Regiment of the Indian Army is well-known. 25000 troops make up this regiment, founded in 1887 and composed of 19 battalions.

This regiment kept the unit's unique identity while also exhibiting extraordinary bravery during the World Battles and the wars that were fought following Independence. During the Kargil Wars, this type of regiment, which was mostly made up of Garhwali warriors, fought bravely and heroically. More than 25,000 members of our regiment are currently engaged in the objective of safeguarding our country. They are the only ones at fault for that.
The Archies
Suhana Khan, a daughter of Shah Rukh Khan, Khushi Kapoor, a younger daughter of Sridevi, and Agastya Nanda, a grandson of Amitabh Bachchan, will all make their acting debuts in The Archies.
The Ooty shoot for Zoya Akhtar's next movie The Archies was completed last month. Suhana Khan, Khushi Kapoor, Agastya Nanda, and the younger daughter of the late Sridevi will all be making their acting debuts in the much-awaited Netflix movie. The casting directors for The Archies have spilled the beans on the casting procedure and revealed that all three of the lead kids attended the auditions.
The star-kid casting in Zoya's movie garnered a lot of attention, and some people criticized it as an instance of nepotism in the business. The Archies will also star Vedang Raina, Mihir Ahuja, Dot, and Yuvraj Menda in addition to Suhana Khan, Khushi, and Agastya. The casting directors for the movie, Nandini Shrikant, and Abhishek Banerjee, have now defended their choice of them even though all the star youngsters auditioned for the part.
The movie, which takes place in 1960s India, is a collaboration between Netflix and Archie Comics. The Archies is produced by Zoya and Reema Kagti under the banner of their production company Tiger Baby. In November of last year, Zoya made the project's social media announcement.
Over the years, there have been several adaptations of Archie Comics, which include the adolescent characters Archie Andrews, Jughead Jones, Betty Cooper, Veronica Lodge, Reggie Mantle, and Sabrina Spellman. According to reports, Suhana will be portraying the character based on Veronica Lodge in Zoya's version, and Khushi will play Betty Cooper.
Khushi Kapoor's Net worth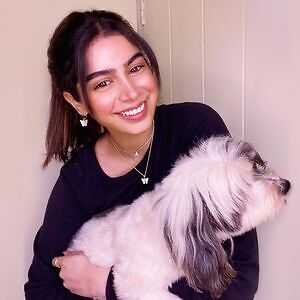 Khushi Kapoor is a famous child and a fashion icon for young people in India. She has huge popularity on platforms like Instagram, Facebook, Twitter, and others. She has a large following, and her admirers want to see her break into the Bollywood industry.

She once considered a career in modeling. However, she has since made the decision to pursue a career in acting, following in the footsteps of her late mother Sridevi, and sister Jhanvi Kapoor.

Indian actress, model, and social media influencer Khushi Kapoor is well-known. She is renowned for wearing striking designer outfits and a particular sense of style to public events.
Khushi Kapoor's net worth is 1 million dollars or so is thought to be Khushi Kapoor's worth. a change in rupees. Khushi now has a net worth of Rs 74,83,000 Currently, Boney Kapoor, Janhvi, and Khushi are all alone in Mumbai.

Khushi Kapoor's Interesting Facts
One of the well-known star kids of Bollywood is Khushi Kapoor, the daughter of the late actor Sridevi and Boney Kapoor. Like other famous children, Khushi has a sizable social media fan base. Khushi has already captivated hearts with her stylish looks, even though she hasn't yet made her Bollywood debut. The little sister of Janhvi Kapoor frequently appears alongside her as they make the town buzz with their stylish vibes.
Khushi was born on November 5th, 2000.
Khushi shares a great bond with her elder sister, Janhvi Kapoor.
The star kid is her daddy's little girl.
Khushi enjoys getting inked a lot. She has three tattoos: one on her back that reads Khud Hi Raah Banao, another that bears the name of her best friend, and a third that lists all the birthdays of her family in Roman numerals.
Khushi has an impeccable sense of style.
She loves to raise dogs and has a pet dog in her home.
While Suhana Khan is a big fan of Zayn Malik, Khushi is a fan of Justin Bieber.
Khushi loves exploring new places.
Khushi is quite an independent person, whereas Janhvi is the complete opposite, according to late diva Sridevi.
She's close to Anurag Kashyap's daughter Aaliyah Kashyap who is also a social media star.
The star kid once desired to be a model.
Just like her elder sister, Khushi desires to make it big as an actress in Bollywood.
Like other celebrities, Khushi Kapoor does not smoke or consume alcohol.
In his spare time, Kapoor was also skilled at creating incredible artwork.
She is the niece of renowned actor Anil Kapoor, a young man with a sharp appearance.
Social Media
Frequently Asked Questions