Deepti Sharma | Cricket, Age, Biography, Height, Net Worth

Violeena Vargav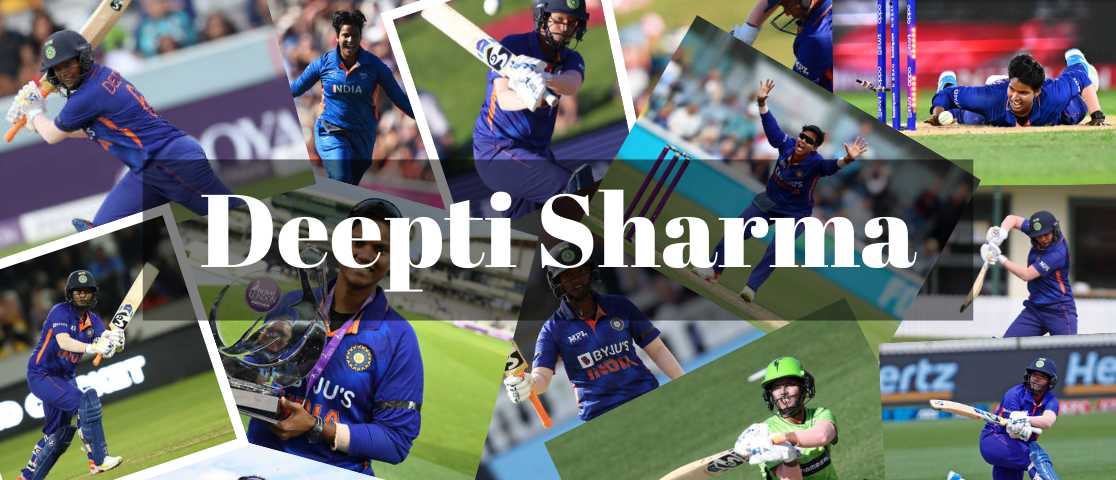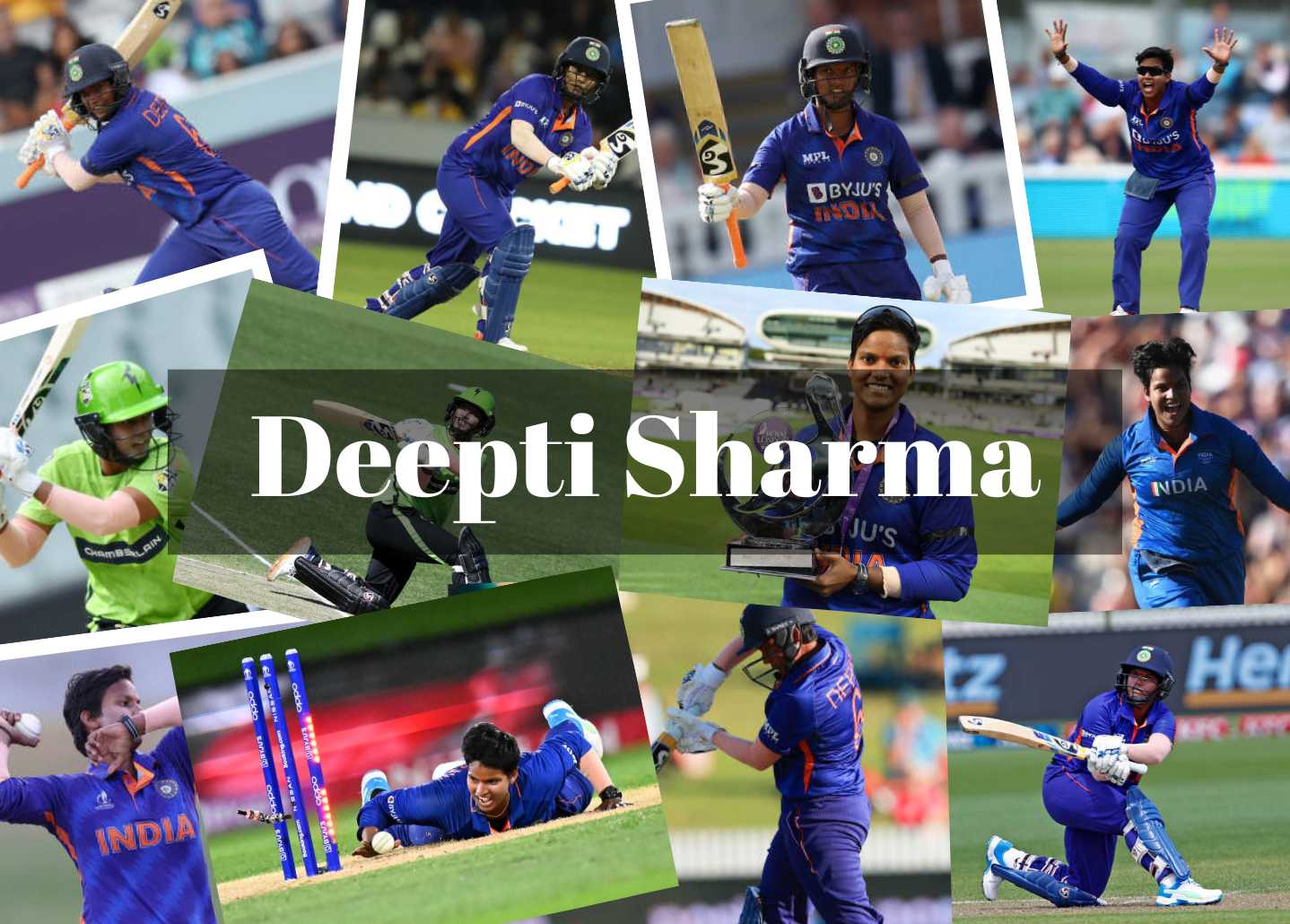 Deepti Sharma's Biography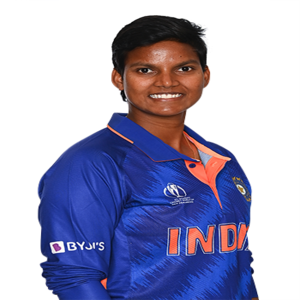 Deepti Sharma is an Indian Cricketer. She plays for Bengal, Sydney Thunder, and India. She is an all-rounder. According to the ICC Cricket Rankings, she is presently ranked fourth among the best all-rounders. Deepti Sharma is now a woman cricketer's third-highest individual scorer in ODIs (188 runs).


Deepti Sharma's full name is Deepti Bhagwan Sharma. Deepti Sharma's nickname is Deepu. Deepti Sharma's birthday is on 24 August 1997. Deepti Sharma's age is 25 years as of 2022. Deepti Sharma's birthplace is Agra, Uttar Pradesh, India. Deepti Sharma's zodiac sign is Virgo. Deepti Sharma's height is 1.65m or 5'5. Deepti Sharma's religion is Hinduism. Deepti Sharma does left-handed batting. Deepti Sharma does right-arm off-break bowling.

As she continued to put on strong performances in the state games and, of course, for the A side, Deepti Sharma made her international debut for India. Eventually, the international debut took place at the series-clinching match between South Africa and India at Bengaluru's Chinnaswamy Stadium. Deepti got the second-best bowling numbers for India despite being on the losing side. She also made a few significant bowling strikes during the match. Since then, Deepti's spot on the national team has never been in question, and even before turning 20, she had amassed a number of unique records.
Claim Your FREE Celebrity Shoutout
✕
Claim Now!
Deepti Sharma's Family and Deepti Sharma's Education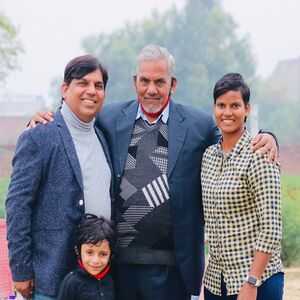 Deepti Sharma's father's name is Bhagwan Sharma and her mother's name is Shushilaa Sharma. Deepti Sharma's father is a retired chief booking supervisor with the Indian Railways. Deepti Sharma also has a brother whose name is Sumit Sharma. Sumit Sharma is a former Uttar Pradesh pacer.

Deepti Sharma completed her primary schooling in her hometown. She studied at the Saharanpur Public School. At the young age of nine, she became fascinated by the sport of cricket. Every day, Deepti would ask her father to ask her brother to take her to the field so she could observe the net practices and other matches.
Talk To Similar Celebrities
Deepti Sharma's Career
Early Cricket Career
At age 9, Deepti Sharma's only interest was in figuring out the causes of her brother's well-deserved renown in the local cricket community. Former Uttar Pradesh pacer Sumit had his bowling movement based after former Indian speedster Lakshimpathy Balaji, so it's no surprise that he's been able to generate some buzz.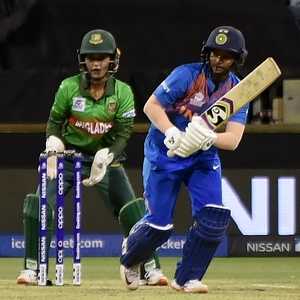 As soon as Deepti Sharma began going to her brother's practices, people frequently mistook her for a boy due to her eccentric slim-trim hairstyle. But Deepti had no idea that one of these occurrences would lead her on a path to success she had never imagined. Deepti Sharma was instructed to throw the ball back into play at the Ekalavya Sports Stadium in Agra during one of the net sessions involving her brother and his teammates. On a direct toss from a distance of 50 meters, the ball struck the stumps. Hemlata Kala, the then-selector for India's national women's team, saw this, and it marked a pivotal moment in Deepti's life.

Deepti Sharma had sufficient experience by the time she was 15 but the selectors never chose her for the state teams. But Kala made sure she had plenty of practice by bringing her to the railway camps in Delhi and Allahabad. A few other selectors began to notice her versatility, and Rita Dey, a former Indian batter and selector, agreed to train her. After beginning as a medium pacer, Deepti Sharma was forced to switch to slow off-spin bowling. She found the change challenging because it did not feel natural to her. She didn't learn how to spin bowl until after receiving instruction and advice from her local coaches and selectors because of her height.

In both state and A side games, Deepti Sharma continued to put on a magnificent display. However, it was her performance against South Africa in her first international game in Bengaluru that solidified her position in the team.
Deepti Sharma's International Career
In Bengaluru, Deepti Sharma played her first ODI match against South Africa in 2014. The ICC Women's Championship included the game. Together with Poonam Raut, Sharma set a new world record for opening partnerships, scoring 320 runs, with the latter providing 188 runs. Consequently, the men's record in ODIs of 286 and the women's record of 229 were both broken. In a quadrangular series against Ireland women at Potchefstroom that also featured South Africa women and Zimbabwe women sides, the Indian team was aided by this duo in scoring 358 for three in 50 overs.

In the 2017 Women's Cricket World Cup final, Deepti Sharma was a member of the Indian squad that fell to England by a score of nine runs. She featured in 9 matches, recording 12 wickets and 216 runs at an average of 30.86, with her best bowling performance against Australia being 3 for 59 from 7.1 overs. The finest bowling performance of Sharma's career was a 6-20 in the final ODI at Ranchi against Sri Lanka.

Jhulan Goswami and Deepti Sharma were signed to play for Bengal in the Senior women's domestic season 2017–18. She had the highest season run total with 312 runs at an average of 104 in 6 games and a remarkable strike rate of 65.13. She achieved five half-centuries and a top score of 77. Additionally, Deepti took 9 wickets overall, with her finest performance coming against Vidarbha in Kolkata (3 for 26).
Bengal finished second in the domestic Senior women's standings for the 2018–19 season. She was the season's highest run scorer with 313 runs from 6 games. In the six matches that Deepti has played, she has already amassed two hundreds and one half-century, with her highest score coming against Baroda in Bengaluru at 106 not out. She has also claimed 13 wickets, with her highest total coming against Kerala in Bengaluru (4 for 12).

Deepti Sharma was selected for the Indian team to compete in the 2018 ICC Women's World Twenty20 event in the West Indies in October 2018. The Indian squad was defeated by England by 8 wickets in the semifinal match. In the competition, she only claimed 5 wickets, with her best being 2 for 15 in 3 overs against Ireland. The Board of Control for Cricket in India presented her with the Jagmohan Dalmiya Trophy for Best Domestic Senior Women's Cricketer in June 2018. (BCCI).

Deepti Sharma inked a contract to play with the Western Storm in the Kia Super League in June 2019. She was selected for India's team in January 2020 in preparation for the 2020 ICC Women's T20 World Cup in Australia. She was selected by London Spirit in 2021 for the first season of The Hundred. She was included in the Test squad for India's one-off encounter against the women's cricket team of England in May 2021. On June 16, 2021, Sharma played in her first Test match for India against England.

In the 2021 WBBL, Deepti Sharma is a player for the Sydney Thunder. She was selected to play for India in the 2022 Women's Cricket World Cup in New Zealand in January 2022. She was also selected to play for India in the cricket competition at the 2022 Commonwealth Games in Birmingham, England, in July 2022.
Deepti Sharma's Records
3rdMost runs in an innings (by batting position) (188) in Women's ODI
2nd Highest maiden hundred (188) in Women's ODI
4th Outstanding bowling analyses in an innings (6/20) in Women's ODI
3rd Most consecutive four-wickets-in-an-innings (2) in Women's ODI
6th Most wickets taken caught and bowled (9) in Women's ODI
5th Most catches in an innings (3) in Women's ODI
250 runs and 10 wickets in a series record in Women's ODI
1st Highest partnership for the first wicket (320) in Women's ODI
3rd Most maidens in an innings (3) in Women's Twenty20 Internationals
6th Bowler/fielder combinations (13) in Women's Twenty20 Internationals
5th Highest partnership for the fourth wicket (128) in Women's Twenty20 Internationals
Deepti Sharma's Controversies
Mankading Controversy
Even though India had England on the mat in the third ODI at Lord's, Charlie Dean was threatening to steal the match with her valiant innings of 40. Deepti Sharma displayed superb game knowledge by running Dean out in her bowling stride with 17 runs needed and five overs remaining.

Running a batter out for backing up is perfectly legal under cricket rules, albeit uncommon. Before Deepti Sharma used the specific method of dismissal, Dean is said to have started the game early 72 times. However, the entire episode has turned into a contentious situation, with the English cricket community accusing India of ignoring the spirit of the game.

The controversy has been further heightened by Deepti Sharma's assertion that Dean was warned prior to her ejection from the game and England captain Heather Knight's denials, accusing the Indian player of lying.

The English cricketer community, who have criticized the run-out despite it being legal, has generally been the aggrieved side in Deepti Sharma's event. Before charging Deepti with purposefully prolonging her delivery to run Dean out, England's players questioned her sportsmanship.
Deepti Sharma's Awards
2020: Arjuna Award for Cricket

Deepti Sharma's Net Worth
Deepti Sharma's net worth is estimated to be approximately $1 million US or 7 crores INR, as of 2022. International cricketer Deepti Sharma represents the Indian women's national cricket team. The young woman, who is only 24 years old, has already done a great deal and earned a spot on the national team.

Her net worth is influenced by the revenue Deepti Sharma receives from the BCCI, the Big Bash League, domestic competitions, commercials, and sponsorships.

The BCCI pays Deepti Sharma a salary of 50 lakh rupees. Like Harmanpreet Kaur, Smriti Mandhana, and Poonam Yadav, she entered the exclusive group of cricket players with Grade A contracts. Due to her dependable work, Deepti Sharma was promoted from Grade B to Grade A in 2022. In addition, Deepti receives a daily salary of INR 20,000 for playing first-class cricket.
Deepti Sharma Interesting Facts
Deepti Sharma's brother, Sumit Sharma, is a fast bowler from Uttar Pradesh.
Due to her brother Sumit Sharma, Deepti Sharma became interested in cricket.
When Deepti Sharma was requested to return a ball to the field, she hurled the ball 50 metres straight to the stumps, hitting the target.
Initially a fast bowler, Deepti Sharma developed her off-spin skills after receiving advice from local instructors.
Deepti Sharma was the first Indian woman to ring the bell at Lord's on August 15, 2021.
Social Media
Frequently Asked Questions